Icelandic Drinking Water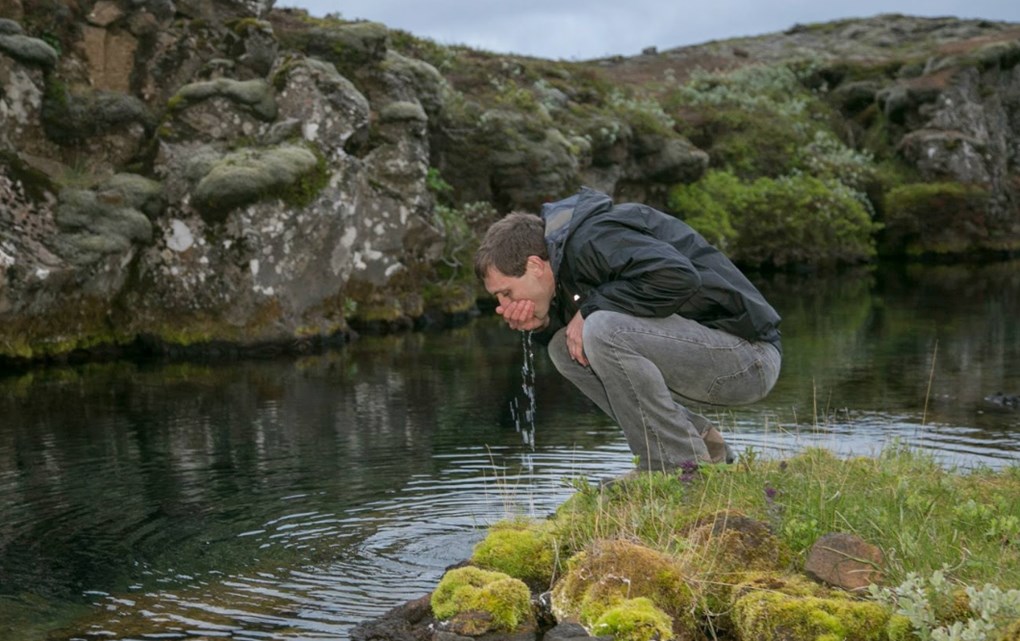 Water is probably the most accessible resource in Iceland. In the countryside, the water in the streams and rivers comes straight from the ground and is pure and usually drinkable. In fact, several campaigns have begun around Iceland after bottled water was aggressively marketed to tourists to encourage drinking tap water. It's very high quality and cuts down on the needless use of all those single-use plastic water bottles.

However, in sand and lava areas, water needs to be carried. Never take water from areas where farms or fields are upriver. To get a drink there, you'll want to take it from the tap rather than risking a big gulp from water that the livestock uses!

Water from glacier rivers should only be drunk in an emergency and preferably filtered. Usually, 1 to 2 liters of water carrying capacity is enough. Basically, if you're not drinking mud or seawater, it's ok to drink.
Water, in one form or another, covers a staggering 2,750 km² of Iceland's landmass and there are more than 10,000 waterfalls found in the country, including Europe's most powerful cascade, Dettifoss.
Geothermally heated water also is used for heating all the houses in Iceland. Hot spring water is pumped out of the earth and sourced to 99% of the homes in Iceland for warmth in the cold winter. (Nobody wants to take a glacier-fresh shower!)
One of Iceland's greatest attractions are the natural, geothermally heated pools. Iceland is a very young country, geologically speaking, with constant changes in how the rock formations move and sculpt the earth's surface. Cracks and ridges are common sightings, as are areas exposed to the bubbling water of the planet.

It is this heat from beneath the surface that keeps Iceland's geothermal pools so warm and relaxing. To name a few of the natural hot springs we have, Seljavallalaug, Grettislaug (pictured below), Krossneslaug, Guðrúnarlaug, Kvika Foot Bath. (In Icelandic, laug means "pool," so it's a good bet if you see that word, you are driving toward a water feature!)