Family Road Trip in Iceland: Travelling with Kids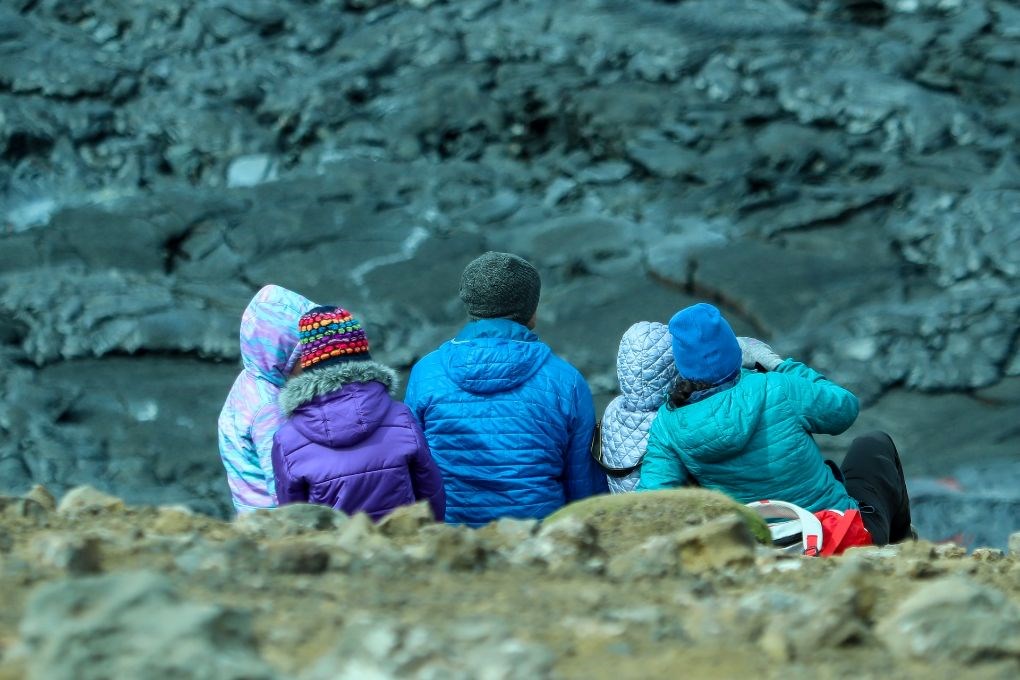 Travelling with your kids to Iceland is one of the greatest travel choices you can make as a family. Nowhere else can you create such amazing memories, as you explore the vast, dramatic landscapes of The Land of Fire and Ice. And the best way to see it all? Via a road trip.
Taking a family road trip around Iceland is an adventure, but it doesn't have to be hard. In this article, we're breaking down everything you need to know about travel with kids in Iceland, and how to take a family road trip around the country. 
We're covering…
 What makes Iceland such a great family destination 
Where to go and what to do during a family road trip in Iceland

When the best time to travel with kids to Iceland is

And more! 
Why Iceland is a Great Destination for Family Travel 
There are many reasons why you should plan a family trip to Iceland. Here are just a few of our favourites.
Iceland is filled with beautiful natural landscapes you won't be able to find anywhere else
Iceland is unique in that it combines a vast array of landscapes all into one compact island. There are volcanoes, glaciers, beaches (both black sand and otherwise), grasslands, ocean shorelines, cities, villages, lakes, mountains — you name it, you can find it here. 
If you really want to show your children the beautiful abundance of nature, Iceland's the place to do it. You'll easily instill in them an appreciation for Mother Earth as you travel around the island, going from rugged coastlines to cascading waterfalls, steamy hot springs to bubbling volcanoes — and if you're able to catch the northern lights, it'll be all the more magical!
Iceland is incredibly safe
Compared to a lot of destinations that you could visit in order to see dramatic scenery, Iceland is very, very safe. In fact, it's one of the safest countries in the entire world! Crime rates are low and, honestly, the biggest risks to tourists simply arise when you engage in risky behaviour, like driving in very bad weather or going to places that are naturally dangerous (such as getting in the water at Reynisfjara black sand beach).
Iceland is very kid-friendly
Have you ever travelled to a new country and felt like they really didn't cater to children at all? That's not a problem when you travel with kids to Iceland. Just about every single restaurant in Iceland is kid-friendly. You'll not struggle to find restrooms with changing areas. Kids' menus are often available. Playgrounds and other play areas can easily be found as well. 
Why is this the case? Well, Icelanders highly value family and, as a result, children. They want you and your children to both feel incredibly welcomed in our warm and inviting country.
The Best Way to Travel with Kids in Iceland
But if you bring your family to Iceland, how should you get around? What mode of travel is best for you? 
We highly recommend taking a road trip around Iceland with your family, no matter the age of your children. This option is highly flexible and customisable, making it ideal for families who need a little bit of flexibility.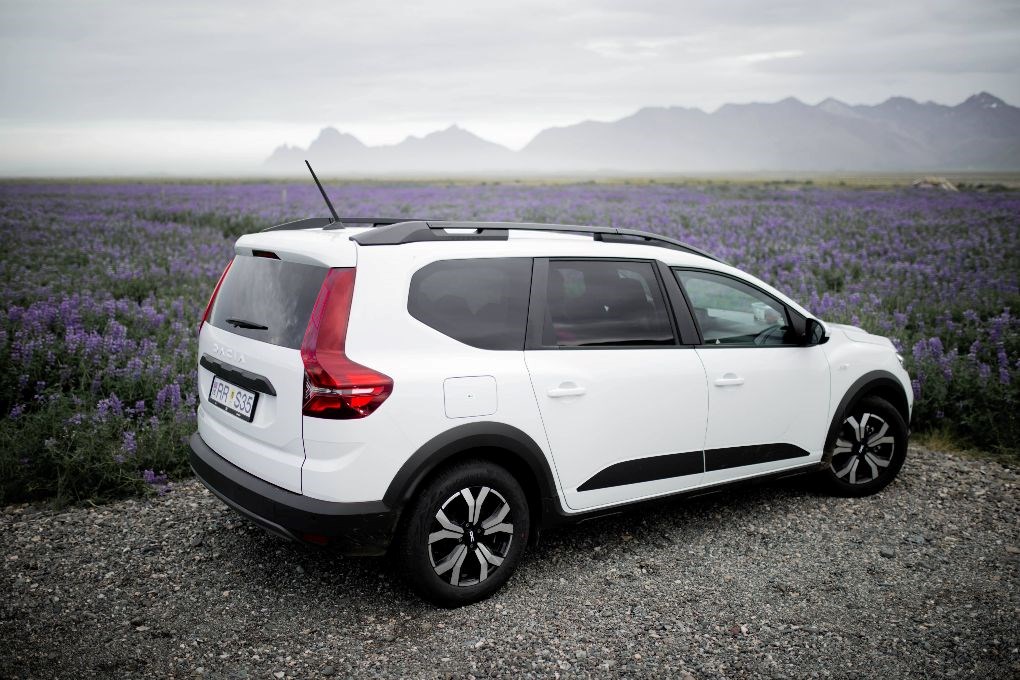 For example, you don't want to be on a crowded tour bus if you need to change a diaper or if your little one decides it's time for a tantrum or a nap. With a rental car, you can easily give your child a quick change or let them take a nap until they're ready to move on. 
Likewise, with a rental car, you're not stuck following a tour guide's rigid schedules — so if you need to sleep a little longer in the morning before sightseeing, you can do so, or if you need to travel around a nap schedule, you can do that as well. 
However, with all this flexibility, you're still not giving up seeing any of the top sites around Iceland; a rental car will allow you to travel pretty much anywhere in the country depending on the season you travel. Additionally, seeing Iceland by rental car can just overall be cheaper than travelling with a tour guide, particularly if you're travelling in a group of more than two people. 
And don't worry about safety! You can book car seats and boosters when you rent your car for your Iceland road trip, so there's no lugging a car seat onto the plane.
 Book your family-friendly car in Iceland
Where to Go and What to Do with Kids in Iceland
Once you've decided you're definitely going to go on an Iceland road trip with the kids, what should you do? There are plenty of options to choose from, but here are some good places to start.
See the Top Natural Sites
There are some top sites in Iceland that you just can't pass up seeing, and many of these are natural attractions that are both relatively easy to get to and accessible for families.
The easiest of all is the Golden Circle, which is within a quick drive of Reykjavik. You can go, drive around the circle and see several top attractions, including Thingvellir National Park, Gullfoss waterfall and the Geysir geothermal area. You can traverse the entire circle within a day, but we recommend taking your time, especially with little ones, and spreading your journey out over two days or longer particularly if you want to stop and really take it all in, like with a hike or two. 
If you want a longer route that features lots of right-off-the-road stops, try a Ring Road road trip. The Ring Road circles the entire island and is where you can see some of the country's best waterfalls, volcanoes, glaciers, shorelines and more. It takes at least a week to 10 days to travel the Ring Road, but two weeks gives you more time to see the road and its attractions at a leisurely pace.
See the Wildlife 
So much unique wildlife calls Iceland home. Be sure that you take the time to see it, especially if your little ones are animal-lovers. During a family trip to Iceland, you have ample opportunities to go wildlife watching, via tour providers, but also just via a quick drive around nearly any part of the island.
Whale watching is particularly a popular pick, and you can find whale-watching tours that conveniently leave right from Reykjavik. During a tour, you'll learn about the various marine life and whales that live or visit the oceans off Iceland's coasts. Expect humpbacks, white-beaked dolphins, orcas and porpoises.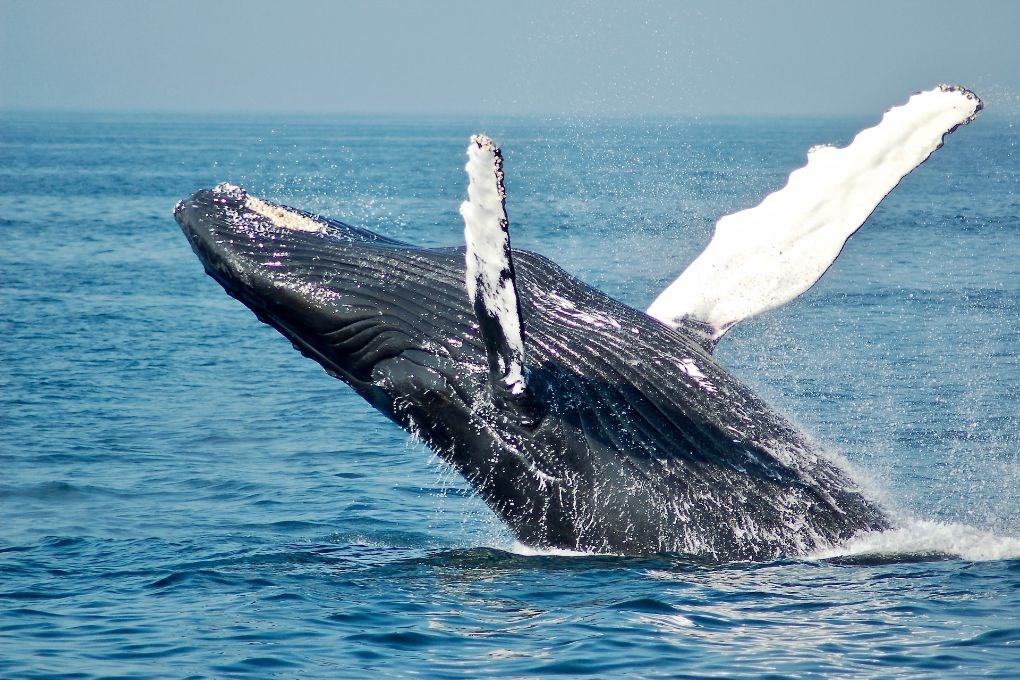 If you want to incorporate a whale-watching tour into your broader road trip, you have other options for tours other than in Reykjavik. Other cities and towns that offer plenteous tour options include Akureyri and Husavik. 
Don't fancy a boat tour? If not, you can travel to the South Coast or Westfjords through the spring and summer months, April to August, to see the puffins. The puffins take up residence in the cliffs along the shorelines, so this is an easy wildlife watching experience to add to a road trip. However, you can also find boat tours that particularly look out for puffins.
Seals are another popular star of wildlife-watching tours throughout Iceland. You can see seals in various different places around the country, most popularly at the Jokulsarlon glacier lagoon or on the Snaefellsnes Peninsula. You can also go to the Icelandic Seal Centre to learn more about seals and their relationship with Iceland's culture. 
Want to actually touch the animals? Make a trip to Petting Zoo Slakki, which sits right on the Golden Circle, making it a perfect stop if you plan a Golden Circle road trip! This farm is home to not just a petting zoo, but also an arcade, mini golf and café. Open through the spring and summer, April through August, the petting zoo is home to calves, piglets, rabbits, mice and more.
Go for a Swim 
Yes, Iceland's many public swimming pools and geothermal hot springs are family-friendly! Whatever time of year you're visiting Iceland as a crew, pack your swimsuits so you're ready whenever you come across one of these can't-miss Iceland spots during your road trip. 
Worried because your child still hasn't gotten quite the hang of swimming yet? Many public swimming pools and geothermal springs include facilities designed specifically with children in mind, such as wading pools that are shallower and more suitable for younger kids.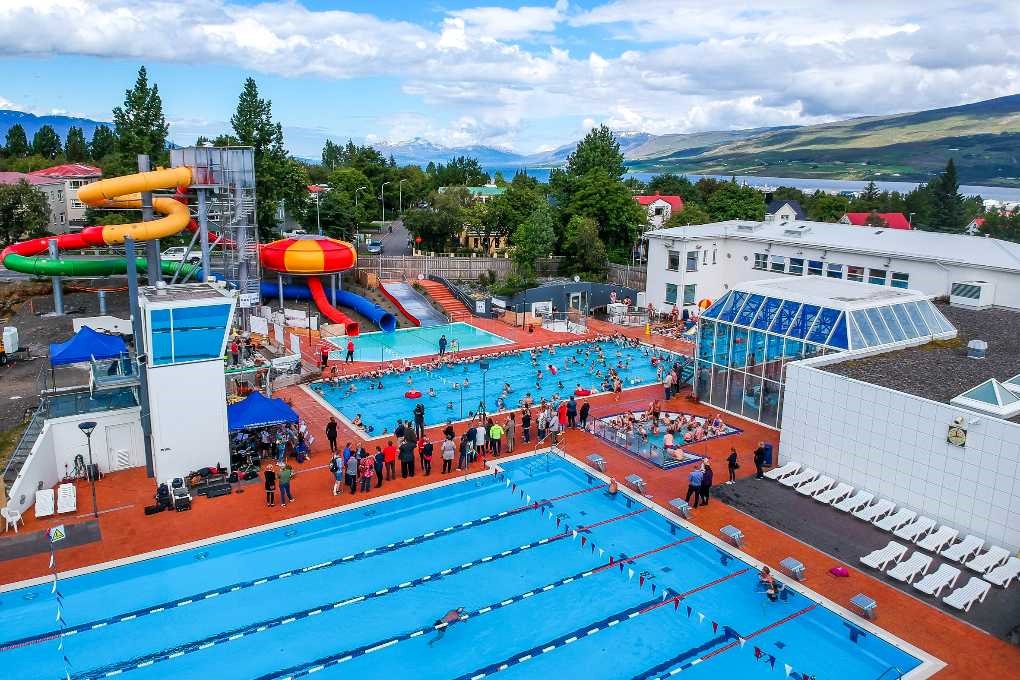 Photo credit: sunlaugar.is
Do note, though, that as you plan which geothermal springs or pools you'll visit during your road trip, some do have a few restrictions. For example, the Blue Lagoon, which is arguably Iceland's most famous hot spring and easily accessible via both Reykjavik and Keflavik Airport, only allows children that are two years old and older. 
If you're looking for a budget-friendly activity, it is possible to find hot springs and pools that offer free entry for children. That's the case at both Myvatn Nature Baths and Fontana Geothermal Baths, in Laugarvatn, where any age is welcome and children under 13 get free entry. The Secret Lagoon also offers free entry for those under 14.

Learn About the Vikings 
If you want to make your family trip to Iceland a little more educational, give your children a taste of Icelandic history and culture by learning more about the country's Viking heritage. You can do this in a few ways.
If you're already driving around the Snaefellsnes Peninsula, you can visit the Bardur of Snaefellsnes, a giant rock Viking that plays into Icelandic lore.
If you're in Reykjavik, visit The Saga Museum, where your children can learn more about the Vikings. The museum is family-friendly. 
Another suitable museum is The Settlement Centre in West Iceland. While it's not as easily accessible as The Saga Museum in Reykjavik, it is a convenient stop if you're already on a Ring Road road trip. 
Introduce the Kiddos to Icelandic Cuisine
Iceland's cuisine is rich and varied, filled with local delicacies — but, that said, there's nothing stuffy about it. There are a lot of traditionally Icelandic foods that locals love, that kids will love, too. 
For example, a quick and affordable food that's popular in Iceland? Pylsur, aka hot dogs. Yes, Icelanders love their hot dogs. You'll find hot dog restaurants and stands throughout the country. 
Icelandic skyr is also very familiar, as it's quite similar to the yogurt you might be accustomed to eating on a regular basis at home. However, skyr comes with just a slightly different texture. Skyr makes a quick and easy breakfast, though you can enjoy it any time of day. Like any yogurt, skyr can be mixed with a variety of other ingredients and toppings, for a dish that's perfectly suited to your (or your child's) tastes. 
Iceland may be filled with ice during some seasons, but the cold doesn't dampen our love for ice cream. Treat your children to a taste-test of the local flavours and see which ones you like best!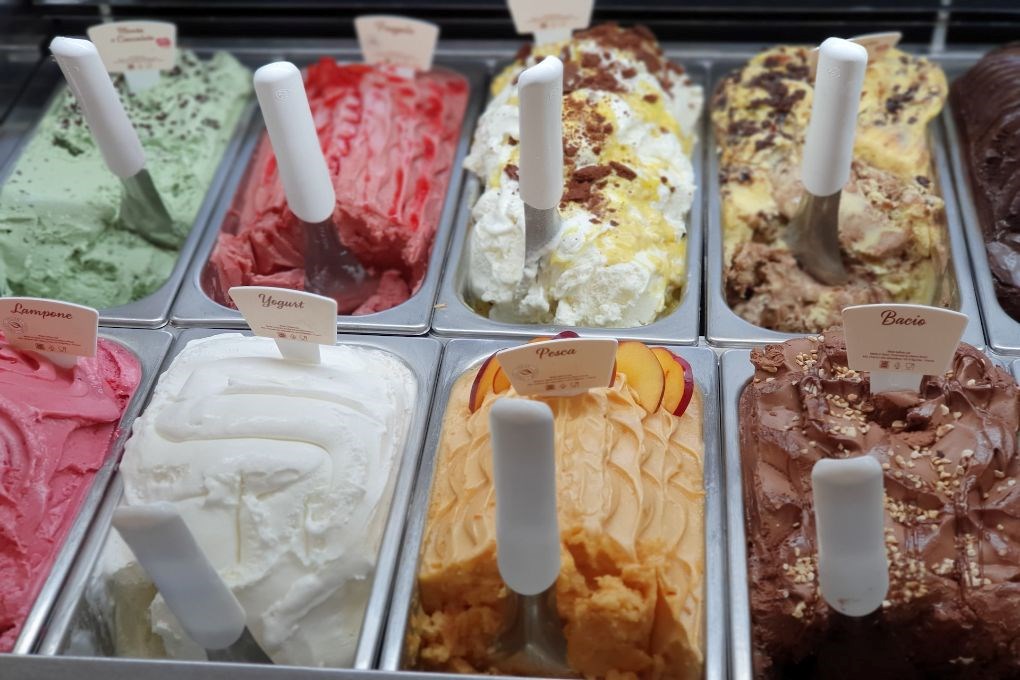 Get Active!
You don't have to hike up a mountainous volcano in order to get active in Iceland. There are plenty of low-key activities that are just adventurous enough to tempt the adults in your crew, without being too much for the children. 
For example, you can take a boat out onto the Jokulsarlon lagoon. There, you'll see seals, glaciers and icebergs. If you're lucky, you may even be able to taste the glacier ice — an experience your children won't soon forget!
If boats aren't your thing, try horseback riding (if your children are old enough; most tour guides allow for children as young as seven to participate). This is a fun, outdoor activity that's both very calm and calming. When you go out with a tour guide, you can rest assured that the experience is safe and that the Icelandic horses are well trained and equipped to give your family the best experience possible. 
See the Two Sides of Iceland: Fire and Ice
Depending on the time of year that you visit Iceland with your family, you may be able to see both sides of Iceland's fire and ice. 
For the latter, head to the glaciers. During the winter, you can take a tour into the glacial ice caves that freeze over each year, with each year's particular freezing patterns creating new caves every single time. Even if you've been to an ice cave before, just wait for it to melt and then reform a year later and you'll have a brand-new experience. Do note that these tours are only suitable for children ages eight and up.
If your children are under the age of eight or if you're not visiting during the winter, you can still see Iceland's ice tunnels, when you visit Langjokull, one of Iceland's largest glaciers. There, the man-made ice tunnels are open all year.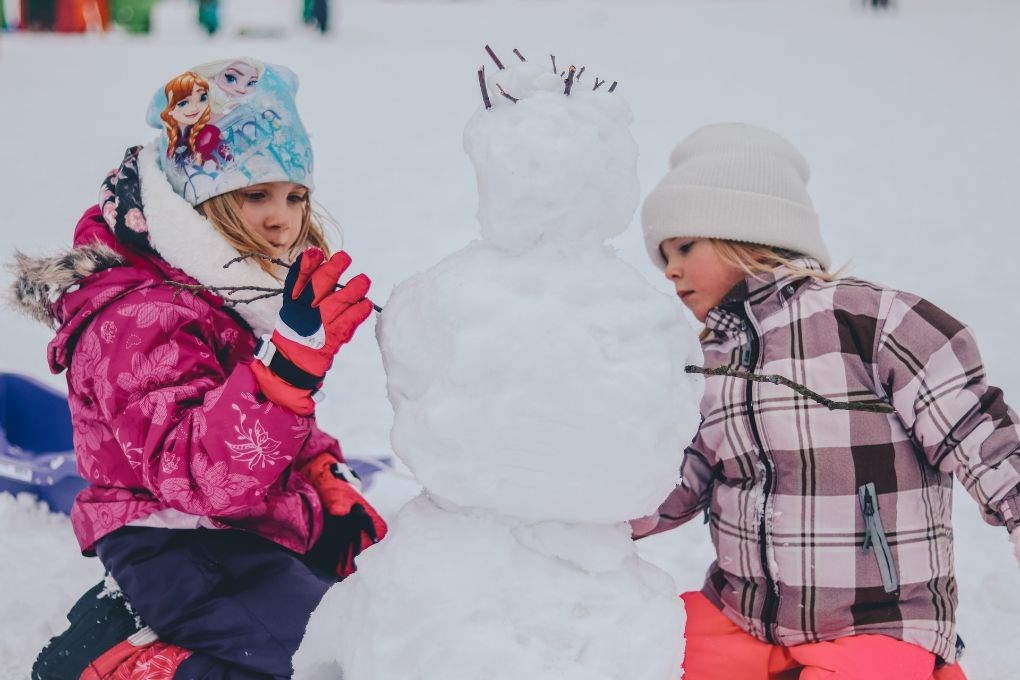 For the fire side of your Iceland trip, go see a lava cave! There are lava caves and lava tubes scattered throughout the country, and you can see them safely via a guided tour. Vatnshellir is a lava cave that's open to children as young as five, and it's located in Snaefellsjokull National Park. Similarly, Ledarendi is another lava cave that welcomes guests five years old or older, and it's located on the Reykjanes Peninsula. 

Need even more ideas? Check out our top things to do in Iceland.


When to Travel with Kids to Iceland 
If some of the above top activities caught your eye, it's important to realize that you can't enjoy all of them, all year-round. The seasons bring different things to do in Iceland, so if you have your heart set on experiencing something in particular, you'll want to plan your travel dates accordingly. 
Summer
For example, in the summer months, you'll have your pick of wildlife watching tours and plenty of time to sightsee at just about any hour, thanks to the Midnight Sun. Summer is also a great time to visit if you want to take a long Ring Road road trip, as the road conditions are very good. However, summer isn't a good time to see the northern lights or ice caves. 
Spring and Fall
Spring and fall bring rain and wind, but they also bring fewer crowds and lower prices, so if you want a family vacation to Iceland that's a little more budget-friendly, but that still allows for a broad range of sightseeing, consider visiting during the spring or fall. 
Winter
In the winter, you can do things you can't during other times of year, such as visit the ice caves or chase the northern lights. However, there are some other activities that are not available in the winter. For starters, some of the roadways are closed off in the winter, so you might not be able to drive everywhere that you'd like.   
To help you decide which season is best for your Iceland visit, check out our full breakdown of how weather and seasons impact Iceland travel.
Plan the Perfect Family Getaway to Iceland 
With its many adventures that cater to all ages and abilities, Iceland is an amazing choice for a vacation that will last in your children's memories for a lifetime. 
Start planning your trip and nailing down all the other details with the help of our extensive resource centre. Ready to book your rental car? Check out our selection of family-friendly vehicles.