Reynisfjara Black Sand Beach in Iceland - All You Need to Know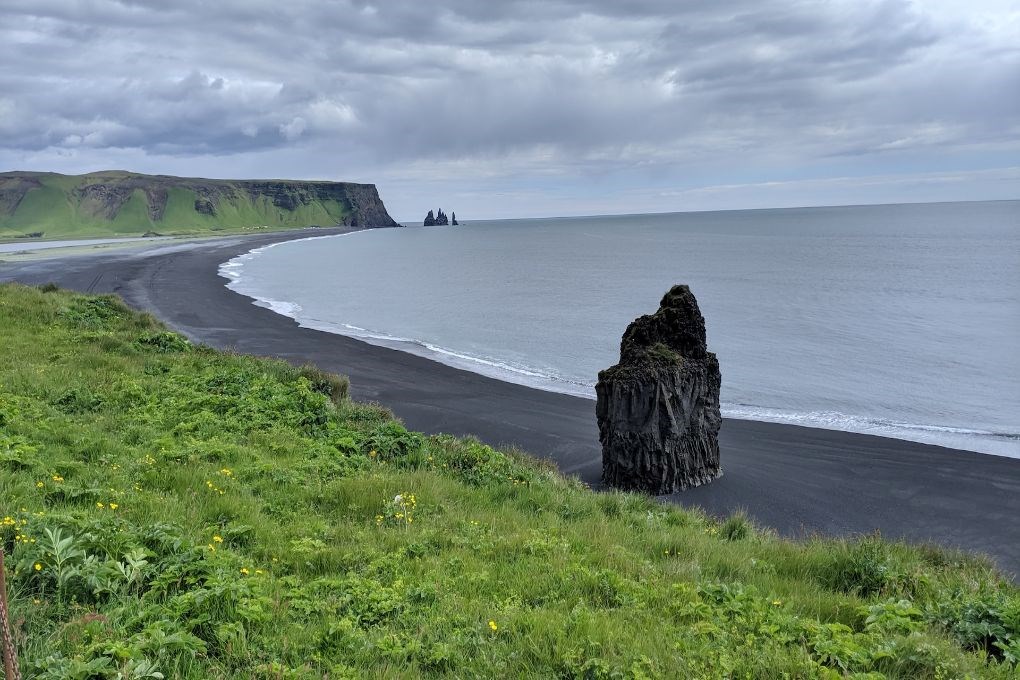 Reynisfjara in Iceland is a black sand beach that has received a huge amount of attention from travellers the world over for its rugged, dramatic beauty. Once called one of the most beautiful non-tropical beaches in the world, it's one of the top sites to see during a trip to Iceland. 
That said, don't expect to pack your beach chair and sunglasses, and set up on this beach for a day of soaking up the sun, and don't think you'll spend a leisurely afternoon splashing in the waves. This beach is just as dangerous as it is dramatically beautiful.
Here's everything you need to know about visiting Reynisfjara black sand beach in Iceland. We're covering…
What to do while you're visiting Reynisfjara black sand beach

What do around Reynisfjara in Iceland

The best times to visit Reynisfjara 

How to stay safe when visiting Reynisfjara 
And more!  
What is Reynisfjara? 
If you're not familiar with Reynisfjara black sand beach in Iceland, you may very well be one of the very few people to not know it on sight. This beach gets tons of attention on social media and in travel publications, given its appearance and status in the 1990s as one of National Geographic's most beautiful non-tropical beaches.
Reynisfjara is situated on Iceland's South Coast, near Vik, which is Iceland's southernmost destination. Nearly all travellers planning an Iceland South Coast road trip will make a stop by both Vik and Reynisfjara. 
Reynisfjara is named after Reynir, one of the area's first settlers, and means "Reynir's beach." Nearby landmarks are also named after Reynir, who was a Viking.
Why is Reynisfjara Popular?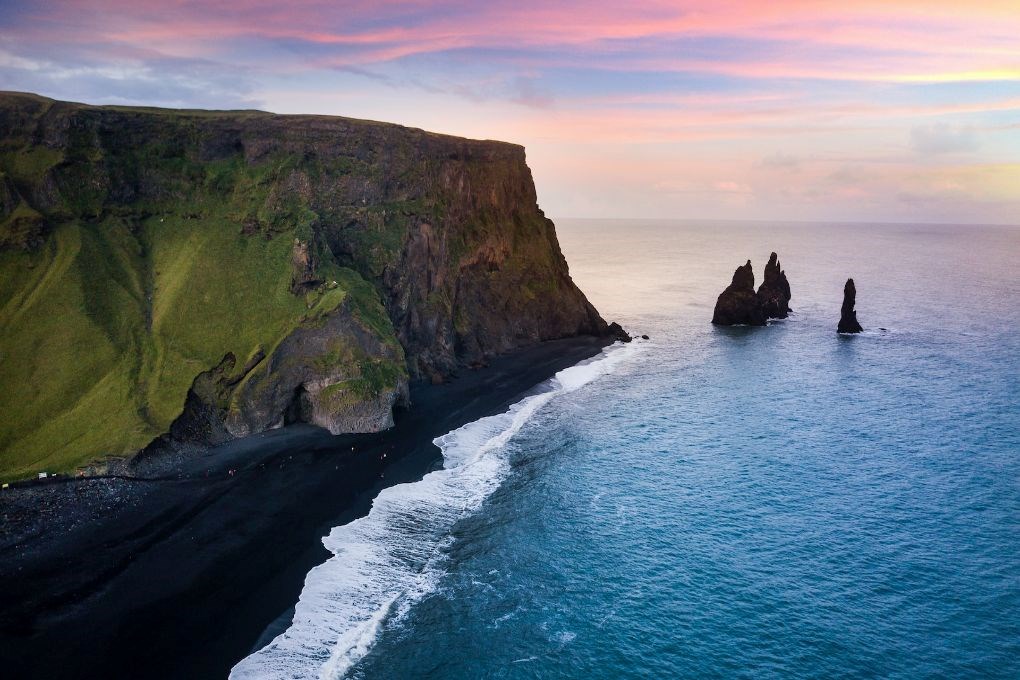 So other than Reynisfjara just being pretty and named one of the most beautiful beaches in the world, what other qualities has made this one of the top sites to see in Iceland and one of the most well-known photo spots in the entire country?
Well, beyond just the black sandy beachfront that leads into the high waves, the location also boasts a handful of other geographic landmarks that travellers love to visit and photograph. 
For example, there's the beach's basalt columns that are made from ancient cooled lava, but have a hexagonal appearance that looks altogether otherworldly. The basalt columns are also popular nesting spots for birds, so the beach is good for bird watching and wildlife watching.
Beyond the basalt columns, there are also cliffs and sea stacks, for interesting landscapes and views no matter which direction you look.
For those interested in regional folklore and history, they'll find something to appreciate here, too. Icelandic folklore states that the sea stacks off shore are actually trolls. Depending on the legend you listen to, the trolls were turned into stone when the sun rose and exposed them, or the trolls were frozen by a man seeking vengeance against the trolls for killing his wife. 
For those who enjoy travelling to various filming locations, the beach is also a top spot to visit (there are actually quite a few interesting filming locations scattered all across Iceland!). This beach has appeared in Game of Thrones, Season 7, during footage that shows the Wall at the Eastwatch by the Sea. Other movies and shows that have made use of the beach include Noah (2014), Star Trek: Into Darkness (2013) and Star Wars Rogue One. 
What to Do at Reynisfjara
Decided you definitely want to visit Reynisfjara during your trip to Iceland? Great! Now, once you get there and take a few pics, what should you actually do beyond just taking in the scenery?
As soon as you arrive at the car park, hike the Reynisfjara Trail down to the beach (do note that this is not really a trail, so much as just a walking path that takes you from the car park to the beach, but you'll still want to wear your hiking boots regardless — yes, even to the beach; this is no place for sandals). 
This walk is pretty short and offers stellar views nearly right away. 
Check out the basalt columns
One of the first things to see when you get down to the beach is its famous basalt columns, one of the area's most photographed spots. The columns are wonderfully symmetrical and nearly identical, differing only in height, with the tallest columns reaching approximately 20 meters into the air (or about 65 feet). 
While you can find basalt column formations all around Iceland and these are certainly not the only ones, these are some of the most pristine and photogenic. You can sit on some of the shortest ones for a quick photo op.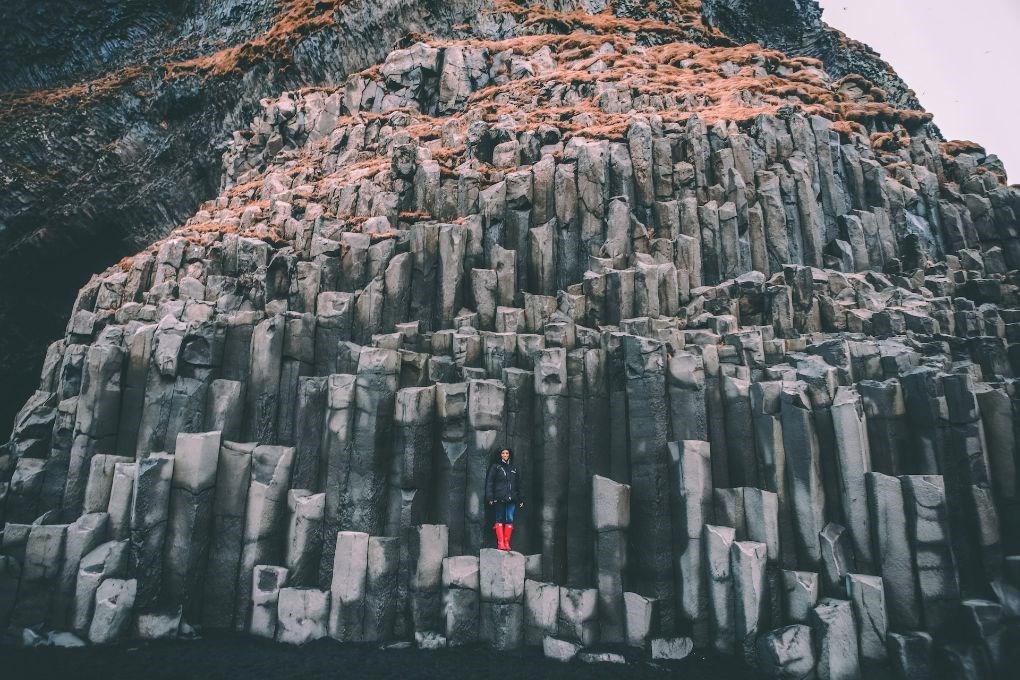 Explore Halsanefshellir Cave
You'll only want to see this next site at Reynisfjara if the waves and the tide are low, as otherwise it can be dangerous. However, if you visit while the waves are normal and the tide is not high, you'll be fine. 
That said, do watch your step and keep a careful ear out while you explore. Rocks can fall from the cave ceiling and there have been landslides. If you hear anything odd, vacate the area.  
Halsanefshellir Cave is a sea cave right on the beach and the basalt columns stretch right along the cave's entrance. This makes for unique formations around and within the cave.
The multiple sea stacks that lie off the coast have their own name: Reynisdrangar. As already mentioned, these stacks that were cut off from the mainland long ago due to erosion and harsh weather come with a helping of interesting folklore. Legend says that the stacks are actually frozen trolls, not rock, but whatever you think, there's no denying that the stacks are beautiful — and they're always changing, thanks to more erosion. Years ago, some of the stacks were connected at the tops, to form arches, but those arches have since fallen away. 
Take some photos and, if you have some binoculars handy, look for the birds that take residence along the stacks, just as they do in the basalt columns.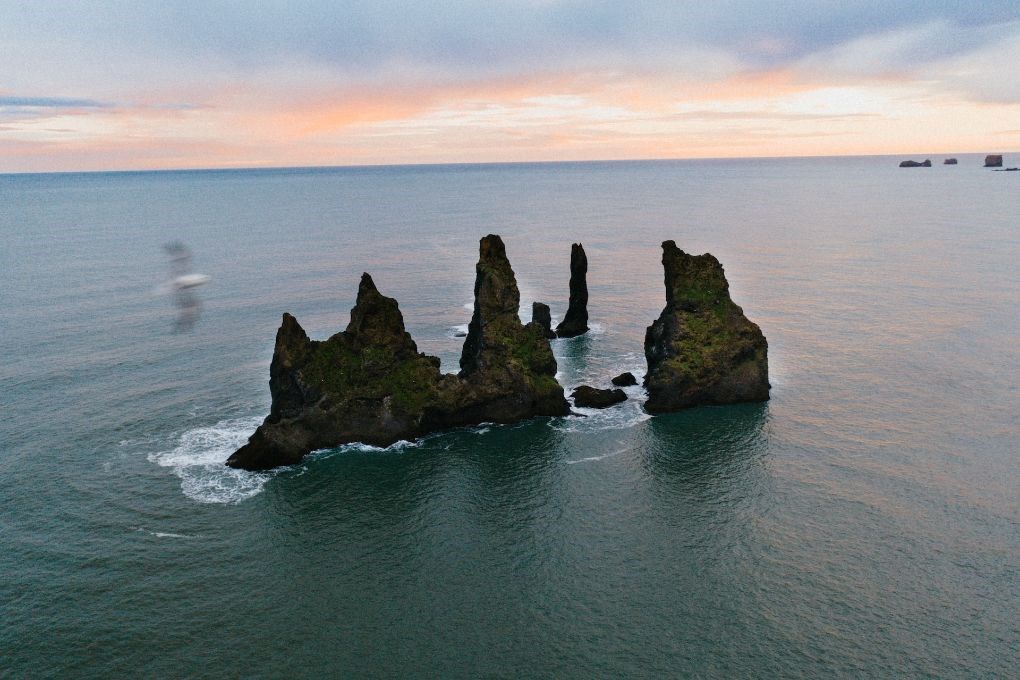 As you take all of the above in, walk up and down the beach and enjoy the scenery. You certainly won't be alone as you do so, as this is one of travellers' favourite spots in all of Iceland. 
The one thing you definitely won't want to do when you visit Reynisfjara? 
Jump into the ocean or sunbathe. You'll see that most visitors here are all bundled up in their coats. The water and air here are both on the chilly side, all year long, and swimming is particularly dangerous in the waves off the coast. 
How to Get to Reynisfjara
The best way to get to Reynisfjara from anywhere in Iceland is via a rental car and there are a few reasons why.
Reynisfjara is a several-hour drive from Reykjavik and there are no public transportation options between the two (public transit in Iceland overall is minimal). While it is possible to sometimes book tours that will take you to Reynisfjara, if you want to go to the beach whenever you want during your trip, as well as stay however long you like, you'll want to rent a car. 
Plus, if you rent a car for your visit to Reynisfjara, you'll have that car for a greater portion of your trip, allowing you to see more of the sights in the surrounding area. There's so much to do and see nearby that you'll most certainly want to plan on spending the night in Vik and taking it all in.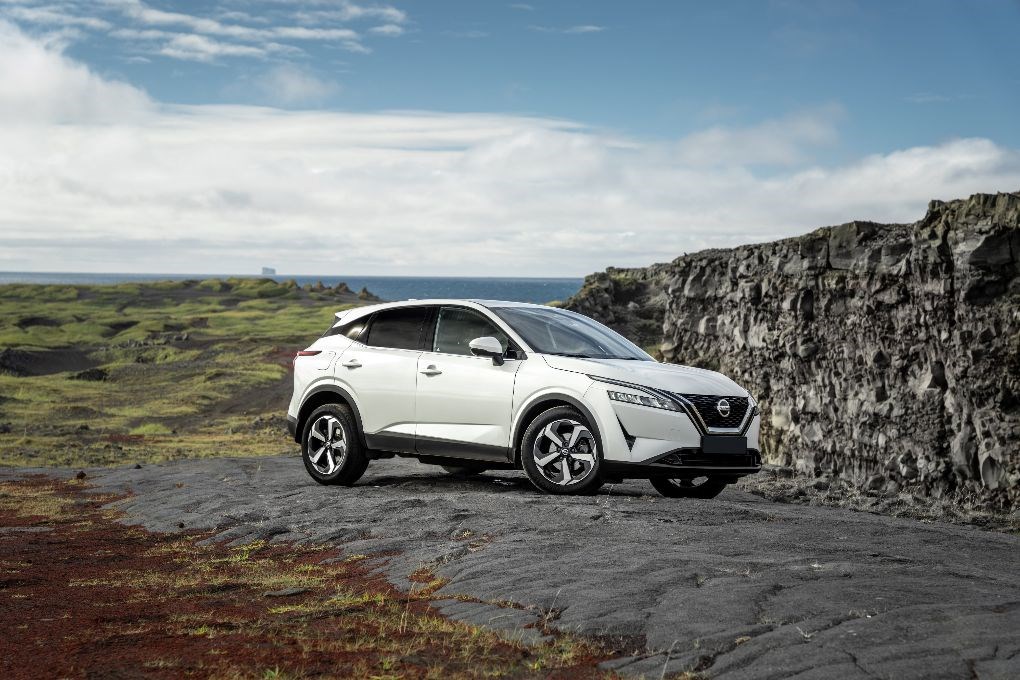 When is the Best Time to Visit Reynisfjara? 
Already have your trip to Iceland booked and want to know if you're visiting the area at a time that's ideal for walking along the black sands of Reynisfjara?
The good news is, you can easily visit Reynisfjara all year long, no matter the season or month. Plus, each season brings its own appeal.
If you visit Reynisfjara in the summer, you'll be able to enjoy milder temperatures and spot the puffins and other wildlife along the coast and on the columns. You'll also enjoy the dramatic scenery, with the dark waters, black sands and green cliffsides all contrasting against one another.
If you visit in the winter, though, you'll be able to enjoy the very dramatic image of the snow and black sand contrasting against one another.   
That said, no matter when you visit Reynisfjara, be sure to pay attention to the tides. Check local tide charts and visit during low tide, when the beach is safer.
Is Reynisfjara Beach Really Dangerous? 
If you think we're just hyping up the dangers that lurk at Reynisfjara, think again. Travellers have died hereafter not following the proper precautions.
The primary danger at Reynisfjara is something known as sneaker waves. These waves sneak up behind smaller waves so that you don't realize just how big they are until they're right up on you.
These sneaker waves can come in very quickly and can measure as much as 40 metres or 120 feet high — so as much as a tall building. Sometimes, the waves even wait until they're nearly right on the shore before they get this tall, making them even sneakier. If you're caught in one of these waves, you could be dragged out to sea, where you could die from either drowning or hypothermia.
Other dangers here include rockslides and falling rocks.  
How to be safe in Reynisfjara
To keep yourself and your family safe when visiting Reynisfjara, follow several precautions. For example, there is a warning system at Reynisfjara that will tell you where you can and can't safely go on the beach.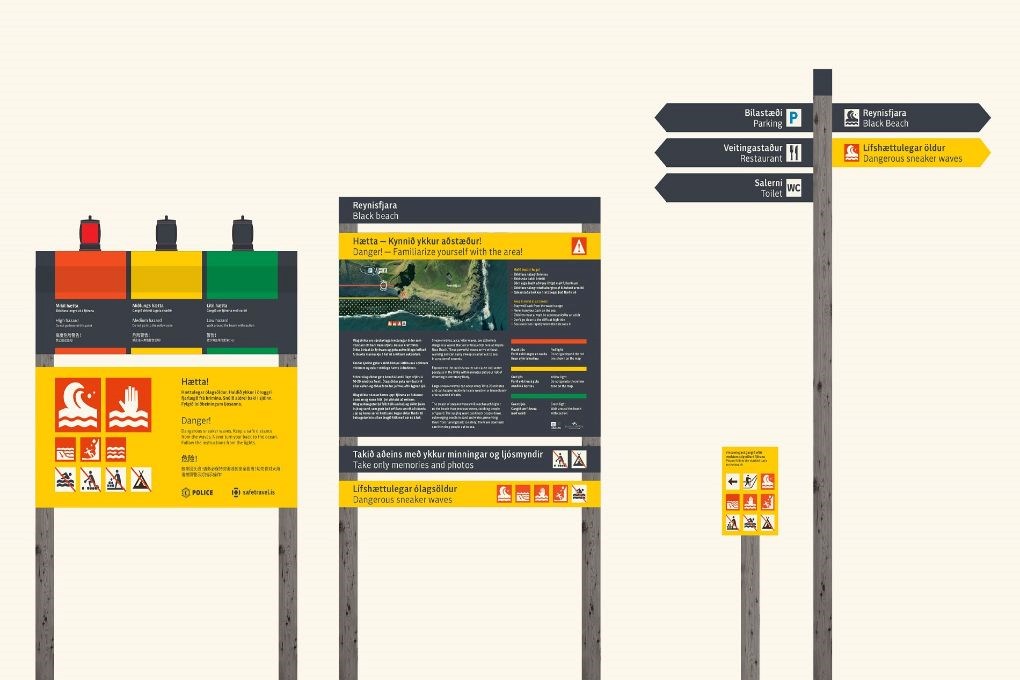 Photo credit: ferdamalastofa
Beyond following the warning system, also be sure to always keep an eye on the water. This means never turning your back to it.
Also, while you can sit on some of the smallest basalt columns and enter the very beginning of Halsanefshellir Cave, don't climb up the basalt columns and don't go deeper into Halsanefshellir Cave, to avoid falling rocks and tripping. 
When travelling with children, always keep a close eye on them and don't let them out of your sight. 
The warning system at Reynisfjara
So how does the warning system at Reynisfjara work?
As mentioned, there is a warning system at the beach that tells you where you can and can't safely go on the beach. That said, the warning system is not enforced by any security or lifeguards, so you'll want to always follow the system on your own.
The system includes a series of signs that indicate various zones around the beach. The signs feature flashing lights that tell you what the current danger level is at the beach. So, for example, if the yellow light is on, it means you have to stay away from the beach's yellow zone. If, however, the red light is on, it means you must not enter the red zone. 
The good news is, though, no matter what zone you're standing in, on the beach, you can still enjoy fantastic views.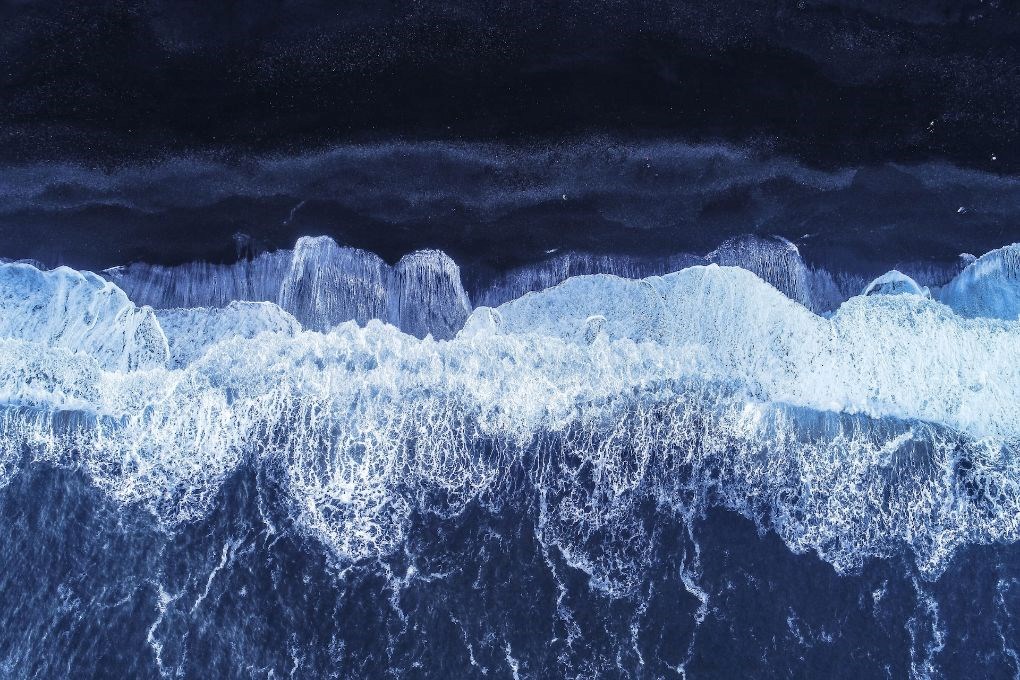 What to See and Do Around Reynisfjara
Once you've explored Reynisfjara, where should you go from there? 
While the beach actually stretches several kilometres, and goes all the way to Vik, there's more to do and see in the area beyond just the black sands. Here's what to do if you want to enjoy a full trip to the region.
You can either just stop into Vik for a few hours or an afternoon, or maybe consider spending the night. Whatever you do, you'll like this fishing village that's filled with cute photo ops and plenty to see. This is also a good spot to stop for lunch or a coffee, before or after you visit the beach. 
Check out the views at Dyrhólaey
If you're visiting Reynisfjara at any time of the year except for early summer, you can spend some time checking out all of the views at Dyrhólaey. (During the early summer, part of the area is closed for puffin nesting.) Regardless of when you visit, though, you'll find a peninsula field with spectacular scenery.
Visit a famous plane wreck
One of the most photographed and most famous spots in southern Iceland is the Sólheimasandur plane wreck. This wrecked U.S. Navy plane is slightly creepy, set in the black sands, but is well worth a visit just for the photo op. You can climb in and around it as you explore, and it is just a quick 20-minute drive from Reynisfjara. 
Take a dip in a hot springs
Iceland is filled with hot springs, from rugged springs tucked into mountain sides and only accessible via hiking, to hot springs that are fully developed and decked out with all the spa amenities you could need. For a quick hot springs dip near Reynisfjara, go to the Seljavallalaug Pool, a 20-minute drive away.
You can also find a selection of waterfalls nearby, between Reykjavik and Reynisfjara. Keep an eye out for Seljalandsfoss and Skogafoss and, if you like what you see, plan to visit more Iceland waterfalls during your trip.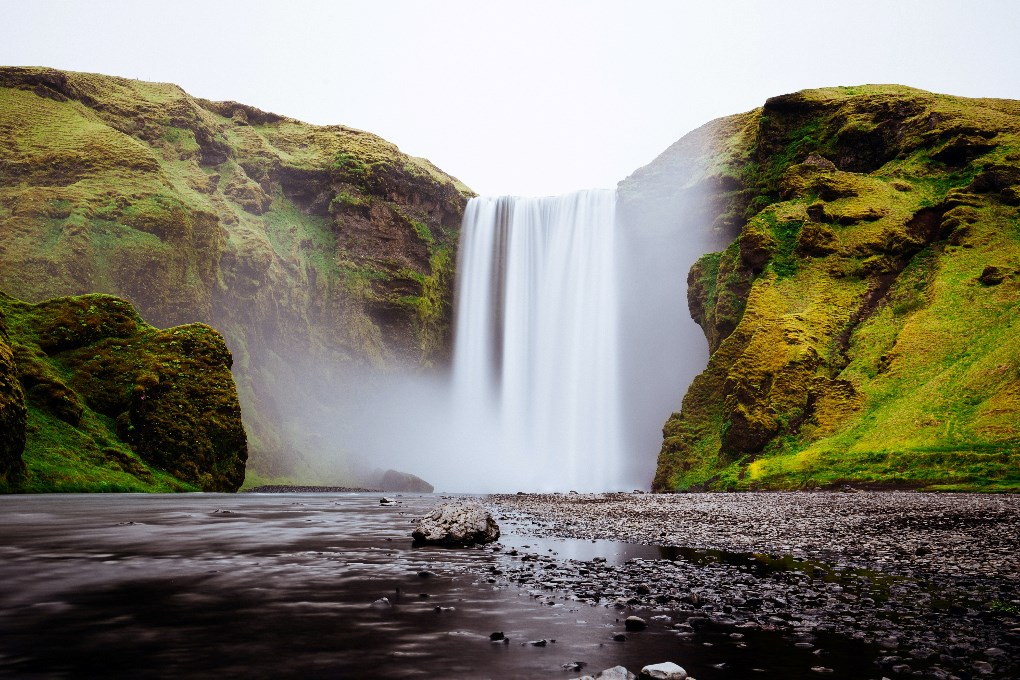 Nearby glaciers along Iceland's South Coast are worth a visit as well, including those at Vatnajokull National Park and at the Skaftafell Nature Reserve. Iceland's many glaciers are a part of the landscape that you just can't miss.
Of course, as alluded, a visit to Reynisfjara fits well into many Iceland road trip itineraries. 
You'll see it if you take an extensive Ring Road road trip, as that will take you around the entirety of the country, in a circle (as the name suggests). You'll see some of Iceland's top spots over the course of 10–14 days. 
If you have less time, you can also take a shorter, Iceland South Coast road trip, to see some of the best sites, from glaciers to waterfalls to, yes, Reynisfjara, in this part of the country. 
Need a Ride?
No matter how you plan on exploring and seeing Reynisfjara, you'll need a rental car that can get you there. That's where Lava Car Rental can come in handy.
We offer a variety of rental cars to fit every need. Travelling as a couple and want something budget-friendly that's suitable for driving in the summer? Check out our selection of 2WD vehicles. Visiting in the winter and want something that'll be totally safe for snowier conditions? Try a 4x4 rental car. Prefer to camp your way around Iceland? We rent camper vans as well. 
Whatever your preferred way to get around, we'll help you protect your travel budget with comprehensive rental car insurance that checks all the right boxes. 
So what are you waiting for? Check out your rental options and get in touch today to start planning your perfect Iceland road trip.