Choosing the right insurance for your car rental in Iceland is essential. Iceland is a beautiful country with dramatic landscapes but it has extreme weather conditions and gravel roads that can cause damage to your rental car. Insurances save your back in case of damage. Without them, you would have to pay for this damage out of your own pocket. In general, we highly recommend you get good coverage to reduce your self-risk.
You can find below the insurances included in your rentals with Lava Car Rental and the optional insurance package you can add to your reservation.
Insurance options on the Lava Car Rental website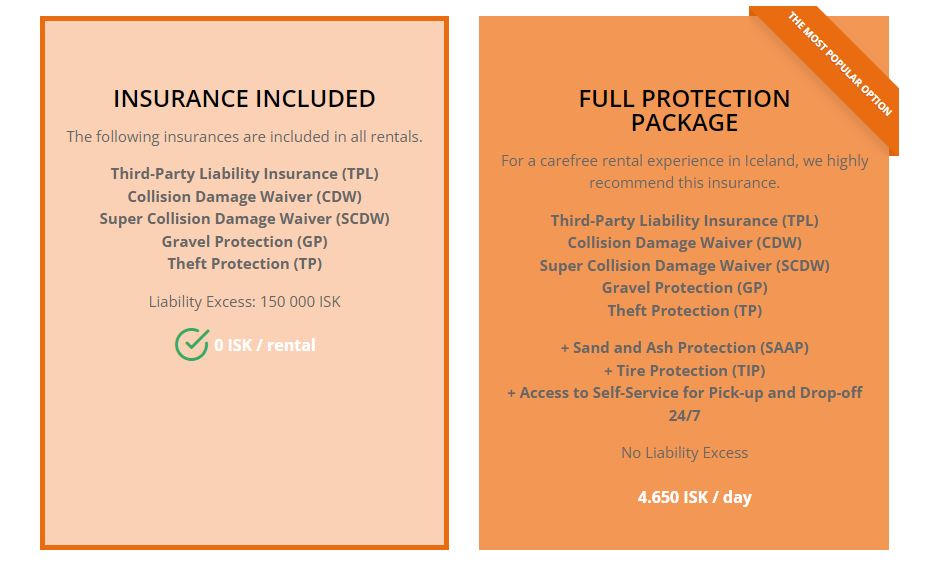 Insurances included with your rental
Third-Party Liability Insurance (TPL)
Third-party liability is equivalent to the amount stipulated by Icelandic law at each time. This also applies to the amount of individual driver liability. Third-party coverage and personal accident insurance are automatically included in your rental.
Collision Damage Waiver (CDW)
The CDW covers the body of the vehicle and all collision damages. This insurance also covers the driver and all other passengers of the vehicle for any injuries. This includes emergency treatment, hospital stays, medical exams, and other expenses you may face. The CDW is automatically included in your rental and the liability excess amount is 360 000 ISK.
Super Collision Damage Waiver (SCDW)
SCDW covers the bodywork of the vehicle in the same way CDW does but lowers the liability excess amount to 150 000 ISK for all our vehicles. We offer our customers this to provide them with more security when travelling and a more enjoyable experience.
Theft Protection (TP)
This protection covers theft of the rental vehicle and the renter liability excess is Zero ISK for all our vehicles.
Gravel Protection (GP)
This protection covers damage to the windscreen, headlights, mirrors, hood or any other part of the vehicle when gravel or rocks get thrown onto the vehicle by another vehicle. Liability excess 35 000 ISK.
Option to upgrade to Full Protection Package
The Full Protection waiver reduces the liability excess amount for any damage covered by our insurance to Zero ISK. This includes CDW/SCDW, TP, GP, SAAP, and TIP and is subject to the terms and conditions of the Rental Agreement. Excluded are any damages not covered by insurance as stated in Articles 29 and 32 in the Rental Agreement and terms and conditions. Keep in mind that this is not extra insurance, but an option for our renters to waive their liability excess in case of any damage to the rental vehicle during the rental time.
Sand and Ash Protection (SAAP)
No regular car insurance covers damage from sand and ash storms. This protection covers our customers against damage due to sand and ash storms which damage the paint of the vehicle, windows, lights, and plastic. These damages can cost between 500.000 to 3.500.000 ISK to fix. Liability excess is Zero ISK with the Full Protection Package.
Tire Protection (TIP)
This protection only covers the damage to tires and the wheels, i.e. the repair or cost of a new tire. It does not cover the assistance required. In the case of a flat tire, the renter is responsible for transporting the vehicle to the nearest tire shop to have the tire replaced or fixed. Liability excess is Zero ISK with the Full Protection Package.
Other useful information about insurance
What damages are not covered by any insurance?
The following damages are not covered by any car rental insurance in any case:
Negligence

Driving while intoxicated

Race or test driving
Damage done by animals
Damage caused to the top of the vehicle from standing, sitting, mounting, or climbing on the vehicle or from any other action that does not fall under regular use of the vehicle.
Damage to the chassis, or any part of the vehicle, resulting from the vehicle scraping bottom on rough roads.
Damage resulting from driving in places where driving is banned

Damage caused by wind blowing up the door while opening it

Damage caused by driving into water

Towing if not due to malfunction of the vehicle
More info can be found in our terms and conditions and rental agreement terms.
I have credit card insurance. Can I forfeit the CDW?
If you have insurance through your credit card and wish to decline our insurance, we will happily assist you. Just make sure you will be well covered by your credit card insurance. Please note that there is no refund of CDW Insurance in case you forfeit it.
Do I need to pay for the damage when I return the car?
In Iceland, in case of damage, you will first pay the car rental for the damage and then get reimbursed through your insurance provider. The amount to pay depends on the type of damage (if it is covered or not by the insurance), the car rental insurance plan of the customer, and the self-risk amount.
Can I add additional insurance after I have made a reservation?
You can book your insurance during the booking process, upgrade your insurance in your Manage My Booking area or by sending us an email, or add some insurance when you pick up the car at our office.
Is Assistance included in the rental? Do I need to pay anything for it?
In case you have any problems during your journey, we offer breakdown services by calling our phone number or contacting us at info@lavacarrental.is. We provide Roadside Assistance and cover the cost if it is due to a fault in the rental vehicle. If it is not due to a fault in the rental vehicle, Lava Car Rental does not cover the cost of roadside assistance but we will assist you in getting the help you need during office hours.
Do you have any questions?
For more information about insurance, we invite you to read our terms and conditions and rental agreement terms.
If you are ready to rent a car in Iceland, you can check the available cars for your dates by searching on our website: