A Guide to Driving in Iceland in October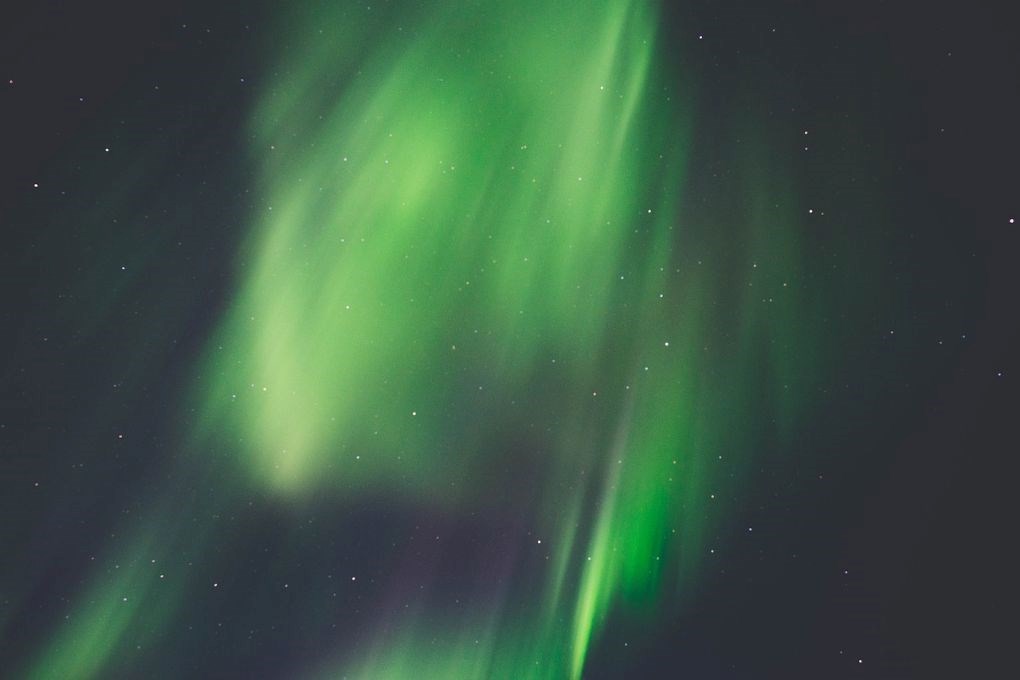 If you're planning on visiting Iceland in October, there's no better way to get around than via a rental car. This month is a great time to explore so many different regions throughout the country and since Iceland is short on public transit, you'll need a car in order to visit those regions. (Don't worry, though; driving in Iceland in October is relatively easy!)
If you're considering planning a road trip to Iceland in October, you'll need to know…
What to do in Iceland in October

What to see in Iceland in October

The best rental cars in Iceland in October

What driving in Iceland in the fall is like
And more! 
Keep reading to find out everything you need to know about driving around this beautiful country in October. 
Is October a Good Time to Visit Iceland?
Yes, absolutely, and for a few key reasons, including:
The weather

The fewer crowds

And the northern lights 
It may be fall in your corner of the planet, but in Iceland, once October comes, we're already gearing up for winter. 
Iceland really only has two specific seasons: summer and winter. Spring and fall are so short and the weather is so dramatically different in the different parts of the year, that you really can't expect to see any slow transitions from summer to fall to winter. Iceland in fall is really just Iceland in early winter. 
That said, Iceland's October days aren't as dark or as cold as what you'd might experience if you visited during December or January, which makes October an excellent time to visit Iceland if you're ready to escape the heat, but you don't really care for excessive snow and ice, and if you want better road conditions than what you might find in Iceland in mid-winter.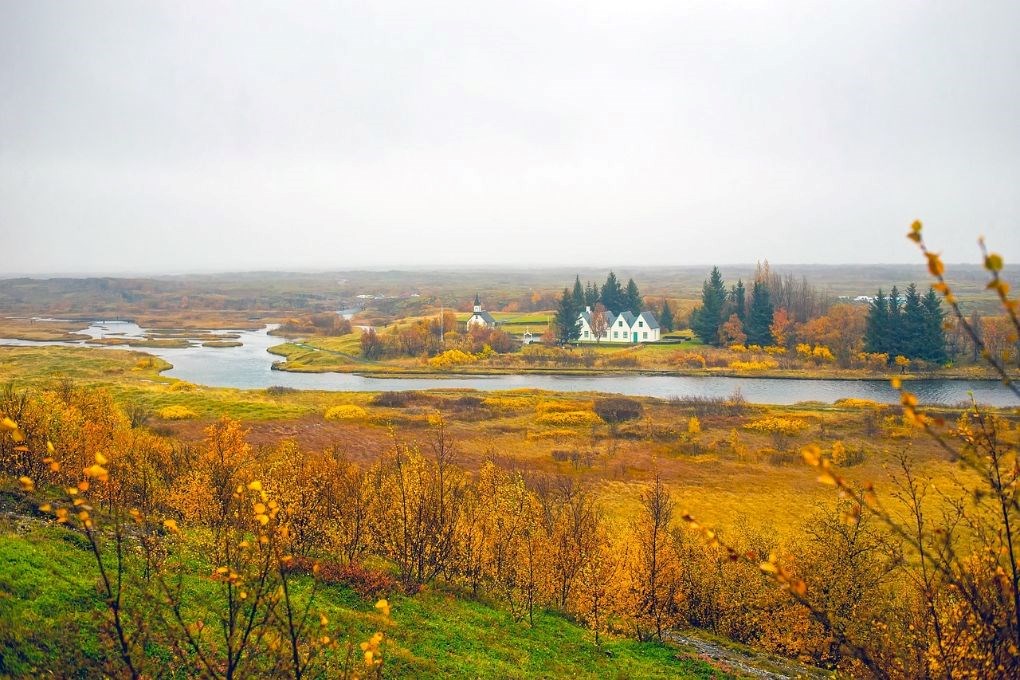 Additionally, October in Iceland is relatively quiet. The tourism peak occurs in mid-summer, so the crowds are down, and you're early enough in the winter that you can avoid the holiday crowds. If you don't want to jostle your way through tourist groups at top sites throughout the country, this is the time you'll want to visit.
If you dream of seeing the northern lights in Iceland, October is also an excellent time for you to visit, too, thanks to the lengthening evening hours. At the beginning of October, the sun rises in Iceland around 7 a.m., and then sets at around 7 p.m. By the end of the month, though, the sun starts setting around 5 p.m. and doesn't rise until about 9 a.m. — giving you plenty of time to see the northern lights either in the early morning or after dinner! 
How to see the northern lights in Iceland
If you're specifically planning on travelling to Iceland in October to see the northern lights, you'll want to check out our full guide to chasing the northern lights in your rental car. However, here are a few quick tips.
In order to see the northern lights, you'll need:
The darker the sky, the better chances you'll have at seeing the northern lights. For this reason, you don't want to stick around Reykjavik or another city, where light pollution can make seeing the northern lights difficult or even impossible. Instead, drive out to some of the more remote and rural regions, for the best views.
The northern lights are caused by solar activity. Aurora forecasts will tell you when solar activity is most prominent, so you have the best chances of seeing the northern lights. To get the latest info and aurora forecasts, check out the ample resources offered by the Icelandic Meteorological Office and Aurora Forecast.
Of course, even if it's very dark and even if you have solar activity, you still won't be able to see the northern lights if the skies aren't clear. During your northern lights excursions, keep a close eye on the weather reports. In some cases, you may be able to drive away from poor viewing weather and find clearer skies in another area, for better viewing. 
Weather and Temperatures in Iceland in October    
As touched on briefly above, the weather and temperatures in Iceland in October are very agreeable if you don't mind a little cold. However, as always is the case with the weather in Iceland, you never know what you're going to get on any given day. The weather can change drastically in a matter of minutes and that's definitely the case in October. 
Temperatures in October, on average, hover between 6.8 and 2.2 degrees Celsius (or between 44 and 36 degrees Fahrenheit). It's cold enough that you'll want to pack a warm coat, but not so cold that you can expect snow every single day. That's not to say that it won't snow — snow is likely from the middle of the month onward. However, you don't need to anticipate heavy snow storms and ice. Any inclement weather will, most likely, be just rain and wind. 
Renting a Car in Iceland in October
Decided that a trip to Iceland in October is exactly what you need? Then here's everything to know about renting a car in Iceland in October.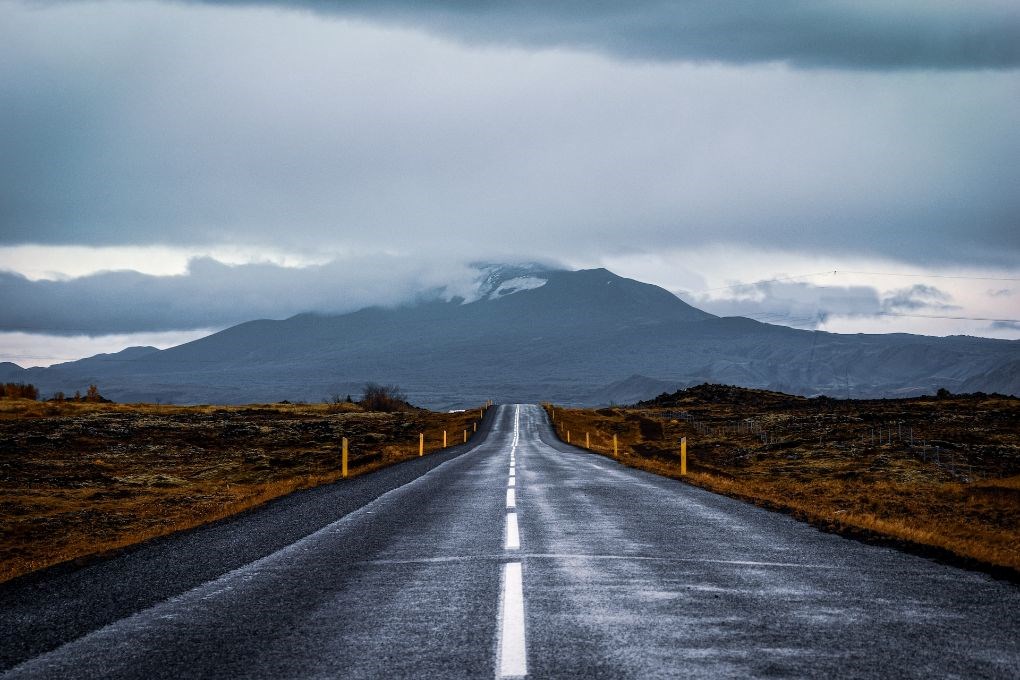 Should you self-drive to Iceland in October?
First of all, should you even do it? Definitely! There are so many reasons why you should always rent a car in Iceland and then drive your way around the country on your own, no matter the season or time of year that you visit.
When you rent a car, you enjoy ample freedom, independence and flexibility. You can go wherever you want, whenever you want, without being tied down to tour groups or public transportation (and Iceland has very little public transportation!). 
Additionally, as you drive, you'll be able to take in the full beauty of the country, right from your window. All the views are there for you to enjoy at your leisure. You can stop and take as many photos as you like, pull off to see attractions that you didn't even know existed and thoroughly enjoy your trip at your own pace.
What are the road conditions like in Iceland in October? 
If you're worried about the road conditions in Iceland in October, because we're getting into our winter season, you may want to visit during the earlier part of the month. The road conditions can change drastically from early October to late October. 
During the first part of the month, snow is typically only found in certain areas of the country, such as in the East Fjords, the North and the Westfjords. Otherwise, you can expect good, clear, easy-to-drive road conditions elsewhere, just about all the time.
During the later part of the month, though, snow is more possible everywhere, and snow is likely going to be on the roadways in the North, Westfjords and East Fjords. 
On top of this, during October, you will notice that some roadways are entirely closed off, as is the case with the Highlands. These roads are only accessible during the summer months. Similarly, while the Westfjords roadways might not be closed off in October, they will be more difficult to drive, due to their rugged terrain and the likelihood of snow. 
What car do you need to visit Iceland in October?
All that said, what kind of car rental in Iceland will you need if you visit in October? It all depends on where you plan to travel and what time of the month you'll be visiting.
If you're visiting during the first half of the month and you plan on staying just on major roadways and only in the southern part of the island, you can feel comfortable and confident booking a 2WD vehicle. 
However, if you're planning on visiting other areas of the country, even in the first half of the month, you'll want to rent a 4x4 vehicle or an SUV, just in case you encounter snow. A 4x4 SUV will provide you with more ground clearance and greater traction, so you can navigate through poor road conditions with ease.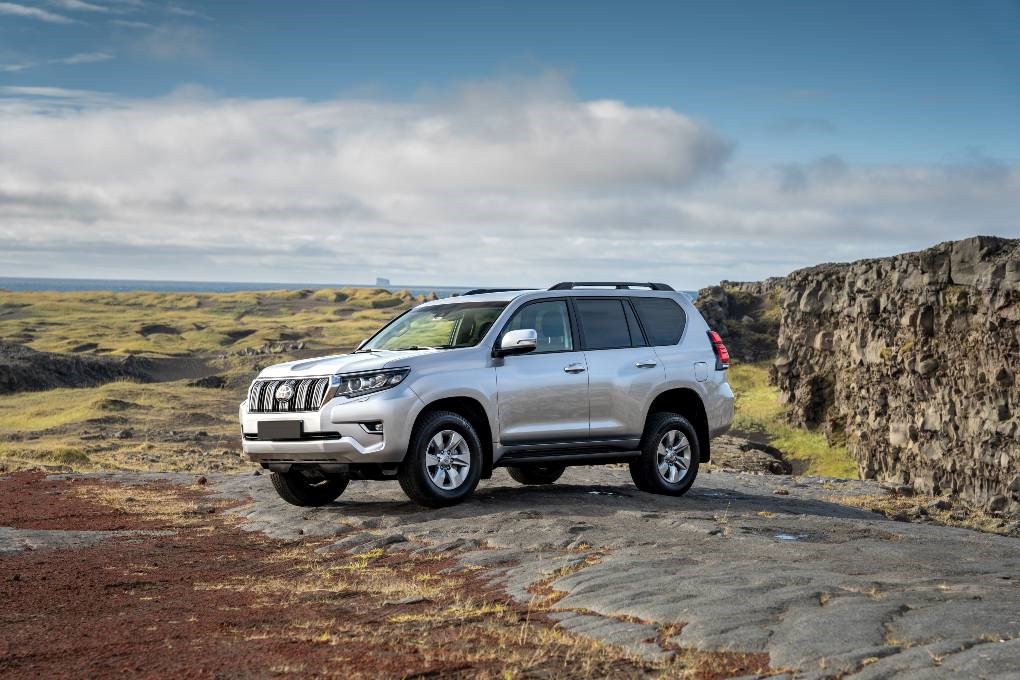 During the second half of the month, whatever area of the country that you plan on visiting, though, a 4x4 vehicle is still a smart idea, just in the event that there is some snow. 
Want to camp? That's still a possibility in October, too, so you might consider renting a campervan. Just make sure that you bring plenty of warm clothes and gear and, just like you would when renting any car, if you plan on travelling outside of the South in the early part of the month, or anywhere in the latter part of the month, be sure to book a 4x4. 
Whatever rental car you decide is the best fit for your Iceland trip, try to book your car in advance of your arrival. While the lower tourist crowds do mean that there's more rental car availability in October than there might be in mid-summer, availability is not always guaranteed. To ensure you get the vehicle that you want, as well as the vehicle that you need based on your itinerary and preferences, book your rental car as soon as you know that you're coming to Iceland. 
What kind of car rental insurance should I get in Iceland in October?
But don't just book your rental car. You also need to purchase rental car insurance. While, if you book your vehicle through the Lava Car Rental website, you'll automatically receive some insurance bundled into the price of your rental, you may want to upgrade to a full protection plan. A full protection plan can ensure that you're covered in the event of certain types of incidents that aren't covered under the basic insurance plan, including in the event of wind damage, sand or ash damage or tyre issues. 
Where to Go in Iceland in October 
Once you've decided you're travelling to Iceland in October and you've decided on the rental car that will be best for your trip, it's time to start planning what you'll do and where you'll go when you're here. 
We suggest going on either a Ring Road or a South Iceland road trip.
A Ring Road road trip will take you around the entirety of the island (as the road is literally in the shape of a ring) and to some of the main, best attractions. You'll get to see a little bit of just about every region of the country. This road trip does take a minimum of eight days, though, so be sure to plan enough time to see it all, without needing to rush. 
If you take a South Iceland road trip, you need a little less time, but you'll still get to see and do quite a lot. South Iceland is known for its gorgeous waterfalls, glaciers, lagoons and beaches. Plus, South Iceland's weather is a little better in October, compared to the northern parts of the country. 
What to Do in Iceland in October
No matter where you end up going when you visit Iceland in October, though, there are a few activities that we recommend adding to your itinerary. 
Experiencing the northern lights
October is a great time to see the northern lights in Iceland, so make sure you set aside a night or two in your trip to go northern lights chasing.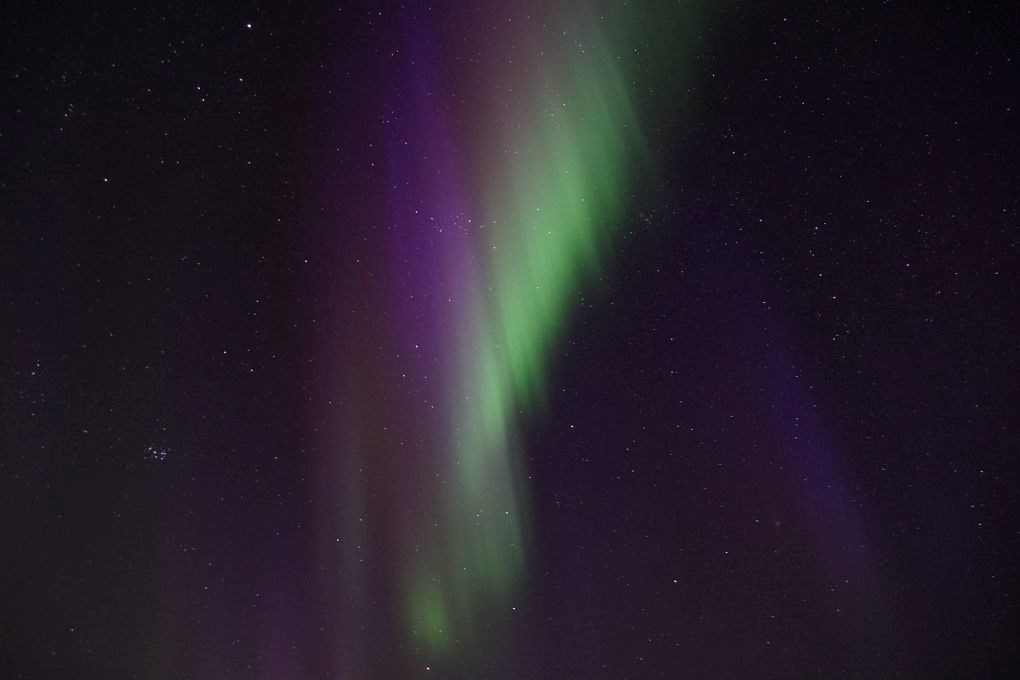 October is when many animals in Iceland begin migrating for the season, so you might not get to see all of the wildlife that you could if you were to visit in mid-summer. However, you can still see some of the marine life, such as dolphins, whales, and porpoises, off the coast, when you take a tour or just drive along the eastern coast. 
Visiting the geothermal pools
As the weather gets chilly, it's the perfect time to visit some of Iceland's best geothermal pools and hot springs. Pack your suitcase, take a dip and enjoy relaxing in wonderfully warm water. 
For an adventure, consider taking an outdoor-focused tour, such as a glacier hiking tour, horseback riding tour, snowmobiling tour or even a snorkelling tour. 
Events in Iceland in October 
There are also several can't-miss events that you might consider attending if you're visiting Iceland in October at the right time. 
The Imagine Peace Tower Lighting
The Imagine Peace Tower lighting occurs every year on Oct. 9. The memorial honours John Lennon and is lit on his birthday. The tower, created by Yoko Ono, is located on Videy, an island near Reykjavik and accessible via ferry. Even if you can't catch the tower's lighting, you can still see it lit, as it remains so from Oct. 9 and until Dec. 9. 
The Reykjavík International Film Festival (RIFF)
Toward the end of the month, the Reykjavik International Film Festival (RIFF) descends upon the city with nearly two weeks of film screenings and other film-related events. There are more than 100 film showings overall, so you have plenty of opportunities to catch one. 
What to Wear in October in Iceland  
As you start planning what you'll pack for your October trip to Iceland, remember that the weather can fluctuate a lot throughout the month and that it's probably colder in Iceland in October than what you might be used to in your own country. We recommend you pack…
Warm, layered clothing including sweaters and thermals 

A warm and waterproof jacket

Insulated and waterproof hiking boots

Hats, gloves and scarves

Thermal underwear 

Waterproof hiking pants

A swimsuit (for the geothermal pools and hot springs!)
Other than clothing, also make sure you bring along…
A travel adapter (for Iceland's Type C and F power outlets)

Your camera and extra batteries

A daypack for carrying all your gear 

A reusable water bottle
Additionally, try to check the weather forecast closer to your travel dates, so you can know what the expected weather will be like and can adjust your packing plans accordingly. 
Final Tips for Driving in Iceland in October 
Ready to get out there and explore Iceland? Just make sure that you…
Rent the right car for your travel needs, whether that's a 2WD vehicle or a 4x4

Get the right insurance to keep you and your rental car protected throughout your trip

Keep an eye on both

www.vedur.is

and

www.road.is

, to stay informed of the most current weather and road conditions

Adapt your plans if the weather or road conditions are bad

Follow all

Icelandic driving and parking rules

 
Is it Worth Visiting Iceland in October?
We hope we've convinced you that it's absolutely worth visiting Iceland in October, whether you just come for the lower crowds, the northern lights or any of the other things that make a trip to Iceland in October amazing. 
See it all and more, when you rent a car for a self-driving trip around Iceland. Check out all of Lava Car Rental's options and book today!