A Guide to Driving in Iceland in January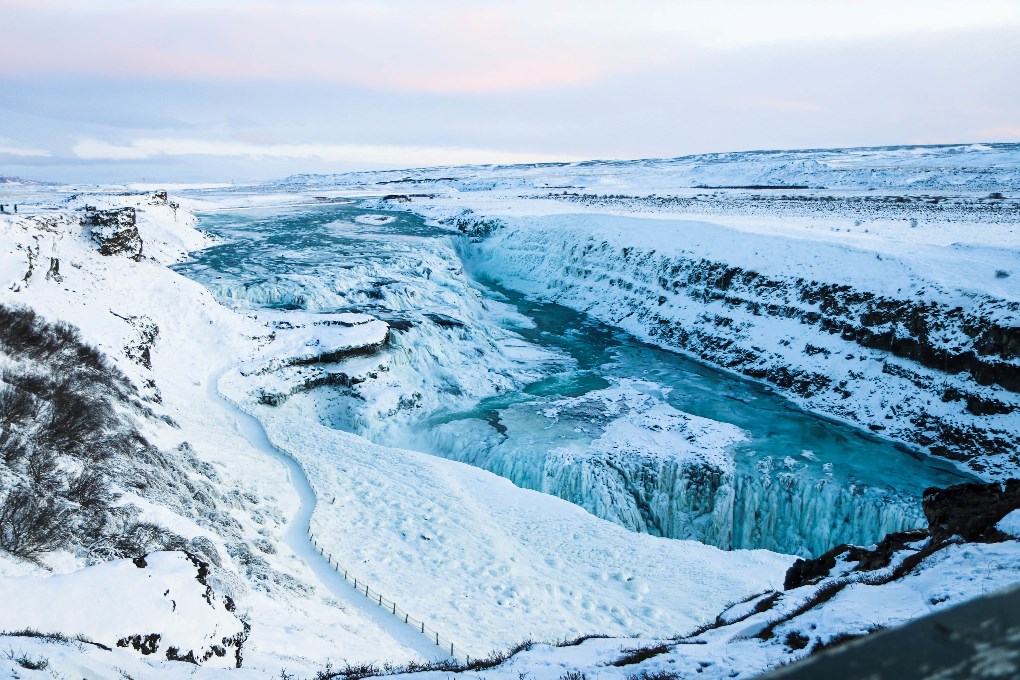 If you're thinking of taking a road trip to Iceland in January, while you may be excited about all the wintertime Iceland activities, like ice caving or northern lights hunting, you may also be a little hesitant about the actual driving part of the road trip. The same things that make Iceland beautiful during the winter months — the ice, the snow, the harsh conditions, the lengthened darkness — can also make getting around difficult. 
Keep reading to find out everything you need to know on…
What to do in Iceland in January

What driving in Iceland in winter is like

The best rental cars in Iceland in January specifically

And more!
Is Visiting Iceland in January a Good Idea? 
But first, let's get one big question out of the way: Is visiting Iceland in January a good idea at all? There are a few things you'll want to consider, as you determine whether or not January is a great time for you to visit Iceland, or if you should hold off on your trip until the spring or summer.
The good things about visiting Iceland in January? You'll be able to enjoy some of the best things to do in Iceland in the winter, such as ice caving, glacier hiking and northern lights hunting. You'll also enjoy travelling with fewer crowds than you might experience during the height of summer. With fewer crowds, you'll also find better travel deals, as airfare, hotel fees and more are reduced to attract more travellers. 
On the other hand, the downsides to visiting Iceland in January include the cold weather, extended darkness and greater difficulty getting around. While it's still possible to have a fantastic time in Iceland in the winter, these are all things to consider as you determine whether or not you should visit Iceland in January. 
The Weather in Iceland in January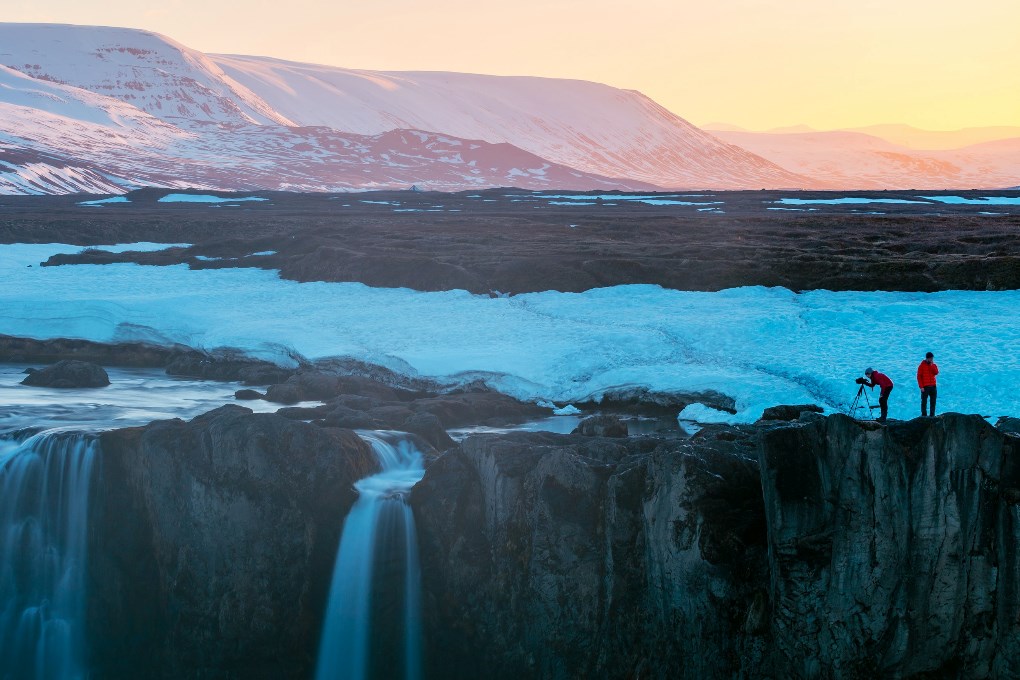 The biggest difference you'll see when visiting Iceland in the winter versus in the summer is the weather. 
January is mid-winter in Iceland, so you'll experience all the typical things that come with harsh winter conditions, including snow, ice, heavy winds and extended darkness. However, just because those things are all prominent, that doesn't mean that you can't have a good time in Iceland in January. It just means that you'll have to take a little extra precaution as you plan your trip and then as you get around once you're here, as the weather can be unpredictable and pose hazardous challenges. 
What is it like in Iceland in January?
Overall, while things are cold and relatively dark, and the tourist crowds are smaller in Iceland in January, things are still beautiful, especially once you get out of Reykjavik and explore more of Iceland beyond the city. 
In the more rural areas, you'll find more snow and picturesque landscapes that really show off just how gorgeous Iceland is during the winter months. If you're looking for a peaceful, placid, beautiful retreat, and you don't mind a little cold weather, then you may just find Iceland in January is your perfect getaway destination.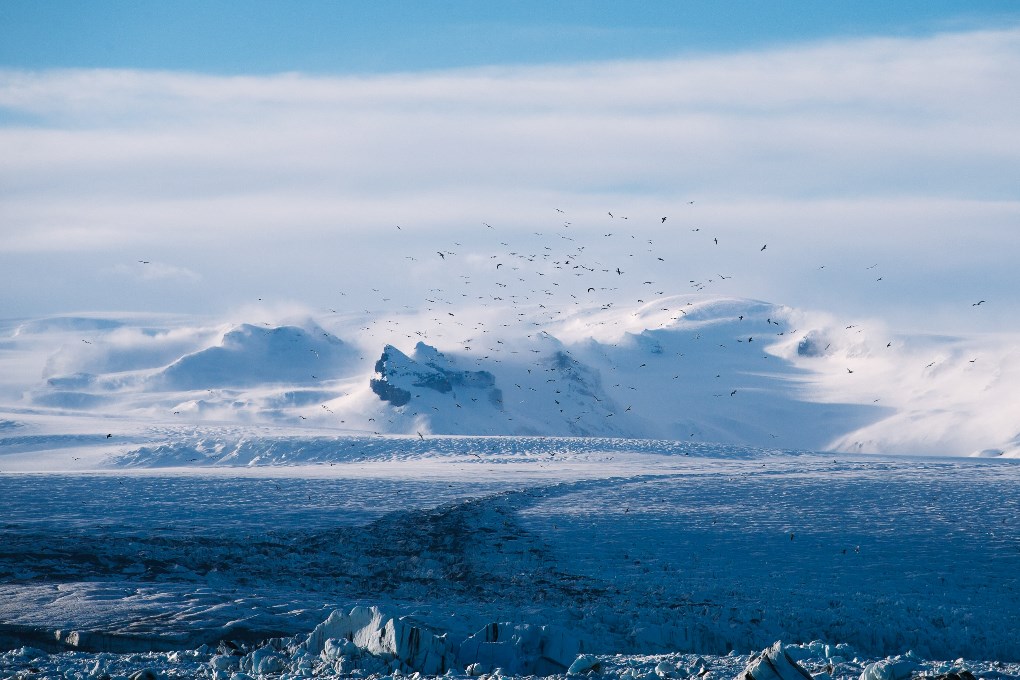 How cold is Iceland in January?
So just how cold is it in Iceland in January? You might actually be surprised — and in a good way! Many travellers visiting Iceland in the winter for the first time expect the country to be completely frozen over, experiencing sub-zero temperatures. However, Iceland is geographically situated so that it's hit by the Gulf Stream, bringing warm waters that make the temperatures a little milder. 
On average, wintertime temperatures hover around 1ºC and -1ºC (30ºF and 33ºF). Sometimes, those temperatures might dip down to -10 °C (14ºF) or go up to 5°C (41ºF). Very rarely, temperatures might go below this, but it's definitely unusual. The winds, though, can make the temperatures feel colder than they are. 
What time does it get dark in Iceland in January?
While many travellers are surprised by the milder winter temperatures, many are likewise surprised by the extended darkness that Iceland experiences in January. Some travellers come from countries where they might still get 10 or so hours of daylight during their darkest periods of the year; however, in early January in Iceland, we only get about 4 hours of daylight. The daylight hours do extend more and more as the month goes on, though, so, by the end of January, we can experience up to 7 hours of daylight. 
Keep in mind that while this extended darkness can make some sightseeing difficult, the darkness creates the perfect conditions for northern lights viewing!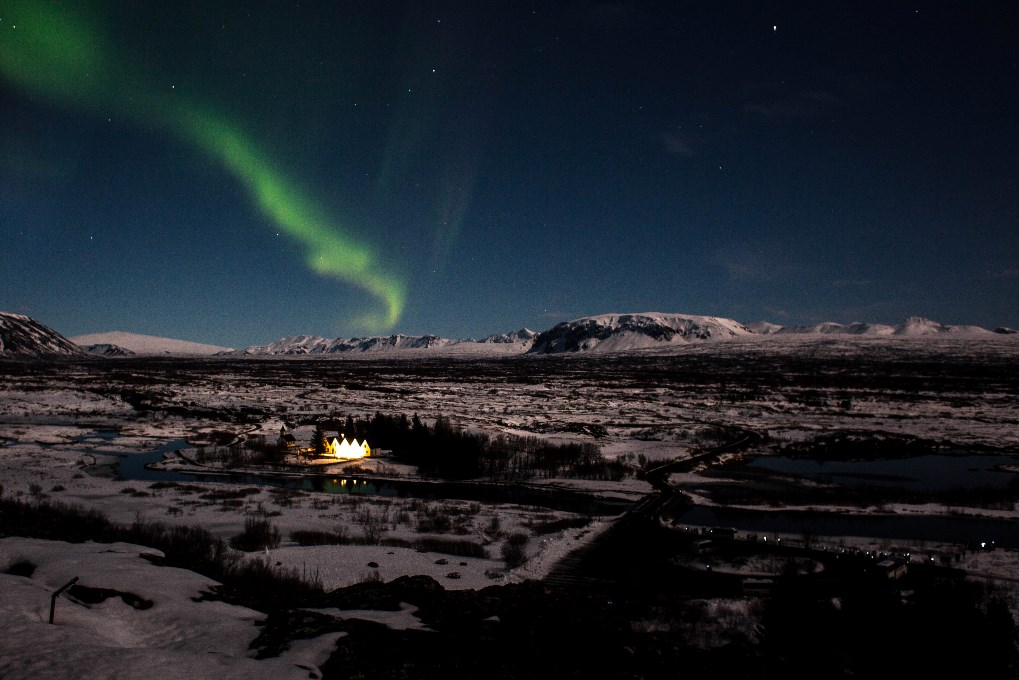 Driving in Iceland in January
All of the above need-to-know details about Iceland in winter sound totally fine? Great! Here's what you need to know to self-drive to Iceland in January. 
Should I drive in Iceland in January?
Just like there are various pros and cons about Icelandic winters to consider before booking your trip, there are also pros and cons to driving in Iceland in winter that you'll want to consider before booking your rental car.
It's totally possible for travellers to drive in Iceland during the winter. The major benefit of doing so is that you can then create your own, flexible itinerary and go where you want to go and do what you want to do, without relying on a tour guide. 
However, driving in Iceland in winter comes with its hazards and can be slightly stressful if you're not a confident driver. If you're not comfortable driving during winter weather in your own home country, you may not want to drive in Iceland at all during the winter. 
What are the road conditions like in Iceland in January?
So just how bad are we talking when we talk about road conditions in Iceland in January? 
The conditions will vary depending on where you are in the country. The roadways may be completely clear during your trip if you stick to certain regions or cities, but the roadways may be completely inaccessible in other areas.
Iceland's main and most heavily trafficked roads, like the Ring Road, are usually kept cleared of snow during the winter months. This means, if you're planning a Ring Road roadtrip, you'll likely experience very few lengthy delays, even if a winter storm does pop up.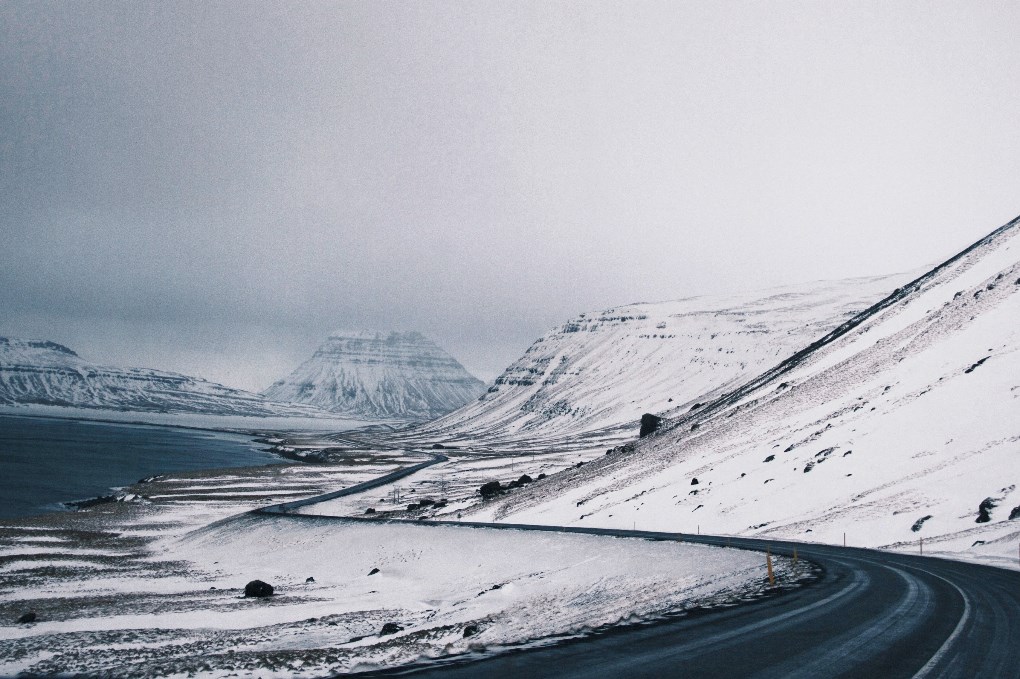 However, if you're planning to get off the beaten path, you'll find rural roads are less likely to be cleared or, if they are cleared, it might take a little bit longer, resulting in longer delays for your trip. Additionally, rural roads may be gravel, not paved, which makes winter driving even more difficult.
Complete road closures are most common in northern and eastern Iceland. Road closures can last from a few hours to a few days. Road closures occur when heavy snow, ice, flooding, strong winds or avalanche warnings make driving and immediate clearing impossible. 
A few regions of Iceland are completely, entirely inaccessible during the winter months, including the Westfjords and the Highlands. If you want to visit these areas of Iceland specifically, you'll want to visit during the summer. 
What are the best cars to drive in Iceland in January?
If you decide that you can take on Iceland's winter roads, you'll want to ensure that you rent the right car that can handle the roads and driving conditions. While a 4x4 vehicle is not required in Iceland during the winter, they are highly recommended, as they're your safest option in the event of unexpected winter weather events. 
You'll find that a 4x4 vehicle gives you extra clearance and traction, which is necessary for driving over snow and ice. Additionally, there are some areas of Iceland where you'll find getting around is nearly impossible without a 4x4 vehicle, given the weather. 
When do you need a 4x4 in Iceland in January?
You absolutely need a 4x4 vehicle in Iceland in January if you'll be travelling to areas that experience frequent winter weather, even if the roads are paved and well-maintained. These include the Ring Road, Snaefellsnes Peninsula and Glacier Lagoon. 
However, you can get by travelling in a 2WD vehicle if you plan to stick to the areas that experience less winter weather or the areas that are most heavily populated. These include Reykjavik, the Golden Circle and Keflavik.  
Can I travel in a campervan in Iceland in January?
Yes, there are 4x4 campervans available in Iceland. However, if you want to camp around Iceland in the winter, do keep in mind that many campgrounds are closed over the winter months and the weather can make camping uncomfortable. 
Is it safe to drive in Iceland in January?
So given all of the above, is it safe to drive in Iceland in the winter? Yes, it's very safe to drive in Iceland in January if…
You pay attention to the weather forecast and road conditions

You don't try to drive during bad weather or even if bad weather is forecasted

You stop driving if the weather becomes too bad

You feel confident in your driving abilities

You're outfitted with the right rental car to match your itinerary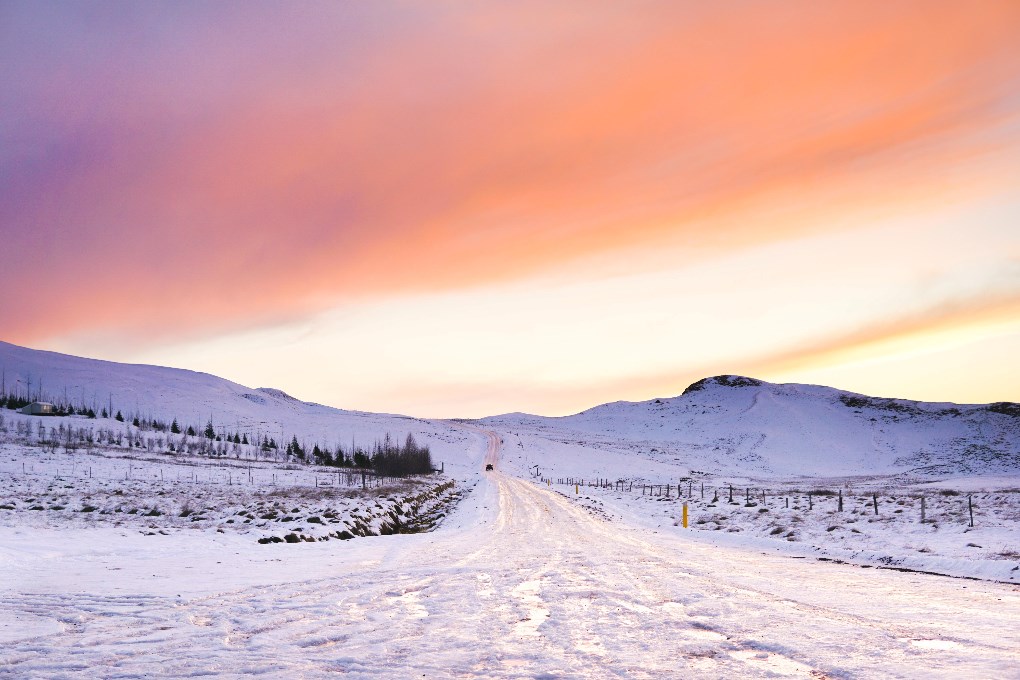 What kind of car rental insurance should I get in Iceland in January?
Along with the right car rental for your planned January Iceland itinerary, you'll also want to be sure that you purchase the right car rental insurance for your rental car. 
Lava Car Rental offers platinum insurance with zero self-risk, and coverage that keeps you (and your wallet) safe in the event of bad weather or road conditions. 
Do rental cars come with winter tyres in January?
Yes! All rental cars in Iceland are outfitted with winter tyres starting in November and going into mid-April. This is in accordance with Icelandic law. To make driving even safer for our clients, Lava Car also outfits our rental cars with studded tyres during the winter. 
Best Things to Do in Iceland in January
Ready to visit Iceland this January? Feeling confident that you can drive around the country with ease, despite the harsher winter conditions? Here are the top things to do in Iceland in January that you'll want to add to your itinerary.
Chasing the northern lights
January is prime time for northern lights viewing in Iceland. Renting a car for your northern lights chasing excursion is the best way to guarantee seeing the lights during your trip, as having a car at your disposal will allow you to follow the lights when and where they occur, rather than relying on a one-day-only tour. Check out our full northern lights road trip guide to see how you can further increase your chances of seeing the lights.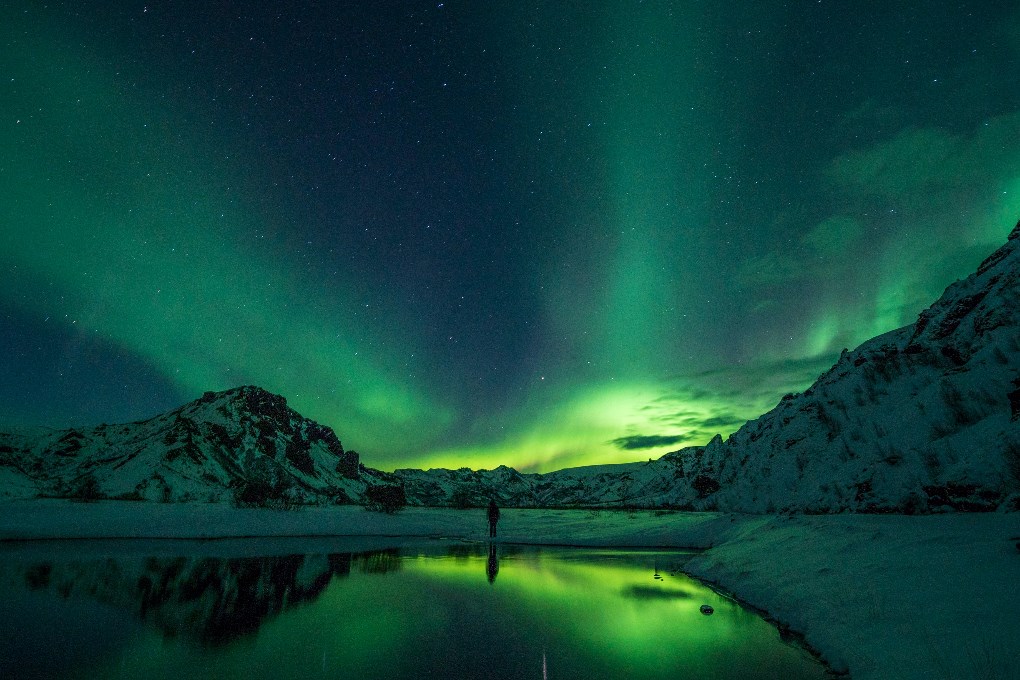 Ice caving 
Winter is the best time to go ice-caving in Iceland, as the cold temperatures help ensure the caves are structurally sound. One of the best spots to go ice-caving is at Vatnajokull Glacier.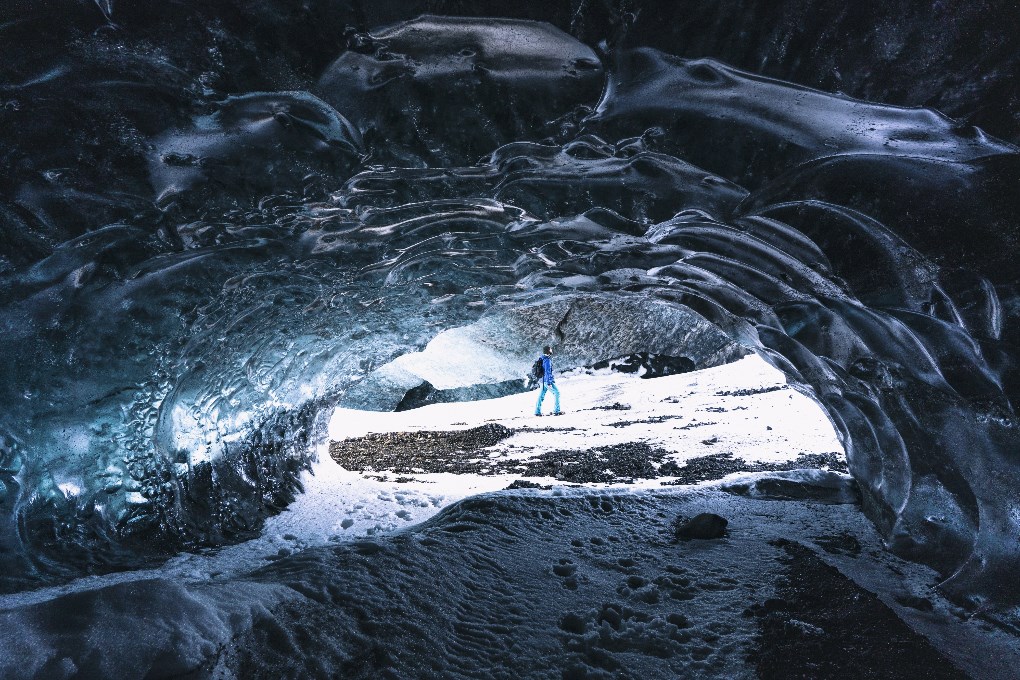 Glacier hiking 
Seeing the glaciers from the inside isn't the only way to experience these vast and impressive parts of Iceland's landscape. You can also hike along the glaciers. On Iceland's South Coast, you can see Solheimajokull, the most accessible glacier in the region. Other good spots for glacier hiking include Skaftafell and Jokulsarlon. 
You'll want to get a guide for your glacier hiking excursion. You can combine a guided glacier excursion with a South Coast road trip or a glacier road trip, for an all-encompassing experience.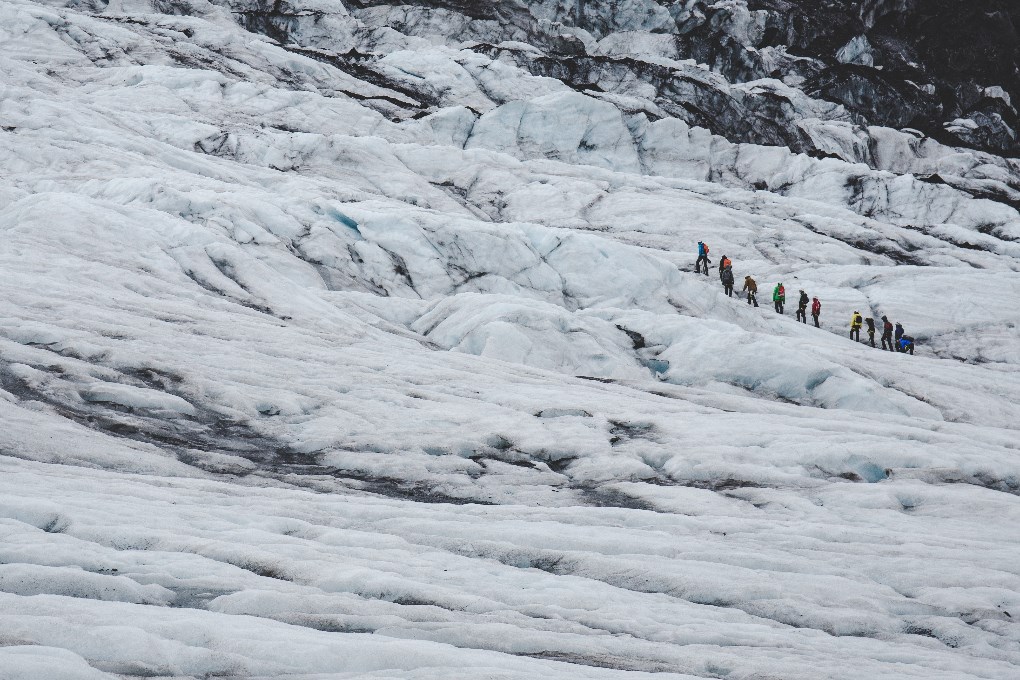 Snowmobiling
If you don't care for hiking, you can also go snowmobiling on Iceland's glaciers.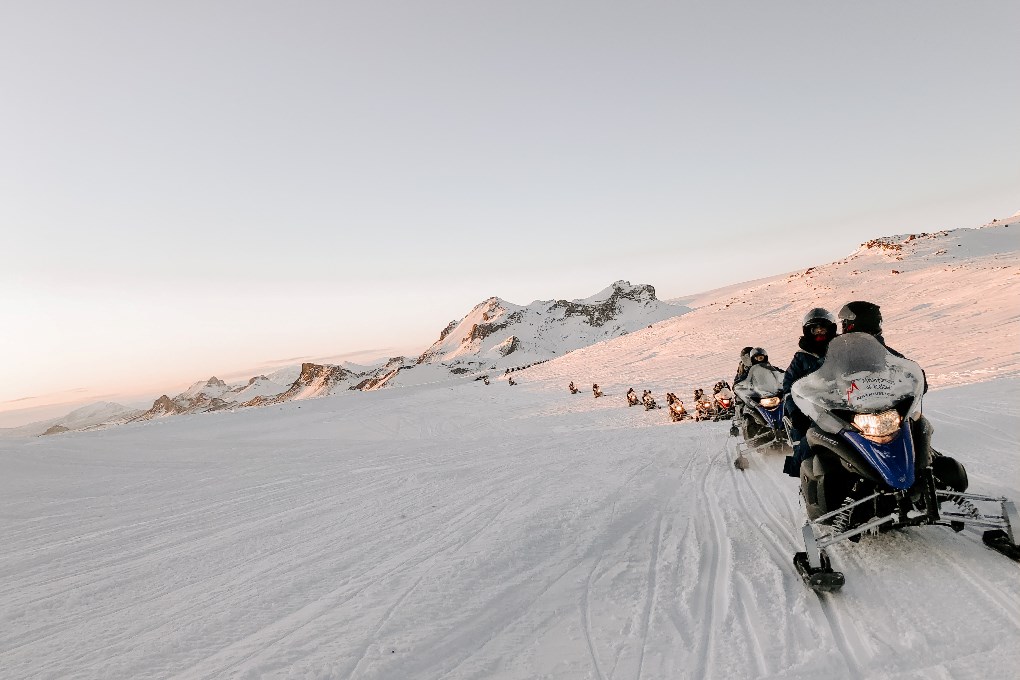 Hot springs and heated pools
Warm up this winter in Iceland with a visit to one of the country's many natural hot springs or geothermal heated, public pools. There's nothing like relaxing in a hot spring as you watch the snow fall around you or take in the icy landscape or ocean. No matter where you're travelling in Iceland, you're likely to find a hot spring or heated pool near you.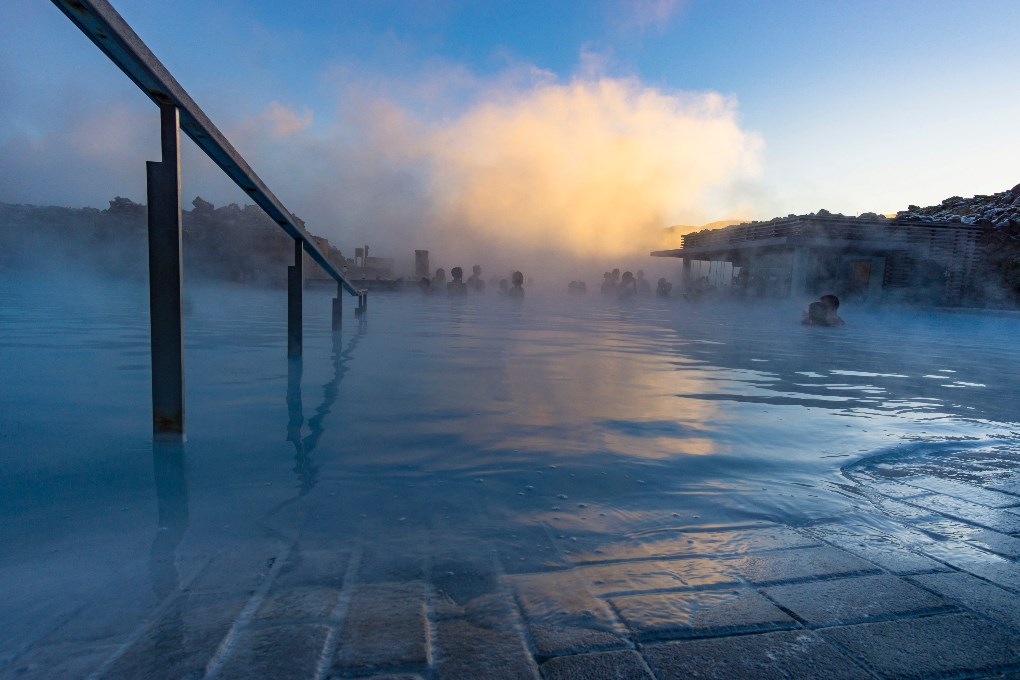 Where to Go and What to See in Iceland in January
If you're specifically planning a road trip to Iceland in January, some of the best Icelandic regions for a road trip during the winter include the Golden Circle, Snaefellsnes Peninsula and South Coast.
The Golden Circle is within easy reach of Reykjavik and can be entirely traversed in as little as a day. However, you can expand the trip a little bit if you really want to take your time. The Golden Circle is suitable for 2WD vehicles, though a 4x4 car will keep you more comfortable and offer more room. 
The Golden Circle's most popular attractions include Thingvellir National Park, the Geysir Geothermal Area and the Gullfoss waterfall. Hot springs in the area also include Laugarvatn Fontana and Secret Lagoon.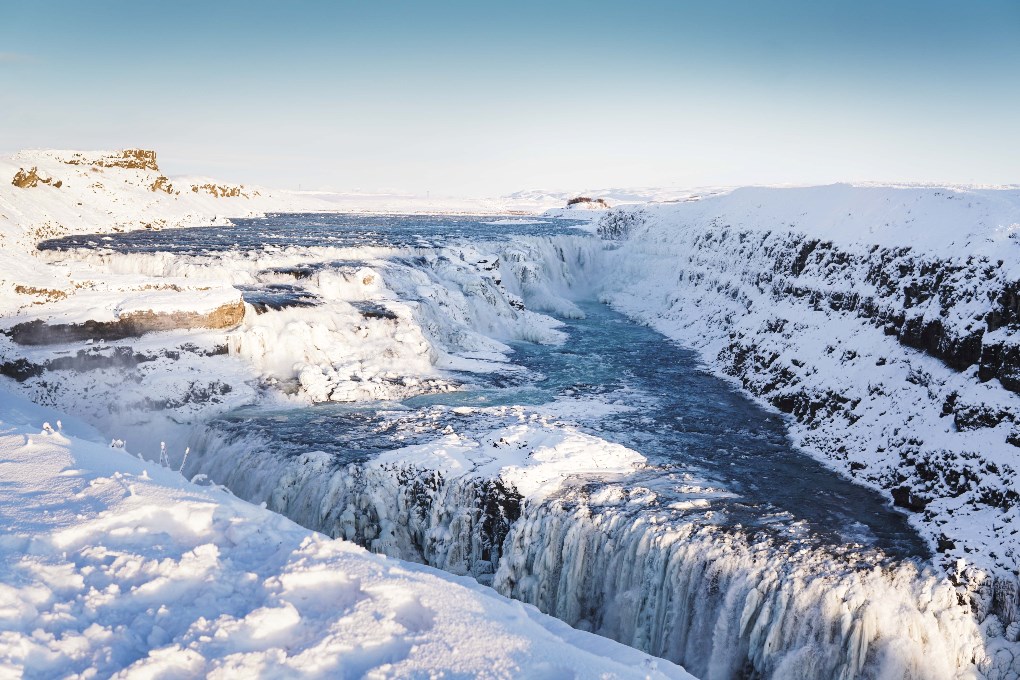 Comparatively, Snaefellsnes Peninsula is a little more remote, but still easily accessible from Reykjavik. You can go and spend a few days on the peninsula to really see it in full, as well as to get in some northern lights hunting at night. No matter how long you stay in the area, though, you'll want to rent a 4x4 vehicle if you're visiting during the winter. 
Top sights to visit on the Peninsula include Kirkjufell, Kirkjufellsfoss, Stykkisholmur and Snaefellsjokull National Park.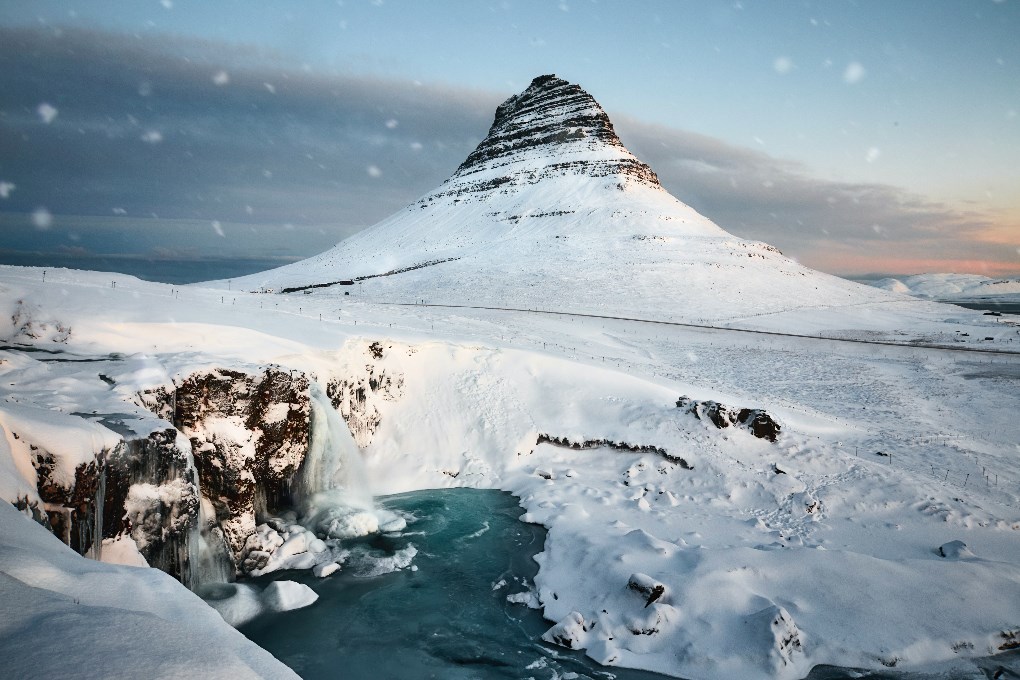 Lastly, the South Coast is a great place to go for a quick, multi-day road trip from Reykjavik, and is ideal if you specifically want to go glacier hiking and ice caving. 
Popular, can't-miss sports along Iceland's South Coast include Jokulsarlon Glacier Lagoon, Seljalandsfoss Waterfall, Solheimajokull Glacier and the Reykjadalur Valley.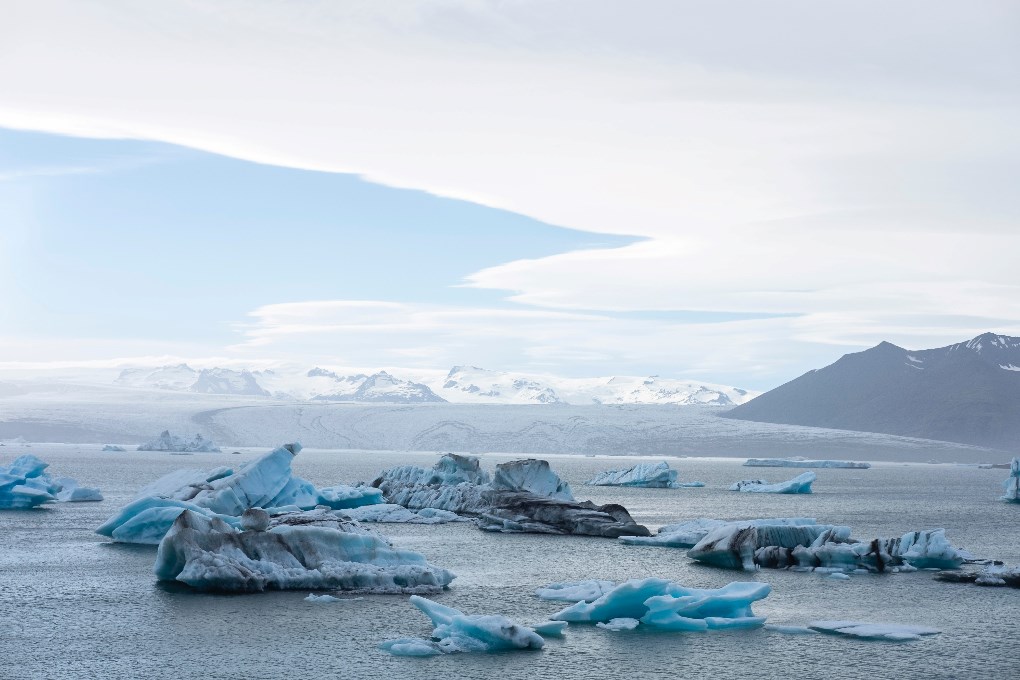 Can you drive the Ring Road in January?
We recommend the above road trips over the Ring Road in January for two key reasons: you'll need a lot more time to see the Ring Road and you're more likely to encounter inclement winter weather on the Ring Road. 
However, if you have your heart set on travelling the Ring Road in January, it is possible. Just know that you'll need at least 10 days for a full road trip (here's our guide to seeing the Ring Road in 10 days), and you'll want to plan in some buffer time for potential bad weather, especially along the northern and eastern segments of the road. 
Tips for Driving in Iceland in January 
Before you head off on your Iceland winter road trip, here are a few final tips.
Choose the right rental car
For the best in safety, choose a 4x4 car rental in Iceland, especially if you plan on travelling outside the cities. Your car rental provider should also outfit your rental car with winter tyres.
Don't plan too much into your days.
As you plan your winter road trip itinerary, don't pack each and every day full of sightseeing and driving. If you try to do too much and rush, you may find yourself frustrated by poor road conditions that make your itinerary impossible. 
Keep an eye on the weather.
During your entire trip, keep a close eye on the weather, so you can avoid driving in winter storms. You can find up-to-the-minute information on weather and road conditions at vedur.is, road.is and safetravel.is.
This is important all year round in Iceland, but especially so during the winter. Only park in designated areas, not alongside the road or where you just think it might be safe. Doing so can cause damage to your car or possible injury, if you end up in a collision because another driver couldn't see you.
For the utmost in safety, stick to Iceland's main roads, which are usually kept clear of snow and ice. 
Don't hesitate to go slow and practice caution. When driving in a new country, under harsh conditions, it's not the time to speed.
Iceland is filled with large expanses of remote wilderness. If you plan on doing a large road trip, such as a Ring Road road trip, then be sure to fill up your fuel tank regularly, even if you think you can wait longer. You never know when you'll find yourself far from a fuel station and needing fuel urgently.
Stay as comfortable as possible by packing the right gear for your winter Iceland trip. Check out our full breakdown of what you want to wear in Iceland during the winter. 
Is it Worth Going to Iceland in January?
So — is it worth going to Iceland in January? Absolutely! Winter in Iceland is beautiful, despite the cold and snow. If you don't mind the weather, you'll love the lack of crowds, beautiful scenery and great travel deals, too. Just make your trip the best it can be, by renting the right car to keep you safe and following the above advice.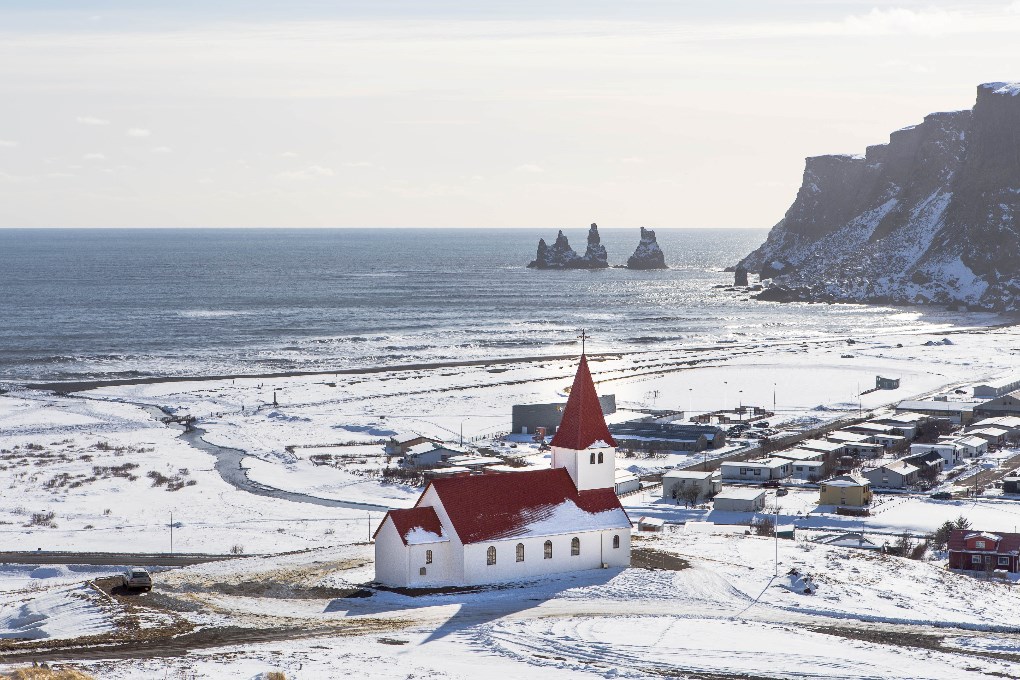 Need More Help?
Need help picking out the right rental car for your Iceland road trip? Regardless of the season, the knowledgeable team at Lava Car Rental can help. Get in touch today and be sure to check out our blog for more tips for travelling around Iceland.