Guide to Renting a Camper in Iceland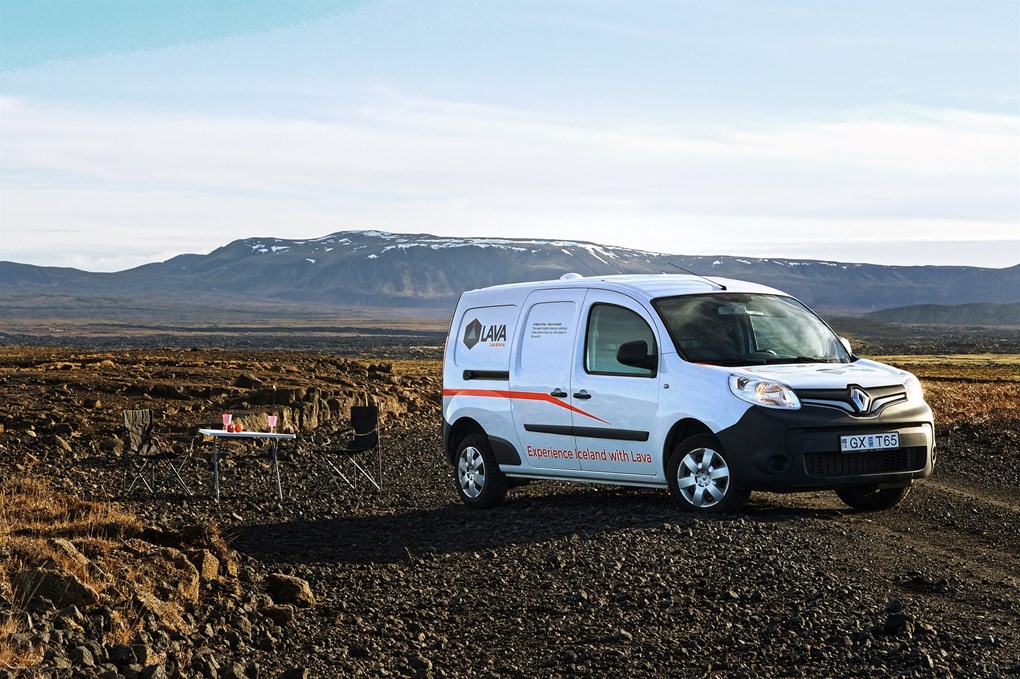 Headed to Iceland? There's no better way to see as much of this beautiful island as possible, for such an attractive price, than renting a campervan. From the Golden Circle to the Westfjords and beyond, renting a camper in Iceland offers a range of benefits for a range of travellers. 
Not sure how to pick an Iceland campervan rental or where to go once you have one? Not sure about the rules of the road or the best ways to plan an Iceland camper rental trip? We have you covered with our full, extensive guide to renting a campervan in Iceland.
Why Rent a Campervan in Iceland? 
There are many reasons why you might choose to rent a campervan in Iceland. We see a few different types of travellers renting Iceland campers, but primarily, this option appeals to friends travelling together, couples exploring Iceland on a budget, or families who want a more convenient option to a hotel and Iceland car hire. Regardless of who you are, though, you'll easily see why renting a campervan in Iceland is such a popular travel option. A few of the benefits?
Enjoy the freedom to go where you want, when you want
When you're renting a camper in Iceland, the whole island opens up to you. You can travel anywhere you want, whenever, and you're not tied down to a tour group or a hotel address. You can drive to some of the most popular stops around the country, set up camp, and then enjoy yourself amid all the spectacular views and vistas, without having to hurry back to your hotel at the end of the evening. 
If you value freedom and flexibility when travelling, there's no other way to go than an Iceland campervan.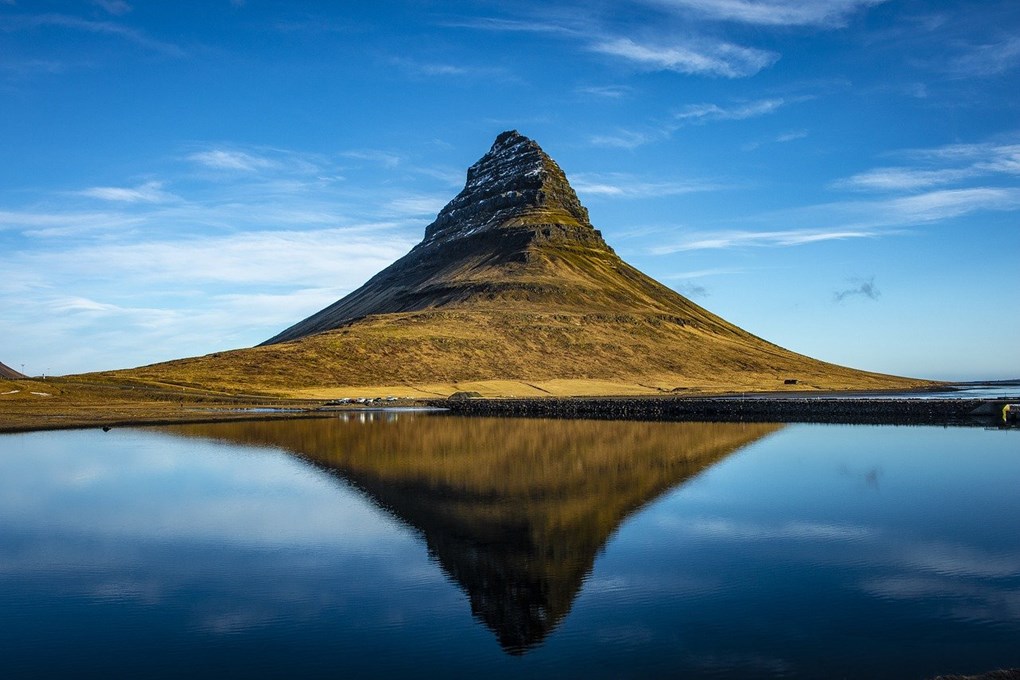 It's no secret. Iceland is a somewhat expensive destination to visit. However, there are a few ways that you can make visiting Iceland a little more budget-friendly. Renting a campervan in Iceland is one way to do so.
Think about it. Renting a car and booking every single night in a hotel can be costly. When you combine your transportation costs with your accommodation costs by renting a campervan, you can save a tremendous amount — leaving you more room in your budget for fun.
But don't take our word for it. Just look at the prices. You can find competitive and reasonable prices for car rentals in Iceland by checking our fleet here.
All told, the campervan is your cheapest option, especially if you want to see more than just one region while you're in Iceland (and, believe us, you do!). 
Stay close to nature throughout your entire trip
Soaring mountains, black sand beaches, plummeting waterfalls — there are so many beautiful, natural wonders to see in Iceland. But can you really appreciate the full extent of Iceland's natural beauty if you're forced back to your hotel every night? 
Renting a campervan in Iceland allows you to fully immerse yourself in nature throughout your entire trip. From the moment you pick up your rental to the moment you're ready to head home again, you can surround yourself with the stunning views of the Icelandic landscape, from sunrise to sunset — and don't forget those magnificent northern lights that you'll be able to catch after dark, too.
Travelling in Iceland in a Campervan: Who is it For?
Are you considering booking an Iceland campervan rental for your upcoming trip? You may be wondering if this unique mode of transportation is right for you. In our experience, camper rentals are most suited to a few types of travellers, including:
Adventure travellers who want to see as much of Iceland's more remote locales as possible

Independent travellers who want a lot of flexibility and freedom in their itineraries, without the need to be tied to a hotel reservation

Families or small groups of 2 to 4 people who want more privacy during their travels

Nature lovers who already enjoy activities such as camping during their travels

And budget travellers who want to save a bit of travel cash by bundling the cost of their accommodations and transportation together
If you're still unsure if an Iceland campervan rental would be right for your trip, check out our top 9 reasons to rent a campervan for your trip to Iceland. 
The Best Time to Travel with a Campervan in Iceland
We always recommend summer as the best time to travel by camper in Iceland. There are a few reasons for this, but primarily, it all comes down to the weather. Weather in Iceland can be very fickle and a lot of our visitors don't always prepare for the colder weather as they should. Visiting in the summer just about guarantees warmer temperatures (at least warm by Iceland standards!) and you'll have the chance to see Iceland's midnight sun, that magical brief moment in the summer when you're actually able to see the sun at midnight! 
Additionally, visiting in the summer means you can easily access all areas of Iceland, such as the more remote Highlands and Westfjords, without worries about difficult-to-traverse snowy and icy conditions. You'll also be able to spot summertime wildlife, such as the arctic fox, puffins, reindeer, and whales. 
Summertime temperatures in Reykjavik hover between 7 and 25 degrees Celsius, or 44 and 77 degrees Fahrenheit.
If you choose to visit during the shoulder seasons of spring or fall, you will have a better chance of seeing the northern lights, which are typically visible from September through March. You'll also save a bit of cash, as demand for travel to Iceland is lower, so prices on things such as car hires and camper rentals are more affordable. The lessened demand also equals fewer crowds at some of Iceland's top sites.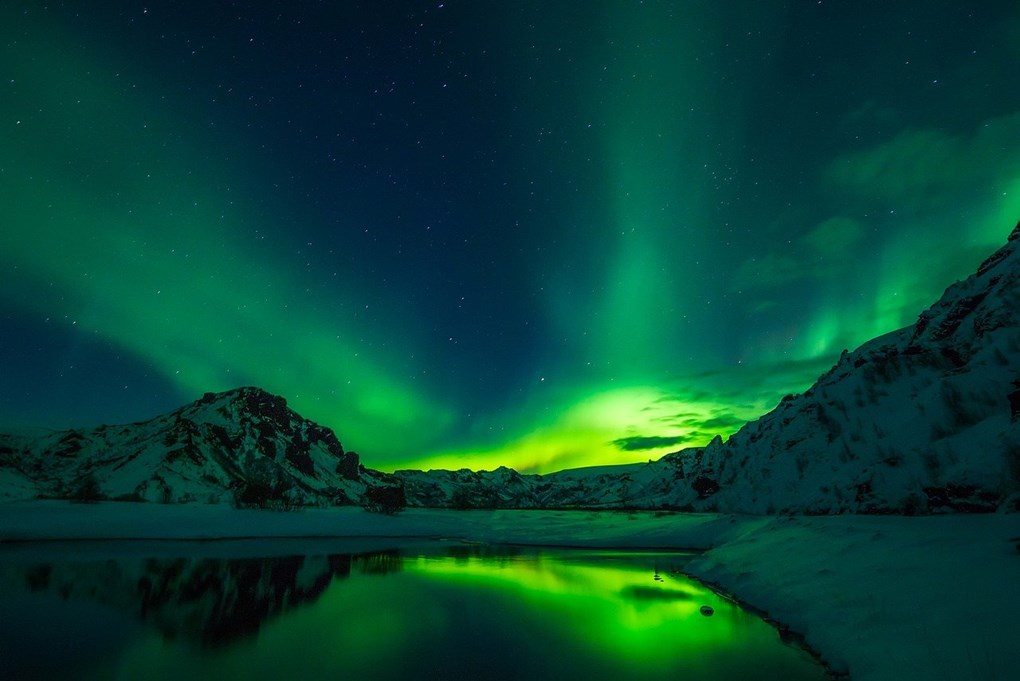 Travelling to Iceland during the winter months is probably the least advised, though some do still make the journey to Iceland in the winter, for a few reasons, the most obvious being the cheapest prices and low crowds. However, the gorgeous snow-covered mountains, vibrant northern lights, and frozen waterfalls don't hurt either. 
If you do decide to visit Iceland in the winter, just be prepared to deal with a lot of snow and a lot of ice; you'll want to dress accordingly. And while our campervans are outfitted with Webasto heating systems, they can still get chilly, too. To best deal with icy and snowy road conditions, we further recommend only renting a 4x4 campervan during this time.  
Winter temperatures in Reykjavik stay between -10 and 10 degrees Celsius, or 14 and 50 degrees Fahrenheit. 
How Much Does it Cost to Rent a Campervan in Iceland?
Renting a campervan allows you to save money on your accommodations while travelling around Iceland. While the upfront cost is larger than what you'd pay for just a car rental, you'll find that not paying for a separate hotel fee is more than worth it. 
However, not all campervans in Iceland cost the same. How much you'll pay will depend on a few factors, such as:
You can find campervans that range from large enough for just two travellers to big enough for a whole family or group of five. As you could probably guess, the larger the campervan, the more expensive the cost.
Manual vs. automatic transmission
Manual transmission campervans are more popular throughout Iceland, as is the case with automobiles in general in the country. If you want a campervan with an automatic transmission, you'll have to pay more for this luxury.
Whether or not a campervan is equipped with 4x4 capabilities will also impact the price. While you might think you can cut costs by renting a 2WD campervan, don't make this mistake if you're travelling to Iceland in the winter or if you plan on visiting the Icelandic Highlands. A 4x4 vehicle of any type is recommended during the winter months when the weather can be particularly harsh. Likewise, it's illegal to drive on the Icelandic Highlands F-roads without a 4x4 vehicle. 
As is the case when purchasing or renting any vehicle, age will factor into the cost of your campervan. Older models are (gently) used, but are more affordable. If, though, you want some fancier features or a newer interior, you might want to pay the extra cost for a newer model of a campervan.
Speaking of features, the more features a campervan has, the more it'll cost. A standard modified camper just offers a basic place to sleep. If you want a rental that's going to be equipped with a kitchen, toilet and shower, you'll pay more.
As is the case with car rentals, hotel rates and even flights, the season in which you travel directly impacts your travel costs. Summer is the high season in Iceland (as is Christmas), so you can expect to pay more around these times than you would in the winter or the shoulder seasons of spring or fall.
Obviously, the longer you rent your campervan, the more you'll pay. 
If you want to save further money at the fuel station when renting a campervan, you'll want to opt for a campervan that runs off diesel. Diesel is cheaper than petrol in Iceland. 
Typically, the base cost of a standard campervan in Iceland will be for the vehicle itself. This does not include the cost of your rental insurance (either a base package or extra insurance add-ons), or the cost of additional available rental features, such as WiFi or a GPS. You'll also want to factor in the cost of your fuel (you can check the updated prices here). Other costs that you'll incur as you travel around Iceland in a campervan include campground and parking fees, as well as tolls; for more information about driving fees and fuel costs, check out our guide to driving in Iceland.
What Type of Camper to Rent in Iceland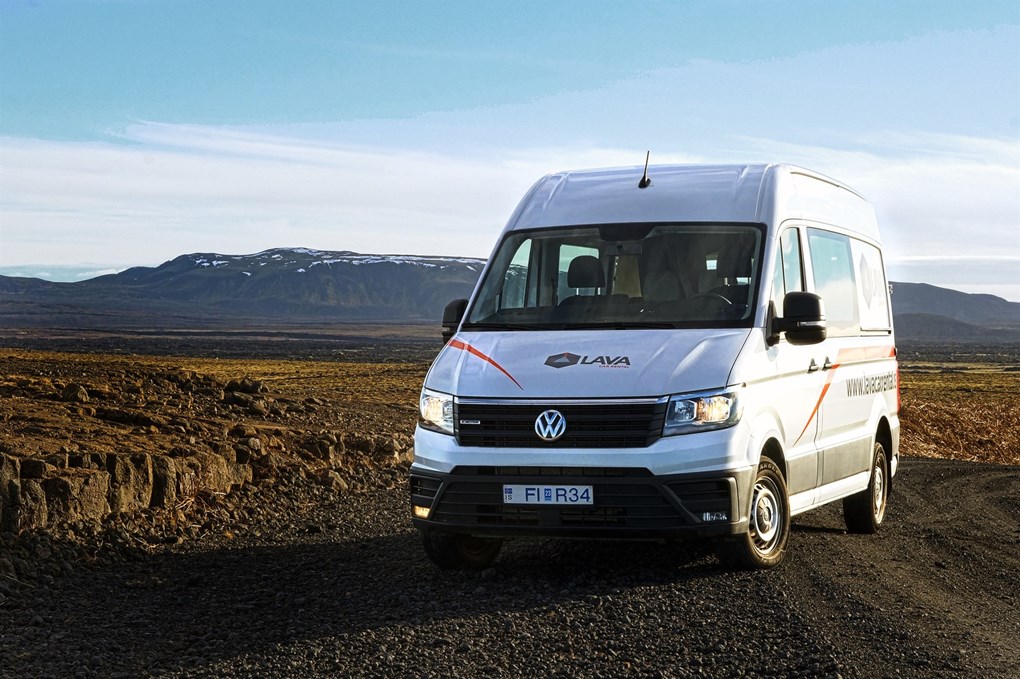 But ensuring that you have an amazing campervan experience in Iceland relies a lot on choosing the right campervan for your needs. 
If you're mostly going to be sticking to main roads — so if, for example, you're planning to travel either the Golden Circle or the Ring Road — and visiting during the summer, you could probably go with a 2WD campervan.
If you're visiting Iceland during the winter or you plan to visit either the Highlands or the Westfjords, it's advised that you rent a 4x4 campervan. This will ensure that you have all of the power and stability needed when traversing some of these trickier, more hazardous landscapes. 
Beyond this, though, you'll want to consider the number of people that need to travel and sleep in your campervan. Lava Car Rental offers campervans that can comfortably fit between two and three travellers (two in the 2WD campers and 3 in the 4x4 campers).
How to choose a campervan in Iceland
As you peruse your Iceland campervan rental options, how do you know which option is best for you? There are a few things you can consider. 
Obviously, your budget will play a big role in which campervan you pick. Luckily, you can find quite a few cheap campervan options.
You want to be comfortable during your travels. Make sure that you not only pick a van that will be large enough for all of your fellow travellers and all the associated luggage, but also a van that will be comfortable for you to drive. If you're not familiar with driving larger vehicles or manual transmission vehicles, you may want to opt for a smaller campervan and/or one with an automatic transmission.
Where do you plan to go and what do you plan to do while in Iceland? If you plan on driving the Highland F-roads during the summer, you'll need a 4x4 campervan, as it's illegal to drive on F-roads in Iceland without 4x4 capabilities. 
Lastly, as you shop around for your perfect Iceland campervan rental, you'll want to take the actual rental provider into account. What do they include in your campervan rental? Will they pick you up from the airport? What do their reviews look like? Do they only offer pick-up and drop-off locations at the airport, or also in the city?
Is a 4x4 campervan necessary for exploring Iceland?
There are a few reasons why you might want to opt for a 4x4 campervan rental in Iceland, even if it does cost a little more. 
If you're travelling to Iceland during the winter, a 4x4 vehicle will give you extra peace of mind as you travel around the island. You never know what kind of inclement weather will pop up and, if you have a 4x4 vehicle, you'll be better prepared for icy and snowy roads.
If you plan on visiting Iceland's Highlands and travelling the F-roads, then you'll definitely need a 4x4 vehicle. Travelling these roads with a 2WD vehicle is illegal and will result in a fine.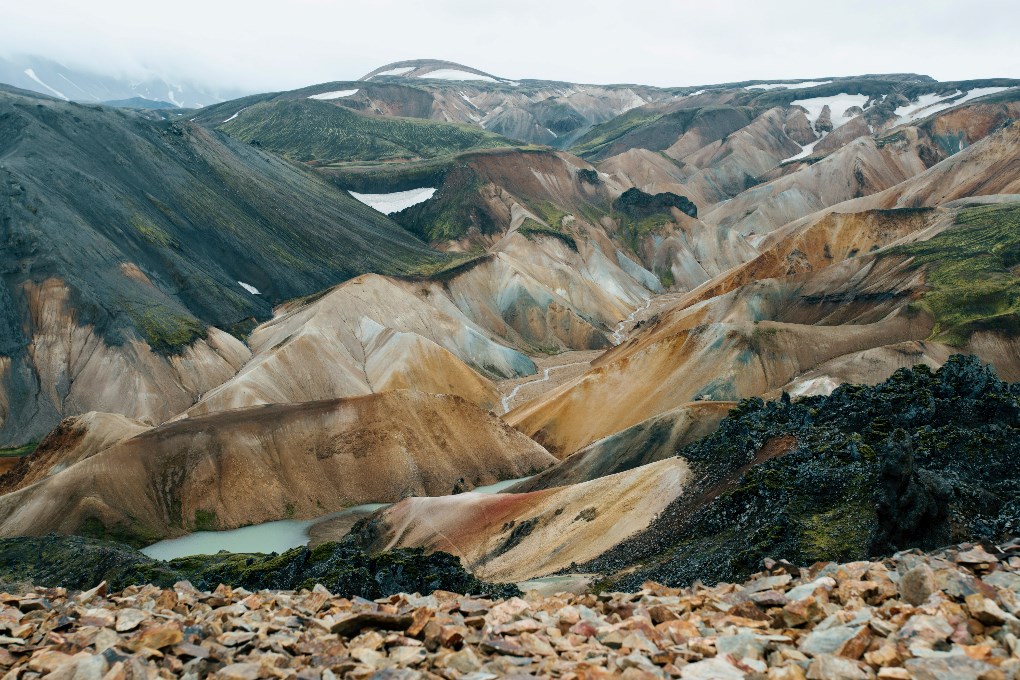 Pick-up and Drop-off locations and times for your Iceland campervan
After arriving in Iceland and before you leave, you'll want to pick up or drop off your campervan rental in the most convenient spot for you.
If you're literally picking up your campervan right after arriving in Iceland, you can do so from Keflavik Airport. Lava Car Rental offers free pick-up and drop-off to and from Keflavik Airport with our free shuttle service, which will take you to our office, five minutes away. There, you can pick up your campervan and hit the road. 
You can typically pick up your campervan anytime in the morning or early afternoon. You will need to pick up and drop off your campervan during the rental company's opening hours. You can consult the opening hours of Lava Car Rental here or in the footer of our website.
When to Book a campervan in Iceland
As mentioned before, there are pros and cons to every season of the year when travelling by campervan in Iceland.
Summertime is the most popular time of year to rent a campervan in Iceland. You get the advantages of long days, mild weather and lots of options for campsites. You can more easily reach the Highlands and Westfjords, which are closed off in the winter. You also won't need to bring all the cold-weather gear with you that you might need during a winter trip. 
Unfortunately, since summer is the most popular time of year to camp in Iceland, you'll also run into higher prices and crowds.
The two shoulder seasons of spring and autumn give you cheaper prices at campgrounds and with rental providers. The crowds are also lessened and you can still see the northern lights if you come to Iceland during the autumn months. 
However, the weather can be a little bit unpredictable and some formal campsites are closed at this point.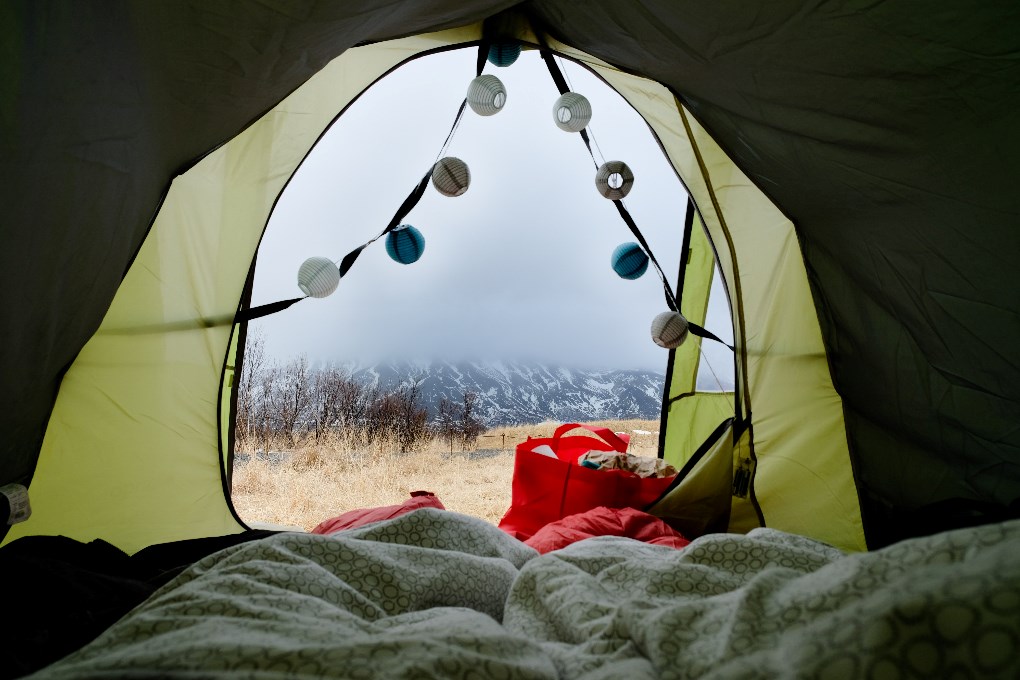 Winter is the least popular time of year for travelling in Iceland via campervan, which means you'll enjoy great savings on all of your travel costs, and you'll also experience very few crowds. You likewise get the fun of seeing the northern lights and celebrating the holiday season in the snowy, icy, beautiful Iceland winter landscape. Of course, with that beautiful snow and ice comes potentially dangerous road conditions that may require you to adjust your itinerary, so a bit of flexibility is required. Additionally, most formal campsites are closed during the winter.
However, whatever season of the year you decide to visit Iceland, book your campervan right after you book your flights. You want to secure your rental as soon as possible, as campervan rentals in Iceland sell out quickly, especially during the summer and the shoulder seasons.
Renting a Camper in Winter in Iceland 
If you still find yourself wondering if you should visit Iceland during the winter months, the short answer is "absolutely!" — but it's important to know the pros and cons of visiting Iceland in the winter, and especially of travelling in a camper in Iceland during the winter, before you decide if this is a good fit for you. 
On the pros side, visiting Iceland in the winter months provides travellers with a brand-new, winter wonderland-esque landscape that they just won't see during other times of the year. Additionally, winter is the low season in Iceland, meaning you'll enjoy more affordable pricing on flights, accommodations, tours, car rentals and more. Likewise, you'll find activities that are unavailable during the summer months, such as northern lights chasing. 
On the cons side, you'll be dealing with potentially dangerous weather, so you'll need to travel at a slower pace, and likely for fewer hours each day (as Iceland doesn't have a lot of daylight during the winter months). Some areas of Iceland are additionally inaccessible during the winter, with roads closed off for months at a time. Still, if you go slow, are careful and rent the right vehicle or campervan, you can safely enjoy Iceland during the winter.
Can you rent a campervan in Iceland in winter?
Yes, you can rent a campervan in Iceland in winter, but it's highly advised that you go with a 4x4 camper rental in Iceland's snowier months. Lava Car Rental offers 4x4 Iceland campervan options such as the VW Transporter, which is an excellent option for long trips or families. You should only go with a 2WD campervan rental when visiting Iceland in the winter if you plan on staying around only the most populated roadways, such as around the Golden Circle. 
Whether you choose a 2WD or 4x4 camper rental in Iceland, though, you'll want to ensure that it's properly outfitted for winter weather. Your campervan should come outfitted with winter tires (which are legally required in Iceland between November and April anyway), a Webasto heating system, proper insulation and warm bedding. Lava Car Rental's campervans come with all of the above, including full, winter-ready sleeping kits.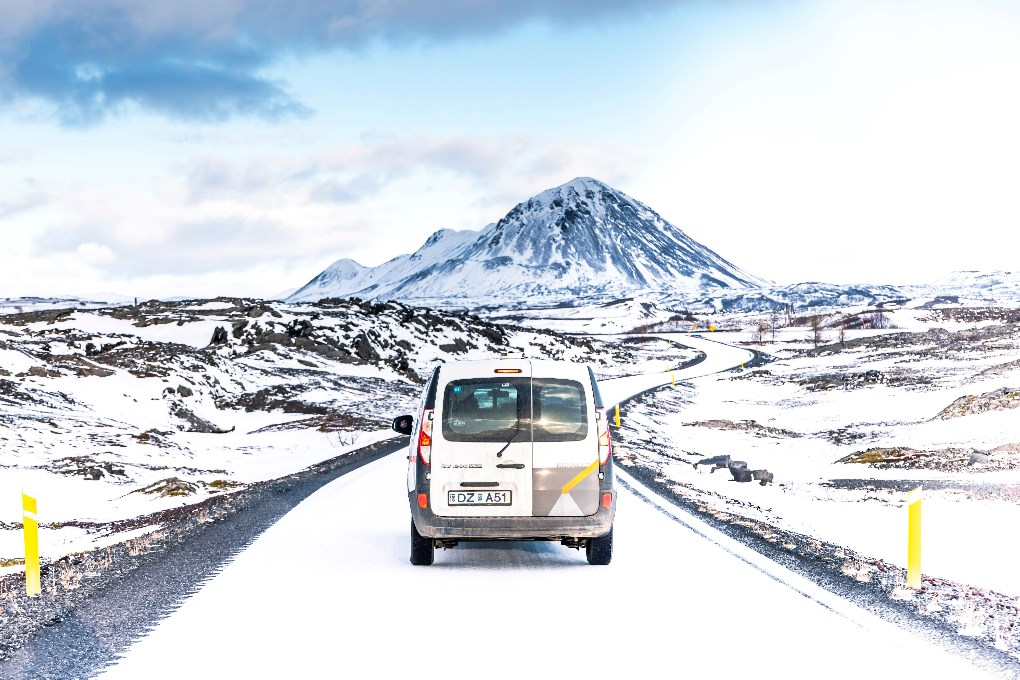 Can you camp in Iceland in the winter?
If you book an Iceland campervan in winter, you'll find that not every single campground around Iceland is open, but those that are open through the colder months still offer all the amenities you might need, such as showers, restrooms and laundry facilities. 
One great thing about camping in Iceland in winter? Since demand is down, you rarely need to make a reservation. Just show up and claim your camping spot. 
For more information, check out our full guide to camping in Iceland. 
Can you sleep in a campervan in Iceland in winter?
Yes, absolutely! All you'll need to do is find an open campground, where you can park and enjoy access to amenities such as electric hookups, water, restrooms and more. Typically, though, even if a campground is not open, if there are no nearby campgrounds and you're in a particularly remote location, you'll be permitted to park there. You just won't have access to the normal amenities and facilities. 
Tent camping is not recommended during the winter months in Iceland, due to the harsh weather conditions and low temperatures.
Can you drive a 2WD campervan in the winter season?
It is possible to rent a 2WD campervan during the winter months. However, a 2WD campervan won't allow you to travel everywhere around the island during the winter. Because of the snow and ice, several regions of the island are closed off during the winter (mostly the Highlands and Westfjords). Additionally, you won't want to drive a 2WD campervan on any rural or remote roads during the winter, for the risk of getting stuck or stranded. 
For optimum safety, we recommend renting a 4x4 campervan during any winter trip to Iceland. If, though, you absolutely must rent a 2WD vehicle during your visit, you will find that it's usually possible to drive on Iceland's main roads and around the cities, with some caution; you just might not be able to drive everywhere that you could during the summer months.
How the Webasto System Works 
Why is the Webasto heating system the best for campervans when travelling around Iceland during the winter? 
A Webasto heater works by passing air over a heat exchanger, and then dispersing that air throughout the vehicle. The air is kept completely separate from the vehicle's combustion system. This allows for safer use, while still allowing you full control over the inside temperature. Additionally, Webasto heaters are very fuel-efficient, and they can run for up to 22 hours on one gallon of fuel.
Where to Take your Camper in Iceland
Really, there's no wrong answer when asking where to take your camper in Iceland. However, we have a few recommended top spots to see, depending on where you're headed.
Southern and Western Iceland
Western Iceland encompasses both Snaefellsnes Peninsula and Reykjanes Peninsula. The former is home to Snaefellsjokull National Park, where you can see the mammoth Snaefellsjokull glacier; Kirkjufell mountain, which you may recognize from the role it played as a setting in Game of Thrones; and Djupalonssandur Black Beach, one of the most famous black sand beaches in Iceland. 
Meanwhile, the Reykjanes Peninsula is one of the more populated areas of Iceland, but still filled with plenty of natural wonders, including lots of interesting volcanic activity within the UNESCO Global Geopark. 
On the other side, natural attractions in southern Iceland include Jokulsarlon and Vatnajokull National Park, a World Heritage Site renowned for its dramatic landscape and plentiful hiking opportunities. There's a lot to see in this park, so you'll want to take your time if you visit; in fact, the national park is the second largest in all of Europe and it takes up about 14% of Iceland's landmass. 
Of course, one of the most prominent and well-known attractions in southwest Iceland is the Blue Lagoon, a can't-miss stop on any Iceland itinerary. Stop by to take a dip in the thermal waters and maybe even book a luxury spa treatment. 
Many campervan travellers choose to take the Golden Circle when exploring southern and western Iceland, as this iconic drive takes you to some of Iceland's best spots (including Reykjavik and Thingvellir National Park), but it only takes a few hours to traverse, not counting stops.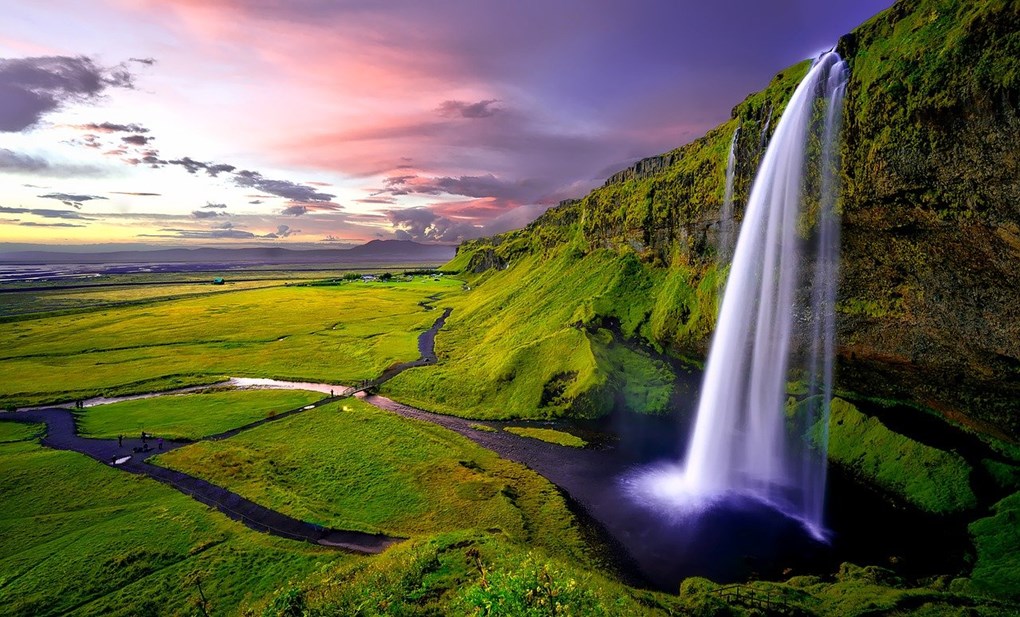 The Ring Road is another popular campervan driving route, but rather than only showing you a portion of the island, as the Golden Circle does, the Ring Road takes you on a journey throughout the bulk of Iceland, circumventing the entire interior. If you're renting a campervan for a longer Iceland stay, you absolutely won't regret taking the Ring Road around the island.
Along the way, you'll see the Reynisfjara black sand beach; Vatnajokull, the largest ice cap in Iceland; the glacial lake of Jokulsarlon; Dettifoss, the second-most-powerful waterfall in Europe and one of the most impressive waterfalls in all of Iceland; and Myvatn, a vibrant green lake known for its moss balls. The Ring Road also travels through the Eastfjords, known for its picturesque jagged coastline. 
If it's a lack of crowds you'd like during your trip to Iceland, and if you're travelling during the summer when the weather is nicest, you may want to take your campervan to the Westfjords. 
The least-visited region in Iceland, the Westfjords are wild and untamed. All along your drive, you'll enjoy unprecedented views without even leaving your campervan, and when you do stop, you'll get to see a range of unforgettable sights, from the pink sands of Raudasandur to the flora and fauna of the Hornstrandir Nature Reserve, to the natural hot springs of Drangsnes.
Much like the Westfjords, the Icelandic Highlands are best visited in the summer and only with a 4x4 campervan. While the roads there boast incredible landscapes, they can also be treacherous if you don't visit under the right weather circumstances. A 4x4 campervan can ensure you're as safe as possible. 
While there, you'll want to pay a visit to Landmannalaugar, with its hot springs at the edge of a lava field, located within the Fjallabak Nature Reserve; the vast mountains of Kerlingarfjoll; Thorsmork, a mountain ridge named after Thor and just as impressive; and the deep lakes and craters of Askja. 
What is Included in an Iceland Campervan Rental?
While you'll need to bring a few key items when camping in Iceland, you'll find that many camping essentials are already provided for you, in your campervan. Lava Car Rental includes the following with each campervan, totally for free:
A kitchen kit, with pots, pans, plates and cutlery

A gas stove

Sleeping kits, with pillows, mattresses and sleeping bags

An electric cooler

Foldable chairs and a table 
You can also add on more general rental extras, such as having an extra driver or WiFi 4G in your campervan. Extra complimentary amenities that Lava Car offers include free shuttle service to and from Keflavik Airport, unlimited mileage and select insurances.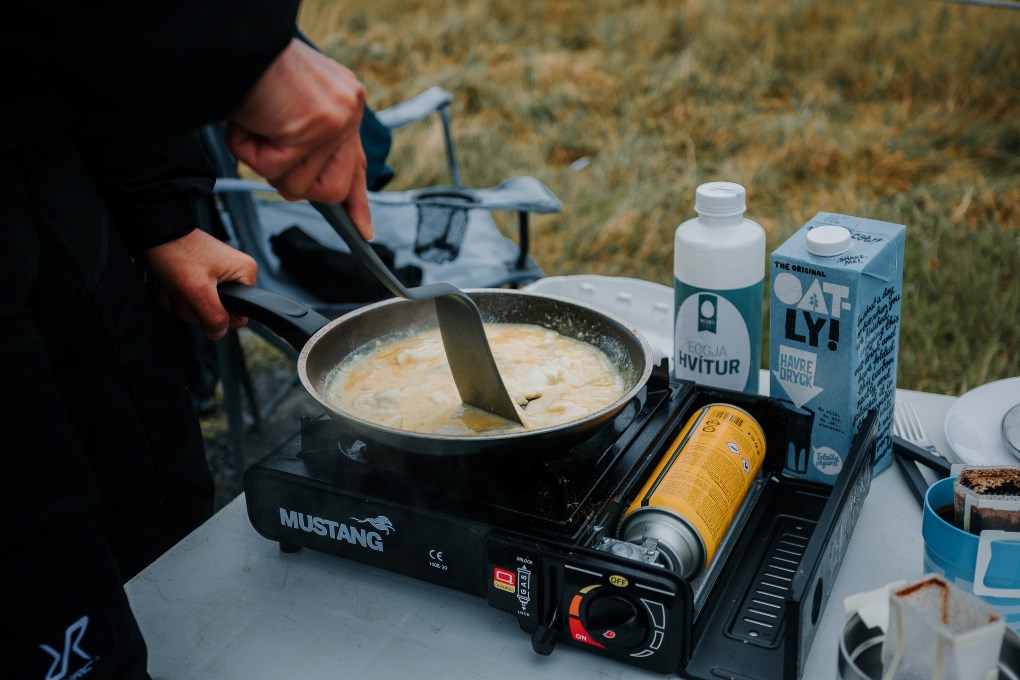 What to Bring when Renting a campervan in Iceland 
Your Iceland campervan will come equipped with lots of handy gear, such as a gas stove, refrigerator, mattress and more. However, there are a few things that you'll want to bring on your own, including camping gear and the right clothes for an Iceland trip. 
As you build your packing list, make sure to include…
Layered, waterproof and warm clothing

A swimsuit (for all the

Icelandic hot springs

!)

Gloves, hat and scarf

Waterproof shoes

A quick-dry towel

A 40 to 50-litre backpack

Extra chargers for your mobile, laptop, camera and other tech

Portable WiFi or Bluetooth speakers

Headphones

Toiletries, including soap, shampoo, face and hand wash, moisturiser and sunscreen

Toilet paper

A reusable water bottle

A sleeping mask for the summer months 

Your driver's licence

All travel documentation, such as passports
What Insurance to Take with an Iceland campervan
When you rent your Iceland campervan, you'll be offered a few types of insurance and insurance add-ons, and when you rent with Lava Car Rental, you'll find that a few of these are already included in the price of your rental. We include Collision Damage Waiver insurance (which lowers the cost of your deductible in the event of an accident), Theft Protection (in case the campervan is stolen) and third-party liability (which covers your costs if the damage is caused by another person).
However, we also offer a range of other insurances. Get our full guide to the insurance you might need during your Iceland campervan rental trip to learn more.
Where to Park the Campervan in Iceland (and where not to)
There are very strict rules about where you can and cannot park your campervan in Iceland. Not following these rules can mean some hefty fines. Essentially, these rules state that it's illegal to park and camp outside of a designated camping zone. This means you cannot park and camp on any private property (unless the landowner gives you explicit permission), including at parking lots, gas stations and hotels. You also cannot park and camp on the side of the road.
Thankfully, you'll easily find lots of designated campgrounds all over the country. Campgrounds in Iceland typically cost around $10 to $20 per night and come with perks such as electric and water hookups, restrooms, showers and WiFi. 
Best Campsites for Campervans in Iceland
You can find our selection of top camping sites around Iceland in our article here.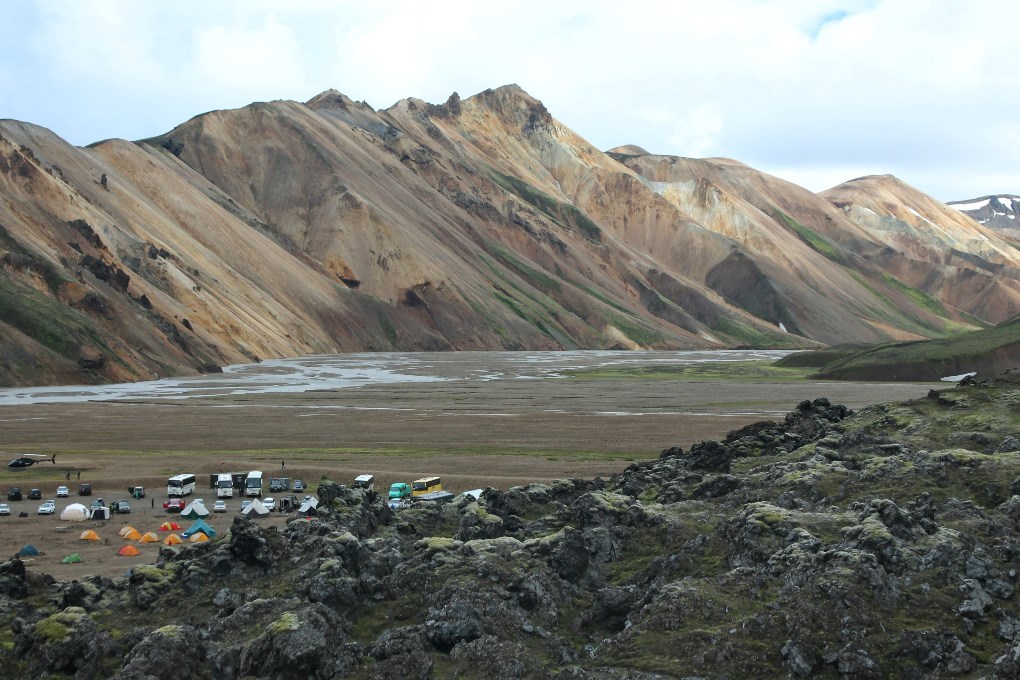 Tips for Travelling in a Campervan in Iceland
Once you pick the right campervan for you, you're nearly ready to hit the road! A few tips to help you get started…
Choose the right campervan and travel period
Research campervan rentals so you can choose the best option for your travel needs. Likewise, choose the right time to visit Iceland based on what you want to see and do.
Plan your itinerary ahead
Plan ahead and make sure you have enough time. For example, it takes about seven days to fully experience the Ring Road, but if you want to really take your time and see some of the other regions, such as the Highlands, you'll want to be here for at least 10 days. In addition, research your itinerary in full ahead of time; you'll want to make sure everything (including campsites!) is open before your arrival.
Stay organised and know where everything is; keep your travel documents handy and know where your most important items (like your mobile) are located at all times.
Follow the campervan rules
As you plan your Icelandic camping trip, make sure to know and follow all the rules. Lava Car Rental can only rent campervans to travellers who are 20 years old or older and that have had their driver's licence for at least a year. Additionally, you also can't just park your campervan anywhere. Only wild camping in a tent is legal in Iceland; you'll need to park your campervan at a designated campsite. The good news? There's no need to book a campsite in advance; just show up and park. 
Plan to make stops for showers and restroom facilities
Our campervans do not include showers or toilets. However, many campers choose to shower at local campsites and swimming pools and stop at local businesses for restrooms. 
Keep in mind what to pack
While our campervans include a lot of what you'll need in order to fully enjoy your Icelandic camping experience, you'll also want to bring along your own food and snacks, cold-weather clothing, towels and toiletries for showering, and any hiking or travelling gear needed for the sites you plan to stop at during your journey. 
Speaking of food, you can often find restaurants nearby many of the camping spots you come across but always plan to have some items on hand for when that's not the case. You'll find everything needed to cook in your campervan and can stock up on at the local grocery store on supplies before you head out on the road. Be sure to pick up some Icelandic favourites, such as Pylsur hot dogs and Pylsusinnep hot dog sauce, which make a very easy lunch, or skyr Icelandic yoghurt, for an easy breakfast. 
Pick the right travel and campervan insurance, so that you're prepared in the event of an unfortunate accident.
Bring some Icelandic coins for use where debit cards aren't accepted, like in bathrooms and showers.
Don't be afraid to drink tap water! While many countries do not offer safe drinking water, that's not a problem in Iceland, where the pure water is sourced straight from the glaciers and waterfalls.
Don't forget to have fun!
While there's so much to see, do and love in Iceland, don't make your camping experience more stressful than it needs to be by trying to pack a ton of stops into your itinerary. Go at an easy pace, so you can fully enjoy all the sights and sounds of the island. 
Why Rent your Campervan with Lava Car Rental? 
Our locally- and family-owned car and campervan rental company has been serving travellers to Iceland since 2016. With a fleet of more than 200 vehicles, including campervans, 4x4 cars, and economy cars, we happily serve a range of travellers, from those looking for a budget-friendly ride to those seeking an all-encompassing camping solution.
When you specifically rent a campervan with Lava Car Rental, you'll get everything you need to start your trip out on the right foot. Depending on the campervan you choose, you can expect your camper to be outfitted with mattresses and pillows, kitchenware, sleeping bags, pots and pans, a gas stove and refrigerator, cutlery, dishwashing equipment, table and chairs, a water tank, electric cooler, bed lines and more. 
Additionally, all of our campers are outfitted with Webasto heating systems, so you and your fellow travellers, be it family or friends, remain cosy and warm as you hunker down for the night, no matter the cold Icelandic temperatures. 
And, as you've already seen when we compared the prices for renting a campervan in Iceland to the cost of renting a car and booking a hotel, renting a campervan is far more affordable than other travel options in Iceland — especially if you're travelling as a group or a family. 
Plus, we include all your insurance and you get free cancellation up to 48 hours in advance of your pick-up time. 
Learn more about renting a campervan with Lava Car Rental and start planning your trip to Iceland, today!