Camping in Iceland | The Complete Guide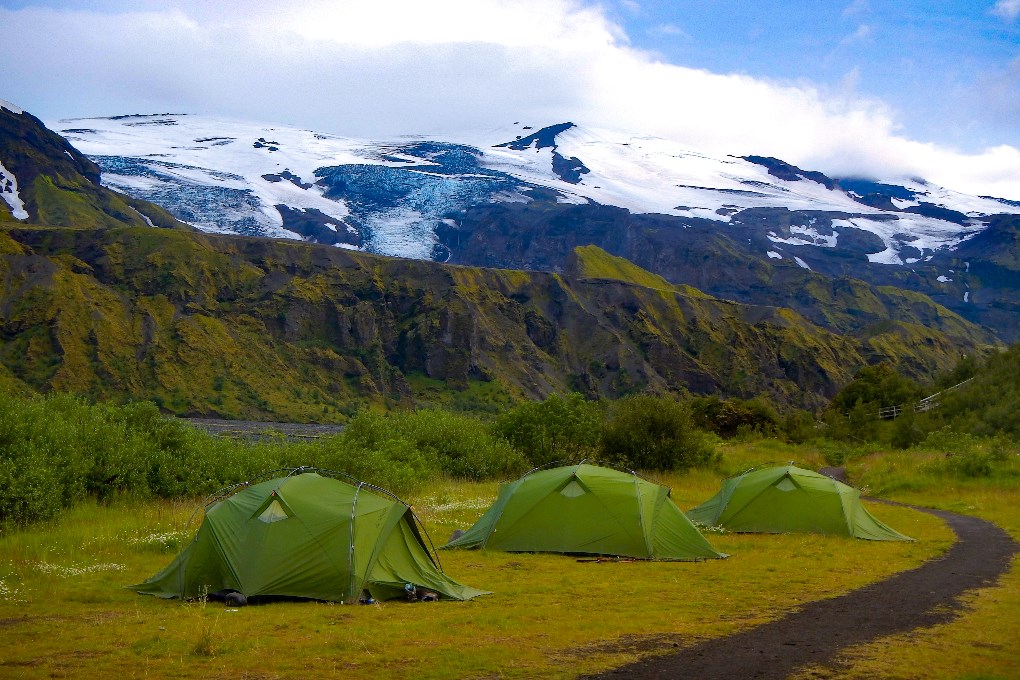 Planning a trip to Iceland and wondering if you should camp for part (or all) of your journey? Then you've come to the right place! We're giving you all the info you need to know on…
Why you should camp in Iceland

The best time to camp in Iceland

Icelandic camping regulations

What to expect at Icelandic campsites

Where to camp in Iceland

And what to bring when you go camping in Iceland!
Ready to get into it? Here's our quick guide to all of the above.
Why You Should Consider Camping in Iceland 
There are many, many reasons why travellers choose to camp in Iceland. Camping for part or all of your vacation is an easy way to…
Save a little bit of money on your accommodations

House a group of up to five or six travellers in one spot

Experience Iceland's natural landscape to the fullest (you'll never be far from the Midnight Sun, Northern Lights and more!)

Make your trip to Iceland a little more eco-friendly

And enjoy the full flexibility of camping when and where you want (with a few caveats), as you travel around the country, never tied down to a hotel reservation in the next town over!
Additionally, beyond all these benefits, camping in Iceland can be done in a range of styles, whether you want a fully stocked campervan to make your trip easy, a glamping arrangement for a bit of luxury or just a simple tent. 
When is the Best Time to Camp in Iceland?
Of course, as you may have guessed, tent camping in Iceland isn't a good choice for every month of the year. The winter weather can make staying out in the cold in a tent miserable. If you want to camp in Iceland in the winter months, you'll want to rent a 4x4 campervan to keep you cosy. 
However, you can camp in any fashion — tent, campervan, whatever — in the summer, from late May to August. The mild weather makes camping outdoors comfortable — not too hot and not too cold. Additionally, if you camp in Iceland around the height of the Midnight Sun, you'll get the added benefit of extra daylight hours — perfect for setting up camp in the evening (though you might want to pack a sleeping mask so that the extra daylight doesn't impact your sleep!).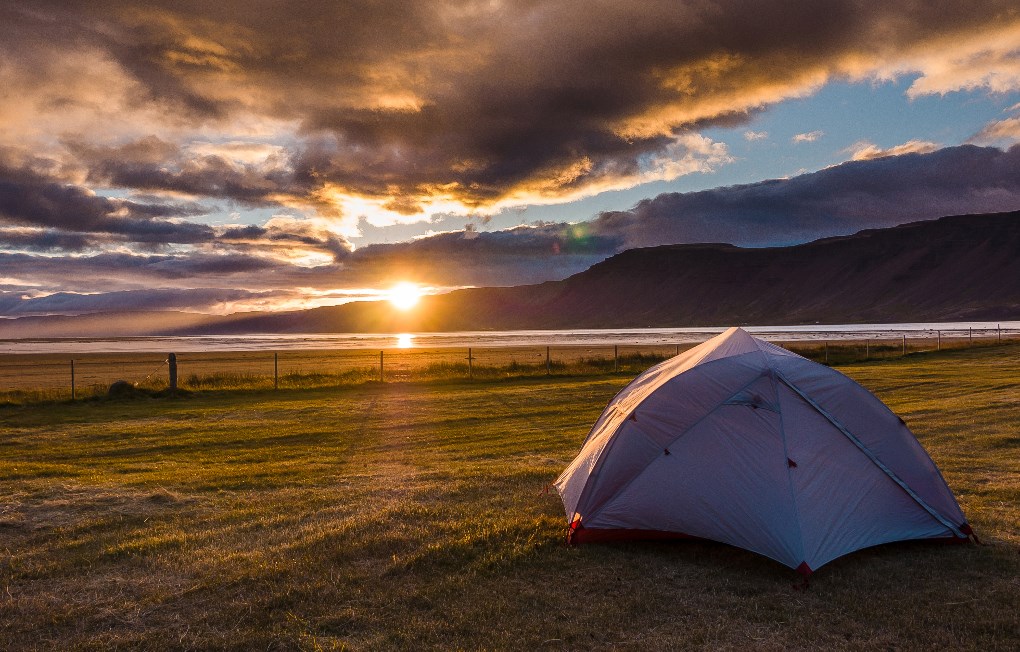 The majority of Iceland's campsites are open April through September, with the least crowded months being April and September, right as everything is beginning and then wrapping up for the season. You can find winter campsites available, but, as mentioned, you'll really want that campervan in order to stay warm. 
Regardless of which month you want to camp in Iceland, though, you'll want to keep a close eye on the weather. Here's everything you need to know about travelling in Iceland's unpredictable weather events.
Iceland Camping Regulations
Don't make the mistake of thinking that you can just pull over anywhere off the side of the road and camp while you're driving around Iceland. Iceland has specific laws about where you can and can't camp. 
As of 2015, if you're travelling in a campervan or car with a rooftop tent, you're required to camp at established, formal campsites or to obtain written permission to camp on private land. It's illegal to stay overnight in tent trailers, tent campers, caravans, campervans and similar vehicles outside of formal campsites or on private land unless you have that written permission.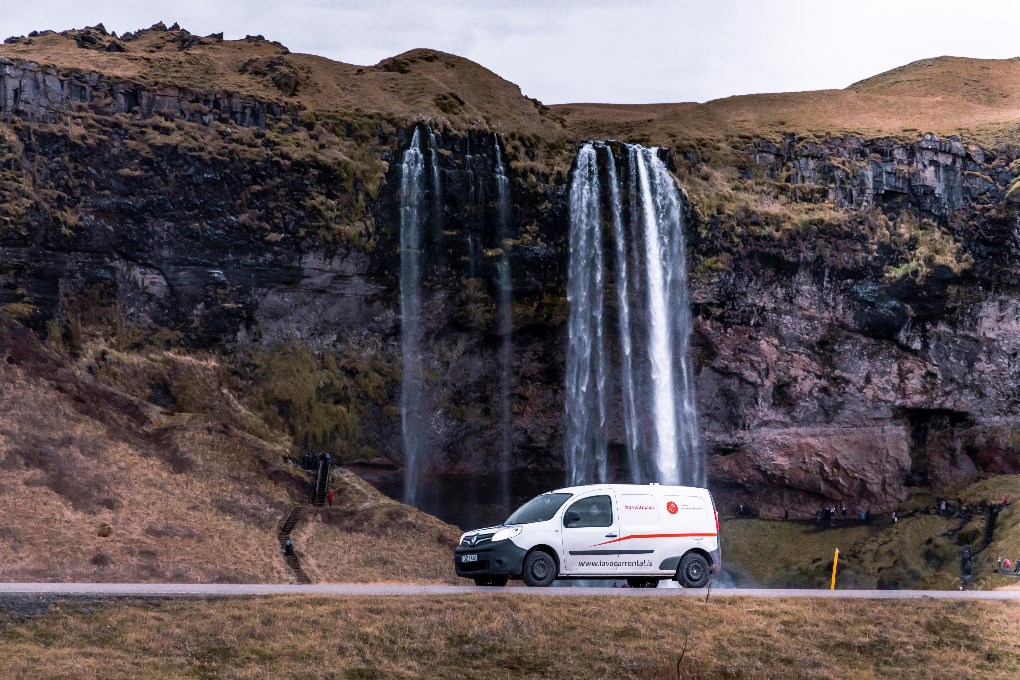 So, based on that, where can you camp? You can camp…
Off of public routes in inhabited areas, on uncultivated land, in a traditional camping tent for one night only PROVIDED that there's no campsite in the immediate vicinity and that the landowner has not restricted or prohibited access, passage or stay by means of signs along walking paths or on a gate

Off of public routes in uninhabited areas on privately owned or national land, in a traditional camping tent ONLY

Away from public routes on privately owned or national land in a traditional camping tent ONLY, unless otherwise indicated 
You MUST have the permission of a landowner if you plan to camp near an inhabited space or farm (or curtailed land), for longer than one night, if you plan to use something other than a traditional camping tent or if you have more than three tents. 
Beyond this, though, camping is not allowed outside of marked camping areas within any of Iceland's national parks, or in South Iceland (as of 2017). 
All that said, for travellers who are not familiar with Icelandic law, it's just simpler to camp in a designated, formal camping area. Risking it and assuming you know the rules in a particular area can result in hefty fines that you don't want to pay. 
Camping Options in Iceland 
Once you've set a date for your Iceland camping trip and you understand the legalities of camping in Iceland, you can get on to the fun stuff — deciding how and where you want to experience camping in Iceland! 
There are a few options for you to choose from.
If you like to "rough it" and want to be as close to nature as possible, you might want to camp in a traditional tent. Tent camping also gives you a great amount of flexibility (there are more places where you're permitted to camp in a traditional tent in Iceland, for example) and you can simply throw your tent and other camping gear in the back of your rental car for easy travelling.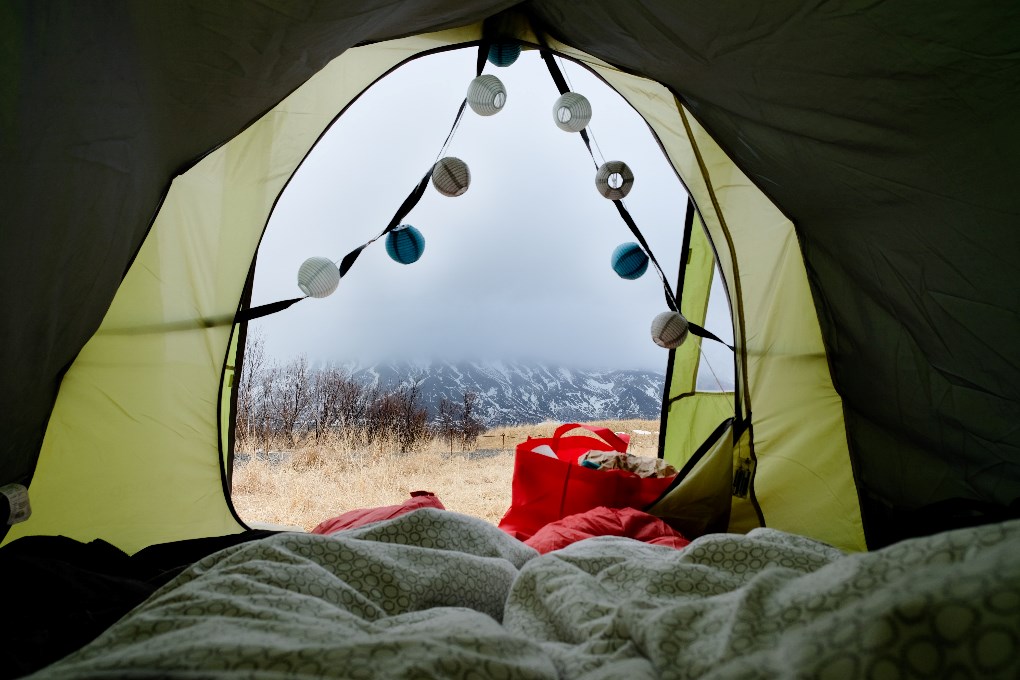 Glamping has become exceedingly popular with travellers over the last few years and you'll find several glamping spots around the country. Thorsmork Base offers glamping options with fully furnished tents and huts, outfitted with real beds, chairs, heaters, down duvets and more, all right next to the hiking trails.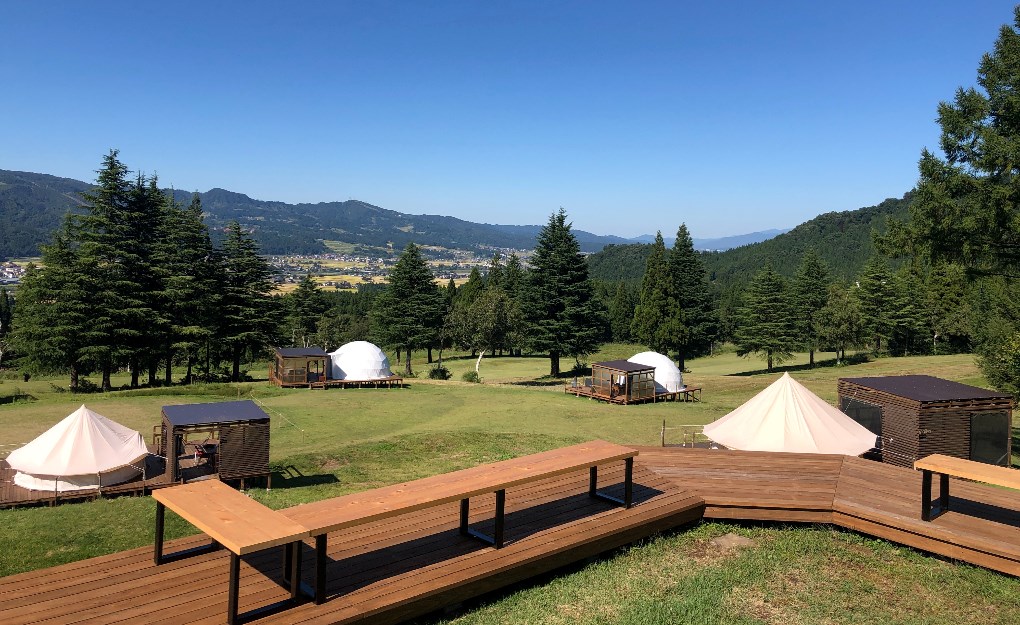 If you don't want to buy any extra camping gear for your Iceland camping trip, though, and you don't want to shell out extra money out of your travel budget for glamping accommodations, you might just find that a campervan is your perfect fit. Campervans allow you to bundle the cost of your car rental and your accommodations together, and Lava Car Rental's campervans come fully outfitted with just about everything you need to camp, no matter the season. Sleeping arrangements, cooking equipment, chairs — it's all there. 
For more on the benefits, check out our full guide to renting a campervan in Iceland.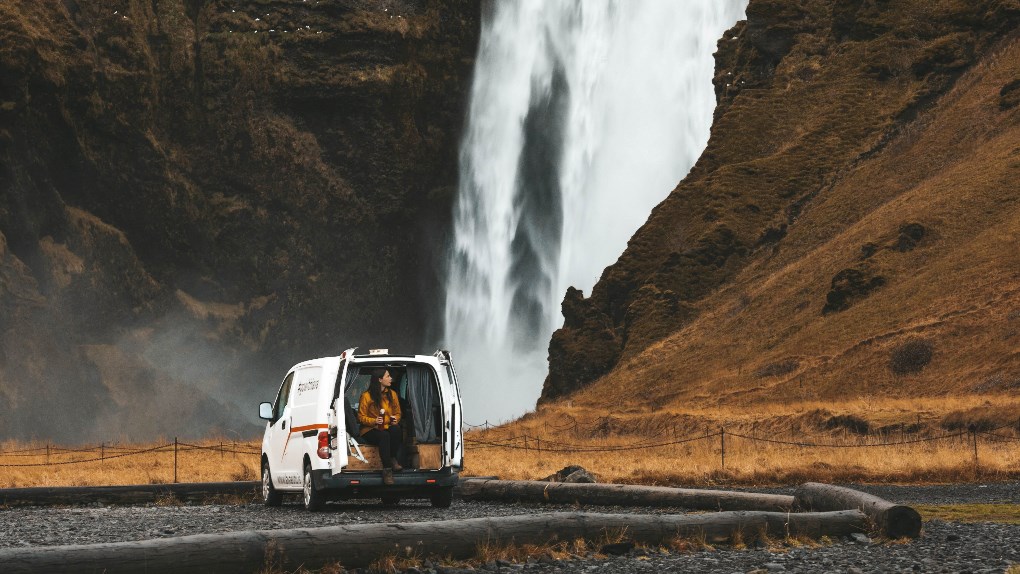 What to Expect at Campgrounds and Campsites in Iceland
There are more than 200 official, formal, legal campsites situated around Iceland, most of which are situated around the Ring Road or in the Westfjords, making them extra convenient if you're taking an Iceland road trip. 
The campsites and campgrounds really vary in terms of amenities and facilities. You can find some campgrounds that are basically just wide open fields where anyone can park their campervan or pitch their tent. Others, however, are a lot more organised and feature designated camping sites for each individual travelling group. 
Amenities typically include showers, restrooms and electricity and water hookups. The fee for water and restrooms is included in your site rental fee, but you'll need to pay extra to use the showers and electric hookups, in most cases. You can see what each campsite offers ahead of your stay, with some careful planning and routing of your camping trip.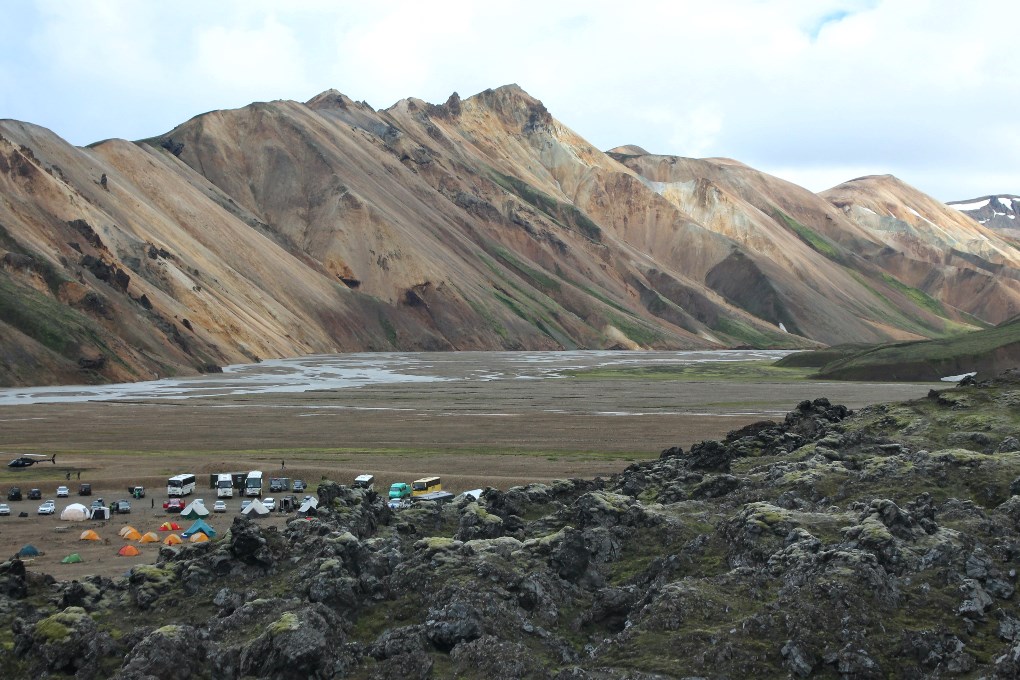 On that note, you don't need to reserve your campsite in advance, even though it is handy to research the campsites you intend on staying at, ahead of time. In Iceland, all campgrounds are first-come, first-served. 
Worried about finding a campsite during mid-summer, when campgrounds are at their busiest? You can call campgrounds ahead of arrival and find out if they have any availability. For that reason, it's good to have a backup plan for your camping accommodations and/or road trip, just in case your campsite of choice is all booked up.
Once you get to your campsite, you'll pay the site fee, which is typically around 1,000 ISK to 2,500 ISK, or $8 USD to $20 USD or 6 EUR to 16 EUR per person. While these prices are very cheap compared to other accommodation costs in Iceland, you can save even more money by purchasing an Iceland Camping Card. An Iceland Camping Card grants you access to approximately 40 campsites around the country, for up to 28 nights of camping, for up to two adults and four children (16 years or younger) with one campervan or one tent. The Camping Card covers your campsite rental costs for a one-time fee, so all you have to pay for once you arrive at your campsite are any extras such as showers, laundry and electric hookups. 
What to Pack for an Iceland Camping Trip
The great thing about renting a campervan? So much of your camping gear is already included! When you rent a campervan with Lava Car Rental, your campervan comes pre-packed with:
An electric cooler

Foldable chairs and table

Gas stovetop with gas cartridge

A kitchen kit complete with a 10-litre water tank, pots and pans, plates, utensils, silverware, knives, scissors, glassware and dishwashing tools

A sleeping kit complete with pillows, two sleeping bags and bed linens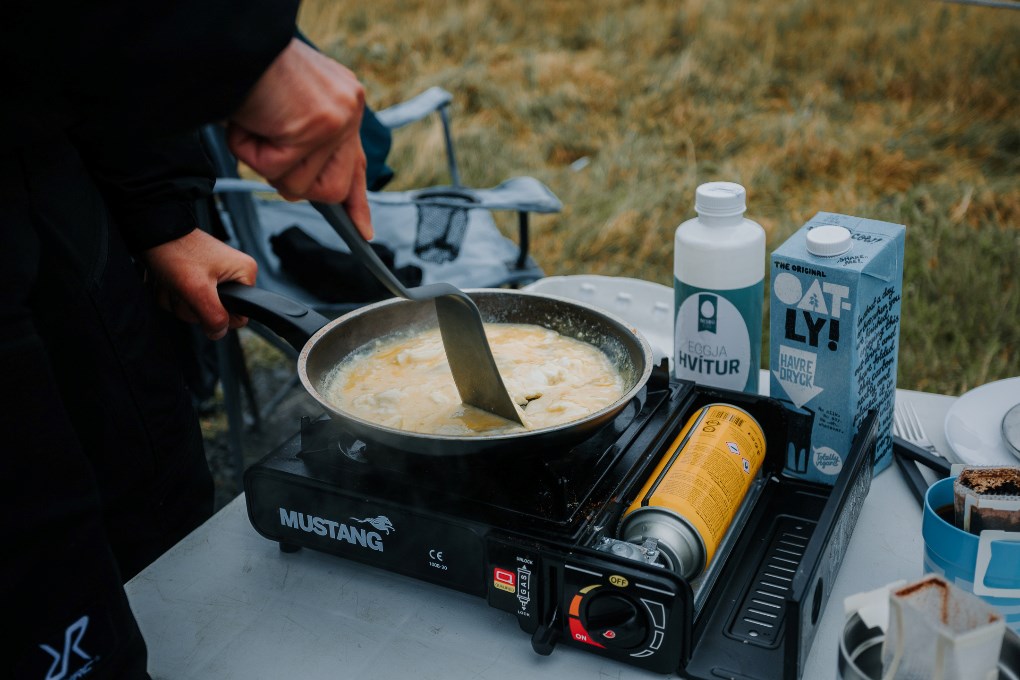 Additionally, all of our campervans come outfitted with a Webasto heating system, to keep you comfortable and cosy even during those harsh Icelandic winters.
Beyond these items that you'll need, camping in Iceland also requires…
A GPS, paper maps or map app (with downloaded content) on your mobile device, to keep you safe and on route no matter your location

Warm clothes and undergarments (we have a few

recommendations for what to wear in Iceland

, based on the season)

Your bathing suit and any swim accessories (including a towel), so you can experience Iceland's hot springs and thermal pools (here's

a list of some of the best to see and experience

around the country)

A USB charger (preferably more than one, so you can charge multiple devices while driving)

Toilet paper and a small shovel (in case nature calls while you're exploring Iceland far from any public restrooms — make sure to properly bury your business!)

A reusable water bottle (Iceland's tap water is completely safe and healthy to drink but you'll want to bring your own reusable water bottle so that you can refill on the go)

A sleeping mask, especially if you're camping during the summer months, when extended daylight can make it difficult to sleep
Of course, you'll likely want to bring more than just this, but this is a nice list to get you started packing for your camping experience specifically. 
Where to Camp in Iceland 
As mentioned, there are many different campsites that you can find around Iceland, but, again, what they offer really differs from campsite to campsite. For some of the best of the best, with all of your basic amenities, plus lots to do and see in the vicinity, check out our favourites below.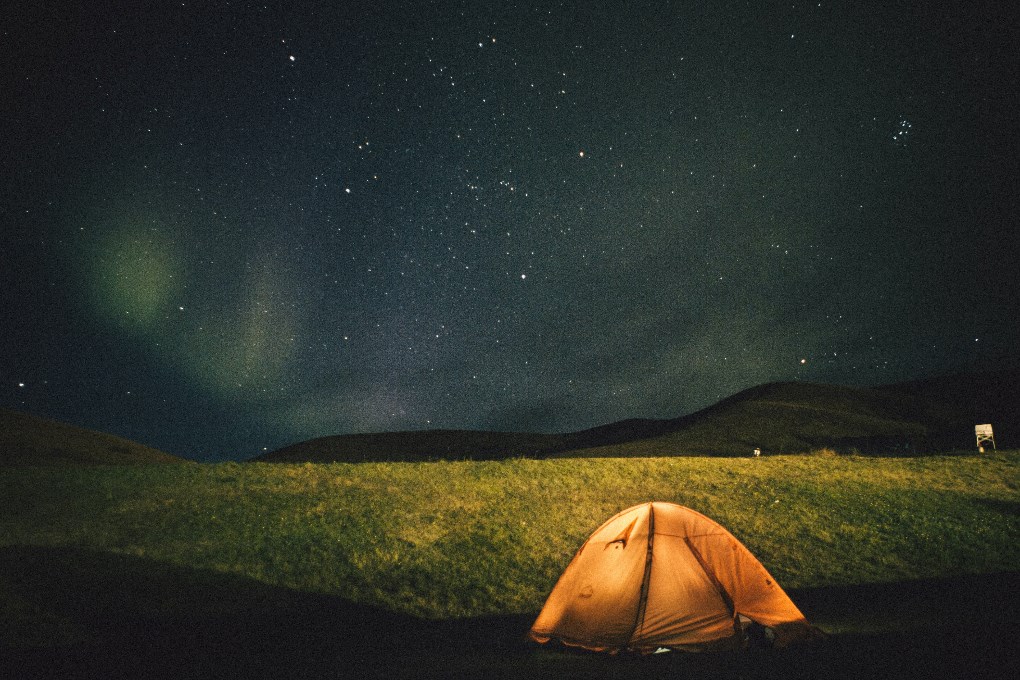 Reykjavik Campsite
If you plan on spending a day or two exploring all of the culture, history and museums awaiting in Reykjavik, but you still want to spend all of your trip to Iceland camping, plan to stay at Reykjavik Campsite. This popular camping locale is fully equipped with everything you might need for a comfortable stay and your site rental price includes access to an open kitchen, showers, free WiFi, a computer lounge and excursion pick-up. The only extras you might need to pay for include luggage storage and laundry service. 
When you're ready to leave the campsite and explore, you'll find that the campsite is very near the Laugardalslaug thermal pool, Iceland's national football stadium and the botanical gardens. You can even rent a bike or take a direct bus service from the campsite to Reykjavik's city centre.
Skaftafell Campsite
The Skaftafell Campsite is located within Vatnajokull National Park (remember — camping outside of designated campsite areas is forbidden within all of Iceland's national parks) and has room for about 400 tents (and the campground assures that it's never run out of space in the past, meaning it can just about guarantee you'll find a spot here, no matter when you arrive). It's the perfect base camp for exploring all the national park has to offer, including the Jokulsarlon Glacier Lagoon and Diamond Beach. Amenities include access to electric service and showers, as well as laundry service.
Egilsstadir Campsite
Open all year round, this campground in East Iceland gives you access to a range of fun activities in the region, from taking a dip in the Vok Baths to hiking to Hengifoss Waterfall. The Egilsstadir Campsite is one of the few camps that allow you to book your campsite ahead of time, online, making it ideal for those who like to have a firm plan in place before beginning their travels. 
Ásbyrgi Campsite
Another campground located within Vatnajokull National Park, this summer-only campground is a good pick for exploring the nearby Dettifoss Waterfall, the Dimmuborgir lava formations and other attractions within the Diamond Circle. The Ásbyrgi campground offers day tours, too, making your explorations even easier. 
Látrabjarg Campsite
Outside of the town of Breidavik, Latrabjarg Campsite is a little more difficult to find (especially since it doesn't even have a website!). To reach it, you'll want to take the road that leads to the Latrabjarg cliffs. Right after you pass Breidavik, you'll find the camp, about two kilometres before you get to the cliffs. It's a great option for those who want to stay somewhere a little less crowded, with amazing access to bird watching. The nearby cliffs are home to scores of Atlantic puffins. 
Siglufjörður Campsite
The town of Siglufjordur in North Iceland offers two separate campgrounds near the water. One of the campsites is right in town, while the other is about 10 minutes from the city centre. Amenities in the Siglufjörður Campsite include electric hookups, walking paths, laundry service, playgrounds for the kids and even a restaurant and pool. 
For a full list of the campsites in Iceland, check out this comprehensive guide. You can also find a list of Icelandic campsites that are open all year long. 
Need even more help organising your Iceland trip? Check out our blog, where we have a range of recommended Iceland itineraries for you to explore.  
Is Camping in Iceland Right for You?
Camping in Iceland is an unforgettable travel experience. There's no other way to get so close to the Icelandic landscape and to fully experience the wondrous nature of Iceland than to see and experience it all from your own tent or campervan. For the most convenience and best cost savings, we can't recommend renting a campervan enough. 
To see your full range of options, including 4x4 camper vans, check out our campervan rentals — and don't hesitate to book ASAP! Camping is popular in Iceland, especially in summer, and camper vans are in high demand.