Renting a Car for a West Iceland Self-Driving Trip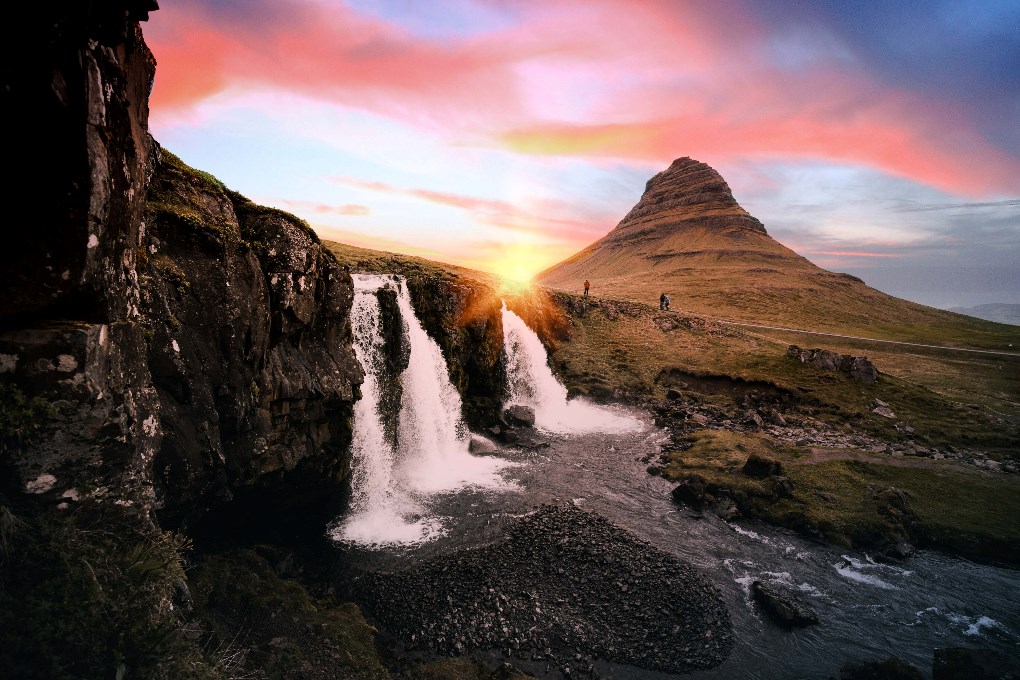 A self-driving trip to Iceland can be an excellent way for you to explore the country at your own pace. You can enjoy complete control over your itinerary, so you can see what you want to see, when you want to see it. Self-driving is especially convenient, though, if you want to visit some of Iceland's less-popular regions, such as the Westfjords in West Iceland, where it can be more difficult to find tours and guided excursions than if you were looking just around Reykjavik or South Iceland. 
So, planning a trip to West Iceland and wondering if a self-driving itinerary is the best option for you? Here's everything you need to know. We're covering…
West Iceland's regions and must-see spots

The best rental car for a West Iceland self-drive trip

Top tips for taking a campervan to travel in West Iceland

And whether or not you should rent a 2WD car for your West Iceland itinerary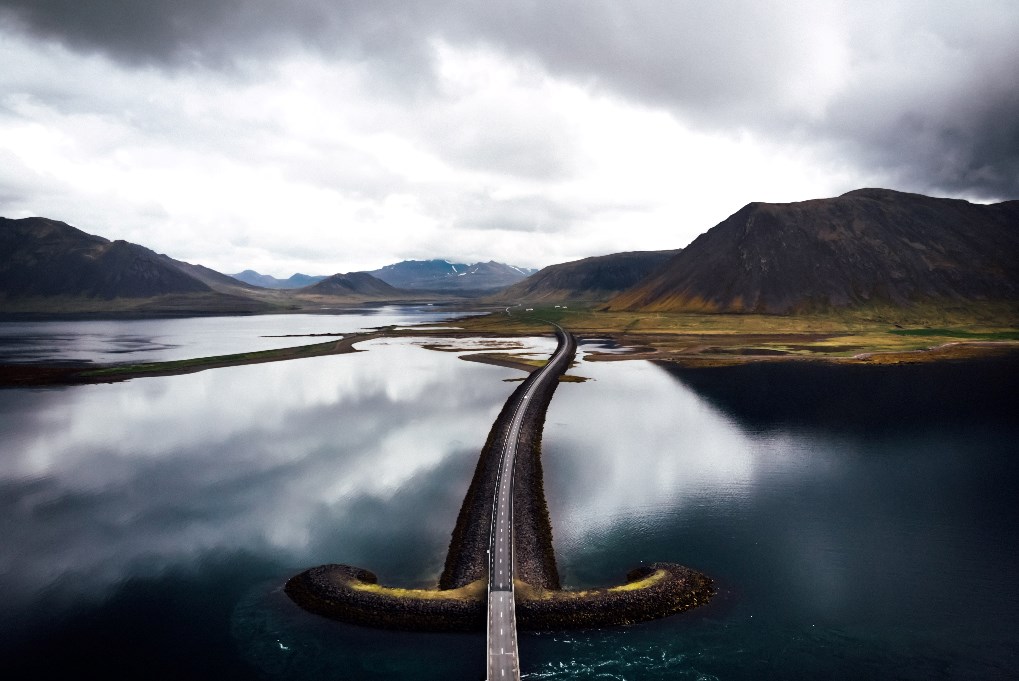 What You Need to Know About Renting a Car in Iceland 
But, first up, before you travel anywhere in Iceland, if you're planning on renting a car of any kind, you'll want to know a few things. 
If you've travelled to Europe in the past, and maybe even rented a car during your previous trips, then you likely already know that most rental cars in Europe, including Iceland, feature a manual transmission. This can be difficult for some travellers, especially those travelling in from the United States, as they're more accustomed to driving automatic cars. 
Luckily, if you book with Lava Car Rental, you will have the option of booking an automatic vehicle, even though manual transmission vehicles are standard. Just make sure to book your vehicle in advance, as the automatic transmission vehicles book up quickly. 
Gasoline vs. Diesel vs. Hybrid
But in addition to choosing between an automatic versus manual vehicle when booking your car rental, you'll also have the option of booking a gasoline, diesel or hybrid car. When travelling to Iceland, though, you won't notice too much of a difference between our gasoline and diesel vehicles. The only slight change is that diesel fuel does cost a little less than gasoline. If you're a budget traveller, and you plan on driving quite a lot during your trip, you may want to opt for a diesel vehicle to save a little on your fuel costs. 
Hybrid vehicles are much less common than gasoline and diesel vehicles in Iceland, but they're not entirely impossible to find. Lava Car Rental, for example, offers a Tucson Hybrid vehicle.
But in addition to automatic and manual vehicle options, as well as gasoline, diesel and hybrid options, you'll also have the option of renting a campervan while in Iceland. So why would you want a campervan rental in Iceland rather than a car?
We find that travellers who want more flexibility, as well as more savings, really love the campervan option. Travelling in a campervan allows you to bundle the cost of your accommodations with the cost of your transportation. Additionally, you gain the added flexibility that comes with being able to camp in a range of locations around the country, not just where a hotel is available. They're also ideal for families and groups of friends.
Most Iceland campgrounds are open from June and into August. For more information on camping in Iceland, check out our Iceland camping guide.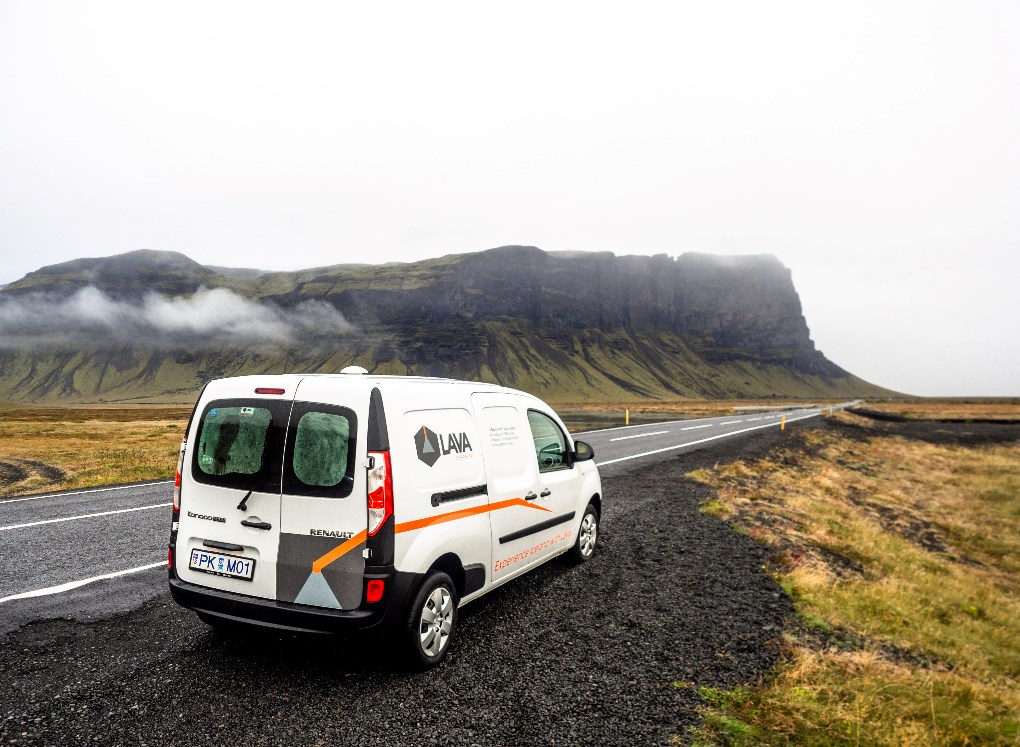 And one last thing that you need to know when booking a vehicle in Iceland — there are certain roads around the country that only allow for 4WD vehicles by law. These F-Roads are typically unpaved and traverse more isolated areas of the country, and having a 4WD vehicle is necessary for your safety. So, if your itinerary includes travelling on any of these F-Roads (which is usually the case if you plan on visiting the Icelandic Highlands), make sure to book a 4x4 car or SUV.
What Car Should I Rent for a Western Iceland Road Trip?
Okay, so now that you know the basics for renting a car in Iceland, what do you need to know about booking a rental car for a Western Iceland road trip specifically? 
When booking a rental car for a Western Iceland road trip, your best bet is always going to be a 4x4 car. This is true no matter what time of year you plan on visiting, no matter what kind of traveller you are, and no matter what your budget is. A 4x4 car is just the safest, most comfortable option for travelling this region's more isolated roadways, especially since Western Iceland is prone to adverse weather.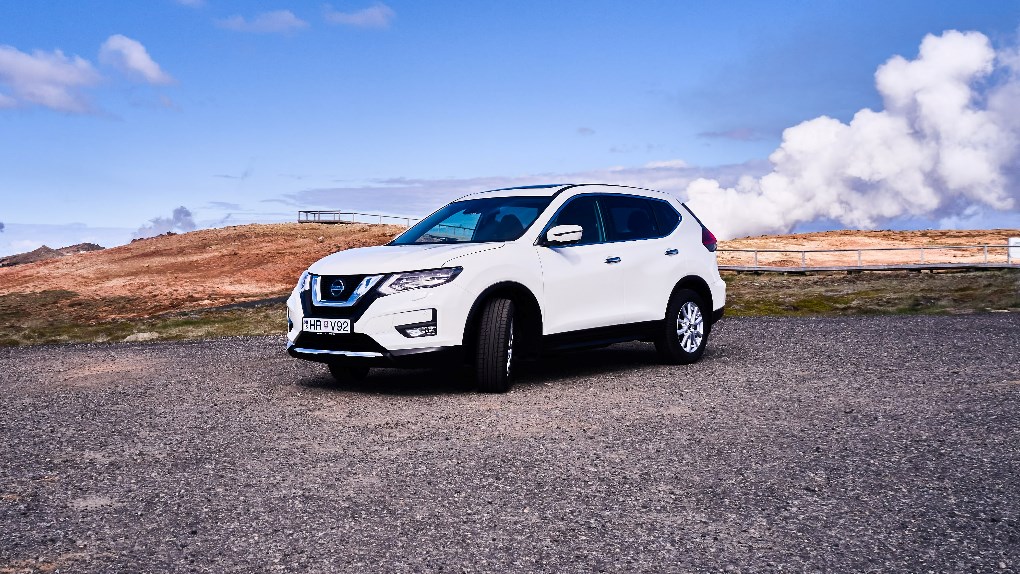 Not convinced? If you're still thinking about renting a 2WD vehicle to visit Western Iceland, here's what you should take into consideration.
When are you travelling to Iceland?
One of the biggest factors that you have to consider when planning an Iceland road trip is the season. The weather will dramatically impact the road conditions. During the winter months, snow, ice and other unpredictable weather events can make roadways hazardous for 2WD vehicles, especially if you're travelling in more remote areas. In some areas of Iceland, the roadways are completely blocked off to traffic during the winter. A 2WD vehicle is really only an advisable option for winter travel if you're staying in and around Reykjavik, where the roads are typically kept cleaner. 
In West Iceland specifically, a 4WD vehicle becomes necessary, as roadways aren't as frequently cleaned and weather can be even harsher than in other areas of Iceland. Additionally, some areas of the region, like the Westfjords, aren't accessible during winter at all. If you want to have full access to West Iceland, and you're still interested in renting a 2WD vehicle, you'll want to visit during the summer months only. 
How many people are you travelling to Iceland with? Are you bringing a lot of luggage?
Most 2WD vehicles that you can rent in Iceland are only really large enough for two adults at most, maybe three if you want to squeeze in. Add in your luggage and you'll likely have a cramped trip. 
For road trips, we typically recommend a 4WD SUV, as these larger vehicles make for a more comfortable trip, giving you lots of room, even with up to five adults in the car, all with luggage.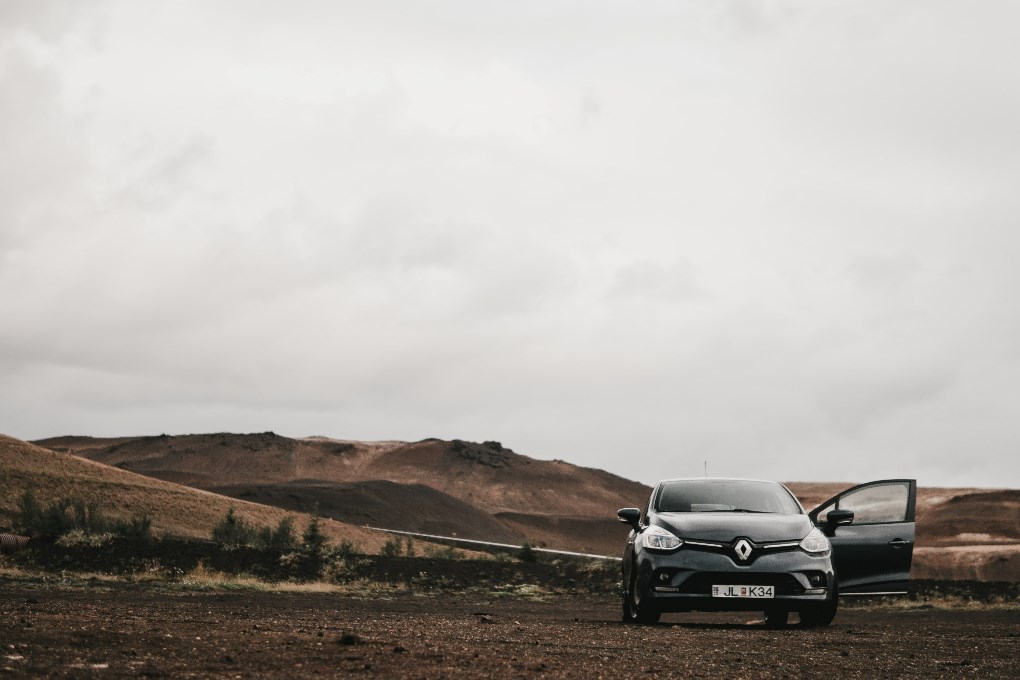 What are your travel plans? Where do you plan on going? 
Your travel plans will also impact what kind of vehicle you rent while in Iceland.
Snaefellsnes Peninsula
Probably the most famous area of Western Iceland is the Snaefellsnes Peninsula, which is also called "Iceland in miniature," as you can truly experience a range of some of Iceland's best geological features, all in one spot. Volcanoes, glaciers, lava fields, waterfalls, black-sand beaches, mountains, the ocean — it's all there. 
Additionally, the peninsula is easy to access from Reykjavik, so it makes an easy day trip for many travellers (though, if you'd like to stick around and explore the peninsula for a few days, you certainly won't run out of things to do). 
On top of this, Snaefellsnes Peninsula is also accessible during the winter months, except for when the weather conditions are particularly bad (which, if you're travelling to Iceland during the winter at all, you should be keeping an eye on the weather via vedur.is and road.is).
To fully explore Snaefellsnes Peninsula with minimal interruptions, we recommend a 4x4 vehicle during the winter months. A 2WD vehicle can be used during the summer. A camper van would also be a good choice if you plan on camping.
Famous attractions on the Snaefellsnes Peninsula include…
This glacier sits atop a volcano and within one of Iceland's national parks. While the glacier can be spotted from Reykjavik on a clear day, you can also get up close and personal with this mammoth geological feature via a guided summit hike or a Snowcat tour. 
This uniquely-shaped mountain is heavily photographed, so you may recognise it already. Also called "Church Mountain," it sits above a small fishing town and is ranked as one of the most beautiful mountains in the world. (You may also recognize it as Arrow Head Mountain from Game of Thrones!)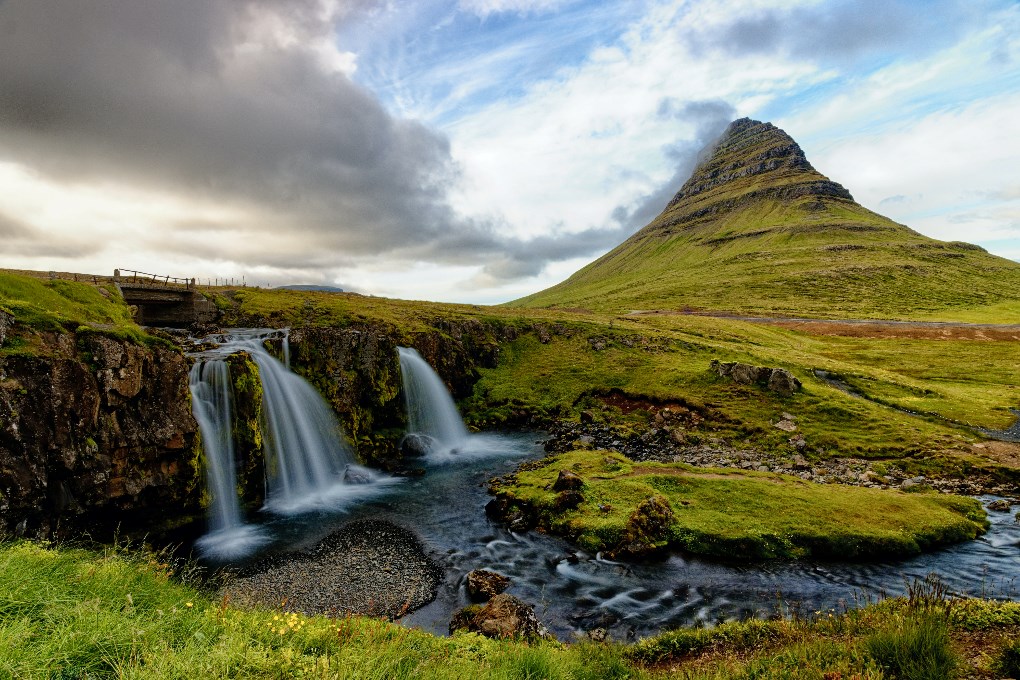 Arnarstapi & Hellnar Villages
These quaint fishing villages are lovely places to stop during a West Iceland road trip, so you can soak in some of the island's culture and history. If you visit either, make sure to see the cliffs between the two villages; the cliffs are part of a natural reserve and form a rocky, dramatic shoreline.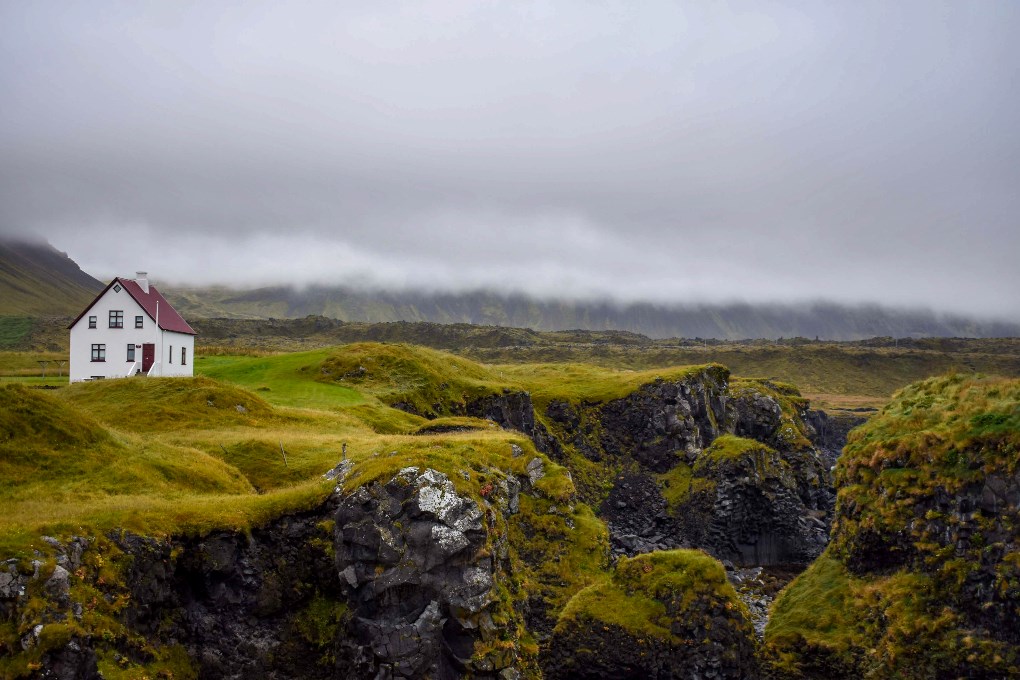 Djupalonssandur Beach is a black-sand beach that makes an easy stop for a quick stroll. The beach sits at the bottom of the Snaefellsjokull Glacier, so you can conveniently visit both in one day.
If you stop by Hellnar, be sure to also swing by Londrangar. This popular tourist attraction is just a pair of volcanic rock pinnacles, but they're a unique addition to the landscape and make for some lovely photos, especially when paired with the glacier in the background, and the black sandy beach and ocean in the foreground.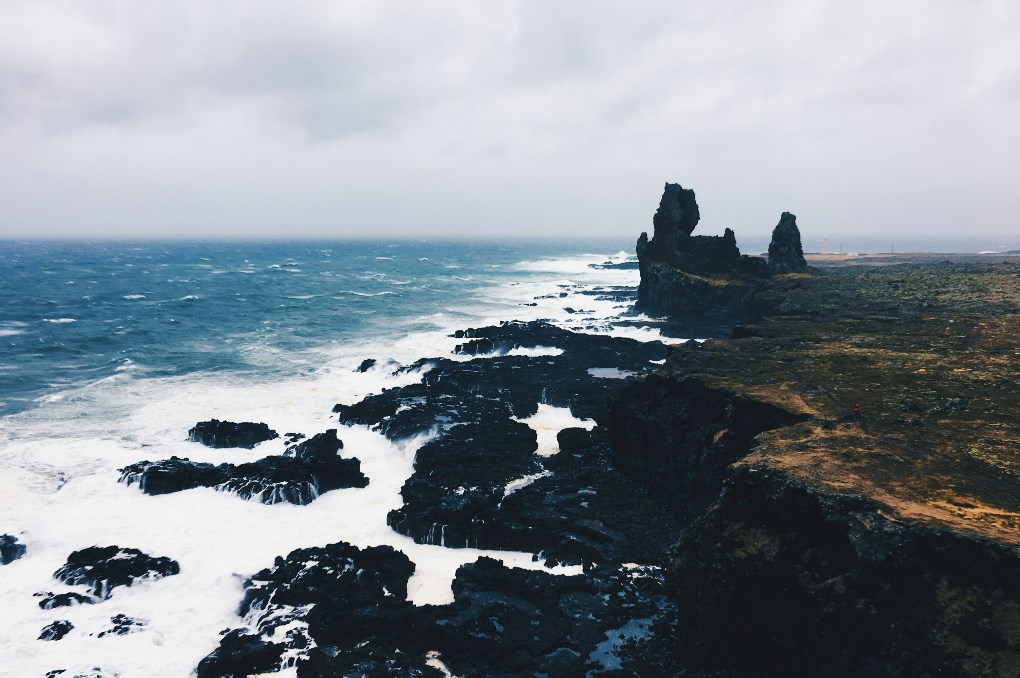 Stykkisholmur is the primary town on the peninsula, home to a little over a thousand people. It's your best place to go if you want to dine, shop or stay in the area (if you're not camping in your campervan, that is!). There are also museums in the town, as well as a lighthouse, ferry terminal and golf course.
This yellow-sand beach is a favourite for seal-watching! If you aren't going to be able to make it to the Jokulsarlon glacier lagoon (which is likely Iceland's top spot for seal watching), be sure to stop by here, to see the seal colony any time of the year.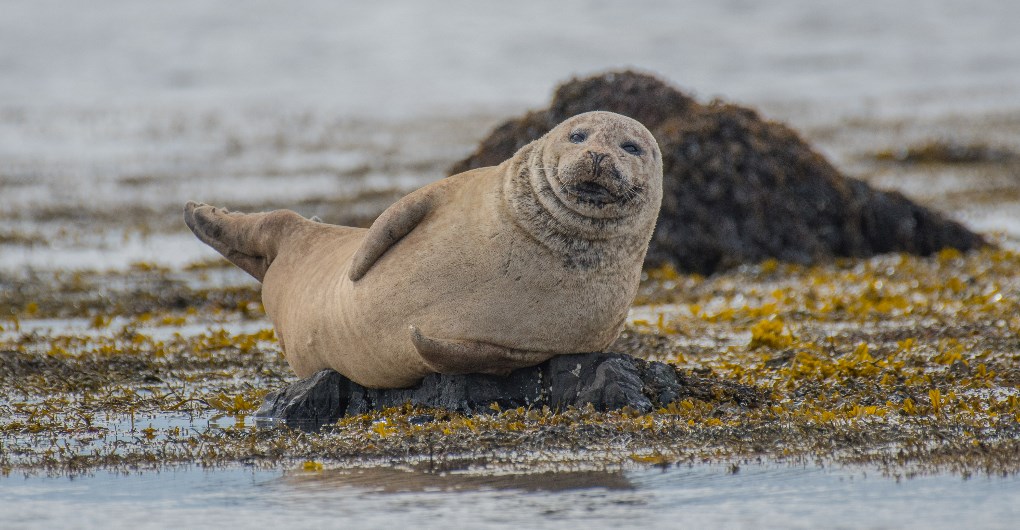 This centuries-old church sits in a dramatic lava rock field and is known as a unique photo spot. Painted almost entirely black, the church makes a sharp, stunning contrast against the surrounding empty landscape.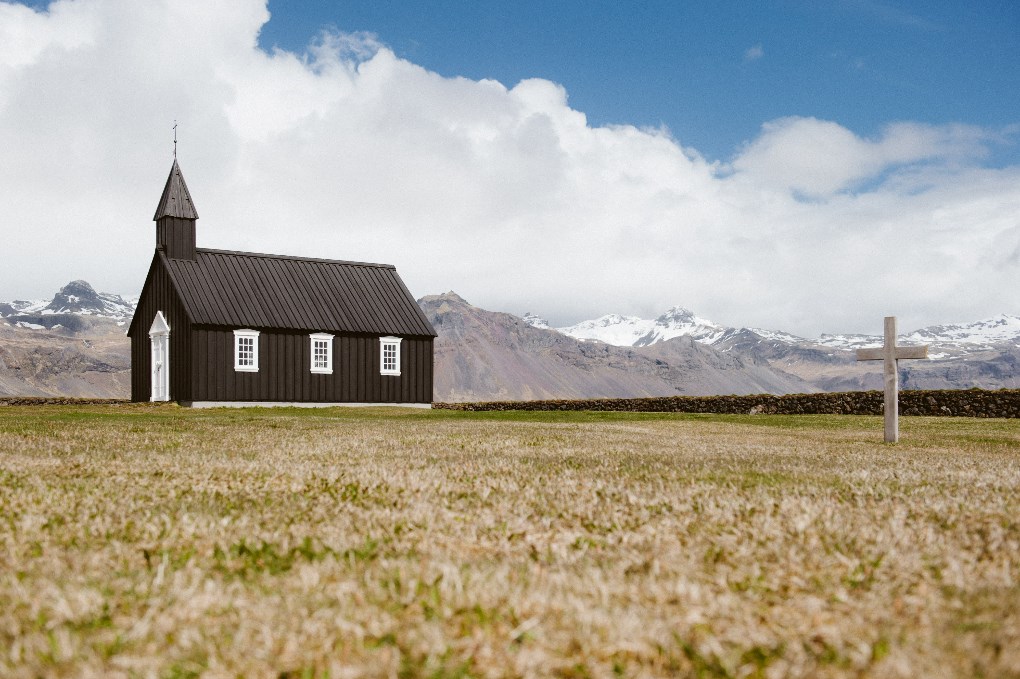 Lastly, Vatnshellir Cave is a lava tube where you can actually descend down into the subterranean cave system via a guided tour. If you've ever considered caving while on vacation, this is a can't-miss experience! 
But obviously, West Iceland isn't only the Snaefellsnes Peninsula. What are your other options in this area of the country and what kind of vehicle will you need to get you there?
Akranes & Hvalfjörður
Much like Snaefellsnes Peninsula, Akranes and Hvalfjordur are also generally accessible all year long, with both 4WD and 2WD vehicles, except for when bad winter weather makes things difficult. Akranes is a port town on the western coast, about 50 kilometres north of Reykjavik, and Hvalfjordur is a nearby scenic fjord route, with lots of canyons and waterfalls.
This area is home to Glymur, Iceland's highest accessible waterfall at 198 metres. You can hike the waterfall in the summer, but do note that reaching the waterfall requires some driving on gravel roads, which means a 4x4 vehicle is advisable. (And for more info, check out our guide to visiting Iceland's waterfall.)
Borgarfjörður
If you want to visit Borgarfjordur, a small fjord in the West, you can do so with a 2WD vehicle or even in a campervan, as the roads on the fjord are well-maintained. However, the roads do get slippery in the winter months, so then you'll want to rent a 4x4 car or 4x4 campervan.
It takes about half a day to see everything on Borgarfjordur if you don't schedule any guided tours. If you're driving to the fjord from Reykjavik, you'll want to plan to use an entire day of your vacation, to account for the driving time. The fjord is also a popular detour off of the Ring Road.
Popular attractions on the fjord include…
One of the larger towns in the area, Borgarnes is known as the gateway to Snaefellsnes National Park. The charming town is located about 75 kilometres from Reykjavik and is a popular stop if you're driving from Reykjavik to the rest of Borgarfjordur.
Hraunfossar and Barnafoss
These two waterfalls translate to "lava waterfall" and "children's waterfall," respectively. Compared to some of Iceland's other waterfalls, these two are somewhat hidden gems and easy to see without any hiking. There's also an on-site cafe.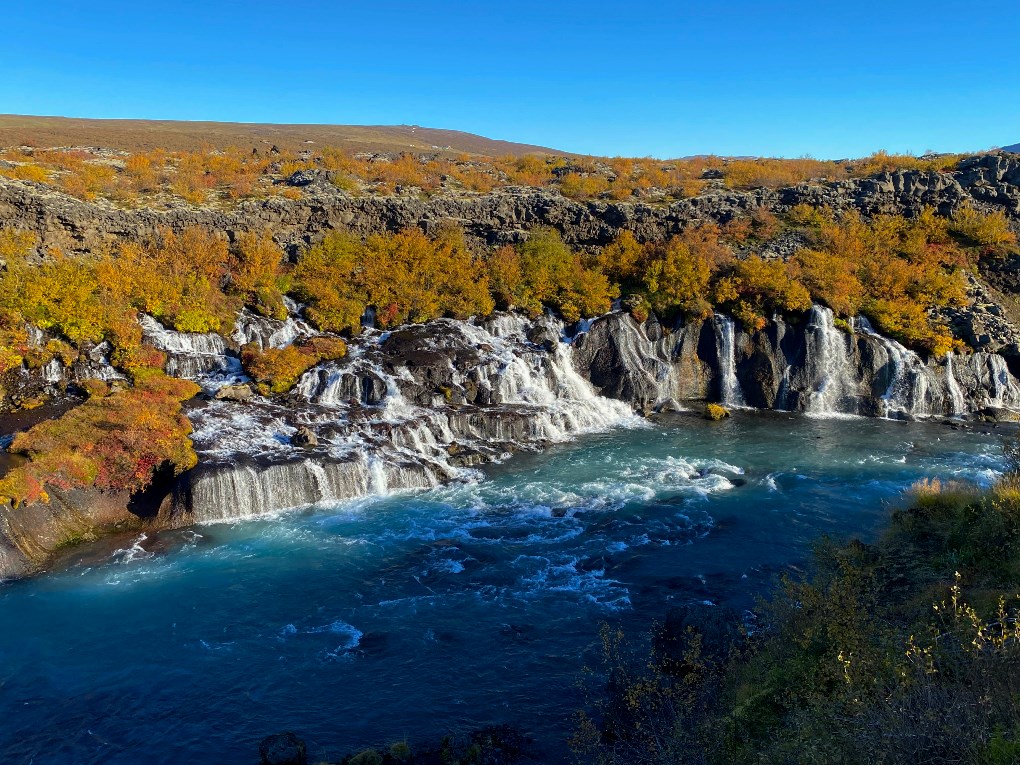 The Krauma Baths are natural geothermal baths that are filled with water from Deildartunguhver, which is known as Europe's most powerful hot spring. A newer geothermal spa and resort, it's a nice alternative to The Blue Lagoon, which can get a little crowded. (You can learn more about this in our full guide to Iceland's hot springs.)
An interesting cultural and historical centre, Reykholt was once an important destination for European education. Now, the small village attracts travellers looking to learn more about Iceland's storied past.
Deildartunguhver Hot Spring
A short drive from Reykholt, Deildartunguhver is the same hot spring that powers the Krauma Baths. See this powerful body of water in its most natural form, as you traverse an Icelandic farm to see the waters up close (though you may want to keep the bathing to the amenity-heavy spa at Krauma Baths). 
The largest lava cave in Iceland, and one of the largest caves in the world, Víðgelmir is easily explorable via a guided tour. Created by a volcanic eruption in the first century, the cave is nearly 1,600 metres long.
You can experience the Langjökull glacier (the second-largest glacier in Iceland) from the inside! Go on a guided group tour into the body of the glacier, to see what one of these huge geological features looks like from the interior. You can either drive to the glacier yourself, if you have a 4x4 vehicle, or take a shuttle from Husafell and Klaki.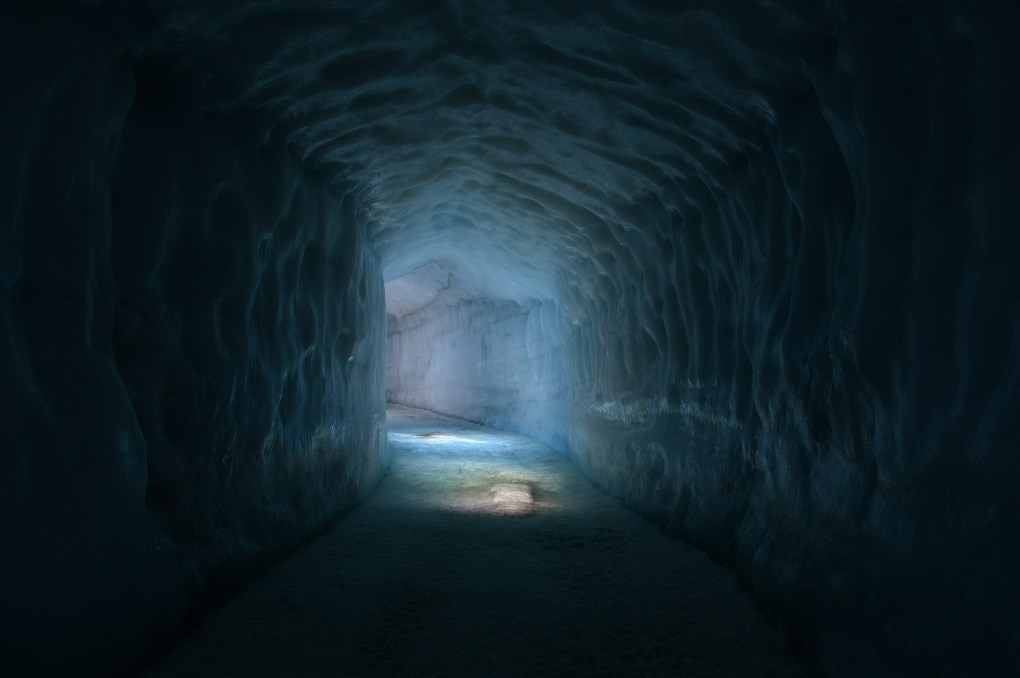 The Westfjords 
The Westfjords are the most remote and least populated areas of Western Iceland and, in fact, are some of the most remote and least populated areas of Iceland entirely. Because of this, driving around the Westfjords can be a little challenging. The roads aren't as well maintained as they are in other parts of the country, and there are a lot of gravel roads, as well as mountain roads with steep drop-offs. Additionally, the Westfjords are only accessible during the summer months. Most of the area is closed off to traffic during the winter.
If you travel to the Westfjords during the summer, you can visit most of the area with a 2WD vehicle. However, 4x4 vehicles will definitely make traversing those mountain passes and gravel roadways a little easier (and much safer!). Popular options include larger 4x4 SUVs, such as the Dacia Duster, or Toyota Land Cruiser or, if you want to camp, the VW Transporter. 
Since the Westfjords are a little more difficult to traverse, it also takes a little longer to see all that they offer. We generally advise travellers to plan to spend about four days fully exploring this area of the country. 
Some of the most popular sites include…
These large sea cliffs stretch for about 14 kilometres and reach heights as tall as 441 metres. However, they're not worth visiting just because of their scale. They're also home to millions of birds and are popular for puffin watching.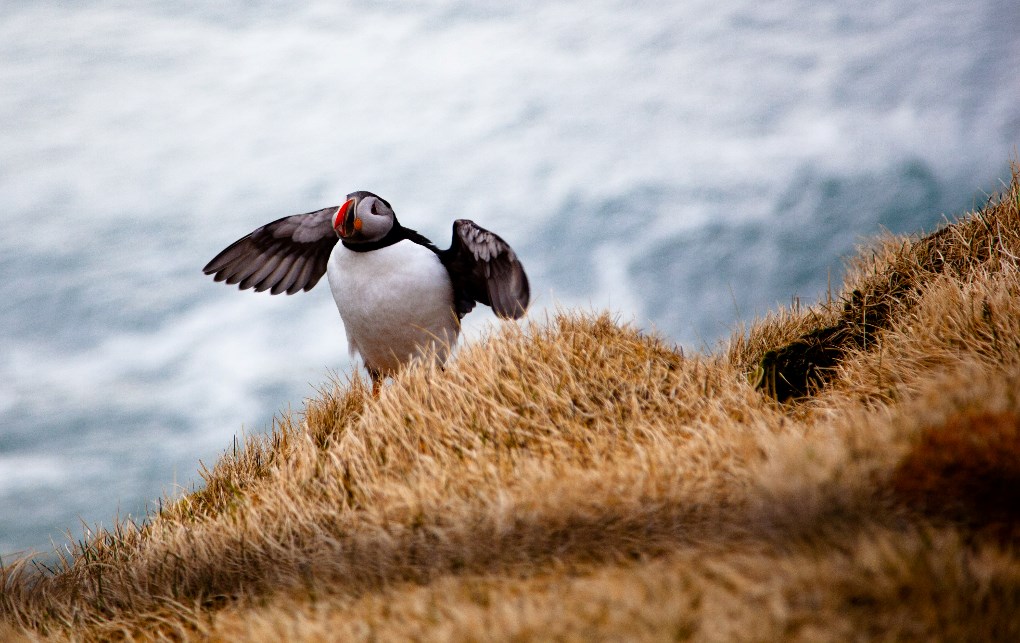 The largest waterfall in the Westfjords, Dynjandi is also called the Jewel of the Westfjords. You'll need to hike for about 10 minutes to see the waterfall after parking, but the steep climb is well worth it.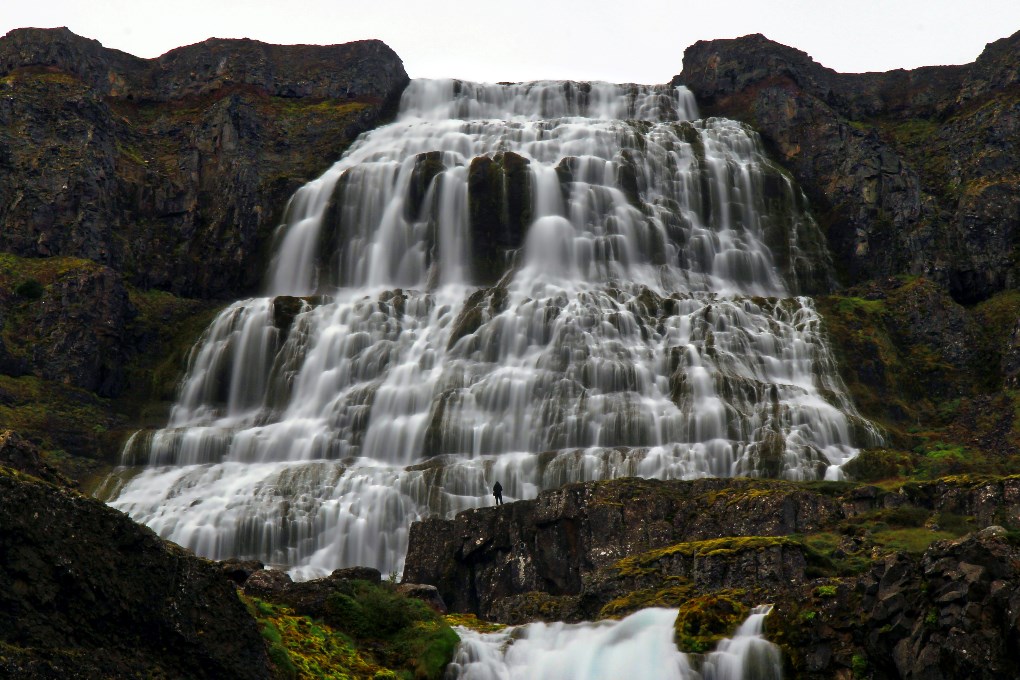 This red-sand beach is a unique, remote beach surrounded by dark cliffs. A favourite photo spot, visiting is well worth it, but do note that the gravel road to the beach is pretty steep.
Hornstrandir Nature Reserve
The coastal tundra of Hornstrandir Nature Reserve is gorgeous, filled with hiking and opportunities for wildlife watching. Keep your eyes peeled for the resident Arctic foxes!
This historic small town is filled with maritime history. Stop by to see the architecture dating back to the 1700s, as well as the Westfjords Heritage Museum. 
Another historic coastal village, Holmavik is a popular pick for travellers who want to whale watch. Be sure to stop by the Museum of Icelandic Sorcery and Witchcraft while you're in the area! 
Exploring Western Iceland
A West Iceland road trip can be exactly the type of experience you're looking for. Filled with nature, small villages and dramatic coastline, a West Iceland self-drive tour is something you won't soon forget. Make sure you have the safest and most comfortable experience possible, with the right 4x4 or campervan rental for your Iceland trip. Check out Lava Car Rental's full lineup of options and start planning your visit today!