Guide to the Highland F-Roads and Gravel Roads of Iceland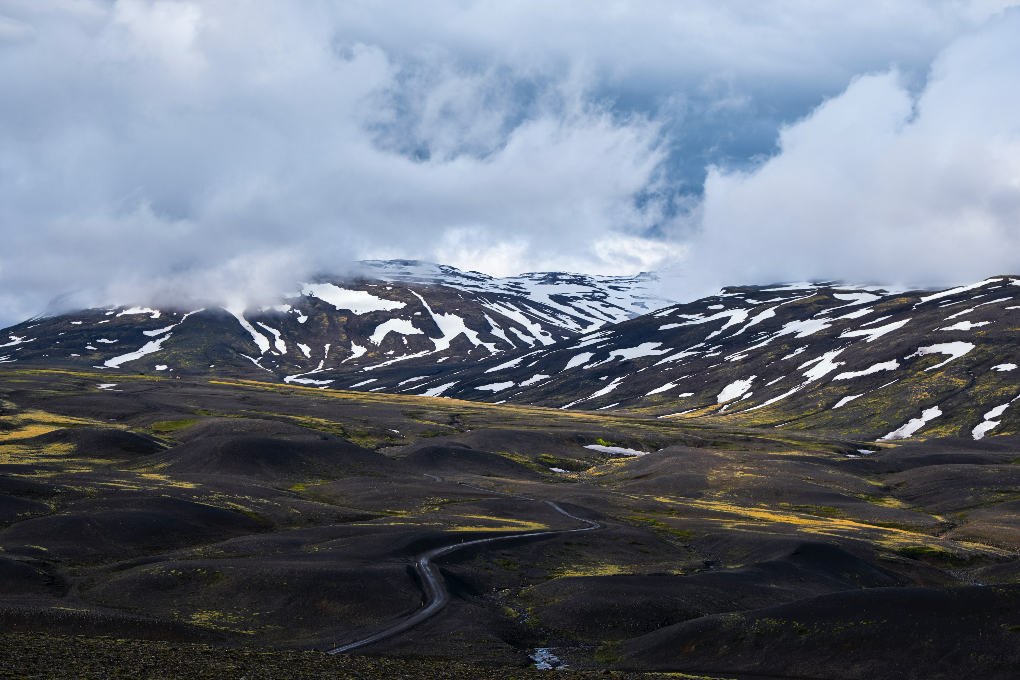 Planning a trip to drive the F-roads of Iceland or the Iceland Highland roads to explore one of the most remote areas of the country? Here's everything you need to know about Iceland Highlands driving and F-roads driving in Iceland. 
Keep reading to learn…
The most popular F-roads in Iceland (with maps!)

How to drive Iceland's mountain roads

When you can access Iceland's mountain roads

Tips and advice for Iceland Highlands driving

And the best options for renting a 4x4 car in Iceland! 
What are Iceland F-Roads? 
First things first, if you've never been to Iceland before, you likely have no idea what an "F-road" even is. "F-roads" is short for "Fjallvegur roads", an Icelandic term that simply means an Iceland mountain road. So, as you could probably guess, F-roads will lead you to all of Iceland's most mountainous and remote landscapes. You can easily identify F-roads by the road signs that feature an "F" and a number. 
While Iceland's F-roads will definitely take you to some of the most beautiful sites throughout the country, they can be dangerous if you're not prepared for them, or if you visit during certain times of the year. F-roads are always unpaved and filled with gravel, sand and stones, and sometimes they even go through rivers (with no bridges!). That's why, when we talk to Lava Car Rental customers renting a car for an Iceland road trip, we only recommend they travel along the F-roads if they consider themselves confident, skilled drivers.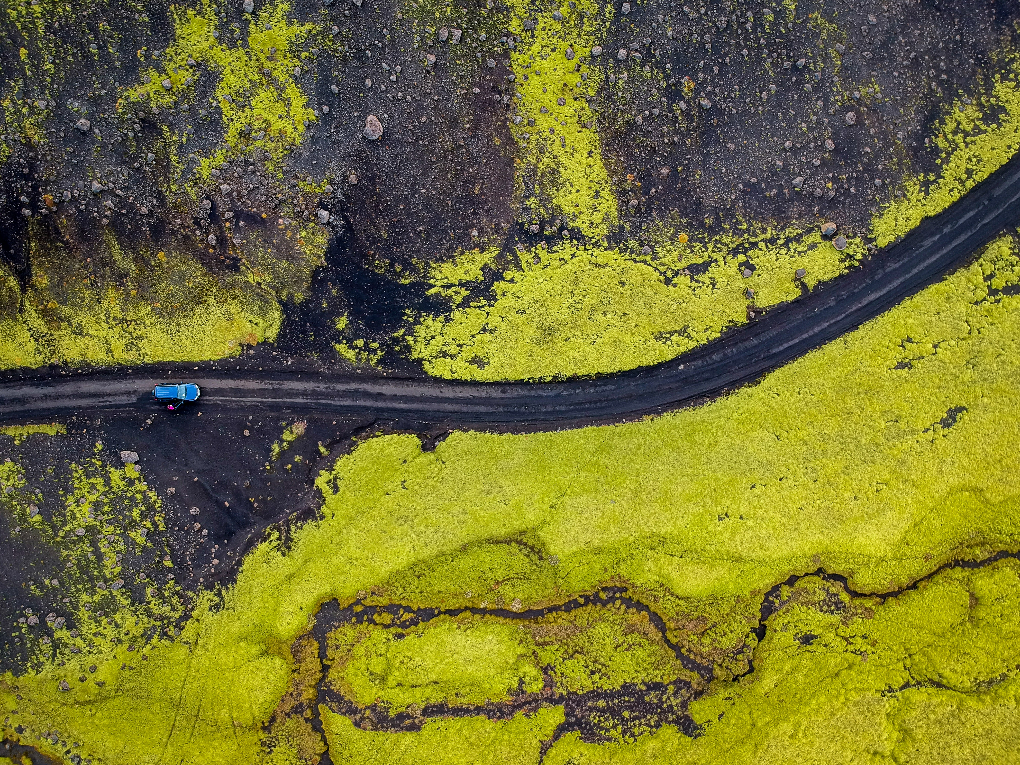 No matter how confident a driver you may be, though, you'll definitely need to have a 4x4 rental car for the F-roads, with high ground clearance, to ensure you don't end up stranded. In fact, 2WD vehicles aren't even permitted on F-roads for this reason. The F-roads are also closed throughout the winter months (but more on that later). 
Will I need to drive on the F-roads in Iceland?
If all of the above has you worried, don't fear. Many travellers don't even need to get on the F-roads at any time during their visit. 
If you plan on travelling the Ring Road (Iceland's most popular road trip route), the Golden Circle or the South Coast, you won't be travelling along any F-roads. Instead, F-roads take you to more inaccessible, and more remote areas around Iceland. There is a lot to see along them, but you don't necessarily have to travel them in order to enjoy a full, authentic Iceland holiday. 
Just note: If you plan on visiting the Icelandic Highlands during the summer, you will need to take a detour and drive along the F-roads at some point in your journey. 
What are the Most Popular F-Roads in Iceland?
If, however, traversing these adventurous roads sounds like exactly your type of travel experience, we have a few recommendations. 
The F-roads to Landmannalaugar
Landmannalaugar is an area filled with hot springs, canyons and vibrantly coloured hills, and it's an area only accessible via the F-roads. In order to travel through the Fjallabak Nature Reserve to see the area, you'll want to take one of three routes.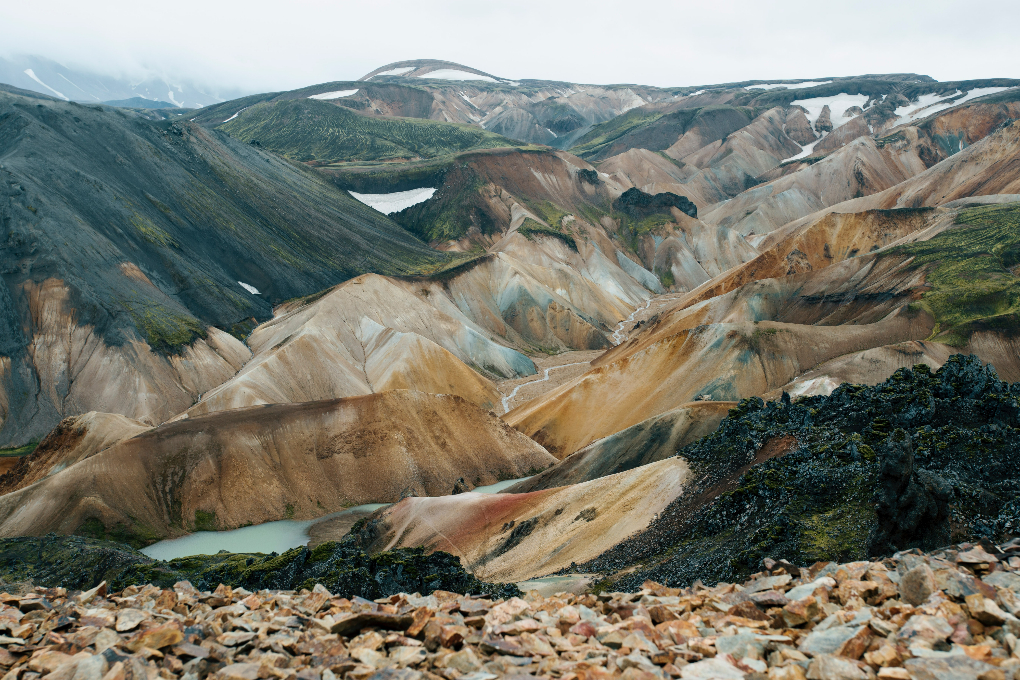 The north route to Landmannalaugar is best if you're travelling from South Iceland or the Golden Circle. Take Route F26 from Route 1, turn right onto F208 South and take the road to F224 to Landmannalaugar. This route is easiest, as it's partially paved, though there are about 26 kilometres of unpaved road. There are no river crossings, but you'll still need a 4WD vehicle (though a smaller 4x4 vehicle will do).
The middle route is a little harder, but not too bad. You'll take Route 26 to F225, before turning right on F208 and then taking F224 to Landmannalaugar. This route is rougher, with a few river crossings (none that are too big), and the route has the benefit of allowing you to see the Hekla Volcano on the way. You'll need a large 4WD vehicle for this route.
Just note that there's a short final detour to reach the main Landmannalaugar area from F224. There's a parking lot right before the last two river crossings, and you can park there and walk the rest of the way. 
The south route is the most difficult of the three options for taking the F-roads to Landmannalaugar, but many travellers enjoy it for its many scenic vistas. You'll take F208 off the Ring Road and follow it all the way to Landmannalaugar. You'll cross small-to-large rivers and need to drive around rocks, potholes and other obstacles in your way. Still, if you're up for it, this route can be done with a large 4x4 vehicle, though it's not safe after heavy rains.
F35 to Kjalvegur
Taking F35 to Kjalvegur takes you from Gullfoss waterfall, in the Golden Circle, all the way to North Iceland via the second-longest F-road, over nearly 200 kilometres. F35 is the most popular F-road in Iceland and one of the easier F-roads to drive. There are no river crossings and the route is suitable for any 4x4 vehicle. 
For great views during your drive, take a small detour to Hveravellir, where you'll find hiking and hot springs, or Kerlingarfjoll, where you'll find a handful of restaurants.
F550 to Kaldidalur
This is another easy F-road route for any 4x4 vehicle, with no rivers to cross. One of Iceland's oldest and first permanent roads, this is the shortest F-road, at only 40 kilometres. It's all gravel and will take you along the Geitland Nature Reserve, where you'll find lava fields and glacier caves.
F206 to Lakagigar
This Iceland F-road is popular if you're travelling to the Laki Craters, the most famous volcanic fissure in South Iceland. It's only visible on local maps (sorry, Google!) and F206 takes you straight to F207, which then takes you to the Laki Craters. There is a deep river crossing along this route, so you'll want to only drive a raised 4x4 vehicle if you choose to take it. You also won't want to travel the route after heavy rain.
F249 to Thorsmork
If you're trying to reach Thorsmork Valley Nature Reserve, which is situated between three glaciers, you'll want to be careful. This area is notorious for damaging tourists' rental cars. In fact, the Krossá River crossing along the route is likely the largest river crossing you'll find on any F-road in Iceland. If you don't feel comfortable risking your safety and that of your car during this river crossing, you can take a shuttle service that crosses the river for you. 
F26 to Sprengisandur
For more desolate and treacherous terrain, you can travel another one of the longest F-roads in Iceland. F26 to Sprengisandur is 232 kilometres and runs between two glaciers, connecting North and South Iceland. 
You absolutely need a raised 4x4 vehicle when on this road, and you need to prepare ahead very well, as there are no gas stations and no cell service along the road. There are multiple river crossings and a lot of obstacles. 
Less-Common Iceland F-Roads 
If you didn't think you could get more off the beaten path than the above F-roads, think again. Here are some of the even less-common Iceland F-roads.
F66 to Kollafjarðarheiði
F66 to Kollafjordur Heidi is the only road that crosses the central Westfjords and directly connects the northern and southern Westfjords. There are a few small river crossings along this route.
F88 to Oskjuhlid
This is likely the shortest and quickest way to reach Askja (and it also connects the Ring Road to F910), but it's also the most difficult route to Askja, as it includes several large river crossings. It's definitely not recommended for unskilled drivers and is best suited to drivers who have prior experience with river crossings. 
F210 to Fjallabaksleid Sydri
This road goes between Thorsmork and Landmannalaugar. It's very remote, with minimal maintenance, and includes several river crossings.
F233 to Alftavatnskrokur
This route is often used as a shortcut between F210 and the northern part of the F208 South road. It features some very difficult river crossings.
F347 to Kerlingarfjallavegur
This is a detour off of F35, with river crossings, steep roads and rugged terrain.
F905 to Arnardalsleid
This is an easier way to reach Askja (at least compared to F88). The route connects you to F910, which you'll have to drive on no matter how you reach Askja. It includes two medium-sized river crossings.
Road 643 to Strandavegur
This is the only road that allows you to visit Krossneslaug Hot Spring. While it's not officially an F-road, it's still really only doable with a 4x4 vehicle.
Iceland F-Roads Prohibited for All Rental Vehicles 
If you're travelling to Iceland as a tourist, chances are you'll be renting a vehicle for getting around the island. If that's the case, there are a few places you shouldn't go. 
The following F-roads are all absolutely off-limits for all rental vehicles, no matter what kind of vehicle you've rented. These roads are too treacherous and damaging for most vehicles, and damages will not be covered by insurance. 
These roads include:
F-Road 622 in the Westfjords





F-Road 337 to Pjofahram





F-Road F578 to Arnavatsheidi





F-Road F210 around Myrdalsjokull





F-Road F26 through the Highlands





F-Road F910 Oskjuvatn Vegur





F-Road F980 Kollmulu Vegur





F-Road F249 to Porsmork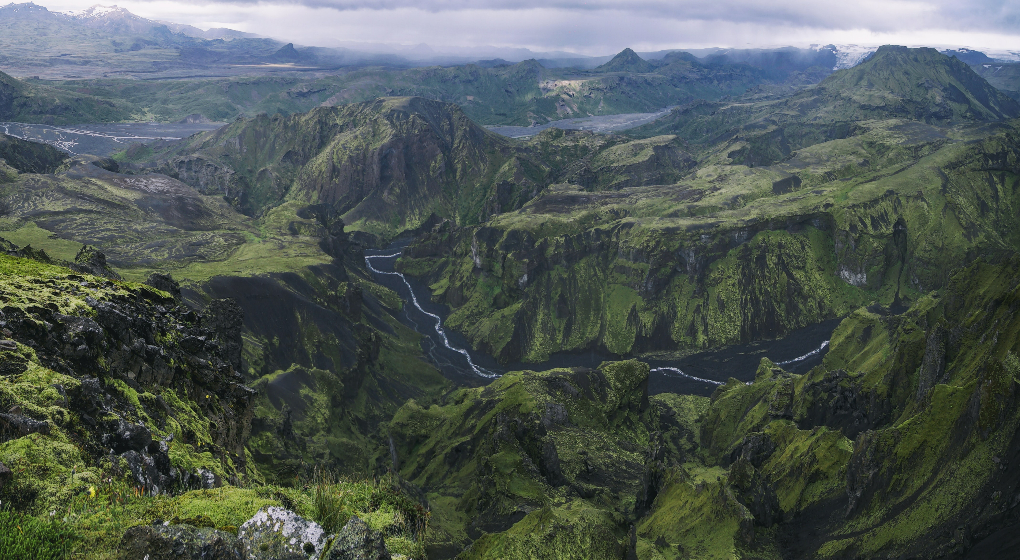 What Kind of Car Do I Need for Driving F-Roads in Iceland? 
As mentioned, you'll need a 4x4 vehicle for driving Iceland's F-roads (as well as many roads in the northeast and in the Westfjords). Furthermore, most Iceland car rental providers, they'll let you know at the time of booking whether or not a vehicle is suitable for the F-roads, as sometimes, even some 4x4 cars can't handle them, especially if they require river crossing.
At Lava Car Rental, we have a wide selection of 4x4 cars with Highland capabilities. These include…
Again, it's absolutely prohibited to drive any 2WD vehicle on Iceland's F-roads, under any circumstances. Doing so will result in a high fine and no insurance coverage for any ensuing damages. 
When are the F-Roads in Iceland Open? 
It's important to note that Iceland's F-roads are not open all year long, due to weather conditions and safety. During the winter months, the F-roads are closed, as they're not maintained and the snow and ice can make them very treacherous. Typically, the F-roads are open from mid-June to mid-September, but the exact date is dependent upon the weather and snow totals.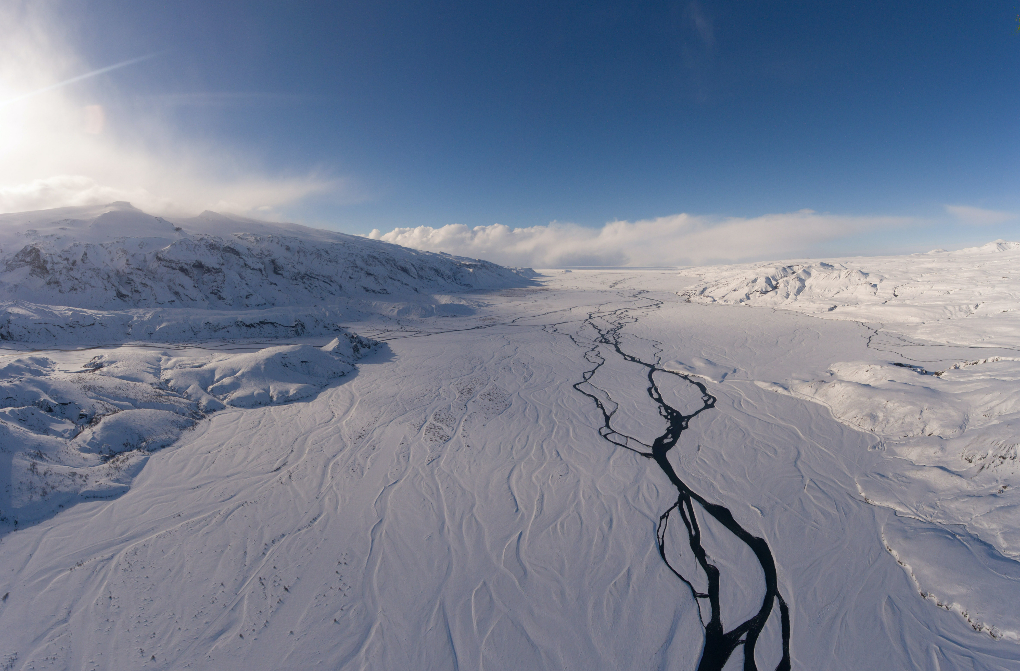 For up-to-the-minute information on F-road closures and conditions, visit road.is and safetravel.is.
Is it Difficult to Drive on the F-Roads? 
For many drivers, yes, it is difficult to drive along Iceland's F-roads, but not impossible. Some general tips to make the journey as easy as possible?
Never drive the F-roads solo, in case you run into problems

Acclimate yourself to your rental vehicle before you drive the F-roads

Drive slowly

If you've never crossed a river in a vehicle before, don't try it for the first time on an F-road

Check your car's safety features, such as tire pressure, before you start your trip

Submit your travel plans to

safetravel.is

before you hit the road

Check

vegasja.vegagerdin.is/eng/

for the most up-to-date maps

Be sure to have a full tank of fuel and a filled, spare fuel can before driving an F-road, in case you don't come across a fuel station when you need it

Also, take along an emergency driving kit outfitted with food and water 

Make sure your phone is charged and working before you drive an F-road, and download your maps for offline usage, in case you lose your cell signal

Don't drive off-road under any circumstances (it's illegal in Iceland!)




How to Cross Rivers on an F-Road in Iceland
If you've crossed a river in a vehicle before and feel confident that you can do it again in Iceland, you still want to proceed with caution. 
Before crossing a river on an F-road, stop and take a look at the river. Is it deep? Is the current strong? You'll want to avoid a crossing, at least at that moment.
If it's not deep and the current doesn't appear too strong, you'll want to put your vehicle in 4x4 mode and then follow other drivers' tire tracks into the river. Once in the water, keep a consistent speed, don't stop and don't change gears.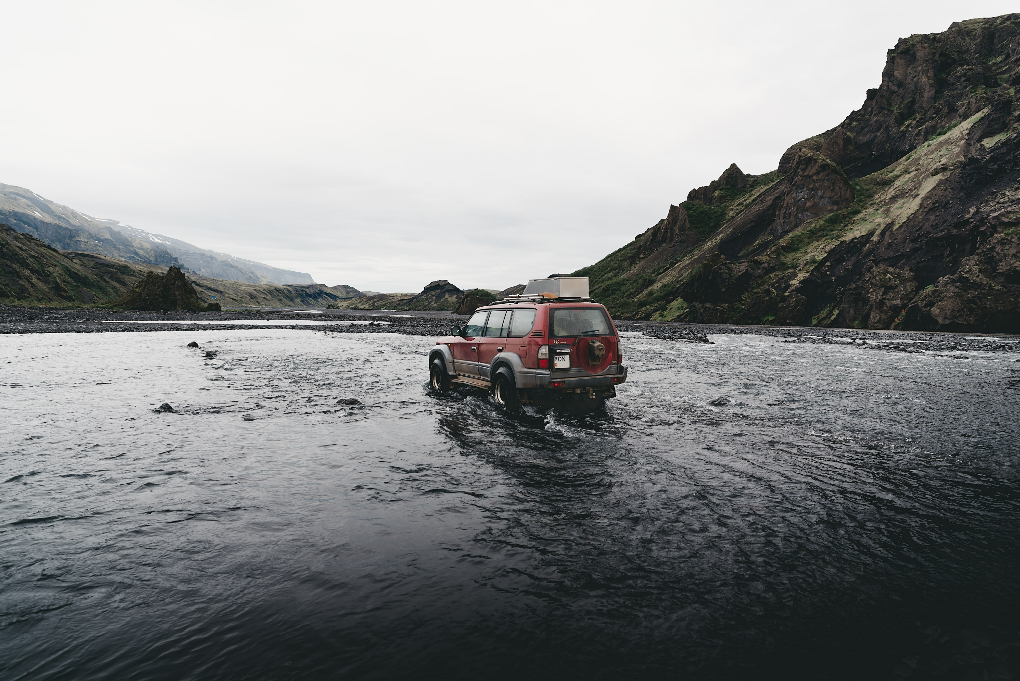 Will I Need Extra Rental Insurance to Drive on an F-Road in Iceland?
In most cases, yes, you'll need extra car rental insurance to drive on F-roads in Iceland. This is because most rental car agencies in Iceland do not automatically provide insurance for a vehicle's undercarriage or insurance that covers water damage. 
You'll likely want to purchase additional gravel protection and a super collision damage waiver, to protect you from the most common F-road vehicle damage. And trust us — it's much more affordable to pay for the extra insurance than it is to pay to fix the ensuing damage.
Check out Lava Car Rental's insurance options to learn more about the available coverage.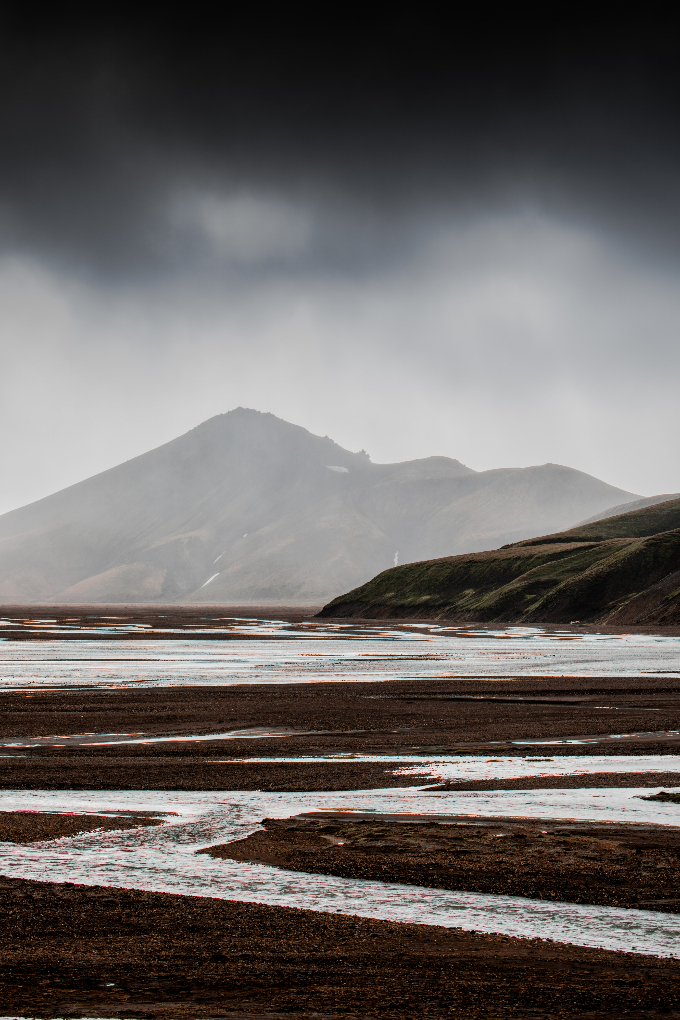 Can You Drive Off-Road in Iceland? 
No. Off-roading in Iceland is absolutely against the law. No matter the terrain, vehicles can cause long-term damage to Iceland's delicate ecosystems. If you're caught off-roading while in Iceland, you could receive a heavy fine and/or a jail sentence.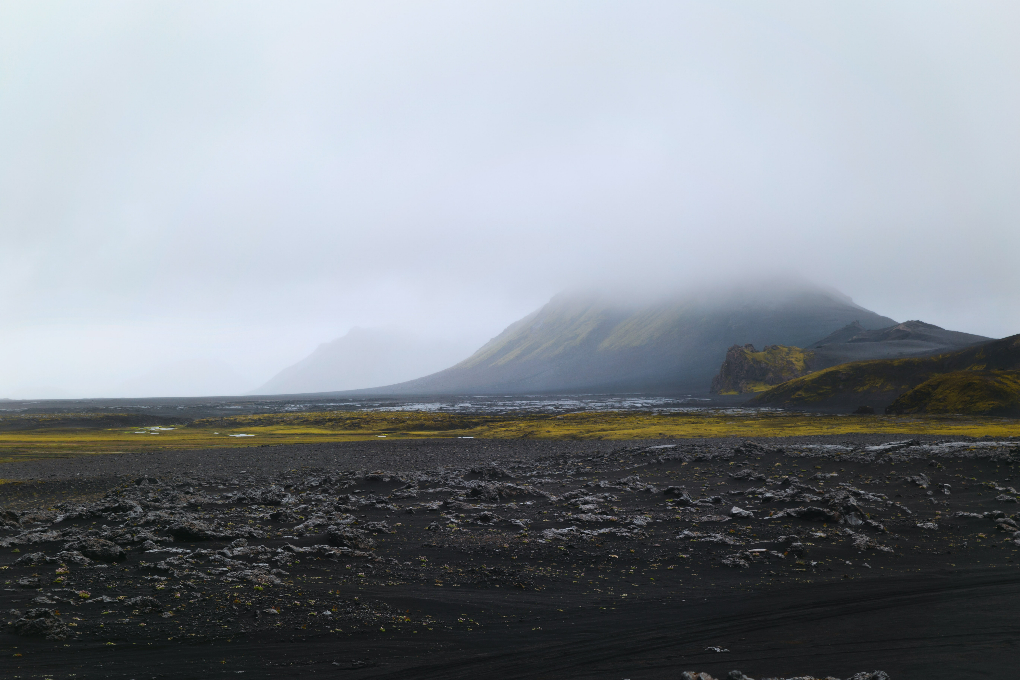 Should I Drive the F-Roads in Iceland?
Wondering if all of the above precautions are worth it? Wondering if there's really that much to see on the F-roads?
We think that, if you're an adventurous traveller or if you love the outdoors, you'll definitely find all of the precautions and preparations worth it. The F-roads boast some of the most beautiful scenery in the country, with some of the fewest crowds. You'll definitely leave with travel memories that you'll be talking about for years to come.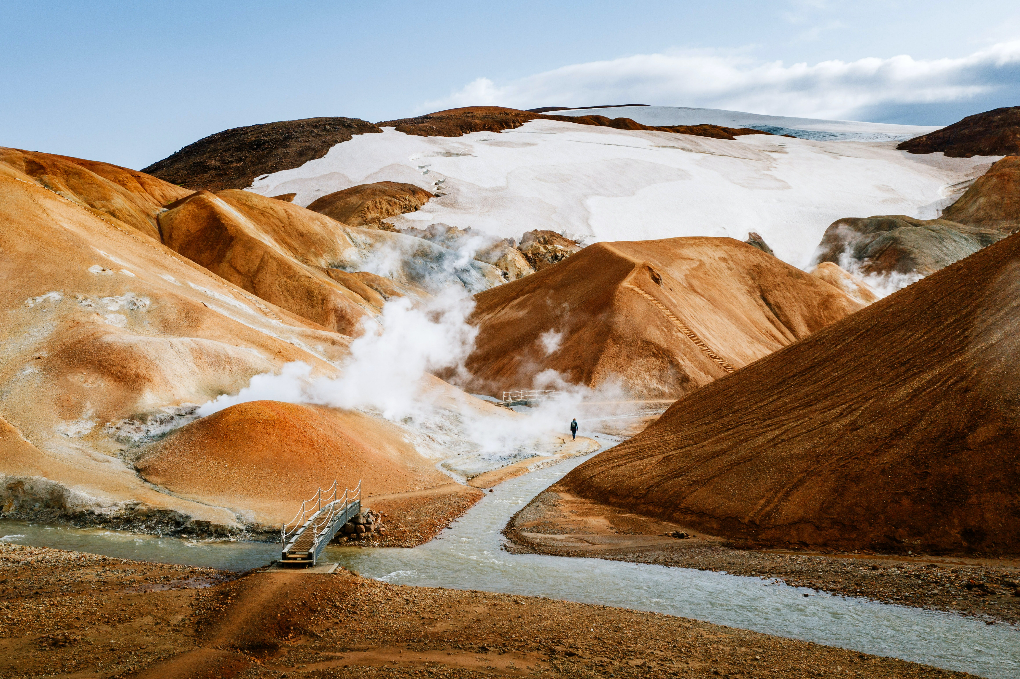 But before you can see and experience it all, you'll need the right rental car for your adventures. Lava Car Rental can help you out with a spacious, comfortable 4x4 vehicle that's ready to tackle even the toughest terrain.