Golden Circle in Iceland by Car - Thingvellir & other sites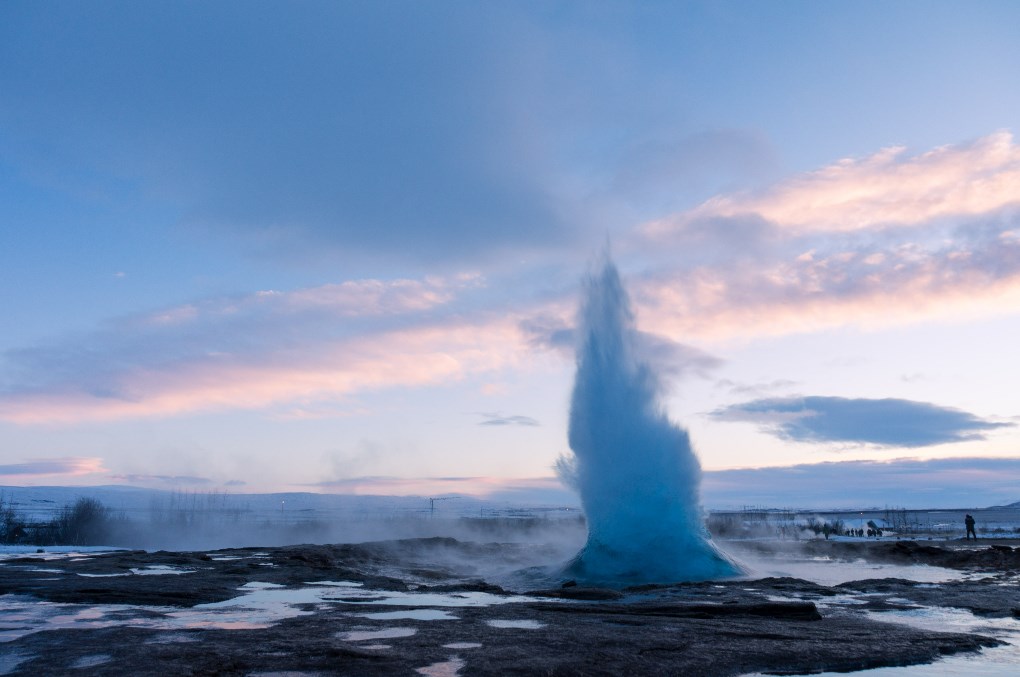 The Golden Circle in Iceland is one of the country's most famous scenic routes, and a Golden Circle self-drive tour can allow you to see everything along it — from towering waterfalls to magical vistas. 
But before you hop in your car for your Golden Circle road trip, you probably have a few questions, and we have answers. In this short guide to visiting the Golden Circle of Iceland by car, we're breaking down and explaining everything you need to know about a self-drive tour of this popular area in Iceland. 
Map of Iceland's Golden Circle
What is the Golden Circle?
Firstly, what exactly is the Golden Circle? In plainest terms, the Golden Circle is a popular driving route that travels between three of Southwest Iceland's most popular attractions: Thingvellir National Park, the Geysir Geothermal Area and the Gullfoss waterfall. 
The Golden Circle isn't just popular because it allows you to see these three attractions easily, though. It also can start at Reykjavik, making it an extremely easy self-driving route in Iceland for those who don't necessarily want to take the time needed to drive all of a larger route, such as the Ring Road that encircles the country.
The Golden Circle is named after Gullfoss, one of its top three main attractions. The waterfall's name means "Golden Falls," and so the Golden Circle is named similarly (and, obviously, the route is more or less a circle).  
What are the Golden Circle's Top Attractions?
As mentioned, the Golden Circle's top attractions are Thingvellir National Park, the Geysir Geothermal Area and the Gullfoss waterfall. But what exactly can you expect in each of these three stops?
Well, if you start out travelling the Golden Circle clockwise in Reykjavik, you'll find Thingvellir National Park awaiting just 45 minutes away. The park sits in a rift valley on the Mid-Atlantic Ridge or the boundary between the North American and Eurasian tectonic plates. To the south is Þingvallavatn, the largest natural lake in Iceland.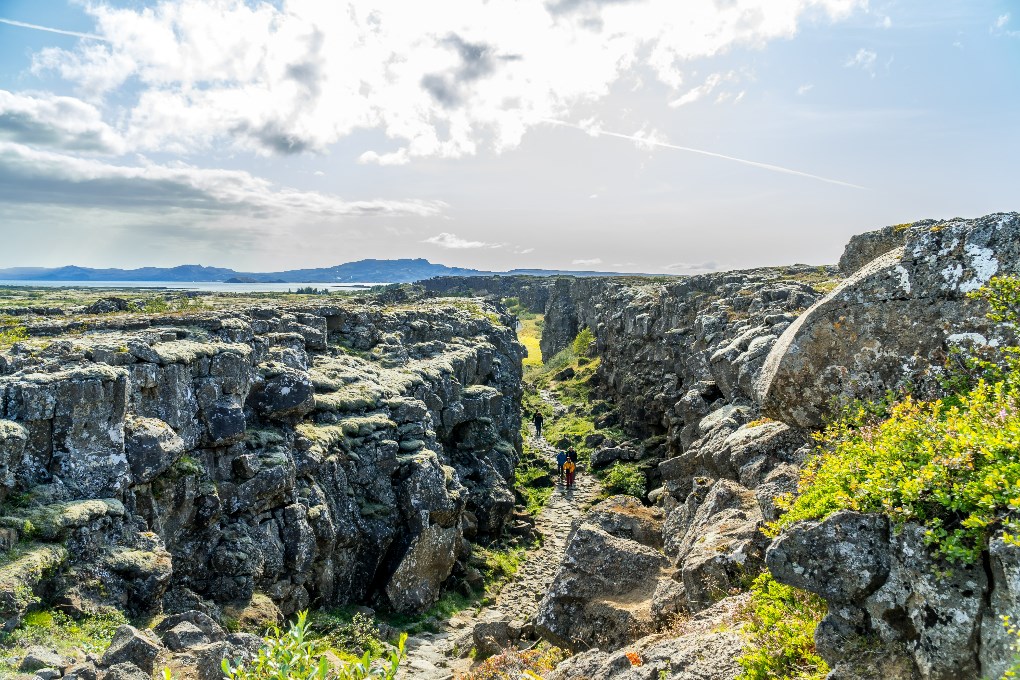 The UNESCO World Heritage Site is an important part of Iceland's natural heritage, as well as its cultural history. The park was the site of the Althingi, the world's first parliament, formed by Iceland settlers in the 900s, making a visit crucial to understanding Iceland's rich and vast history. But for nature lovers, the park offers even more to explore, such as hiking, snorkelling, waterfall viewing and even taking in some filming spots, as this is one of the many places around Iceland where Game of Thrones was filmed.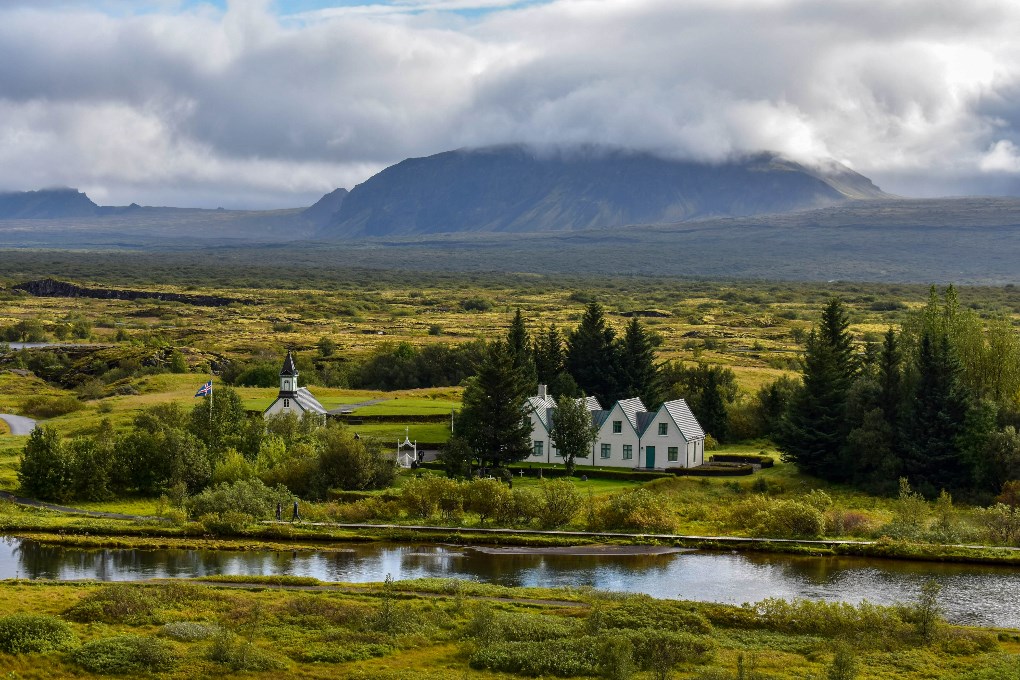 From Thingvellir National Park, you can drive just under an hour to the Geysir Geothermal Area (and trust us — that drive definitely won't be boring, as it's filled with picturesque landscapes). One of the geysers in the geothermal area is the earliest documented geyser in European history, active for thousands of years. Strokkur, one of the other prominent geysers, is known to erupt every 10 minutes!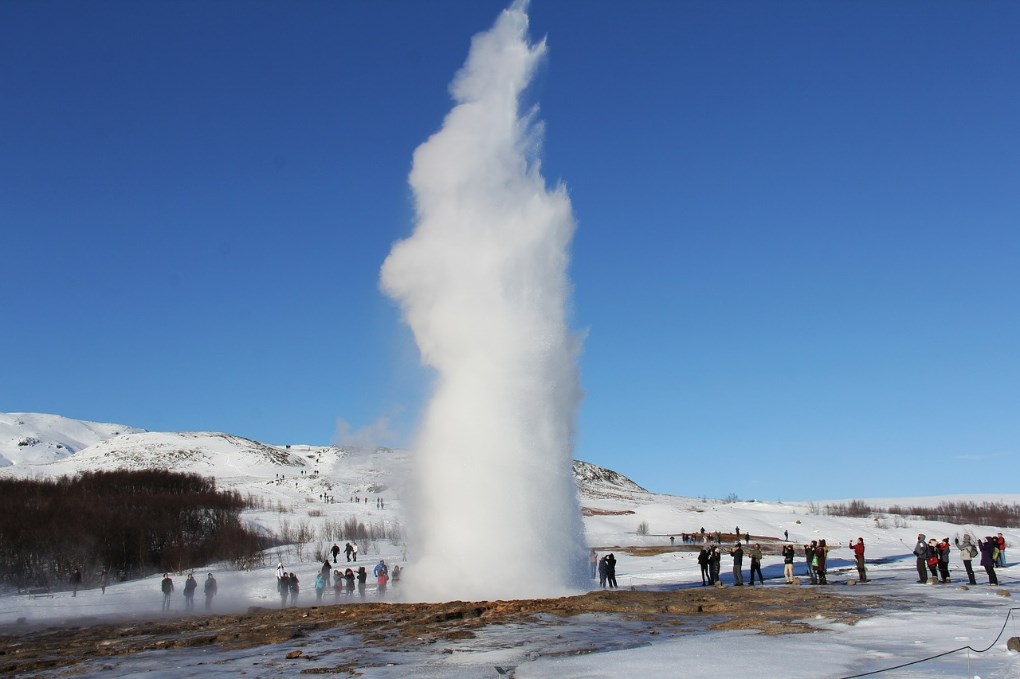 Beyond the geysers, you can also glimpse hot springs and mud pots.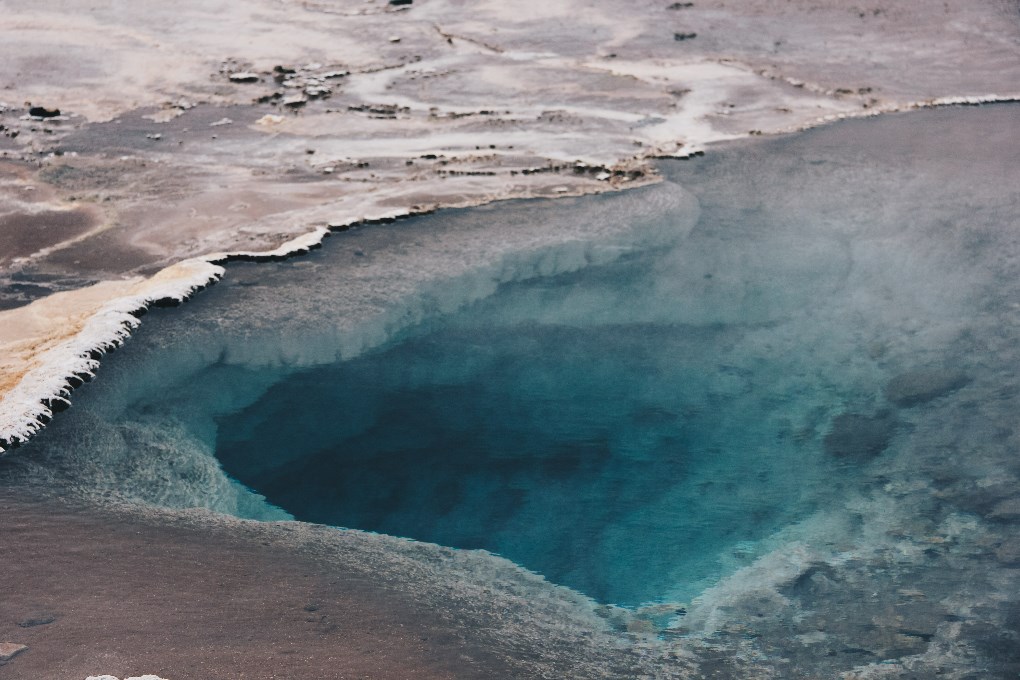 Driving on from the Geysir Geothermal Area, you'll find Gullfoss Waterfall, after which the Golden Circle was named, just 10 minutes away. One of Iceland's most famous waterfalls (and we have a lot!), the waterfall is easily accessible and you can walk right up to the falls during the summer months. The waterfall features two separate levels, as well as a canyon formed by a glacial outburst.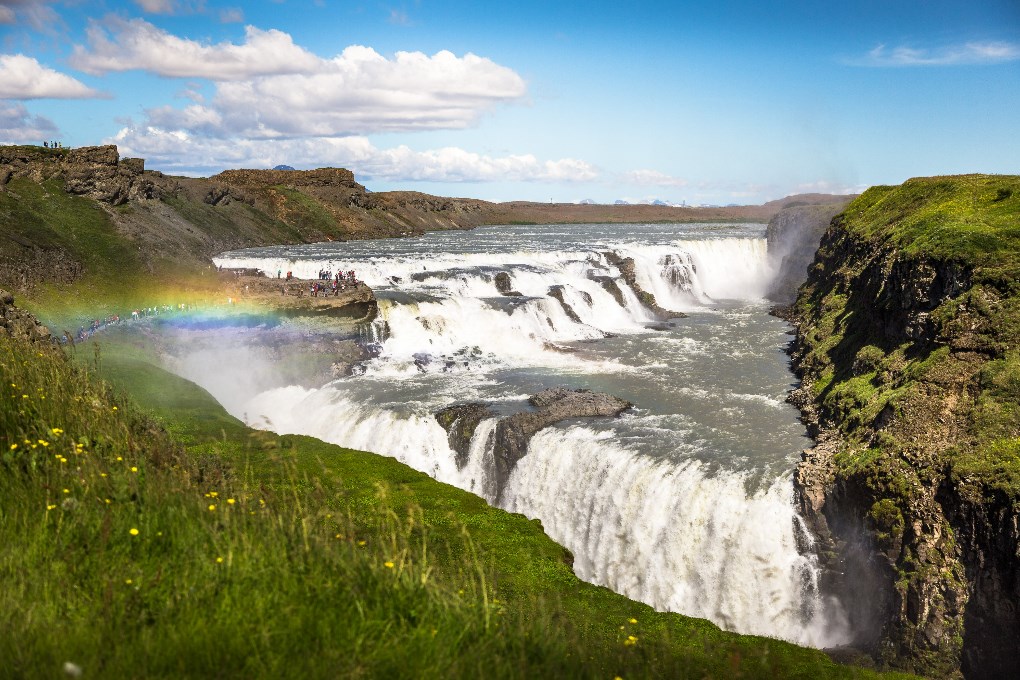 Is the Blue Lagoon Part of the Golden Circle? 
We know what you're thinking. Most travellers who come to Iceland have glimpsed the Blue Lagoon in doing research for their trip and visiting the lagoon is on their list of must-do activities in Iceland. So, is the Blue Lagoon part of the Golden Circle?
Well… not really. That doesn't mean you can't incorporate the Blue Lagoon into your Golden Circle itinerary, though! While you're driving Iceland's Golden Circle, it's very easy to plan a short stop off over at the Blue Lagoon, as it's very close by (just in the opposite direction of Reykjavik). 
However, we recommend, if you do this, splitting your Golden Circle road trip into two days. This will allow you plenty of time to see and experience the Golden Circle's top attractions in full, as well as give you ample time at the Blue Lagoon. We estimate the Blue Lagoon experience takes around four hours, at least, while the Golden Circle takes about eight. You can also experience the Blue Lagoon earlier or later in your trip, if you visit before or right after your flight, as the Blue Lagoon is very close to Keflavik Airport (you can even find a shuttle service between the two, in case you want to drop off your rental car beforehand!). 
Is Everything on the Golden Circle Free?  
While driving Iceland's Golden Circle isn't 100% free, it is pretty affordable. Entry to Thingvellir National Park is free (though you will have to pay a small parking fee). The Geysir area is both free to visit and free to park at, as is Gullfoss Waterfall. There is a visitors' centre with a cafe and gift shop at Gullfoss, which would obviously incur an additional fee. 
Beyond this, if you decide to stop off at any attractions near the Golden Circle, such as the Blue Lagoon, Secret Lagoon, Fontana Spa or Kerid Crater, you will find that they charge entry fees that vary (for example, the Blue Lagoon can be quite pricey, but the fee for Kerid Crater is much lower). 
Where Can I Stay on the Golden Circle? 
If you're just travelling the Golden Circle for one day during a Golden Circle self-drive trip, there's no reason to book accommodations along the circle. You can easily either stay in Keflavik, near the airport, before you start the circle, or you can stay in Reykjavik to experience the sights and sounds in the capital both before and after your Golden Circle excursion. 
However, if you do want to stay along the route and really take your time and soak in the Iceland scenery, you can find guesthouses, restaurants and more in Selfoss, Fludir and Hveragerdi.
Many travellers also choose to camp along the Golden Circle, especially if they are visiting during the summer season. For more information on this, check out our full guide to renting a campervan in Iceland.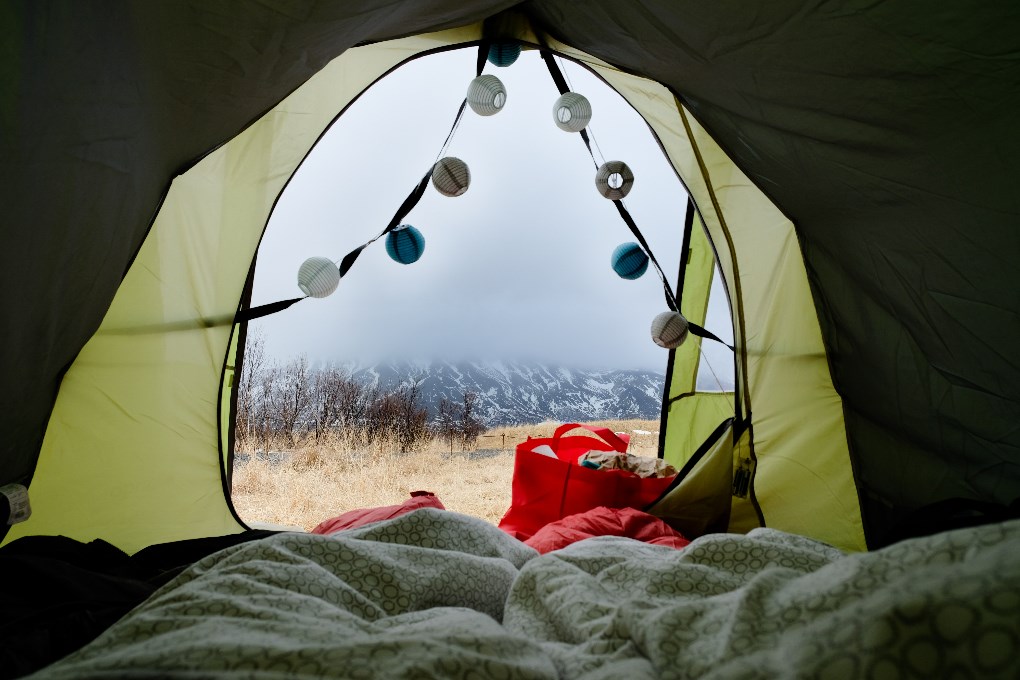 What Should I Pack for the Iceland Golden Circle?
What you pack for visiting Iceland's Golden Circle will depend on the season. You'll want to have season-appropriate clothing and travel gear, to keep you both comfortable and safe. For packing advice for every season, check out our guide to what to wear in Iceland. 
What's the Best Time of Year to Visit the Golden Circle?
You can plan a Golden Circle road trip for any time of year, as the roads remain open and well-maintained regardless of the season. There are advantages to visiting during the summer, though. While the summer temperatures draw larger crowds to Iceland, summer also brings with it great weather (mild, not too chilly, fewer storms and less precipitation) and longer daylight hours, so that you can visit these Golden Circle sites well into the evening. 
Still want to avoid those summer crowds? You can get the best of both worlds by visiting Iceland during the spring or fall, for milder temperatures and fewer crowds.
But what if I visit in winter?
All that said, many travellers do choose to see the Golden Circle by car during the winter months. As mentioned, winter brings fewer tourist crowds to Iceland, so you'll enjoy a lot more privacy. The snowy landscapes are gorgeous during the peak winter months, too.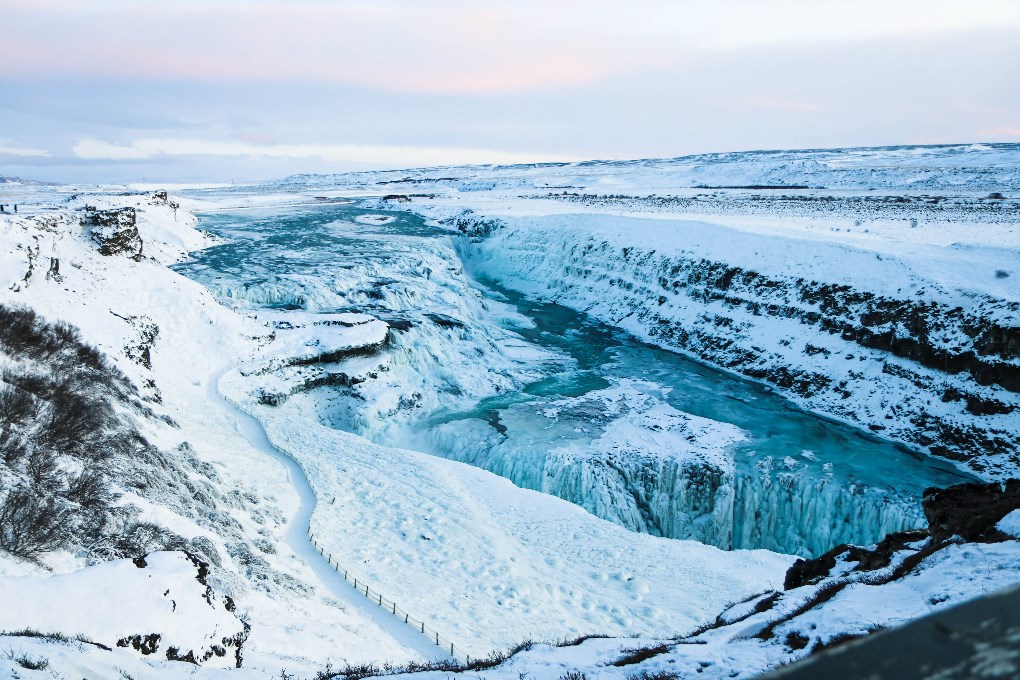 However, the Iceland winter comes with lots of challenges. Sightseeing can become difficult, making it all the more crucial that you're outfitted with the proper clothing and gear. Driving, too, can be treacherous, as you face quickly-changing, hazardous weather, as well as poor road conditions. 
Because of this, if you visit the Golden Circle during the winter months, you'll want to purchase all the necessary insurance for your rental vehicle (Lava Car Rental offers a large selection to choose from) and you'll also want to rent a 4x4 vehicle. 
For more information about driving in Iceland during the winter, read our full guide to safe winter driving.
Why Self-Driving is the Best Way to Travel the Golden Circle
Self-driving is the best way to travel the Golden Circle, for multiple reasons. 
While you can book a guided tour that will take you around the Golden Circle, those guided tours don't often take you anywhere but to the three main circle spots and you're on a strict schedule. This means you can't stay as long as you want at each stop and there's no flexibility for you to stop off and see something else along the route. 
Self-driving the Golden Circle in a rental car gives you all the freedom and flexibility you could want, to fully enjoy the Golden Circle. Plus, beyond seeing the top three sites, if you drive yourself, you'll be able to take detours and extend your Golden Circle itinerary to best suit your needs and interests. 
Quick Questions About Driving the Golden Circle
But self-driving does come with its challenges. Here are the top questions we hear about driving the Golden Circle.
How long does it take? Can I do it in a day?
You can drive the Golden Circle in one day, starting and ending in Reykjavik. If you were to travel completely around the circle with no stopping, to and from Reykjavik, it would take you about four hours, so, with stops included, it should only take you about seven or eight hours (depending on how long you stay at each stop and whether or not you take any detours). 
Is the Golden Circle an F-Road?
If you've researched self-driving trips in Iceland at all, you probably already know about the F-roads or the unpaved, mountainous roads that are difficult to traverse. These F-roads require a 4x4 vehicle (according to Icelandic law), usually include river crossings and are completely impassable during the winter months. For many travellers, these F-roads are pretty intimidating.
Luckily, the Golden Circle includes no F-roads! You only need to worry about F-roads if you decide to detour off the Golden Circle and travel into the Icelandic Highlands. If you do want to attempt driving the F-roads, though, you can learn all about them in our quick guide to the Highland F-roads of Iceland. 
Do travellers need certain kinds of cars to drive the Golden Circle?
So, on that note, you might be wondering if you need a certain type of car to drive the Golden Circle. After all, if Iceland has specific laws on what you can drive on F-roads, do you also have to drive certain cars on the Golden Circle?
Thankfully, the Golden Circle route is very well-maintained and all of the roads are paved. Additionally, the route is extremely popular with tourists and daily drivers, so it's not as remote as some of the other roads throughout Iceland. Also, because it's in the southern part of Iceland, it doesn't experience the same treacherous weather that you would find in the northern part of the country.
Because of all this, there are no laws around what kind of vehicles you can use on the Golden Circle. You can use any type of rental car for driving the Golden Circle during the summer months; a 4x4 vehicle is advised for travelling during the winter months, just in case of snow.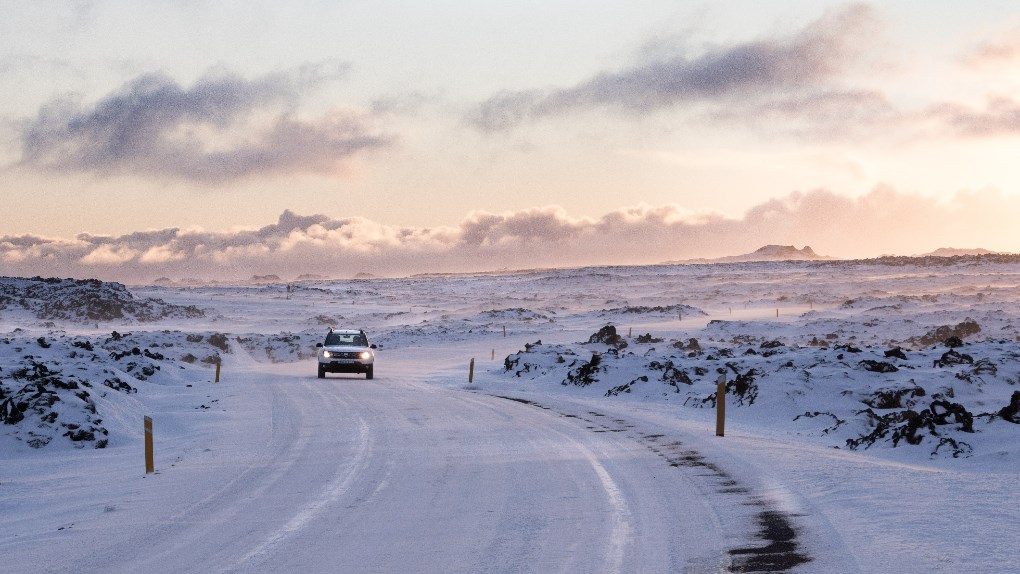 At Lava Car, we have a lot of options to choose from when it comes to picking your rental car, including economy vehicles, 4x4 vehicles and campervans. We find that larger 4x4 vehicles are a great pick for winter weather, as well as our clients who are travelling in groups and who need a little extra space; summer solo or couple travellers, however, can often get by with an economy vehicle. Camper vans are suitable throughout the summer and shoulder seasons; check out all of our campervan options to see which might be right for you.
Any other tips for a Golden Circle driving trip?
We always recommend our clients use a mix of Icelandic resources that come in handy while out on the road. 
road.is provides information on road conditions, as well as live footage of current conditions. This is especially helpful during the winter months when road closures can occur suddenly and without warning.
vedur.is provides all of the weather information you might need for driving around Iceland, including up-to-date forecasts for rain, wind and temperature, as well as northern lights forecasts. 
Lastly, safetravel.is provides travel-related safety warnings and alerts, letting you know about incoming snow, storms and even volcanic eruptions. Get everything you need for weather and road conditions sent straight to your mobile phone, too, via the website's SMS alerts.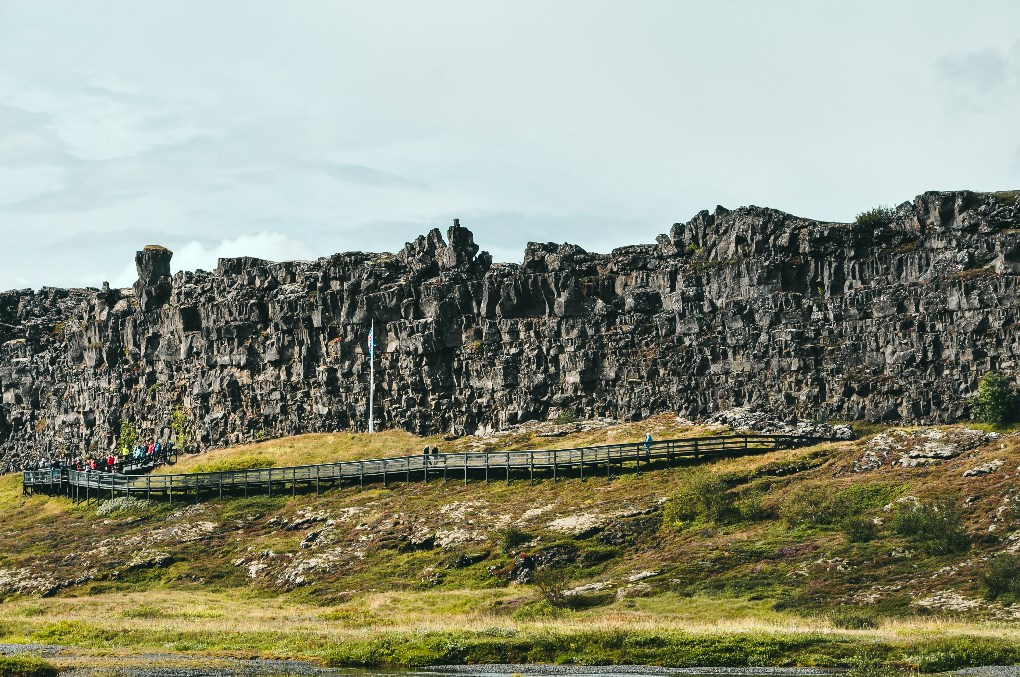 Detours Near the Golden Circle 
Okay, so you've decided that you want to travel to the Golden Circle. But why not make a little more of your trip? You can visit some of these attractions that are very close to the Golden Circle, for even more fun.
Fontana Geothermal Baths (Laugarvatn): This lakefront spa gives you a relaxing spot to take a dip in the outdoor mineral spas and natural steam baths.
Faxi Waterfall: This waterfall might not be that tall, but it is pretty wide! A quieter spot than some of Iceland's other waterfalls, it's a pristine place to enjoy a bit of peace and tranquillity.
Secret Lagoon Hot Spring (Fludir): The Secret Lagoon is the oldest swimming pool in Iceland and dates back to the 1890s!
Skalholt: A historical site along a river, Skalholt is considered a holy spot and an ancient bishop seat. Today, a cathedral sits along the scenic vista.
Fridheimar Farm & Restaurant: Hungry during your trip around the Golden Circle? Stop in the Fridheimar Farm & Restaurant, which is a tomato farm that allows you to eat inside the farm's greenhouses. 
Solheimar Eco-Village: This village is known for its strict adherence to community ethics and is home to about 100 people. 
Kerid Crater: A volcanic crater, this beautiful spot provides stellar views from the top of the crater rim, all year long.
Other Self-Driving Tours in Iceland
Want even more? Extend your stay in Iceland and enjoy one of the other self-driving routes beyond the Golden Circle.
Popular options include the Ring Road, the South Coast, the Diamond Circle and the Arctic Coast Way.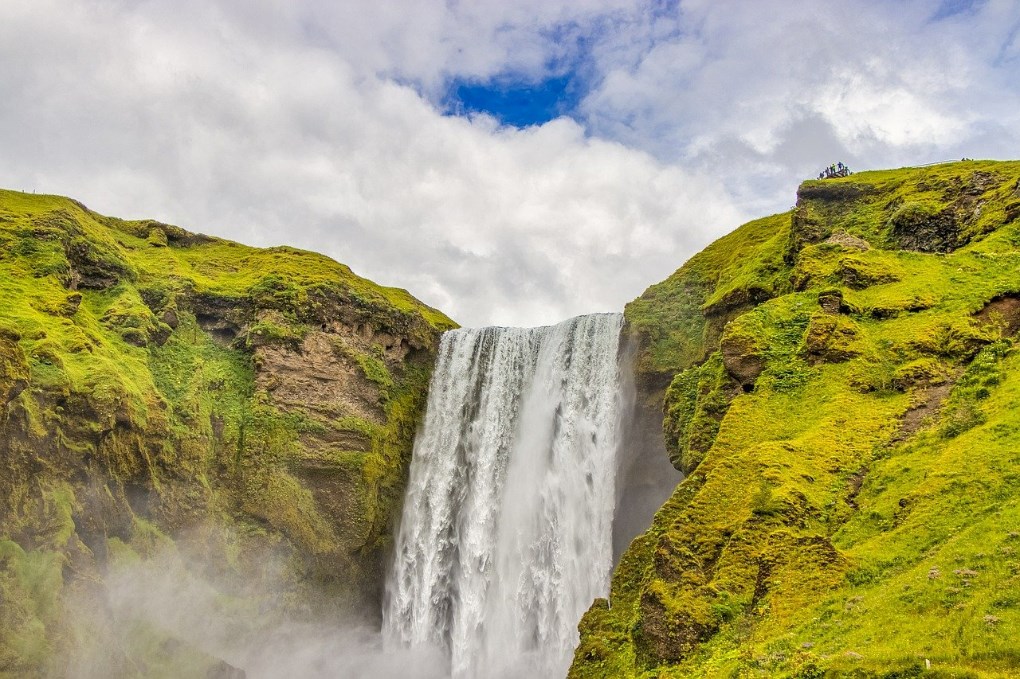 Is the Golden Circle Worth Visiting?
In short, yes — absolutely! The Golden Circle is quick and convenient to explore. All it takes is one day out of your Iceland trip, and you can see some of the most amazing spots in the country. 
Get started planning your Golden Circle itinerary. It all begins with picking the right rental car for your journey. Lava Car Rental can help you find the best vehicle for your Iceland adventures.