Iceland Self-Drive Tours: Exploring the Diamond Circle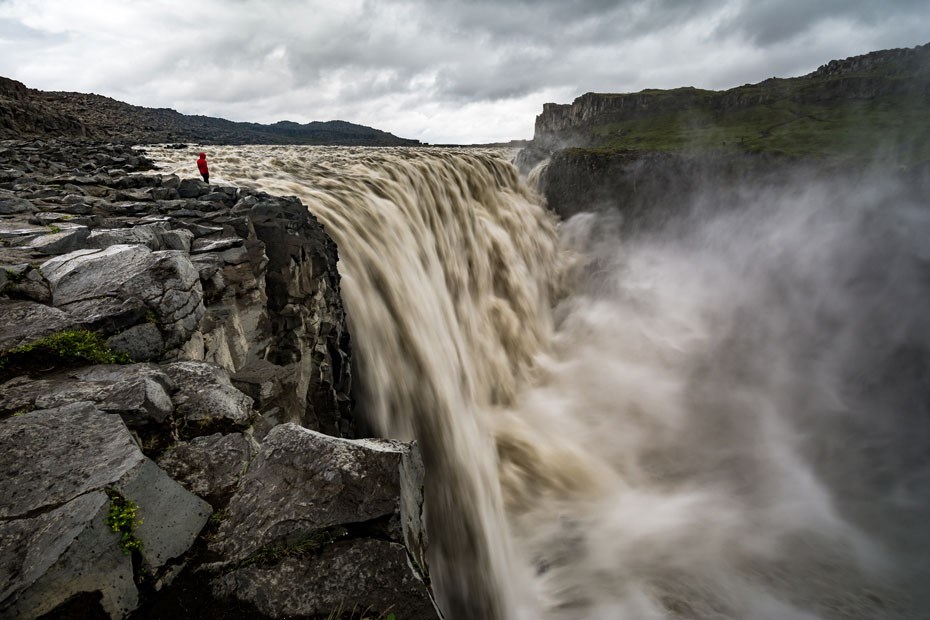 If you're already road-tripping around the Ring Road in your SUV or 4x4 rental, head up to the Diamond Circle for a self-drive tour on the country's northern tip! It's a slight detour off the Ring Road, but it's worthwhile if you have time to spare. Iceland is filled with these types of routes that allow tourists to explore some of the must-see spots efficiently and conveniently. Experience the raw beauty of Iceland's rugged coastline, powerful waterfalls, historic and cultural sites, and more!
What is the Diamond Circle?
The Diamond Circle is a route that takes you to numerous different locations in Northern Iceland - Dettifoss Waterfall, Húsavík, Ábyrgi Canyon, and many other stunning spots. It's one of Iceland's most popular self-drive tours. It's an excellent opportunity for a self-drive tour where you dictate how long to stay, when to drive, and where to explore. The Diamond Circle is located in the northern region of Iceland, approximately 330 miles (531 kilometres) from Reykjavik (see the map below for reference).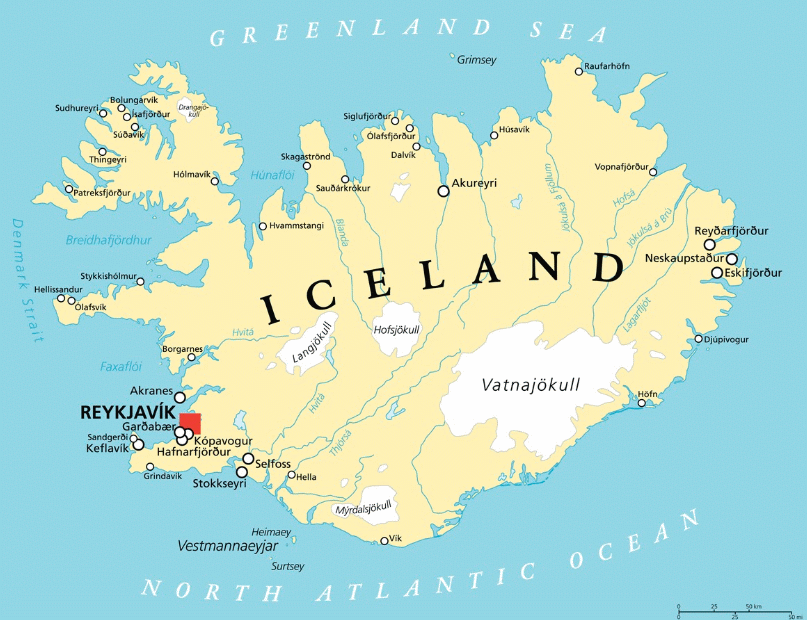 What is there to see on the Diamond Circle?
When you drive on the Diamond Circle route, you will hit 9 major spots (many of them being waterfalls):
Goðafoss Waterfall
Lake Mývatn
Dettifoss Waterfall
Hafragilsfoss Waterfall
Hljóðaklettar
Ásbyrgi
Tjörnes Peninsula
Húsavík
Each one has its own unique beauty, characteristics, role in Norse history, and story to tell. Learn more about each spot and what to expect when you arrive!
Goðafoss Waterfall
As you head east on the Diamond Circle route, your first stop will be the Goðafoss Waterfall. The name means the "waterfall of the Gods" because of its historic Viking significance. It's been said that this is the location where Thorgeir Ljosvetningagodi (Þorgeir ljósvetningagoði), a pagan priest and chief, decided that Iceland would become a country devoted to Christianity. He thus threw the idols of the Gods into the waterfall, naming it Goðafoss thereafter, and converted the main religion to Christianity from paganism.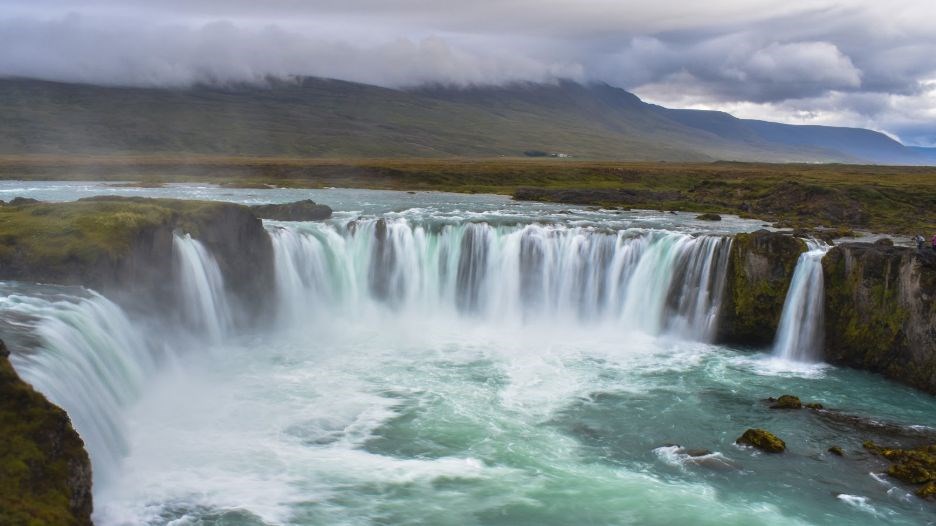 The Goðafoss Waterfall is fed from glacial rivers and creates a stunning display of green and blue hues. While you can get close to the edge of the waterfall, we always recommend exercising caution as you can fall in - the waters are strong and extremely cold. The waterfall sits 12 metres tall (just under 40 feet) and 30 metres wide (approximately 98 feet). It's surrounded by vast countryside and hills, perfect for exploring and riding in your 4x4 car rental.
How do you get to Godafoss Waterfall?
Godafoss is located in northeast Iceland and it is easily accessible by car via Route 1 (the Ring Road). The route to get to Godafoss Waterfall is very well marked with big signs that you can follow when you get close, so it is hard to miss it. There are two parking lots where you can leave your car and walk from there (the west or the east). Both options offer great views, and are easy and good for all levels - it is just a matter of what perspective you prefer. Plus, both are within a short walking distance from each other.
If you are getting to Godafoss from the western side, you can easily walk down to the waterfall at the riverside. This is the easiest side to get to since it's the closest to the parking lots. From here, you will get amazing views from the Godafoss waterfall.
If you want to go down to the water's edge, then you should get to Godafoss from the eastern side. There, you can walk down a short path from the restaurant and service house at Fosshóll, and get very close to admire the waterfall. However, remember to be careful and take care getting there, especially in winter when it can be slippery.
Lake Mývatn
Once you've fully explored Goðafoss Waterfall, stop at Lake Mývatn next! It's a volcanic lake that spans 36.5 kilometres (14 square miles), making it the fourth-largest body of water in Iceland. The road takes you right alongside the lake, so you can take in some breathtaking views right from your car. However, we always recommend taking a break and actually exploring it for yourself. Lake Mývatn is home to incredible wildlife, vegetation, and natural structures, including hot springs. Iceland is known for its numerous hot springs, so take a swim or dip at the Mývatn Nature Baths! If you go during the wintertime, you'll even get to see the Northern Lights.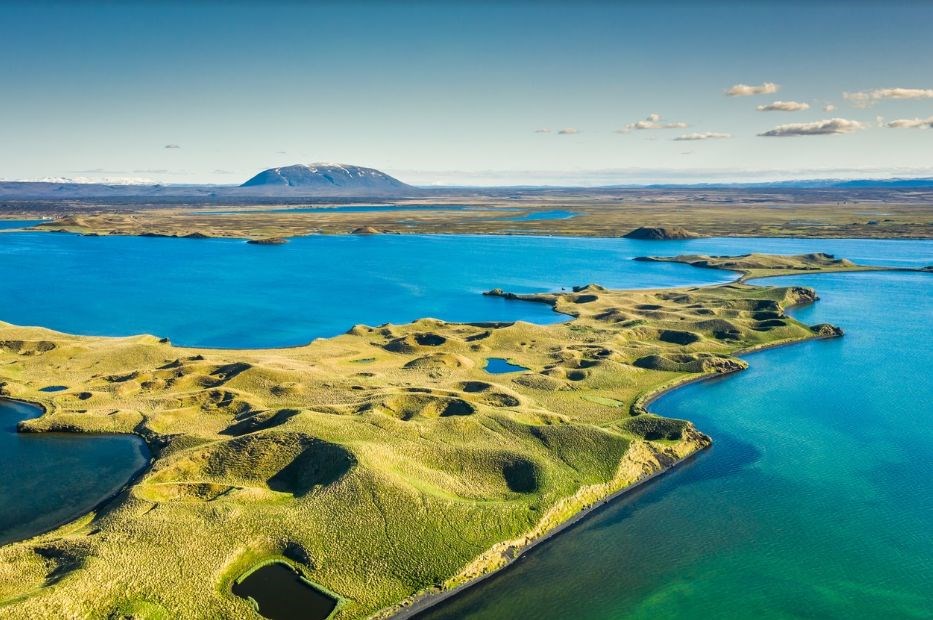 Dettifoss Waterfall
Falling 45 metres (148 feet) with a width of 100 metres (328 feet), Dettifoss is Europe's second most powerful waterfall (Rhine Falls is the first). It's also a popular destination for filmmakers and has been featured in various Hollywood blockbusters.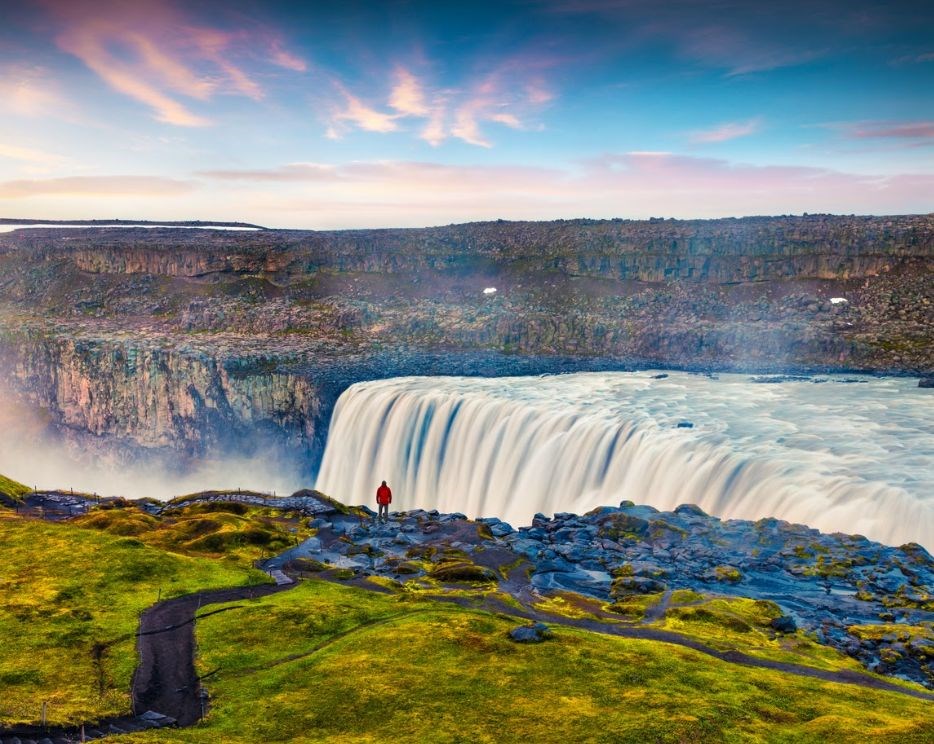 Visitors generally approach Dettifoss on the east side of the River Jökulsá where the road through Hólssandur is better. However, there are plans to improve the road on the west side making it more convenient to drive on. Whichever route you decide to take, please be safe when driving. Stay alert and cautious of small stones shifting under your feet and step carefully to avoid a twisted ankle. Other hazards will be noted throughout the article because we care about your safety! Dettifoss can be accessed from both the east and west - read on for more information:
Western Access to Dettifoss
Dettifoss can be reached from the west side if you take route F862 (an F-Road), which is on the west side of the Jökulsá river. The section between Ásbyrgi and Dettifoss is a gravel road and is passable for all 4x4 cars but it is not open or serviced in winter. It usually opens in late May or early June.
The section of road between Dettifoss and Road 1 (The Ring Road) is called Road 862, it is paved and passable for all vehicles. However, the road is not in service every day during the wintertime and is often closed during snowy periods. We still advise that you take an SUV rental or a 4x4 car that is more steady during winter conditions and has more ground clearance.
All in all, the Icelandic Road 862 to Dettifoss Waterfall is a very rewarding drive with amazing landscapes.
Eastern Access to Dettifoss
If you're planning on coming to Dettifoss from the east side, Road 864 will connect you to Road 85 and Road 1 past Dettifoss. This is a gravel road and driving time is dependent upon road conditions. Road 864 is closed during the wintertime due to snow or wet conditions and does not open until early summer (usually at the end of May). That's why we advise you to drive in a 4x4 vehicle if you plan to take the eastern route.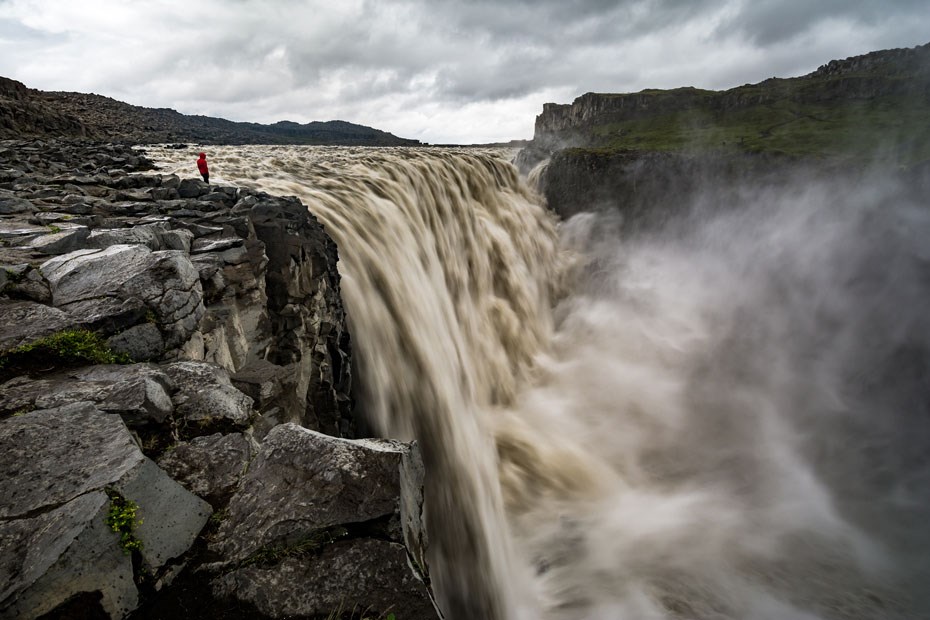 Photo by Marco Nürnberger
On the eastern bank, the footpath down to the falls is very rough and a number of accidents have occurred when visitors have strayed from the track. On this side of the waterfall, you can get as close as you want to the brutal power of water. Standing next to Dettifoss is an outstanding feeling!
Hafragilsfoss Waterfall
Check off yet another waterfall on the list, Hafragilsfoss is located just downstream from Dettifoss and flows in between the Jökulsárgljúfur canyon. With a fall of 27 meters (approximately 88 feet) and nearly 300 feet wide, it's a monstrous and powerful waterfall. While you're there, take time to explore the canyon that envelopes the river and waterfall. Walk across the plateaus and take in the gorges that make up the inside of them. Due to how risky it is for people to walk to the ledge, visitors can only view it from a distance. It's a tricky waterfall to get to regardless of whether you enter it from the east or west, so make sure that you are driving either an SUV rental or a 4x4 car that can better grip unsteady terrain and gravel.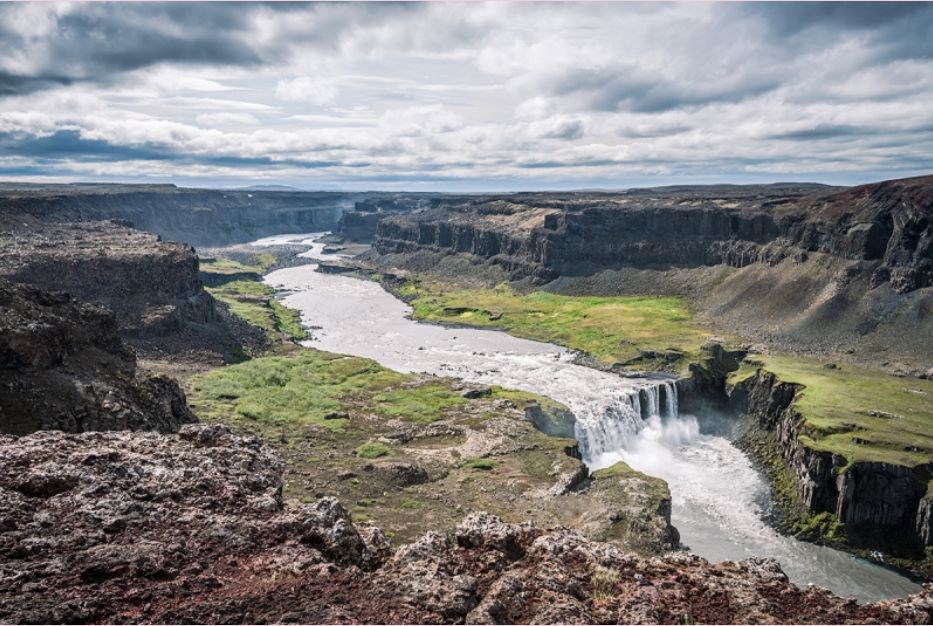 Photo by Hit Iceland
Hljóðaklettar
Hljóðaklettar, commonly referred to as Echo Rocks, are the remains of ancient volcanoes which have been heavily eroded by the Jökulsá river, leaving only the volcanic plugs behind. The unique shape of the rock formations produces reverberations and echoes, giving off eerie and mysterious acoustics. There are two hiking trails you can also walk on to fully explore Hljóðaklettar and the surrounding area. Just a little ways away is the Vatnajökull National Park, so you can extend your visit into a day trip!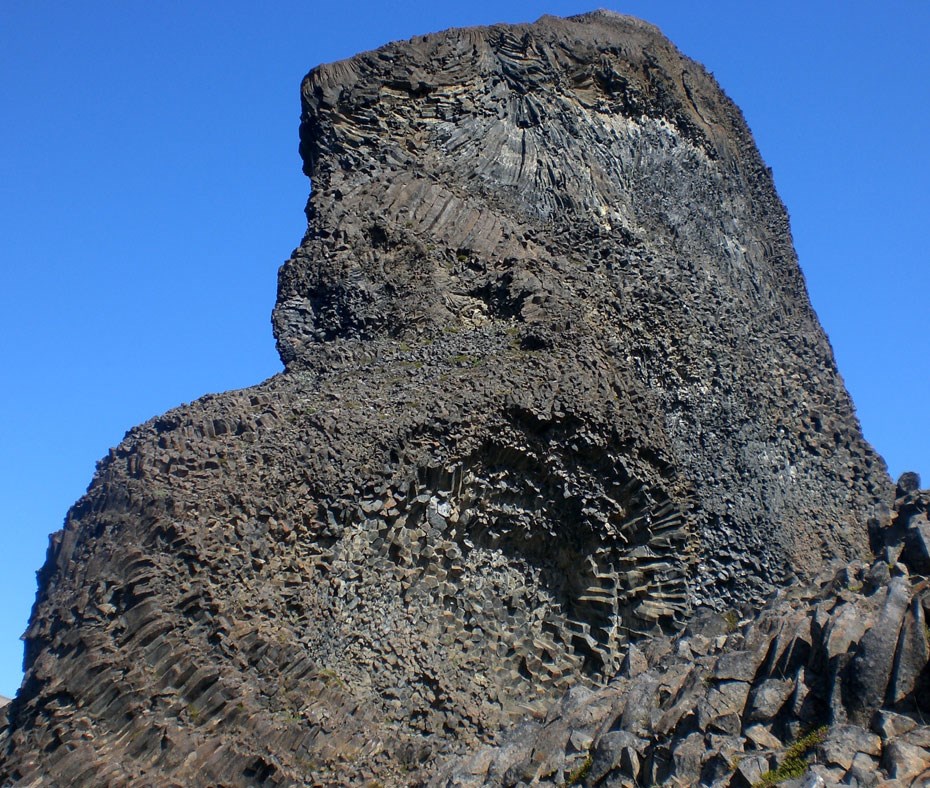 Photo by Sveinn S. Erlendsson
There is a short easy trail from the parking area down to Hljóðaklettar. The first rock is one of the few rocks in Hljóðaklettar which has a specific name, Tröllið or "The Troll." If you follow the path a couple of meters east from Tröllið, to the right, and walk over a slightly rocky trail, you can see beautiful basalt columns and honeycomb weathering. The same path is followed back to the parking area.
Ásbyrgi Canyon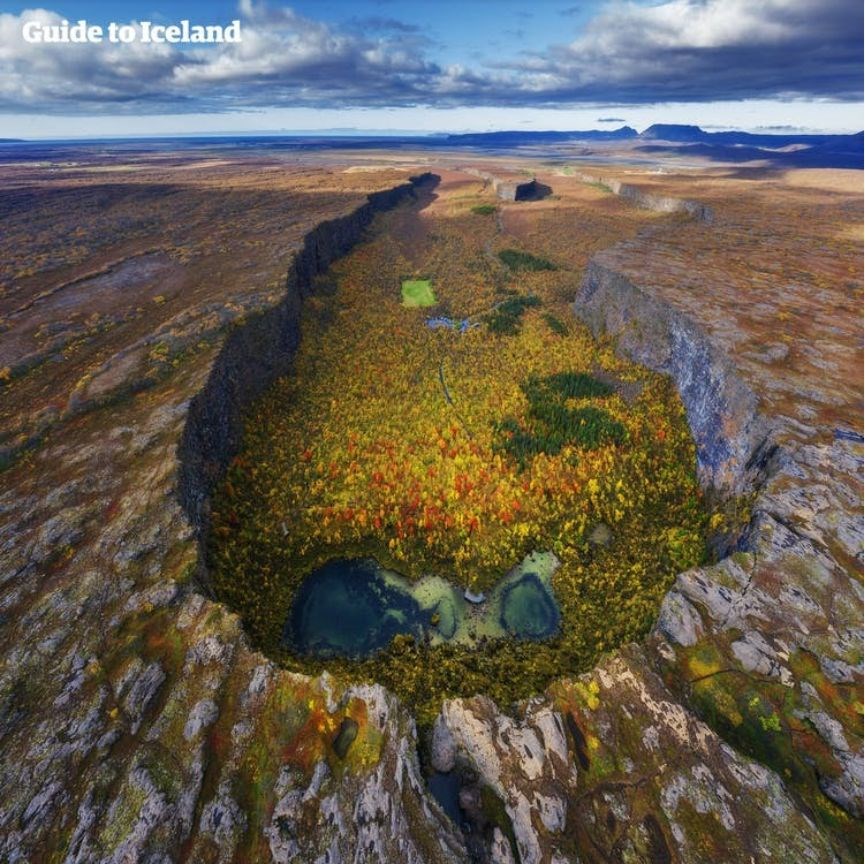 Photo by Guide to Iceland
Ásbyrgi Canyon is rich in Norse folklore and beauty. Located within Vatnajökull National Park, this canyon is comprised of a distinct horseshoe shape. While geologists steer us in the direction of flooding and volcanic activity being the reasons for the shape, Norse folklore believes that Odin's eight-legged horse, Sleipnir, stepped on the land leaving its hoof imprint. Ásbyrgi boasts dramatic cliffs spanning 100 metres (approximately 328 feet) tall. The aerial view of the canyon is quite dramatic since the landscape on top is rather bare, but the crater is densely filled with colorful flora and fauna.
Tjörnes Peninsula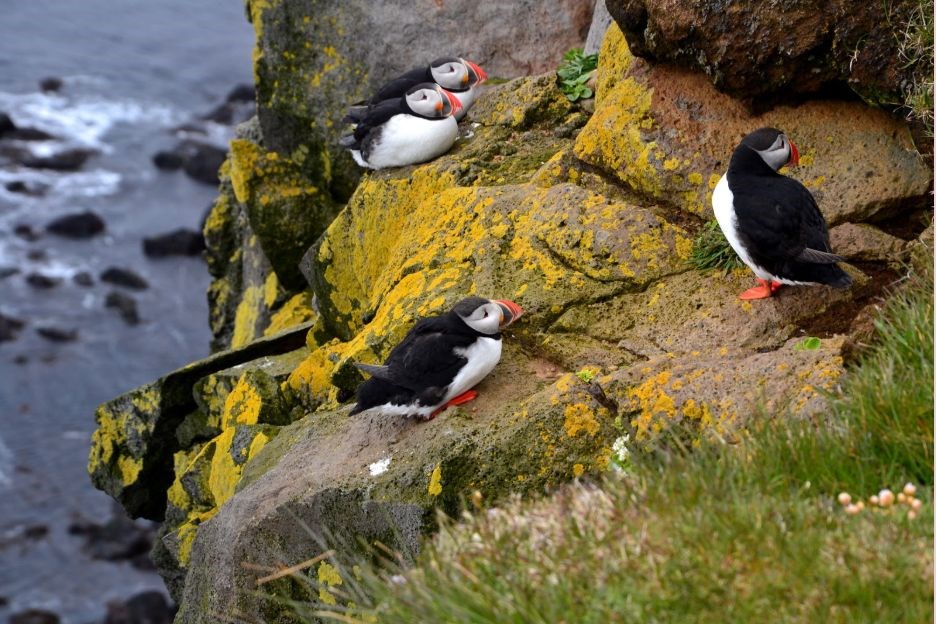 The Tjörnes Peninsula is a nice stop along the way to Húsavík where you can get your archeology fix in for the day! The coastline is lined with fossil shells that date back nearly 2 million years, and it's a popular spot among the local wildlife. You'll get to see Puffins up close and personal as they congregate in this resting area, among other seabirds. While they may look cute and cuddly, it's important to be respectful and cognizant that they are wild animals. Do not invade their habitats and remember to keep a reasonable distance from the birds.
Húsavík
The perfect way to end your road trip around the Diamond Circle is to make Húsavík your final destination and partake in some whale watching (it's the whale capital of Iceland)! By this time, you will have primarily seen stunning and unique landscapes, geological structures, and natural hot springs. Here are some fun facts about this charming town:
Take in the local attractions, explore the charming town, and get a taste of the local, fresh, and delicious cuisine!
Map of the Diamond Circle of Iceland
In this map you can find the most popular attractions of the Diamond Circle in Northern Iceland, as well as the top activities and places to visit:
Explore Iceland's Diamond Circle on a Self-Drive Tour
Iceland is a country that provides tourists with a lot of flexibility with their schedules. Self-drive tours are an excellent way to take in a country's natural beauty, local attractions, and more at your own pace. Just make sure to have a car rental that's durable, good on gas mileage, and can withstand Iceland's volatile conditions and terrain.
If you are travelling during winter, always check road.is or dial 1777 for the latest information on road and weather conditions that could affect your drive. If you run into an issue or need help from a Lava Car Rental member, call us and we'll assist you!