7 Things You Need to Know Before Driving in Iceland in Winter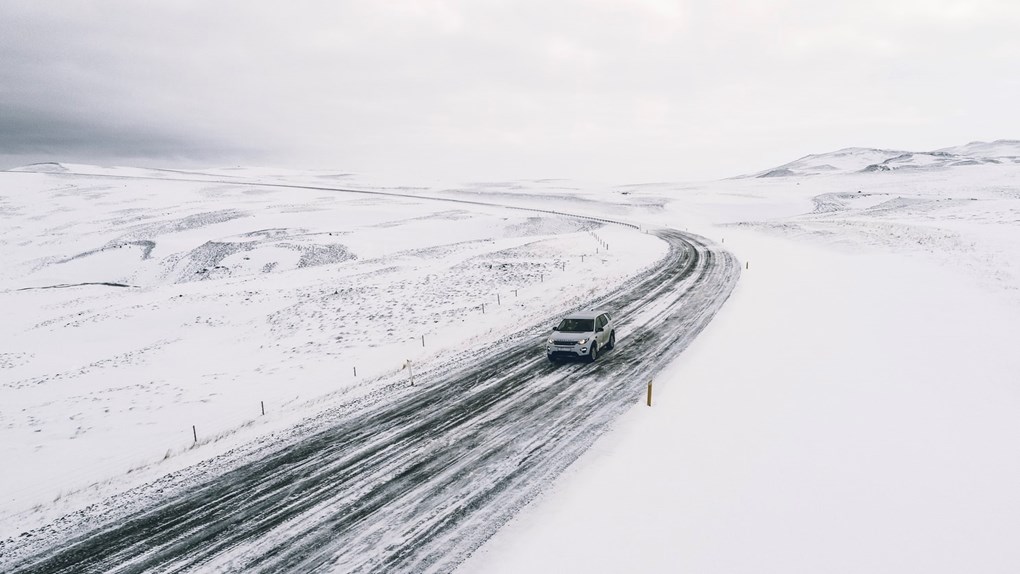 Headed to Iceland this winter? An Iceland winter can be harsh, unpredictable and filled with bad weather — but it can also be beautiful and filled with adventure for the most intrepid travellers. If you count yourself among the few travellers who decide to come to Iceland for a winter vacation, there are a few important things you'll need to know — especially if you plan on driving anywhere (and we wouldn't recommend seeing Iceland any other way; driving your own rental car gives you the freedom to come and go as you please, on your own schedule). 
We're laying out the seven most important Iceland winter driving tips and things to know, including tips and info on Iceland's winter weather, Iceland winter temperatures, Iceland's winter road conditions, must-know safety rules for driving in Iceland and the best cars to rent in Iceland in the winter.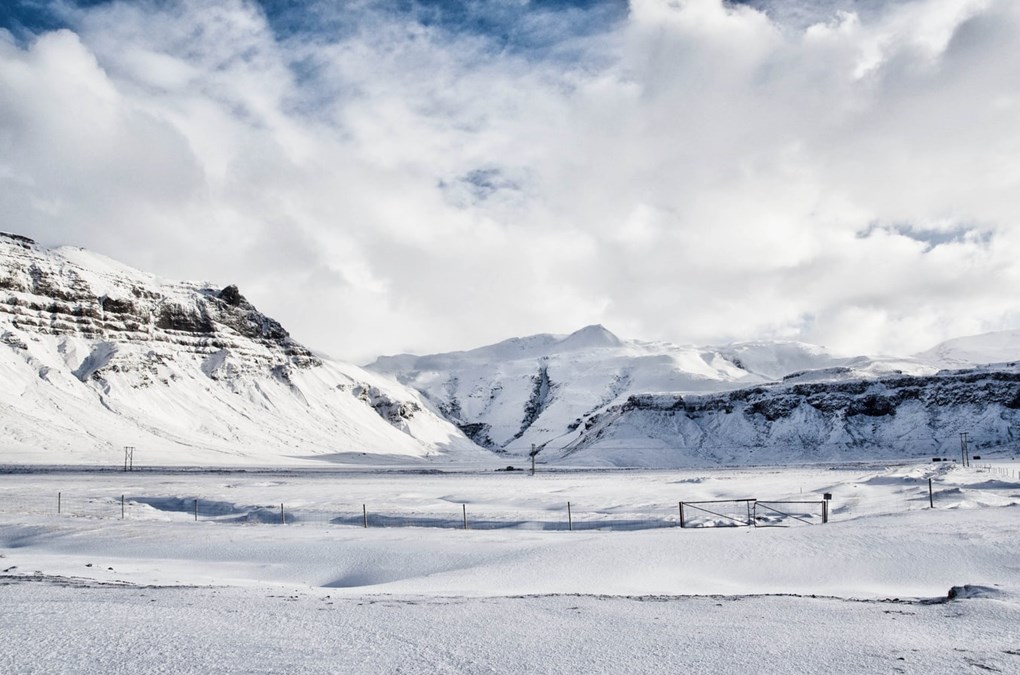 1. Iceland's winter season is probably longer (and harsher) than you think
If you think that Iceland's winter season lasts from November to February, as you might experience in some other climates around the globe, think again. Iceland's winter season is a long one, starting in late September and ending in early May. In other words, there's hardly any fall or spring here. It's almost all winter. 
During an Iceland winter, the temperature in the south hovers around 0 degrees Celsius, or 32 degrees Fahrenheit, while our temperatures in the north hover around -10 degrees Celsius or 14 degrees Fahrenheit. Thus, the lowest temperatures you can expect are around -30 degrees Celsius or -22 degrees Fahrenheit.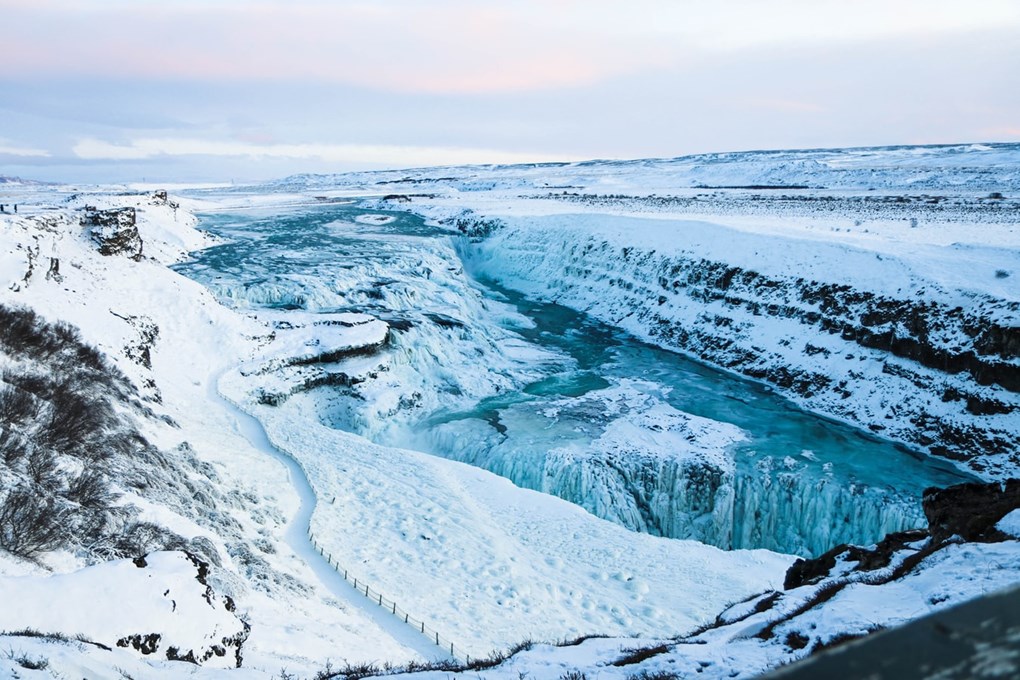 We get most of our precipitation throughout the winter, too, with the most precipitation in December (an average of 94.1 mm/3.7 inches).
There's an increased chance of poor, potentially hazardous weather during the winter months, including snowstorms or blizzards and strong winds. But don't think that you can just check your weather forecast a week out and know what you'll experience while here in Iceland. Iceland's winter weather is known for changing within minutes, so preparation for all types of weather is crucial during your visit. Even if you think you'll only have sunny skies and maybe a bit of snow, prepare for all-out blizzards. This leads us to our next top thing you need to know about driving in Iceland in the winter…
2. Preparation for Iceland's road conditions is key during a winter trip (or really any time)
This tip applies to driving in Iceland regardless of the time of year, but it's especially vital during the winter. Iceland's roadways vary from well-cleaned, paved roads to barely-there tracks, and the road conditions can vary heavily depending on where you are and the season.
The main roads, such as Route 1 (aka the Ring Road, which is a very popular route for travellers looking to hit some of Iceland's top tourist attractions over the course of a week or more), are paved and will typically be a top priority for cleaning. You can expect snow and ice to be removed fastest on these routes. However, the gravel, dirt and secondary roads in Iceland's more rural areas may remain snow- and ice-covered for days (which is why we see many tourists ending up in traffic accidents when trying to traverse these areas during the winter).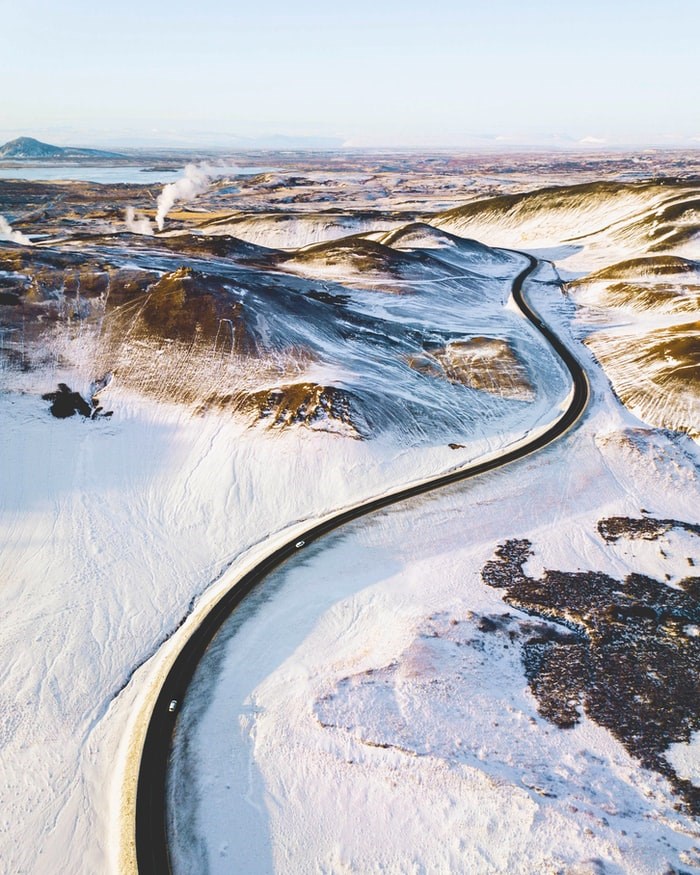 The best way to properly prepare for Iceland's winter road conditions is to first stay up-to-date on the weather conditions, with multiple daily check-ins to account for Iceland's ever-changing weather, as well as on any reports of black ice. Black ice is particularly a hazard for drivers not accustomed to Iceland's winter conditions.
Then, the next best way to properly prepare for Iceland's winter road conditions is to plan your itinerary so that you're sticking to the safest roads based on when you're visiting. Many roadways in Iceland's Westfjords are closed during the winter months, so you'll likely want to avoid that region during that time.
Similarly, roads in the Icelandic Highlands are always closed completely to visitors during the winter months. So if you're travelling in the early or late winter, such as October or May, the Highlands will still be closed, but you may be able to visit the Westfjords with the right vehicle. 
And lastly, the third-best way to prepare for Iceland's winter road conditions is by renting a 4x4 vehicle, which leads us to our next point…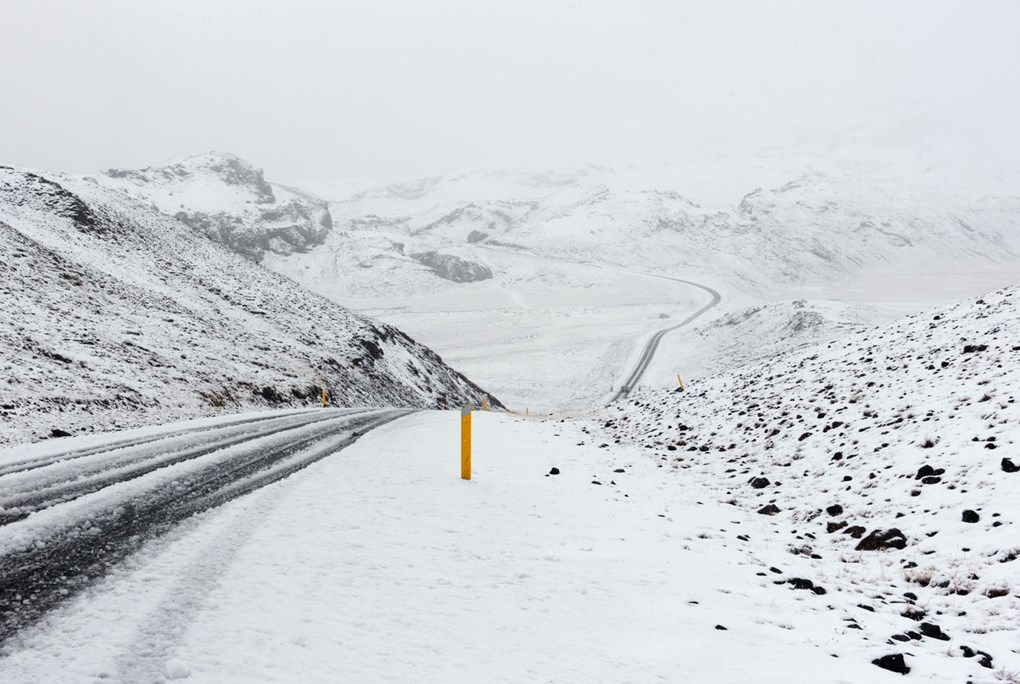 3. A 4x4 vehicle will make your Iceland winter trip infinitely easier
We always recommend our clients book a 4x4 vehicle if visiting during the winter, no matter where they plan to travel while in Iceland. A 4x4 vehicle gives you the power and stability you need to traverse snowier, slicker, tougher terrains in safety. But don't go with just any 4x4 vehicle. A 4x4 SUV will be even better, as the taller vehicle will help you avoid getting stuck in the snow. As a bonus, Lava Car Rental's 4x4 vehicles are equipped with studded winter tyres from November through April 15, under Icelandic law that requires cars to change from summer tyres to a winter variant for the season. 
But beyond the safety features of a 4x4 vehicle, many of our winter travellers find that a 4x4 vehicle also comes with a few other perks, including increased comfort, a smoother ride, more interior room and more luxurious amenities like heated seats. As a result, they're an ideal option for families or travelling groups.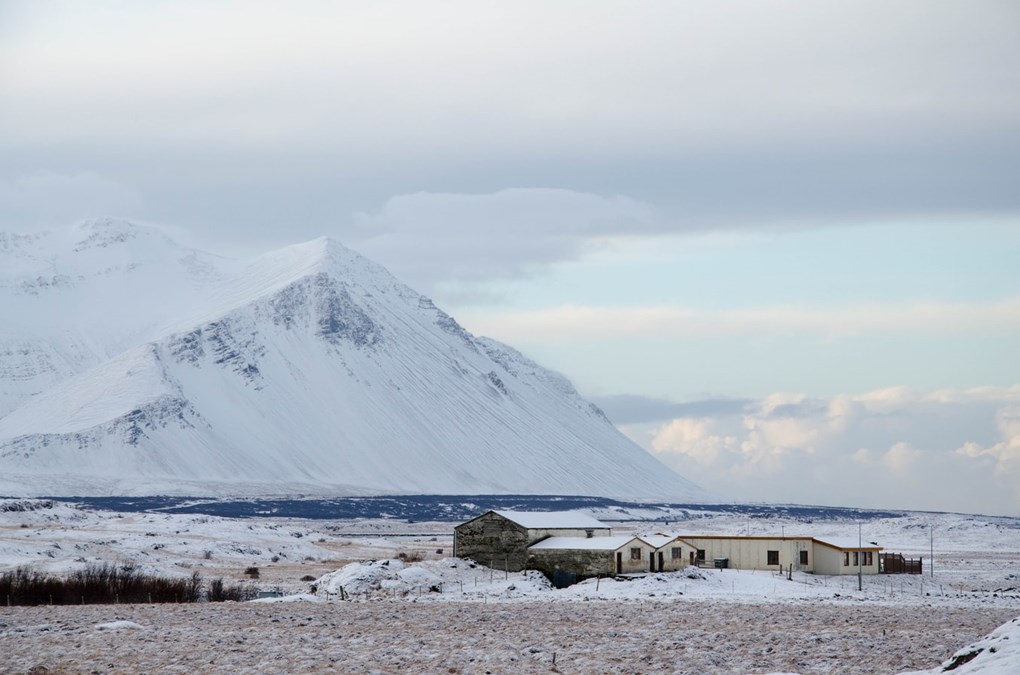 If you're looking to rent a 4x4 vehicle in Iceland, though, there are a few things you'll need to know. First, you'll have to be 20 years of age or older to rent a 4x4. Beyond this, you'll need a Latin-alphabet driver's license (or an English translation of a non-Latin alphabet driver's license) and a credit or debit card to put on file.
But remember: this is only the case at Lava Car Rental. At other rental car providers around the country, you'll find stricter policies on renting to international drivers, including restricting rentals to those who've had their driver's license for a year or more, and sometimes increased rental age restrictions, requiring a driver of 23 years of age or older. 
4. Tuning in to the right resources will keep you well informed
You can use a few different resources to stay up-to-date and informed on the up-to-the-minute Icelandic weather forecasts and road conditions. 
Vedur.is is the place to go for your daily weather updates and any pressing weather warnings. You'll get information on the entire country for temperature, wind, precipitation and more. 
Road.is is the site to visit for road condition updates. The site posts road closure and obstruction information for the entire country and select regions, with updates on everything from road work to thaw conditions to even wildlife on the road (such as reindeer). If you don't want to keep track of the website, though, you can follow them on Twitter (at @Vegagerdin) for live updates via your social feed.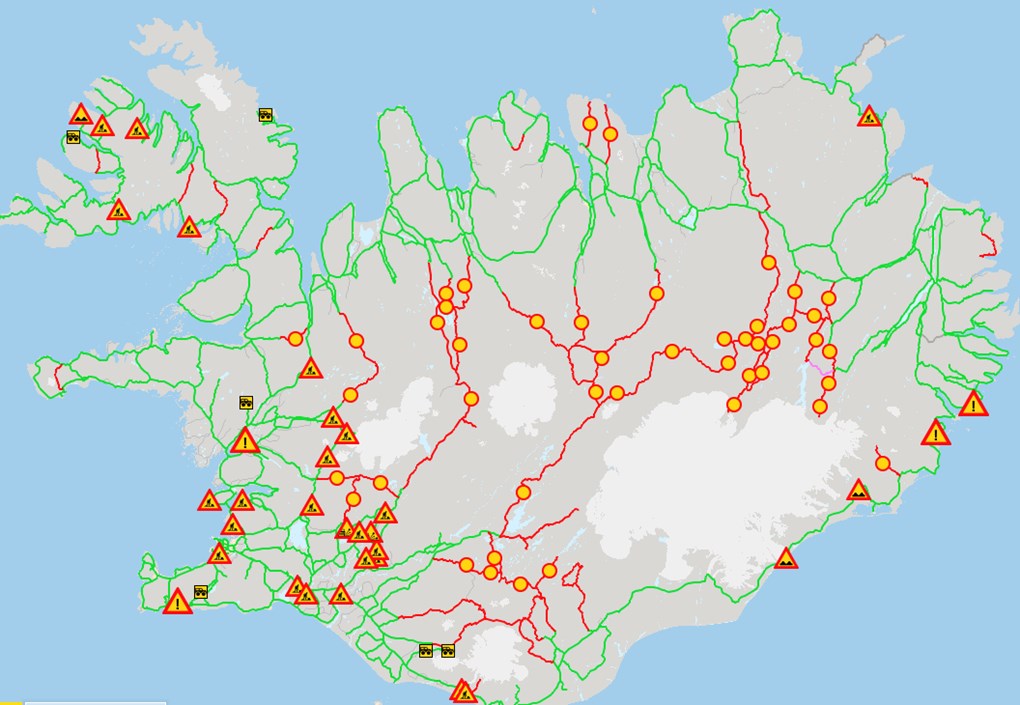 Regardless, road.is will be invaluable to your Iceland winter trip, as road closures are very common in Iceland all year round. Snow, ice, avalanche warnings and even wind can cause closures that last for days at a time. These closures are most common in the north and east, so you may want to plan to stay in the south and west if you're visiting during the winter months and don't want to deal with possible closures. 
And one fun resource to definitely keep an eye on if you're visiting during the winter? The Vedur.is aurora forecast. If you don't want to spend money on a high-priced northern lights tour, you can chase the northern lights all on your own, September through April. The aurora forecast will let you know where and when you have the best chances at spotting the northern lights, based on things like cloud cover and solar activity. Then, if one of the locations is nearby, you can simply hop in your car and drive there.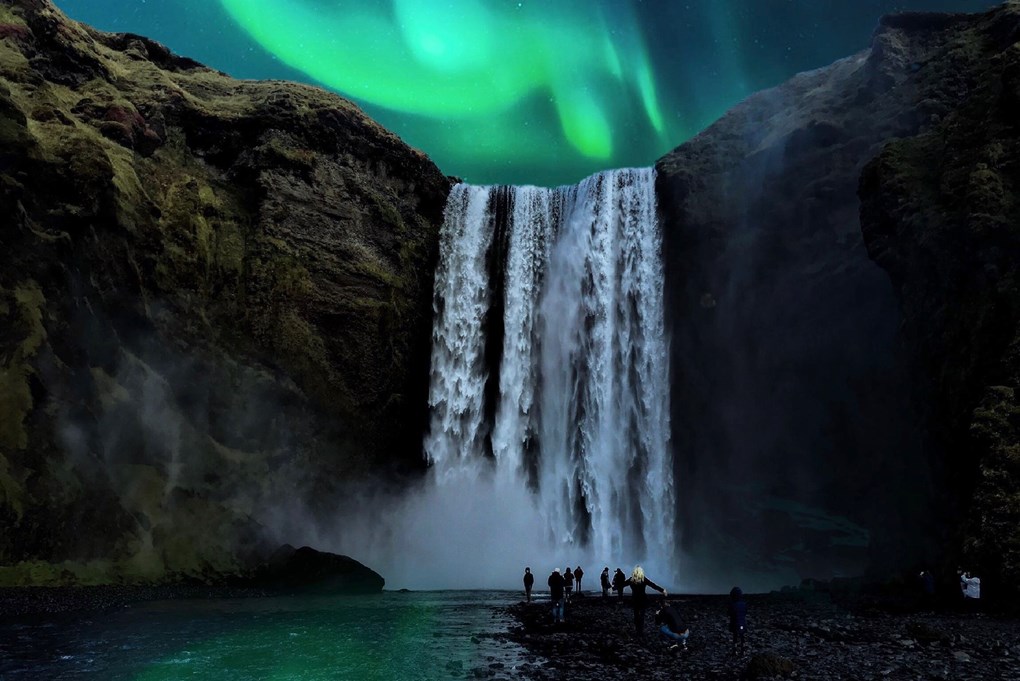 5. Keeping your days short can save you a headache when travelling around Iceland in the winter
Iceland's winter daylight hours are short — very short. If you come from a climate where you can rely on the winter sun to stay up from when you wake up until at least 6 p.m., that's not what you can expect from an Icelandic winter. In the middle of December, Iceland only experiences roughly five hours of daylight per day on average. 
Because of this, as well as because of the ever-changing weather conditions, we recommend keeping your itinerary days on the short side when visiting Iceland in the winter. Rather than trying to cram a ton of driving and sightseeing into one day, maybe drive a shorter distance and see one sight or go on one hike.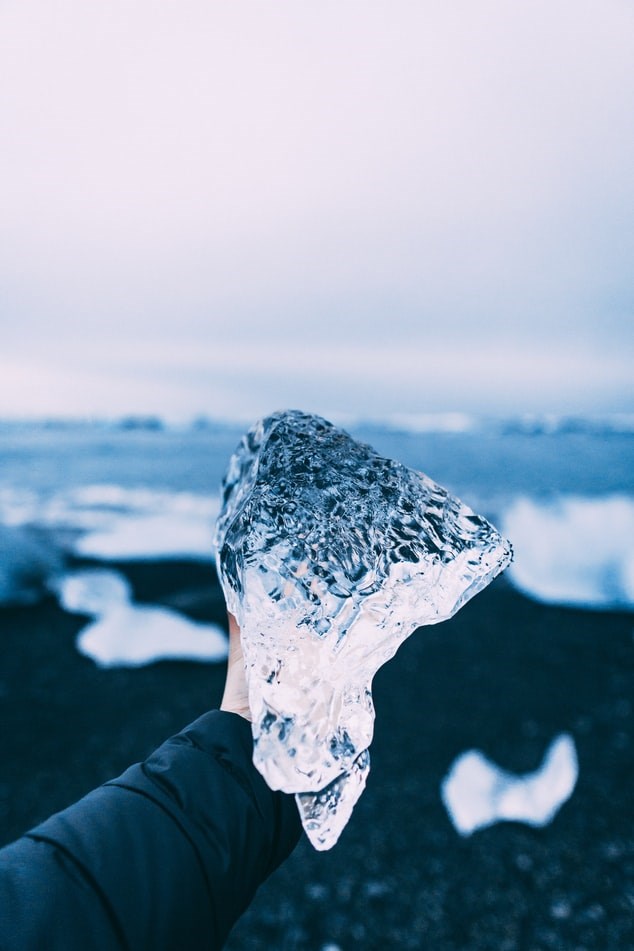 Planning a looser, less stressful itinerary like this also means you have room to adjust your itinerary if something like the weather interrupts things. And whatever you do — don't try to fight your way through bad weather just to stick to your itinerary. Even the airlines flying to and from Iceland understand this fact about Iceland travel and, as a result, you may find that your winter flight may get delayed by a day or even two when the weather is right.
To help you in keeping your winter itinerary as stress-free as possible, Lava Car Rental is happy to help in the situation that your trip is delayed or extended due to weather. If you book directly through lavacarrental.is. You'll get direct access to our team, which can instantly help and assist you in the event of a weather delay or emergency. We'll even allow you to change your booking for free, up to 48 hours before your vehicle pick-up time, if you simply send us an email at info@lavacarrental.is.
Looking for quick Iceland itineraries that are low-key and low-travel? Check out our guide to short trips near Keflavik Airport. Whatever your interests or whatever kind of traveller you are, you'll find lots of fun activities all in the near vicinity of the airport, from museums to beaches, hot springs to hikes, and you'll hardly have to drive very far at all.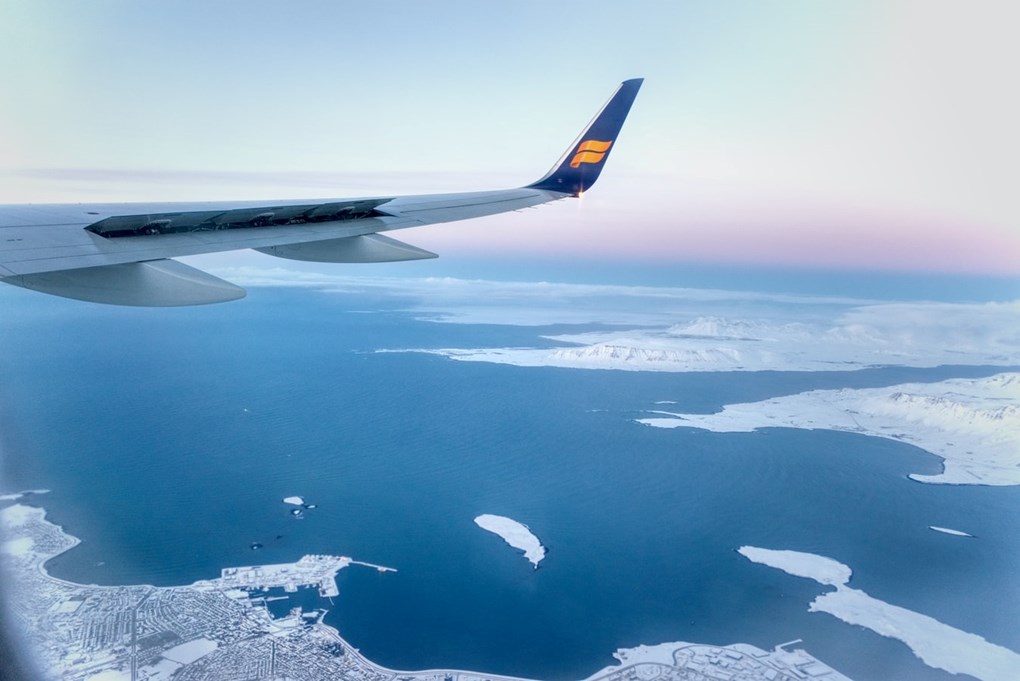 6. Monitoring your driving speed is extra crucial when driving in Iceland in the winter
You'll want to be extra careful as you keep an eye on your driving speed when driving in Iceland in the winter. While you may think that the posted speed limit is safe to drive all year round, that's not at all the case. Iceland's posted speed limits are for the best-case scenarios — sunny, inclement weather-free, summer days. So during the winter or when the weather is less than ideal, you'll want to reduce your speed below the posted speed limit. In extremely poor weather situations, such as a blizzard, you may want to consider pulling over and turning on your hazard lights until conditions and visibility improve. 
Iceland's posted speed limits are in kilometres per hour (km/h). Typically, the speed limit is 50 kilometres per hour in cities and towns, 90 kilometres per hour on highway asphalt roads and 80 kilometres per hour on gravel roads. However, this isn't always the case, so just watch for the signs. If not, you could not only endanger yourself, your passengers and your fellow motorists, but you could also wind up with a hefty speeding fine if a speed camera catches you driving over the limit.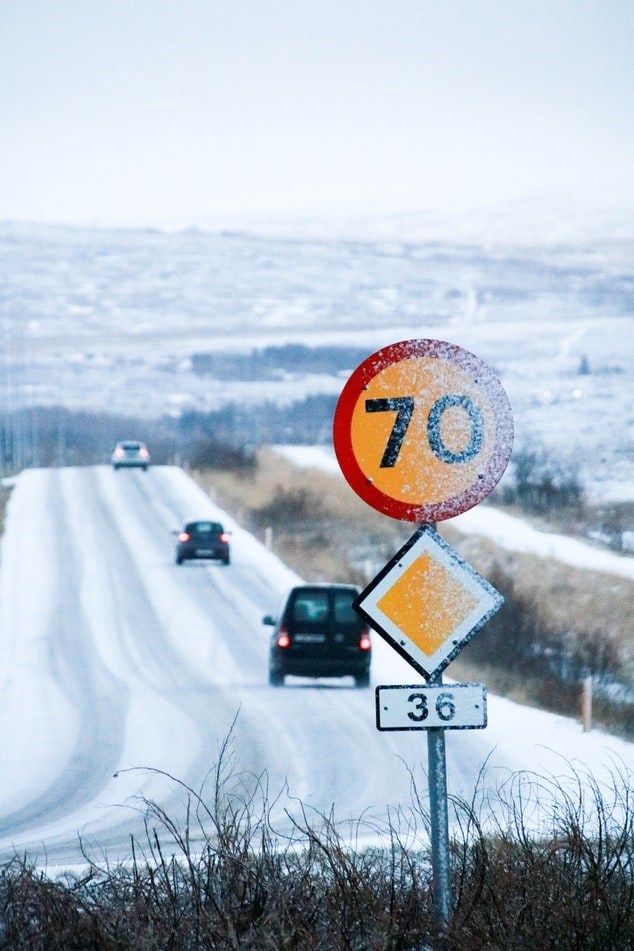 7. You can upload your travel itinerary for use by Icelandic search and rescue teams
As an extra precaution, before your Iceland winter trip (or any Iceland trip, for that matter), you can upload your itinerary to Safetravel.is and then update as needed throughout your trip. If you have an emergency, a search and rescue team will refer to your uploaded itinerary to best assist you. 
Beyond this handy feature, though, Safetravel.is is also a great resource for general safety information. You can even subscribe to the site's text updates, which will go directly to your phone in case a hazardous event occurs during your trip.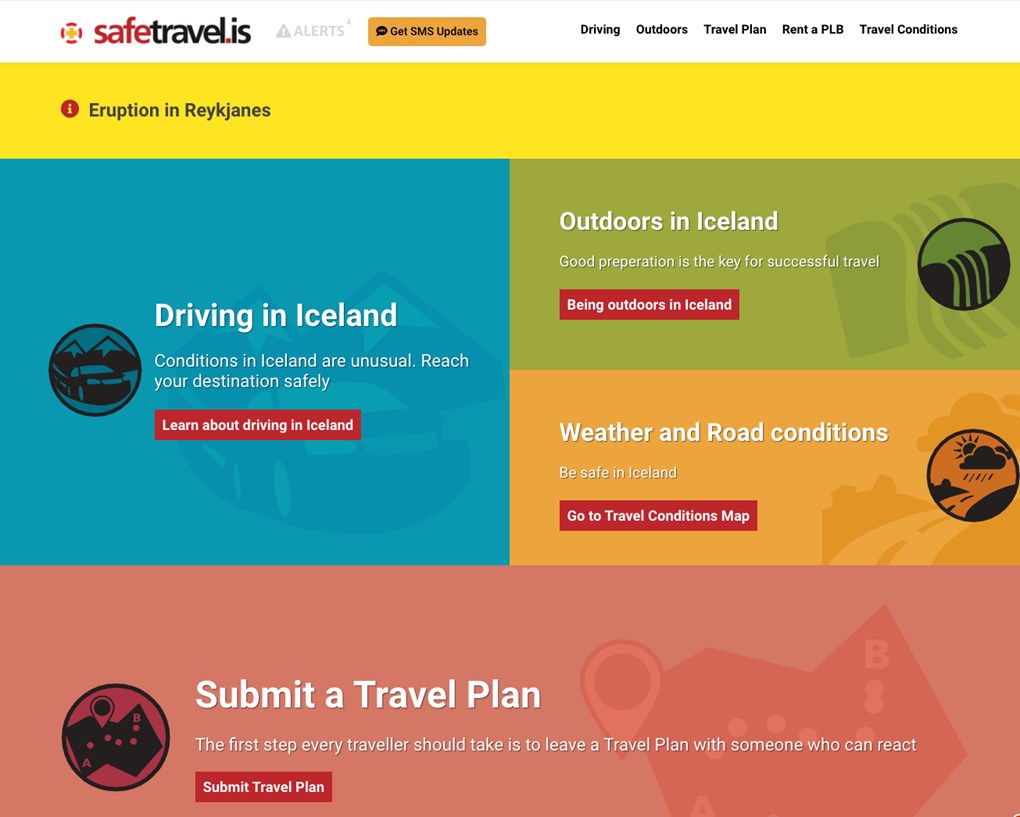 Safetravel.is also offering its own top tips for driving in Iceland, for any time of year, including:
Make sure all passengers are wearing their seat belts at all times
Don't stop in the middle or on the side of the road to take photos
Slow down when you see that your road is going to turn from paved to gravel 
Respect the road closures 
Keep your headlights on at all times (it's the Iceland law!)
Stop for oncoming traffic when you approach a single-lane bridge and let the car that arrives first pass.
Don't use your electronics while driving
Don't drive when tired
Make sure you're following the correct car seat laws (children that are shorter than 53 inches/134 centimetres are required by Iceland law to use a car seat)
If you do need to call emergency services during your trip, you can reach them at 112. For example, if you're renting a vehicle during your winter trip to Iceland and an emergency occurs, you'll want to call emergency services first before calling your car rental company. 
Lava Car Rental wishes you a safe and fun winter excursion!
It's easy to see why so many people visit Iceland during the winter. Despite the weather, winter is much more affordable for many travellers, and the landscape in Iceland in winter is vastly different from what you'll see in the summer. However, winter also comes with its fair share of danger, and preparing for those dangers and taking the necessary precautions to keep your family safe is of the utmost importance.
When it comes to outfitting you and your travelling companions with the safest vehicle to see Iceland during the winter months, Lava Car Rental has you covered. Get in touch with us today to learn more about our selection of 4x4 vehicles and our extra amenities and services designed to ensure you the safest and most enjoyable trip possible.