A Guide to Driving in Iceland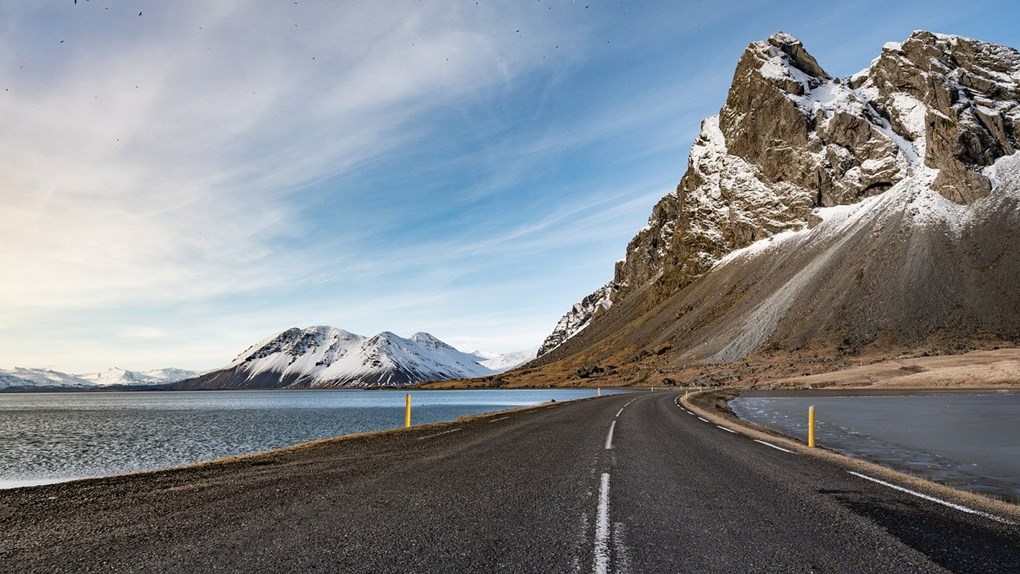 Driving around Iceland is the easiest way to see as much of this beautiful country as possible, and that's exactly why so many travellers choose to take to the Icelandic roadways when visiting.  
However, no matter how sure of your driving skills you may be at home, it's still important, while visiting a foreign country, to brush up on the laws of the road and the driving specificities of that country. If you plan on driving in Iceland during an upcoming trip, take a look at our full guide to driving in Iceland below — so you can be safe on the road and have as much fun during your Iceland adventure as possible!
Why Rent a Car in Iceland?
Like we said, renting a car in Iceland is the easiest way to see the country in full. You can see the beautiful landscapes on your own time, without waiting for public transportation (which might not even take you to all the spots you want to visit — some destinations around Iceland are only accessible via private car) or a tour guide. You're free to come and go as you wish, and discover all of the sights in Iceland that you most want to see, when and how you want to see them. 
Plus, when you rent a car with Lava Car Rental, you'll be further equipped to see all of Iceland's cities and countrysides in ultimate convenience, thanks to special perks like discounts on fuel, 24/7 assistance, airport pick-up, and more. No matter where you're going, who you're travelling with, or what your needs, we have the perfect rental car for you.
Where to Drive in Iceland 
Once you're convinced that renting a car in Iceland is the way to go for your upcoming Iceland trip, you have to decide where exactly you want to drive in Iceland. Here are a few of our favourite options.
The Ring Road
The Ring Road, also referred to as Route 1, is the most popular roadway in Iceland and for a good reason — it circles the entire island and takes you to all of the top spots in the country. The 832-mile/1,339-kilometre road is mostly paved (though you will have to watch out for a few stretches of gravel roadways in the east) and a two-lane highway, with a 55mph/90km/h speed limit. 
If you were just to drive around the Ring Road, with no stops, it would take you about 17 hours, but obviously you want to make some stops. That's the whole reason you're in Iceland! Different travellers traverse the Ring Road at different speeds. It all depends on the pace you're after and how many places you want to see on the Ring Road; some travellers spend a few weeks on the Ring Road, while others cram their entire journey into five or six days. We usually recommend taking between seven and 10 days on the Ring Road, which allows you to see the majority of the top spots without rushing.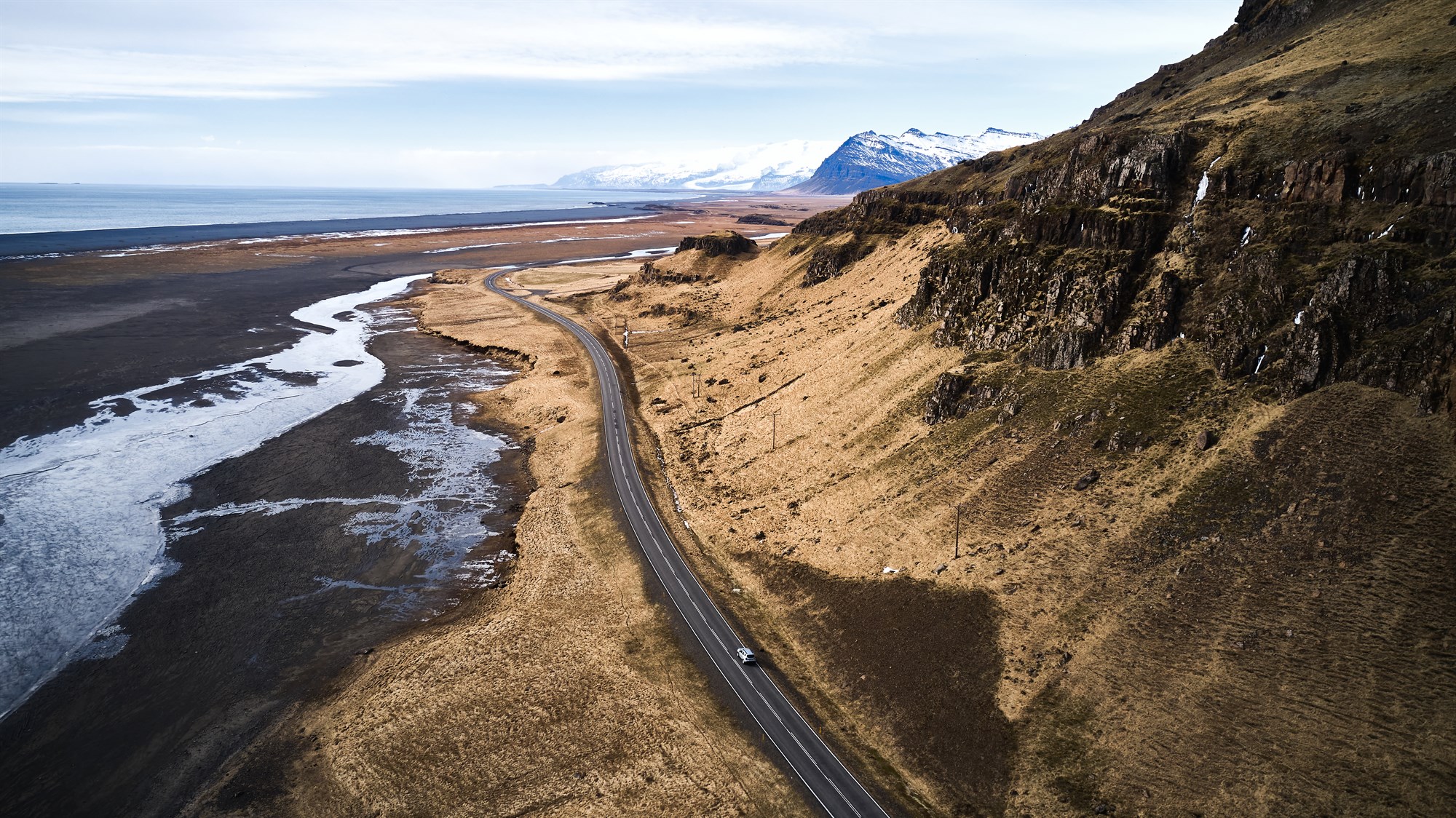 Some of the most popular stops along the Ring Road include, of course, Reykjavik, as you can't visit Iceland without exploring our biggest city; Vik, a southern, remote village known for its proximity to the Myrdalsjokull glacier, beautiful beach, and cliffs full of puffins; Jokulsarlon, a glacier lagoon at the edge of Vatnajokull National Park, with a black sand beach and a huge seal colony that visits during the winter months; and Myvatn, a volcanic lake in the north surrounded by hot springs. 
Of course, these favorited stops only scratch the surface of all that the Ring Road offers!
The Westfjords 
One area of Iceland that a Ring Road trip does not include? The dramatic landscapes of the Westfjords. In the west of Iceland, the Westfjords is a peninsula that boasts some of the most awe-inspiring sights in the entire country — but they go relatively untouched and unseen compared to some of Iceland's other, more accessible spots. So, if you're seeking fewer crowds and lusher landscapes, it's the Westfjords you'll want to explore while driving in Iceland.
Some of the must-see spots in the Westfjords include Raudasandur, a pink sand beach; Dynjandi waterfall; and the Latrabjarg cliffs.
The Golden Circle
For those who want to see some of Iceland's top, most popular spots, but who don't necessarily have enough time to traverse the entire Ring Road, the Golden Circle is a nice pick for a driving trip through Iceland. Smaller, it's only 300 kilometres/186 miles, so a good deal shorter than the Ring Road route. 
The easy-to-follow, well-traversed road takes you to popular spots such as Gullfoss Waterfall, The Great Geysir and Pingvellir National Park. It also goes through Reykjavik, which is convenient for those staying in the city.
The Highlands
Like the Westfjords, Iceland's Highlands are not accessible via the Ring Road, making them a little less popular with most travellers. However, for the intrepid adventurer, the Highlands are a playground filled with fun. The stunning landscapes of the Highlands are considered volcanic desert; rough and mostly uninhabited, they offer views unlike any you'll find elsewhere in the world. 
But, with such rugged terrain comes a few challenges. Visitors wanting to drive in Iceland in the winter will find that the Highlands roads are only open in the summer, and only accessible to 4WD vehicles, as some of the roads do require river crossings. Still, for those drivers in Iceland who aren't scared of a little challenge, the Highlands are well worth a summertime trip.
How to Drive in Iceland  
Have your dream Iceland itinerary mapped out? Great! But, before you can jump in your rental car and start driving around Iceland, you'll need to know a few more things. 
What do you need to drive in Iceland?
If you're coming from another country to drive in Iceland, you'll need a valid driver's license from your home country. The only license requirements are that your license is written in the Latin alphabet (or that you have an English translation of your license) and that your additional drivers in the car likewise have licenses to show. 
You'll also need a valid credit or debit card in order to rent a car in Iceland. If you rented your car through a travel agency, you'll need to show the travel agency's voucher.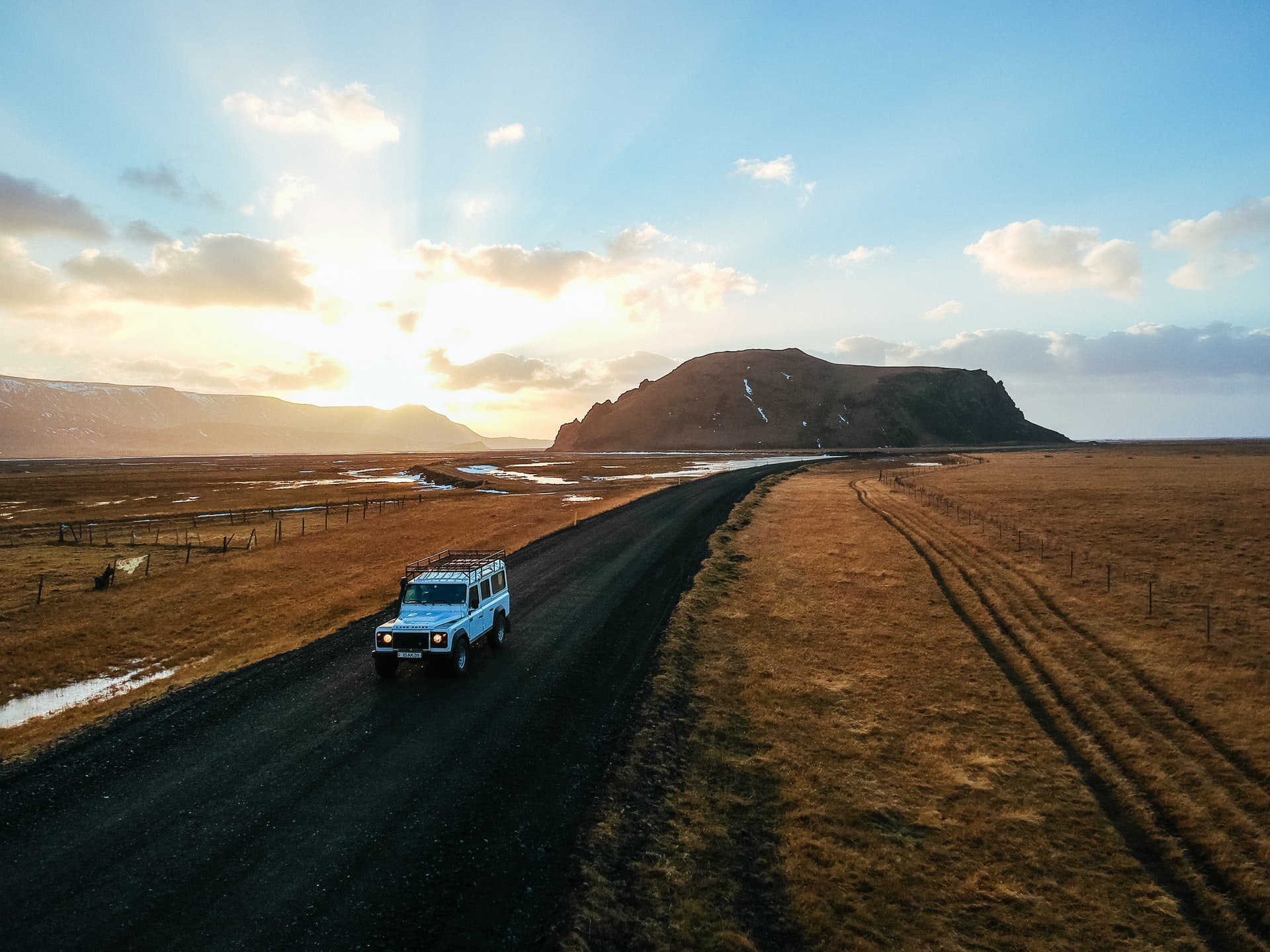 Lastly, Iceland only allows drivers over a certain age to rent vehicles; typically, only drivers aged 20 and older, who have held a driver's license for a year or more, are permitted to rent vehicles. At Lava Car Rental, however, drivers aged 18 and older can rent both economy cars and standard camper vans; drivers aged 20 and older can rent 4x4 cars; and drivers aged 21 and older can rent any vehicle.
What are the road regulations in Iceland?
There are a few road regulations here in Iceland that you'll need to be aware of in order to safely drive throughout the country. These may be different from the road regulations you're familiar within your home country, so it's important to study them closely and commit them to memory ahead of your Iceland driving trip.
In Iceland, we drive on the right side of the road and overtake slower traffic from the left side of the road. In roundabouts with two lanes, the traffic on the inner lane has right of way over traffic on the outer lane (which can be a big change for some international travellers).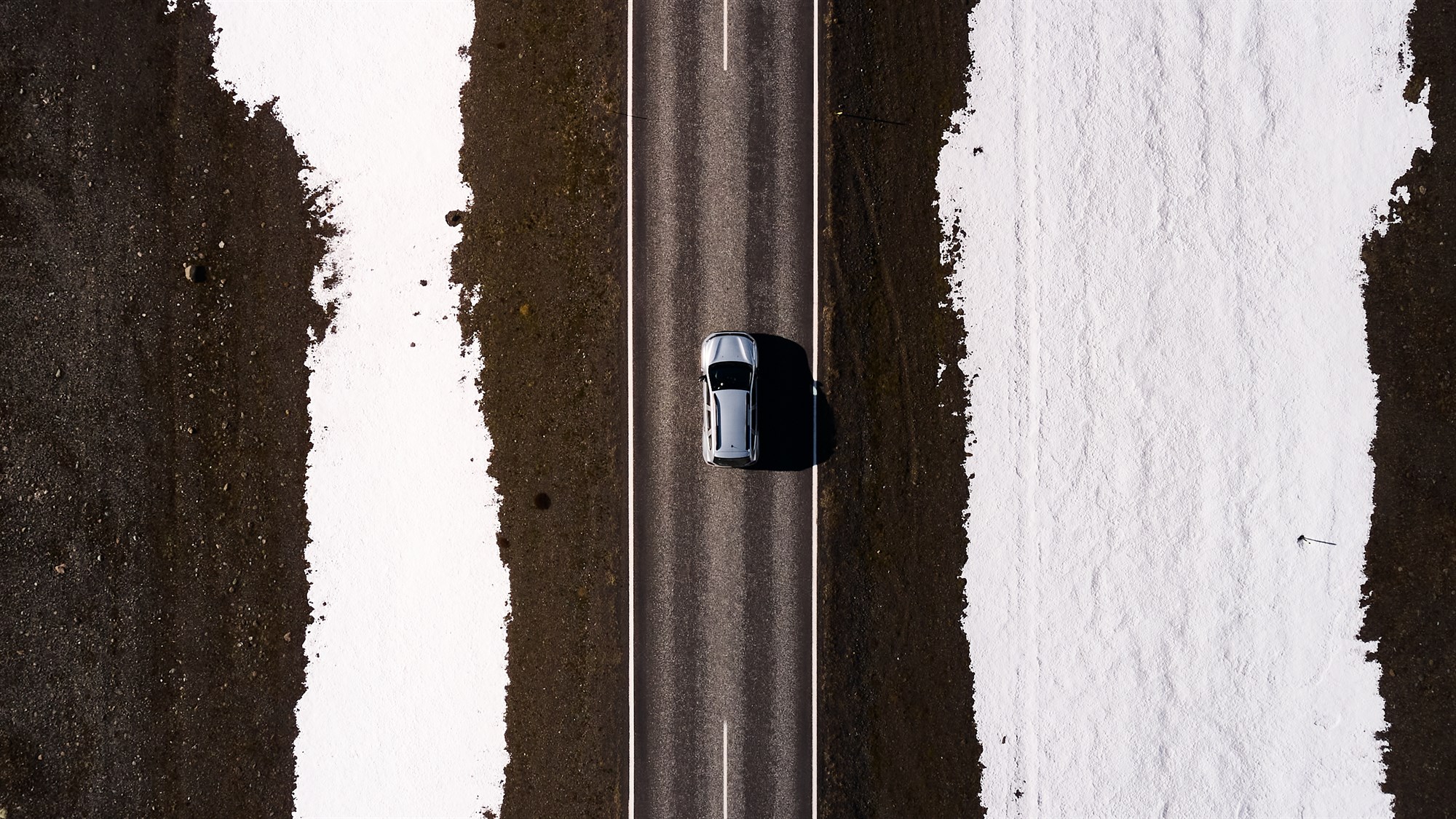 In some cases, particularly on bridges in the more rural areas of Iceland, you'll find that the two-lane highway narrows, leaving only enough room for one car at a time. In these instances, the vehicle closest to the bridge has the right of way. 
Everyone in the vehicle is required by law to wear a seatbelt while the vehicle is in motion. Similarly, younger children and infants must be seated in child safety seats (you can rent these for use with your rental vehicle — just ask!) and children under 12 years of age are not permitted to ride in a car's front seat. 
You must have your vehicle headlights turned on at all times while driving in Iceland, regardless of the time of day or weather. 
There is a zero-tolerance policy for all mobile phone usage while driving, as well as driving while impaired by either alcohol or drugs. 
Icelandic speed limits are 30-50 km/hour (31 mph) in populated areas, 80 km/hour (50 mph) on gravel roads in rural areas, and 90 km/hour (56 mph) on paved roads. While you may think you're safe to speed if you don't see law enforcement on the roads, think again; Iceland uses speed cameras along roadways to track passing vehicles' speeds and issue fines where needed.
All off-roading is illegal in Iceland; however, don't confuse off-roading with using some of Iceland's F-roads, which you'll find in the Highlands. These roads are dirt and typically pretty simple, but they are marked, so you can distinguish using an F-road from off-roading. To be safe, if you don't see any signs in a particular area, just don't drive there. 
Other tips for driving in Iceland 
Beyond the varying road rules in Iceland, the country's road conditions can also sometimes prove challenging for international visitors. 
Due to Iceland's harsh winters and quickly-changing weather, vehicles must be outfitted with studded tires during the winter season, November through April. Unlike in other countries, tire chains are not permitted. Additionally, during this same time period, it's recommended that travellers rent only 4WD vehicles, just to be safe when they encounter snowy and icy roads. Also, keep in mind that some roads are closed during the winter months, including the F-roads that access the Highlands; even in the summer months, mid-June to September, the F-roads are only accessible with 4WD cars and when road conditions allow. 
With summertime comes an entirely different challenge: sheep! Sheep are free to roam throughout Iceland in the summertime, so you may spot some crossing the roads. If you do see some Icelandic sheep, slow down and watch for any sudden movements. Other wildlife that you may spot on Iceland's roads includes Icelandic horses and, occasionally, during the right times of the year and in the right regions, reindeer. However, the sheep are the most likely to impede your driving.  
Regardless of when you visit Iceland, though, it's smart to keep an eye on the weather. You can do so by checking road conditions at www.road.is and the weather forecast at www.vedur.is. 
Gas and Petrol Stations in Iceland 
Gas and petrol stations (and even electric charging stations for electric vehicles) are plentiful in Iceland — so long as you're in the right spot. You can find service stations from popular brands such as OB, N1, Orkan, and Atlantsolia throughout most of the country, except for when you're travelling between Vik and Myvatn. In this area, which is along the Ring Road and encompasses about half of the island, gas and petrol stations can become few and far between. If you plan on travelling between these two spots, keep an eye on your vehicle's fuel levels. You don't want to be caught with an empty tank.
Once at a gas or petrol station, you can choose to either pay with a credit card with a 4-digit PIN number or you can purchase a prepaid gas card from a service centre.
Parking & Fees
Parking and entrance fees and tolls differ according to where you are in Iceland.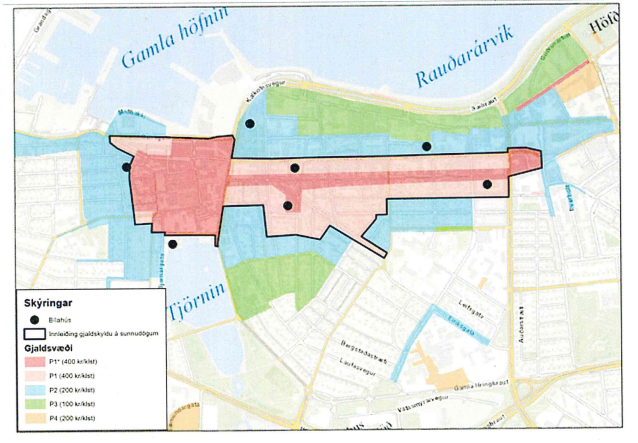 Reykjavik, for example, is split into four parking zones. These zones are indicated with signage that clearly says "P" and gives further details on payment. Area P1 is the most expensive Reykjavik zone for parking, with hourly parking rates of 250 ISK/1.8 EUR/2.17 USD; you'll find most areas of inner Reykjavik and the most popular tourist spots are designated as P1. Area P2 is a little more affordable, with hourly parking rates of 125 ISK/0.9 EUR/1.08 USD. Area P3 charges hourly rates of 90 ISK/0.6 EUR/0.72 USD, and Area P4 charges weekday-only hourly rates of 125 ISK/0.9 EUR/1.08 USD. However, parking throughout all of Reykjavik is free after 6 p.m. and all day on Sundays. 
As you drive around Iceland, you'll come across entrance fees and tunnel tolls. If you visit small cities and some of the more popular attractions, like Pingvellir National Park or Skaftafell National Park, you'll be charged varying parking fees. Similarly, if you travel the Ring Road, you'll pass through Vadlaheidargong, a toll tunnel in the north of Iceland; travellers can pay their toll fee online, at www.veggjald.is, within three hours before or after passing through the tunnel. 
Keep a close eye on all signage on roadways and in parking areas to avoid any fines or fees that you might pick up from not properly paying for your parking or tolls. If you do incur some fines while driving a rental car in Iceland, the fine will be sent directly to your rental car company. From there, the rental car company will charge you a bill plus an additional service fee when you drop off the car at the end of your trip.
Paying Tolls in Iceland
How do tolls work in Iceland?
In short, there is no fee or toll to drive around Iceland's roads, whether you are driving the Ring Road or the F-Roads (mountain roads) of the Highlands. However, that being said, Iceland is not 100% toll-free and although there aren't any toll roads, there is a toll tunnel that needs to be paid if you're going to drive through it.
Which tunnels in Iceland do you have to pay for?
The only toll tunnel that you need to pay (if you're passing through it) is the Vaðlaheiðagöng tunnel, which goes from Mývatn to Akureyri, in the North of Iceland. Driving this tunnel will save 16km (19 miles) of your journey if you're traveling between both destinations.
The toll tunnel costs 1500 ISK (around $12 or 10€) and you need to pay it on the tunnel.is website. There is not a toll booth with an operator where you can stop and pay. The good news is that you can do it before or after driving the tunnel, so if you are not sure if you're going to pass through it, you have still time. 
What happens if you accidentally go through a toll?
If you drive through the Vaðlaheiðagöng tunnel, you can pay the toll up to 24 hours until/but no later than 24 hours after going through it. If you don't pay the toll within that timeframe, it will be billed to the registered owner of the vehicle (if you're renting a car, it will be the rental company) with an added collection fee that will be charged to the person who is renting that vehicle.
To prevent the toll from being collected with the extra fee, the best thing to do is to register the vehicle through tunnel.is website. The registration is free of charge and the toll will be automatically charged to your credit card whenever you drive through the tunnel without any extra collection charge.
What if You Have an Accident on the Road?
While they're never pleasant or expected, accidents can sometimes happen while you're out on the road. If you have an accident while driving in Iceland, you can call the Iceland emergency phone number, 112. It's also a good idea to let your car rental company know about the accident as soon as possible; they can often lend some extra assistance.
Where to Rent a Car in Iceland
Feeling confident about your upcoming trip to Iceland? If you're ready to hit the road, all that's left to do is book your Iceland rental car. 
Lava Car Rental is a local and experienced company with a huge selection of vehicles, ranging from economy cars to 4WD vehicles ready for winter to camper vans. We include your insurance in the price of your rental, don't require an up-front deposit at the time of booking, and even let you cancel your rental for free if needed. We make the Iceland car rental experience as easy as possible. 
Let us help you have the best (and safest) Iceland road trip possible. Check out our available rental cars and reach out. Our expert team is ready to help!