Gas Stations & EV Charging Stations in Iceland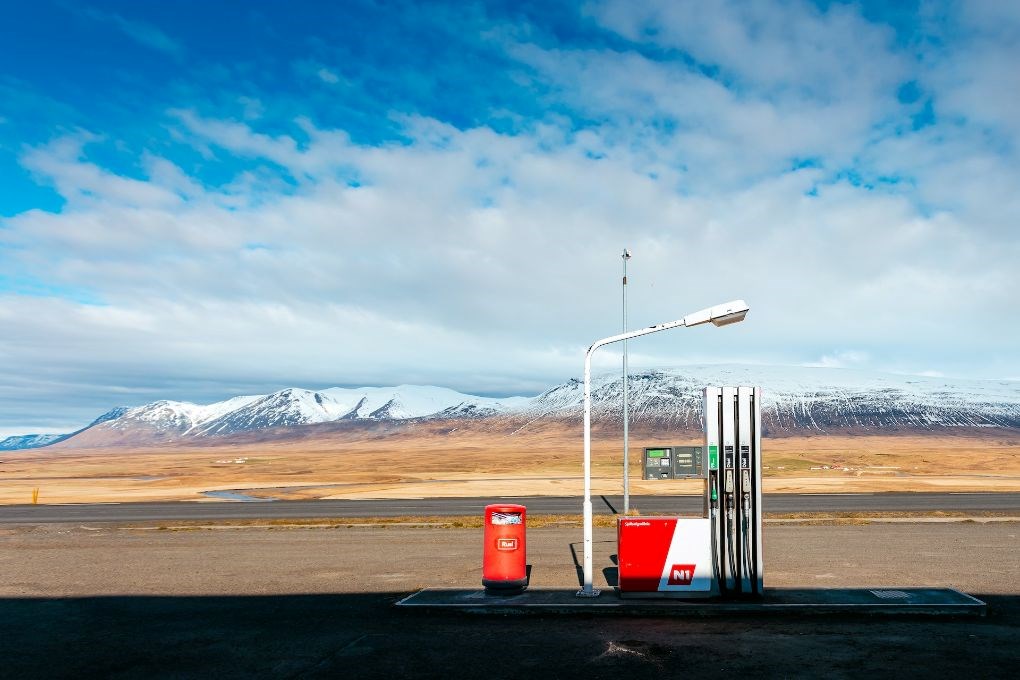 If you rent a car in Iceland, eventually, you'll need to fuel it up. Even if you're not planning on taking a full road trip around Iceland, it's still expected that you'll fuel up your vehicle before returning it to your rental provider.
So, whether you're travelling near or far, whether you're renting a traditional vehicle or an electric vehicle, what do you need to know about refilling your tank or your battery? 
Keep reading to find out…
How much Iceland gas stations charge for fuel

Where you can find EV charging stations in Iceland

How you can save money at Iceland gas stations

How gas stations in Iceland work 

And more! 
The Main Gas Stations in Iceland 
You likely have a few recognisable gas station brands in your home country, brands that you can find throughout most major cities. Similarly, Iceland has its own primary gas station brands that you'll find throughout the country, too. 
Our main fuel companies include…
N1

Orkan

OB

Olis

Atlantsolia
In addition to these major fuel corporations, you'll also find the occasional independently owned gas station, especially if you're travelling to a more rural part of the country. 
Here are the logos for these five, main stations, so you can recognize them when you're on the go: 

In addition to the above primary gas stations, you can also find one particular type of gas station that might already be familiar to you, depending on where you live: Costco! 
Iceland is home to a singular Costco and Costco boasts its own gas station, near Reykjavik. So, if you're already a Costco member, you can come to the Costco outpost in Iceland and fill up your rental vehicle. You'll appreciate Costco's savings when you get a look at fuel prices elsewhere!
How Do Gas Stations Work in Iceland? 
Most of the gas stations in Iceland are self-serve gas stations, which means that you're expected to pull up to the pump, get out of your vehicle and pump your own gas, rather than sit in your vehicle and wait for an attendant to pump the gas on your behalf which is standard in some areas of the world. That doesn't mean that every gas station in Iceland is self-serve, but most are.
If you're at a gas station with an attendant, the process will go much the same as it would anywhere else you might travel. The attendant pumps the gas for you, whatever amount you like, and then you pay for the gas with a card or cash. Attended gas stations are not typically open all day and all night, as an attendant must be on duty in order for the station to be open. 
In contrast, self-serve gas stations are typically open all the time, as there's no need for an attendant. You just get out of your vehicle, pay via card at the indicated machine, enter the number of your pump as you do so, and then pump your fuel. You'll also have to tell the machine just how much gas you intend to pump. If you end up not needing as much fuel as you anticipate, the machine will refund your card.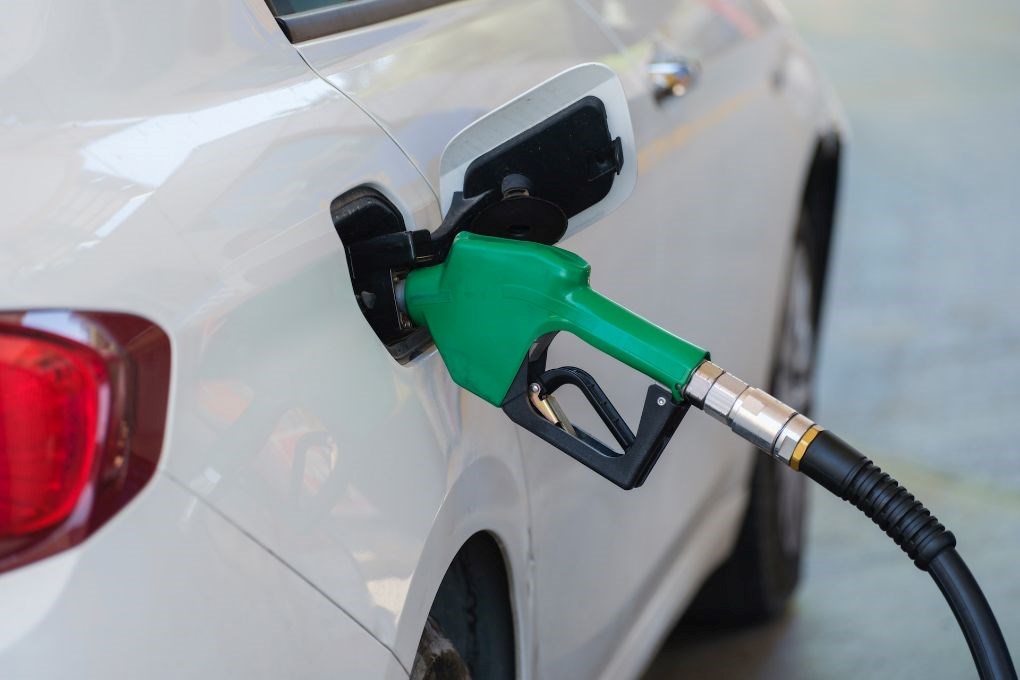 How Do I Pay at a Self-Serve Gas Station in Iceland? 
While we did just mention that you'll have to pay via card at a self-serve gas station in Iceland, it's also worth noting that you can't just pay with any card at these self-serve stations. Some require you to use a card that comes with a security pin number. If you don't have a card with a security pin number, you won't be able to buy your fuel.
So what do you do if you don't have one of these cards and you need to buy gas? 
Well, you have a few options. One, you can go to a full-service or attended station, which will accept most kinds of cards, as well as cash. You can also, ahead of your trip, contact your bank or card issuer and ask them if you have a pin number - it might be the case that your card does have one, and you just don't know it. You might also purchase prepaid gas cards, either before or after you arrive in Iceland. You can find prepaid gas cards throughout the country, available for purchase in a range of stores. 
Where to Find Gas Stations in Iceland 
So you're planning out your route for your Iceland road trip. You don't want to get caught in a bind, so you're trying to ensure that you only take routes that will include gas stations along the way, so you can always fuel up when you need to. 
If this sounds like you, there's good news. While Iceland may be known as a relatively remote and rugged destination, filled with vast wilderness, you can still find gas stations in all of our towns and villages, and more of them particularly the closer you stay to Reykjavik. Additionally, there are a lot of gas stations along Route 1, aka the Ring Road, because it's such a heavily trafficked route and the main road traversing the entirety of the country. 
The only times you might worry about not being able to find a gas station when driving around Iceland? If you head to the Westfjords, Eastfjords or North Fjords. These areas of the country are more remote, so you'll only find gas stations in the actual towns, and those towns can be quite far apart. For this reason, it's always a good idea to fuel up whenever you get the chance, and not risk it. 
Similarly, if you're low on fuel even while travelling along the Ring Road, it's still a good idea to fuel up whenever the opportunity arises. Sometimes, you'll go 100 kilometres (or about 62 miles) on the Ring Road before seeing another station, and you don't want to be caught unawares, low on fuel. 
The only area of Iceland with absolutely no gas stations? The Highlands. This rugged area is only accessible during a few months of the year, in the height of summer, with a 4x4 car via F-roads. If you plan on visiting the Highlands, you'll need to plan accordingly, both in relation to having extra fuel and other supplies on hand, as well as to renting the right car for your trip.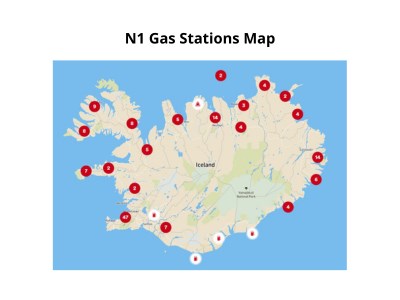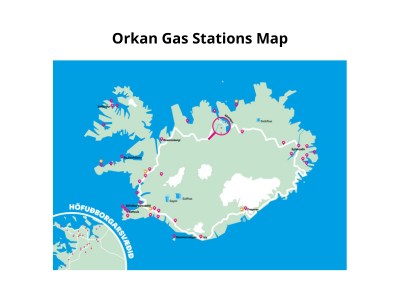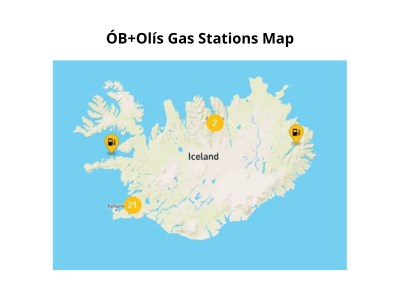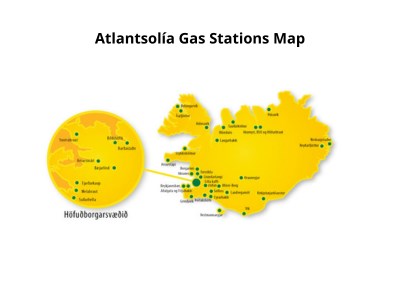 How Much Does Fuel Cost in Iceland?
Just like your gas prices at home, the gas prices in Iceland vary depending on a range of factors, including demand and the economy. As of October 2023, the average price is 320 ISK/litre (or $2.32 USD or 2.20 EUR) for both gasoline and diesel. A litre of gasoline is equivalent to about a fourth of a U.S. gallon.
If you're trying to budget for your Iceland road trip and want to know what to expect for gas prices, check this website right before your trip. You can also use this Iceland gas stations fuel price website to look at the cost of fuel in Iceland and how it fluctuates based on what area of the country you're travelling to, just like you might pay more for gas in your country's biggest city than you would in a small town, it's the same in Iceland. 
Where is the cheapest gas station in Iceland? 
We already mentioned that the single Costco outpost in Iceland, near Reykjavik, is a great place to find good deals on gas. However, as you might know, in order to buy gas at Costco, you do need a Costco membership (which comes with an annual fee).
If you don't have a Costco membership, another place known for its affordable gas prices is one particular gas station near Reykjavik — an Orkan station on Bústaðavegur Street. Check this website to find the cheapest gas and diesel prices, based on your region, whether that be the Capital area, Southwest, South, East, North, West or Westfjords. 
Other Things You Need to Know About Iceland Gas Stations   
Make the most out of your stops at Iceland gas stations during your road trip. Here's how and what you need to know.
You can get fuel discounts
You likely don't want your entire travel budget to be eaten up by fuel costs. Luckily, there are some easy ways that you can save money on gas in Iceland, like by taking advantage of fuel discounts.
If you're renting with Lava Car Rental, your rental car will come with two keychains marked with the OB, Olis and N1 gas station logos. These keychains can be used when you fuel up at any of these three types of stations, and you'll get a discount when you do so. Not sure how to use the keychain to get your discount? Just ask the station attendant. They'll be happy to show you how it works.
Many Iceland gas stations offer free self-service car wash stations
When driving in Iceland, you'll come across a fair number of dirt and gravel roads, which can really make your car dirty. Even snowy roads result in a large amount of dirt and debris, which can then make your vehicle look worse for wear. Not only that but this dirt and grime can make it difficult for you to see out of your windows and windshields. You may also find that with all of your sightseeing and hopping in and out of your car, the dirt and grime end up rubbing off on you, too! 
The good news, though, is, if you feel the need to wash your vehicle during your road trip, you'll find that many gas stations offer free, self-service car wash stations. That's right! They're totally free!
Stock up on food and groceries at Iceland gas stations
You may know of a gas station as a convenient spot to stock up on snack foods for your road trips, maybe some crisps or other junk food — but you can actually find far better food at Iceland's gas stations! Fresh food is available at many gas stations and you'll even find an Icelandic culinary specialty at some: hot dogs! Really, you have to try it — tourists love Iceland's hot dogs.
So, if you're feeling a bit hungry during your road trip, stop over at a gas station and fuel up not just your car, but yourself, too.
Want to save even more money on your Iceland road trip? Make a stop at a grocery store before you head out on the road, and stock up on food you can prepare yourself.
Know the difference between diesel and petrol 
You may come from a country where most cars use primarily gas, or petrol, but when renting a car in Iceland, you'll want to be extra, extra careful, and not assume that your car is naturally going to take petrol. Some rental cars will take diesel and if you use petrol in a diesel vehicle (or vice versa), you could find that your car breaks down, you end up with some fees from your rental car service, and your road trip is cut short.
Before you stop over to fill up your vehicle, look at the rental agreement and verify whether the vehicle takes diesel or petrol. Then, if you're pumping the fuel yourself, double-check that you're pumping the right type of fuel. At all Icelandic gas stations, the petrol or gas pump will feature a green handle. The diesel pump will feature a black handle (see below). 
Where to Find Electric Charging Stations in Iceland 
If you plan to rent an electric car in Iceland, you'll want to know exactly where you can find charging stations throughout the country. Charging stations aren't as plentiful as gas stations in Iceland, and if you can't find one when you need one, you could find yourself stranded. 
There are four primary types of charging stations throughout the country: Isorka, ON, Charge and Drive and Tesla Supercharger stations. 
It's particularly easy to find ON charging stations because all you need to do is look at the ON app, which will tell you where your nearest charging station is, as well as its status. You can also use PlugShare to find other charging stations. Do note that if you're particularly looking for a Tesla Supercharger station, there are only eight in Iceland, though there are more planned.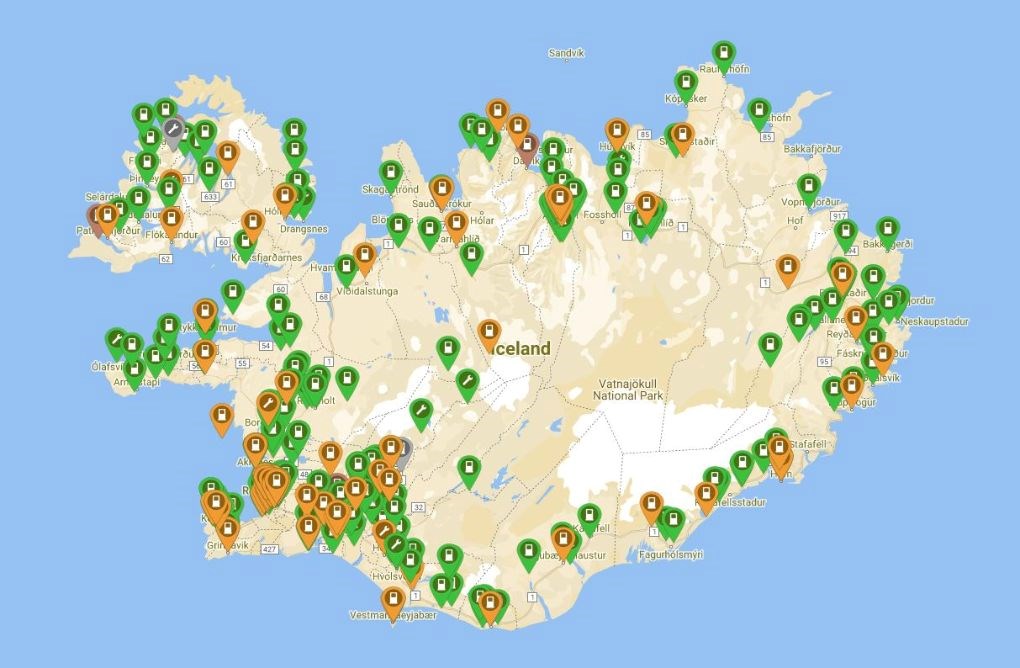 How to Charge an Electric Car in Iceland
While you might not want to wait until you're on a road trip in a foreign country to try driving an electric car for the first time if you do rent one for your Iceland road trip and you're unfamiliar with how to charge one, rest assured that it's relatively easy.
The main thing to remember? Charging an electric car takes time. You can't just pull up, fill up your car with more energy, and then go. You'll have to actually wait for your car to charge, which is why it's best to charge your car while you're doing something else — like staying overnight somewhere or spending a good amount of time sightseeing on foot. Depending on your car and its needs, you might need to wait anywhere from six to 10 hours for it to fully charge. 
Otherwise, though, there's nothing extra you need to worry about and the process is pretty self-explanatory. Just pull up to the charging station and plug up your car.
How much does it cost to charge an electric car in Iceland?
So how much will it cost you to charge up your electric rental car when driving around Iceland? 
In 2023, prices per charge type at a rate of ISK per kilowatt hour were: 
Regular Charge (AC 22 kW): 25 kr/kWh or $0.18 USD/kWh or 0.17 EUR/kWh

Fast charge (DC 50 kW): 50 kr/kWh or $0.36 USD/kWh or 0.34 EUR/kWh

Fast charge (DC 225 kW): 65 kr/kWh or $0.47 USD/kWh or 0.45 EUR/kWh
How do I pay for charging an electric vehicle in Iceland?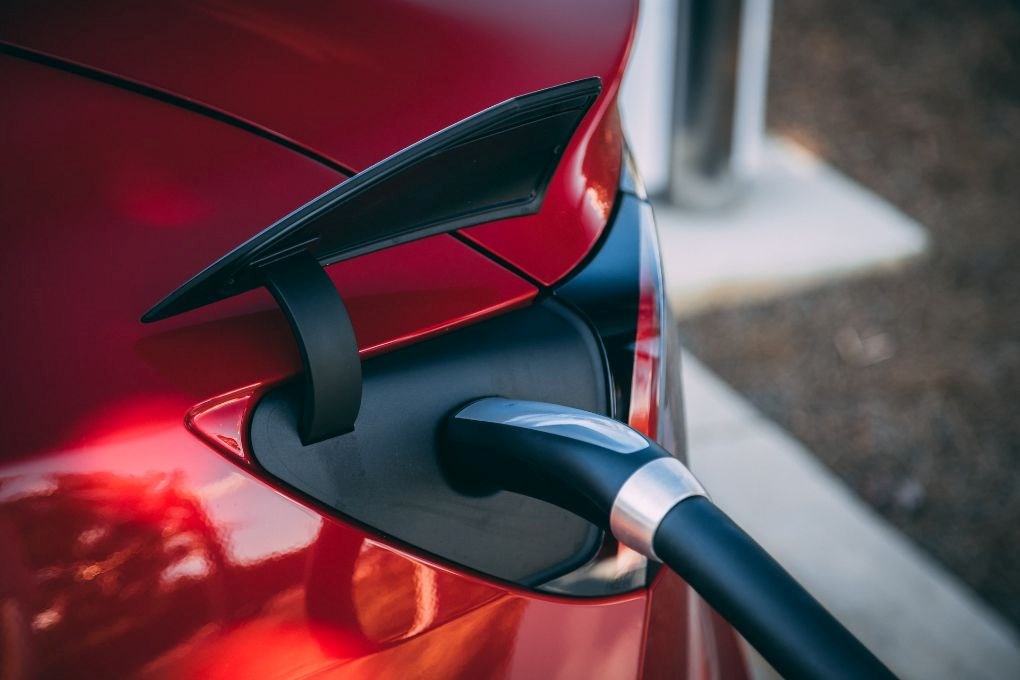 Beyond how much it will cost you to charge your electric rental vehicle in Iceland, how do you actually go about paying for the charging? You have two options.
You can do so via an app, if you plan on charging with either Isorka or ON, one of the two main providers. These apps also come in handy in showing you nearby charging stations!
Or, you can rent a Tesla with Lava Car and book the Tesla Supercharge option. This will give you free charging at any of the eight Tesla supercharging stations located throughout the country.

Ready to Get on the Road? 
Ready to get on the road and see Iceland via a road trip? Fuelling up for your adventures is easy — so long as you're armed with the above knowledge on how to get around Iceland and use the country's various fuel options, whether you're driving a traditional or electric vehicle. 
When you're ready to book your Iceland road trip, be sure to explore the various options offered by Lava Car Rental and pick the perfect rental for your needs. 
Need more tips for driving around Iceland? Check out our guide to parking in Iceland.