The 11 Most Famous Iceland Volcanoes and How to Visit Them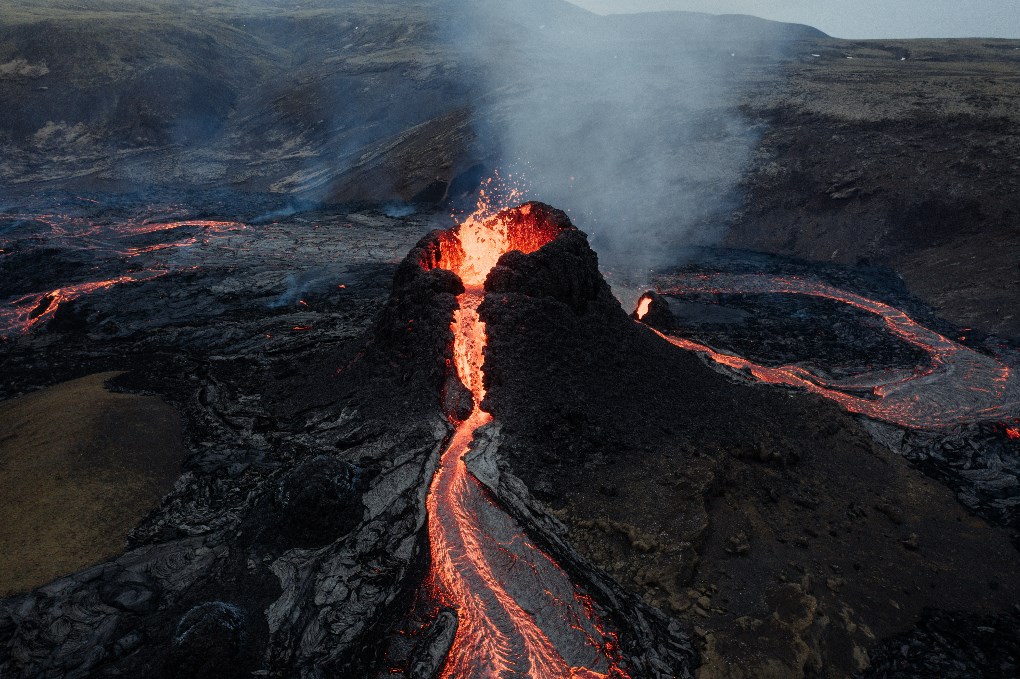 Click here for updates on the recent volcanic activity in Iceland
Ready to see Iceland's most famous volcanoes for yourself? Here are our Top 11 volcanoes in Iceland. Some are easy and quick to see during a road trip around Iceland (or a self-driving trip around certain regions of Iceland), while others require a little more leg work and possibly a guide, but all are worth a visit.
One of Iceland's main tourist draws is all of our beautiful volcanoes. But don't think that you have to book a high-priced or boring multi-day tour to see Iceland's volcanic action. One of the best ways to visit Iceland's volcanoes is by simply driving to them. Visitors can easily drive to many of the volcanoes around the country, so long as they know where they're going and they're properly outfitted with the right rental car to get them there. 
We have the rental cars, as well as the advice and tips for how to visit Iceland's volcanoes by car, so all you have to do is show up and start adventuring. Keep reading to start planning. 
But first, a few key facts.
How many volcanoes are there in Iceland?
There are about 130 volcanoes scattered across the country, but not all are active. There are only about 30 active volcanoes in Iceland and most of those are outside of the Westfjords.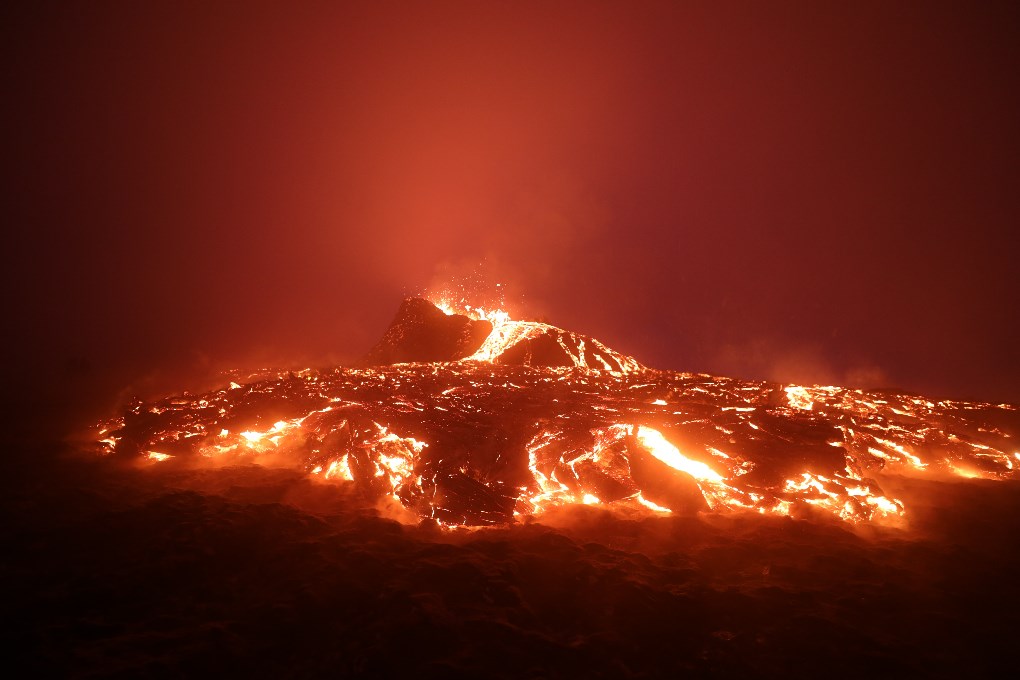 Why are there so many volcanoes in Iceland? 
Iceland's volcanic nature all comes from its geography. Iceland sits on the Mid-Atlantic Ridge, which separates the North American and Eurasian tectonic plates. These plates naturally pull away from one another over time and, as they shift and move, magma comes up from beneath the Earth and you get a volcanic eruption. 
Many travellers come to Iceland specifically to see the Mid-Atlantic Ridge, as Iceland is one of the few places where you can visibly see it on the Earth. Popular spots to see the Ridge include the Lake Myvatn area, Thingvellir National Park in the Golden Circle of Iceland, and the Reykjanes Peninsula.
How often are Iceland's volcanoes active?
Iceland's volcanoes are active on a consistent basis, with a new eruption or "volcanic event" occurring about every five years or so. Those last 3 years are exceptional as we experienced 3 eruptions in 3 years. The most recent eruption occurred in July 2023 when the Fagradalsfjall volcano erupted on the Reykjanes Peninsula. Before that, the most recent eruption was in August 2022 and in March 2021 at Fagradalsfjall volcano as well, the Bardarbunga / Holuhraun in the Highlands in 2014 and, before that, there was an eruption in 2011 at the Grímsvotn volcano.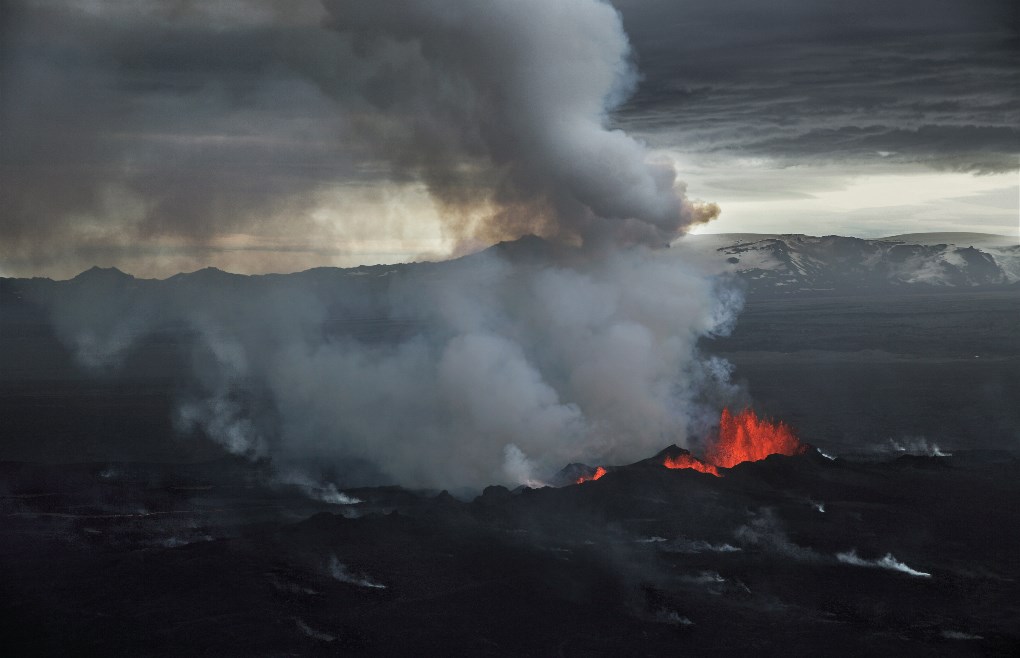 Where are Iceland's active volcanoes?
The Fagradalsfjall volcano has been getting a lot of attention from travellers most recently, as its eruption was quite a surprise. It was the first volcano to erupt within the Reykjanes UNESCO Global Geopark in approximately 800 years! 
However, the most active volcano, and possibly the most overall famous, is Mount Hekla in South Iceland. It hasn't erupted since 2000, though. Other active volcanoes include Krafla, Katla, Askja and Grimsvotn.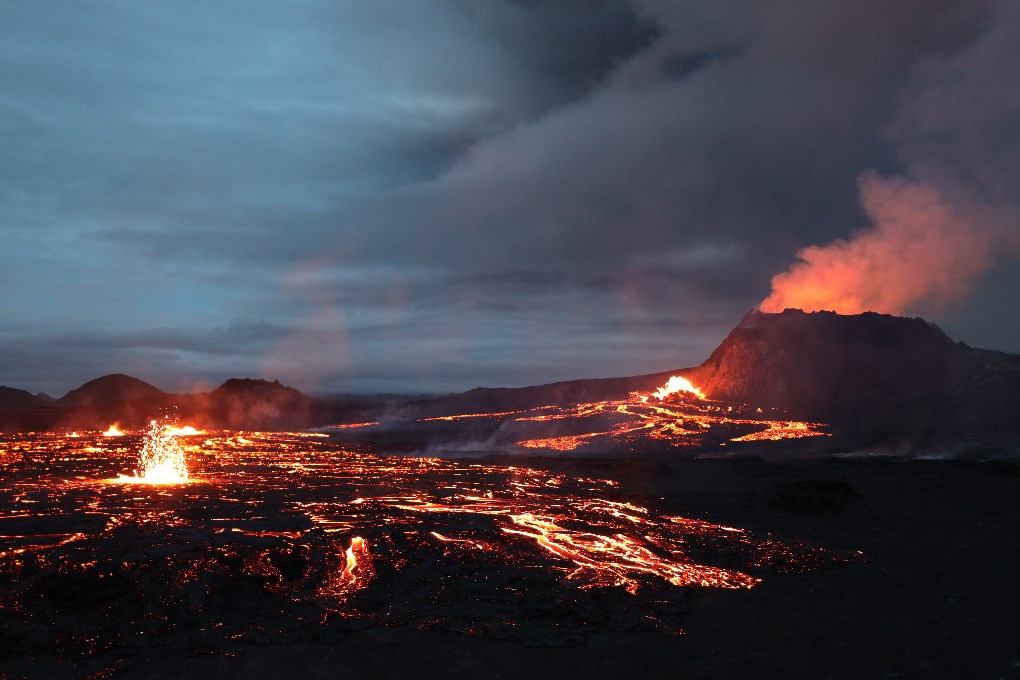 How can I visit the volcanoes in Iceland?
While there are guided tours themed around visiting the volcanoes that are available to travellers, you don't need to sign up for a tour to visit them all. There are many Icelandic volcanoes that you can see on your own, during an Iceland road trip or self-driving tour. However, for some of the volcanoes, if you want to do more than see them from afar (such as, for example, actually walking inside of the volcanoes, or hiking up to the top), you will need to book a guided experience, for safety purposes. 
Regardless of which volcano you're visiting, though, if you do choose to visit them by yourself, just be careful, use common sense and always check safetravel.is before visiting any volcano, in case there's any volcanic activity you should know about. 
Top 1 volcano to visit: the 2023 Fagradalsfjall Eruption in Iceland called the Litli-Hrútur eruption
As already alluded to, the Fagradalsfjall eruption got a lot of attention as the eruption occurred on the 19th of March 2021 and in August 2022 again and again in July 2023: it was quite a surprise. This particular volcano is located on the Reykjanes Peninsula, near both Reykjavik and Keflavik Airport, making it easy for travellers to visit. In fact, Fagradalsfjall is now one of the main things to do near Keflavik Airport. Thankfully, even though the volcano is near some of Iceland's busiest and most populated areas, it's still within a sheltered valley that sits away from infrastructure that could be potentially harmed by an eruption, making the volcanic event relatively non-disruptive.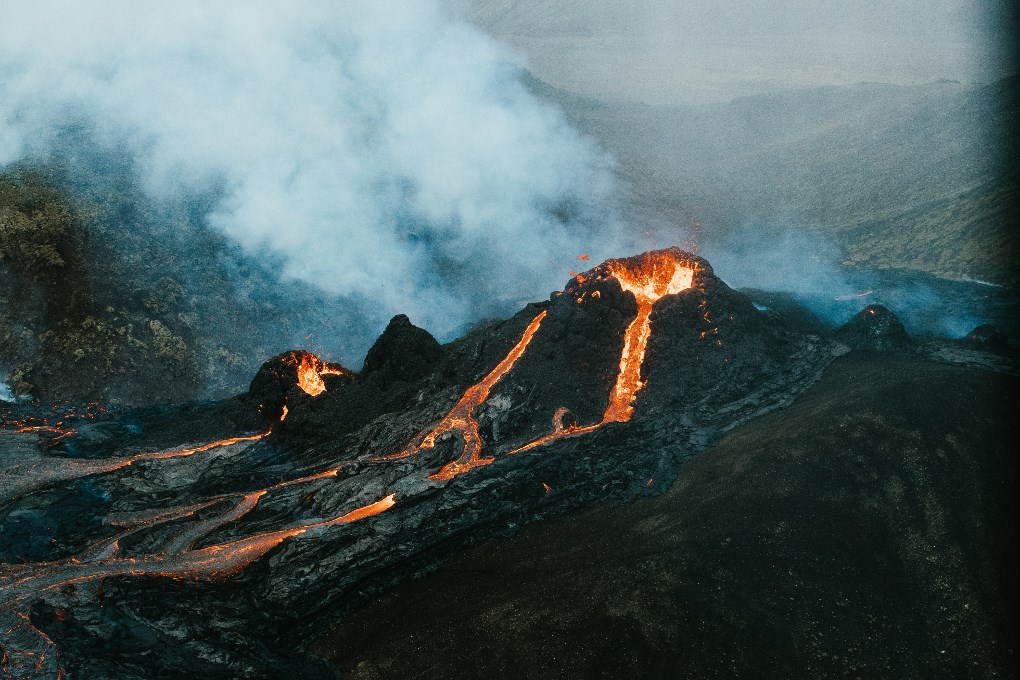 Can you visit Fagradalsfjall?
Yes, you can visit Fagradalsfjall, but you will need to hike to see it. The hike is on the strenuous side, so be prepared, bring your hiking boots and, overall, avoid the trek if you either have breathing problems (which can be aggravated by the gas pollution emitted by the volcano) or are out of shape. If, though, you're physically fit and have no breathing problems, you can feel safe to visit, regardless of age.
You can learn more about the hike (which changes according to the lava flow on any given day) and gas pollution/weather conditions at the ranger office located at the volcano entrance.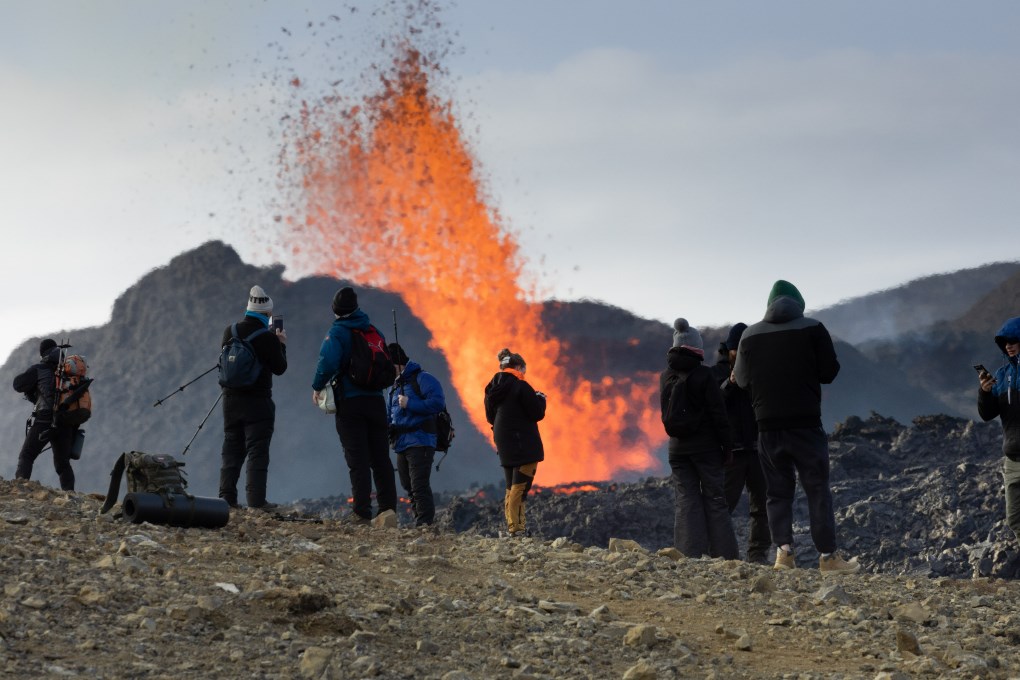 How do you get to Fagradalsfjall? 
Getting to Fagradalsfjall is easy, especially if you're coming from Keflavik Airport or Reykjavik. However, if you want to see this latest erupting volcano in Iceland, you will need a rental car (or to hire a tour guide that will take you to the volcanic area via car or bus). 
It's simply impractical to hike to the eruption from Grindavík or Reykjavík. Grindavík is a several-hour hike away, and Reykjavik is even further away. Even though Keflavik Airport is about a half-hour away, and there is no public transportation available that will take you to the site (public transportation in Iceland in general is scarce). 
Your only other option if you don't want to drive to Fagradalsfjall? If you really want to go all out, with a one-of-a-kind experience, you can see Fagradalsfjall via helicopter, with service from Reykjavik. 
If you plan to rent a car and drive to the site yourself, then we suggest you stop by the volcano either at the beginning or end of your trip, either before you return your rental car or after you first pick up your rental car. (And any rental car will do, as you will simply drive to a paved parking area, park, and then hike the rest of the way to the volcano.) 
To see the impact of the most recent, July 2023 eruptions, you'll park in the same area that was used by travellers coming to see this Iceland active volcano over the last few years. 
There are two separate parking lots (though we suggest you park in lot P2 if you plan to hike to the eruption site) and both lots are paid, at the same rate of 1,000 ISK or about $8 USD or about 7 Euro. Once you've paid for your parking pass, it's valid for 24 hours. 
Both parking lots are privately owned. Do note that it is illegal to avoid the parking lots and attempt to park on the roadways leading up to this active volcano in Iceland.
Driving directions to Fagradalsfjall
In order to reach Fagradalsfjall by car, you'll likely drive from either Reykjavik or Keflavik. 
If driving from Reykjavik, take Route 41 toward Keflavik, then turn on Road 43 to Grindavik. Once in Grindavik, turn left on Route 427 and follow the road to the parking lot for Fagradalsfjall. Once there, you can pay your parking fee either online, at parka.is, or via a QR code available on-site.
If driving from Keflavik, you have two options that, together, form a circle (if you have a bit of extra time and want to get in a quick little Iceland road trip, go one way to get to the erupting volcano and the other way to go back to Keflavik). 
The first route takes you along Route 41 toward Reykjavik, after which you'll turn on Route 43 to Grindavik, turning left on Route 427 and travelling until you reach the parking lots. 
The second route, however, takes you along the Icelandic coast. You'll take the Route 41 signs toward Reykjavik, but then turn right on Route 44 toward Hafnir. Then, take Route 425 toward Grindavik, followed by Route 427, until you get to the parking lots.  
Once you're at the site, there are no services or amenities, so plan accordingly. You may want to stop during your drive to use the restroom, buy drinks or snacks and get anything else you need, in Grindavik.
How to hike to Fagradalsfjall
As this Iceland volcano erupts for the latest time, some of the hiking paths have changed. If you want to see the latest Iceland volcano eruption, don't expect to follow the prior years' hiking trails. Here's what you'll need to do instead. 
Follow Path E to see the latest volcano eruption in Iceland
The new hiking path to the latest Iceland volcano eruption is "Path E" from the parking area. The path is, in total, about 18–20 kilometres, or 11–12.5 miles. As such, traversing the entire path will take you about five to six hours, if you're in good shape and if you're not taking a lot of breaks to enjoy the scenery.
Overall, the hiking path is only strenuous and challenging in spots. A good portion of the path is gravel and then the last two kilometres, or just over the last mile, is rocky. 
If you decide to take this hike, do prepare accordingly by wearing hiking shoes and appropriate clothing, and by bringing plenty of water for your hike. Additionally, always stay on the path and be aware that these hiking paths can be abruptly closed as the lava flow changes. If you're concerned about the safety of the area at any time, check in with authorities and keep an eye on safetravel.is. 
Follow Path C to see all Iceland's recent volcano eruptions at once
If you want to see the 2023 volcano eruption, as well as those from 2021 and 2022, you can follow one particular path that gives you a view of all three sites. Path C is about 8 kilometres (5 miles) round-trip. While the views aren't as up-close, they are more all-encompassing. Plus, if you want to take a shorter route, this path will save you time.
Check out your other hiking options
There are still hiking routes that will take you only to see the nearby eruption sites from 2021 and 2022. From the parking area, Path A, which takes you to both sites, is about 12–16 kilometres round-trip (or 7.5–10 miles), and takes about four to five hours of hiking. 
Is Fagradalsfjall still erupting today?
No, this volcano is no longer erupting.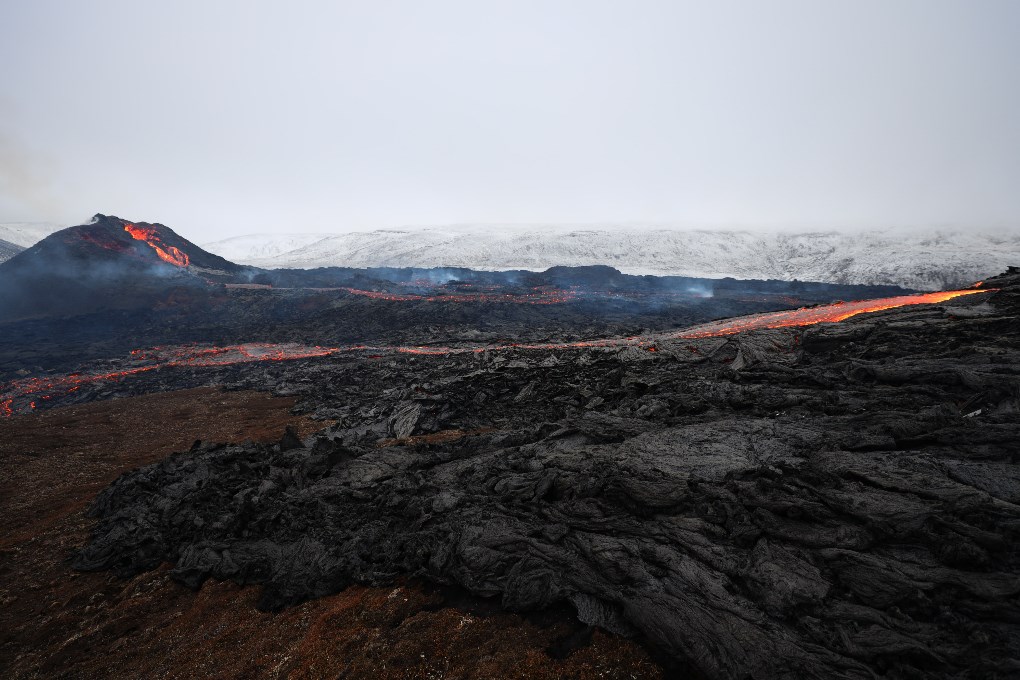 Top 2 - Eyjafjallajokull volcano
If you recognize Eyjafjallajokull's name, it's because this ice-cap-covered glacier volcano was the very same volcano that disrupted air travel in 2010. Today, Eyjafjallajokull is no longer a worry to air travellers, but you can still see some of the remnants of its 2010 action in the Thorsmork Glacier Valley. 
There, you'll see ash-covered ice caps and craters. Snowmobile tours are available, as are guided hikes (and this is one situation where you will want to schedule a guide for a hiking excursion, as hiking at Eyjafjallajokull can be dangerous) and super jeep tours. 
To visit Eyjafjallajokull, drive along the South Shore, driving east along Route 1 from Reykjavik. You'll see the mountain range as soon as you pass Hellisheidi Heath.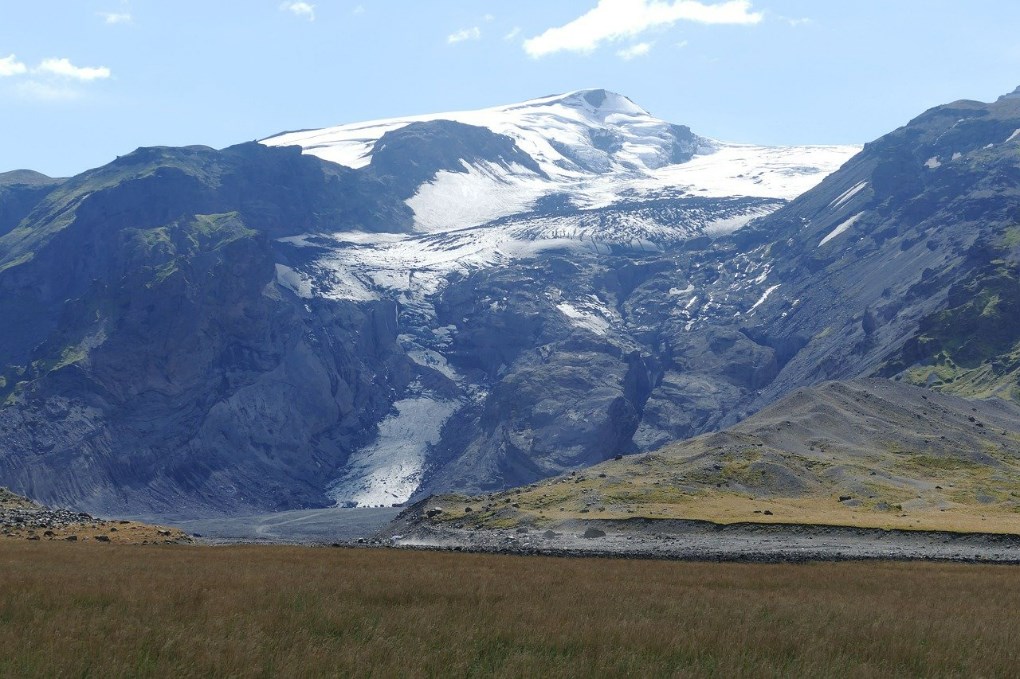 Top 3 - Thrihnukagigur volcano
Thrihnukagigur is especially interesting and worthy of adding to your Iceland volcano road trip itinerary, as it's the only volcano in Iceland (and in the world!) that you can actually go inside. There's a magma chamber within the volcano that you can walk through, via a mining elevator. You take the mining elevator down to the magma chamber and can explore from there. The size of the chamber is similar to that of a football field. 
A guided tour is required to enter the magma chamber, though. You can take a rental car or a tour shuttle to the tour meetup point, in Blafjall, outside of Reykjavik.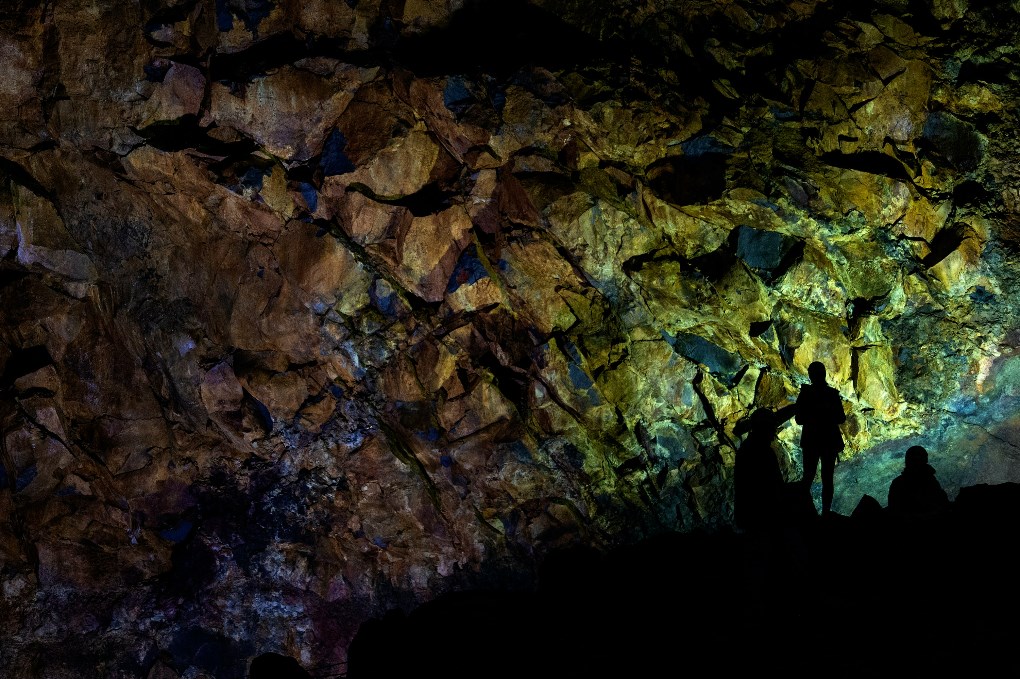 Top 4 - Grimsvotn volcanoes
Grimsvotn is known as Iceland's deadliest system of multiple volcanoes, as it's one of the most volatile. The volcanoes exist beneath the Vatnajokull Glacier, so they're not as easy to spot, but, when the volcanoes do erupt, much like with Eyjafjallajokull, the ash clouds are incredibly disruptive to the entire world. In fact, one of Grimsvotn's past eruptions, in 1783, resulted in famines all over the world (the resulting famine in Egypt decimated the population by one-sixth) and weather disruptions that caused deaths all over Europe. The last Grimsvotn eruption occurred in 2011.
Seeing Grimsvotn requires an air tour, which we can assist you in the booking. The tour departs from Skaftafell Natural Reserve, making it an easy addition to a self-driving trip to Iceland's South Coast. 
Top 5 - Hekla volcano
Also known as the Gateway to Hell, Hekla is a powerful volcano that's one of the most famous in Iceland. Heavily active, Hekla has been consistently erupting since 1104, with the most recent eruption occurring in 2000. In folklore, Hekla is known literally as a spot where souls go down to the afterlife. 
You can visit Hekla for yourself by driving on Route 1 to Road No. 26, which will take you north to Road No. F225. From there, you can drive east, following signs for Hekla. Since seeing Hekla requires you to travel along F-roads, you will need to rent a 4x4 vehicle to get there. The trip from Hekla to Reykjavik only takes about 90 minutes and it's a convenient stop along any Golden Circle road trip.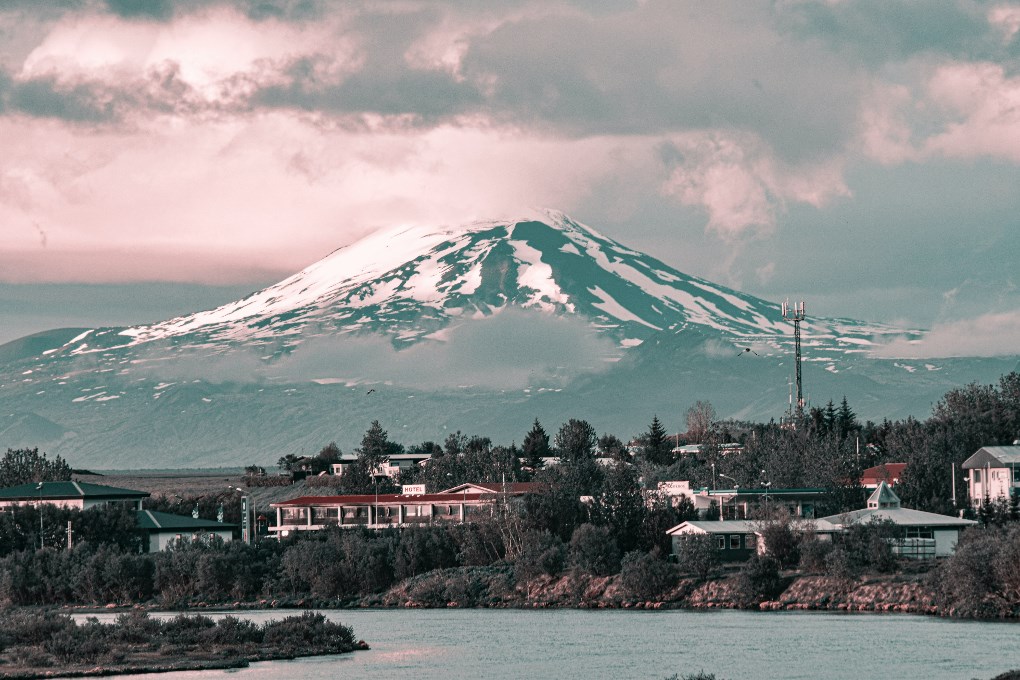 More info about F-roads can be found here.
Top 6 - Katla volcano
Katla is Eyjafjallajokull's explosive neighbour. Another glacier volcano, it last erupted in 1918, causing massive flooding. Now, Katla is more so known as a filming spot for Hollywood movies such as Rogue One: A Star Wars Story. Once you see Katla and the surrounding landscape, you'll see why it's a popular pick for sci-fi settings!
To reach Katla, you'll want to drive from Reykjavik, along the South Coast on Route 1. Drive through Hveragrdi, Selfoss, Hella, Hvolsvollur and Vik, until you reach the edge of the Myrdalsjokull and Solheimajokull Glaciers. Getting to the glaciers from there requires a guide, who can take you into the Katla ice cave (a can't-miss Iceland experience on any South Coast road trip!). Most guided tours will meet you in Vik, which you can reach via rental car, from Reykjavik.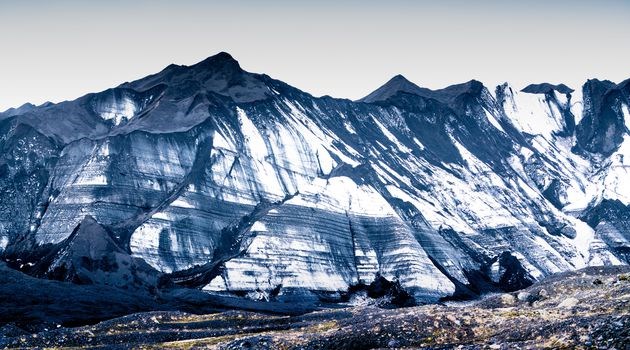 Top 7 - Snaefellsjokull volcano
One of the most popular for visiting travellers, Snaefellsjokull sits on the Snaefellsnes Peninsula, making it easily accessible from Reykjavik. Visiting Snaefellsjokull is incredibly easy. All you need to do is drive to Snaefellsnes in West Iceland, where you can see the volcano at the end of the peninsula (and on a particularly clear day, you can even see the volcano from Reykjavik!).
If you're feeling adventurous, you can join a guided tour to hike up to Snaefellsjokull's summit or climb the volcano on a snowcat excursion.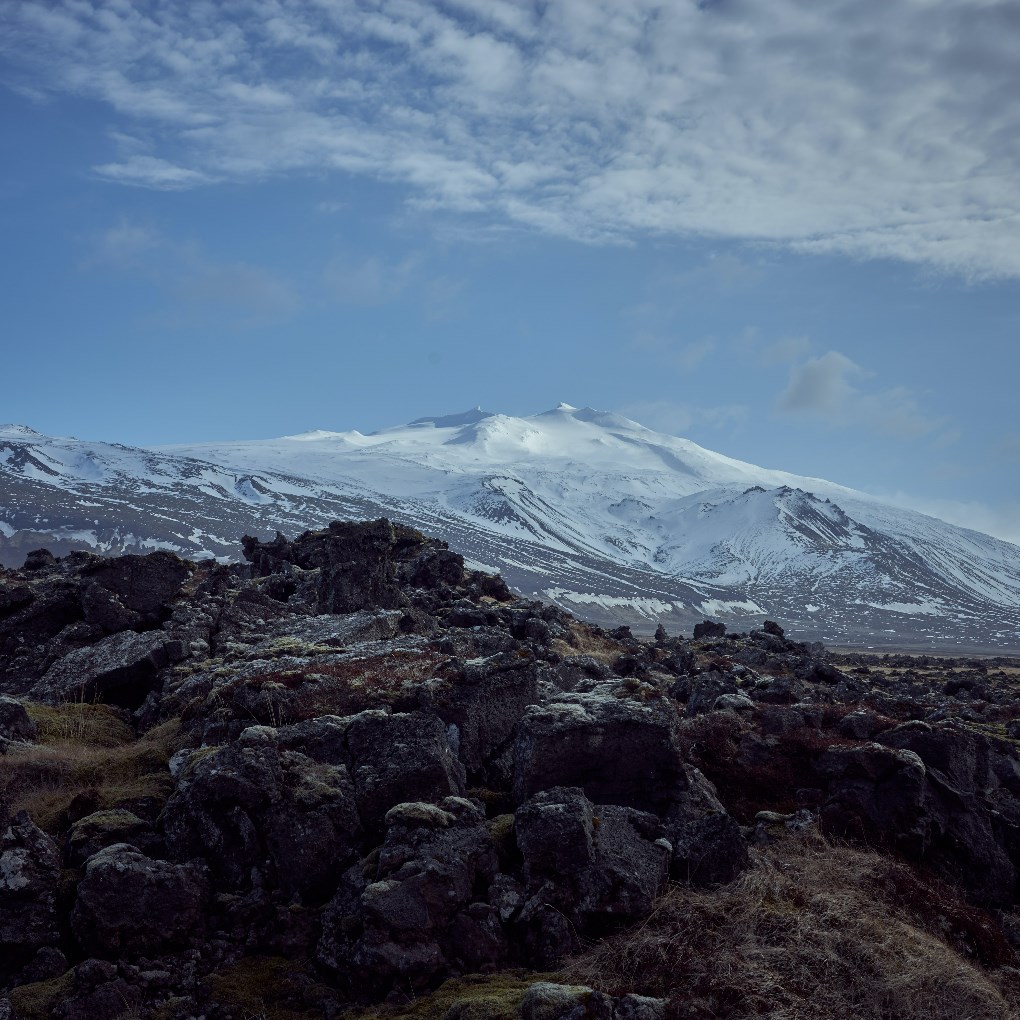 Top 8 - Askja volcano
Askja is Iceland's hot spring volcano. Only first coming to attention in 1875, when an eruption impacted all of Iceland and even other Scandinavian countries such as Norway and Sweden, Askja is now most known for its huge caldera lake, as well as its surrounding hot springs. 
Located in the Highlands, Askja is only accessible from May through September and via the Icelandic F-roads, so you will need to rent a larger 4x4 vehicle (we recommend the Toyota Land Cruiser) to visit it. Once you have your 4x4 vehicle, you can take Route 1 from Reykjavik, past Akureyri and Myvatn, to Road 901. You'll take Road 901 to F905, to F910, until the road's end. You'll travel along the F-roads for about 83 kilometres, or about 50 miles, and traverse three river crossings along the way. 
If you're not up for that level of driving, you can book a guided Askja tour from Arnarnes. Airplane tours are also available.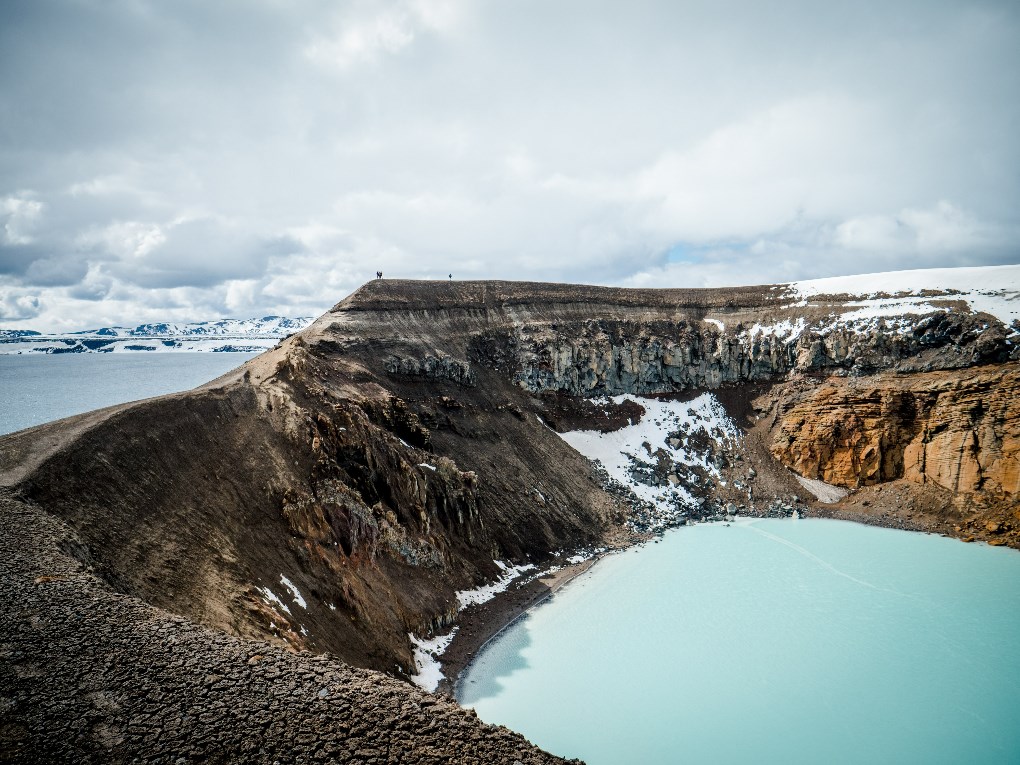 Top 9 - Krafla volcano
Krafla is known as Iceland's cold crater lake volcano. Located in northern Iceland, it, much like Askja, also features a caldera lake. However, while Askja's lake is warm and geothermally heated, Krafla's lake is cold and has a beautiful dark-green hue. 
Krafla is easier to reach than Askja, though, as you're not required to drive on the F-roads to get there. Just take the Ring Road clockwise from Akureyri, until you see signs for Krafla, then follow them left until you reach the volcano. If you're coming from Myvatn rather than Akureyri, you can likewise take the Ring Road until the Krafla turn off, at which point you'll turn left and drive until you reach the volcano.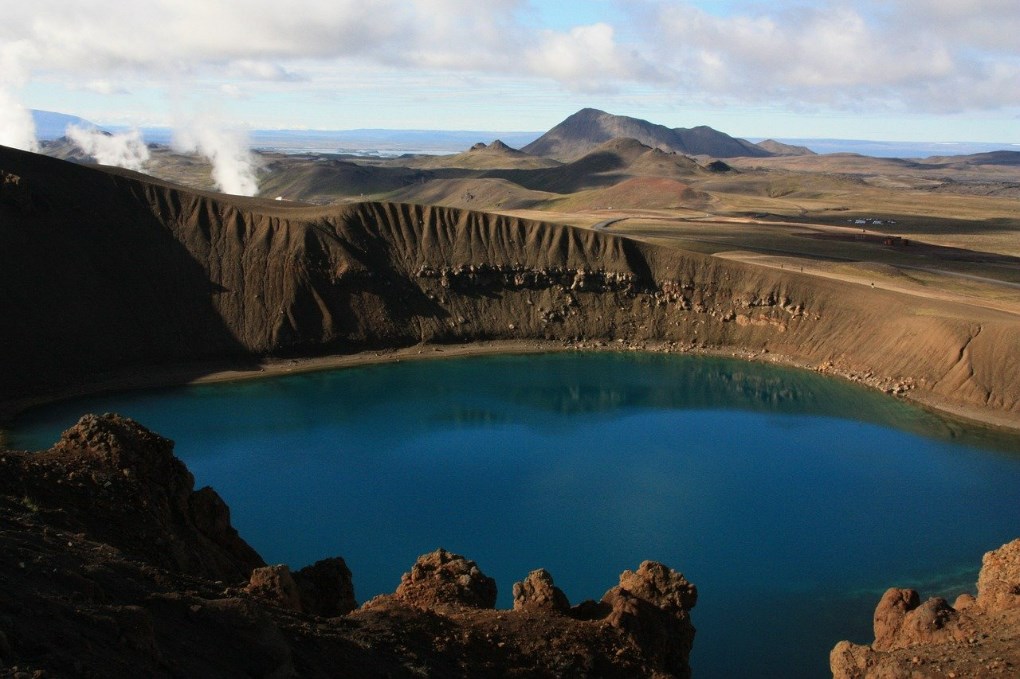 Top 10 - Bardarbunga volcano
Bardarbunga is notable for several reasons. It's not only Iceland's second-tallest mountain, but it's also Iceland's largest volcanic system. Situated beneath Europe's largest glacier, Bardarbunga also lays claim to the largest volcano eruption in Earth's history. However, it erupts very infrequently. That largest volcanic eruption happened nearly 9,000 years ago, and now Bardarbunga only erupts every 250 to 600 years, with the last one occurring in 1864.
Bardarbunga is located in a very remote area, about a few hours' drive away from Akureyri. For this reason, it's advised that you drive to Akureyri and then meet up with a guide from there. You definitely don't want to try driving up to the volcanic systems on your own, as the rough volcanic lava fields will thoroughly damage your rental vehicle, leaving you stranded.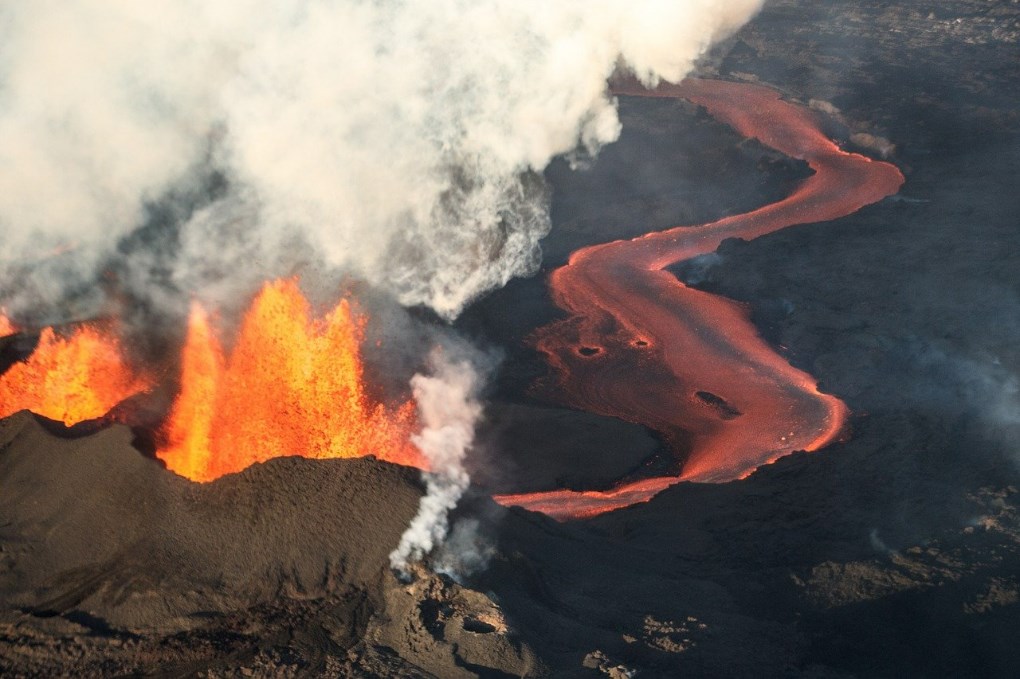 Top 11 - Eldfell volcano
Iceland's Fire Mountain, Eldfell is a famous volcano in the Westman Islands, which has since earned the nickname "Pompeii of the North." Eldfell erupted in 1973, requiring most of the islands' inhabitants to evacuate. A relatively new volcano, Eldfell is accessible via rental car. You'll just need to take your rental car on the ferry to the Westman Islands. Once there, you can explore everything else the islands have to offer, such as the Eldheimar Museum and the famed rock stacks.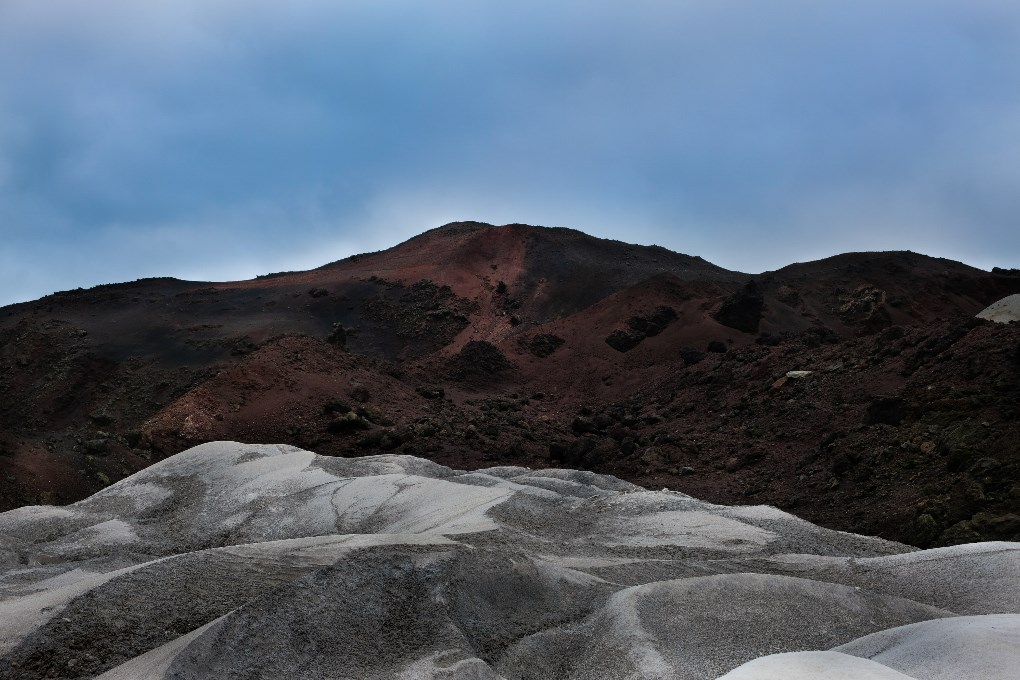 Ready to See Iceland's Volcanoes for Yourself? 
So, ready to see some of these amazing Icelandic volcanoes for yourself? With so many volcanoes and so many ways to experience and see them, visiting at least one or two from our list is a must for an Iceland itinerary. You can easily get around Iceland and see them all with the right rental car. Check out our full lineup of economy and 4x4 rental cars, as well as campervans, and stay tuned to the Lava Car Rental blog for more Iceland travel tips and advice. 
If you want to discover the Icelandic volcanoes, book your trip to Iceland. The best way to discover the island is to rent a car and hit the road. Book your car rental today!