Ultimate Guide to Visiting Dettifoss Waterfall in Iceland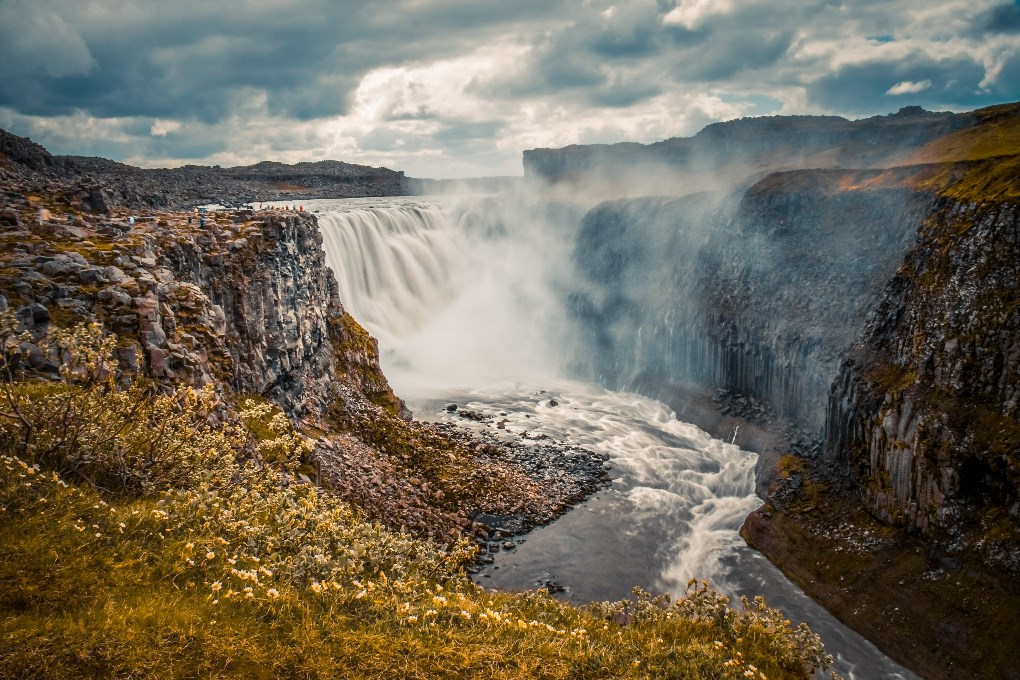 Iceland is well-known for its powerful and incredible waterfalls all around the country. They are, in fact, among the most visited natural spots in Iceland and attract travellers from all over the world. Each waterfall has something unique that makes it worth exploring, and Dettifoss is no exception. If you are planning to rent a car in Iceland and explore the most beautiful natural landmarks along the Ring Road, then you definitely should not miss Dettifoss in your itinerary. 
As the second most powerful waterfall in Europe, Dettifoss offers spectacular and breathtaking views. It will not let you down! Keep reading to learn more about Dettifoss waterfall, how and when to visit it, and local tips to make the most out of your trip to North Iceland.
What is Dettifoss waterfall?
Located in Northeast Iceland, Dettifoss is one of Iceland's most famous and stunning waterfalls. It is more known for its size rather than its appearance, given that it is considered the second most powerful and voluminous waterfall in Europe (some sources even refer to it as the first one): it measures 45 metres high and 100 metres wide! For this reason, Dettifoss is often referred to by some as "The Beast" in comparison to "The Beauty" of Godafoss, another incredible waterfall in North Iceland.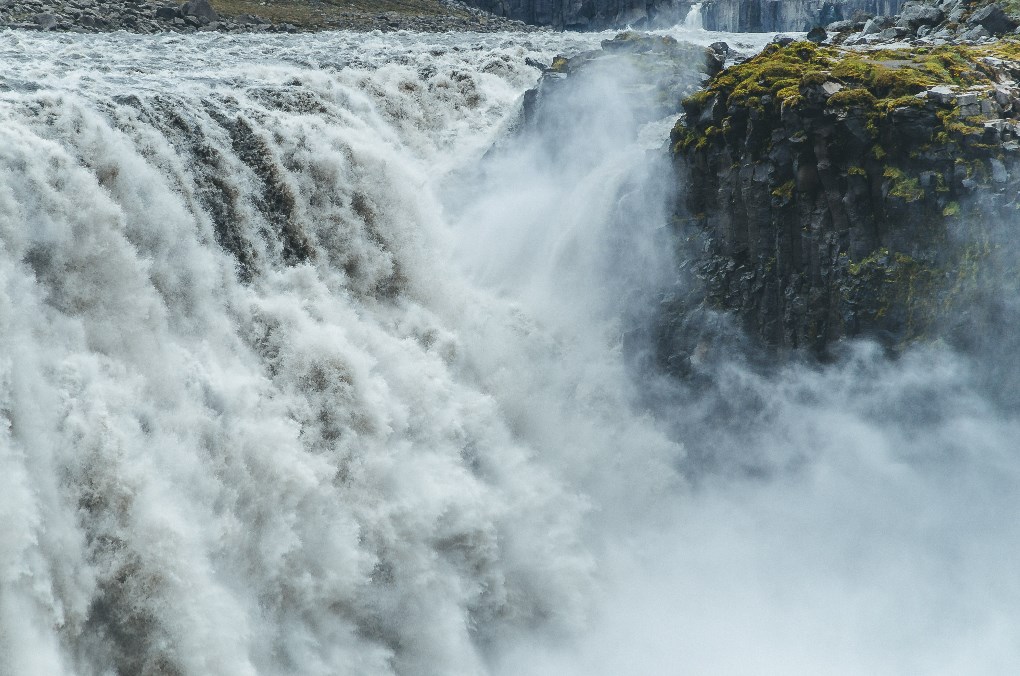 Dettifoss' waters come from the glacier river Jökulsá á Fjöllum, which flows from Vatnajökull glacier, the biggest ice cap in Iceland and in Europe. The waters that flow through Dettifoss are rich in sediments and they reach the Greenland Sea at the very end.
The name "Dettifoss" means "The Collapsing Waterfall" and, when you stand in front of it, you can understand why it is named like that. The waterfall falls down into a canyon as if it was collapsing, but don't be afraid of its name - visiting Dettifoss is completely safe as long as you follow the safety precautions (more about this below).
Where is Dettifoss waterfall?
As mentioned before, Dettifoss waterfall is located in Vatnajökull National Park in Northeast Iceland, up north from the Ring Road, the road that encircles the country. In this map you can see the exact location of the Dettifoss waterfall:
This powerful waterfall is located roughly 300 miles (482 kilometres) from Reykjavik, Iceland's most populated city, and it takes around 7 hours drive to get there. The closest city to Dettifoss is Akureyri, the Capital of the North of Iceland, which is only 95 miles away (150 kilometres) and 2 hours drive. As a base to visit Dettifoss, you may want to stay in Akureyri if you are driving the Ring Road clockwise.
Dettifoss waterfall is one of the sites that make up the so-called Diamond Circle of North Iceland, along with Húsavík, the Ásbyrgi Canyon and Lake Mývatn. The Diamond Circle is often considered the Golden Circle's brother in the North of Iceland and it attracts many visitors worldwide each year.
Can you drive to Dettifoss?
Absolutely! Dettifoss waterfall is within easy access by car so it is a convenient detour for those who are self-driving in Iceland around the Ring Road. However, the road conditions and the access to the waterfall change depending on the season so it is important to be prepared with the right car and check if the roads are open and safe to drive.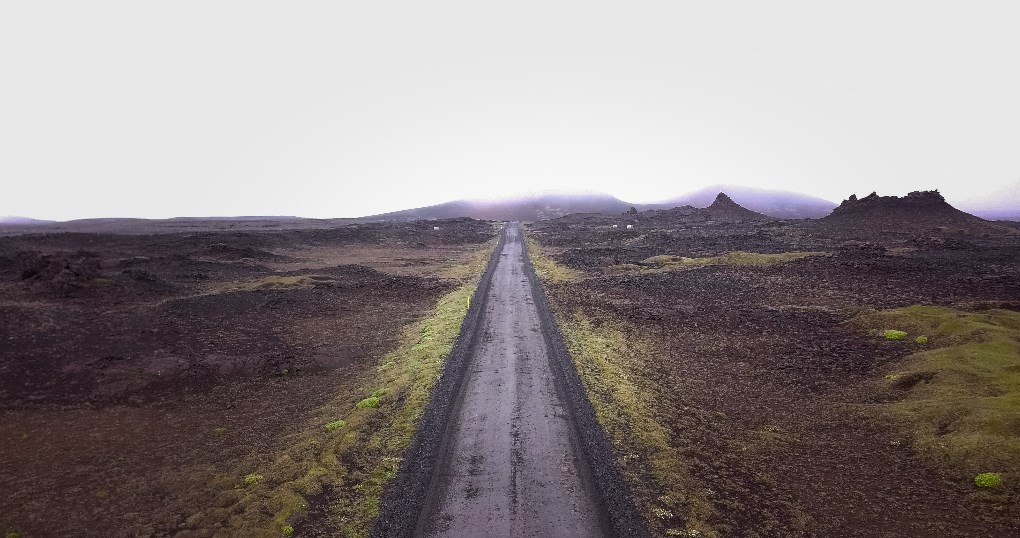 How do you get to Dettifoss waterfall?
If you travel to Dettifoss waterfall straight from Reykjavik city, the driving will take over 7 hours. However, we don't recommend this, since you will skip all the attractions along the route. The best way to get to Dettifoss waterfall is either from Akureyri, the largest town in the North of Iceland, which only requires a 2 hours drive; or on your way from the East of Iceland, before reaching Lake Myvatn.
To reach Dettifoss, you need to follow the Ring Road and then take the detour to the waterfall. It is possible to visit Dettifoss from two sides and there are two roads that lead to the viewing platforms.
Road 862 to Dettifoss Waterfall
Route 862 (paved road) will take you to the western side of the Dettifoss waterfall. The road is paved and usually open from April until December. If you're coming from Asbyrgi, the drive is about 30 minutes. If you're arriving from Reykjahlid, you will reach the Dettifoss parking lot in around 40 minutes. This route is suitable for all cars.
Road 864 to Dettifoss waterfall
Route 864 (unpaved road) will take you to the eastern side of Dettifoss. This road normally opens from the end of May until the beginning of October and is closed during the winter season, since it can be hazardous. Although it seems that you don't need a 4x4 vehicle, it is a gravel road with potholes and uneven terrain, so you need to drive carefully and very slowly.
In this map you can see both routes from Ring Road Route 1:
The drive from the west side to the east side takes about 1 hour and 10 minutes.
Regardless of the route that you choose, it is important to check the road conditions on road.is before heading to Dettifoss, especially if you're visiting outside of the summer season. As a general rule, if Route 862 is closed that means that the waterfalls can be dangerous and slippery, so it is not worth trying to find another way to get there.
Which side of Dettifoss is best?
That being said, the western side of Dettifoss is the easiest to drive because it has paved road 862 and is accessible for all types of cars. This side of the waterfall also has the golden hour light in both summer and winter, so you will be able to photograph Dettifoss at its best.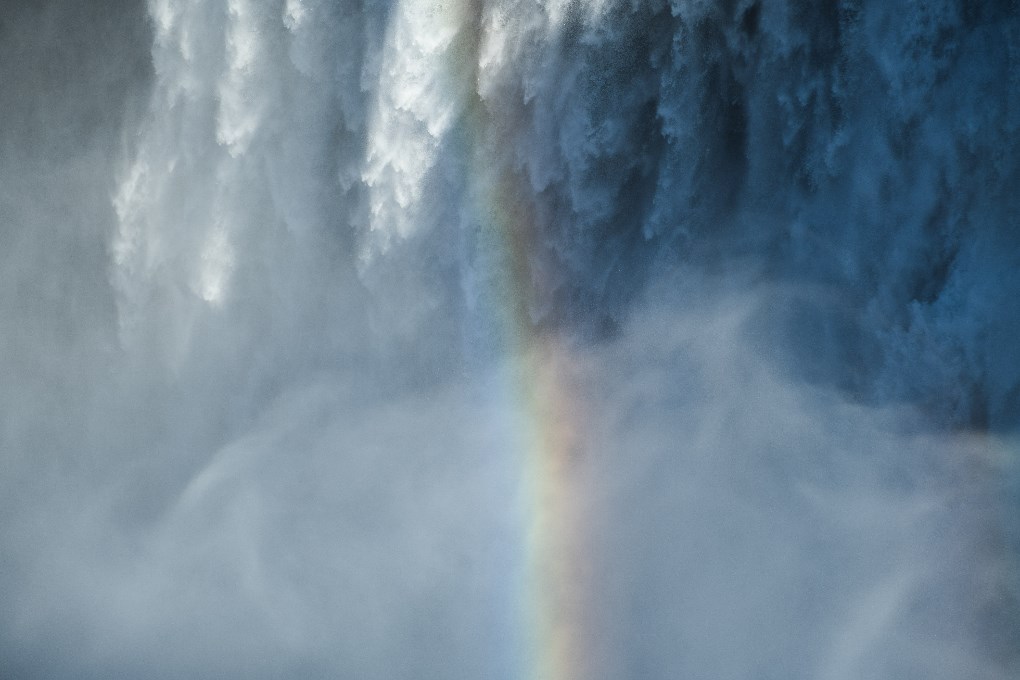 The majority of the visitors arrive at Dettifoss by road 862, and that also explains why the parking space is new and large. If you are renting a car in Iceland and want to play safe, we recommend getting to Dettifoss from the western side.
If you are feeling adventurous, are coming in summer and have the right type of car, you can also take route 864 to Dettifoss for a different experience.
How long does it take to hike to Dettifoss waterfall?
No matter what side you choose, you will need to walk a bit until you get to Dettifoss waterfall. However, the hiking paths are easy and do not take long. If you have arrived from the western side, you will need to walk for about 15 minutes on a mostly flat trail until you arrive at the viewpoint. If, on the contrary, you have taken the eastern side, it will take around 10 minutes to walk along rocky terrain. 
How much time do you need at Dettifoss waterfall?
Usually, the whole visit to Dettifoss takes around two hours if you are making the loop, but you can stay longer or shorter depending on your travel plan and how much time you have. On average, most visitors tend to spend up to 3 hours at Dettifoss waterfall.
When is the best time to visit the Dettifoss waterfall?
The experience of visiting Dettifoss varies depending on the season. 
During the summer months, the waterfall is at its most powerful state, with an average water flow of 400 m3/s. The roads to get to Dettifoss are also more accessible and suitable for all types of cars (should you decide to take Route 862). This is especially important if you are going to rent a car for your Iceland vacation. If you're looking for a scenic and easy drive, we recommend visiting Dettifoss from June through August.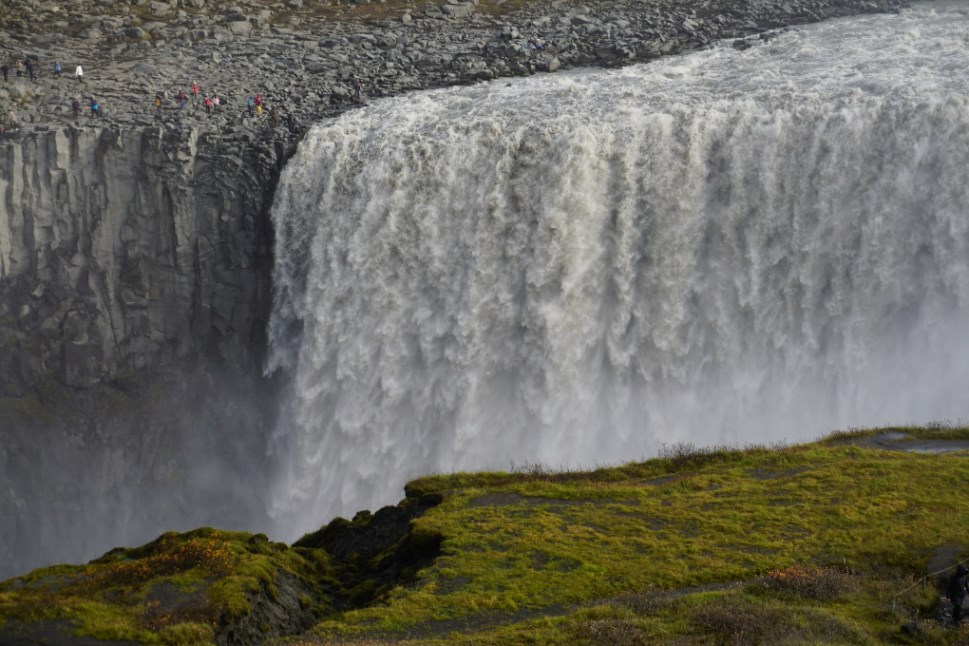 Nonetheless, exploring Dettifoss in summer will also mean that there will be crowds throughout the day, like at any natural famous site in Iceland. Summer in Iceland is the high season and most travellers choose to come during this period. If you really want to visit Dettifoss without the crowds, you might want to arrive in the late afternoon.
If you are visiting Iceland in winter and you decide to take the detour to the Dettifoss waterfall, you will be rewarded with snowy and frozen landscapes. However, despite the beautiful views, the hours of daylight are very few before sunset and the waterfall is not illuminated at night or during the darkness, so you will need to plan your visit taking this into consideration.
Route 864 is closed during the winter season due to heavy snow or muddy conditions, and it doesn't open until late May or early June. Also, keep in mind that you will need crampons to access the falls because of the risk of slipping on ice.
Is Dettifoss open all year long?
As mentioned already, the roads to Dettifoss may close due to ice and snow, especially during the winter months. While Dettifoss is open to visitors almost every season, summer is the best, safest and most reliable time of the year to plan your trip to the waterfall. 
What can you see and do near Dettifoss waterfall?
There are plenty of landmarks that you can visit during your trip to Dettifoss waterfall. 
Selfoss Waterfall
Selfoss is a waterfall located very close to Dettifoss, also on the river Jökulsá á Fjöllum in Northern Iceland. Although this waterfall may not be as powerful and voluminous as Dettifoss, it has a great and beautiful appearance, since it is wider and has numerous smaller waterfalls. 
Selfoss is only a 30-minute hike from Dettifoss waterfall and they both share the same parking lots. However, to get to Selfoss it is recommended to take Route 864 because you can have a better view from the eastern access, as most of the small waterfalls are on the opposite side. However, you can also reach it from the western side - you will just see it from another perspective.
Hafragilsfoss 
Hafragilsfoss is a much smaller waterfall than the previous two, but it is worth a visit if you are exploring the Dettifoss area. Also located in the river Jökulsá á Fjöllum, Hafragilsfoss is surrounded by cliffs and its waters fall approximately 30 metres high and 90 metres wide. From the waterfall, you can get impressive views of the Jökulsárgljúfur canyon.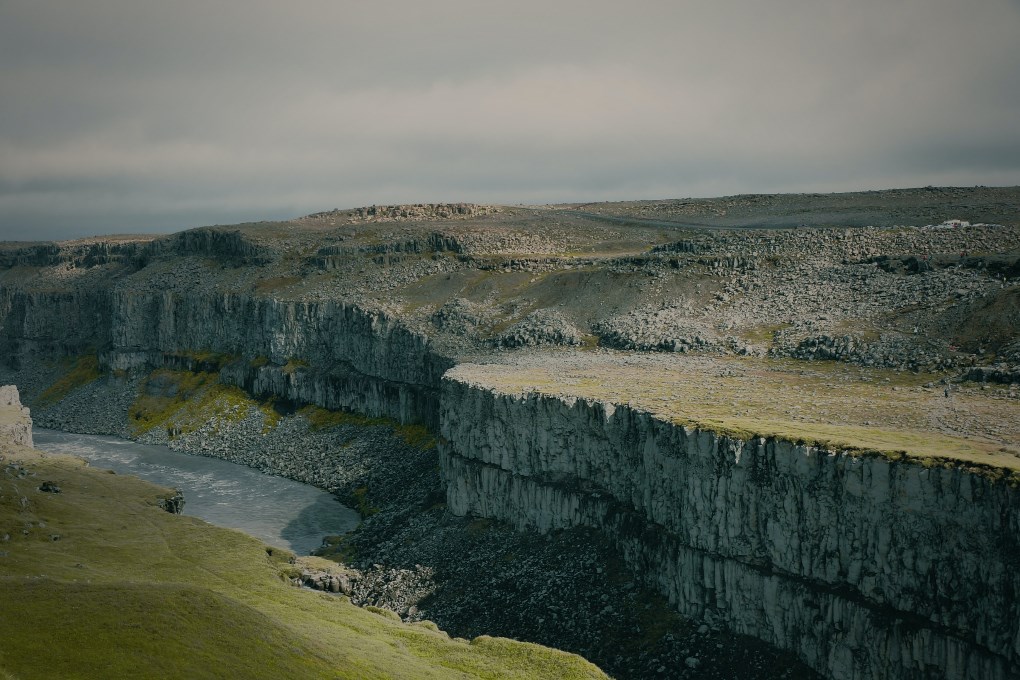 The main viewpoint for the best views of Hafragilsfoss is on the eastern side. However, it is also possible to see it from the western side. To do so, you will just need to follow the indications from the Dettifoss parking lot.
Asbyrgi Canyon
Asbyrgi, whose name means "Shelter of the Gods", is a stunning horseshoe-shaped canyon in the northeast of Iceland, situated a 35-minute drive (30km) from the Dettifoss waterfall. The Viking settlers believed that it was formed by Sleipnir, Odin's eight-legged flying horse from Norse mythology, although geologists state that it was created from a catastrophic flood from the Jokulsá glacial river. Asbyrgi is also part of the Diamond Circle of Iceland.
Lake Myvatn
Lake Myvatn is a beautiful volcanic lake filled with small islands, and it is the fourth biggest one in the country. It sits under an active geothermal area and has unique geology, making them one of the most incredible natural attractions in Iceland. Like Dettifoss and Asbyrgi, Lake Myvatn also belongs to the Diamond Circle and can be visited during your trip in the North of Iceland. To arrive at the lake from Dettifoss waterfall, you need to drive for around 50 minutes (60km) to the west.
Akureyri
Akureyri is known as 'the Capital of the North' and is the biggest city in North Iceland. It has a population of over ten thousand people and it is the largest town outside of the Greater Reykjavik area. It is located less than 2 hours away from Dettifoss to the west and it is a great base to explore the wonders of the North of Iceland.
Some tips to visit Dettifoss
Regardless of whether you are going to Dettifoss for the first time or you have already done it before, it is worth remembering some tips and advice that can make your visit more enjoyable:
Check the road conditions at

Road.is

before driving to Dettifoss in winter.

Make sure you have winter tires and drive carefully since the roads in winter can be icy and with gravel.

Consider

renting a 4x4 car

, especially if you are planning to access Dettifoss from the gravel road on the east side.

You don't need to pay a fee to stop your car in the parking lot.

The walk down the path that takes to the waterfall is known for being windy and climbing the steps could be icy, so be careful!

If you want to visit Dettifoss with fewer people, consider going at later times of the day.

There is a viewpoint platform suitable for a small group from where you can get great views of the Dettifoss waterfall and the countryside. However, it can get wet, so don't forget to bring waterproof shoes and outer layers.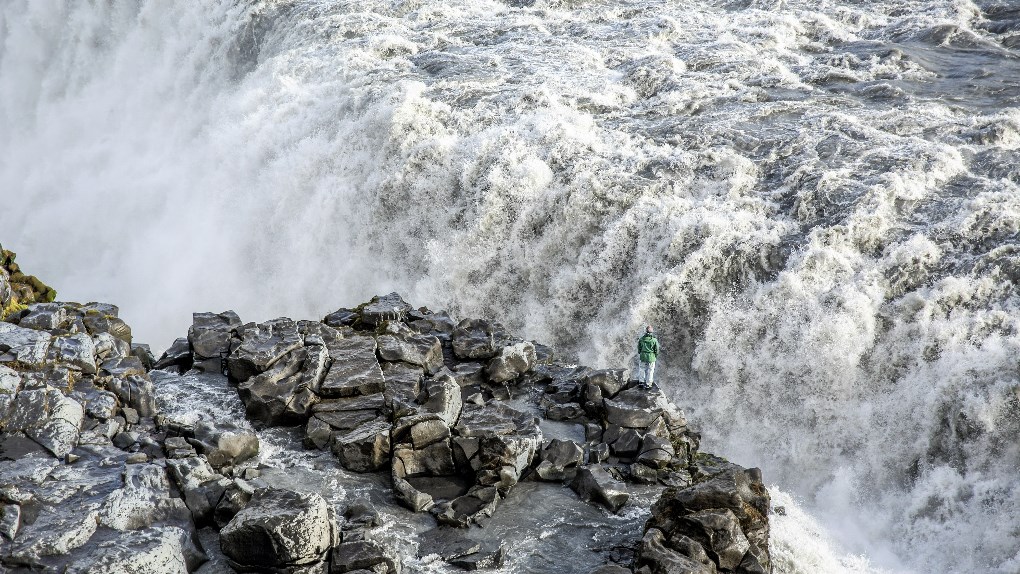 Book your rental car in Iceland today!
Now that you are well informed about everything you need to know to visit Dettifoss waterfall, it is time to start planning your self-drive trip. If you haven't already, you can check the available car rental options and choose the best vehicle that suits your travel plan. From economy cars, 4x4 vehicles and 2WD/4x4 campervans, we have a car for you. 
Do you still need more help and info? Check out the Lava Car Rental blog to learn about driving in Iceland, what to pack for your Iceland trip, recommended self-drive routes and much more!