Guide to Renting a Car at Iceland Keflavik Airport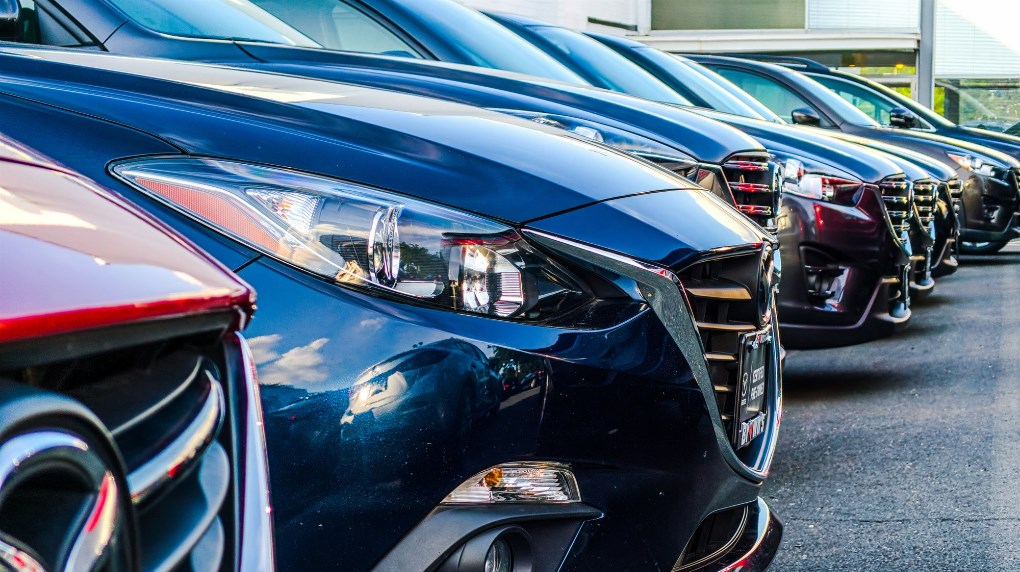 When you first arrive in Iceland, you'll arrive at Keflavik Airport, Iceland's main international airport and the first stop for all international flights and those travellers visiting Iceland from around the world. And, if you're going to be enjoying a self-driving trip while in Iceland, Keflavik Airport and the surrounding town of Keflavik are also where you'll likely be picking up your rental car.
Lava Car Rental provides you with your rental car as soon as you land in Iceland. Our office is conveniently located near Keflavik Airport, just a 5-minute drive from there, so you can start your road trip to Iceland straight away. We offer a free shuttle service that comes back and forth between our office and the airport depending on our clients' arrival and departure. According to our customer reviews, our pick-up and drop-off process is smooth, fast and efficient. We want to make sure you have a good start to your road trip to Iceland!
Although renting a car from Keflavik Airport is the most common choice, there are other options which you could consider according to your travel plan.
But don't make the mistake of thinking that renting a car in Iceland is as simple as just walking up to a car rental counter and asking for a vehicle. You'll want to plan to ensure you rent the right car for your needs, as well as the right vehicle for your budget. 
Here's everything you need to know about car rentals at Iceland's airports.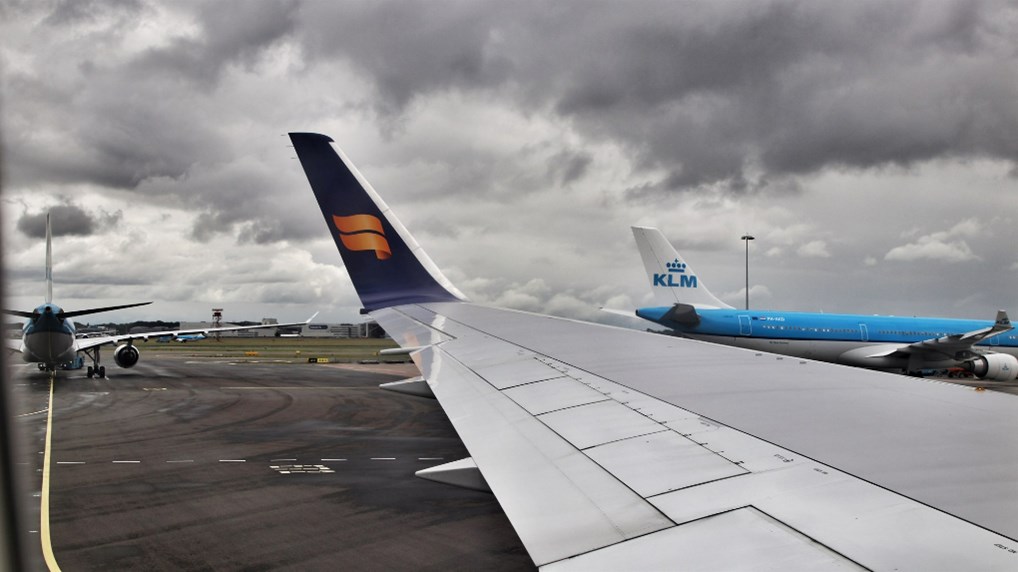 Car Rentals at Iceland's International Airports
First things first, if you want to rent a car at an Iceland airport, you'll need to book it at the right airport. While we just said that Keflavik Airport is where all international visitors arrive, that doesn't mean that there aren't other international airports in Iceland. In fact, there are technically four international airports in Iceland, in Keflavik, Reykjavik, Akureyri and Egilsstadir, plus nine domestic airports throughout the country. However, you'll find that Keflavik Airport (KEF) is still the first stop for travellers to Iceland; even if you book an international flight from New York to Akureyri, for example, you'll still stop in Keflavik before flying on to Akureyri. 
This can be confusing for travellers, especially considering that Reykjavik is easily Iceland's most well-known city internationally; despite this, though, when you book your Iceland trip, you won't be flying into Reykjavik, just Keflavik (and you wouldn't want to fly from Keflavik to Reykjavik, either, like you might fly from Keflavik on over to Akureyri; Keflavik and Reykjavik are so close that you can easily drive between the two. However, once in Reykjavik, you can take a flight to other towns in Iceland). 
You can learn more about the various airports around Iceland and the services they offer on this website.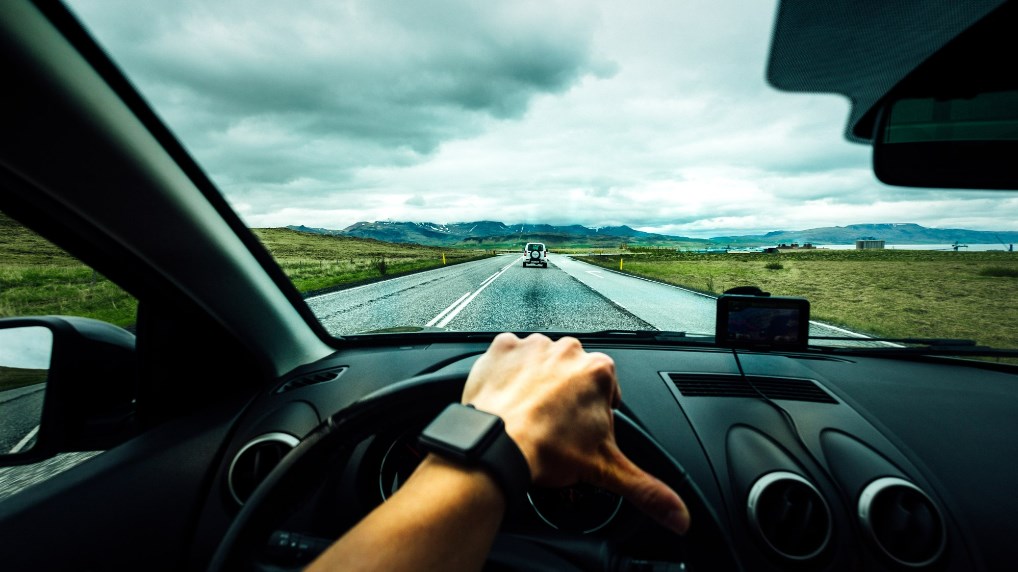 So, all of the above said, where is your final flight destination in Iceland? That's where you'll want to rent your car. 
We recommend avoiding additional flights while in Iceland and simply booking a car rental at Iceland's Keflavik Airport. When you take a rental car from Keflavik Airport, you can easily drive around the entirety of Iceland over the course of your trip for a more enjoyable, flexible experience. Check out our complete guide to driving around Iceland for more information about why this is often the best choice for travellers. 
What are the Benefits of Renting a Car at Keflavik Airport?
There are many good reasons to book a car rental at Keflavik Airport. 
As soon as you land in Iceland, you'll be able to access your car rental in Keflavik and head to your next destination, whether it's Reykjavik or anywhere else in the country. Then, when you leave Iceland, all you have to do is conveniently drop your rental car off near the airport and take a shuttle to the departure terminal. There are no extra pick-up or drop-off tasks required, making for a smooth and easy process that makes for less travel stress.
Affordable transportation 
In addition to reducing the time needed to pick up and drop off your car, renting your car directly at Keflavik Airport will also save you money. Taking a bus or taxi from the airport to your hotel or a car rental provider in a further city will cost extra money and eat up more of your travel budget. Additionally, the overall car rental rates are often cheaper at the airport than they are in Reykjavik, and you get more overall car options. 
Likewise, your car rental at Keflavik Airport will give you an unprecedented amount of freedom during your trip. Since there's nowhere extra to go to pick up your car or drop it off, you have more time to see and do whatever you like during your vacation, with fewer headaches required.
Lastly, Keflavik Airport is located near many of Iceland's top attractions, such as the Blue Lagoon and Fagradalsfjall volcano. Renting a car at Keflavik allows you to immediately drive to those attractions after landing at the airport, versus going into the city to get a rental car in Reykjavik and then back-tracking to those attractions.
Local vs International Car Hires in Keflavik Airport
When booking rental cars at Iceland's Keflavik Airport, you'll see that you have various options. 
In the Keflavik Airport arrivals hall, you'll find international car rental brands. While these brands may be preferable to international travellers who like to book with the same brands everywhere they travel, they come with a few downsides.
For one, if you're particularly looking for a cheap car rental at Iceland's Keflavik airport, you won't find that with an international car rental company (this is partially due to the companies' locations within the actual airport — they have to pay a higher cost for their location, and they pass those costs on to the consumer). 
We always recommend travellers to Iceland book with a local car rental company. You'll enjoy many more perks, plus the knowledge and know-how that only locally-owned companies can offer. Also, if you're looking for a cheap car rental in Iceland's Keflavik Airport, you might want to choose this option too.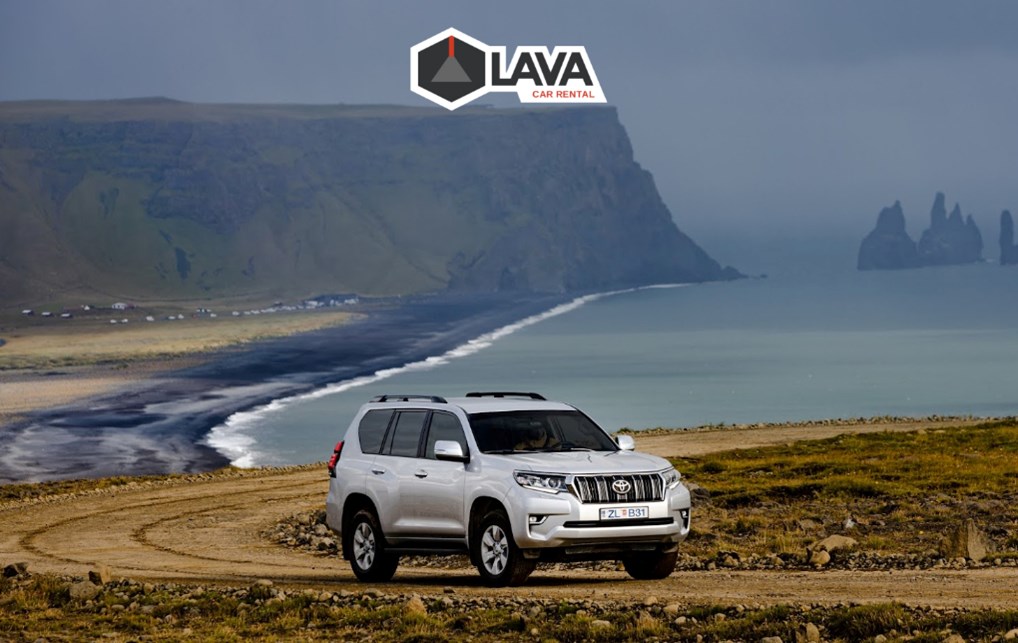 Lava Car Rental is one of the most trusted, well-reviewed local car rental companies in Iceland. But don't just take it from us! 
Recent Google reviews say things like, "Lava Car Rental was awesome. They picked us up from the airport and got us in our car really quickly. They checked in with us and even sent us driving tips and updates during our trip. The car was perfect for driving the Ring Road, very reliable. The drop-off went seamless, and I would rent from them again in a heartbeat. Definitely recommend Lava!" and "The team at Lava was fantastic to work with throughout the entire rental process. From booking the rental to questions before getting my rental, to having the driver pick me up at the airport right on time, answering questions during the rental, and through the return process, they were phenomenal. I would totally use them again and highly recommend anyone travelling to Iceland use them to rent a car. They are a small-owned business and provided a better rental experience than I've had with 'big box' companies like Hertz and others. They get an A+ from me!"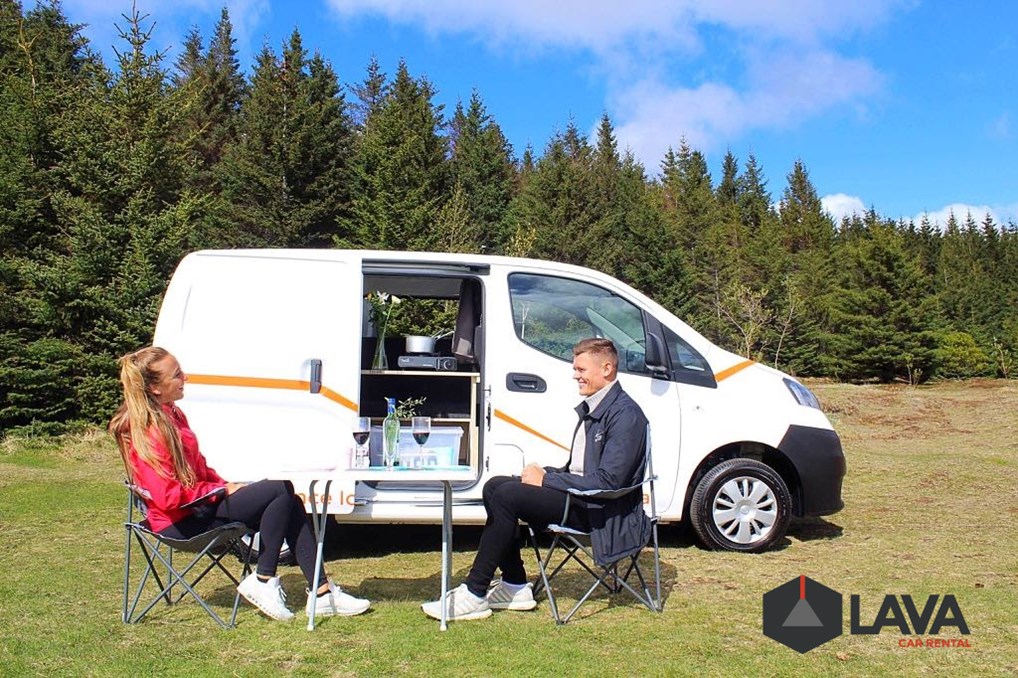 Lava Car Rental offers… 
Free cancellation (up to 48 hours before your pick-up day and time; just send us an email!)
A pay-upon-arrival option (pay 10% of the full amount at booking and the rest at pick up!)
Included insurance with all rentals (SCDW, Theft Protection and Gravel Protection included, and the option to upgrade to a Full Insurance package with zero liability excess for greater peace of mind and a worry-free trip)
A great selection of vehicles (including economy cars, 4x4 vehicles, SUVs and campervans)
Local knowledge and experience to help you make the most of your Iceland vacation
Great customer service (reach us any time via email, phone or social media)
Free pick-up at Keflavik Airport and Lava Car Rental's Keflavik office, and free car rental shuttle bus between Keflavik Airport and our headquarters
Want to know more? Check out all of our rental car options.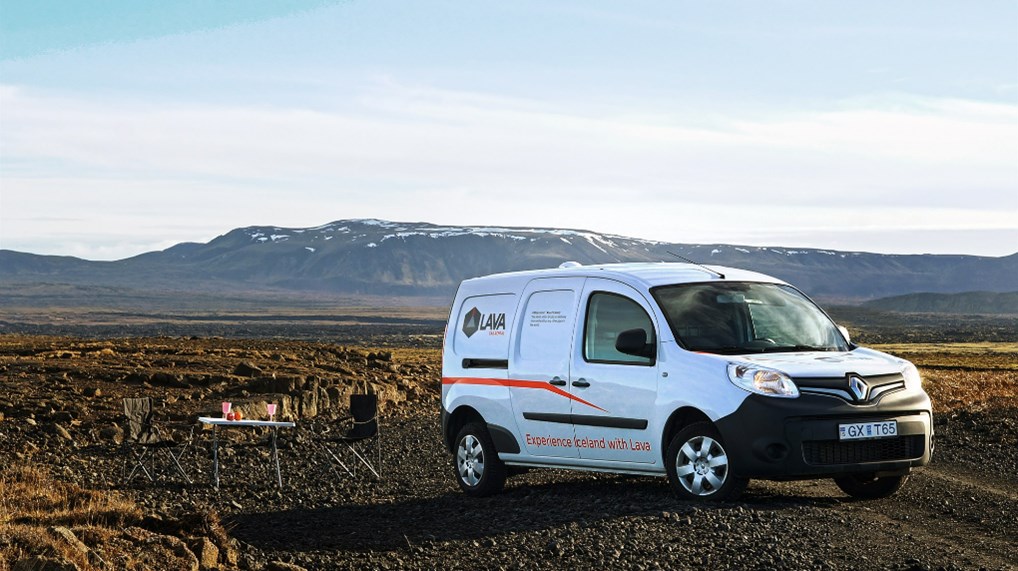 What Type of Vehicles Can You Rent From Iceland's Airport?
You definitely won't be left wanting options if you book a car rental at Iceland's airport. You'll find just about every type of vehicle you might need during your trip.
A variety of 4x4 vehicles are available. A 4x4 vehicle is typically necessary if you're travelling to Iceland during the winter months. Likewise, a 4x4 vehicle is necessary if you're travelling to Iceland during the summer and plan on visiting the Highlands and other rough-terrain destinations. In the Highlands particularly, a 4x4 vehicle is required by law. For more information, check out our full guide to 4x4 rentals in Iceland.
Campervans are ideal if you want to bundle the cost of your transportation with the cost of your accommodations. Renting a campervan in Iceland allows you to see more of the country with more freedom, as there's no need to find a hotel with a free room wherever you happen to be — just park and camp. However, there are strict rules about camping in Iceland, so you'll want to give our Iceland camping guide a quick read before you settle on your itinerary. 
Campervans are available both in 2WD and 4x4 variants.
For the budget traveller who plans to stay in well-populated areas around Iceland, either during the summer or winter, an economy car is a suitable option, especially for solo travellers or travelling couples who need relatively little space.
How to Rent a Car at Keflavik Airport
The best way to secure a car rental at Iceland's airport is to make a booking ahead of your travel. This way, you'll be assured that exactly the car you want will be ready and waiting for you as soon as your plane lands. However, if you don't manage to secure your rental ahead of time, you do have other options.
Can I rent a car upon arrival at Keflavik International Airport?
Yes, it is possible to rent a car upon arrival at Keflavik Airport. The car rental providers in the area offer desks throughout the airport, where you can ask about current availability. Many of these desks are operated 24 hours per day, so you can receive service regardless of the time of your arrival. 
However, waiting until you arrive to rent a car comes with its risks. During the high season (summer), you may find that none of the rental providers has vehicles available, leaving you stranded and relying on expensive bus and taxi services to get into the city. If the providers do have cars available, you might find that they don't have very many options, so you might not get the car you want. Instead, you may be forced to pay for a larger and more expensive vehicle than you need. 
Keep in mind that there is only a limited number of rental cars available in Iceland, especially after the Covid-19 pandemic, during which many car rental providers ceased operations permanently.
Your best bet if you want to rent a car in Iceland is always going to book in advance. The further in advance you book, the more money you'll save and the more likely you'll get to book the car you want.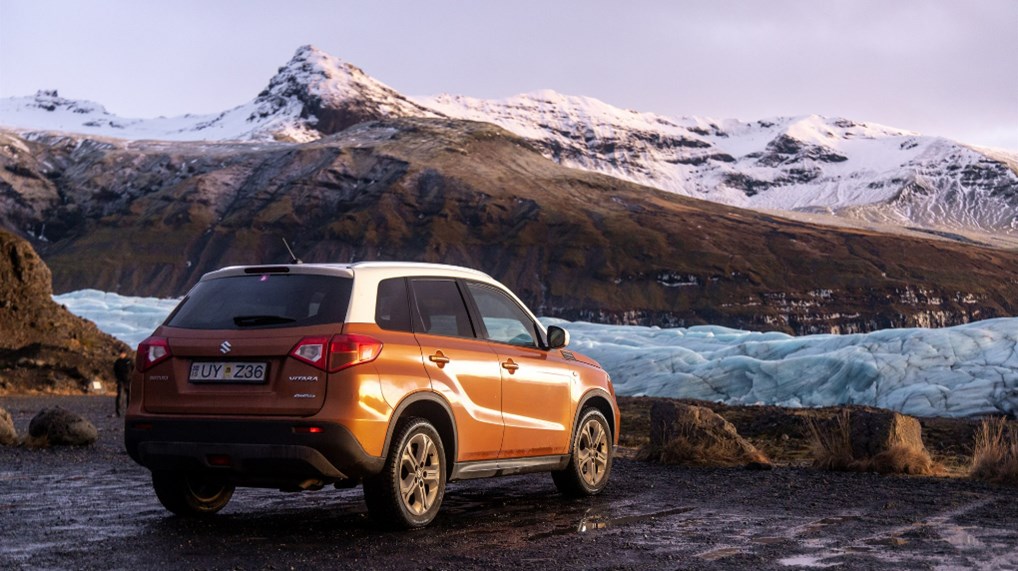 How Does Renting a Car in Keflavik Work with Lava Car Rental? 
The process is easy! Lava Car Rental is located in the town of Keflavik, about a five-minute drive away from Keflavik Airport. But no worries! You won't need to make your way from the airport to Lava Car Rental on your own. 
The Lava Car Rental shuttle van will pick you up at the airport's P1 parking lot, which is located next to the departure hall.
Having trouble finding the P1 parking lot? Here's how to get from the plane to the parking lot.
After you disembark from the plane, you'll clear customs first, then move on to the arrivals hall. Stay inside the airport and walk from the arrivals hall to the departure hall. Once in the departure hall, exit the airport from the departure hall entrance and cross the road. The P1 parking lot will be across from the airport. If you need further help, we have an instructional video that will break things down further for you. 
Once you're waiting in the P1 parking lot, the airport shuttle will come by and pick you up. In the event of more issues or other concerns, you can always call or email Lava Car Rental for assistance. 
When you're ready to drop off your car and head back to the airport to return home, all you have to do is bring the car back to the Lava Car Rental office in Keflavik and then take the free shuttle back to the airport.
You can find more information about our shuttle van service on this link here.
Can I pick up the rental car at my accommodation near Keflavik Airport?
Want to head to your hotel right away, as soon as you land? If you'd like to get some much-needed shut-eye or refreshment after your long flight, rather than head directly to your car rental provider to sign for your rental car, some car rental companies will allow you to pick up your rental car from your hotel or other accommodations. While they won't bring the car directly to you, a member of the staff will come to your lodging, pick you up, take you to the Keflavik car rental office and then allow you to sign your contract and pick up the car from there. 
Lava Car Rental offers this option at no extra cost to you. All you need to do is just select this service when you reserve your car rental online. At that point, you'll be prompted to let us know the best place to pick you up, that's not Keflavik Airport. If you're not renting a car with Lava Car Rental, you will need to check with your car rental company to see if they offer this service; not every provider does. 
In addition to this option, you can also pick up your car directly at the Lava Car Rental office in Keflavik, without taking the shuttle from the airport. 
Can I pick up and drop off my car at Keflavik Airport at any time?
This will all depend on the company from which you rent your car. Make sure that you check the opening hours of the car rental agency before you book to confirm that you can pick up and drop off your car at your desired times.
Saving Money on Your Iceland Airport Car Rental 
If you specifically want a cheap car rental from Keflavik, there are a few ways you can save money on your car rental, whether you book with Lava Car Rental or another provider. Here are some of our top tips for saving money on your Iceland airport car rental. 
Make sure to rent a vehicle suitable for your needs
When you first start browsing available car rentals from Keflavik, you may be tempted to book an economy car simply because it's cheaper. But you may want to reconsider, especially if you plan on travelling to some of Iceland's more remote areas or if you'll be using F roads (you can learn more about the potential hazards that come with driving in these areas on our guide to renting a 4x4 in Iceland).
If you plan to travel to these areas, such as in the Highlands or the Western Fjords, you absolutely need a 4x4 vehicle. While this is the more expensive option at first, in the long run, it's going to be cheaper for you than trying to traverse the F roads with an economy car. That's because (a) if you're driving a 2WD vehicle on an F Road, you'll receive a hefty fine and (b) if your 2WD car is damaged while on an F road, you'll be charged additional fines for repairs.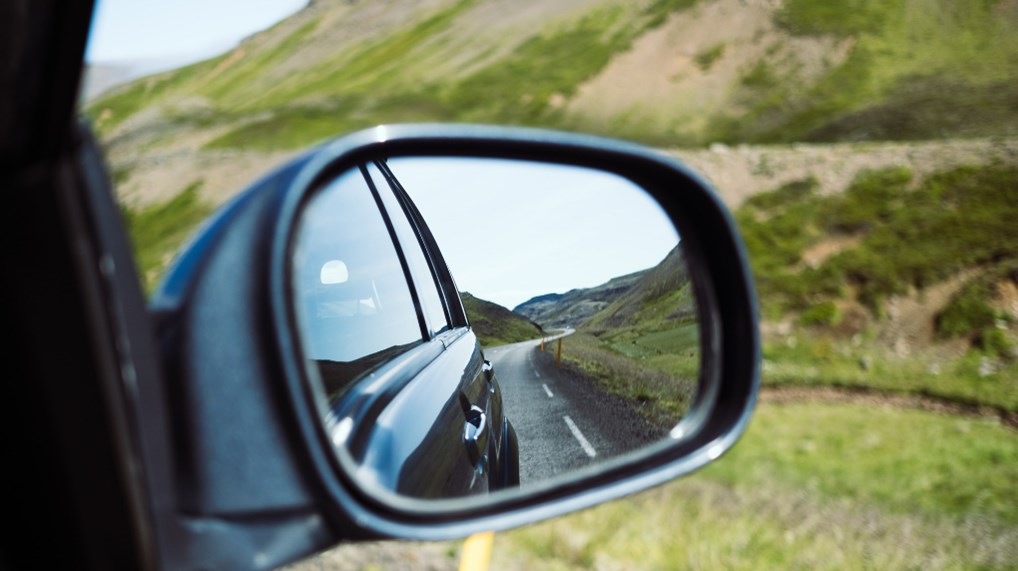 Rent a vehicle in Keflavik Airport rather than in Reykjavik
While you may be staying in Reykjavik, you can save a fair amount of cash by renting your car at Keflavik Airport. Most of Iceland's car rental companies are located in Keflavik, near the airport, and offer competitive pricing, whereas Reykjavik car rental companies are a bit pricier. 
If you rent your vehicle at Keflavik Airport, you can simply pick up your vehicle as you leave the airport and then drop the vehicle off again as you head back to the airport. If you use Lava Car Rental, you'll receive free transportation to and from the airport, too. This will save you even more cash, as you won't need to pay for a taxi or rideshare service to and from the airport. 
Visit Iceland during the shoulder or low season
Visiting Iceland during the shoulder or low seasons (fall, winter or spring) can save you a fair bit of cash on your entire trip, not just when it comes to renting your car. You'll save money on flights, accommodations, food, recreation and more. Fewer tourists mean more affordable prices.
Unfortunately, visiting Iceland during the fall, winter or spring does come with a few downsides. You won't be able to visit some of Iceland's more remote areas due to inclement seasonal weather, and it will be a good deal colder and snowier. You can learn more about travelling around Iceland during the winter in our full guide to winter driving in Iceland. 

Rent your vehicle for a longer timeframe
The longer your rental period, the lower the price of your vehicle per day might be.
If you're booking your rental car for at least a week (which you'll need to see the best spots in Iceland, particularly if you're driving the Ring Road), check with your car rental agency if they offer a discount for longer rental periods, and take advantage of those savings!
Look out for exclusive discount offers
Check if the car rental companies are giving exclusive discount offers so that you can save even more on your Iceland car rental.
Can I rent a car in Reykjavik?
If you are already in the capital and want to rent a car in Reykjavik directly, that is also possible. Some car rental companies have an office in Reykjavik while others offer pick-up and drop-off services in the city or at Reykjavik Airport for an extra cost. When making your car rental reservation, make sure that you select the right pick-up and drop-off options and that you are aware of the extra costs that it may incur.
Also, as explained before, keep in mind that Reykjavik Airport (RKV) and Keflavik Airport (KEF) are not the same. In some flight vouchers, you might see that you are flying to "Reykjavik" but it is Keflavik instead. If you are coming on an international flight, you will be arriving at Keflavik Airport. If you're looking for a car rental in Reykjavik city or a car rental in Reykjavik Airport, check if the company offers that option.
When should I book my car rental in Iceland?
As noted, there is only a limited number of rental cars available in Iceland, and they do go quickly, especially during the summer months. The best thing you can do is book your car rental as early in advance as possible. If you're travelling during the summer or the holiday seasons like Easter or Christmas, you should book your car rental as soon as your travel dates are confirmed, right after you book your flight.
No matter the season, though, booking earlier rather than later will ensure that you get to rent with the company you want, get to rent the car you want and get a better overall rate on your car rental.
Typically, we suggest travellers book their car rentals at least three to six months in advance of their trip.
Which places near Keflavik Airport can I visit by car?
Renting a car at Keflavik Airport versus getting a car rental in Reykjavik will allow you to easily explore the various attractions near the airport, more conveniently, as soon as you arrive in Iceland. This is especially nice if you arrive in the morning or afternoon, and you'd like to start exploring right when you get here. 
Popular attractions around Keflavik Airport include the eruption area of Fagradalsfjall volcano and Blue Lagoon. Even if you don't start your Iceland vacation with one of these experiences, you can end your vacation with one of them, particularly if you have a later flight. There's no need to go sit in the airport all day after you check out from your hotel. Just check out, drive to one of these Reykjanes Peninsula attractions, enjoy your day and then drop off your car before boarding your flight.
What to Look for in an Iceland Car Rental Company
To recap, when booking a rental car in Iceland, you'll want to look for a few things:
Free cancellation (just in case something comes up!)
All the insurance you need (including CDW and theft insurance)
A great selection of vehicles (so you can book a 4x4, campervan, automatic transmission vehicle or anything else you need)
And lots of local experience.
Lava Car Rental offers all this and so much more.