Guide to Renting a 4x4 in Iceland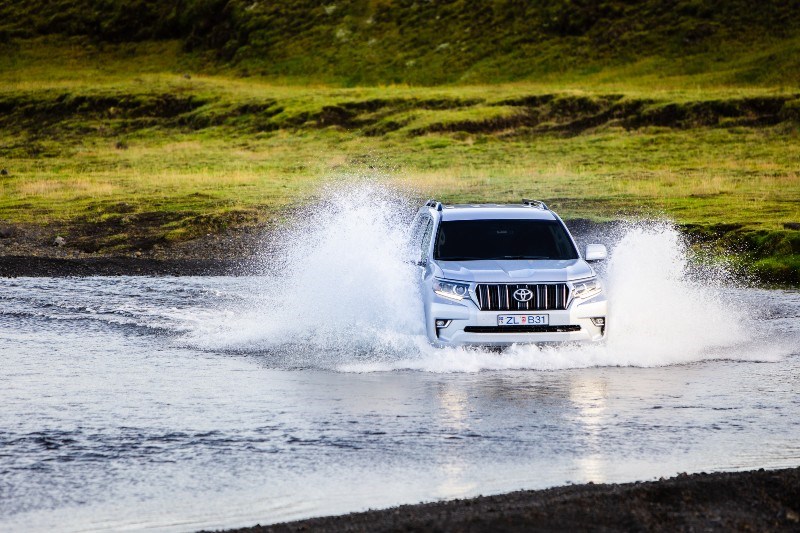 Many, many travellers choose to rent a car when they visit Iceland; it is, after all, one of the easiest and best ways to see the entire island on your own schedule. But, when visiting Iceland, it's important to realise that you can't just rent a car and hit the road. Iceland's dramatic landscape can be treacherous and the constantly changing weather can result in dangerous road conditions — and that's exactly where renting a 4x4 vehicle can come in handy.
If you're visiting Iceland during certain times of the year or if you plan on visiting certain areas of the country, a 4x4 vehicle is absolutely crucial to getting you where you want to go. If you think a 4x4 vehicle might be exactly what you need during your upcoming trip to Iceland, keep reading. We're breaking down when and where exactly you'll need a 4x4 in Iceland, how to choose the right 4x4 for you and even how to drive on those tricky Iceland F-roads. 
Do I need a 4x4 vehicle for my trip to Iceland? 
A 4x4 vehicle, sometimes called simply an SUV or 4WD car, is a term that refers to a vehicle in which the engine powers all four wheels of the vehicle the same way, at the same time (in a 2WD or "normal" vehicle, the engine may only power the rear or front wheels at one time). So what's that mean for you and your driving experience?
Put simply, the 4x4 feature will give your vehicle added traction and make it much easier for you to traverse rough terrains or drive through inclement weather. 
So, will you need a 4x4 vehicle for your trip to Iceland? If you want to…
Then, yes! You will definitely want to rent a 4x4 for your trip to Iceland. Beyond giving you the ability to access some of Iceland's more remote areas and rougher landscapes, as well as giving you greater peace of mind when travelling through Iceland's more unpredictable winter weather, travelling in a 4x4 is just more comfortable. You'll often find that 4x4 vehicles provide a smoother ride, more interior room, and even more luxurious amenities (like heated seats, which are simply amazing during those chilly Icelandic autumns, winters, and springs).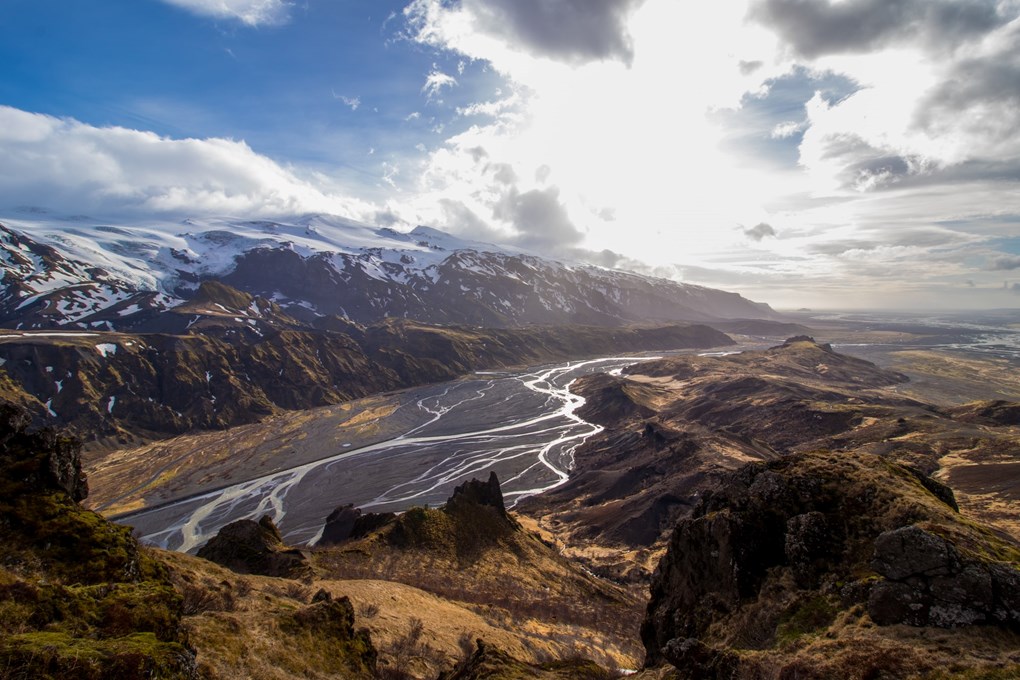 Below, we are answering some common questions regarding when you need to book a 4x4 car in Iceland.
Do I need a 4x4 in winter in Iceland?
We strongly recommend renting a 4x4 vehicle for your trip to Iceland during the winter months, October through April. Snow and icy roads, winds, blizzards and low visibility are common during these months and a 4x4 vehicle will give you the added traction, stability and ground clearance that's needed to traverse the roads during inclement weather. 
Don't make the mistake of assuming that Iceland's winters are like what you'll experience during winter in other parts of the world. Deep snow can make it impossible for smaller, 2WD vehicles to get around, and bad winter weather can pop up without a moment's notice. If you underestimate just how much traction, clearance and other safety features you need, you may find yourself stranded — and no one wants their holiday to end that way. 
The only time that you may be able to get by with a 2WD rental during the winter is if you're planning on staying in Reykjavik during your Iceland trip, and venturing out only to nearby tourist spots such as the Blue Lagoon or the Golden Circle. If you plan on going further, such as around the Ring Road or to the Snaefellsnes Peninsula, you'll need a 4x4 vehicle. 
Do note that if you rent a car during the winter in Iceland, regardless of the type of car it is, it will be outfitted with winter tyres. These winter tyres may or may not be studded, but are mandatory by law during these months.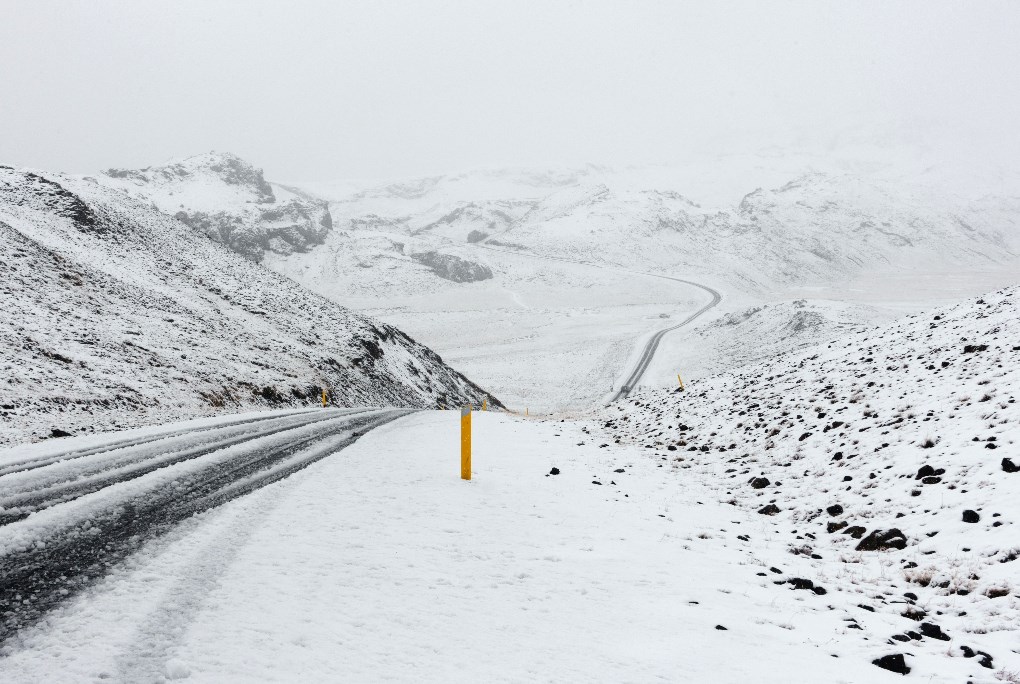 Do I need a 4x4 in summer in Iceland?
Visiting Iceland during the summer months means better weather, so a 4x4 vehicle may not always be necessary. However, if your itinerary includes visiting certain spots around the island, you may still need to rent a 4x4 vehicle. 
Like in the winter, if you plan on sticking around Reykjavik and going to nearby attractions such as the Golden Circle or the Blue Lagoon during your summer visit, then a 2WD vehicle will suffice. Additionally, during the summer, a 2WD vehicle should still be able to get you around the Ring Road and to places such as Skogafoss and Seljalandsfoss.
If, though, you plan on visiting the Highlands or Westfjords, or travelling on any gravel roads off of the main, paved roads, then you'll want to rent a 4x4 vehicle. This will ensure not only that you're legally travelling the F-roads, but also that you have enough clearance to not wind up stuck on uneven gravel roads or in a water crossing. 
It's important to realise that, when visiting areas like this, you'll come upon lots of rough roads, water, steep hills and mountains, potholes, mud and more — all of which can make driving more difficult. Even if you're very confident in your driving skills, you'll still likely want the added stability and safety that a 4x4 vehicle provides.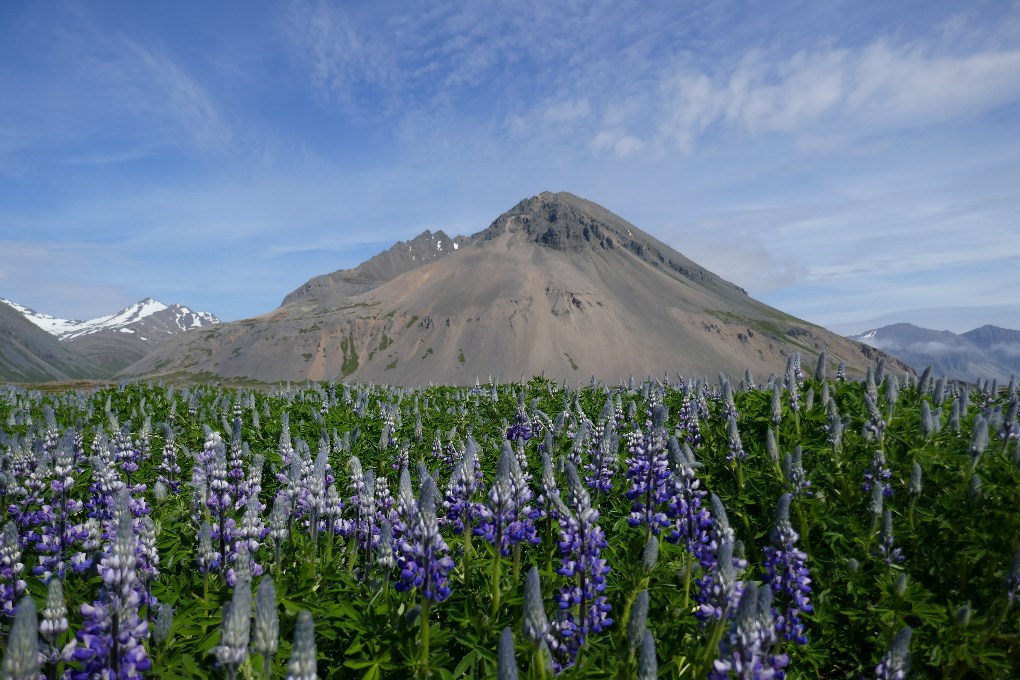 Do I need a 4x4 to drive the Ring Road of Iceland?
The Ring Road is one of Iceland's most popular self-driving routes. It takes you around the entirety of the country, so you can see some of the best, most popular tourist attractions, easily. However, you may need a 4x4 vehicle for this often-traversed road, under certain conditions.
While the Ring Road is kept in good condition and often clean of snow, a 2WD is really only suitable for driving it if you're visiting during the summer months and if you're visiting with only one or two other people in your party. Why is party size important? Because, even though the Ring Road is well kept, it still is often very remote, which means you need enough space to carry emergency equipment and supplies for your entire party. A 4x4 vehicle can provide that needed space.
If you plan on visiting Iceland during the winter months, you'll definitely want to rent a 4x4 SUV or Jeep for travelling around the Ring Road, so that you can carefully and safely travel even in the event of snow or ice.
Do I need a 4x4 to drive the Westfjords of Iceland?
While the Westfjords of Iceland is known to be a little more rugged and rough, it's not entirely impossible to visit them with a 2WD car. If you visit in the summer and stick to the normal roads (not the F-roads!), you can safely explore the region. However, you may find that you're not quite as comfortable in a 2WD vehicle as you would be in a 4x4 car, given that a 4x4 car's greater size and clearance can make for a smoother ride on those rougher, more rugged roads. 
In winter, you will need a 4x4 vehicle to drive around the Westfjords. 
How can I rent a 4x4 vehicle in Iceland?
Most visitors to Iceland are entirely qualified to rent a 4x4 vehicle during their trip. There are only a few key requirements. 
In order to rent a 4x4 vehicle with Lava Car Rental, you'll need to be 20 years of age or older. If you want to rent a 4x4 campervan, such as the VW Transporter Campervan, you'll also need to be 20 years of age or older. Additionally, you'll just need to have a Latin-alphabet driver's licence (or an English translation of a non-Latin alphabet driver's licence) and a credit or debit card to put on file.
Just note: this is only the case at Lava Car Rental. At most other rental car providers around Iceland, you'll find that they have strict policies on only renting to drivers who've had their driver's licence for at least a year and that they only rent 4x4 vehicles and campervans to those aged over 21 or older, or even 23 or older. 
How old do you have to be to rent a 4x4 in Iceland?
Age requirements for car rentals differ around the world. In Iceland, generally, you must be at least 20 years old to rent a regular vehicle and 23 years old to rent a 4x4. Regardless of how old you are, you must have a driver's licence that has been valid for at least one year.
However, at Lava Car Rental, we've lowered our age requirement for all cars, so you can rent a 4x4 at 20 years of age, rather than 23.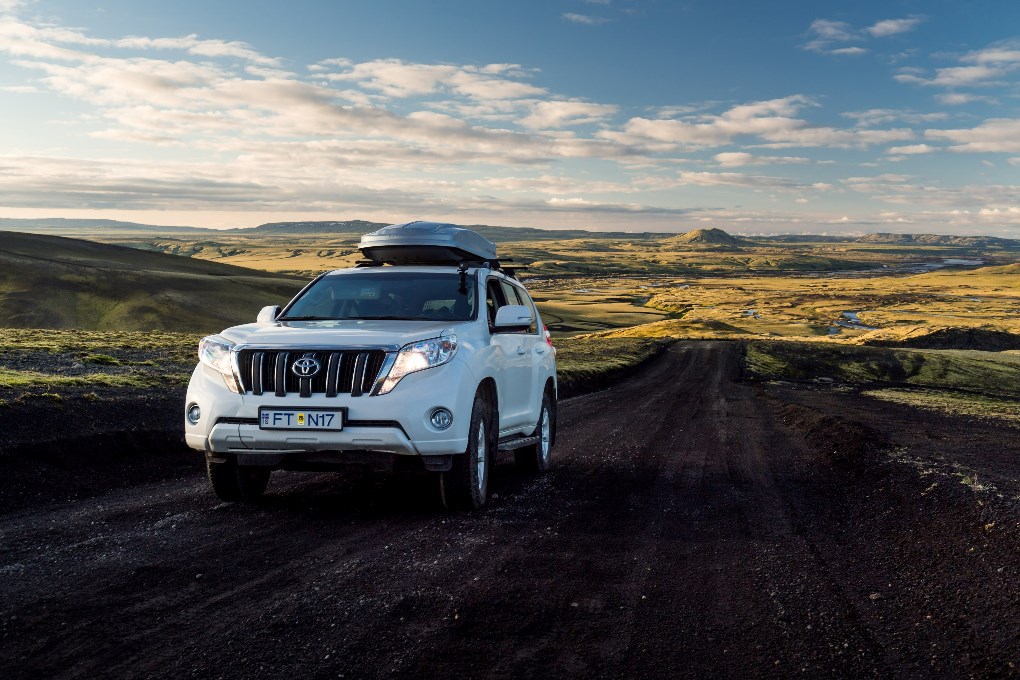 Reasons to rent a 4x4 car in Iceland
Overall, there are many reasons why you might want a 4x4 car rental in Iceland instead of a 2WD vehicle. When you rent a 4x4 car, you get all the standard advantages of a car rental, plus other benefits, including:
Extra space and more comfort
Since 4x4 vehicles are larger, you get more room to spread out in a 4x4 rental than you would in a 2WD rental, making for extra space for more travellers and more luggage. 
You can easily drive to parts of Iceland that you couldn't with a 2WD vehicle when you rent a 4x4. Rugged regions such as the Highlands and Westfjords require a 4x4 car or SUV. In fact, it's illegal to drive 2WD vehicles on the Highland F-roads at all. 
While a 2WD vehicle is safe to rent in Iceland in many cases, there are some instances where you'll benefit from the added safety a 4x4 rental provides. For example, during the winter months or when travelling on gravel or unpaved roads, a 4x4 car will give you extra traction and improved safety. 
With a 4x4 rental in Iceland, you can see the entire country, when you want, how you want, and you're not limited by the restrictions of a 2WD vehicle.
What 4x4 vehicle should I rent in Iceland?
The type of 4x4 vehicle that you rent while in Iceland depends entirely on your individual travel style and needs. 
If you're an adventurous traveller, you may want a larger vehicle, like our Nissan X-Trail or Toyota Land Cruiser, both of which can fit all your outdoor adventure gear, from hiking poles to backpacks. And if camping out in the great outdoors catches your fancy, you might want to opt for a full-on campervan. 
If you're a travelling family, you might want to go with a 4x4 vehicle that comes with a few extra amenities to ensure everyone is nice and comfy, like Bluetooth and cruise control, heated seats and more (you can find amenities like these in the Toyota Land Cruiser).
You'll also want to consider the total number of travellers in your party before you decide on which 4x4 to rent in Iceland. Some of our 4x4 vehicles are suitable for up to five people, but only up to three suitcases or pieces of luggage, while some of our larger 4x4 vehicles are suitable for up to seven travellers and lesser luggage. 
Of course, even if you're travelling with a small crew, you may decide that you want to go with a larger vehicle regardless, as the more interior room you have, the more comfortable everyone will be. If you're spending many days on the road, such as while traversing Iceland's Ring Road, which can take a week or more, you definitely don't want to feel cramped the entire time. 
The same goes for luxury — if you're going to be spending a lot of time in your vehicle during your Iceland trip, you may want to spring for a few of those extra perks and amenities. 
Lastly, you'll want to consider where you plan on driving in Iceland, as that will also impact which 4x4 vehicle you'll want to rent. For example, if you're driving in an area where river and water crossings are necessary (like in the Highlands), you'll need a vehicle that's tall enough to handle them. 
Take a look at all of our 4x4 options and see which might be best for you.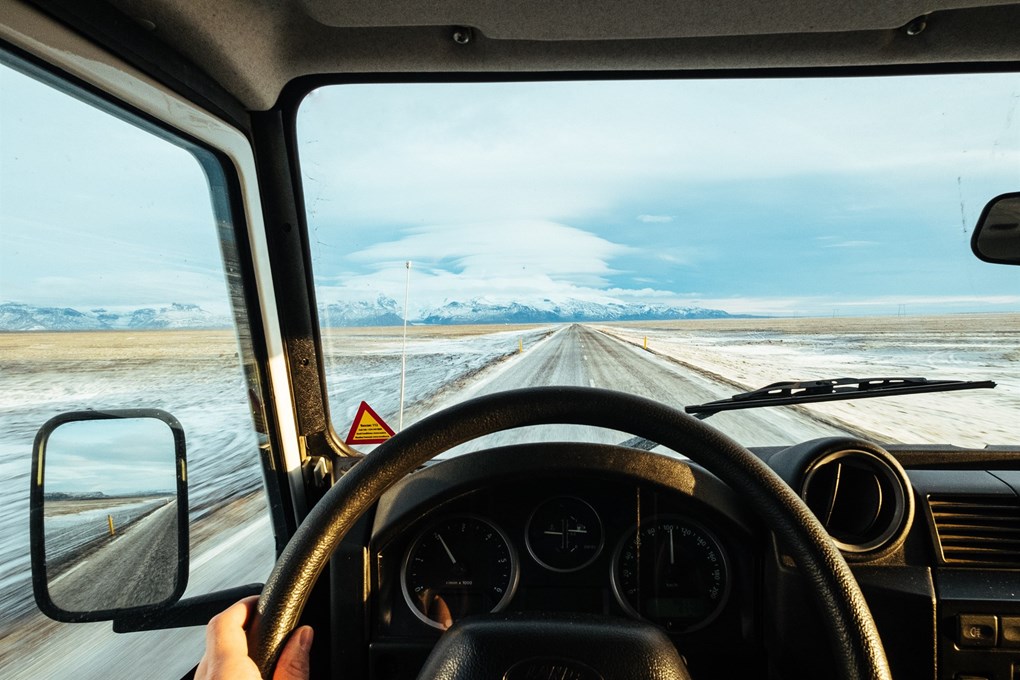 Types of 4x4 rental cars in Iceland and recommended models
Wondering what type of 4x4 car rental in Iceland is right for you? Here are some of our recommendations. 
A small SUV is a good option if you want the height and practicality of a larger 4x4, but without the larger cost. You'll still stay safe on more rugged roadways and in inclement weather.
However, it's important to note that smaller SUVs won't be able to fit large groups of travellers and are typically best suited for couples or small families, and those who aren't bringing a lot of luggage with them. 
You can feel safe taking a small SUV like a Fiat Panda or Suzuki Jimny to many of the Highland F-Roads, the Westfjords and all around the Ring Road and to Snaefellsnes. However, do note that these small SUVs are not suitable for river crossings, so you'll want to check the F-roads you plan on driving ahead of time, to ensure you don't run into any water. 
A little bit larger, a medium-sized 4x4 hire in Iceland can provide you with additional space and comfort if you're travelling in a group of four to five people with additional luggage. Examples of potential medium SUVs that you could rent include the Dacia Duster, Hyundai Tucson, Suzuki Vitara and Toyota RAV4. Medium SUVs come with both manual and automatic transmissions, and you can find diesel, petrol and hybrid mid-size SUVs. 
Mid-size SUVs are suitable for driving in the Highlands and Westfjords, but only on Highland F-roads that feature very small water crossings. 
Your largest Iceland 4x4 rental option, large-size SUVs can typically fit up to seven passengers, depending on the model. If you go with a larger SUV with more seats, you may find, though, that you have limited storage space.
Larger SUV options include the Toyota Land Cruiser, Nissan X-Trail and Land Rover Discovery. 
You can take on nearly all of the F-roads and other roadways in the Westfjords and Highlands with a large SUV. For larger river crossings, you'll need to look for a particularly large SUV, though, such as the Toyota Land Cruiser. 
Lastly, beyond 4x4 cars and SUVs that you can rent in Iceland, you can also opt for a campervan. Campervans provide you with so many benefits, as they combine your accommodations and transportation into one cost and place. 
If you pick a 4x4 campervan like the VW Transporter, you'll find you can enjoy all the sizes and amenities of a campervan, while still visiting some of the more remote areas of Iceland.
Can I rent a 4x4 campervan in Iceland?
More than ever, travellers are looking for 4x4 camper rentals in Iceland. This unique form of travel comes with many benefits. It allows you a huge amount of flexibility to see more of the country without relying on hotel reservations or a guided tour. 
Specifically, 4x4 campervan rentals in Iceland are incredibly popular for driving the Ring Road. As one of the country's most popular self-driving routes, you'll find lots of spots to park your campervan around and near the road, so you can travel at your own pace. 
So, yes, you can and should rent a 4x4 campervan in Iceland. However, do note that campervans are in very high demand, so you'll want to book that campervan sooner rather than later. For more information and tips, check out our full guide to renting a campervan in Iceland.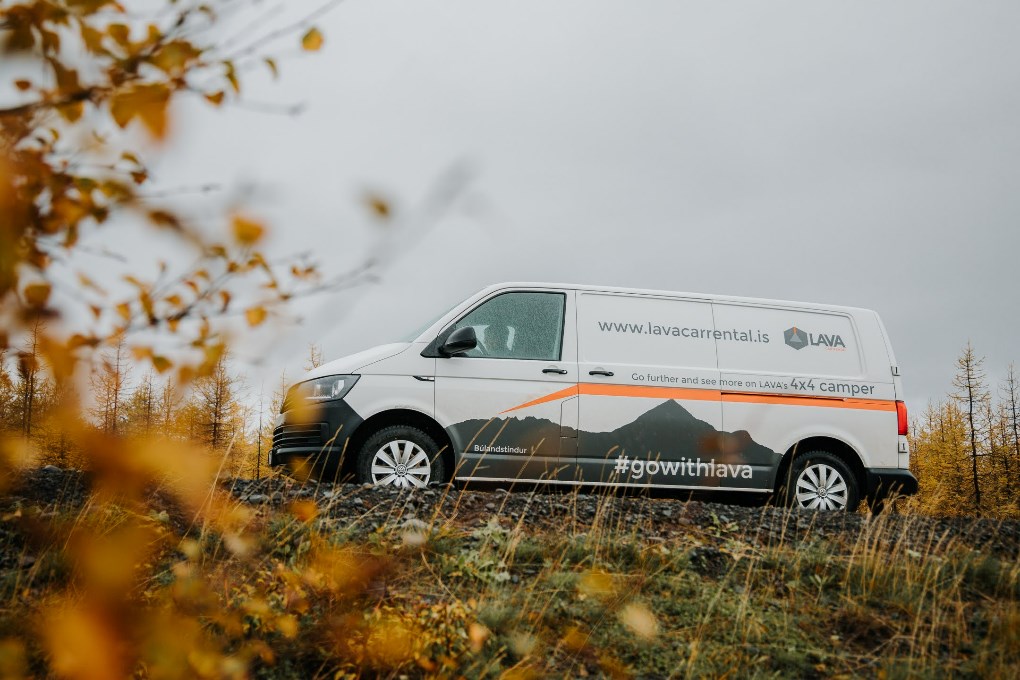 How much does it cost to rent a 4x4 in Iceland?
How much your 4x4 rental in Iceland will cost depends on a few different factors.
While, in general, 4x4 vehicles are larger than 2WD vehicles, you'll still find 4x4 vehicles in a range of sizes. Smaller 4x4 vehicles, like the Suzuki Jimny, are more affordable than larger 4x4 vehicles, like the Land Cruiser or even the 4x4 campervan rentals in Iceland, such as the VW Transporter.
Transmission, while not a first consideration for many travellers, will also play into your rental cost. In Iceland, manual transmissions are standard and more popular, so automatic transmission vehicles are in higher demand for travellers coming from other countries where automatic transmissions are the standard. Because of this higher demand, automatic transmission vehicles are slightly more expensive than standard transmission vehicles. 
Of course, the newer the car, the more expensive.
You'll find that rental costs fluctuate depending on the season in Iceland. The high season for tourism in the country is summer, so rental costs are higher then. Rental costs decrease in the winter. 
The longer you choose to rent a vehicle, the higher the cost will be.
Beyond the cost of the rental itself, you should also consider the cost that will come from your fuel consumption. A 4x4 that runs on diesel (like the Dacia Duster) will be overall more affordable than a 4x4 that runs on petrol, as diesel is more affordable than petrol in Iceland.
Check Lava Car Rental's current prices.
How to rent a cheap 4x4 in Iceland
Are you specifically looking for a cheap and affordable 4x4 rental in Iceland? We can help! Check out this full guide to renting a cheap car in Iceland to learn how you can save money on your rental and see Iceland's best sights all while on a budget. 
Renting a 4x4 car at Keflavik Airport
Keflavik Airport is the main point of entry for all travellers coming to Iceland from another country. Thankfully, it's very easy to rent a 4x4 car — or any car, or even a campervan — from Keflavik Airport or in nearby Keflavik. Lava Car Rental offers free pick-up and drop-off from the airport, taking you to and from our offices just five minutes away, where you can pick up your desired rental car and hit the road. 
Learn more about renting a car at Keflavik Airport.
Do I need insurance for my 4x4 Iceland car rental?
Yes, you always need car rental insurance, whether you rent an SUV in Iceland or any other vehicle. When you book your Iceland 4x4 car rental with Lava Car specifically, you'll find a range of car rental insurance options. 
Your car rental will come with third-party and collision damage waiver insurance as standard. However, if you plan on driving on gravel roads, on the F-roads or during winter weather, you may want to upgrade your insurance plan to cover a broader array of damage that is more likely under these circumstances. For example, we highly recommend our clients purchase gravel protection insurance and sand and ash protection insurance if they plan on driving on the F-roads. 
Additionally, it's worth noting that, if you cross any waterways while driving through the Highlands (which is not uncommon), you need to be fully aware that any resulting damage to the car will not be covered by your insurance. No rental car company in Iceland offers coverage for water damages that occur during a river crossing and, furthermore, it's requested that you do not cross rivers in your rental car. 
Travelling on F-roads in Iceland with a 4x4 
When you're planning your trip to Iceland, you'll likely come across the F-roads, especially if you plan on visiting the Highlands. These are not your normal, average roads and traversing them takes special preparation and definitely a 4x4 vehicle.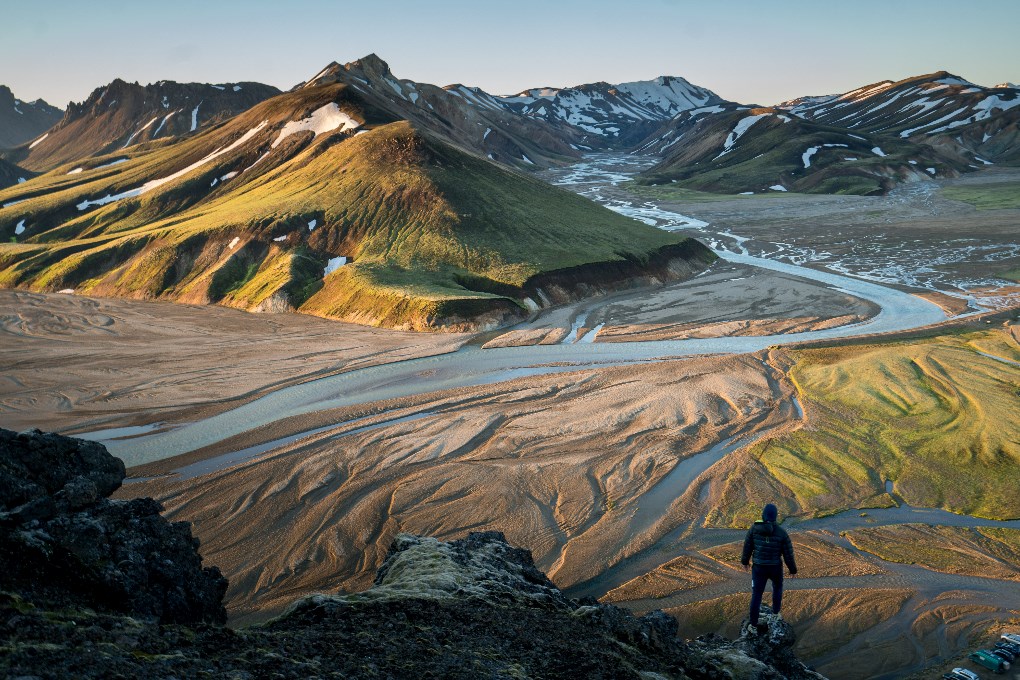 What exactly are F-roads?
"F-roads" stands for "Fjallvegur roads," and the name is simply an Icelandic term for a mountain road. You'll find F-roads all across Iceland's most remote and rugged landscapes, especially throughout the Westfjords and Highlands, with the majority of the F-roads found in the latter area. You'll be able to spot them by the road signs, which are labelled with an "F" and a number. Of course, the gravel and lack of maintenance also give them away. 
F-roads are only open during the summer months (you can check the exact opening dates here), as they become far too dangerous to traverse during the winter, but if you take a chance on these rugged roads during warmer weather, you'll be treated to amazing vistas and views at spots such as Landmannalaugar and Askja. 
How do I drive on Iceland's F-roads? 
Just because these roads may be a little more rugged than what you're used to, don't let that intimidate you or stop you from seeing all the sights and sounds they offer. Compared to Iceland's Ring Road, the F-roads are far more remote and less crowded, so you'll get the chance to see some of Iceland's most pristine areas, without all of the tourists. 
All it takes to traverse the F-roads safely is a little bit of preparation and caution.
Before you head out on any of Iceland's F-roads, you'll want to check the weather conditions and the road conditions. For the former, check www.vedur.is, both as you're planning your trip and on the day that you actually want to go out on the F-roads. For the latter, do the same, at www.road.is. Keep in mind that the Highlands and Westfjords of Iceland are mostly closed during the colder months, due to both poor weather and road conditions, so you'll only want to plan a 4x4 road trip to these destinations, or on any F-roads, during the summer months. 
On the day of your trip out to the F-roads, take along food, water, and any other necessary provisions that you suspect you might need. Think of it like prepping for a camping trip — you usually won't have access to stores or gas stations while in the Highlands and along the F-roads, so you'll want to bring everything you need with you. 
In addition to food and water, make sure that you have a full tank of fuel and, to be safe, bring along extra fuel in a separate fuel canister, just in case.  
Safe travel in Iceland is not taken lightly, and for that reason, we recommend that you submit a travel plan to the Icelandic Association of Search and Rescue. In your travel plan, you can let the association know where you plan to be every day of your trip throughout Iceland, and then, if they suspect an emergency, they can start a search and rescue operation to ensure you get the help you need.
How safe is it to cross Iceland's rivers in a 4x4?
As you travel the F-roads, you may come across small rivers and other bodies of water and you may need to cross them in order to get to the road on the other side. While this is something that many people do while travelling through Iceland, note that doing so is entirely at your own risk. There are no insurance companies in Iceland that offer river crossing insurance. 
If you do decide to cross a river while travelling along the F-roads, here are a few tips:
Don't cross the river alone; wait until another driver is nearby, just in case you need some help.
Try to drive with the flow of the river, rather than against it.
Drive slowly and don't stop.
Cross rivers early in the morning, if you can.
Avoid particularly calm spots, as the calm spots are the deepest spots.
Do not drive off-road in order to try to cross a river at a different spot.
If you're in doubt at all regarding your safety, simply don't cross the river. Turn around and take a different route.
Iceland F-roads that are safe to drive
If you're planning an Iceland road trip itinerary and looking for a safe, popular route along the F-roads, there are a few recommended options to try.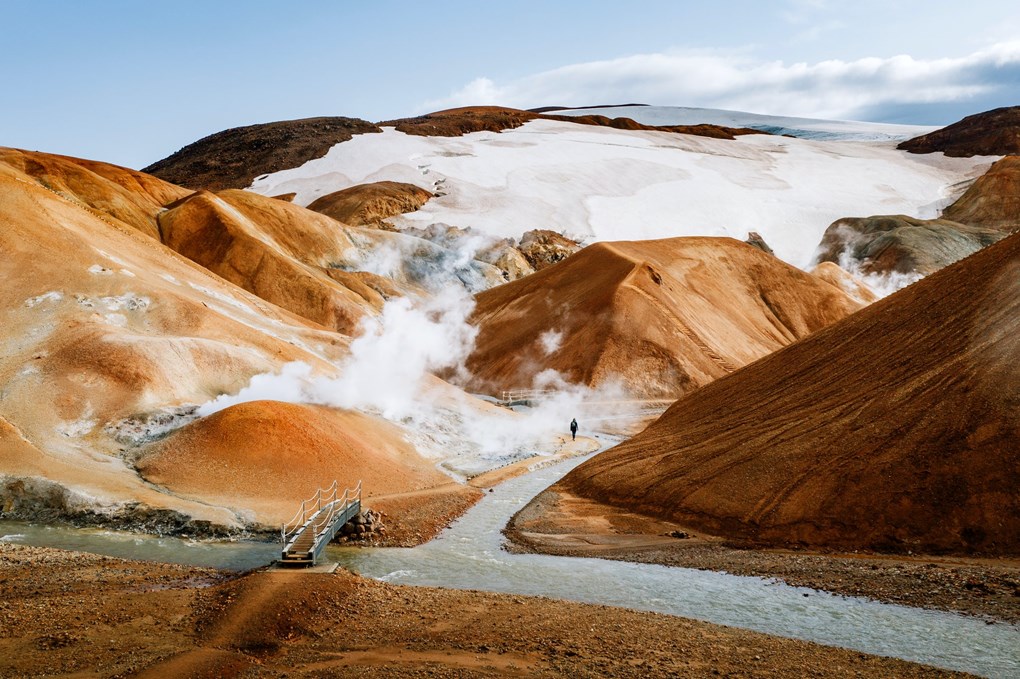 F35 is also called the Kjolur route and it's the most popular Highlands route. It takes you from Geysir on the Golden Circle (another popular Iceland road trip route!), through the middle of Iceland, and on to the north of the country. There are three favourite stops along the route, including Gullfoss, one of Iceland's most popular waterfalls; Hvitarvatn, a pristine Highlands lake; and Hveravellir, a geothermal pool and hot springs. 
F347 is a detour off F35, and a perfect choice for visiting Kerlingarfjoll, a ridge range with geothermal springs and lots of hiking.
F88 takes you into northeast Iceland, off the Ring Road and nearby Askja Caldera. The road is popular for those travellers wanting to take in the region's beautiful lunar-like landscape and volcanoes. Popular stops near F88 include Hrossaborg, a huge crater, and Herdubreid, a "tuya," or type of volcano, in Vatnajokull National Park.
F550, or the Kaldadalsvegur route, is the shortest Highland route that you can take and is preferred by beginner adventure travellers who may not be very comfortable planning an all-out, week-long trip through the unpredictable Highlands. But even on this short route, travellers still enjoy beautiful scenery filled with lunar-like rocks. One plus? This route has zero unbridged river crossings!  
Lastly, F208 is a popular choice for those seeking a truly breathtaking, scenic experience, but it's not exactly for the faint of heart. Challenging, with river crossings and boulders, it's only advised for experienced drivers. If you consider yourself fairly adept behind the wheel, travelling along the F208 route will treat you to stops by geothermal pools, waterfalls, sweeping canyons, and more. 
Iceland F-roads that are prohibited for all rental vehicles
There are a few of Iceland's F-roads that are absolutely off-limits for all rental vehicles, whether or not you've rented a 4x4. These off-limits F-roads include:
Road 622 in the Westfjords
Road 337 to Pjofahram 
Road F578 to Arnavatsheidi 
Road F210 around Myrdalsjokull
Road F26 through the Highlands
Road F910 Oskjuvatnsvegur
Road F980 Kollmuluvegur
Road F249 to Porsmork
For more information about what is and isn't permitted while driving in Iceland, check out our complete guide to all driving in Iceland. 
Should I rent a 4x4 in Iceland?
There's no right or wrong answer. Sometimes, you absolutely need a 4x4 rental in Iceland. Other times, you don't. 
Do you…
Plan on visiting during winter?

Plan on visiting the Highlands? 

Plan on visiting in a large group or bringing lots of luggage?
Then you definitely need a 4x4 rental.
Do you…
Plan on visiting during the summer?

Plan on only sticking to major roadways and/or cities?

Plan to only visit with one or two other people?
Then you can likely get away with just renting a 2W vehicle. 
Whatever your car rental needs when you come to Iceland, you can find a rental that works for you among the Lava Car Rental selection. 
Explore Iceland's Wilder Side, with a 4x4 Rental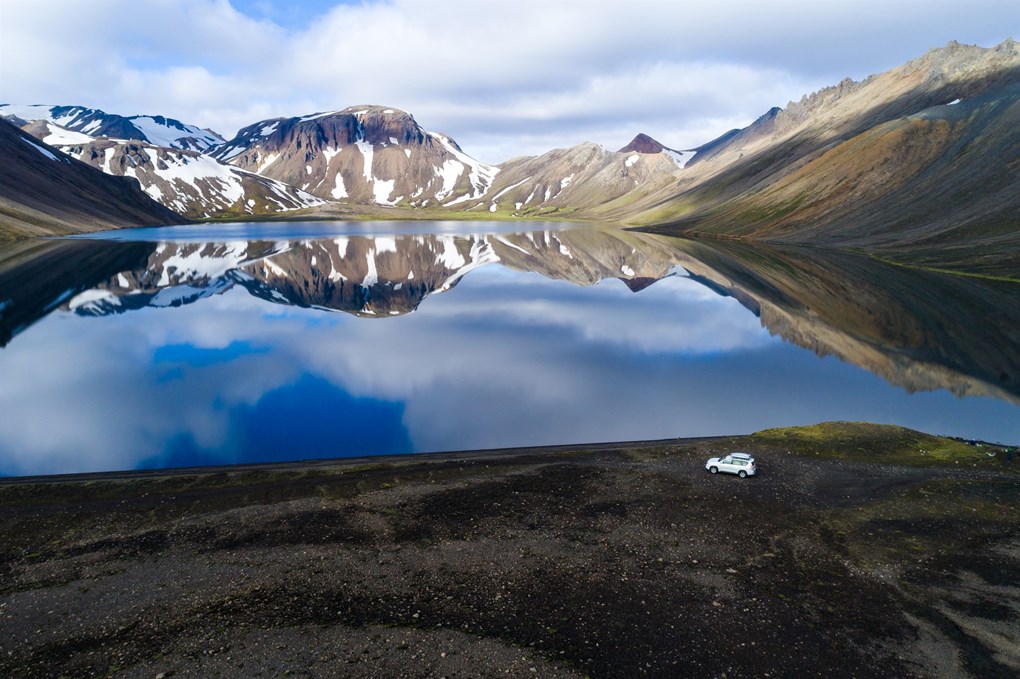 Booking a 4x4 vehicle during your trip to Iceland can equip you to see some of the country's most remote and breathtaking regions. Get off the beaten path and away from the tourists on the Ring Road and see what Iceland has to offer in the Highlands and along the Westfjords. With the right precautions, a 4x4, and careful planning, you can safely see all of Iceland.
Start your planning with Lava Car Rental. No matter how many people you're travelling with, no matter what kind of traveller you are, and no matter where you plan to go in Iceland, we can help you pick the perfect 4x4 for your needs.