A Guide to Driving in Iceland in July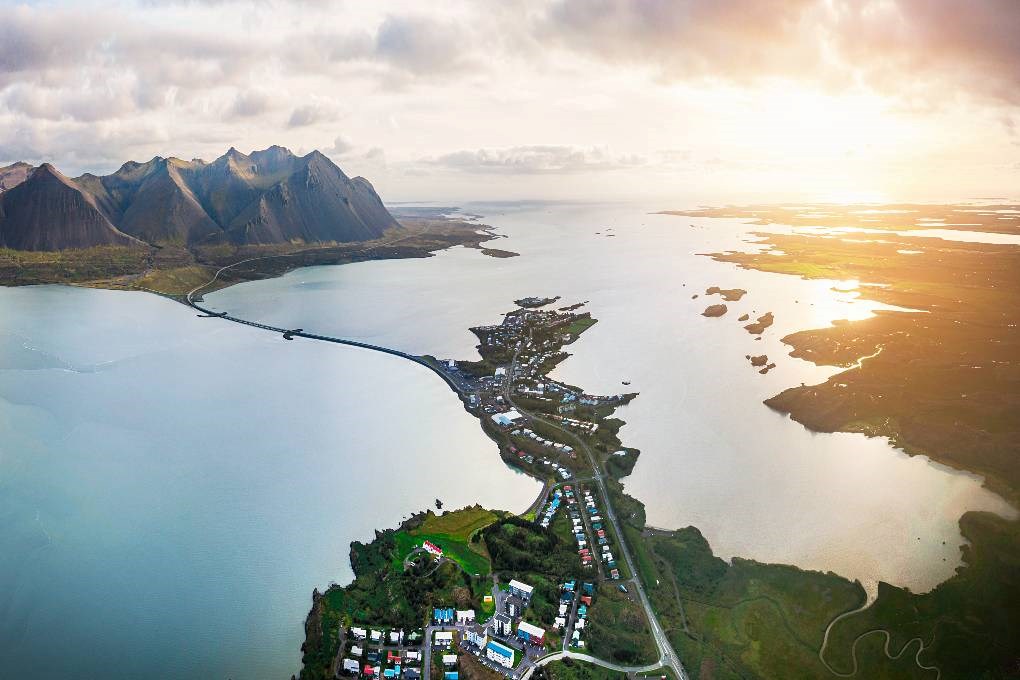 Planning on visiting Iceland in July? Summer is Iceland's peak tourism season, so you wouldn't be alone. However, you can ditch the crowds in the major tourist hubs and get off the beaten path, when you take an Iceland summer road trip. 
Taking a road trip to Iceland in July will allow you to see the entirety of the country with ease (if you have the right rental car), as you visit some of the island's top sightseeing spots, but also all of the more remote areas that aren't as accessible to the average tourist. 
Intrigued? We're breaking down everything you need to know to self-drive to Iceland in July, including…
What you need to know about driving in Iceland in summer

What to do in Iceland in July 

What to see in Iceland in July

The best rental cars in Iceland in July 
And more!
Is July a Good Time to Visit Iceland?
First things first, is July a good time to visit Iceland? Absolutely! And this can be further proven when you just take a look at all the people that visit Iceland in the summer. There's a reason that this is our peak tourist season. The weather is great, the roads are easy to drive, the scenery is spectacular and the areas of the country that are inaccessible during the winter months are finally open.
Summer in Iceland brings with it the Midnight Sun, when the sun literally stays up all through the night, a phenomenon that many people have never seen, and may never see again. The rural areas are blooming with flowers and the temperatures are mild and warm, but not too warm. The Highlands, Eastfjords and Westfjords, which are the most rugged and remote regions of Iceland, are easier to get to, just for a few short months out of the year. 
The Midnight Sun in Iceland in July
Particularly interested in seeing The Midnight Sun while you visit Iceland? 
If you travel to Iceland in July, you'll have just missed the very peak of this phenomenon. The Midnight Sun reaches its peak on June 20, the summer solstice. However, just because the Midnight Sun is at its highest, offering the most sunlight possible, technically only on one day, that doesn't mean that you will miss it completely if you're not in Iceland on June 20. 
After June 20, the daylight hours slowly and gradually begin to decrease, but the overall amount of daylight that you'll experience in late June and July is still wildly impressive and very likely more daylight than you've ever seen, so late into the evenings. 
So, even though visiting Iceland in July will mean that you've missed the technical, one-day Midnight Sun peak event, you'll still enjoy long daylight hours, with the sun staying up late into the evening. This makes for easier exploring and driving around during your road trip, as there are no worries about the sun setting and cutting your hike or sightseeing short. 
Photographers particularly enjoy visiting Iceland during this period of the year, and it's, again, all thanks to the Midnight Sun. The Midnight Sun creates longer and longer Golden Hour and Blue Hour periods, which are specific times during the day that photographers capture some of their most stunning outdoor photography. In some parts of the world, during some seasons, the Golden Hour or Blue Hour periods can only last minutes or seconds, but in Iceland, they can last for literally hours. 
So what exactly are these Golden Hour and Blue Hour periods? 
The Golden Hour is a time that's either right before the sun sets or right after it rises, when there's just a sliver of sun over the horizon, casting the landscape in a golden, attractive glow. It makes for great photography. Since Iceland's daylight is so extended during the summer months, and especially in the weeks before and after the Midnight Sun, this Golden Hour is extended longer than it would be elsewhere.
Similarly, the Blue Hour is the opposite of the Golden Hour, in that it occurs right after the sun sets or right before it rises. Before the sun peeks over the horizon, there's just enough light to bathe the world in a blue-ish tone. Again, this creates a unique lighting opportunity for photographers and, again, often, the Blue Hour is very brief in most of the world. In Iceland, around Midnight Sun season, however, the Blue Hour is extended much further than it would be otherwise.
The best weeks for enjoying the Golden and Blue Hours in Iceland are from May 20 until July 23. 
Is July a good month to see the northern lights?
But while July in Iceland is a great time to experience the unique phenomenon that is the Midnight Sun, it's not a great time to see some of Iceland's other most well-known phenomena — like the northern lights. 
While the Midnight Sun is essentially extended daylight hours that go far beyond what most parts of the world normally experience, the northern lights are only possible during extreme darkness. Iceland, as a land of polar opposites, experiences these extreme levels of darkness in the winter months, but only in the winter months. 
So, if you want to see the northern lights, visit Iceland in the winter. You won't be able to see them in the summer.
Weather in Iceland in July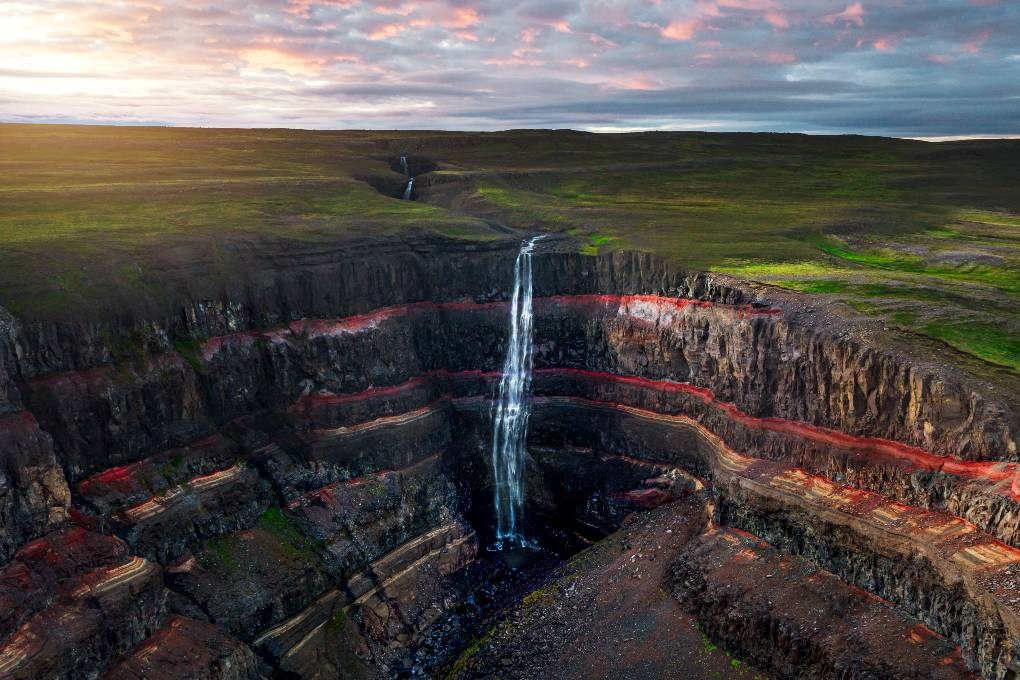 If you've never visited Iceland before, you may be wondering what kind of weather you're in for, if you travel to Iceland in July. Will the weather be icy, as our name suggests?
Luckily, no. July offers some of Iceland's very best weather (which is just one of the many reasons why so many people visit Iceland in July). If you hate cold weather, but want to visit Iceland, July is the month you need to come. You can enjoy mild, balmy temperatures around 50 to 60 degrees Fahrenheit (or 10 to 15 degrees Celsius), with less rain than you'll get otherwise, and low winds. 
Driving in Iceland in July
With all that said about great weather and long daylight hours in Iceland, you could probably guess that the weather conditions are quite agreeable in Iceland in July. 
Here's what you can expect when you book a car rental in Iceland for your July trip. 
Should I drive in Iceland in July?
Yes, yes, yes! Driving is the very best way to see Iceland regardless of the season, but this is especially the case in July, when driving is extremely easy and safe (thanks to the lack of inclement weather like snow storms). 
When you rent a car and drive yourself around in Iceland, you'll be able to go exactly where you want to go, when you want to go there, and see things at your own pace. This just isn't possible when you travel with a tour guide, or if you're trying to rely on Iceland's minimal public transportation.
Even if you think you might fly from one side of Iceland to the other, and sightsee that way, driving is still a better option. When you drive around the country, you're treated to all the scenic views that come with those long drives, which, in July, means green fields, lupins and puffins and other animals in their natural habitats. 
What are the road conditions like in Iceland in July? 
As mentioned, driving in Iceland in July is extremely easy. The road conditions are great. There's no snow or ice and all of the main roadways are kept clear and in good condition, including the major driving routes, like the Ring Road. 
If you do decide to go off the main roadways (all the roads in Iceland are open in July, so you'll have plenty of options), you will see that some of the more remote roads are rugged, but they are still safe, with the right precautions. For example, the Highland roads, also known as F-roads, are very rugged, unpaved and with water crossings, but with a (legally required) 4x4 vehicle you'll be quite safe. 
Do you need a 4x4 in Iceland in July?
You only need a 4x4 in Iceland if you're travelling to rugged, unpaved areas, like some that you'll find in the Westfjords and all of which you'll find in the Highlands. In fact, it's legally required that you only drive on Highlands roads with a 4x4 vehicle, due to their conditions. 
Otherwise, though, you won't need a 4x4, unless you're really just wanting a 4x4 for the extra space. A 2WD vehicle will get you around very safely.
Is it safe to drive in Iceland in July?
So, yes, all of the above said, driving in Iceland in July is totally safe! Still, before you drive anywhere in Iceland, it's always smart to check the weather forecast and road conditions, during your trip as well as before, so you can plan accordingly, if you want to avoid rain, for example, or if there's a road closure.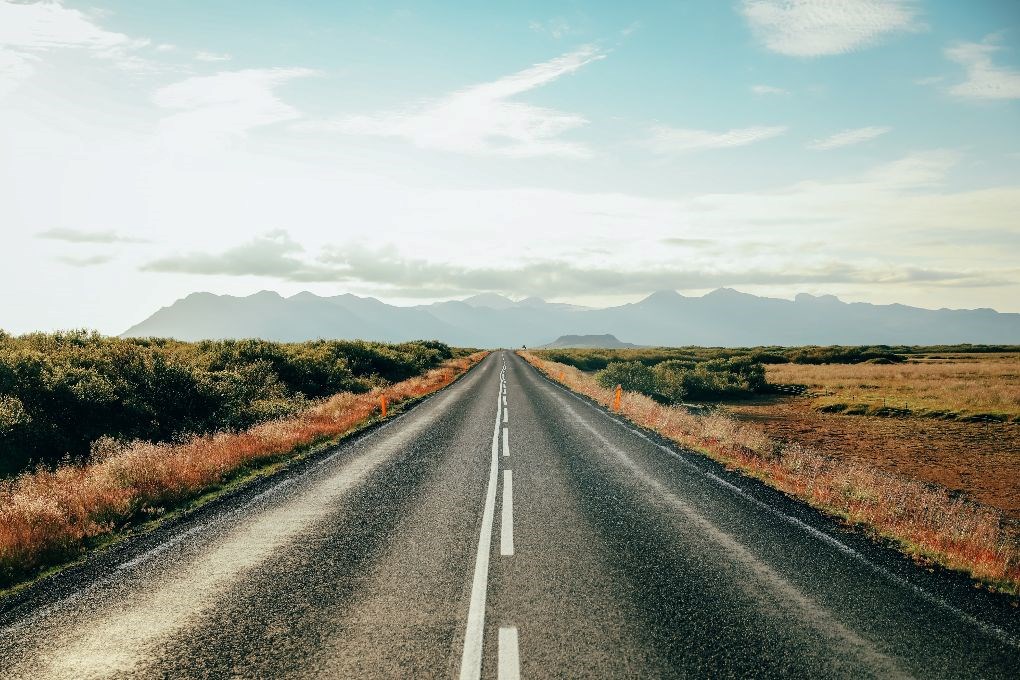 What kind of car rental insurance should I get in Iceland in July?
Even though travelling to Iceland in July comes with great weather and great driving conditions, that doesn't mean you should neglect taking the proper safety precautions that are always advised when renting a car — like purchasing the correct car rental insurance.
Lava Car Rental offers a range of insurance packages and, for summer travel in Iceland, we recommend the full protection package, which includes a super collision damage waiver to cover you in the event of an auto collision, theft protection, gravel protection in case the vehicle is damaged by Iceland's gravel roads, sand and ash protection and tyre protection. 
What to Do in Iceland in July 
Once you've decided that you're really going to travel to Iceland in July this year, what do you actually do once you get here? Here are our top recommendations to add to your itinerary.
Even though travelling to Iceland in July means missing the technical peak of the Midnight Sun, which occurs in June, you'll still be able to take advantage of the long-lingering sunlight. Plan a late-night hike, kayak trip or even a camping trip in a campervan, to see as much of this rare phenomenon as possible.
And along these lines, make sure to plan a hike into your Iceland travel itinerary. During July, all the Iceland hiking trails are open and the hiking conditions are safer than what they might be during the winter months, when you might need extra gear — like snowshoes or spikes — to keep you from falling. 
Need Iceland hiking recommendations? Check out our guide to the best hikes in Iceland.
Even if you don't go camping for the entirety of your Iceland trip, consider spending a few days in a campervan at least. Renting a campervan for your Iceland trip allows you to fully immerse yourself in nature and July's weather makes for excellent camping conditions. 
Here's everything you need to know about camping in Iceland.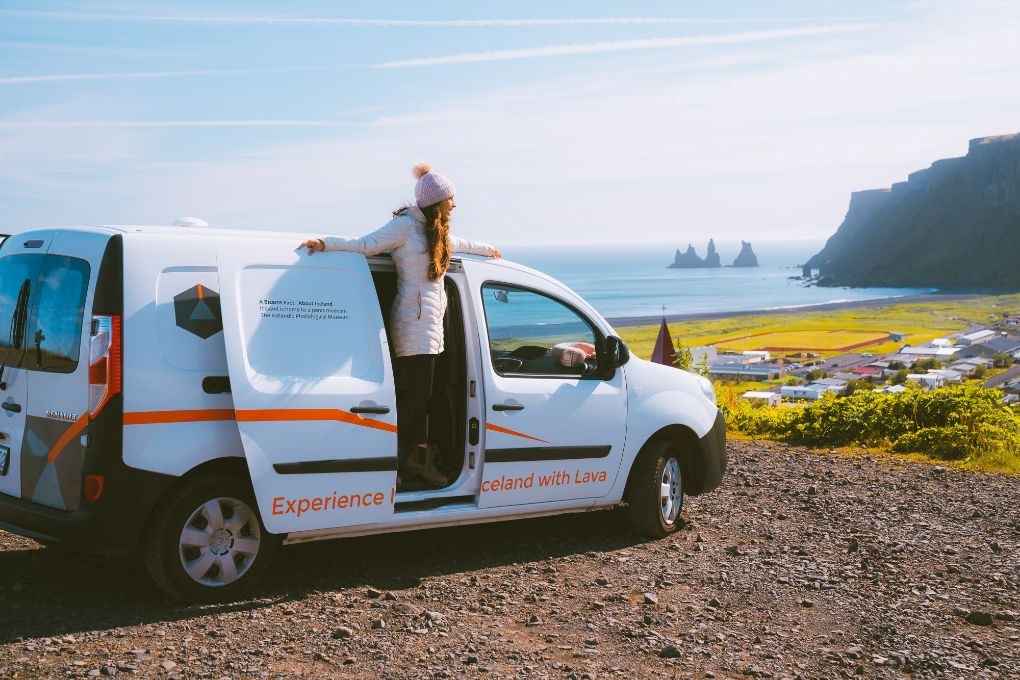 Iceland's native wildlife is out and about during the mild, agreeable summer months. Keep your eyes peeled for the large puffin populations. You'll see them on the cliffsides along the shorelines. 
While you're on the shore, keep an eye out for whales in the ocean, too. You can also take a whale-watching tour to get actually out on the water and closer to these awe-inspiring marine mammals.
Break out your swimsuit and visit Iceland's best geothermal pools and spas. Some are historic, some are rustic, some are luxurious — but all promise an unforgettable experience. 
What to Wear in Iceland in July 
Excited and ready to pack? Make sure you bring the items you'll need for the best trip possible. Remember — while the weather in Iceland is agreeable and relatively warm, this summer vacation isn't going to be hot like a trip to the beach. You'll still need a swimsuit (for those geothermal pools!) but you can likely leave your shorts and tank tops at home. 
We recommend packing… 
A waterproof and windproof jacket

Sturdy hiking boots

Fleeces and other layer-able items of clothing

Plenty of socks

Scarves, hats and gloves

Sunglasses

Swimsuits 

Sunscreen

A cap with a brim for shielding your eyes from the sun

An eye mask for a better night's sleep during the Midnight Sun season 
Where to Go in Iceland in July
If you've never visited Iceland in July before and you want to see the best seasonal spots, there are a few places you'll want to be sure you go, to take the best advantage of the great weather. 
The Ring Road is Iceland's longest self-driving route and also one of the most popular, because it traverses the entire country, in a ring shape. It goes through just about every region, with stops at some of the most prominent attractions. 
Visiting the Ring Road in the summer is an excellent option, as you'll be able to drive longer, each day (thanks to the extended daylight and the Midnight Sun) and the roadways will always be clear of snow.
The Highlands are exclusively open in the summer, so if you're travelling to Iceland in summer for the first time, this region is a must-visit. With dramatic views, spectacular mountains and wild rivers, this region is an adventurer's dream.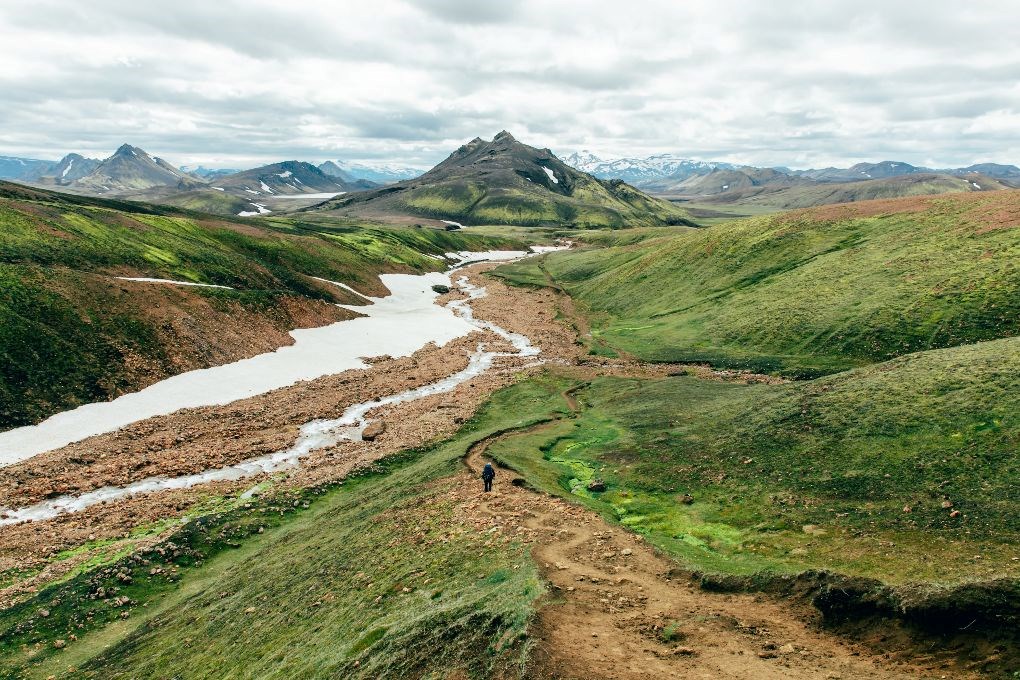 The Eastfjords don't receive as many visitors as some of the other areas of Iceland, so if you want to escape the summer crowds, this is where you'll want to go.
Much like the Highlands, the Westfjords are a little more on the rugged side and they can experience road closures during the winter months. For easier getting around and no road closures, visit this region during the summer, to enjoy gorgeous ocean views, wildlife watching and hiking.
Can I drive the Ring Road in July?
Yes! This extremely popular driving route is totally clean, well-maintained and in good condition during the summer months, for easy driving all around the country.
Tips for Driving in Iceland in July
Ready to hop in your rental car and see all Iceland has to offer this July? Here are a few final tips for driving in Iceland in the summer.
Even though the weather is tame and agreeable in Iceland in July, that doesn't mean you can just drive anywhere with a 2WD vehicle. Look at your currently planned itinerary and determine if you'll be travelling anywhere that requires a 4x4 vehicle (like in the Highlands). 
Similarly, you don't want to have your trip ruined by a car accident or damage to your rental car. With the right insurance, you (and your wallet) will be covered.
Check vedur.is and road.is 
These two websites will be your go-to resources during any Iceland road trip, offering you all the info you need for up-to-date weather and road conditions throughout the country.
Adapt your plan based on weather and road conditions
Road closure? Or windy or rainy weather? Adjust your plan accordingly and be flexible with your itinerary. 
Follow Icelandic driving rules
For your safety, and the safety of others on the road, as well as to avoid hefty fees and fines, brush up on Icelandic driving rules ahead of your trip.
Is it Worth Visiting Iceland in July?
If you have even just a single doubt about visiting Iceland in July left, toss it away. Visiting Iceland in July is an amazing experience, and there's so much to do and see, with the perfect weather and conditions in which to see it.
See it all from the right rental car, when you book with Lava Car Rental. Whether you need a compact and affordable 2WD for you and a friend, or something larger for the entire family, we can help you find the best rental car to fit your Iceland trip's needs.