Guide to Driving the Snaefellsnes Peninsula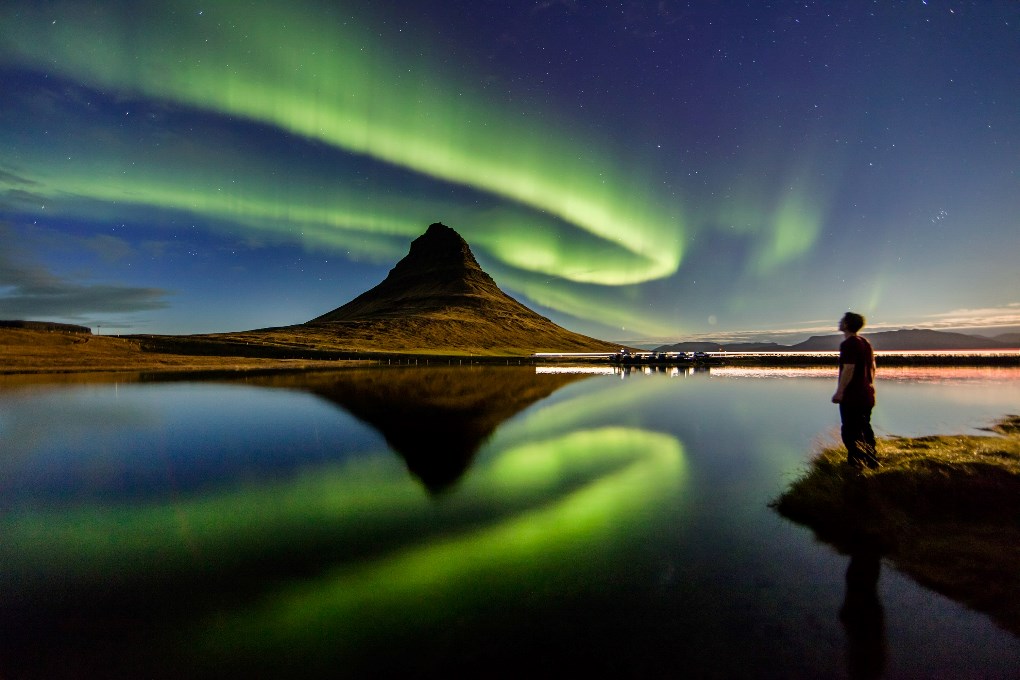 Planning a trip to Iceland and wanting to see the Snaefellsnes Peninsula by car? We're answering all your most-asked questions about this popular West Iceland road trip, such as…
What's there to see during a Snaefellsnes road trip?

What kind of car do I need for driving the Snaefellsnes Peninsula?

Is driving the Snaefellsnes Peninsula myself the only option for seeing this part of Iceland?

What should I add to a Snaefellsnes itinerary? 
To learn the answers to all these questions and more, keep reading! 
What is the Snaefellsnes Peninsula? Why Visit It?
But before we get into how to visit Snaefellsnes Peninsula, it's important to discuss why you might want to visit this area in West Iceland in the first place. 
The peninsula is often called "Iceland in miniature," because you can visit just this one small part of the country and see a little bit of everything. All the things you think about when you think of Iceland — magnificent waterfalls, black sand beaches, icy glaciers, looming mountains, lava fields, tiny and historic fishing villages, magnificent volcanoes — you can see without ever leaving Snaefellsnes Peninsula.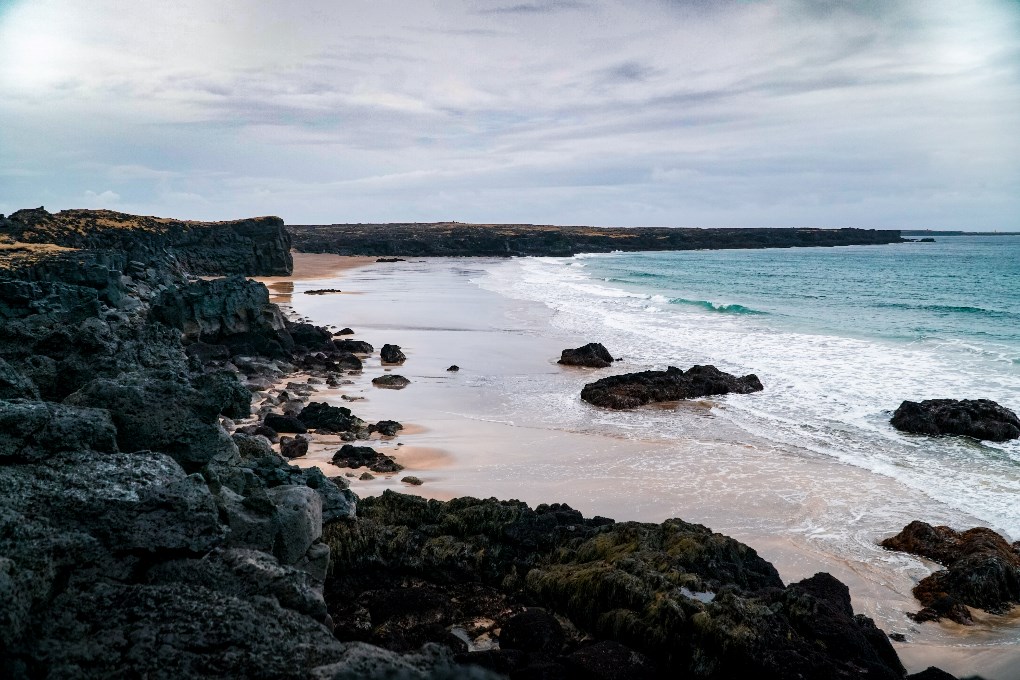 Because of this, the peninsula is hugely popular with not just travellers, but movie crews as well. You'll likely recognise the landscape from its appearances in movies and television series such as The Secret Life of Walter Mitty, Journey to the Center of the Earth and Game of Thrones (and for more filming locales across the island, check out our guide to movie and TV locations in Iceland). 
Additionally, Snaefellsnes Peninsula is also home to one of Iceland's three national parks, Snaefellsjokull National Park.
So, is a visit to Snaefellsnes worth it, and would you have a reason to visit during your trip? We think that this little spot of Iceland is a perfect place to visit if…
You only have a limited time in Iceland and need to see as much as possible in a short timeframe 

You want to visit an area of Iceland that's not so remote and that gets lots of other visitors

You don't want to do a longer Iceland road trip that requires more driving

You want a convenient trip that doesn't require a ton of planning in order to see a lot 
How to Get Around Snaefellsnes Peninsula by Car, Tours or Public Transportation 
So if you do want to visit Snaefellsnes Peninsula, how are you going to get there and then how are you going to get around? You have a few options.
Getting around the Snaefellsnes peninsula by car is your best option, as driving yourself allows you lots of freedom. You can get up when you want, go where you want, and stay out as late as you want — essentially, your trip is your own. You're not beholden to a tour guide's schedule or a bus route. You can stop and stay at attractions all day or move along at a quick pace. As long as you have a rental car, you can do just about whatever you want.
If you're not comfortable with driving around Iceland on your own (though this is one of the easiest places to drive around Iceland, as well as one of the safest), you can book a tour. There are Snaefellsnes Peninsula tours that will take you around to the top sites in the area, either as a group or as a solo traveller. Unfortunately, these tours can often be pricey, and you will have to stick to the tour guide's schedule, versus doing whatever you want, when you want.
While the public transportation system in Iceland isn't as robust as what you'll find in other countries in Europe, there are still bus routes and other options in most major cities and towns. However, for getting around the Snaefellsnes Peninsula, taking public transportation isn't advised. Much of the sites around the peninsula are spread out, so you would have to take a combination of public transportation and hitchhiking in order to see them. 
What are the best rental cars for driving the Snaefellsnes Peninsula?
If you want to rent a car and visit the Snaefellsnes Peninsula that way, you'll have a few options. However, which option you pick will depend on the time of year you visit. Some rental cars won't be suitable for certain times of the year.
If you're visiting during the summer months, you have more options. You can rent a campervan, either 2WD or 4x4, and stay in campsites along your route, or you can rent an economy 2WD car. The roads will be safe enough that you won't need a 4x4 vehicle. However, sometimes a 4x4 vehicle is preferable if you're travelling with more than two people or a lot of luggage, or if you just want the extra space.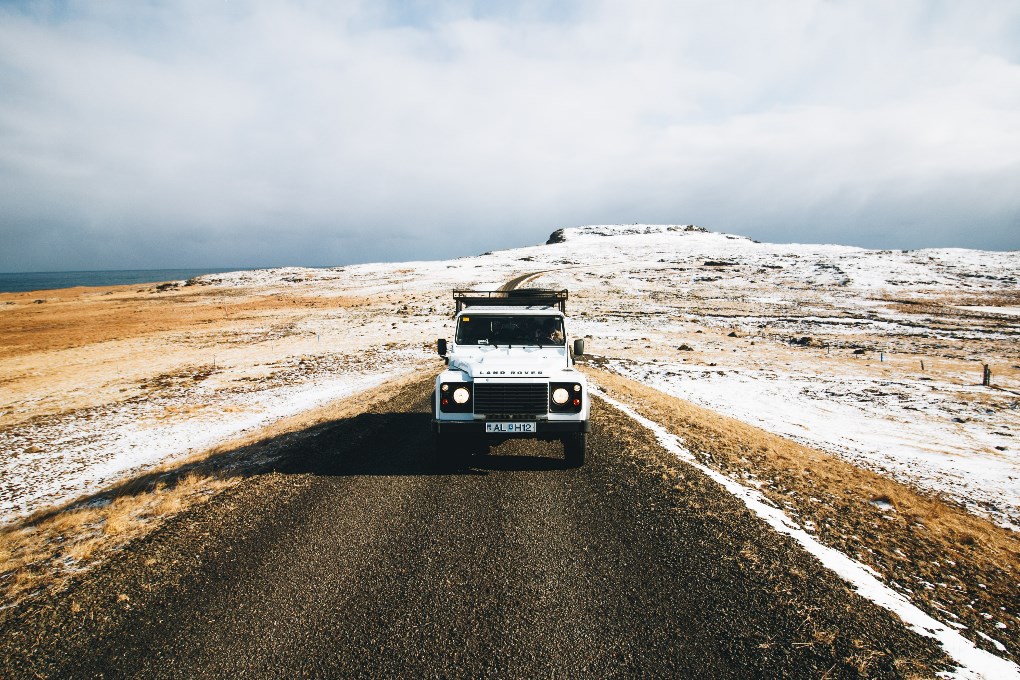 If you're visiting during the winter then, a 4x4 vehicle is a must, regardless of if you rent an SUV or car, or a campervan. While the roads around the peninsula are quite safe, they still can be impacted by hazardous winter weather, during which a 4x4 vehicle is a necessity to get you safely from Point A to Point B. You don't want to be stranded just because your car can't handle ice or snow!
If, though, you're visiting during one of Iceland's shoulder seasons, like during the spring or autumn, you'll want to gauge whether or not you'll be travelling far enough out from the winter months that a 2WD car or camper will be safe. If it's late spring or early autumn, you should be fine. However, any later than that, and you'll run the risk of an easy or late storm impacting your travel.
Do I need a 4x4 vehicle for driving the Snaefellsnes Peninsula?
To reiterate, you won't need a 4x4 vehicle to visit Snaefellsnes Peninsula, unless you're visiting during the winter months, when weather may impact your trip. Otherwise, all the major attractions throughout the peninsula are situated along paved and well-maintained roadways, so you can safely see everything without a 4x4 vehicle. 
The only instance when this is not the case is if you want to drive along one of the area's few F-roads (more on those in our guide to F-roads), such as the ones that lead you to Svörtuloft Lighthouse. Driving on Iceland's F-roads requires a 4x4 vehicle by law. 
All this aside, though, 4x4 rentals are very popular throughout Iceland regardless of the season, so if you think you might prefer one for the added safety and convenience, you certainly would not be alone in your choice.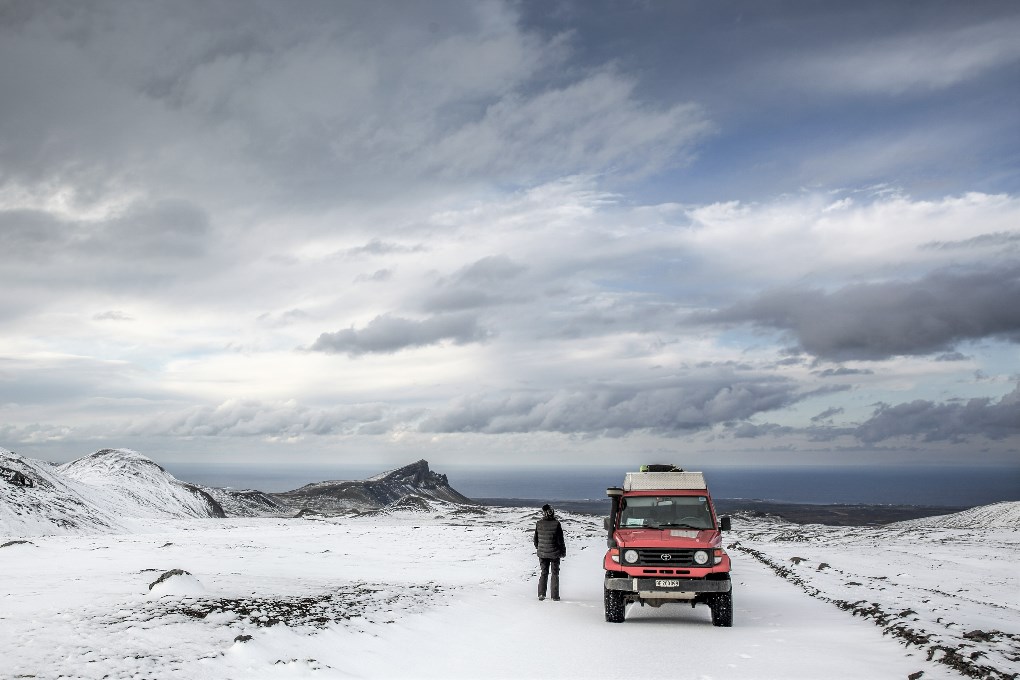 How to Get to Snaefellsnes Peninsula by Car
Getting to Snaefellsnes Peninsula is easy! Once you have your rental car picked up after arriving at Keflavik Airport (here's how to arrange an airport rental car pickup, by the way), you can head to the peninsula directly, or wait until you've settled in for a night or two. Many travellers visit the Snaefellsnes Peninsula after spending a few days in Reykjavik. 
Getting to Snaefellsnes from Reykjavik
If you are indeed travelling to Snaefellsnes Peninsula from Reykjavik, you'll just want to follow Road 1 to Borgarnes, then turn left on Road 54. That's it! That's all you have to do. The trip there is about 140 kilometres, which will take you about two hours. 
If you've decided against driving yourself there, and want to take public transportation from Reykjavik to Snaefellsnes, you'll need to take a bus from Mjdod to Stykkisholmur or Grundarfjordur. However, once you're there, you won't have access to the main sites on the peninsula unless you hitchhike. 
Practical Info and FAQs for a Snaefellsnes Road Trip
How much time do I need for driving the Snaefellsnes Peninsula?
The absolute least amount of time that you can set aside for seeing the Snaefellsnes Peninsula is one day (in the summer months only). Anything less than that will not really allow for anything other than driving. A full day will — good weather pending — allow you to drive to the peninsula from Reykjavik and then see a handful of main sites. You will have to skip some things, though. 
Again, keep in mind that this is only true during the summer months; during the winter months, you'll need longer than one day to see the main sites, as the limited sunlight will make certain sites inaccessible. 
To truly see all the peninsula offers, plan a two-day exploration of the area with an overnight stay on the peninsula. You can even extend your trip to three or four days, if you want to add in lengthier activities beyond the road trip sightseeing, such as caving, whale watching or snowcat excursions. 
How are the roads on the Snaefellsnes Peninsula?
The main roads throughout the peninsula are paved and kept in good condition. They're maintained even in the winter, so you should have no problem at all accessing them. Certain roads, though, are gravel, such as a portion of Road 54 between Budir and Olafsvik. Likewise, there are a handful of F-roads in the area, which are unpaved. Both of these would require a 4x4 vehicle.
Can you visit the Snaefellsnes Peninsula in a day from Reykjavik?
As mentioned, you can visit the Snaefellsnes Peninsula in a day from Reykjavik. However, this is only really done in the summer, due to the extended daylight hours. Additionally, while it is possible to visit the peninsula from Reykjavik in just one day, it's not always advisable, as the time crunch really limits how much you can see and how long you can stay at each main site.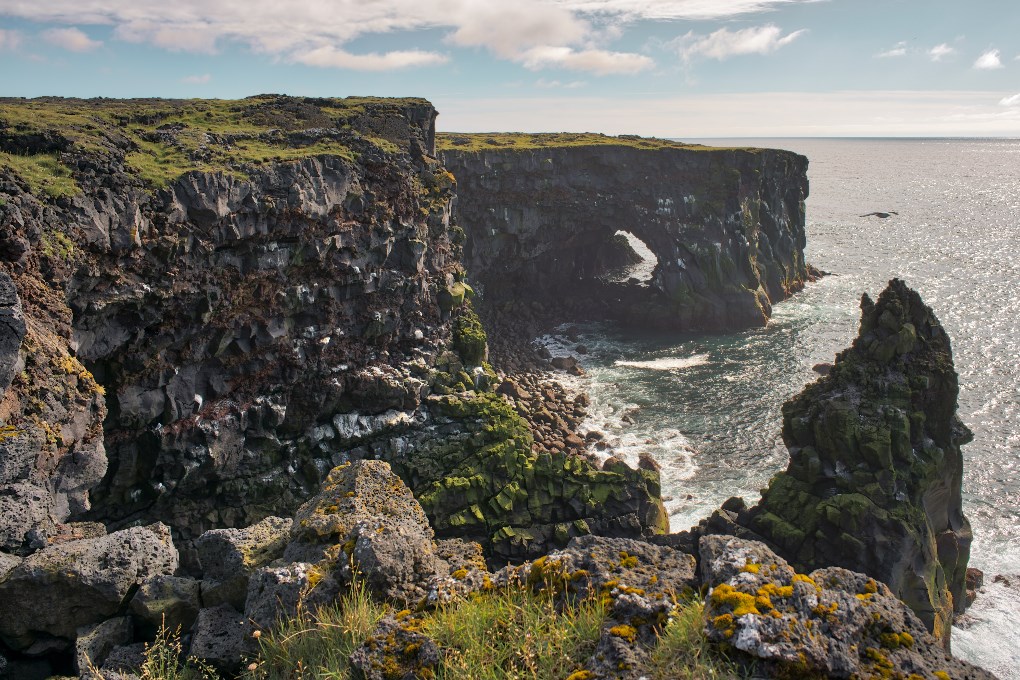 How long does it take to drive the Snaefellsnes Peninsula?
If you want to drive around the entire peninsula, it'll take a little longer than two hours under perfect conditions. This includes zero stops and does not include your driving time to and from Reykjavik. If you're driving to and from Reykjavik, your total driving time will be over six hours, not including any stops. 
The Best Times to Visit Snaefellsnes Peninsula
You can visit Snaefellsnes Peninsula any time of year. However, you should know to expect certain conditions depending on the time of year you visit. 
Visiting Snaefellsnes Peninsula in the summer 
Visiting Snaefellsnes Peninsula during the summer months is arguably the easiest and most convenient option. During the summer, you get more sunlight hours during which to explore the area, plus better weather. The temperatures are high enough to be comfortable, but not hot, and you'll avoid most storms, wind and snow or ice.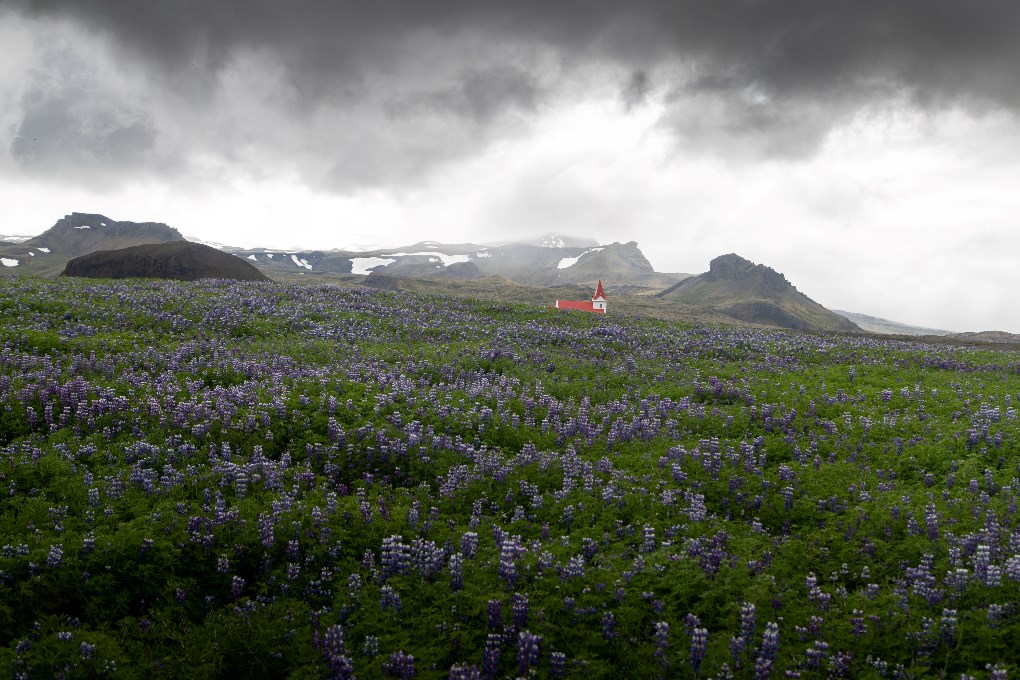 However, do note that since summer is so pleasant in Iceland, it's also incredibly busy. Summer is Iceland's high season for tourism, so you'll run into far more crowds than you might if you visited during the winter. Likewise, because demand is so high during the summer, travel pricing is up, so you'll spend more on your trip. You may also find that it's more difficult to get hotel rooms and rental cars, as everything books up quite quickly. 
Visiting Snaefellsnes Peninsula during the shoulder seasons 
For lesser crowds, cheaper prices and still decent weather, however, you can visit the peninsula during the shoulder seasons of spring or autumn. This will allow you to get the best of both summer and winter, without dealing with the harsher winter weather.
Visiting Snaefellsnes Peninsula during the winter
If, however, you're fine with the harsher winter weather, you might find that you love visiting Snaefellsnes Peninsula during the winter months. You just need to remember that, while you get the benefits of fewer crowds and cheaper travel rates, you will have to travel at a slower pace (accounting for weather and fewer daylight hours) and you'll need to definitely rent a 4x4 vehicle.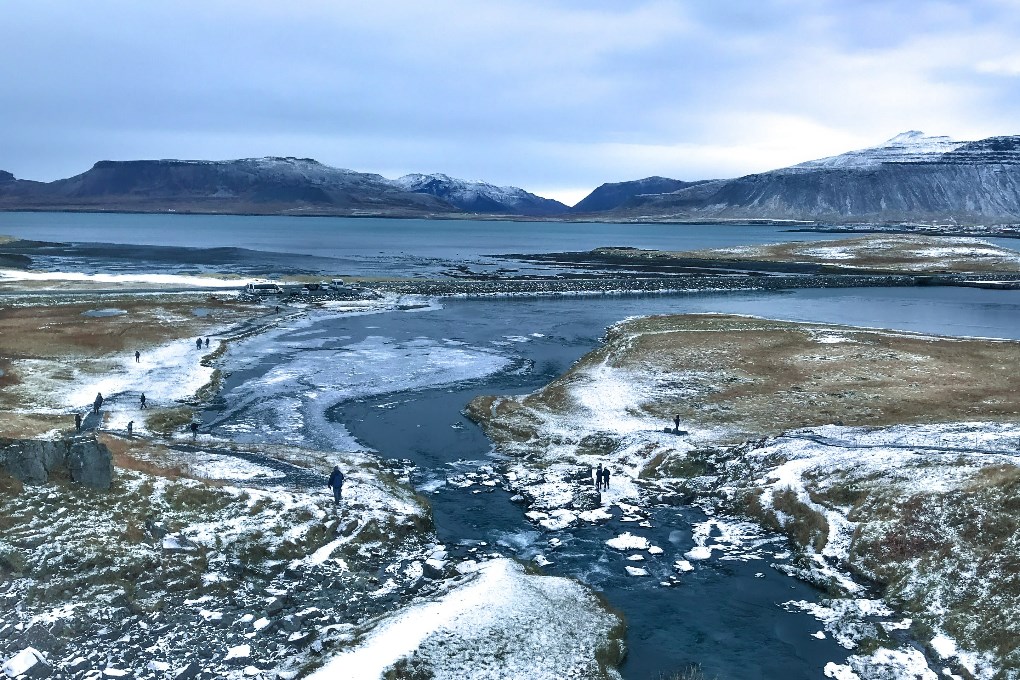 You'll also want to be confident in your driving skills ahead of time, as the roads can be treacherous, even if they are well-maintained, as they are around Snaefellsnes. Inclement weather can pop up suddenly in Iceland. 
The Best Places to Visit in Snaefellsnes
Ready to start planning your Snaefellsnes itinerary? Here are the top sites to add to your list. 
Kirkjufell & Kirkjufellsfoss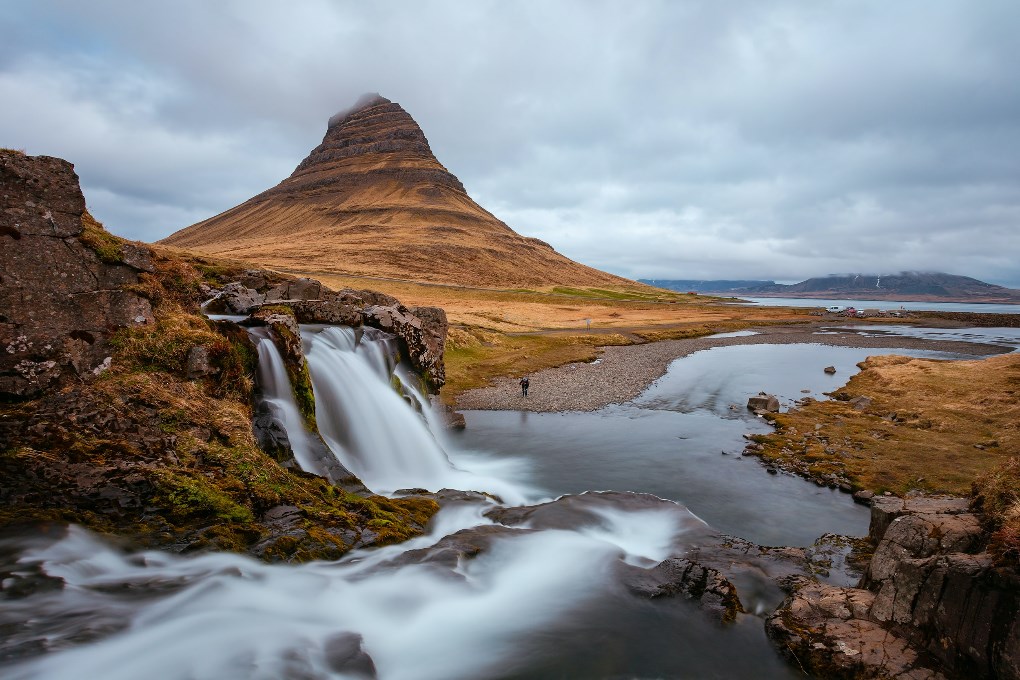 Kirkjufell is one of Iceland's most photographed places. The mountain is right next to Kirkjufellsfoss, one of Iceland's many picturesque waterfalls, so you can see both in one stop. Grab your camera and make sure to get a few photos, especially if you can get one from the right vantage point, showing both the waterfall and mountain.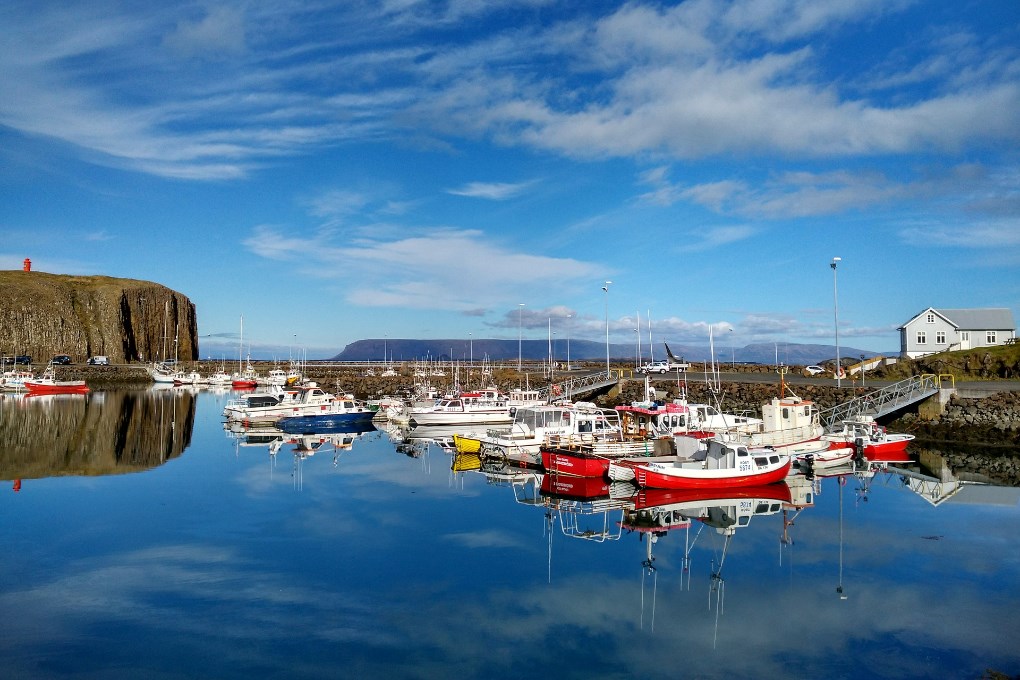 Stykkisholmur is one site that you'll want to add to your itinerary only if you have two or more days on the peninsula, as it's a town rather than a singular scenic site. If you do have the time, though, you'll enjoy exploring this small fishing town, with its lighthouse, museums and more. 
This extinct volcanic crater is one of the most popular in the peninsula. You can climb to the top of the crater in just a few minutes, using the handily placed set of stairs. Once you're at the top, you'll get great views of both the crater itself and the surrounding landscape. 
Snaefellsjokull National Park
One of Iceland's three national parks, this one is named after its glacier and volcano (the volcano is visible from Reykjavik on a clear day). The park also features lava fields, beaches, lava caves and more. You could easily spend the entirety of your trip to the peninsula just exploring here.
Book a tour at this cave to descend down into an ancient lava tube. The unforgettable, subterranean experience is only a 10-minute drive from the town of Hellnar.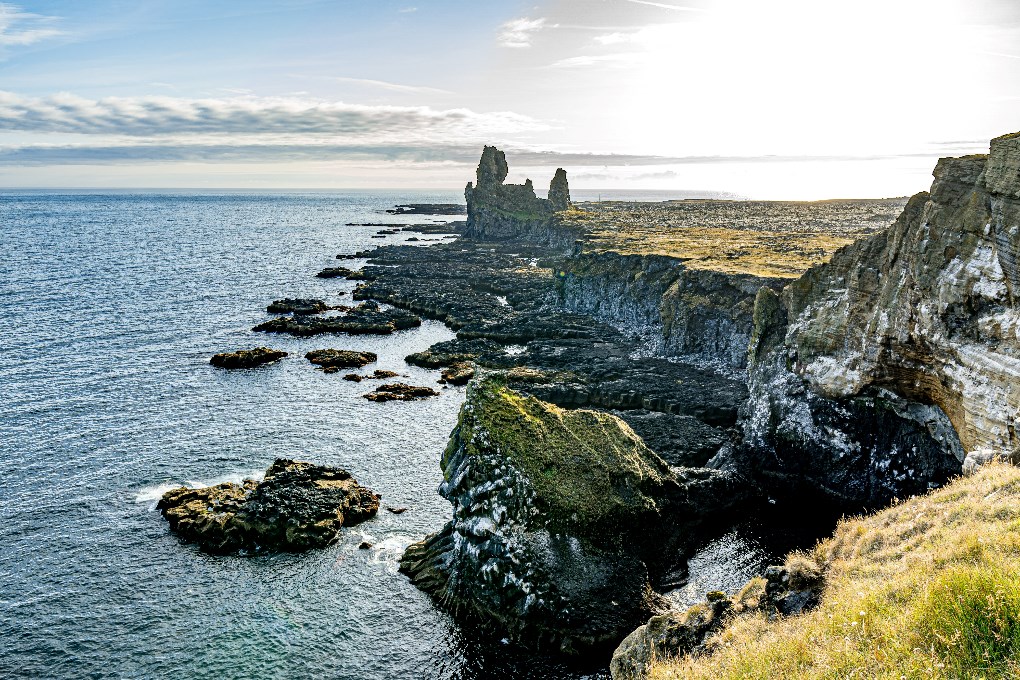 The Londrangar Cliffs are made of basalt and were technically, at one point, part of a volcanic crater. The cliffs are the only thing left. Nicknamed 'the rocky castle,' this site is filled with folklore, history and scenic views.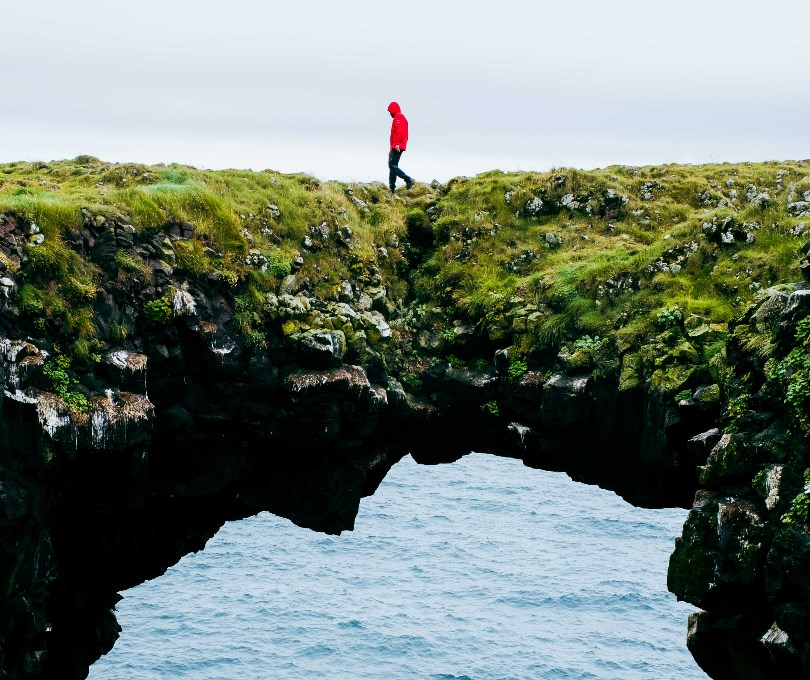 This small fishing village is home to a famous cliff walk that offers gorgeous views, and Gatklettur, or Hellnar Arch, a stone arch that you can walk across.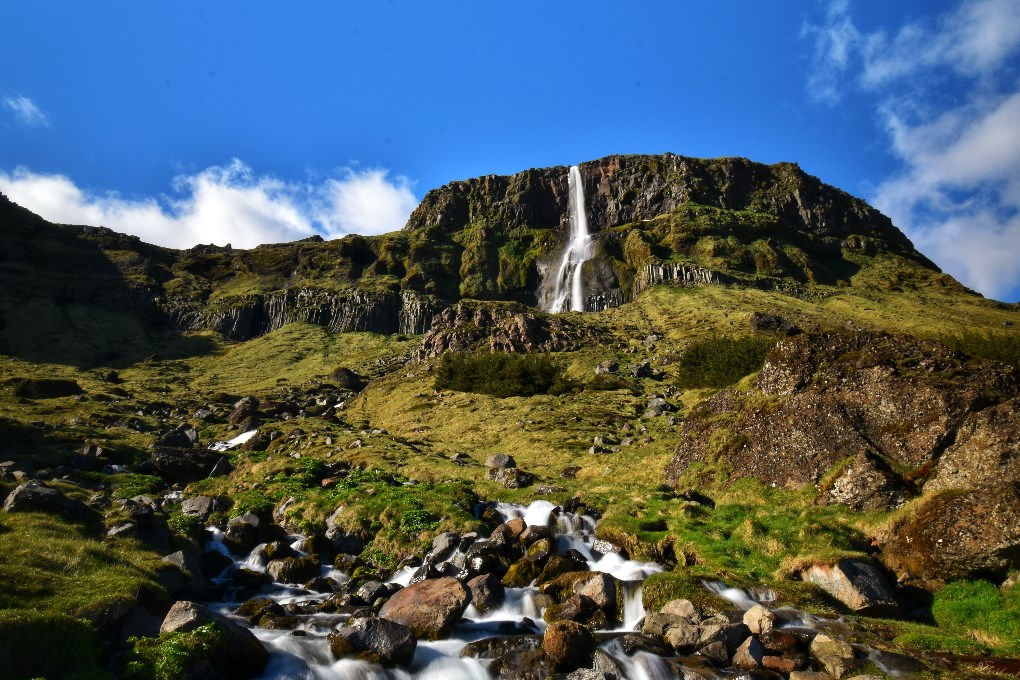 This tall waterfall set among lush farmland is easily accessible, as it's right next to the road. Get out of the car and spend a few minutes taking photos and enjoying the scenery.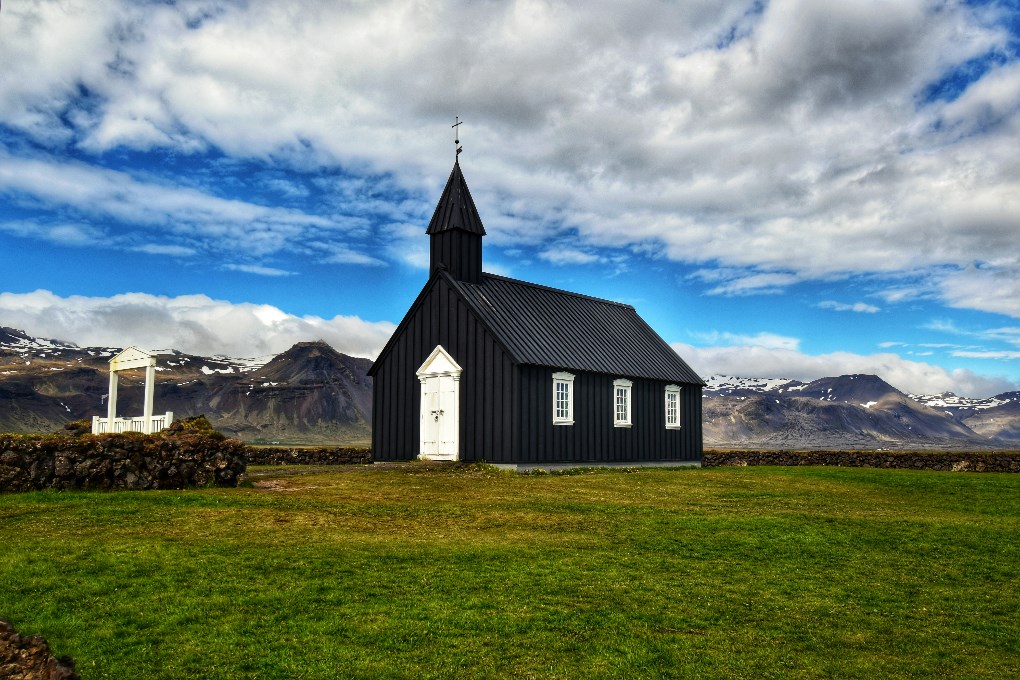 Iceland's famous black church, Budakirkja is a dramatic piece of architecture that's one of the only things in its village. A popular photo op, it might not be at the top of every visitor's list of must-see Icelandic spots, but it's certainly a must-visit for anyone who likes slightly spooky, moody settings.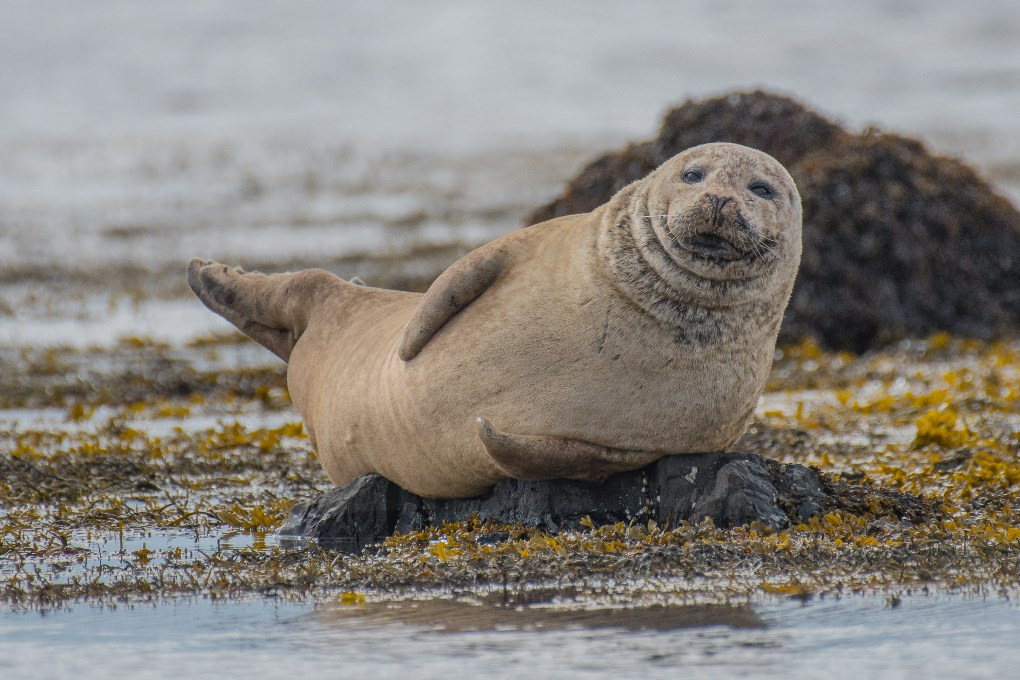 This golden sand beach is known for its seal population. A small car park gives you easy access to this wildlife-watching hub. 
Dark cliffs and black sand combine to create this dramatic beach, sometimes also called the Black Lava Pearl Beach.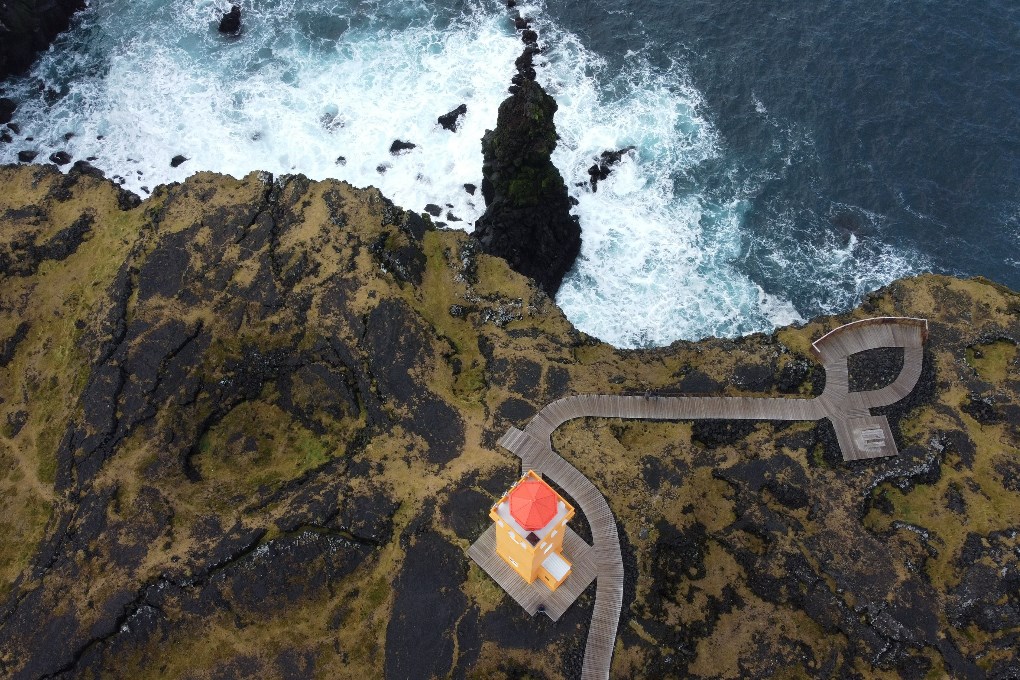 Lastly, Svortuloft Lighthouse is a bright orange structure set high above the water, right on the cliffs. The orange hue stands out against the black lava, for a striking combination. 
Map of Snaefellsnes Peninsula
Is Snaefellsnes Peninsula Worth It?
Yes, Snaefellsnes Peninsula is definitely worth a visit! This diverse region of Iceland offers the best of the country all crammed into one space. Filled with unique attractions, Snaefellsnes Peninsula is easily accessible from both Reykjavik and Keflavik and can be visited year-round, for the ultimate in convenience. The best way to see it all, though, is by rental car, so you can create the perfect Snaefellsnes itinerary for you, no relying on tour guides or public transit required. 
Rent Your Perfect Rental Car with Lava Car Rental
Planning the perfect Snaefellsnes Peninsula road trip starts with picking the right rental car to fit all of your needs. Whether you're a couple or solo traveller who only needs a small economy car, a camping family who needs a 4x4 campervan or a couple of friends looking to travel Iceland in style and comfort, Lava Car Rental can help you out. Check out our full list of available rental cars and get in touch today.