9 Reasons to Rent a Campervan for Your Trip to Iceland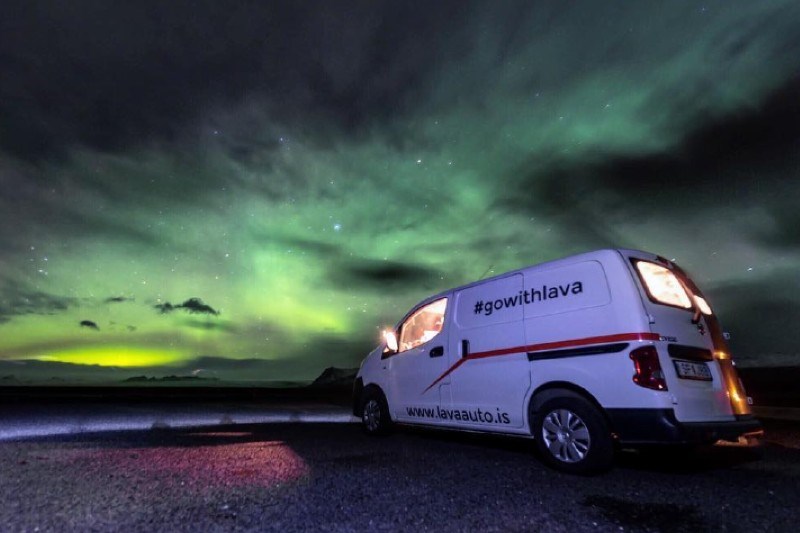 Start planning a trip to Iceland and you'll quickly see that there are myriad ways to get around the country. Rental car, campervan, public transportation or tours — how do you choose the right option for you? Each of these transportation options comes with their own advantages and disadvantages and if you want to rent a campervan in Iceland, you'll need to consider all of these factors.
Each of these transportation options comes with its advantages and disadvantages. Renting a private vehicle gives you plenty of freedom to come and go as you please and to travel around the entire island as you wish. Travelling via public transportation can be affordable, but it also limits where you can go in Iceland. Travelling on a tour limits your freedom and mobility, but you have the added benefit of travelling with an in-the-know guide. Travelling in a campervan gives you the freedom that you get with a private car rental, but with the added benefits of putting your accommodations on wheels.
If you're considering camping in Iceland or wondering if an Iceland campervan rental is right for your upcoming trip, we're here to show you why this transportation option is one of the most popular for incoming travellers. But note — while exploring Iceland in a campervan is one of the best ways to see Iceland, it's not for every single traveller. We're breaking down who should rent a campervan in Iceland, the pros and cons of Iceland campervan rentals, the cost of Iceland campervan rentals and more.
What Exactly is a Campervan?
But first, let's get one thing out of the way. If you're from the United States, as so many Iceland visitors are, you may not be familiar with the term "campervan." Instead, you might refer to these vehicles as a motorhome or RV. However, there are some key differences between campervans and motorhomes and RVs.
Campervans are slightly smaller than your average motorhome. They're literally the body of a van, with all of the amenities of a camper tucked inside. Upfront, you have your normal driver's and passenger's seats that you might have with a van this size, but then in the back, you have a bed, storage, seating, some cooking facilities and other items for nomadic living in comfort. Most campervans are outfitted with a heater as well, or at least they are when you travel Iceland in a campervan, so as to help you withstand the chillier temperatures.
A campervan often includes just enough space for all your necessities, without all the "extra" luxury space that you might find in a big RV. There's no entertainment centre or shower in your campervan, for example. Instead, you'll usually find seating, which you can use at your campsite, and then that seating often folds down into a bed that takes up the majority of the back of the campervan. If you open the back of the van, you'll have space to do some cooking on a gas stove or hot plate, and you'll have storage in the campervan for things like pots and pans and food. A campervan is the ultimate in efficiency!
But just because a campervan doesn't offer the luxury and extra space of an RV, don't think you'll be roughing it. Compared to camping in Iceland in a tent, travelling Iceland in a campervan is much more comfortable and, better yet, there's no set-up required and no more wrangling with tent poles or other gear.
What kind of travellers often choose a campervan in Iceland?
Campervans are suitable for a range of travellers, but we most often see a few select types of travellers renting campervans while in Iceland. These include adventurous nomads who want to travel around the country on a whim, coming and going as they please; budget-savvy travellers who want to combine their transportation and accommodations into one cost; and couples or small families who don't need a ton of space while travelling.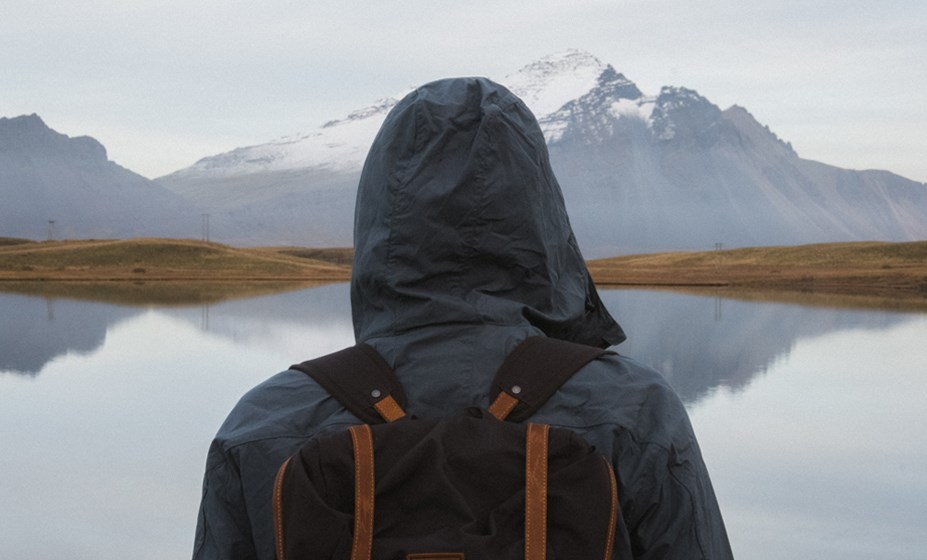 What are the Benefits of Renting a Campervan in Iceland?
So, if you're asking, "Is a campervan best for my trip to Iceland," we're here to help you decide. Here are the 9 top reasons our Lava Car clients choose to rent campervans while visiting Iceland.
1. Freedom and a Flexible Itinerary
There's nothing worse than getting stuck in a rigid itinerary that doesn't allow you to explore or stop and enjoy the sights and sounds you come across during your journey, no matter where you're travelling. In Iceland, this is especially the case, as there are so many instances where you might be driving along and suddenly spot a beautiful beach or gorgeous waterfall that you'd like to pull over and see. But, if you have a rigid itinerary — say, if you have to get to your hotel by a certain time or if you're travelling with a tour guide — you likely won't have enough flexibility to make those stops.
This is where we find one of the biggest benefits of campervans in Iceland. With a campervan, there's nothing stopping you from exploring or seeing what you want, when you want. Your accommodations go wherever you go, so you can travel at your own pace, sleep where you want, change up your route as needed and extend or shorten stays in certain areas as you so wish. There's no strict schedule.
So long as you stay on the designated roads and respect other people's property (and camp where you're supposed to), you can basically do whatever you want when travelling on an Iceland campervan road trip.
2. Money Savings and No More Stress
One thing you absolutely don't need when travelling around Iceland? Stress! You're on a holiday, after all! Renting a campervan in Iceland is one way to reduce your travel stress. There's no more time spent researching and reserving hotels and tours ahead of time, because you can go wherever you want, whenever you want.
Additionally, renting a campervan in Iceland also helps you save a bit of cash, as you bundle the costs of your accommodations and your transportation into one fee.
Just remember — for the least stressful trip possible, book your Iceland campervan in advance, especially if you're planning to travel during the summer months, when campervan rentals are very popular.
3. Immersion in Nature
One of the top reasons travellers flock to Iceland? The beautiful natural surroundings. Whatever season you visit, wherever you travel in Iceland, you'll find breathtaking panoramas, from black sand beaches to glacier-topped mountains to volcanoes to rugged waterfalls. And when you rent a campervan in Iceland, you can more fully immerse yourself in these beautiful natural surroundings, as there's never any need to head into the city and back to your hotel. Just find a beautiful spot that speaks to you and set up camp.
This is especially an important perk during the winter months, for those hunting down the northern lights. As the northern lights can be difficult to find and always on the move, if you can be a little more mobile, too, you may have a greater chance of enjoying the northern lights wherever they pop up. With a campervan, you can literally set up camp, wait for the northern lights, follow them, and then set up camp again. It's that easy. (And for more tips on following the northern lights during an Iceland campervan road trip, check out our full guide here.)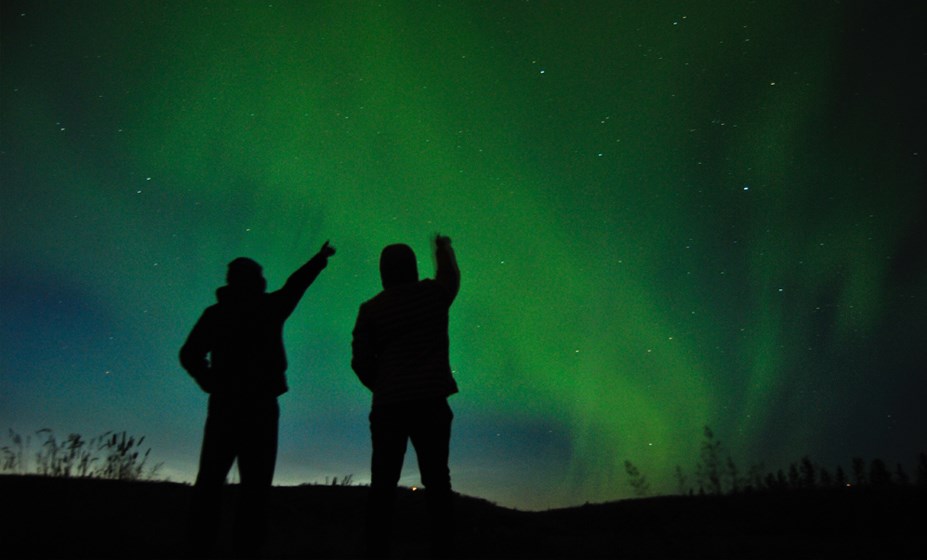 Even in the summer, though, a campervan proves very useful for thoroughly exploring Iceland's natural scenery, as you can better avoid the crowds by visiting some of the most popular Icelandic natural sites at night. The Midnight Sun provides daylight well into the evening hours, and your campervan ensures you never have to go far for a place to sleep, allowing you to explore long after other travellers have headed back to their hotels.
Want to visit the dramatic Icelandic Highlands during the summer months? If you have a 4x4 campervan, like the VW Transporter that's entirely possible, as these 4WD campers can take on any of Iceland's F-roads. (Just remember that it is mandatory that you drive a 4x4 vehicle any time you travel to the Highlands; a 4x4 campervan is also ideal for the winter months. For summer travel elsewhere, a 2WD campervan is more than enough.)
4. Dining on the Go
Just like renting a campervan in Iceland allows you to take your accommodations on the go, it also allows you to take your dining on the road as well. Wherever you travel, that's where you can enjoy your next meal.
Not only is this benefit convenient, but it also helps you save a bit on your travel budget. Dining out in Iceland — even if you're just buying fast food — can be expensive. You can save money by stocking up on food items at an Icelandic supermarket like Bónus or Krónan and then cooking in your campervan. The best part? Your campervan is already outfitted with everything you need to cook, including:
An electric refrigerator and/or 28-litre cooler

A gas stovetop with a gas cartridge

A 10-litre water tank

Pots and pans

Cutlery and dinnerware, including plates, utensils, silverware, knives, scissors and glassware

Dishwashing items

Folding chairs and a table
5. Experiencing the Nomad Life
There's a certain appeal to the nomadic lifestyle, especially for travellers. If you consider yourself a world nomad, then you'll love the flexibility and freedom that renting a campervan in Iceland offers you. Go wherever you like around the country, park at a camping ground or at a hostel (when you have permission) and then come and go as you please.
You can find full information about the places you can and can't camp around Iceland, here.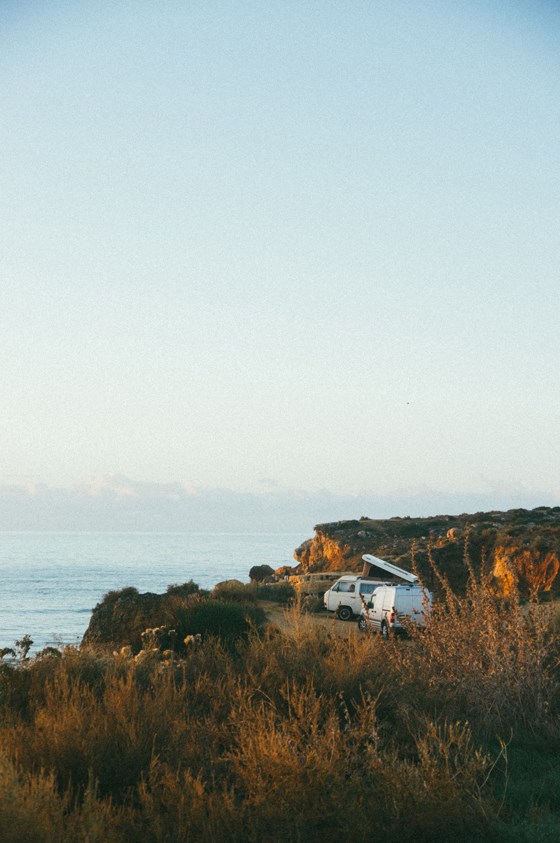 6. No More Packing and Unpacking
If you plan to hop around the country, you'll need to stay in multiple hotels around Iceland — which means you'll also have to unpack and re-pack your suitcase multiple times throughout your trip. Who has time for that while on holiday?
When you travel in a campervan, you only need to unpack once and then you're good to go for the duration of your entire trip. You also have the added convenience of having all of your belongings and luggage with you at all times, no matter where you drive. There's no worry of accidentally forgetting something back at the hotel and having to turn around and drive back into the city.
Not only is this extra convenient, but it'll also save you time.
Since travelling in a campervan is different from a regular SUV or vehicle, there are specific items that you want to bring with you. Check this ultimate campervan packing list when preparing your luggage for your Icelandic trip, and make sure you have everything you need.
7. Refuge from Bad Weather
Iceland's weather is notoriously bad in the winter and quick to change all year round. Even if you check the weather forecast and the road statuses religiously, and you've packed all the right waterproof gear and clothing, you can still be caught unawares by a random snow storm, wind storm or rainstorm. Luckily, your campervan can help you out when bad weather arises. If you're out exploring when a storm rolls in, you can just retreat to your cosy campervan, turn on the heater and relax in bed for an hour or so until the storm is over. Then, climb out of the campervan and continue your explorations.
8. Privacy and Peace
Since the COVID-19 pandemic began, more and more travellers are looking for a little extra privacy and to get away from the tourist crowds. Renting a campervan allows you to do just this, giving you an easy way to get away from the more populated cities, while also avoiding crowded areas like hotels and restaurants. Camping throughout Iceland is a great way to enjoy all you love about travel — seeing new things, experiencing new sights and sounds — without potentially sacrificing your health.
9. Amazing, Lifelong Memories
And, of course, last but certainly not least, in addition to all of the money savings and conveniences of renting a campervan in Iceland, you also benefit from the amazing, lifelong memories you'll make along your journey. You can spend less time rushing in and out of hotels or driving to and from your accommodations for the evening, and more quality time with your loved ones, exploring all that Iceland has to offer.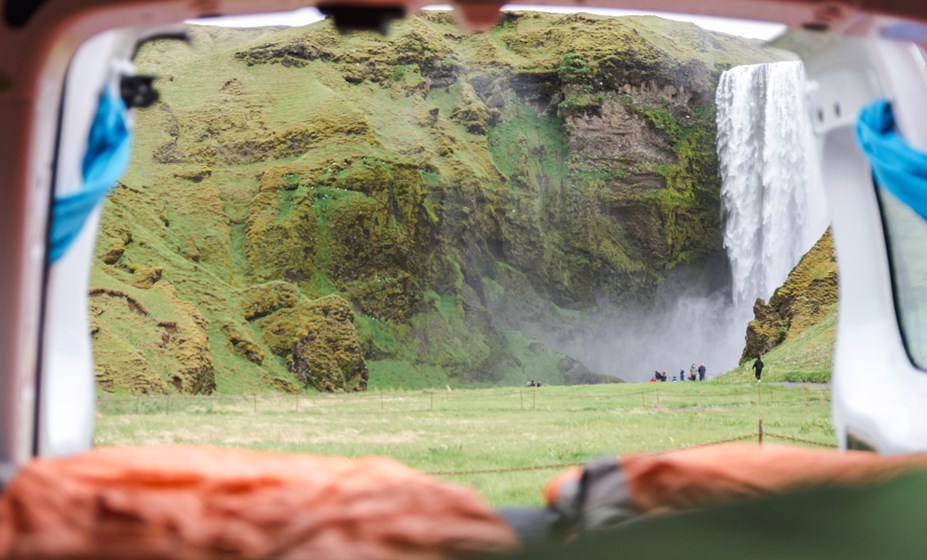 When You Should NOT Rent a Campervan in Iceland
We've told you all the reasons why you might want to rent a campervan in Iceland, but what about the reasons you shouldn't rent a campervan in Iceland? There are a few things that may deter you from this popular option.
If you're a luxury traveller, you may find yourself missing some of the amenities you get in a hotel, not least of which is a hot shower. Travelling via a campervan means you're showering at campsites, which you may not care for. Additionally, unlike in a staffed hotel with room service, you'll have to pick up after yourself while camping, including making your own bed and washing your own dishes.
On top of this, if you want to travel throughout the Highlands, you'll not be able to cross any deep rivers when driving in a campervan, as you could in, for example, a Toyota Land Cruiser, as a campervan just isn't tall enough.
If these factors make you a little hesitant to rent a campervan, but you still like the idea of being able to travel when and where you want, you may want to split up your Iceland trip and spend half of your time in a hotel, and half of your time on a campervan road trip.
Should I Rent a Campervan in Iceland?
While we could come up with many more reasons to rent a campervan for your Iceland trip, ultimately, whether or not a campervan is right for you will depend on what type of traveller you are, your trip budget and what you plan to do and see while in Iceland. Before deciding, either way, take into consideration your itinerary, what amenities are most important to you and how you'd like to allocate your Iceland travel budget.
If you do decide a campervan is right for your Iceland trip, before booking, you'll want to choose a 2WD or a 4WD campervan depending on where you plan to travel within Iceland.
You may also want to invest in certain types of insurance depending on where and when you travel. At Lava Car Rental, all of our rentals include CDW (collision damage waiver) coverage and theft protection, but you can upgrade to a plan with more insurance options, or customise your insurance package however makes the most sense for your travel plans. For example, if you're planning to travel around the South Coast, you may want to invest in sand and ash protection insurance, as the area is prone to sand storms. Likewise, if you plan to visit the Highlands, you'll likely want gravel protection insurance, as the area is filled with gravel roads.
Book Your Dream Iceland Campervan Today
Your dream Iceland campervan road trip starts today, with booking the perfect Iceland campervan for your needs. Check out all of our campervan options and remember — if you plan on renting a campervan, book in advance if you want to travel during the high season, June through September, and including the Christmas and Easter holidays. Campervans are popular in Iceland for all of the reasons listed above plus more, so you don't want to miss out!