Top 13 Things to Do in Iceland During a Self-Driving Tour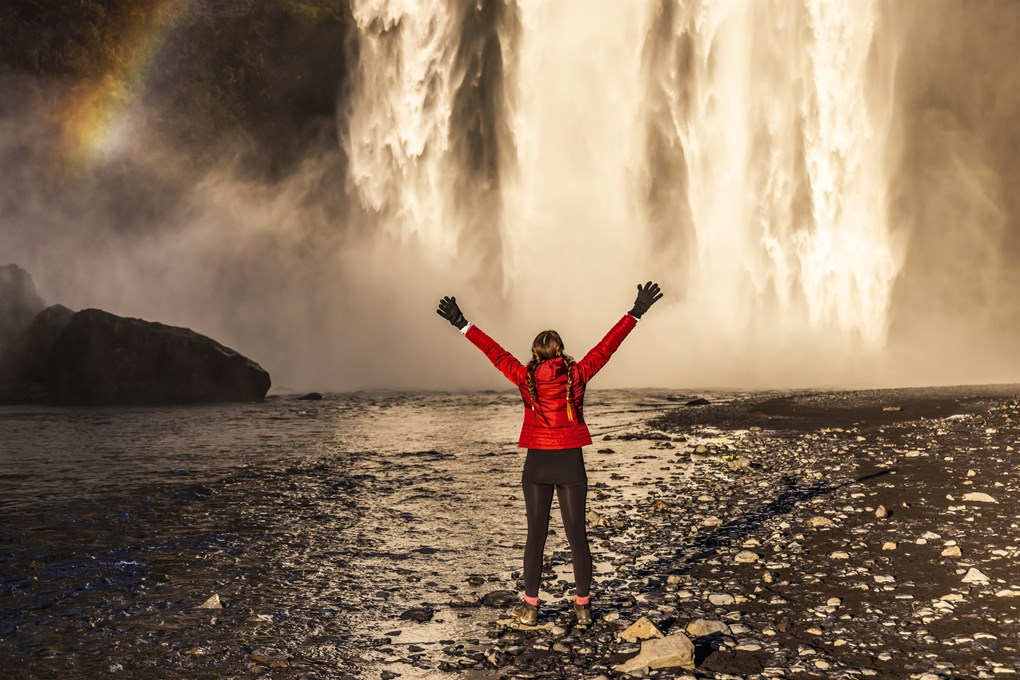 When you think "Iceland," what do you think? Lava fields and volcanoes? Icy landscapes and frozen glaciers? While these may very well be a few of the things Iceland is most known for, there's so much more to do in the Land of Fire and Ice than to simply … see the fire and ice. 
If you're planning an upcoming Iceland holiday, and you're considering what might be the best things to do in Iceland while you're here, we can help. We're pulling together our expert advice as professionals in the travel industry, as well as our up-to-the-minute knowledge as Iceland locals, to help you plan the perfect Iceland itinerary. 
Here are the 13 best Iceland activities and experiences that you should consider adding to your list. And the best way to see them all? Via your own rental car, of course. Renting a car while travelling around Iceland will allow you to see and experience all of the below at your own pace, when and how you want. 
What to Keep in Mind When Planning an Iceland Trip
As you plan your Iceland itinerary, though, there are a few things you'll want to keep in mind. 
Don't try to overextend yourself.
There's a lot to do in Iceland. A lot. Trying to do and see it all while you're here on your first trip will only leave you frustrated and exhausted. Instead, pick and choose the things you most want to do and see while in the country, and fully enjoy those things at a pace that makes sense for how long you're here. We have a few recommendations for feasible itineraries based on if you're in the country for five days, seven days, eight days or 10 days.
Not everything you'll want to do will be open all year long.
Some of Iceland's top experiences are seasonal, so you might not be able to do everything you want depending on the season in which you visit. With that in mind, if the absolute top experience that you want to have while in Iceland is chasing the northern lights, you'll want to be sure to visit during the winter months, when that's most possible. If, though, you want to do a lot of hiking in the Icelandic Highlands, you'll want to be sure to visit in the summer, when the Highlands are accessible.
Visiting some areas of Iceland requires special equipment.
On that note, if you want to visit more remote areas of Iceland, like the Highlands, you'll need special equipment — most notably, a 4x4 vehicle. 
Additionally, depending on your plans and what season you visit, you'll want to bring certain clothing and accessories, to keep you as comfortable as possible. 
Some experiences require tour guides.
And, lastly, make sure to check ahead of time, on whether or not your planned activities will require a tour guide. Some of Iceland's more adventurous activities are safest with a guide, and you'll want to book that service well in advance of your arrival.  
The 13 Top Iceland Experiences
Now — without further ado — here are our top 13 recommended Iceland experiences.
1. Hike a glacier.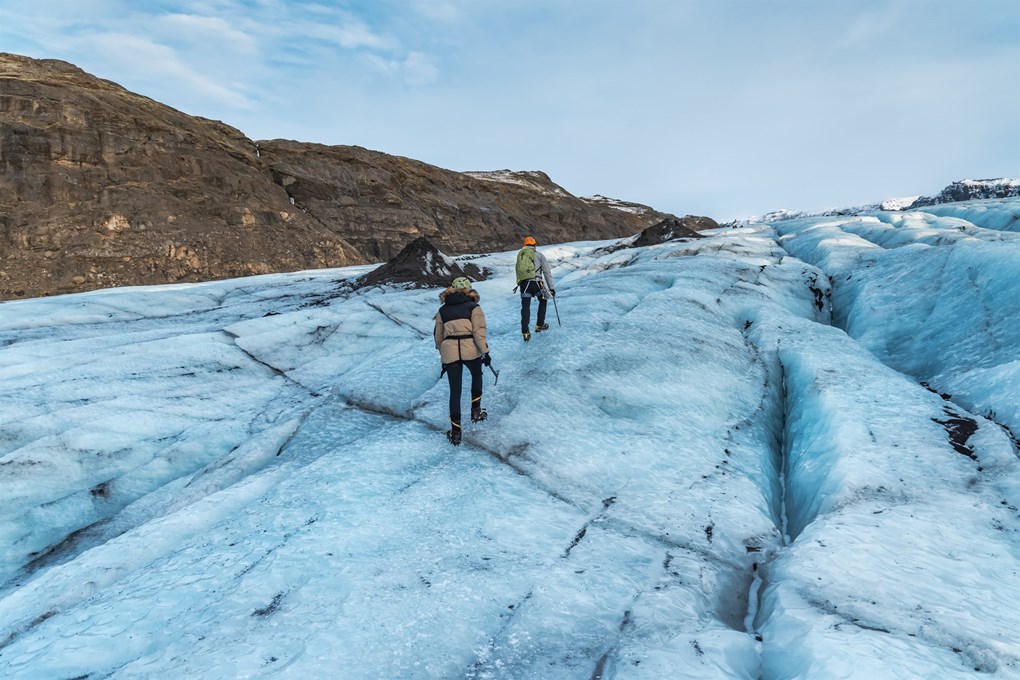 How many times do you get the opportunity to hike on a glacier while you're on vacation? Not many! While you're in Iceland, visit one of our famous glaciers and go on a hike to see these magnificent geological features for yourself.
There are three main regions where you can glacier hike in Iceland: Skaftafell Natural Park, Solheimajokull and Breidamerkurjokull. 
Skaftafell is a nature reserve located in the larger Vatnajokull National Park, where you can find a range of glacier hiking experiences whether you want a shorter three-hour experience, a longer five-hour hike or even to combine your glacier hiking with ice climbing. Whichever you choose, you'll be amazed by the rugged region's natural features, and you'll quickly realise why the area is called a hiking paradise. 
Solheimajokull, meanwhile, is known as one of the most easily accessible glaciers if you're travelling from Reykjavik, as it's only a short drive away. There, you can also find three-hour glacier hiking tours, as well as ice climbing experiences. 
And, lastly, if you're already visiting the Jokulsarlon Glacier Lagoon, you might as well combine your experience with a glacier hike at Breidamerkurjokull. 
Do note that all glacier hiking experiences do require a guide, as the glaciers can prove hazardous to those unfamiliar with them. Glacier hiking is accessible all year long and is an easy activity for most fitness levels. 
2. Go ice-caving.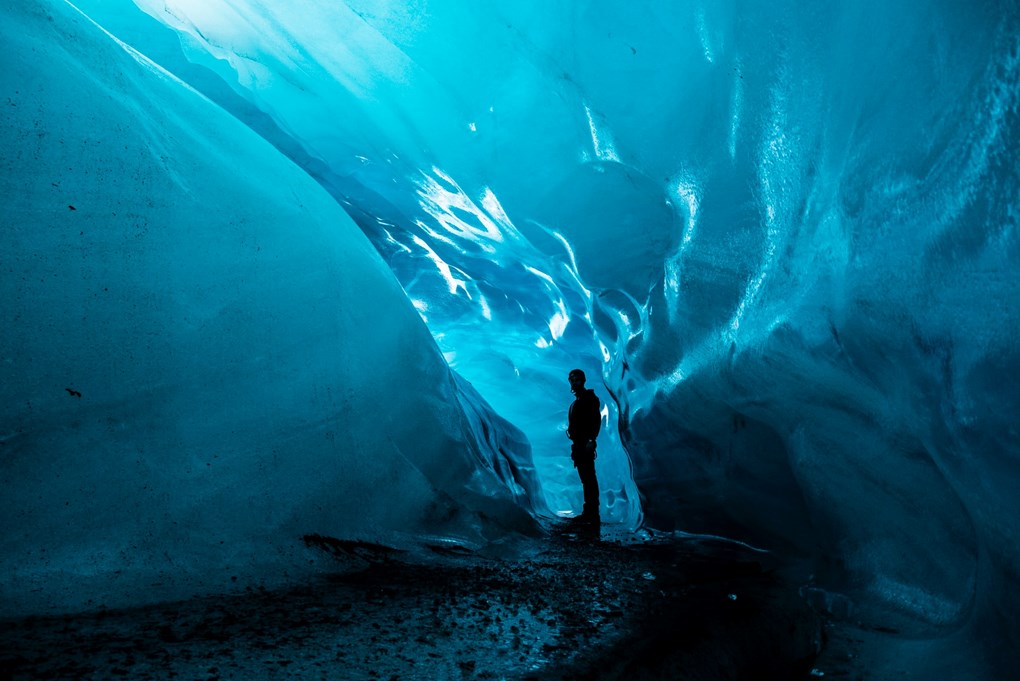 But why just walk atop the ice when you can actually walk inside it? Ice caving in Iceland is a gorgeous way to see the actual interiors of the glaciers. These naturally-formed caves are often bright blue, and the walls shimmer like crystals. 
There are three primary spots where you can enjoy a bit of ice caving: Vatnajokull, Katla and Langjokull, in the southeast, south and west of Iceland, respectively.
Vatnajokull is the largest glacier in Europe and its ice caves are only accessible during the winter (they melt and flood during the summer). This annual cycle means that the caves are new and different every year! You can book a tour of the caves only, or also combine a tour with glacier hiking. 
In southern Iceland, Katla boasts a natural ice cave beneath its volcanic core. This cave is famous for its black ice and surrounding lunar-esque landscape. Accessible all year, the Katla ice caves can be seen via a fun Jeep tour.
If you travel to western Iceland, though, you can see one of Iceland's newest ice caves. The ice tunnel at Langjokull is the world's largest man-made ice cave (opened in 2015) and is situated inside Europe's second-largest glacier. This ice cave is also accessible all year and you have two tour options, one from Husafell and one from Skjol. 
Do note that, much as is the case with glacier hiking, you'll also need a tour to go ice caving, as it can be dangerous. 
3. Chase the northern lights.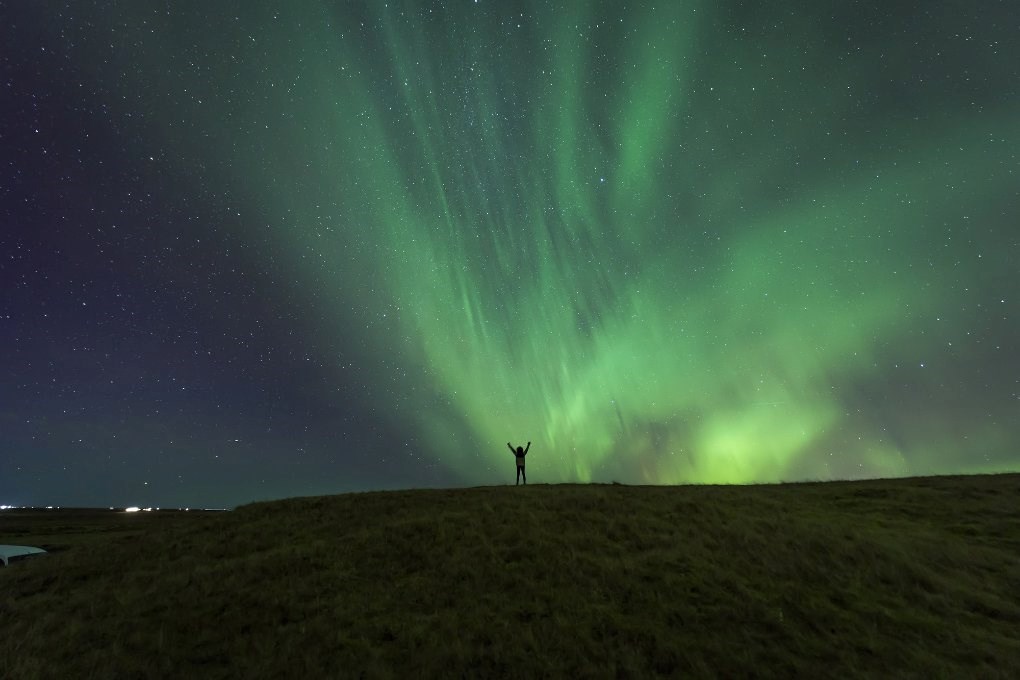 If you're visiting Iceland during the winter months, you absolutely must take time out of your schedule to chase the northern lights. This is one of the most memorable experiences you can have in Iceland. You can read our full guide to chasing the northern lights on our blog, but in general, just note that you'll want to plan a trip to Iceland from mid-September to mid-April if you want to catch them. 
4. Take a dip in the hot springs.
If you've done any preliminary research on your Iceland trip thus far, you've likely seen photos of the Blue Lagoon. This famous hot spring is one of Iceland's top tourist spots. But did you know that Iceland is home to many, many other hot springs and thermal pools? Some are very developed and spa-like, like the Blue Lagoon, while others are more natural and rugged. Some require an entrance fee, while others are completely free. 
To pick the best hot spring to visit during your trip, check out our full hot springs guide.
5. Watch for whales in North Iceland.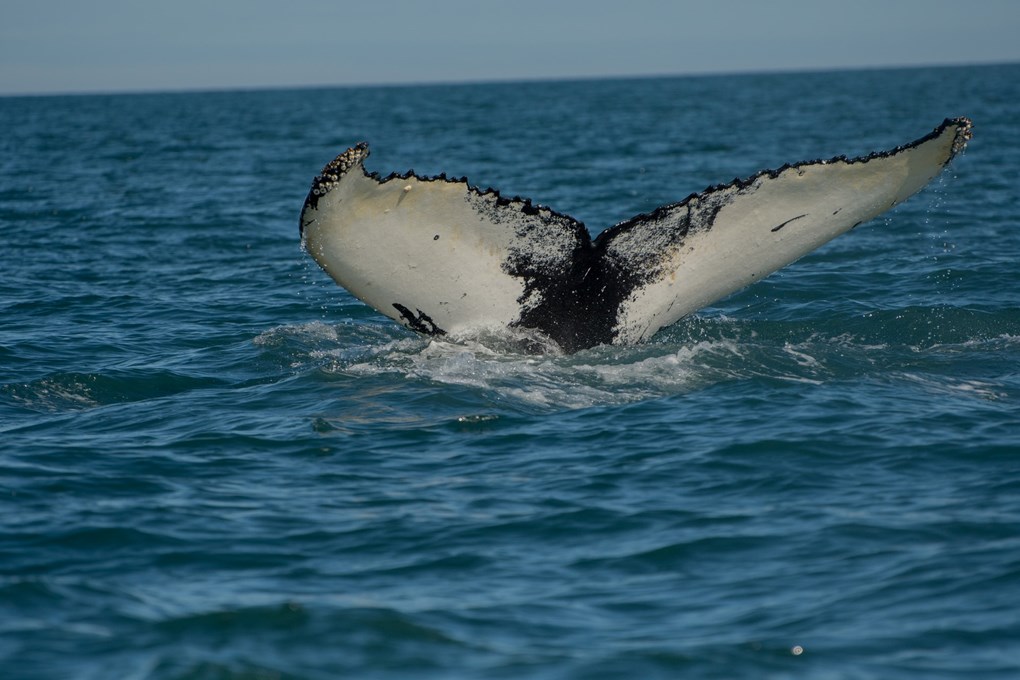 Take to the waters off North Iceland's coasts to glimpse the magnificent marine life. There are four primary places around the country where you can go whale watching: Husavik, Akureyri, Reykjavik and Snaefellsnes. 
Husavik is Iceland's whale-watching capital, and a Husavik whale-watching tour will allow you to see all of the action. Akureyri, Iceland's second-largest city, and a must-stop on any North Iceland road trip, also offers whale-watching tours.
If you don't anticipate making it up to North Iceland, though, you can enjoy whale watching and seeing orcas off the shore in western Iceland, when you visit the Snaefellsnes Peninsula.
If, though, you don't plan on leaving Reykjavik much at all during your Iceland vacation, you can always set off on an Old Harbour whale-watching tour, without ever leaving the city.
Whale watching is possible throughout most of the year, but what types of whales and other marine life you see will depend on the season of your visit. 
6. Go horseback riding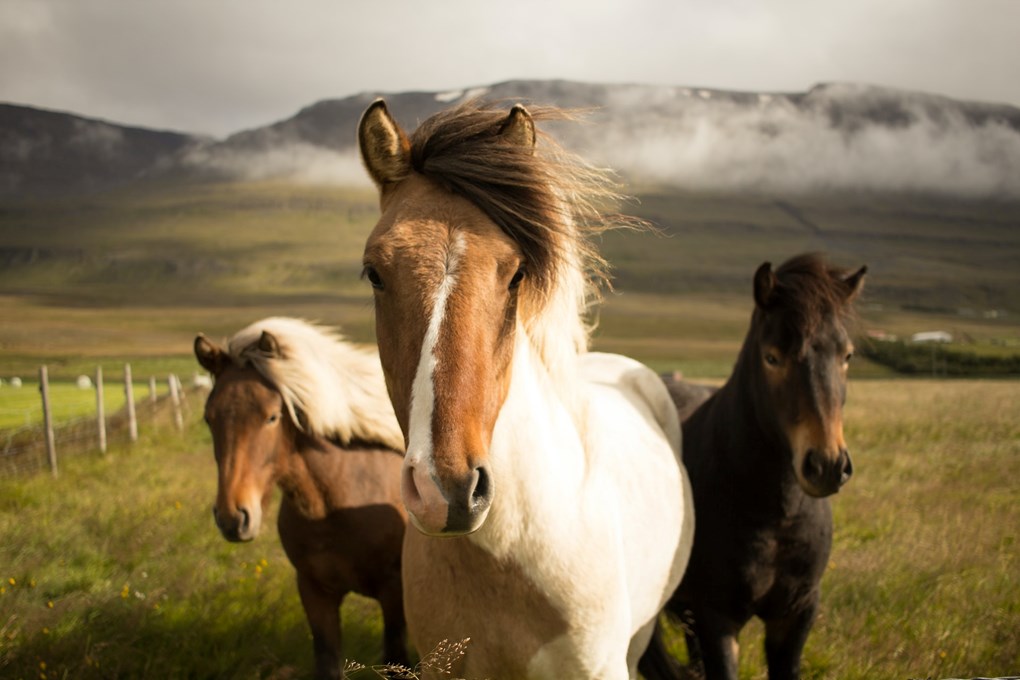 Don't particularly enjoy being out on the water? You can still experience Iceland's wildlife while keeping your feet on dry land. Horseback riding is a popular activity for many visitors to Iceland, and you can book a range of different horseback riding tours, depending on what kind of experience you want to have and where you'll be travelling around the country. 
7. Snorkel between the tectonic plates in Silfra.
Think that snorkelling is only an activity that you can enjoy in tropical locales? Think again! Snorkelling is particularly popular in Iceland in one spot: the Silfra Fissure. This fissure is the exact place where two tectonic plates meet on the Earth's surface. The fissure is known for having some of the clearest waters in the entire world, making it one of the top spots to snorkel on the planet (even though you won't spot any tropical fish here). 
A great thing about adding snorkelling between the tectonic plates to your Iceland itinerary? It's an incredibly easy activity to tack on if you're already travelling around the Golden Circle. The Golden Circle is a popular self-driving route that many visitors experience over the course of just a day or two, and, if you take the full two days, you have plenty of time in your schedule to add on extra nearby activities like this.
You can book a Silfra snorkelling excursion any time of the year. 
8. Visit the remote Westfjords.
If you're travelling around Iceland's Ring Road during the summer months, you should definitely consider a short detour to Iceland's Westfjords. This more remote region is known for its amazing scenery and abundant wildlife, making it an excellent pick if you're looking to get away from the tourist crowds and immerse yourself in nature. Sure, you'll need to drive quite a bit and the roads can get a little remote, but seeing all of this scenery for yourself is more than worth it. 
Some of the most popular spots to see and experience in the Westfjords include the Hornstrandir Nature Reserve, Dynjandi Waterfall and the Latrabjarg Cliffs (particularly famous for their large puffin population!).
Visiting the Westfjords is really only possible during the summer months, as winter weather can make the roads here impassable. Regardless, a 4x4 vehicle is recommended even in the summer months, as the roads are often unpaved or gravelled.
9. Hike in the Highlands.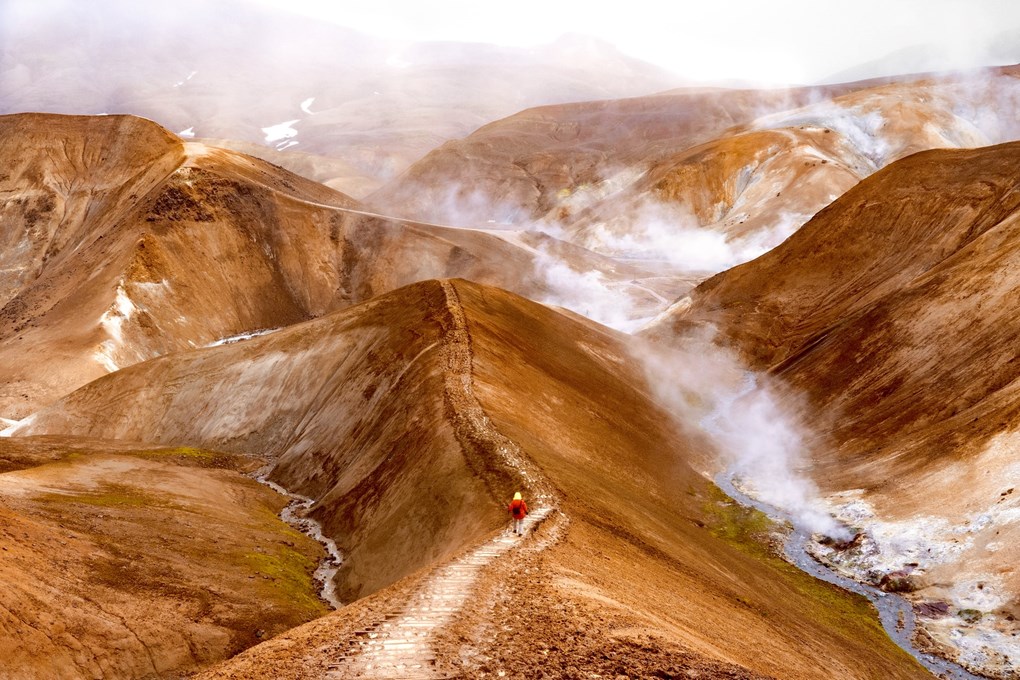 The Highlands are Iceland's most rugged and isolated region — completely inaccessible in the winter months — but if you're visiting during the summer, you have to go on a hike or, at the very least, a scenic drive here. 
As for how to best experience the Highlands, you'll have a few options. The Laugavegur Trail is a four-day trail that's known as one of the best in not only Europe but the entire world. Sure, four days is a long time to hike, but if you're already an avid hiker, you'll find this trail well worth your time. 
However, if you're not quite keen on hiking that long or far, you can always just pay a visit to Thorsmork, also known as the Valley of Thor. This scenic region is accessible via a 4x4 vehicle, up until the very last river crossing, at which point you'll need a tour bus to take you over the waters (don't worry — the tour bus has been modified to handle this).
The best time to visit the Icelandic Highlands, as mentioned, are the summer months, as the Highlands are inaccessible during the winter. However, during the summer, you also get the benefit of Iceland's Midnight Sun, when the daylight is so strong during June and July that you can stay out for nearly the entire night without being driven indoors by the darkness. 
Remember: Experiencing the Highlands does require a 4x4 vehicle. This is not only for your safety, but is actually required by Icelandic law. Iceland requires that all vehicles on F-roads (like those that criss-cross the Highlands) be 4x4 vehicles, as the roads are, in general, extremely rough, unpaved and rocky.
10. Explore Iceland's volcanoes.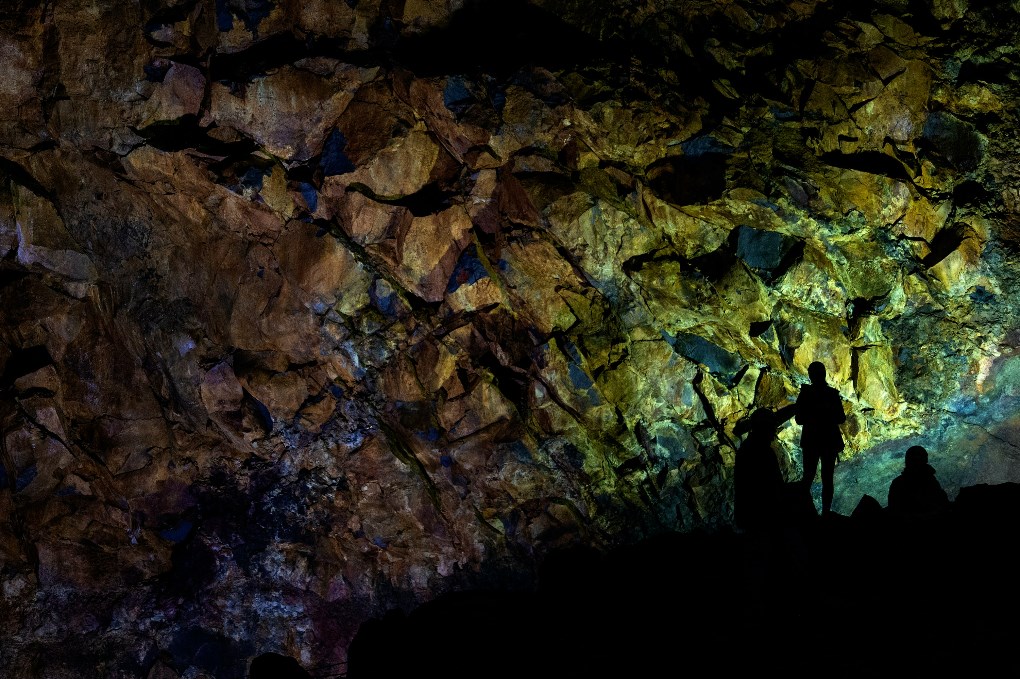 But, of course, you can't visit the Land of Fire and Ice without seeing the "fire" bit, can you? Iceland is home to a lot of different volcanoes (check out our full Iceland volcano guide for more info), but three of the favourites are Thrihnukagigur, Fagradalsfjall and Eyjafjallajokull. 
Thrihnukagigur is a dormant volcano that's easily accessible from Reykjavik. It last erupted about 4,000 years ago, and now travellers can walk right inside its magma chambers! This is an experience you can't find anywhere else in the world. Do note that you do need to pay to enter the magma chamber and the experience is only open from mid-May to October. 
But while Thrihnukagigur has been dormant for millennia, Fagradalsfjall was active much more recently, as in, just a few months ago. This famous volcano is incredibly accessible to just about every traveller. It's located near Keflavik Airport, so it's easy to visit as you drive to and from the airport, and you don't need a tour guide to see it. Plus, you can see the volcano at any time of year. Just park your car at the lot and hike up to the volcano.
Eyjafjallajokull, meanwhile, is famous because of all the problems it caused. Erupting in 2010, it interrupted the entire world's air traffic. Now, you can see it via guided hikes and snowmobile tours, as well as jeep excursions.
11. Witness a geyser erupting.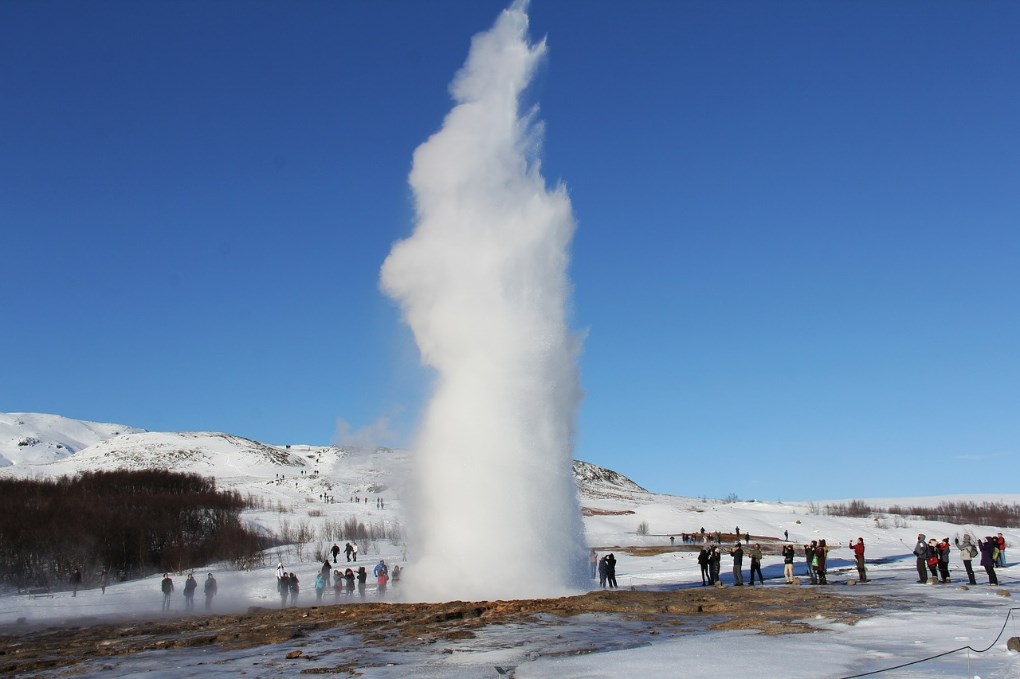 It's not that difficult to find an erupting geyser in Iceland! All you have to do is travel around the Golden Circle and stop by the Geysir Hot Spring Area. There, you'll see the world-famous geyser erupting once every five to 10 minutes. When visiting the geyser, make sure to stop by the nearby natural hot pool, Kualaug, where you can bathe in the hot waters. There are several of these pools scattered around the area, and they're a fun stop to add to your itinerary, no matter the time of year.
12. Enjoy the Jokulsarlon Glacier Lagoon.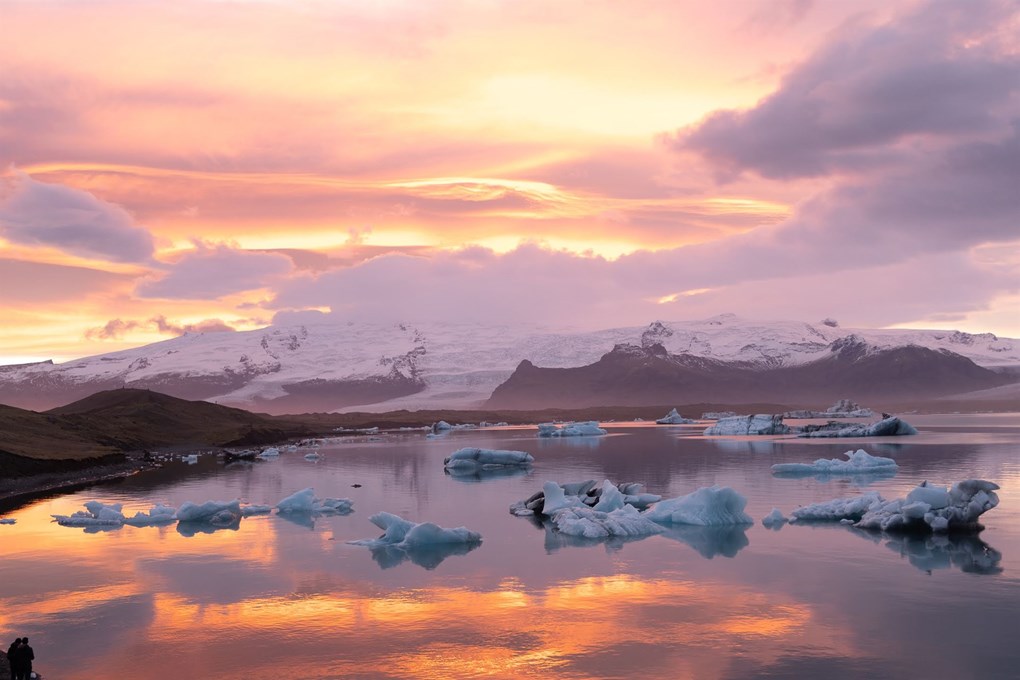 If your travels take you to Vatnajokull National Park in eastern Iceland, you've got to stop by Jokulsarlon. This glacier lagoon is filled with huge chunks of ice, broken off from the Vatnajokull Glacier. The icebergs float along until they reach the Atlantic Ocean, where some are left behind on the black sand beaches, where they glitter like melting diamonds. If you visit during the winter months, you can even see the lagoon's giant seal population! 
The lagoon is also known as Iceland's deepest lake, and the icebergs within the lake are more than a thousand years old. As one of Iceland's most popular spots to visit, the lagoon is only about a five-hour drive from Reykjavik, so it makes a good side trip if you plan on visiting eastern Iceland for a few days.
13. Visit Dettifoss, Europe's most powerful waterfall.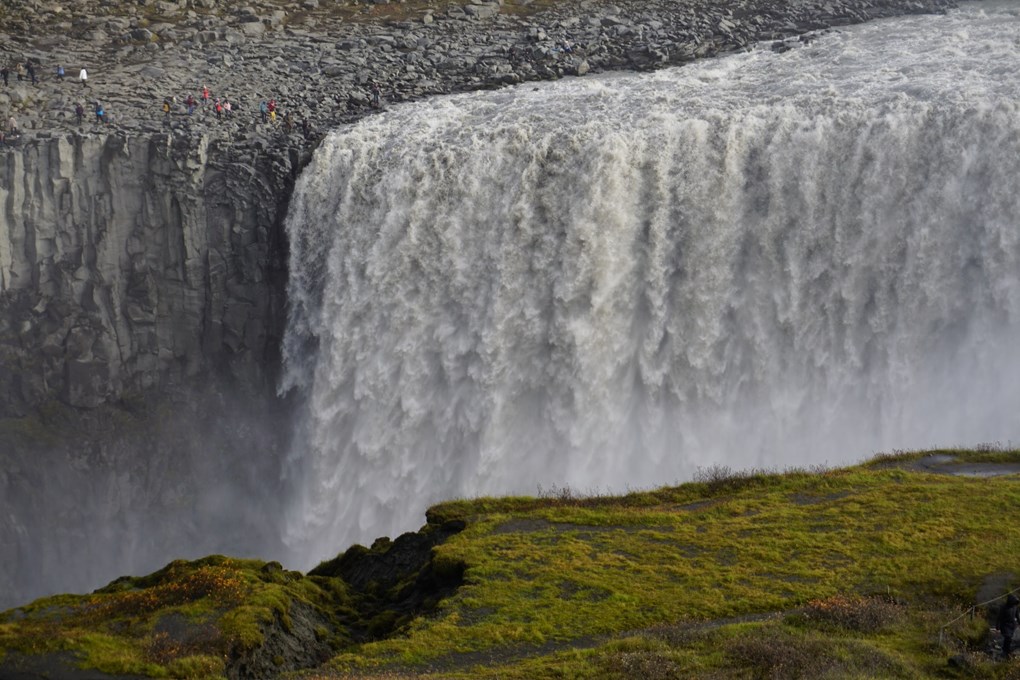 If you visit any waterfall while in Iceland, we recommend you stop by Dettifoss, known as one of Europe's most powerful waterfalls (it's second only to the Rhine Falls). Also located in Vatnajokull National Park, Dettifoss sits near Akureyri and Husavik, making it a quick stop on your itinerary if you're already near these cities. Dettifoss is also located on Iceland's Diamond Circle, and it's likewise a popular stop for those who want to plan a film-themed road trip around Iceland. It was a shooting location for the 2012 film Prometheus. 
Road Trip Itineraries That Will Show You the Best of Iceland
The best way to see and experience all of the above is via a self-driving road trip, so that you can plan the itinerary that works best for you. For further reading and help planning your trip, check out our recommended self-driving guides for…
The Ring Road is likely Iceland's most popular self-driving route, and it takes you around the entire island. The Ring Road is best seen during the summer months, when the long sunlight hours allow you to spend more time seeing the sights, as well as driving from spot to spot along your journey.
The Diamond Circle is a lot less popular, but definitely well worth the short drive that it takes. The entire circle only takes about four hours to traverse, but, including stopping times and sightseeing, you can do it in a day or two. Popular spots along the circle include Dettifoss Waterfall and Lake Myvatn. 
The Golden Circle rivals the Ring Road for the most popular self-driving route in Iceland. The Golden Circle is arguably the easiest self-driving route in the country and the most convenient for those travelling to Iceland in the winter months, as well as those who want to keep their explorations closer to Reykjavik. 
One of Iceland's newer self-driving routes, the Arctic Coast Way takes you to the far reaches of northern Iceland, within the Arctic Circle. This route is only really worthwhile during the summer months when the whole of the area is accessible (winter visits can cut your travel short, as parts of this route are inaccessible following winter weather events). 
Did you know that Iceland is home to a wide array of filming locations? With a self-driving route to some of Iceland's most popular shooting locales, you can see famous scenery from shows like Game of Thrones and movies like Star Wars.
The Only Other Thing You Need? The Right Vehicle 
Once you have a great itinerary in hand, the only thing left that you need is a rental car to get you all around the island. Lava Car Rental can help you pick the best rental car for your itinerary, whether you're visiting the Highlands, sticking around Reykjavik or seeing the entirety of Iceland during a Ring Road road trip. 
Get more information on our rental car selection and reach out with any questions about what might be the best fit for your trip!