A Guide to Driving in Iceland in December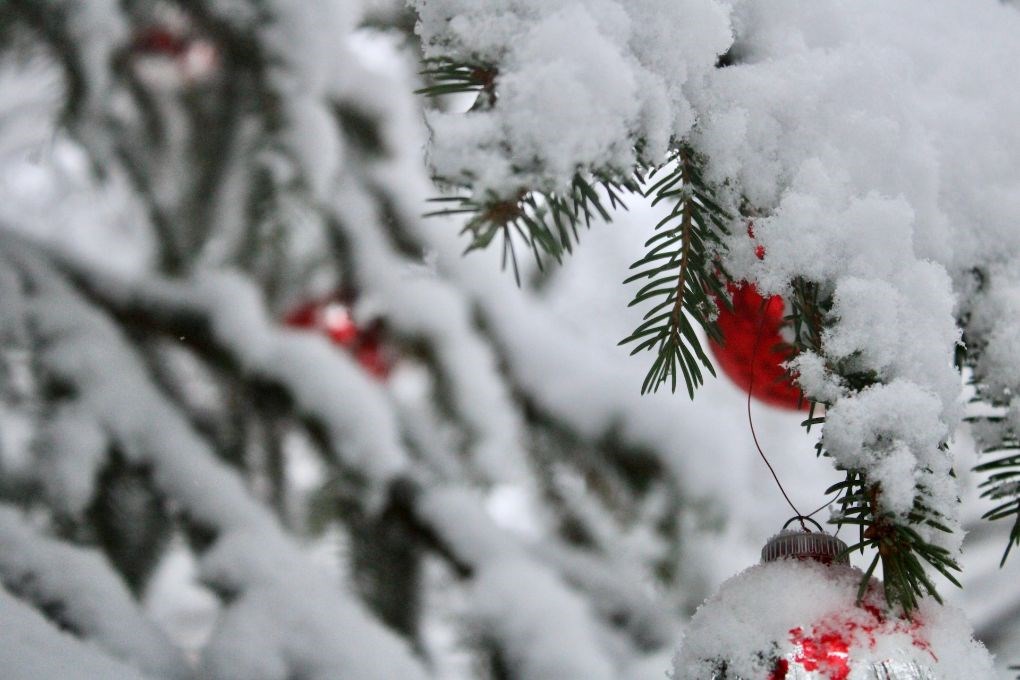 Think of Iceland and you may think of a destination filled with snow, ice and glaciers ("ice" is in the name, after all). However, think of Iceland in December and you may think of even more snow, ice and glaciers — all of which are things most travellers don't typically associate with safe driving conditions. 
However, if you're thinking of visiting Iceland in December, don't let these thoughts deter you from planning an Iceland road trip. You can get around many parts of the country entirely safely and comfortably, with a few precautions.
Keep reading to learn more about…
What driving in Iceland in December is like

How to stay safe when driving in Iceland in winter

What to do in Iceland in December

What to see in Iceland in December
Ready to get started? Let's go. 
Is December a Good Time to Visit Iceland?
First things first, is December a good time to visit Iceland at all? Or should you plan a trip for a warmer month?
Well, we think that the winter season in Iceland is particularly magical and, for some travellers, it's absolutely the best time of the year to visit. Here's why.
Iceland knows how to do the holidays
What better place to spend Christmas than in the magical wintery wonderland that is Iceland? You're (almost) guaranteed a white Christmas here — which is probably why December is such a popular month for Iceland tourism. You'll never run out of things to do when you visit around Christmas and New Year's, thanks to all the festivities and fun. 
December is a great time to see the northern lights in Iceland
One of the top reasons travellers self-drive to Iceland in December? The northern lights. An Iceland road trip allows you to go northern lights chasing with ease, and there's no better time to do it than in the dead of winter, when lights-viewing conditions are most favourable. 
You need a few key things for northern lights viewing, including lots of darkness, clear skies and solar activity, and December brings all three.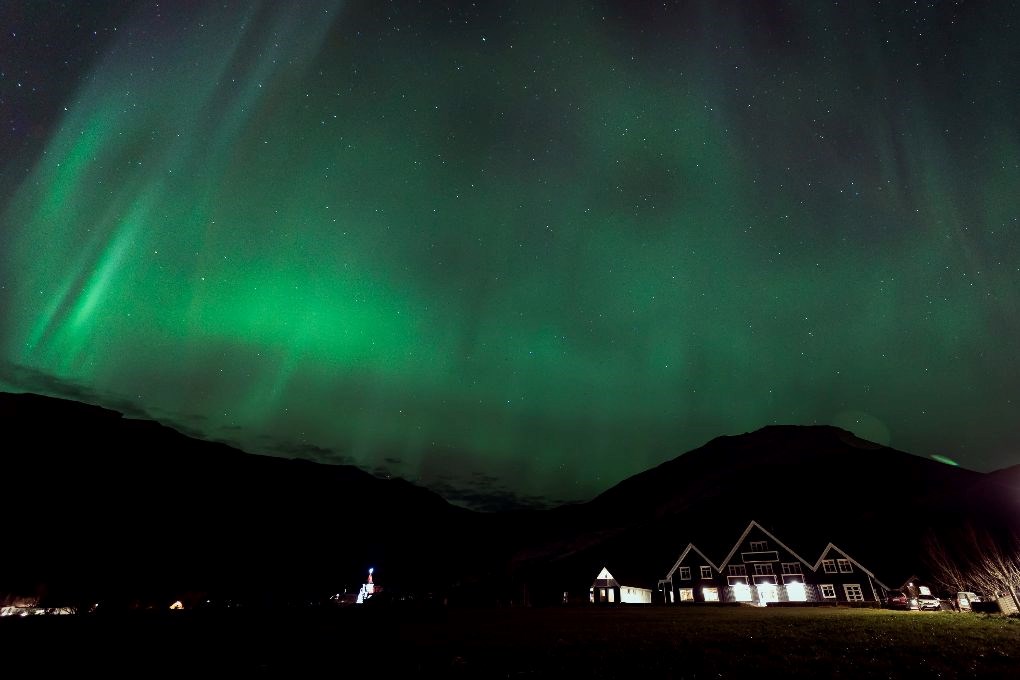 Just how dark is it in Iceland in winter? Well, the sun is only up for about four hours each day, between 11 a.m. and 3:30 p.m. This gives you ample opportunity to chase the northern lights without having to stay up late or get up exceptionally early. Additionally, the darkest, shortest day of the entire year takes place in December, on Dec. 21. For prime northern lights viewing, take advantage of these dark Iceland days and, better yet, travel away from the cities in a rental car, to find the even darker, more rural spots away from any light pollution. 
Worried you won't have enough daylight to sightsee if you visit Iceland in December? Our advice is to start heading to wherever you want to explore before the sun rises, so that you're at your hiking spot, waterfall, glacier or whatever else it is that you want to see, when the sun first starts to rise.
Other than these extreme levels of darkness, as mentioned, Iceland also offers the other two ingredients you need for great northern lights viewing in December. 
Solar activity is common and you can always get the latest solar activity report from resources such as the Icelandic Meteorological Office or Aurora Forecast. These sites provide information regarding when and where an aurora is likely to appear, so you can be sure you're ready and waiting.
Additionally, you need clear skies for great northern lights viewing and December offers clearer skies than what you might get during Iceland's fall months, when the average monthly rainfall is highest.  
Need more info? Check out our full guide to northern lights hunting in Iceland.
Weather and Temperatures in Iceland in December  
Beyond the extreme darkness that allows for lots of northern lights viewing opportunities, what else can you expect in Iceland in December, as far as weather goes?
Iceland's weather changes up quite often, so, when you visit in December, you'll want to be prepared for an array of circumstances. That said, you can still expect things to be on the chillier side, with a bit of wind and snow though it might not be quite as frigid as you would expect!.
The average low temperatures in Iceland in December hover around -2 degrees Celsius or 28 degrees Fahrenheit, while the average high temperatures reach up to about 4 degrees Celsius or 49 degrees Fahrenheit. Temperatures will, of course, fluctuate depending on where you are in the country; the further north you go, and the more remote you go, the colder and windier it gets. The wind will also make the temperatures feel colder than they actually are. 
Renting a Car in Iceland in December
If you've decided that visiting Iceland in December is a great idea for your next trip, you're going to need a rental car. Here's why, and what you can expect about the car rental experience in Iceland. 
Why you should rent a car in Iceland in December 
There are many reasons why you should book a car rental in Iceland for your trip, even in December when, admittedly, the road conditions aren't as nice as they might be in the summer months. The top reason, though, is freedom. 
Renting a car allows you to go where you want, when you want, without being forced to follow the itinerary of a tour provider, or hiring an expensive service to ferry you around. Don't even think that you'll rely on public transportation; there's not a whole lot of that in Iceland. 
Want to get up in the middle of the night and go northern lights chasing? You can do it with a rental car. Want to attend a festival away from the city? You can do it with a rental car. Want to go glacier hiking or ice caving exploring? You can easily meet your tour guide in nearly any part of the country, with a rental car. 
Beyond the freedom, though, renting a car and self-driving around Iceland also allows you to more fully explore the country. You get to take in the scenery, stop off at areas that catch your interest, and all without being rushed. 
The only thing to keep in mind? In order to rent some of the best rental cars in Iceland in December, you'll want to book your rental car as soon as possible. While rental cars are typically pretty available toward the beginning of December, they become less so, the closer we get to the holidays. For your top choice in vehicle, and the best prices, book your rental car as soon as you know you're travelling to Iceland. 
What are the road conditions like in Iceland in December? 
If you're worried about road conditions during your road trip to Iceland in December, you can help ensure the best possible winter driving conditions for you and your fellow travellers by (a) only driving where it's safest and (b) only booking the right rental car for the winter roadways. 
In general, the safest routes in Iceland in winter, the ones that will have the least snow and ice, are in the southern region of the country around Reykjavik and the South Coast, as well as the Golden Circle. 
The Eastfjords and northern parts of the country are more challenging and we only recommend you travel to those parts of Iceland in December if you're a skillful, experienced driver who knows how to handle snow and ice with ease. The Westfjords are not advisable at all, due to the frequent road closures; the Highlands of Iceland are closed off altogether during the winter.
What car do you need to visit Iceland in December?
Beyond staying in the areas of the country where the road conditions are best in the winter, you should also book a rental car that can withstand winter driving conditions. Think something with a lot of traction and clearance. 
We recommend renting a 4x4 vehicle and an SUV, so you can easily traverse snowy roadways without a worry. 
What kind of car rental insurance should I get in Iceland in December?
But don't just pick out the right rental car for your Iceland road trip. You'll also need to get the right rental car insurance. If you book your rental car on the Lava Car Rental website, you'll get a basic insurance package included in the price of your rental. 
However, to protect your travel budget from unforeseen costs that can arise when travelling, and especially when driving in a new country, you might want to consider upgrading to an additional, more extensive insurance package, which offers protection in a broader range of circumstances. 
What to Do in Iceland in December
Now that we've got the logistical details of travelling to Iceland in December out of the way, what do you actually do once you get here? We have a few suggestions.
Take a road trip - Suggested road trip itinerary for Iceland in December
As mentioned, the southern portion of Iceland is the safest, with the clearest roadways, during the winter months. However, just because you want to stick to a single region of Iceland, that doesn't mean you can't still plan a fun road trip. You can easily spend a week or 10 days driving around just the South of Iceland, via our suggested South Iceland road trip itinerary.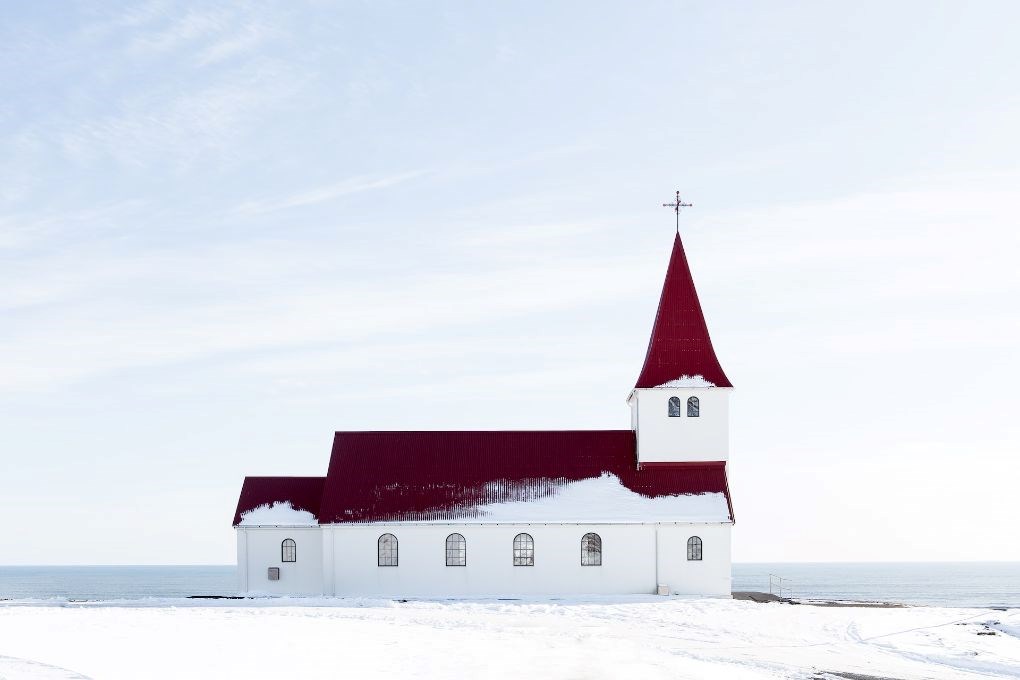 Experience the northern lights
As mentioned, due to Iceland's long nights and the winter solstice, December is the best time to come to Iceland in order to experience the northern lights. While it is possible to book a northern lights viewing tour, if you want to go it alone, you can easily chase the northern lights by yourself — here's how. 
Visit an ice cave
Iceland's most popular activity for travellers during the winter months? Visiting the ice caves. 
You'll find ice caves scattered all throughout Iceland and none of the ice caves are the same. Melting each year and reforming when the weather gets cold enough, these ice caves are works of art, vivid blue and dramatically shaped. 
However, do note that you can't visit an Iceland ice cave on your own. Since this is a rather dangerous activity if you don't know what you're doing, a guide is required. A guide will provide you with safety equipment like a helmet and crampons, and they'll only take you to areas that are deemed safe for visitors. 
One of the best places in the country to go ice caving? Vatnajokull glacier, which is situated in South Iceland — making it a perfect stop on a South Iceland road trip!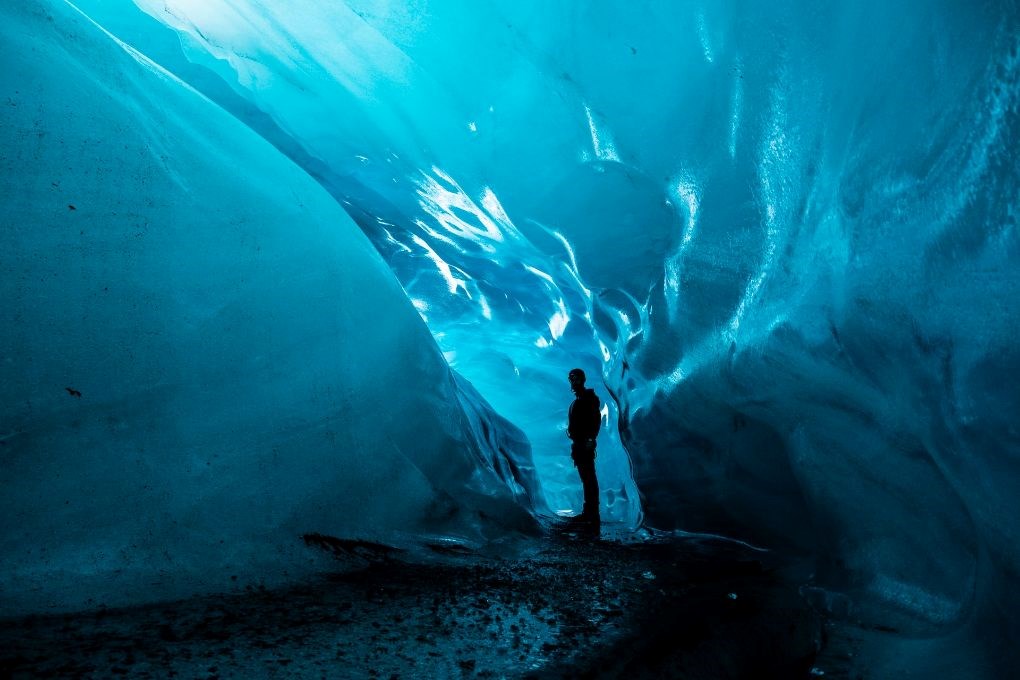 Take a dip in a geothermal pool
Swimming isn't just for summer, at least not when you're in Iceland. Check out one of the country's many geothermal pools while you're here. From spa-like pools that are developed and built up, to rural pools that require a little hiking before your dip, you can find an experience that suits your travel style.
Take a tour
Other outdoor adventure experiences are likewise available in Iceland in the winter, including glacier hiking, horseback riding and snowmobiling. Book a tour to enjoy all this and more, safely. 
Events in Iceland in December 
Events and festivities are plentiful in the latter half of the month of December in Iceland. It all kicks off on Dec. 21, with the winter solstice. 
The Winter Solstice in Iceland
The highlight of Iceland's winter solstice, Dec. 21, beyond it just being the darkest night of the year, of course, is the lighting of the Imagine Peace Tower on Videy Island. You can take a ferry to the island to watch the lighting ceremony, but the tower remains lit throughout the rest of the year. The light can be seen as far away as four kilometres (or 2.5 miles) on a clear night — so, in other words, all the way from Reykjavik's city centre. 
Christmas in Iceland 
Christmas is a big deal in Iceland, as the many travellers who celebrate the holiday here can attest. We celebrate the Yuletide with lots of historic traditions, but also more modern events. Some of Iceland's Christmas activities will look familiar to you, while others might surprise you.
In general, though, expect lots of decor, holiday foods, Christmas village experiences and parties throughout the month, all leading up to the big day. For more on what to expect, read our full guide to Christmas in Iceland. 
New Year's Eve and New Year in Iceland 
As is the case in many parts of the world, Iceland celebrates the ringing in of the New Year with a huge fireworks display. If you're staying around Reykjavik, you'll have multiple options for fireworks watching, though some of the most popular sites to take in the display include at Hallgrimskirkja Church and Perlman. 
For more on how to celebrate the New Year in Iceland, check out our guide to Iceland New Year traditions and festivities.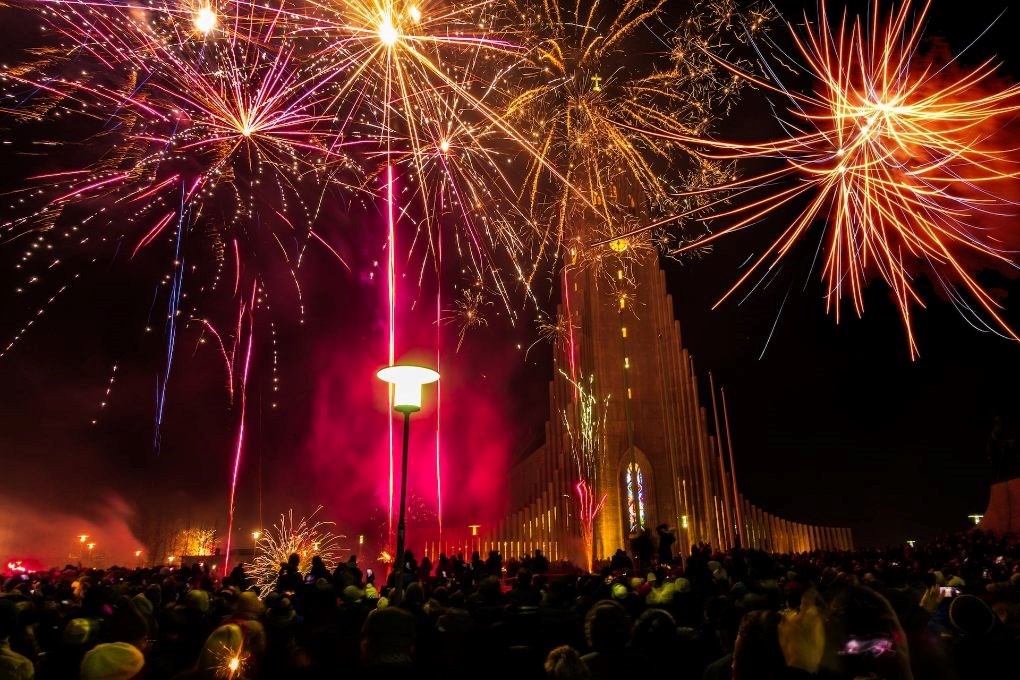 What to Pack for a Trip to Iceland in December
Itinerary all planned out? Ready to get here? Here's what to pack, for the best, most comfortable, cosiest trip possible.
Warm layers of clothing, such as sweaters and thermals

A waterproof coat

Waterproof hiking boots with lots of traction

Hats, gloves and scarves to protect your extremities 

Thermal underwear or another winter-specific base layer

Waterproof pants, particularly if you plan on doing any hiking or outdoor sightseeing

A swimsuit (for visiting the geothermal pools!)

A travel adapter, just in case you don't typically use Type C or F outlets in your home country

A camera with extra batteries and extra memory cards

A daypack for carrying all of your gear (as well as any layers of clothing you may need to remove or put back on) when you're not using your suitcase

A reusable water bottle for staying hydrated; Iceland's tap water is totally safe to drink and is some of the highest-quality, best tap water in the world
For further insight as to what to pack, be sure to check Iceland's weather forecast (via vedur.is) a few days before your trip. Do keep in mind that even if you check the forecast a few days out, it can still change; it's important to be prepared for anything!. 
Final Tips for Driving in Iceland in December
With the above advice, you should be totally prepared for driving in Iceland in December and seeing all that the country offers during this magical time of year. As you continue planning your Iceland getaway, just remember…
Rent the right, safest rental car for where you plan to go in the country and what weather you expect to encounter

Get the right rental car insurance so that you're not left with an upsetting bill in the event of an accident

Keep an eye on

www.vedur.is

, Iceland's weather forecast provider

Keep an eye on

www.road.is

, for up-to-the-minute info on Iceland's road conditions, all throughout the country

While you should have an itinerary for your trip, be flexible enough to adapt your itinerary if the weather demands it

Read up on

Iceland's driving laws

before

you arrive
Is it Worth Visiting Iceland in December? 
We hope that all of the above has convinced you that yes, visiting Iceland in December is incredibly worthwhile, whether you want to visit to see the northern lights, celebrate the holidays or just experience winter in Iceland for yourself. 
Whatever brings you to Iceland this winter, let the local team at Lava Car Rental outfit you with the right rental car for your driving needs. Check out our full lineup of vehicles and book today for the best pricing and the best selection.