A Guide to Driving in Iceland in May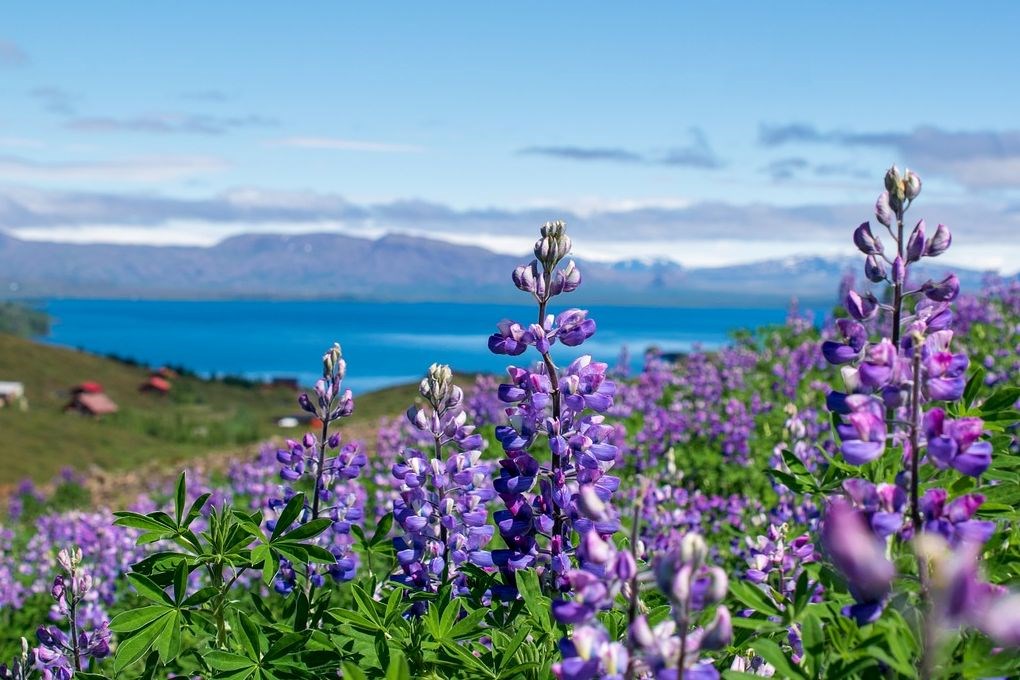 While May signals the start of summer in many parts of the world, in Iceland, it's still spring — and a great time to visit. During the spring months, Iceland really starts to come alive and visitors enjoy many of the benefits of visiting Iceland during the summer, but without all the summertime crowds and high prices. Springtime is also a great season for an Iceland road trip, as the roads are more passable than they would be in winter, when the weather isn't as agreeable.
If all of the above sounds like just what you're envisioning for your trip to Iceland, keep reading. We're telling you everything you need to know to plan a road trip to Iceland in May, including…
What to expect when driving in Iceland in spring

What to do in Iceland in May

What to see in Iceland in May

And more! 
Is May a Good Time to Visit Iceland?
Let's start with the basics, though. Is May a good time to visit Iceland? The answer is a resounding yes. Visiting Iceland in May, as mentioned, gives you so many of the benefits of visiting Iceland in the summer, but without summer's higher prices and crowds.
The weather is mild and enjoyable, with higher temperatures than you'll find during the winter months. The island is turning green and the lupine flowers are blooming. As the ice melts, the island truly comes alive again, in a beautiful way.
The spring months also bring longer daylight hours, as we approach the summertime Midnight Sun. At the start of May, you can expect the sun to be up from about 5 a.m. and until 10 p.m. and, by the end of the month, the sun will start to rise around 3:30 a.m., and it'll stay up until 11:30 p.m.! That gives you loads of time to safely explore Iceland's outdoor attractions and drive around the island with plenty of light to see by. 
Is May a good month to see the northern lights?
All that said, though, there's one beautiful, iconic, Iceland view that you won't be able to see if you visit us in May: the northern lights. If you want to visit Iceland to see the northern lights specifically, you'll need less daylight and the extended darkness that takes over the island during the mid-winter months. There's just not enough darkness in Iceland in May for you to see the northern lights, as May is so close to Midnight Sun season (when, yes, the sun really is up until midnight!).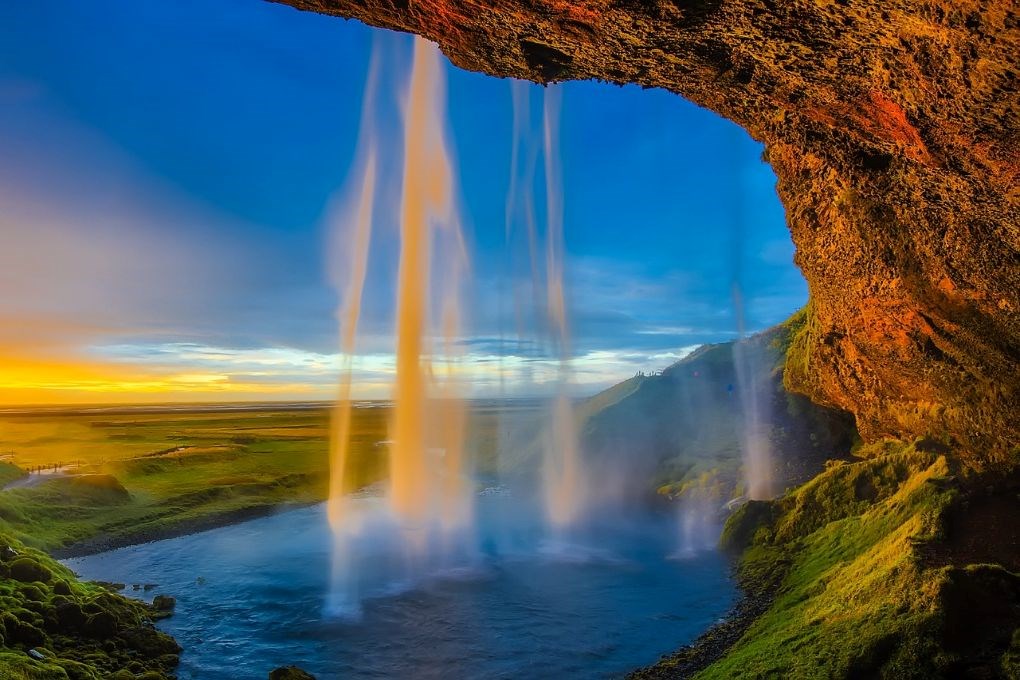 However, just because you can't see the northern lights during this time of year, it doesn't mean you won't find plenty of other breathtaking scenery and photo ops around the island — with plenty of sunlight to see it by. Plus, since there aren't as many crowds around, you'll enjoy taking all those photos and taking in that scenery without any bothersome fellow tourists wandering into your shots and scenic views. 
The Weather in Iceland in May
Whether you're travelling to Iceland in May to snap some gorgeous photos, explore the many Iceland hidden gems or just to drive around Iceland and see what you discover, the weather will play a role in how your trip goes. 
The weather in Iceland in May starts out a little wintery, but, by the end of May, the island is fully immersed in the late spring season. The temperatures at the start of the month may be a little chilly and you might still get a few lingering snow showers (though even that's unlikely). By the end of the month, things are mild and balmy. 
Whatever the temperature, you can expect a mix of sunshine and rain — and often on the same day, with the weather in Iceland changing quickly and unexpectedly! 
How cold is Iceland in May?
So just how chilly is it in Iceland at the start of May, and what do we mean when we say the temperatures are mild and balmy by the end of the month? Here are some specifics.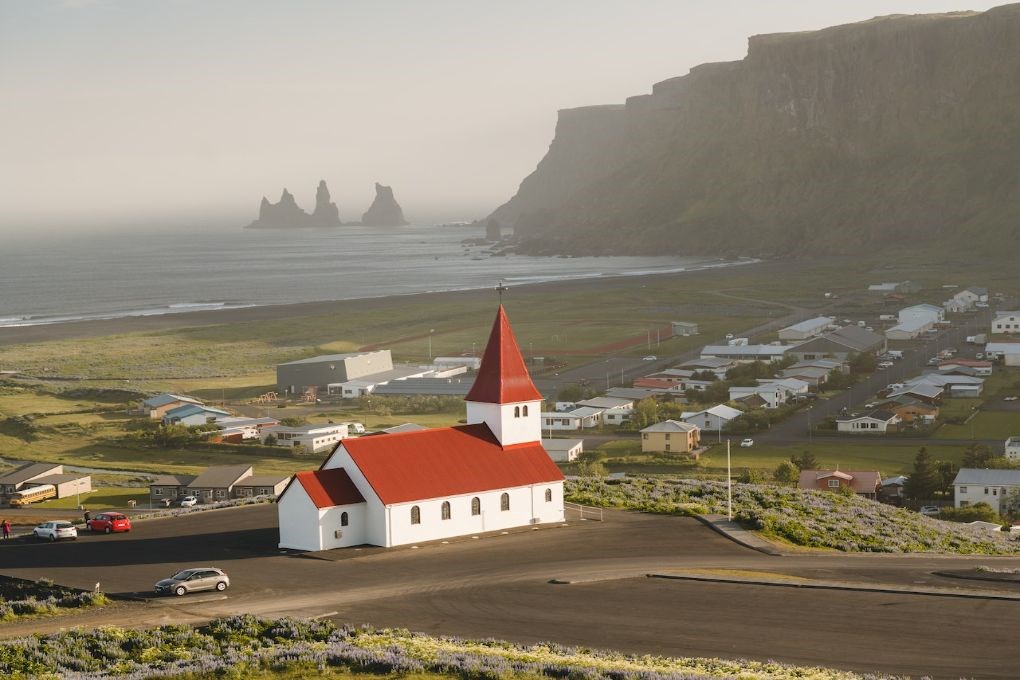 The average temperatures in Iceland in May range from 2 degrees Celsius (36 degrees Fahrenheit) to 11 degrees Celsius (53 degrees Fahrenheit). At the beginning of the month, the temperatures hover closer to 2 degrees Celsius (or 36 degrees Fahrenheit) during the daytime, so just above freezing. By the end of the month, though, the average daytime temperatures hover closer to 11 degrees Celsius (or 53 degrees Fahrenheit!). So, it's a big difference. 
Driving in Iceland in May
Ready to visit Iceland in the spring? Not at all deterred by the fluctuating temperatures or constantly changing weather? Ready to see what all this destination offers before the summer crowds arrive? 
The best way to see it all is via a car rental in Iceland. Here's what you need to know about driving in Iceland in May.
Should I drive in Iceland in May?
Firstly, should you even do it? Absolutely! 
A self-driving trip will allow you to see Iceland at your own pace, giving you tons of freedom and flexibility in your itinerary (with no waiting on a tour guide or public transit, which can be sparse or non-existent in many parts of Iceland). You can get up and leave your accommodations whenever you feel like it, and drive wherever you want on the island (with a few caveats; there are a few roads still closed in May, but we'll get to that in a minute). Wherever you go, you can take in the gorgeous spring scenery, and maybe get in a little wildlife watching, all at a leisurely pace. 
What are the road conditions like in Iceland in May? 
If you're driving in Iceland in May and you've never driven in a foreign country before, you'll likely be wondering about the road conditions. The good news? Driving in Iceland in May is extremely easy with great road conditions. The weather is very agreeable, making for clear roadways and (typically) easy visibility.
The only thing you might need to watch for is the occasional lingering snow shower, but even that's only really a worry if you're travelling in the northern part of the country or in the Westfjords region, where the island gets more snow overall. There may also be some leftover snow still melting beside the roadways, but that's minimal, too, and won't impact your driving. 
As mentioned, there are still some roadways closed in Iceland in May. The Highlands region, with its rugged F-roads, is only open to drivers from June to September, so you'll have to hold off visiting this area of the country for one more month, when roadways are safest. 
What are the best rental cars in Iceland in May? Do you need a 4x4 in Iceland in May?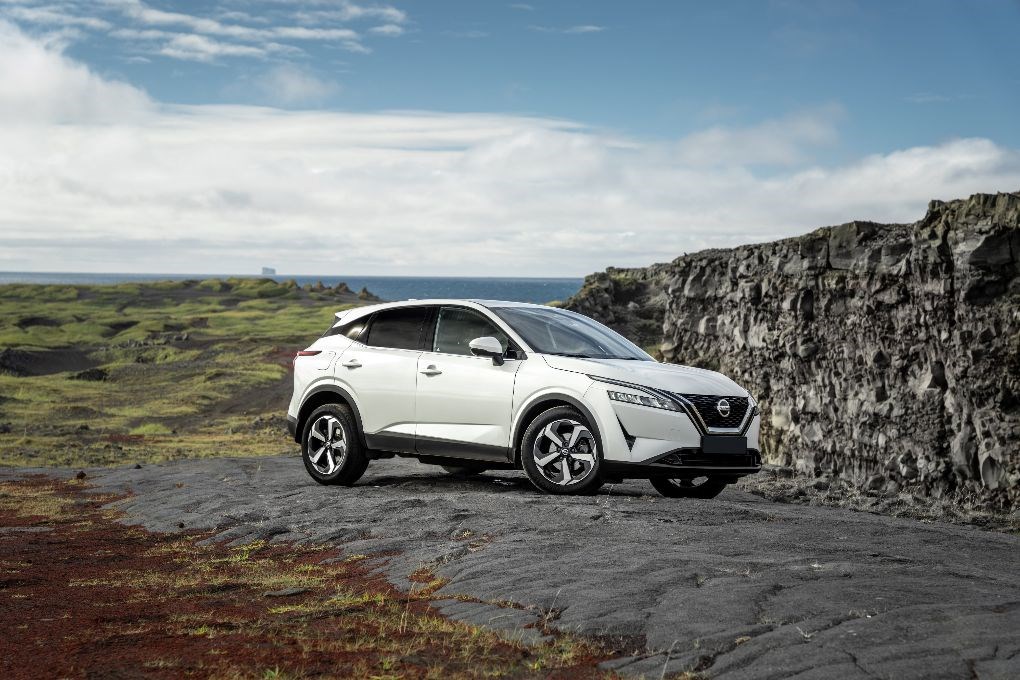 When choosing a rental car to self-drive to Iceland in May, you may be wondering if you need a 4x4 rental car. While these are usually necessary if you're driving in Iceland in the winter, they're not typically necessary if you're renting a car in Iceland in the spring. This is especially the case if you only plan to stick around Reykjavik and the surrounding region, where the roadways are in very good condition and frequently travelled. 
If you're driving to more remote areas of the country, like the Westfjords, we do, though, recommend a 4x4 for extra safety, as both roadways and weather in the Westfjords can be more treacherous.
Of course, even if you're not going to the Westfjords, a 4x4 just makes some travellers feel more comfortable. The added traction, added height and extra stability make for a smoother ride and the added safety features likewise add to your peace of mind. 
Is it safe to drive in Iceland in May?
All of the above taken into consideration, you could probably guess that, yes, it is totally safe to drive in Iceland in May. Just be sure that you have the right rental car booked for wherever you happen to be driving, and always keep an eye on the Iceland weather forecast and road conditions before you head out. 
What kind of car rental insurance should I get in Iceland in May?
Even with the safest driving and the right precautions, accidents can still happen, which is why we recommend our clients purchase full protection car rental insurance when planning their self-driving trips to Iceland in May. 
Lava Car Rental offers a range of rental car insurance options, but our full protection package includes a Super Collision Damage Waiver (that covers damage in case of collision), Theft Protection and Gravel Protection (a must when travelling around Iceland, where gravel from the roadways can easily pop up and crack or shatter a windshield!). The full protection package also includes sand and ash protection, for covering you in the event of any damage from a sandstorm or volcanic eruption, as well as tyre protection, to cover tyre and wheel replacements. 
What to Do in Iceland in May
Once you have your rental car sorted, it's time to actually start driving and see what all Iceland offers in the spring. If you're travelling to Iceland in May, here's what you'll want to be sure you add to your itinerary.
Spring is lambing season in Iceland, starting in April and continuing on through May. The best way to see the lambs is by staying on a sheep farm in rural Iceland for a night or two, so you can get up close and personal with the animals. Otherwise, be sure to road trip your way through rural Iceland so you can take in the sheep from the road. 
Birding is a popular activity in Iceland, primarily thanks to Iceland's large puffin population. Visit western Iceland to see the puffins in droves, living in the ocean-facing cliffside.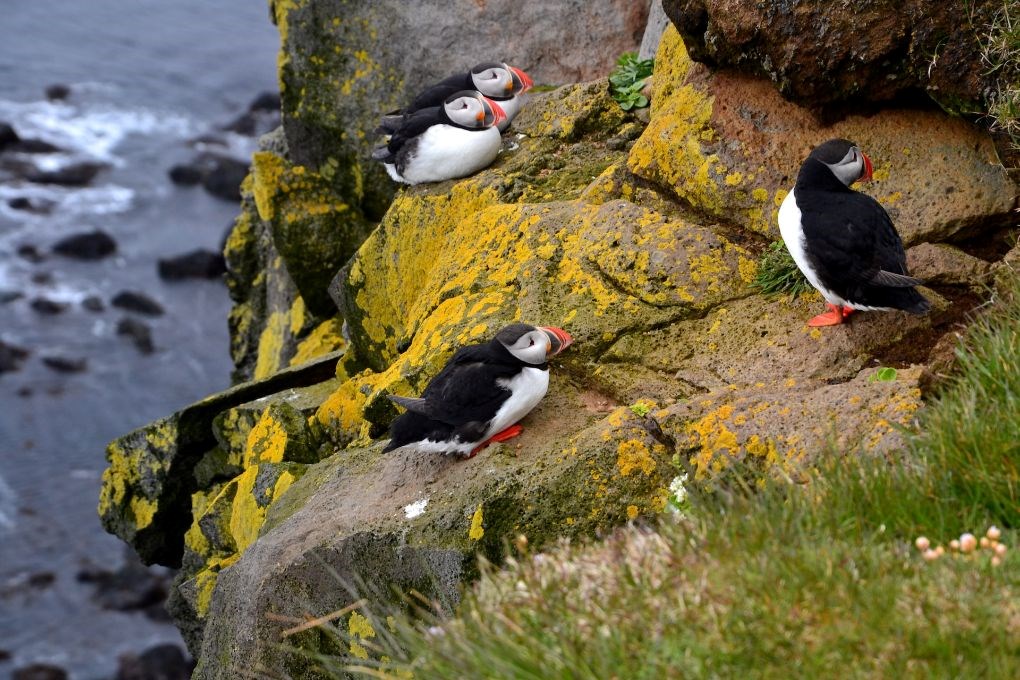 Taking a dip in a geothermal pool
There are geothermal pools scattered all across the country, from the more developed and spa-like pools to the all-natural pools that require a hike to access them. Pack your swimsuit and take in the waters for yourself, at one of the best Iceland hot springs. 
Checking out the local holidays
In May, there are a few different Iceland special events that you can either participate in or observe. 
International Day for the Icelandic Horse is May 1 and there are events taking place around the country that allow you to learn more about the Icelandic Horse, including horse shows. There's also a parade in Reykjavik. 
Also May 1, Iceland's Labour Day (or Workers Day) is a time for locals to bring attention to labour rights with protests and displays in Reykjavik. 
What to Wear in Iceland in May
If you're planning out what to pack for a May trip to Iceland, just know that what you should bring will entirely depend on what time of the month you plan on visiting. Since the weather in Iceland in May varies heavily from week to week, you might need warmer clothes at the start of the month, and lighter clothes at the end. Your safest bet? Pack layers, so you can add or remove clothing as needed.
Whenever you visit, though, there are a few necessities you'll want to pack. We recommend bringing: 
A waterproof and windproof jacket

Sturdy hiking boots

Fleece and other layers

Plenty of socks

Scarves, hats and gloves

Sunglasses 

Swimsuits (for the

Icelandic hot springs

!)

Sunscreen

A baseball cap or other head covering

An eye mask (since the sun doesn't start to set until late in the evening in late May, you'll want an eye mask if you plan on getting to sleep any earlier than midnight!)
Where to Go in Iceland in May
So you know what to pack and what must-try Iceland activities you should add to your itinerary — now where do you actually go during a driving trip to Iceland in the spring? Here are our top suggestions.
The Golden Circle is one of the most popular self-driving routes in all of Iceland and for several good reasons. The small, 300-kilometre loop passes by some of the country's most popular sightseeing spots. The loop starts not too far off from Reykjavik, so it's easy to access. The roadways are safe and well-maintained, as well as frequently travelled. It's a quick, easy and safe self-driving route for those looking for an introductory experience to driving around Iceland or a packed day of sightseeing before heading off on a broader road trip elsewhere in the country.
And one of those broader road trips? The Ring Road. 
Iceland's Ring Road is also highly popular, especially for those who want to see as much as possible. The Ring Road encircles the entire island, taking you to just about every region of the country and nearly all of the major towns. 
Of course, with so much to see and do on this route, you can expect it to take some time. We recommend our clients only plan a Ring Road road trip if they'll be in Iceland for at least one week.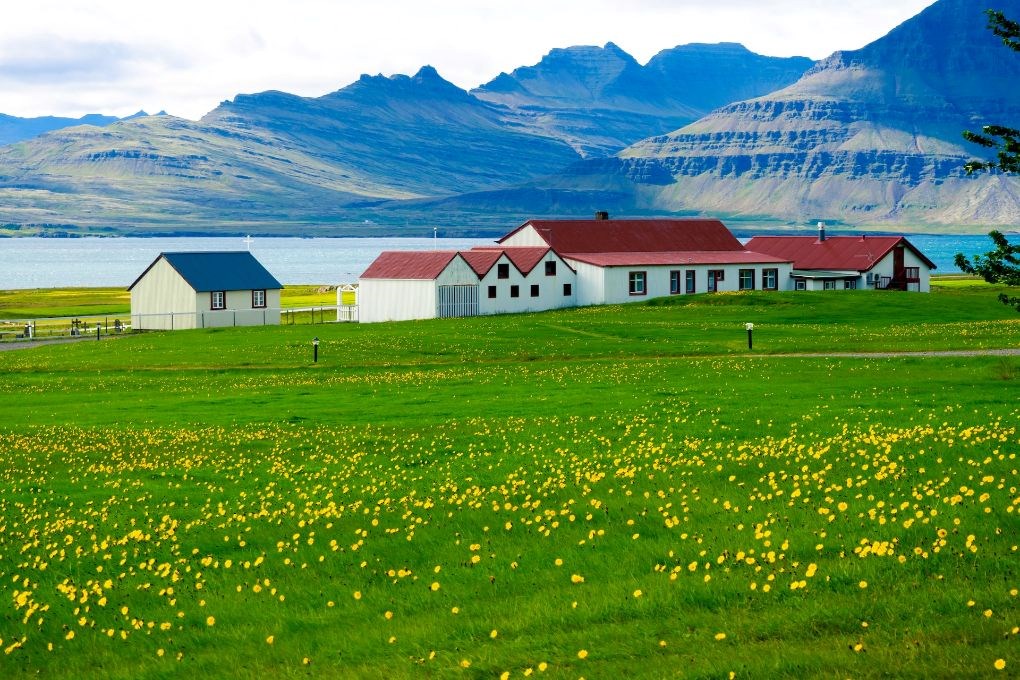 Another self-driving route within easy reach of Reykjavik, the South Coast makes for a quick destination over the course of a few days, whether you're travelling in the winter or summer. From waterfalls to glaciers to black sand beaches, the South Coast has a bit of it all.
While maybe not as popular as the above three self-driving options, the Snaefellsnes Peninsula is still worth your consideration for an Iceland driving trip. Sometimes referred to as "Iceland in Miniature," the Peninsula is packed with nature, history, and more. 
Can I drive the Ring Road in May?
Yes, as mentioned above, the Ring Road is one of our top recommended Iceland self-driving routes for a May trip. The road is well-maintained and in good condition, and the weather is agreeable enough during the spring months that you won't need to worry about delays or roadblocks. However, do note that you do need at least a week to fully see this self-driving route, without rushing through it.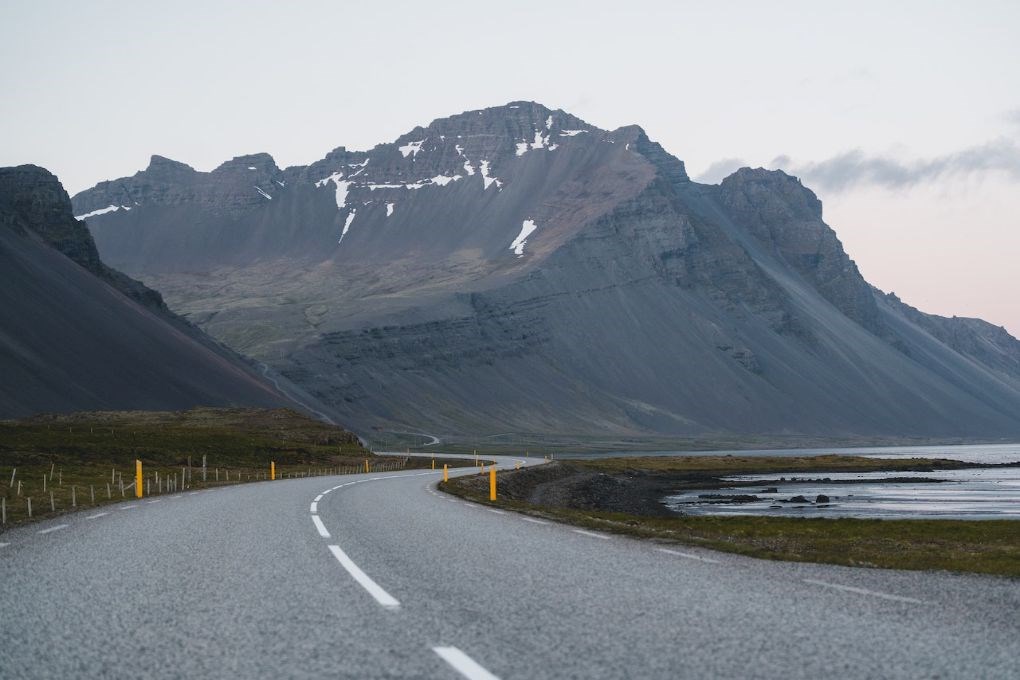 Tips for Driving in Iceland in May
Feel like you know everything you need in order to plan your Iceland May self-driving trip? Here are just a few last tips to send you on your way.
Make sure you have the perfect rental car for your itinerary, whether that's a 4x4 rental car, economy car or even a camper van. 
Then, protect that rental car by purchasing the right insurance.
Keep an eye on vedur.is and road.is 
These two websites will inform you of any roadblocks or weather threats, so you can adjust your itinerary appropriately, in the moment.
Don't be afraid to adjust your plan
That said, if weather or road conditions are unfavourable, don't be afraid to adjust your itinerary and find something new to do, or delay your itinerary by a few days.
Follow Icelandic driving rules
And, as should be the case when visiting any new destination, before you arrive in Iceland, brush up on Iceland's driving rules, so you can keep both yourself and your fellow drivers safe.
Is it Worth Visiting Iceland in May?
If you're still not convinced, yes, you absolutely should consider visiting Iceland in May. The fewer crowds, lover travel prices, long days and beautiful landscapes all make for a wonderful time to explore. 
Explore the safest and most comfortable way possible, in the best rental car for your Iceland trip. Check out the many rental car options available from Lava Car Rental and talk to our team today about which might be the best fit for your upcoming trip.