A Guide to Driving in Iceland in June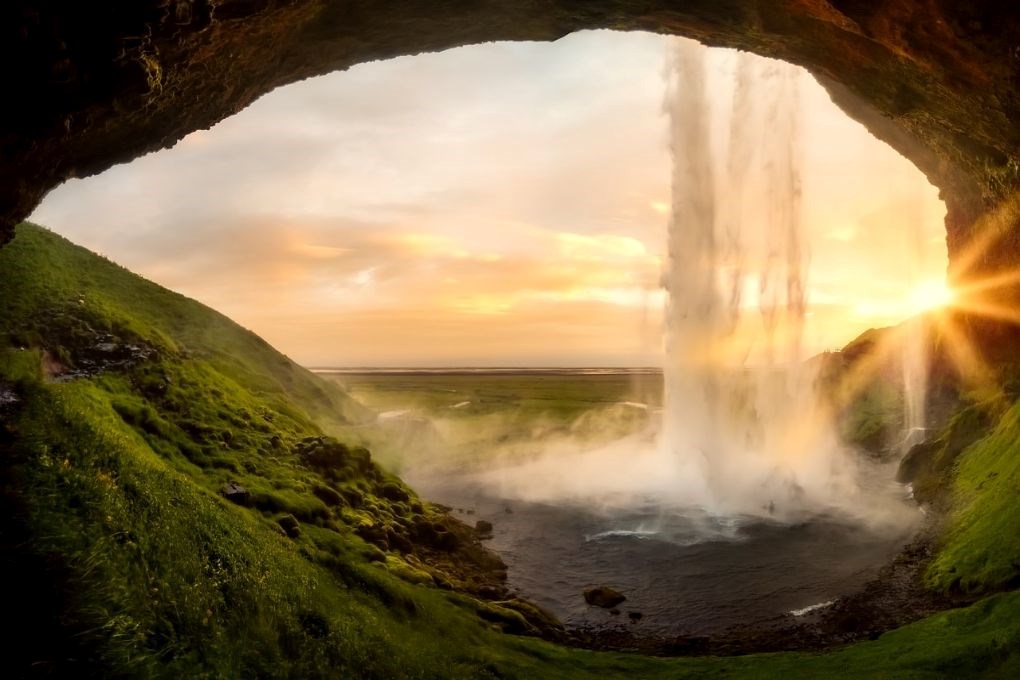 Thinking of visiting Iceland in June? Travelling to Iceland in the summer is an amazing experience. For those who aren't keen on the wind, snow and sleet that comes with Iceland's frigid, harsh winters, they'll be delighted to find an island that's — for the most part — bright, sunny, green and filled with flora and fauna.
Additionally, driving in Iceland in summer is much easier than driving in Iceland in the winter months, meaning a trip to Iceland in June is the perfect opportunity for a road trip. You can easily get around every single region of Iceland, with the right rental car.
Intrigued? We're answering everything you need to know before you start planning your June Iceland road trip, including…
What to do in Iceland in June

What to see in Iceland in June

What to know about car rentals in Iceland

And even what to pack for a June Iceland trip! 
Keep reading to learn all this and more. 
Is June a Good Time to Visit Iceland?
First things first, yes, June is an amazing time to visit Iceland for many, many reasons, some of which we already mentioned above. The summer season brings warmer temperatures and more agreeable weather, along with long summer days and lots of sunshine. 
The Midnight Sun in Iceland also occurs in June, on the Summer Solstice, June 21. The Midnight Sun is the day on which Iceland receives its peak sunlight hours. In fact, the sun doesn't even fully set at all on this day. You'll have round-the-clock sunshine. 
This is, for many travellers, a once-in-a-lifetime sight and a can't-miss natural phenomenon. It gives you ample opportunity to explore at any hour, with no darkness hindering your outdoor adventures. Just be sure to pack an eye mask if you plan on getting any sleep! The brightness can make it hard to get some much-needed shut-eye.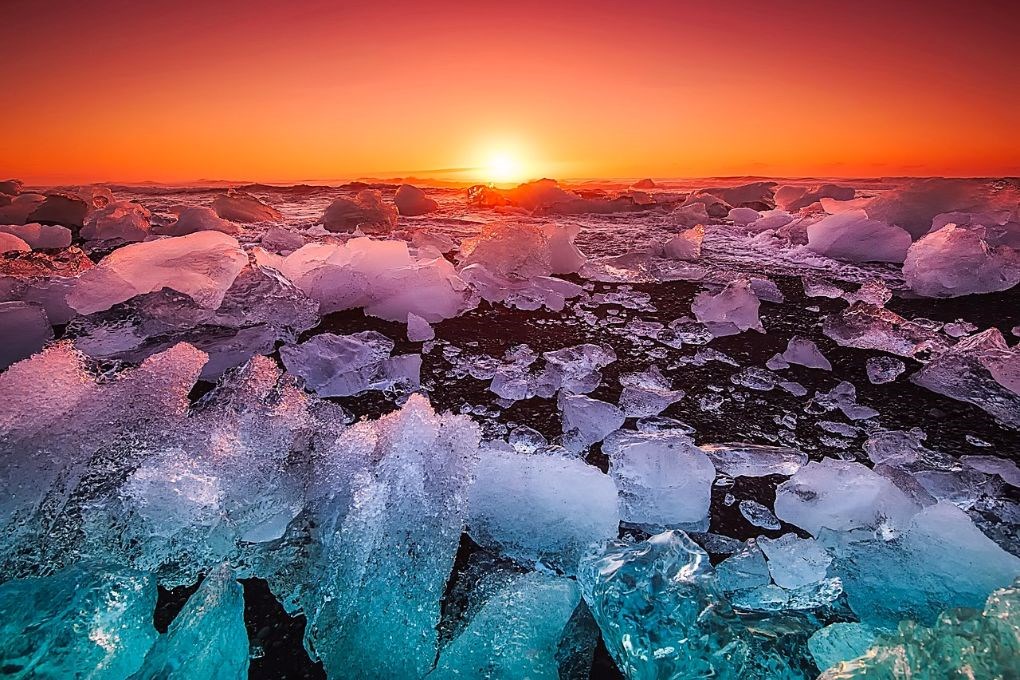 Otherwise, throughout June, you'll find lots of animals out and about, if you're hoping for some wildlife watching, and the scenery is bright and filled with flowers in many areas. 
Additionally, the Highlands are open. This region of Iceland is only open to travellers for a few months out of the year, as it's too difficult to traverse during the fall, winter and spring. So, if you have your heart set on visiting this rugged, remote, gorgeous part of the country, you'll want to specifically plan your trip for June.
Is June a good month to see the northern lights?
All of the above said, if you specifically hoped to see the northern lights while visiting Iceland, June is not the time to do it. You'd be better off scheduling a trip to Iceland in December or January. The northern lights are only visible under heavy darkness and, with the Midnight Sun occurring on June 21, there's not much of that available in the month of June.
Weather in Iceland in June 
You may think of Iceland as being … well, full of ice, but that couldn't be further from the truth in June. 
The summer months offer some of Iceland's best weather, with mild temperatures that aren't hot, but that are definitely agreeable. Average temperatures in June are reliably always above 10 degrees Celsius (or 50 degrees Fahrenheit). There are those long daylight hours. Winds are down and rain is only occasional. This all makes for easier sightseeing, as well as easier driving around the island, if you're planning a road trip to Iceland in June. 
Because of this, June is one of the most popular months for travel in Iceland.
What are the temperatures in Iceland in June?
In June, the average low temperature is 48 degrees Fahrenheit (or 9 degrees Celsius), and the average high temperature is 59 degrees Fahrenheit (or 15 Celsius).
Driving in Iceland in June 
Does a trip to Iceland in June sound exactly like your perfect fit? You can experience the wonders of our summers more thoroughly if you self-drive in Iceland in June.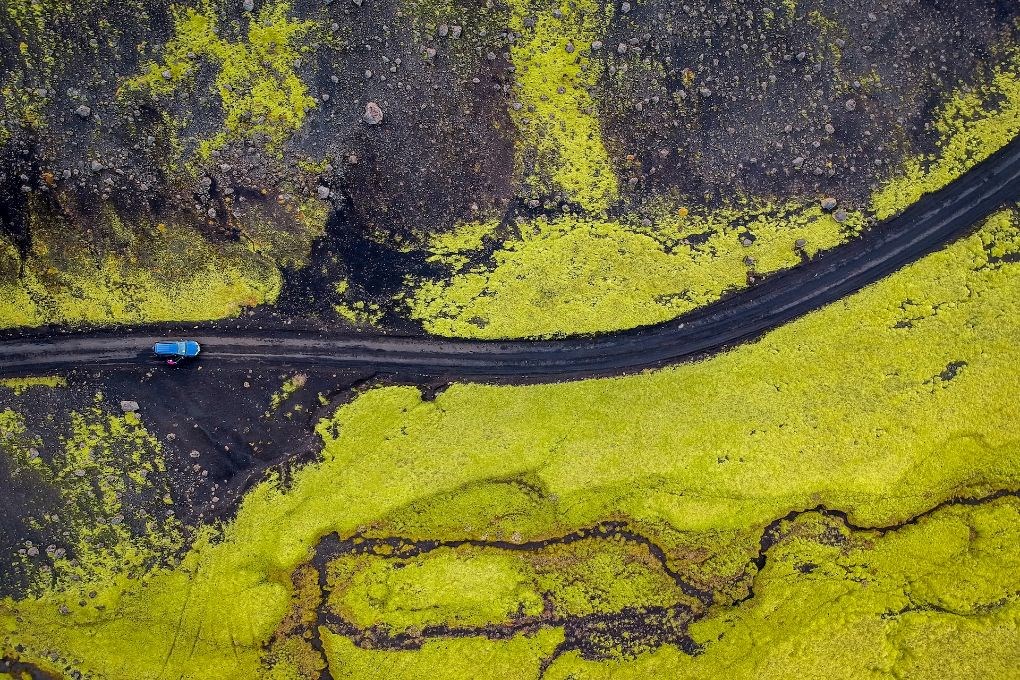 Should I drive in Iceland in June?
There are so many reasons why you should rent a car and drive around if you're travelling to Iceland in June. 
Renting a car allows you to see the full country in a way that no other mode of transportation will. Since Iceland's public transportation is sparse or non-existent, and flights throughout the country will only get you so far, a rental car is the best and most popular way of seeing the country in full. 
Beyond just being convenient, though, driving your way through Iceland also allows you to be more flexible with your itinerary. You have the freedom to stop when and where you want, and pick up your route as it makes the most sense for your travel needs.
Additionally, when you drive, you get the added bonus of being able to take in the landscapes around you as you go. The vibrant green hillsides contrast with rocky outcroppings. It's not uncommon to spot puffins or sheep. You'll find that you end up stopping along the way to take plenty of scenic photos! Just be sure that you stop in the right places, not on the roadways! It's important to always follow Icelandic driving laws while road tripping. 
What are the road conditions like in Iceland in June? 
If you're a nervous driver and you're a little apprehensive about driving in a foreign country, rest assured that June is the best time to try driving in Iceland for the first time. Unlike the winter months, when the weather can be a little more unpredictable and hazardous, the road conditions are very easy and good in June. You can even drive around much of the country (like around the Ring Road) with just a 2WD, economy car.
The only times you might feel a little nervous driving? If you go to the Highlands, which are quite a bit more rugged, with unpaved roads and, in some cases, even river crossings. Because of their rugged nature, the Highlands are only open to travellers in the summer months. If you plan on road tripping through the Highlands, be sure to rent a 4x4 vehicle (in fact, Iceland law dictates that you only use a 4x4 vehicle on Highlands roads) and put a confident, skilled driver behind the wheel. 
Do you need a 4x4 in Iceland in June?
You only need a 4x4 vehicle in Iceland in June if you plan on visiting the Highlands, where the F-roads necessitate a 4x4 car. Otherwise, if you're travelling on the main, paved roads, like those around Reykjavik or even the Ring Road, you'll be fine with just an economy car.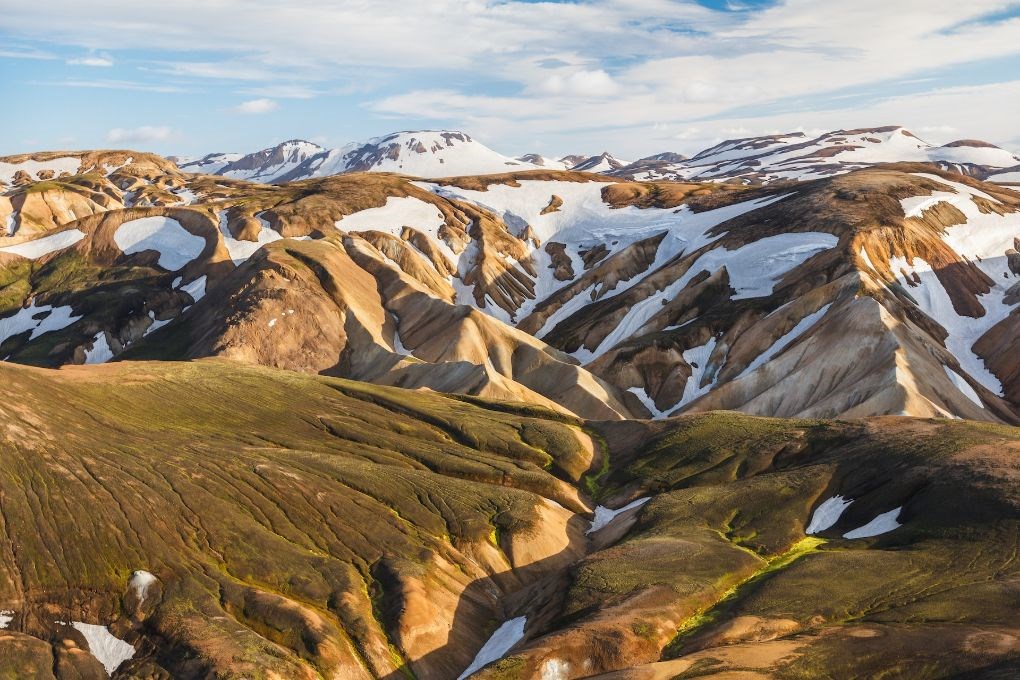 Is it safe to drive in Iceland in June?
Yes, it is very safe to drive in Iceland in June. June is one of the safest months to drive in Iceland overall, thanks to the agreeable weather, little rain, no snow or ice and clear roadways. 
What kind of car rental insurance should I get in Iceland in June?
Even though driving in Iceland in June is safe and the roadways are clear, and the weather conditions are fair, you won't want to bypass car rental insurance, if you rent a car for your trip. Accidents can still happen.
Lava Car Rental offers a range of insurance options that will cover you in the event of rental car damage and issues such as collisions, theft, gravel-related damage, sand and ash-related damage, tyre issues and more. 
What to Do in Iceland in June
Once you're sure a car rental in Iceland is your best bet for seeing the most of the country, the most conveniently, it's time to start planning your itinerary. Here are the top things to do in Iceland in June.
If you can make it to Iceland for the day of the Midnight Sun, aka the Summer Solstice, June 21, then that's an event you definitely won't want to miss. Seeing the sun stay up all day long is something to remember for the rest of your life. You can take in the day-long daylight in many different ways, but the best way to do so is with some outdoor adventuring, whether you prefer hiking, kayaking or camping in a campervan. 
Even if you can't make it to Iceland on June 21 exactly, though, you can still enjoy these long daylight hours all through the month of June — the sun just doesn't stay up quite for 24 hours, even though it's pretty close!
If you're an avid hiker, Iceland is a hiking destination that should be on your bucket list. Scenic views are plentiful and there is a robust trail system throughout the country. June is a great time to hike in Iceland, as most of the trails are open for the month, allowing you to explore remote, untouched natural landscapes on foot (and if you don't like winter hiking, you'll be glad to know that June brings warmer temps that make your snowshoes unnecessary). 
Check our articles about the best hikes in Iceland for more tips. 
To immerse yourself even further in Iceland's natural wonders in the month of June, don't just drive around the country in a rental car. Drive around the country in a rental campervan! This will allow you even more flexibility in your itinerary, as you can set up camp at one of the many, many campsites around the country, rather than attempt to find a hotel in the nearest town. 
For tips on camping in Iceland, check out this article. 
You can find wildlife in Iceland during most months, but June is prime time for two spectacular creatures: Iceland's large puffin population and the whales that live off shore. The puffin habitats are located on the shorelines; just look for the dramatic cliffside. To see the whales, make sure to book a whale-watching day trip and tour.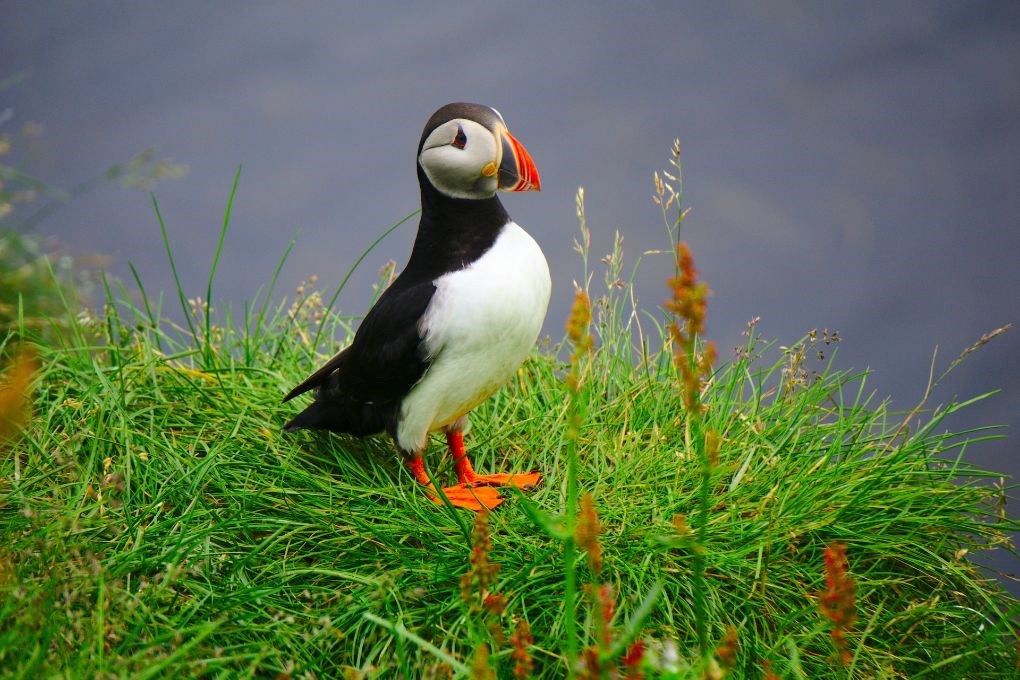 Visit the geothermal pools
While Iceland might not be a country known for its warm, balmy beaches where you can lay out in the sunshine in your swimsuit, it is a country known for its hot springs and geothermal pools — and this is exactly where you're going to need your swimsuit. Throughout Iceland, you can find new, spa-like geothermal pools with lots of amenities, but also remote hot springs that are only accessible via a hike. Whichever you prefer, you're sure to enjoy this ultra-relaxing activity.
For the best hot spring to visit during your stay, check out our guide to Iceland hot springs, both new and old. 
Attend one of Iceland's June events
If you're in Iceland in mid-June, you may be able to celebrate Iceland's Independence Day, on June 17. Iceland gained its independence from Denmark in 1944 and, to mark the occasion, Icelanders hold a parade in downtown Reykjavik. The family-friendly event includes Icelandic costumery, horses, flag wielders and "The Woman of the Mountain," an honouree chosen as a personification of Iceland's character. 
Then, if you're in Iceland for the Summer Solstice, be sure to attend the Secret Solstice Festival. Held around the solstice date, it's a music fest that takes place in Reykjavik, at Laugardalur Park. Both local and international musicians are featured. 
What to Wear When Visiting Iceland in June
No matter what you do when visiting Iceland in June, you'll want to pack appropriately. June is a pretty mild month with agreeable weather, as mentioned, but don't expect to just show up in your shorts, t-shirts, and sandals. You'll want to pack clothes that can stand up to the occasional wind, rain and chillier temperatures. You'll also want to pack sunglasses and sunscreen to protect you from the extended daylight hours, as well as an eye mask to help you get to sleep when the sun stays up all night. Even if you don't think you'll end up bathing in one of the hot springs, consider packing a swimsuit regardless, just in case you get here and decide you want to give it a go.
Here are our top recommendations for items to add to your packing checklist, for an Iceland June trip: 
A water- and windproof jacket

Sturdy hiking boots

Fleece and other layers

Plenty of socks

Scarves, hats, and gloves

Sunglasses

Swimsuits 

Sunscreen

Cap

Eye mask to be able to sleep in total darkness during the bright nights
Where to Go in Iceland in June 
You're all packed up, you have your bucket list of things you want to do during your Iceland trip — now you just need to decide where you want to go while you're in Iceland in June. 
If you're planning an Iceland road trip, there are three main driving itineraries and regions that we recommend you check out.
One of the most popular driving routes in the entire country, the Ring Road of Iceland is a circular route that goes around the entirety of the island. Following this paved and well-maintained, frequently-travelled road is safe, enjoyable and takes you to many of Iceland's top tourist spots. 
The only thing you'll want to consider? Driving this route can take a while. We usually only recommend it for travellers intending to be in the country for at least one week, minimum. 
The Highlands are a popular pick in the summer because they're only open in the summer. You want to take advantage of being in Iceland while they're open, so you can see these dramatic landscapes for yourself particularly if you're a hiker, as some of Iceland's best hiking can be found in the Highlands. 
Just make sure that you only visit the Highlands if you're renting a 4x4 vehicle, as Icelandic law dictates you can only drive 4x4 vehicles on the Highlands' F-roads.
Similarly, the Westfjords, due to their rugged nature, are best seen during the summer months. If you take a road trip to the Westfjords during your Iceland trip, you'll find remote, unchanged landscapes, scenic and seaside views, wildlife aplenty and great hiking and camping. A 4x4 vehicle will make you more comfortable on the roadways in this region as well.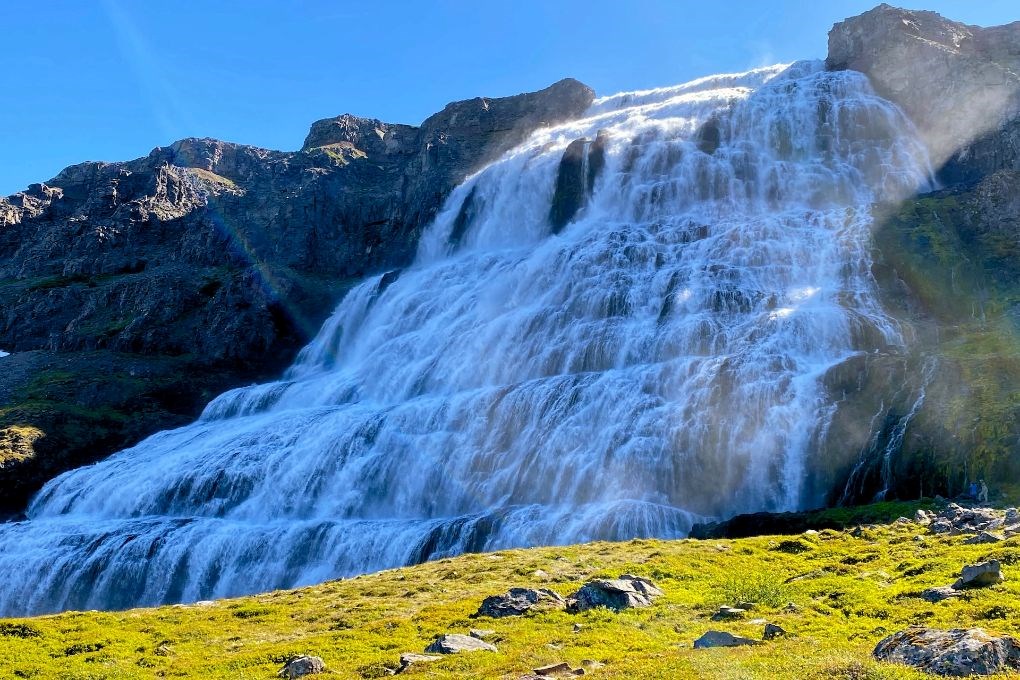 Can I drive the Ring Road in June?
Yes. The Ring Road is well-maintained and in good condition, so driving it in June, when the weather is nice, will be no issue. You can even drive a 2WD vehicle on the Ring Road during the summer months, with no issues. 
Tips for Driving in Iceland in June
Ready to book your self-driving trip to Iceland? Before you rush off, here are a few final tips on driving in Iceland in the summer.
While you might think this is only important during the winter months, when the weather is rougher, it's still important to rent the right car for your trip in the summer, too. The best rental cars in Iceland in June will depend on your destination. If you're sticking to populated areas or the Ring Road, you may feel comfortable in a 2WD vehicle (so long as you're not travelling in a larger party). If you're visiting the Highlands or Westfjords, a 4x4 vehicle is advised.
You don't want your trip to be ruined by a costly accident. The right insurance will keep you protected, for the least trip disruption possible in the event of a collision or rental car damage.
Even though the weather is usually calm in Iceland in June, and the road conditions are good, you never know when something unusual might pop up. Keep an eye on these two websites, for up-to-date info on weather and road conditions.
Adapt your plan based on the weather and road conditions
If there looks like there is a disruptive weather event or poor road conditions, be flexible enough to change your itinerary as needed. There's plenty to do and see in Iceland, so you certainly won't be left without any options.
Follow Icelandic driving rules
Lastly, be sure to follow Iceland driving rules, no matter where you're headed. 
Is it Worth Visiting Iceland in June? 
Yes! We hope our guide to travelling in Iceland in June has convinced you to visit. Beautiful landscapes and long, sunny, warm days await, as do the Highlands!
If you need further help planning your trip, be sure to check out the Lava Car Rental blog, with all its handy guides and information on travelling to Iceland, and then book your rental car directly with Lava Car Rental. Check out our full selection of vehicles to find your perfect match.