A Guide to Driving in Iceland in April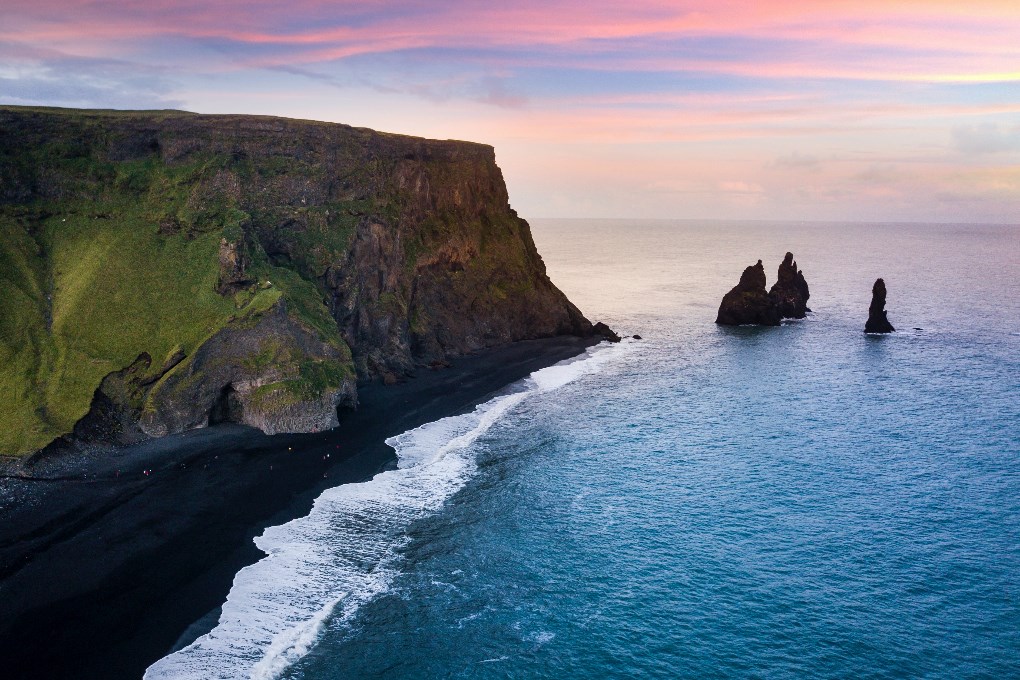 If you're planning a road trip to Iceland in April, there are a few things you'll need to know. As winter ends and spring takes hold on our island, the weather changes and the road conditions improve, but what you can see and do might differ from what you'd normally do in Iceland in winter or what you might do in Iceland in summer. That said, Iceland in spring is a unique time that you won't want to miss. 
To help you plan the best self-driving trip to Iceland in April, here's everything you'll need to keep in mind, including…
What to know about driving in Iceland in spring

What to do in Iceland in April

What to see in Iceland in April

How to get a car rental in Iceland for your self-driving trip
Keep reading to learn more. 
Is April a Good Time to Visit Iceland?
First of all, though, do you even want to visit Iceland in April? For some, visiting Iceland in April will be a dream trip. For others, they might want to wait to visit Iceland in the summer or winter. 
Here's what April is usually like in Iceland.
The temperatures are warming up, but things are still a little chilly most of the time.

There's more daylight as the days lengthen the closer we get to summer.

There's less snow and ice everywhere (which makes exploring and driving easier!).

The landscape starts to green up, but you can still see snow in some spots, so there's a good contrast between winter and springtime landscapes.

There's lots to do in Iceland overall during this time, including festivities such as the First Day of Summer celebration.

The crowds aren't as plentiful as what you might see here in the summer.

The travel costs are also more affordable than you might find in the summer, including for accommodations. 
Is April a good month to see the northern lights?
However, do note that if you're planning to come to Iceland to see the northern lights, April might not be a good month for your visit. You can only occasionally see the northern lights in Iceland in April, and only then in the earliest days of the month, when conditions are best. 
For your highest chances of seeing the northern lights during your trip, come to Iceland during peak northern lights viewing season, which runs from September to March. 
Weather in Iceland in April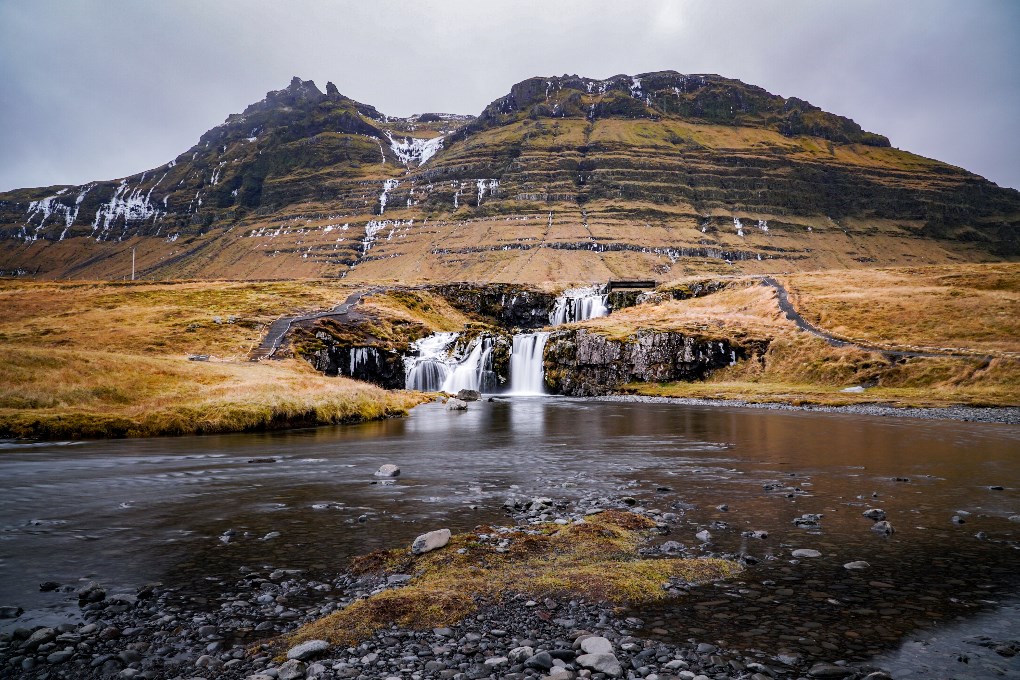 April is the start of spring in Iceland, but that doesn't mean you should expect warm and sunny conditions all the time. Instead, as is the case in most parts of the world, springtime in Iceland brings a mix of winter and summer-like conditions. Some days are warm and sunny and it really does feel more like summer, while other days can bring a snowstorm. 
This unpredictable weather makes it even more important that you plan a flexible self-driving itinerary and that you book a car rental in Iceland that's suitable for a range of weather and driving conditions.
How cold is Iceland in April?
If you're looking to escape winter in your part of the world with a trip to Iceland, April's not a great time to visit. The conditions are mild, but still a little on the chillier side. 
In April, in Reykjavik (which is typically a bit warmer than some other parts of the country), the average high temperature is 7 degrees Celsius (44 degrees Fahrenheit) and the average low temperature is 1 degree Celsius (33 degrees Fahrenheit). 
While there is less snow and rain in Iceland than there is over the winter months, you'll still catch the occasional snowstorm in April. The weather varies quite a lot, mixing bright sun with rain and snow, warm and cold temperatures. 
How many hours of daylight are there in Iceland in April?
The more daylight that's available during your self-driving trip to Iceland, the more time you'll have to explore the country's best outdoor attractions! In April, the number of daylight hours is constantly increasing, day by day, so you should have plenty of sunlight by the end of the month to accommodate all your sightseeing. 
At the start of the month, in Reykjavik, which gets a little less daylight than the northern parts of the country, you'll have about 13.5 hours of daylight per day at the start of the month, and then a little over 16.5 hours of daylight per day by the end of the month.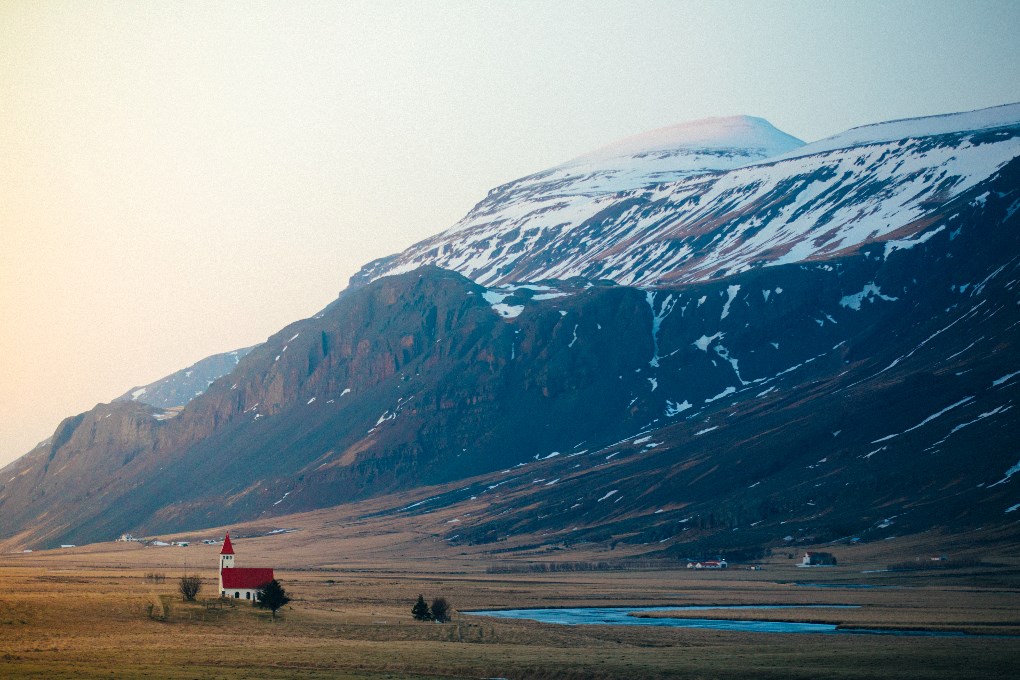 Will there be snow in Iceland in April?
Yes, we'll get occasional snow in Iceland in April, but it's typically nothing to worry about. The warming temperature usually means that, even if there is a snowstorm, the snowpack doesn't stick around for very long, and melts (this is especially the case in the city; the snow may last a little longer in more rural areas). This is good news for visitors who don't fancy driving in the snow, as snow won't stick to the roads and interrupt your travel plans like it might in the winter. 
Driving in Iceland in April
If the weather isn't a deterrent, here's what you'll additionally need to know about driving around the island at this time of year. 
Should I drive in Iceland in April?
First of all, should you even drive at all in Iceland in April? Absolutely!
Driving is, we think, the best way to explore Iceland during any trip. Renting a car gives you the freedom and flexibility you need to see all the country at your leisure, without waiting on a pricey tour guide or relying on public transit (which doesn't even exist in much of the country). 
As you drive around Iceland in April, you'll enjoy typically fair weather, mostly agreeable road conditions and the lovely contrast in scenery, with the snow-capped mountains that have yet to lose their snow packs and the greening countryside filled with the animals that begin making themselves known at this time of year. 
What are the road conditions like in Iceland in April?
As mentioned, the road conditions in Iceland in April are mostly agreeable. However, the road conditions do differ around the country, depending on where you're going. 
While the road conditions are better than what you might see in the middle of winter, and rain is more common than snow, and the snow doesn't stay around all that long, when it does snow, the roads can still be slick and closures can occur.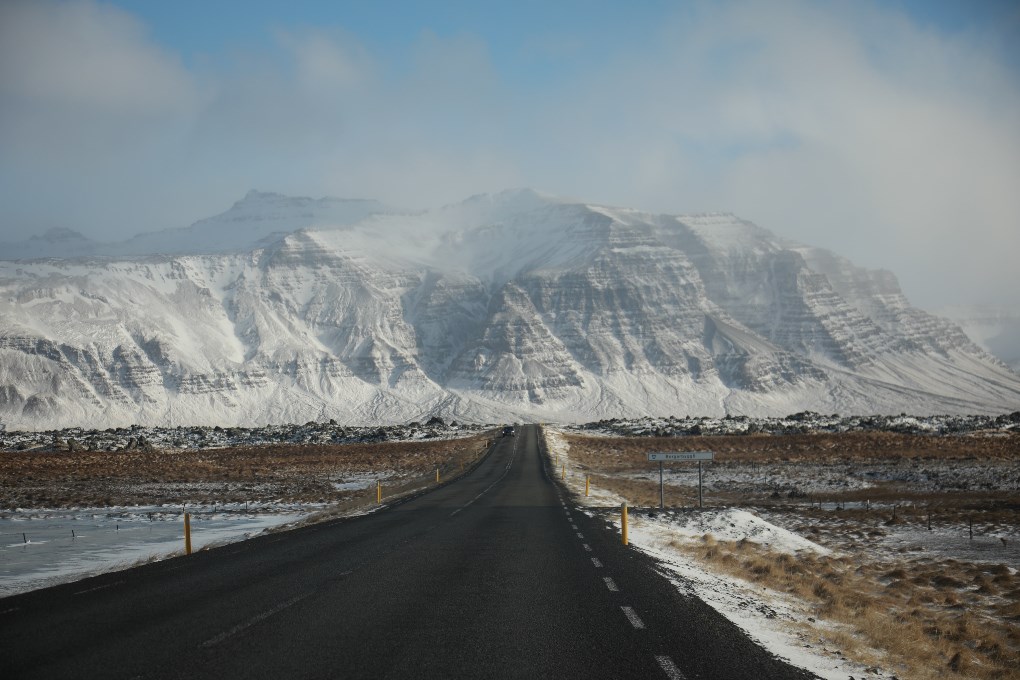 Your best bet? Be prepared for all situations. The weather in Iceland can quickly change and you don't want to be caught unawares if it changes while you're out on the road. 
Depending on your self-driving itinerary, here's what to expect.
The Ring Road is one of Iceland's most popular self-driving routes, as it encircles the entire country. A road trip on the Ring Road will show you nearly every region of Iceland and some of the top sites for travellers to visit. 
Since the Ring Road is so popular, it's typically kept clear and clean, so you shouldn't expect road closures during the month of April. 
The South Coast and Golden Circle
In the southern portion of the country, the roads are likewise pretty clear and clean through the month of April. If you're planning a South Coast road trip, a trip to the Snaefellsnes Peninsula or a quick day trip from Reykjavik to the Golden Circle, you can rest assured that you'll be able to get around just fine.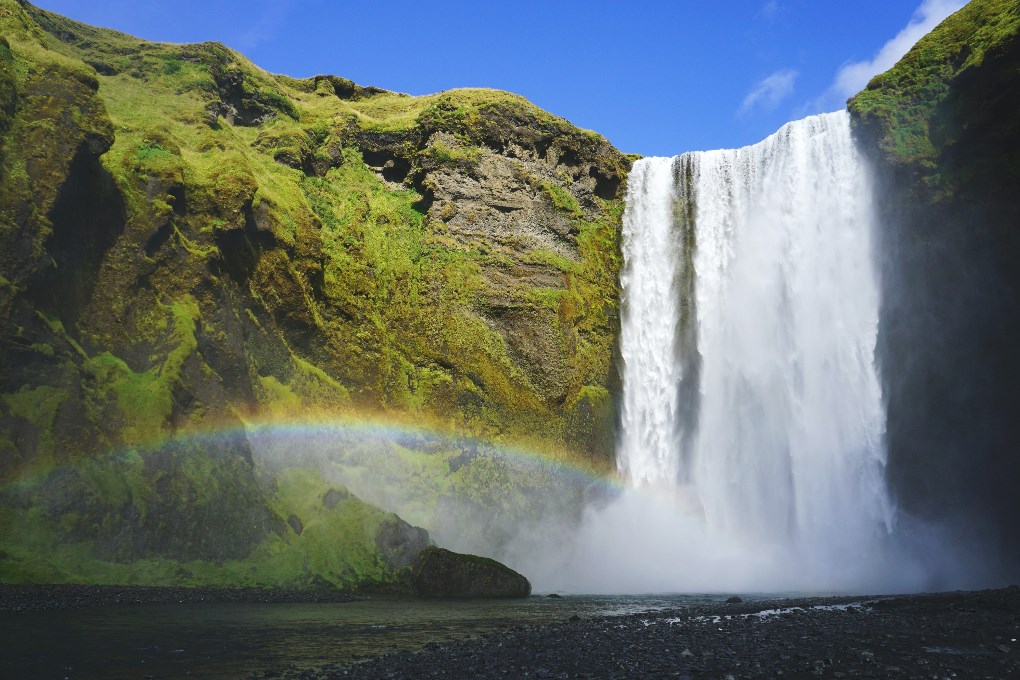 In the northern regions of Iceland, towns like Akureyri, Husavik and Myvatn are still usually accessible. However, the chances of surprise inclement weather are greater here than they are in the southern portions of the country. For that reason, if you plan on travelling into northern Iceland, you'll want to keep a close eye on the weather forecasts and road statuses, both before and during your trip.
The Icelandic Highlands and Westfjords
The Icelandic Highlands, in contrast, are totally closed off during the winter, spring and fall. They're only accessible during the summer months, June to September, due to their rugged terrain and unpaved roadways. Likewise, the Westfjords are mostly inaccessible for similar reasons. 
Because of this, if you have your heart set on an Icelandic Highlands or Westfjords road trip, consider visiting Iceland in the summer rather than in the early spring. 
Do you need a 4x4 in Iceland in April?
All that said about road conditions in Iceland in April, will you need a 4x4 car rental in Iceland if you visit in the spring? It entirely depends on where you're going.
If you plan on staying in Reykjavik and driving only short distances around the region, such as to and around the Golden Circle, then you don't necessarily need a 4x4 car rental. However, if you're travelling north at all, even on the Ring Road, which is usually kept clear, you'll want a 4x4 rental. Regardless of road conditions, the weather in the northern part of the country can be particularly unpredictable, and given the remote areas that can be found there, you don't want to be caught out in poor weather on a lonely road in a 2WD car. 
Is it safe to drive in Iceland in April?
Yes! Driving in Iceland in spring is totally safe, so long as you take the right precautions based on where you plan to travel within the country. Regardless of where you travel, you'll want to keep an eye on weather forecasts and road conditions, so you can adjust driving plans as needed. With these extra steps and added precautions, you'll be totally safe during your road trip.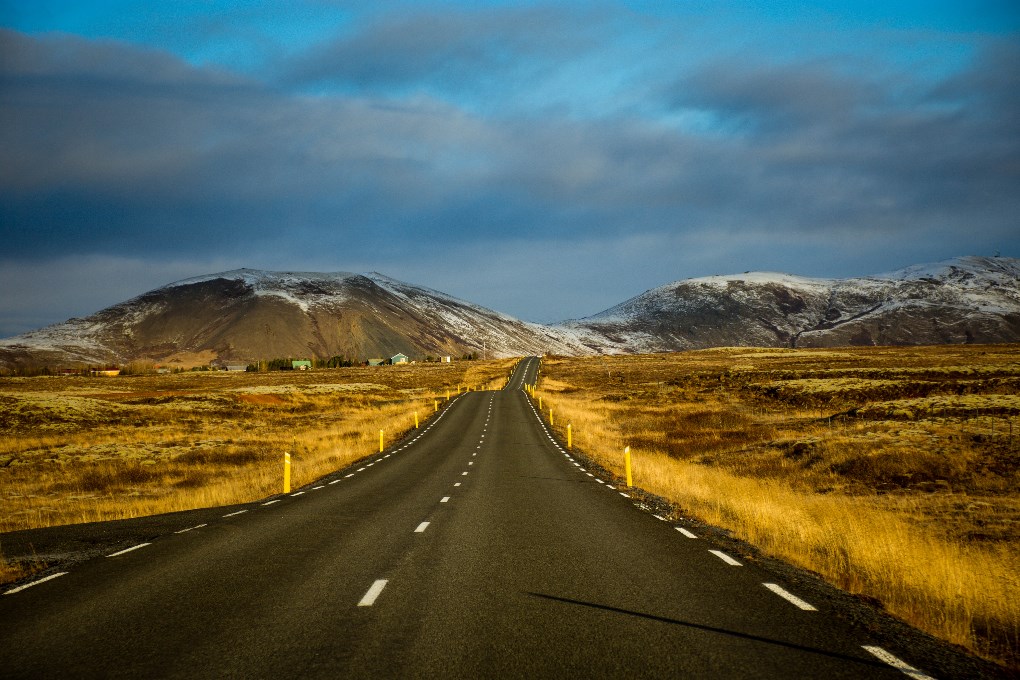 What kind of car rental insurance should I get in Iceland in April?
Consider purchasing full coverage rental insurance when renting a car for your Iceland road trip. Full rental coverage will ensure that, no matter the weather conditions, paying out of pocket for weather-related rental car damages is one less thing you'll have to worry about during your trip.
Do rental cars come with winter tyres in April?
If you're accustomed to driving with winter tyres throughout the winter months in your part of the world, you'll be glad to know that Iceland requires all vehicles to be outfitted with winter tyres throughout the snowy seasons. If you've never driven with winter tyres, they provide extra stability and traction when driving in snow or over ice.
However, do note that, since April is considered early spring in Iceland, you'll only see cars with winter tyres through the first half of the month. After that, winter tyres become illegal throughout the country. 
What to Do in Iceland in April
Confident that you can drive in Iceland in April, and already have an idea of the best rental car to reserve for your trip? Then let's start planning your Iceland April itinerary. Here's what to do in Iceland in April.
Is there anything truly cuter than a baby lamb? Lambing season in Iceland (aka, the time most of the lambs are born on Iceland's many farms) usually starts in April and continues on through May. Keep your eyes peeled for lambs as you drive through the more rural areas of the country, but also consider booking a stay at a sheep farm, to get up close and personal with the animals.
Go bird watching at the Latrabjarg cliffs.
Any avid birder can tell you that puffins are some of Iceland's most popular avian residents. Come April, the puffins begin making their ways back to the country and most take their spots at the famous birding location: the Latrabjarg cliffs. Take a trip out and see them for yourself. 
Catch the northern lights.
While April isn't an ideal month for northern lights hunting in Iceland, if you do happen to arrive at the beginning of the month, and the northern lights forecast seems favourable, definitely drive out to see if you can catch them. It's a once-in-a-lifetime experience that you won't soon forget!
Take a dip in a geothermal pool.
In April, the weather is still cool enough that a dip in a warm, geothermal pool is ultra-relaxing, but the weather is warming up enough that you won't find yourself freezing as you dry off afterward. Check out one of these top Iceland hot springs, for options all around the country.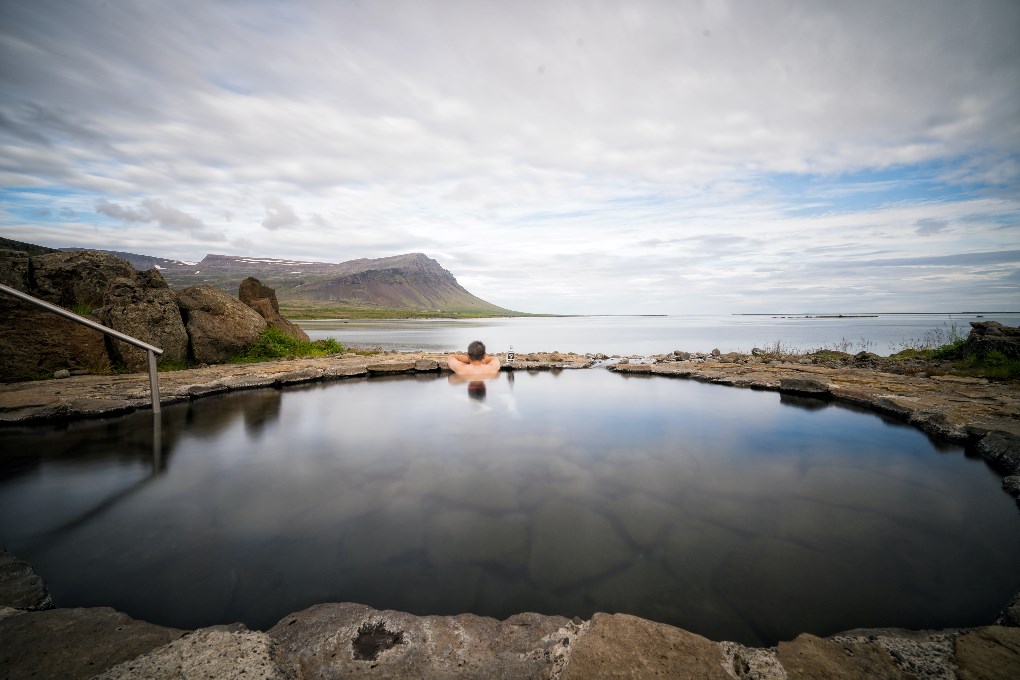 Celebrate Easter with some live music.
Whether or not you consider yourself religious, join in on the Easter celebrations in Reykjavik. The can't-miss highlight of the holiday is the annual concert held at the city's Harpa Conference Centre, which features Icelandic opera singers and musicians.
Celebrate the First Day of Summer, Sumardagurinn Fyrsti.
While some countries may celebrate the first day of summer later in the year, Iceland starts the celebratory fun in April, with Sumardagurinn Fyrsti. Held the first Thursday after April 18, the celebration includes street parades and live music. 
Where to Go and What to See in Iceland in April
When you're travelling to Iceland in April, you certainly won't want to spend all of your time just in Reykjavik. Drive out to one of these top spots to see what awaits.
The most popular driving route in all of Iceland, the Golden Circle features some of the most iconic Icelandic landscapes. You can drive the entire route in just a day, but consider staying longer, so you can really take your time at each major stopping point, while also potentially stopping over at some of the Icelandic hidden gems nearby.
The Ring Road is probably the second-most-popular driving route in Iceland. If you plan on a longer stay in the country, consider driving this extensive route that takes at least one week to traverse, but two weeks if you really want to enjoy your time without rushing.
With lagoons, glaciers and black sand beaches, the South Coast has a lot to offer. You can easily take a several-day side trip to the South Coast from Reykjavik.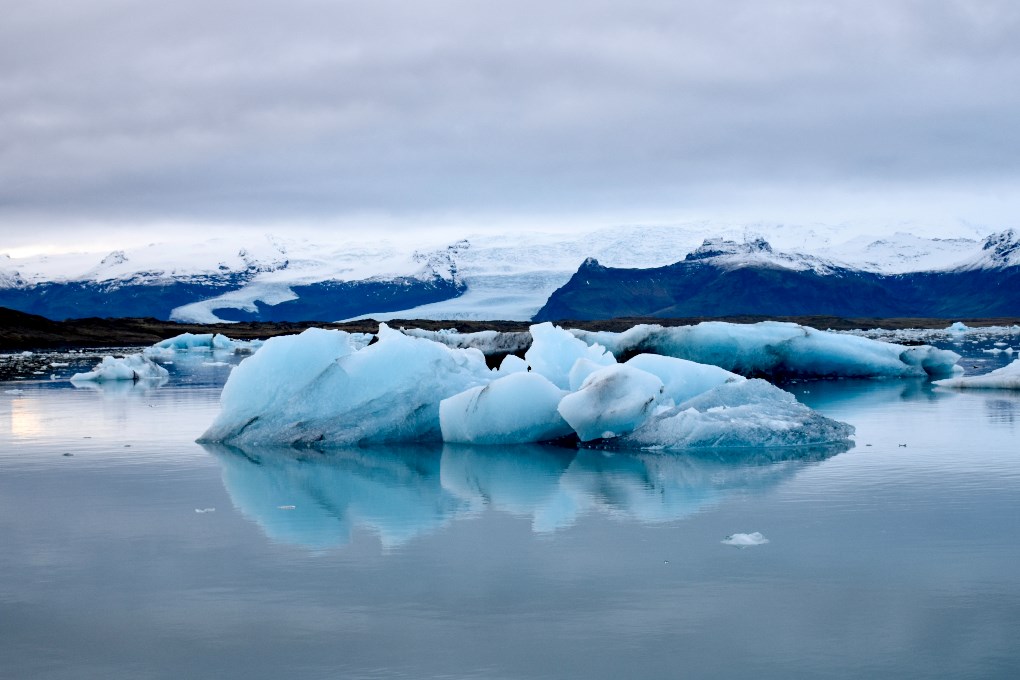 For lots of outdoor adventure and gorgeous scenery, head to the Snaefellsnes Peninsula for a few days of hiking, beach-going and wildlife watching.
Tips for Driving in Iceland in April
Excited about your upcoming April trip to Iceland? Before you arrive, here are just a few last tips for driving in Iceland in April.
Based on your itinerary and where you plan to go in Iceland, rent the right car for your needs. Don't try to save cash by renting a cheaper car if you know you truly need a 4x4 vehicle for where you plan to go and what you plan to do. Going with the wrong vehicle can mean bigger costs later on, if you're involved in an accident. 
Along those lines, buying the right rental insurance for your rental car will ensure you don't end up paying hefty fines later, when and if an unforeseen incident occurs.
Keep an eye on the weather and roads
As mentioned many times, the weather can be unpredictable in Iceland in April. Keep an eye on the weather forecast and road conditions at vedur.is and road.is. Depending on the forecast, be flexible enough to change your itinerary accordingly.
Follow all Icelandic driving rules
And lastly, to keep yourself (and other drivers, as well as your passengers!) safe, always follow Icelandic driving and parking rules. 
Is it Worth Visiting Iceland in April?
Absolutely! Visiting Iceland in April means fewer crowds and more affordable travel in winter, but some of the warmer temperatures, wildlife watching and green scenery of summer. It's the best of both worlds! 
Can't make a trip to Iceland in April? See what a trip to Iceland in March entails! 
Get Here, Then Lava Car Rental Will Get You on the Road
Looking for the best rental cars in Iceland in April, to get your springtime road trip off on the right foot? Lava Car Rental can help! Check out our full lineup of spacious 4x4 SUVs, smaller economy vehicles and campervans.