How to Plan a Honeymoon or Romantic Road Trip in Iceland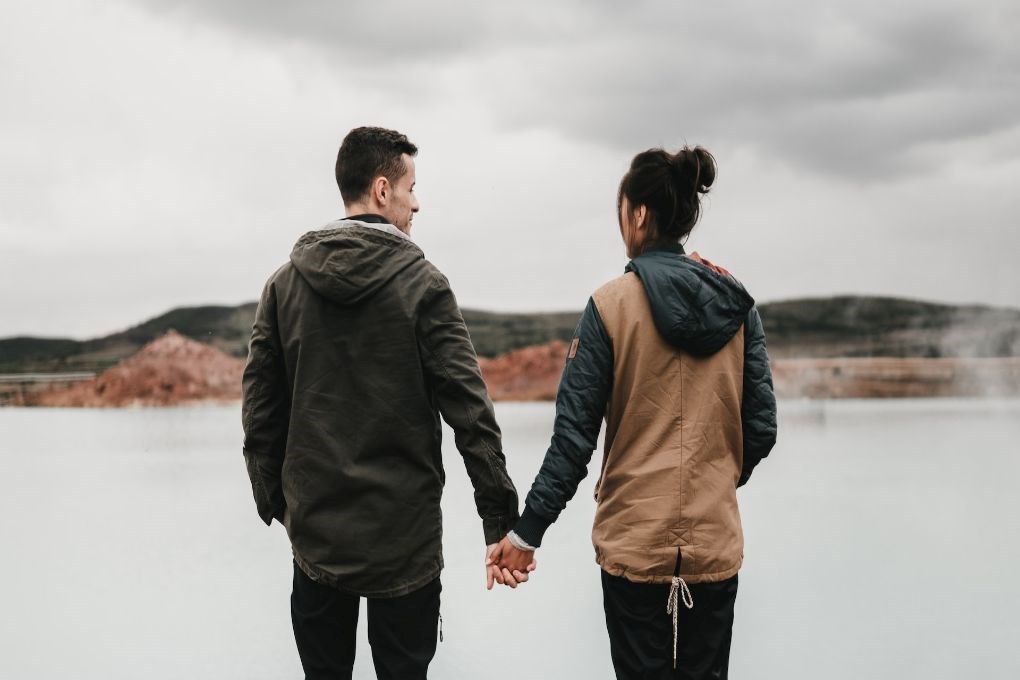 There's no better place for a honeymoon or romantic getaway than Iceland. The dramatic land of fire and ice provides gorgeous scenery everywhere you look, plenty of hot springs in which you can cosy up to your honey, and endless ways to go on bond-strengthening and exploratory adventures.
However, you can't just show up with your sweetheart in Iceland and expect your honeymoon or another romance-focused getaway to go off without a hitch. You'll need to know…
The best places to go as a couple in Iceland

What to do as a couple in Iceland

How to Plan a romantic road trip in Iceland
Keep reading to learn all this and more. 
Why is Iceland a Good Destination for a Romantic Getaway or a Honeymoon? 
But first things first — why is Iceland such a good destination for a romantic getaway or honeymoon? Well, there are a few reasons why you might want to opt for a trip to Iceland versus a trip to those other destinations, like Paris or Venice, that get all the romance hype. 
Iceland is simply more unique. 
Let's face it. If you're planning a honeymoon and want to stand out, Paris or Rome are not the places you want to go. If you want to honeymoon somewhere truly unique, choose Iceland. It's a destination that your other honeymooning friends haven't already done before, and one that's sure to keep you and your sweetheart talking for years or decades to come.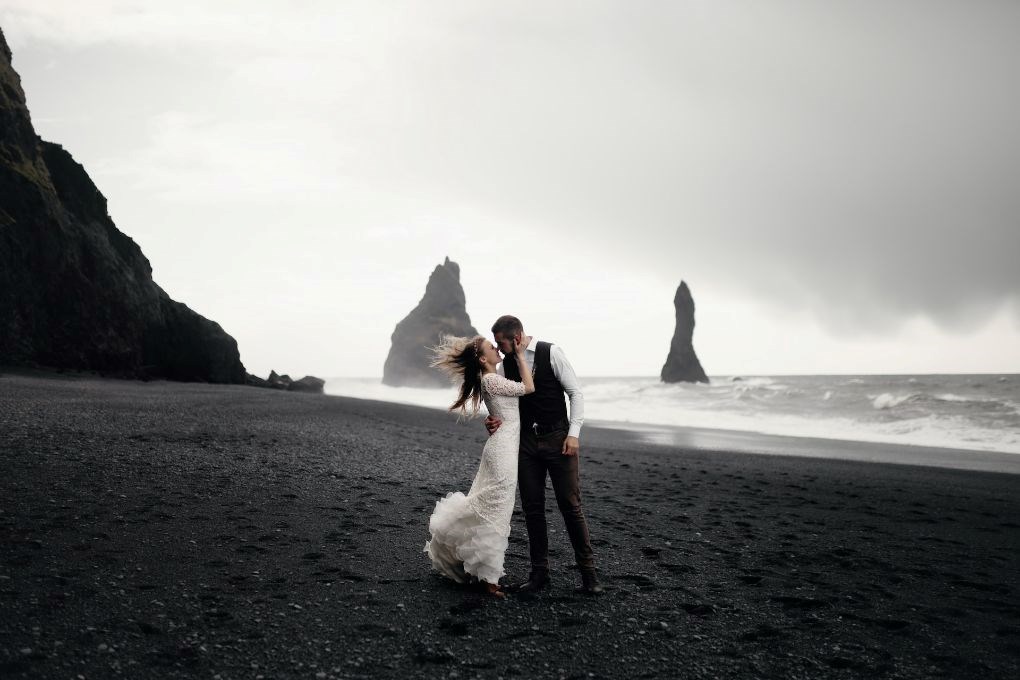 Iceland offers something for everyone.
If you think that Iceland is only for adventurous travellers, think again. No matter what kind of travellers you and your spouse or spouse-to-be are, you'll find something to love here. Beyond all the adventure (which we do have plenty of), you'll discover ample opportunities for peaceful relaxation, history, culture, food, drinks and more.
You can easily create a full itinerary with lots of things to do and see.
If you're not the type of traveller to prefer lying on a beach at a resort for an entire week, and if that sounds a little bit boring in your estimation, then Iceland is the perfect destination for your honeymoon. You can easily fill a seven, ten or fourteen-day itinerary and still be left with things to do the next time you visit. 
When is the Best Time for a Honeymoon or Other Romantic Trip to Iceland? 
So when should you plan your honeymoon or other romantic trip to Iceland? It's all going to depend on what you want to see and do.
Do you dream of snuggling up beside your sweetheart under a thick blanket and looking up at the northern lights? Then you'll need to plan on a trip to Iceland when the northern lights are most prominent and when you have the best chances of seeing them. We recommend planning a road trip to Iceland from October to March if you really want to see the northern lights.
If you're all about the all-natural hot springs and want to plan a romantic road trip in Iceland during which you hop your way between all the best hot springs in the country, then you could really visit any time of year.
If you want to go adventuring and hiking in some of Iceland's most dramatic landscapes, like in the Westfjords or the Highlands, however, you'll want to visit in the heart of summer, June or July, because the Highlands are only open to visitors during a few select, warmest months of the year. 
If you want to do a road trip in Iceland wherein you can drive anywhere, at any time, with zero worries of inclement weather, you'd also probably want to visit in the summer (though a winter road trip is not out of the question! It just might require a little extra planning and flexibility).
Of course, if you want to stay up all night having a bit of fun, the Midnight Sun might be of interest to you, so book a trip for June. 
If, though, you just want to avoid both crowds and high travel fees, try visiting during the shoulder season, like in October or right after the holidays have wrapped up. 
What's the Best Way to Travel Around Iceland as a Couple?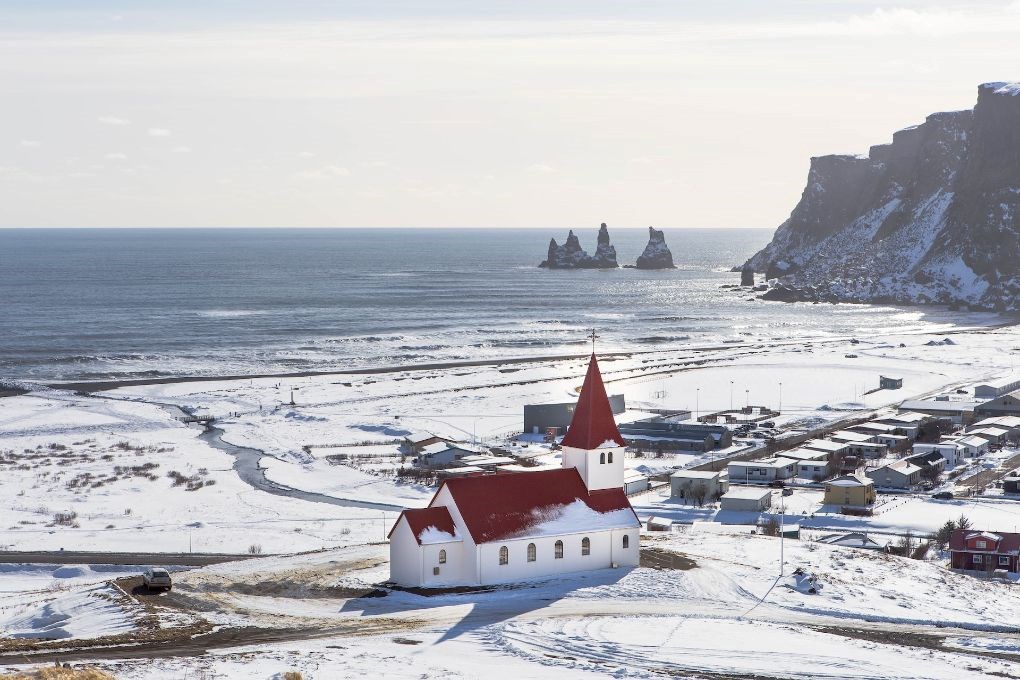 Once you're actually here, though, how should you get around? We think a road trip is always the way to go for couples and for a few key reasons.
If you plan a couples' road trip in Iceland, you'll enjoy total freedom and flexibility. You can travel wherever you want, whenever you want (weather and season pending). If you have a rental car, you're not reliant on tour providers or group tours, allowing you even more flexibility and ensuring more privacy (because, after all, who wants to spend their honeymoon or another type of romantic trip around a bunch of strangers?). 
And if you think of a road trip as being packed in a cramped car all day long, think again. When you book your car rental in Iceland through Lava Car Rental, you'll have a large number of vehicles to choose from, all paired with the help and guidance of a local, top-rated and awarded company. 
For example, if you and your sweetie want to splurge on a luxury SUV for your road trip, giving you plenty of room and high-tech, modern amenities, we have you covered. Or, if you'd prefer to go super-stylish and eco-friendly, you might want to check out our selection of Teslas. Likewise, if you want to camp your way through Iceland, we have a selection of spacious campervans that are already outfitted with most of the gear you'll need to simply arrive in Iceland and then hit the road. 
Top 8 Things to Do During a Honeymoon or Romantic Getaway in Iceland
Convinced yet that you simply have to bring your favourite person on a romantic vacation to Iceland? Here are the top eight activities you have to add to your honeymoon or another romantic trip itinerary. 
Snuggle up under the northern lights 
If you can make it to Iceland between late October and early March, you'll have a great chance of seeing the northern lights. There's nothing quite like the thrill of chasing down the northern lights in your rental car, using tools like the aurora borealis forecast, and then finally finding them and settling in to watch the night sky show. 
Bring a blanket and snuggle up with your partner or, if you've rented a campervan, set up camp for the night and fall asleep as the sky glitters and sparkles above you.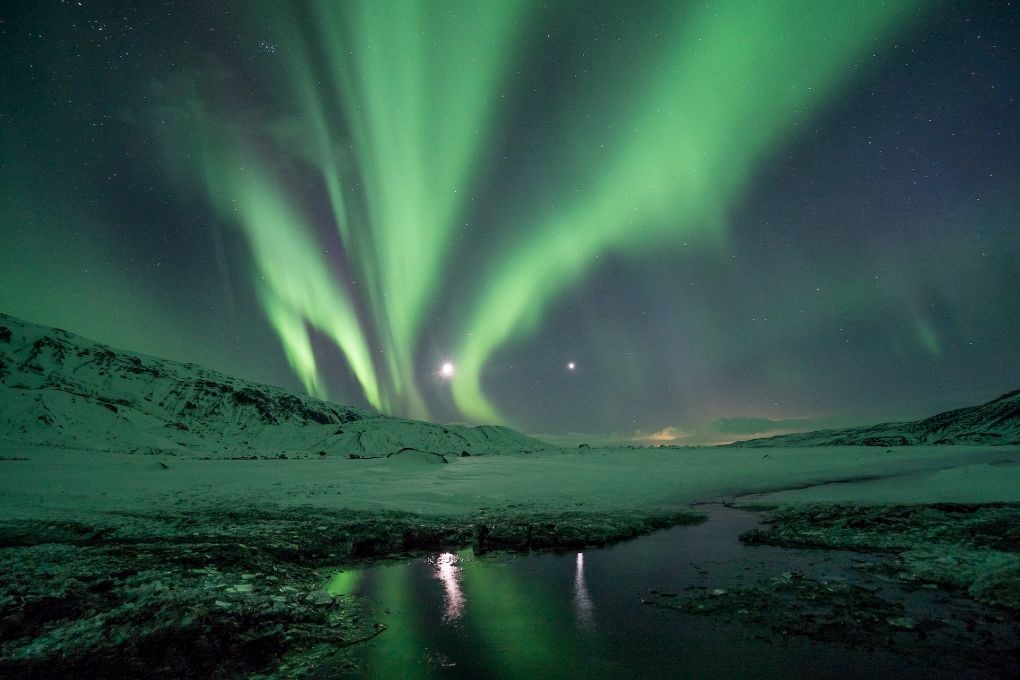 Take in the Midnight Sun 
If wintertime travel isn't your thing, you might want to visit Iceland during the summer. While the northern lights aren't visible during the late spring and summer, though, this season does come with its own natural phenomenon that provides gorgeous sky views like you won't find anywhere else: The Midnight Sun.
Peaking in June, the Midnight Sun stays up nearly all night long from May to August, giving you elongated sunrises and sunsets that make for photo-perfect backdrops and scenery that you could (literally) watch for hours at a time. 
Spend a day at The Blue Lagoon
No matter when you visit Iceland for your romantic trip or honeymoon, though, you have to plan to spend a day at The Blue Lagoon. To make it easiest, plan this relaxing excursion for either the very start of your trip or the very end of your trip, as the Blue Lagoon is located near the international airport, in Keflavik. 
The Blue Lagoon is a famous hot spring that is, quite possibly, one of the most photographed spots in all of Iceland. The lagoon has been built up to include a luxury spa, restaurant and even hotel, with lots of amenities. You can book a day pass to just enjoy the vibrant, blue waters of the hot springs and the black lava field surroundings, or you can book spa treatments and other activities that are sure to start your romantic Iceland trip off on the right foot.
Hike to a natural hot spring
But if a formal spa experience isn't really your thing, you can still enjoy Iceland's many hot springs. There are plenty of undeveloped, all-natural hot springs scattered across the country, where you can don your swimsuit out in nature and go for a little dip.
Some of these hot springs are right near the road so you can easily park and walk to them, while others are a little more secluded, so you'll have to do some hiking to get to them. Whichever option you choose, though, it's sure to be a one-of-a-kind experience that you and your sweetie will remember.


Taste the Icelandic cuisine
Iceland may not be as well known for its fine-dining restaurants as, say, Paris or Rome, but that doesn't mean that our high-end restaurants don't exist. 
Beyond tasting the local favourite Icelandic foods like the smoked lamb (hangikjot) or Skyr, make sure to make reservations at one of our best restaurants, for an extra-special dining experience during your honeymoon road trip in Iceland.
OX is a top option in Reykjavik. The Michelin-starred restaurant only seats a few people and is tucked away in downtown. There, it serves elaborate, multi-course meals without a menu.
For international flavours, visit downtown Reykjavik's Sumac. The Beirut-inspired atmosphere blends well with the Lebanese and Moroccan cuisine that you'll find on the menu. You can opt for a full, seven-course menu with wine pairings, or go a la carte with options such as chicken shawarma, grilled lamb ribs and baklava. 
Another Michelin-starred restaurant in Iceland, Dill is a Nordic-style eatery with a set menu and wine experience that goes along with it. 
If you happen to take our advice and visit The Blue Lagoon, you can also visit the spa's Moss Restaurant, where seven-course meals focus on classic Icelandic cuisine.
Plan a night (or two) at some amazing hotels

There are many gorgeous hotels all around Iceland and while we do think that there's something magical about renting a campervan and travelling around the island that way, we wouldn't blame you if you stayed in one of Iceland's top hotels or inns. Just like there are plenty of things to do for every travelling couple in Iceland, there are similar hotel options for every travelling couple in Iceland, whether you want something super-luxurious, remote, with lots of amenities or anything in between.
Try The Retreat at Blue Lagoon for starters. This property gives you unprecedented access to The Blue Lagoon itself, for an intimate experience that you won't get just with one of the spa's day passes. You'll enjoy amazing lava field views and a sleek Scandinavian design, too.
If you're all about eco-friendly stays, check out ION Adventure Hotel. This property is both green and luxurious, and it boasts a great location. You'll be situated right near The Golden Circle, too, so you can easily get to some of Iceland's top attractions during your stay.
Another conveniently located property is Hotel Búðir. If you plan on visiting the Snaefellsnes Peninsula, this is where to stay, thanks to the hotel's fantastic views and easy access to some of Iceland's most gorgeous landscapes, from the seaside to the mountains, lava fields to glaciers. 
Siglo Hotel in Siglufjordur sits in one of Iceland's fjords and offers a relaxed atmosphere. You'll enjoy a quiet getaway, access to a hot tub and sauna, and lots of local eats. 
Lastly, Hella is a small destination just a short drive from Reykjavik. There, you'll find Hotel Ranga, which is ultra-charming, cosy and cute. 
Discover unique places 
Research shows that couples who do new things together build stronger bonds and there's nowhere better to try something new than in Iceland. There's something new to see and experience around every corner. 
Go to Jokulsarlon Glacier Lagoon in southeast Iceland to see a lake filled with icebergs — something you could definitely never see anywhere else in the world! While you're there, explore the rest of Vatnajokull National Park, a UNESCO World Heritage Site. 
Want to plan a full exploration of the region? Also visit Diamond Beach, where you'll see a black sand beach littered with chunks of ice that resemble glittering diamonds. 
For more of Iceland's most unique landscapes and new scenery to take in, visit the Snaefellsnes Peninsula, which is packed with some of Iceland's top views. Like Iceland in miniature, if there's an aspect of Iceland that you want to see — the lava fields, the black sand beaches, the hot springs, the small villages, the waterfalls, the cliffs — you can see it here. 
And, if you and your favourite person are hikers, take a trip into Fjadrargljufur Canyon, where you can wind your way through the rugged and narrow landscape for even more breathtaking views.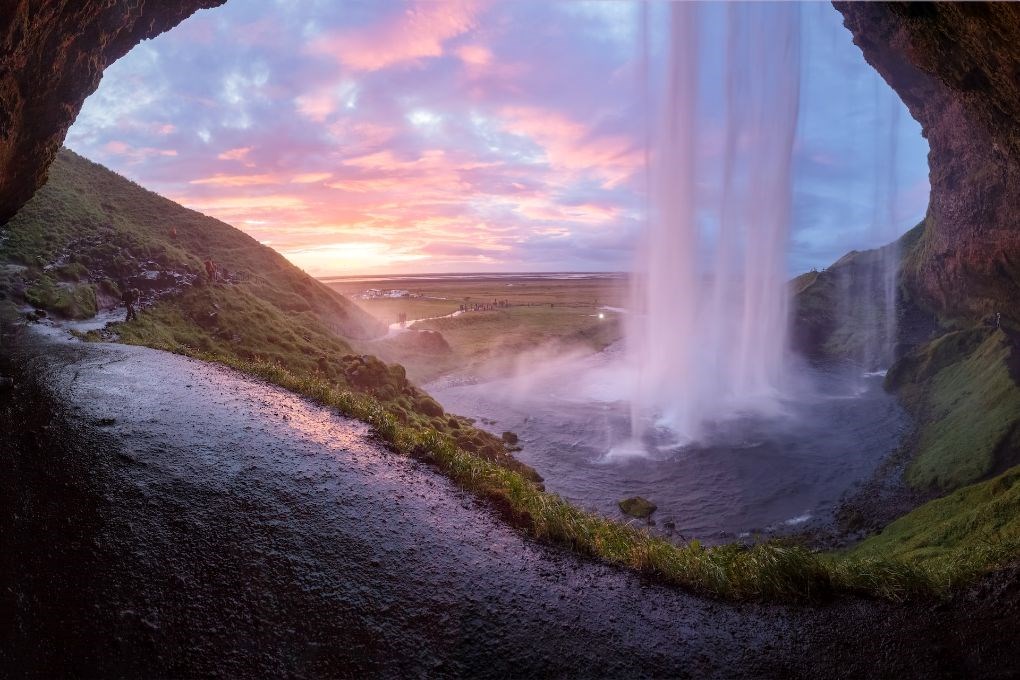 Go on an adventure
And, on that note, if you and your spouse or spouse-to-be are the adventurous type, get out there and see all the adventure that awaits in Iceland. Whether you prefer something a little more low-key, like a leisurely hike, or you want an adrenaline-pumping activity, you can find a little of it all.
Try a glacier-hiking adventure on Iceland's South Coast. Go on a boat tour of the Jokulsarlon Glacier Lagoon. In Vatnajokull, head deep into an ice cave in the winter. Go on a hiking tour and see some of Iceland's best hiking spots. Love to snorkel? Dive into the waters of Silfra, as you explore the underwater beauty of the clear streams that flow between the North American and Eurasian continents. 
Need Help Planning? Try One of Our Itineraries
If you still need a little extra help with the planning, don't worry. We're here to help with some of our itineraries. 
For a seven-day trip around the South of Iceland — suitable for winter or if you don't have any extra time — try our seven-day South Iceland road trip itinerary that takes you to glacier lagoons, black sand beaches and more. 
Have a little more time? Then see all of Iceland (or nearly all of Iceland!) with a Ring Road road trip that follows the (literally ring-shaped) road that encircles the entire country. This is a great option for summer trips, or if you have a little more time on your hands.
And, when you're ready to book your rental car for your road trip around Iceland, let us know. The Lava Car Rental team is here to help you find the perfect vehicle to get you and your favourite person around the country in all the style, comfort and safety you deserve.