Snack healty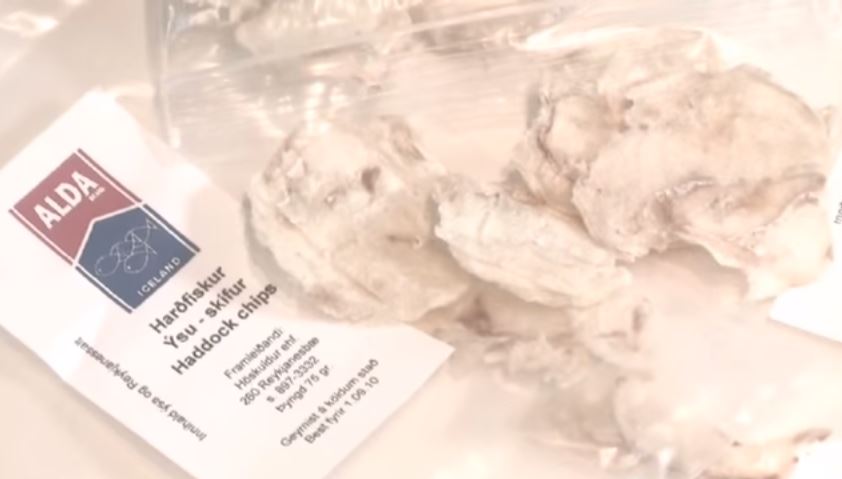 Harðfiskur is simply codfish that has been dried and lightly salted. It is absolutely delicious and packed full of protein. You can buy large or snack-sized bags at pretty much every grocery store and gas stations.  It's basically a whole fish in a bag, and can keep you full for hours! Though it's delicious, Harðfiskur is a bit tricky to eat: you need to tear off strips of the fish which takes a little bit of learing curve. Also, be sure to place a bag on your lap if you're eating it in the car –Harðfiskur is super flaky!
There are couple of kinds of Harðfiskur. There is the regular one which like said before is the whole fillet dried, but there is also the Bits, which is a smaller pieces in a bag and are usually harder but just as good. 
The third kind is really the newest products of the dried fish and that is the Fish Chips (see picture with this article) which an old sailor from Njardvik (5 minutes from the Airport) Mr. Gardar Magnusson has developed in his garage and sold for years now.   Gardar is now (Year 2018) at the age of 88 years and is still going strong. He has produced these chips for more than 10 years and uses a method with a special kind of healthy salts.  You should get these chips at and around the town in of Reykjanesbaer and at some point the sold them in the airport.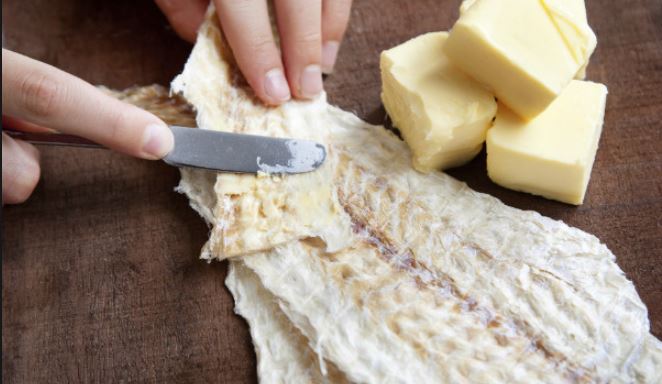 Hot tip: Smear a bit of butter (SMJÖR) on a strip. Makes the good taste even better.