Weather update: Now an orange warning - Roads might close
March 11, 2019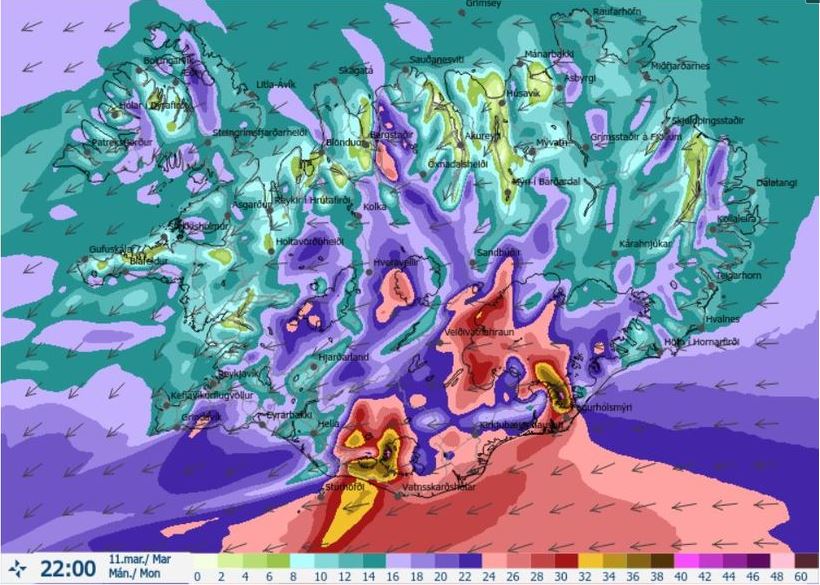 It is the season of bad weathers and severe winds in Iceland and this year is no exception as you can see in our weather reports. 
A steep low approaches the land from the south and growing eastern wind direction in morning and  some rain or snowfall in the south. In the afternoon, the strong eastern winds will continue in the south of Iceland and tonight is looking at a storm  in that area.
Orange warning is valid for South Iceland, Southeastern and central highlands from 16:00 today and until noon tomorrow, but a yellow warning applies to Breiðafjörður, the Westfjords, Strandir, the north west, North East, East Iceland to Gletting and the East, and people are encouraged to closely monitor weather forecasts and warnings.
The outlook is that the weather will be the worst in south of the country and forecasts of average wind speed of 20-28 m / s and even up to 30 m / s late in the evening. For example, it is assumed that up to 30 m / s in average wind in the Westman Islands and below Eyjafjöll in the morning. 18 to midnight.
The Road Administration has then announced that closures are likely between Hvolsvallur and Víkur, at Skeiðarársandur and in Öræfasveit from late afternoon to morning.