The Ultimate Guide For Driving On Iceland's Ring Road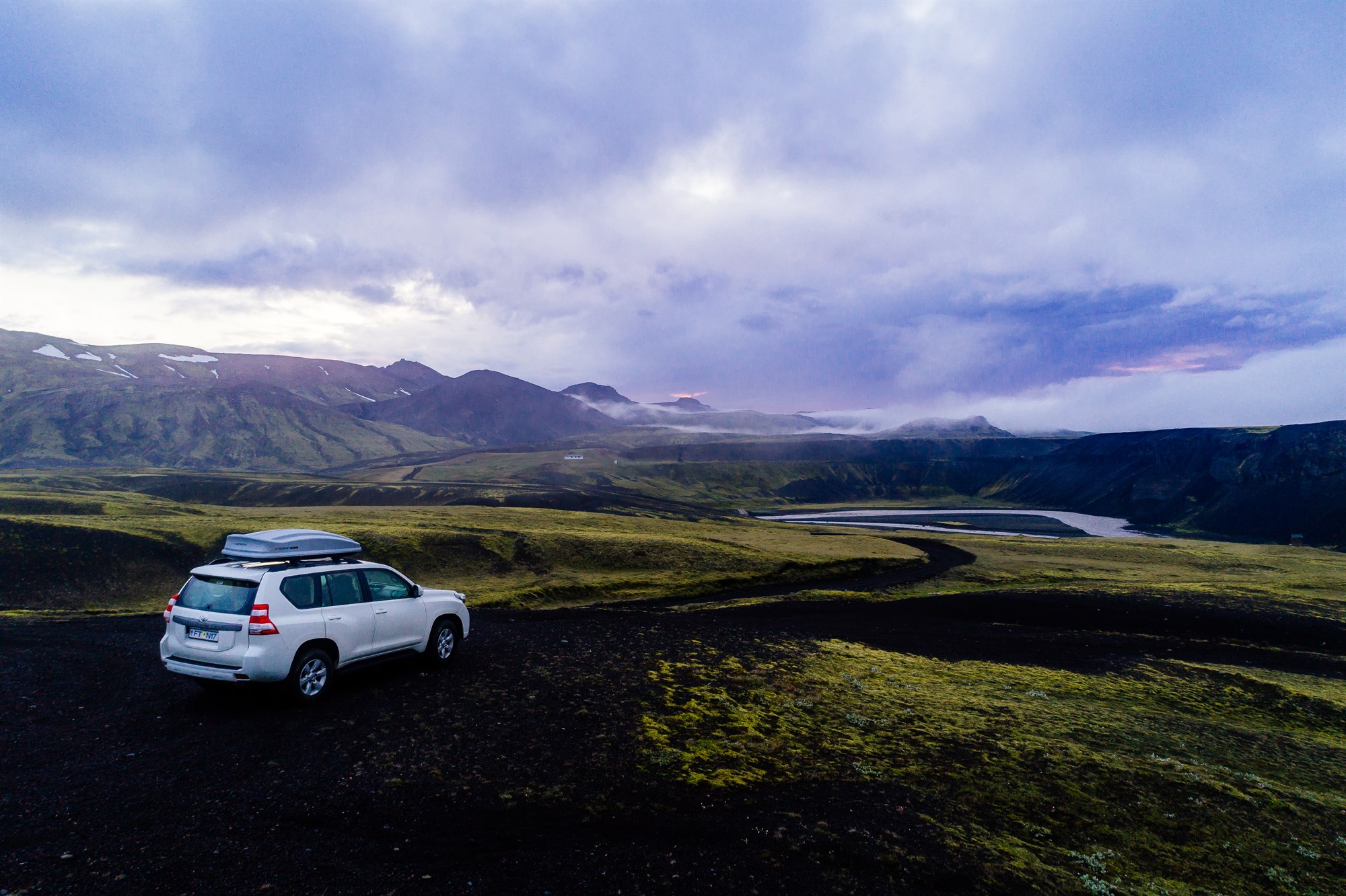 Iceland is a country filled with beautiful landscapes and natural wonders, and one of the best ways to take in the beauty is by driving on the famous Ring Road. The loop is especially popular with tourists with its paved path that allows you to experience it all - majestic glaciers and mountains, vast oceans and coastline, and the stunning countryside. However, driving in unfamiliar territory can be tricky and is a sure fire way to spoil a vacation if not done properly. Read on to find out what you should expect and how to prepare for driving around Iceland's Ring Road!
What is the Ring Road?
Iceland's famous Ring Road, also known as Route 1, is a road that loops around the entire country in one big circle. You will be able to take in some of the biggest attractions in the country, while having plenty of opportunities for adventurous detours. It was officially completed in 1974 when the longest bridge in Iceland was constructed across the Skeiðaráin river in the southeast of the country. Much of the road consists of two lanes, one going in either direction, and the speed limit is 90 km/h (approximately 55 miles per hour). You should also be aware that there are several single-lane bridges and tunnels along the way. The tunnels will either forge under a mountain or dive under a fjord. The Ring Road loops around the whole island, connecting most of the major towns in the country and taking in some of the best sights that Iceland has to offer.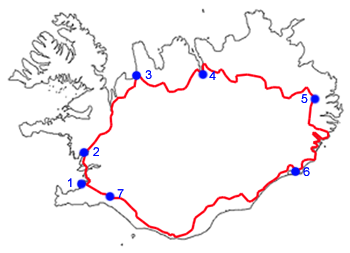 How long is the Ring Road?
The total length of the Ring Road is about 1,332 km long (828 miles), and the only two regions of the country it doesn't go through are the Westfjords and the Snæfellsnes Peninsula in the upper west corner of Iceland.
How long does it take to drive Iceland's Ring Road?
You could drive Iceland's Ring Road in about 17 hours with ideal weather and traffic conditions. Of course, this isn't recommended at all because why would you want to speed past all the good stuff? So the real question is how many days does it take to drive the Ring Road?
Some do it in 5 days, others in 2 weeks; it all depends on what you want to see on the way and the kind of activities you want to do. However, most will spend between 7-10 days road tripping on the loop, which gives you enough time to explore much of the island. We recommend giving yourself 14 days or so to properly explore the Ring Road so you can get the full experience and linger in the places you love for longer. Take pictures, enjoy the scenery, and grab some local coffee and pastries to snack on along the way.
There are guesthouses and hotels along the way for you to spend the night, but you might consider making this the ultimate road trip and opt for a camper van rental instead! Most camper vans come equipped with all the necessities like a mattress and pillow, kitchen amenities, heating and cooling, and much more. It's basically a home on wheels that creates a unique and memorable traveling experience.
Should I drive clockwise or counter-clockwise?
It's completely up to you and what you want to see and do, however, most will opt to drive it counter-clockwise. Head down the south coast driving towards the east to see cities like Höfn (known for its fresh seafood restaurants) and Egilstaðir (the only place where you can see reindeer), then move onto the north to experience the whale-watching wonders of Húsavík.
An even better idea is to start off with the popular Golden Circle route, as all roads tend to link up with the Ring Road in the south after you've finished. There are fewer sights in Iceland's northwest unless you are planning to take in Snaefellsnes, so if you're running out of time, it's always easier to rush back to Reykjavik through that area rather than missing out on the sunny pasturelands of the south coast.
What To Expect When Driving on Iceland's Ring Road
Map It Out By Season
Of course, thanks to its position in the North Atlantic, Iceland experiences moody weather year-round. That obviously means that the summer months (June through to August) are the best months to drive on the Ring Road (or any road in Iceland for that matter) because that's when the weather is at its calmest. In summer, Iceland is home to the Midnight Sun. This consists of bright nights and nearly 24 hours of daylight. During the summer months, you can pack more activities and sightseeing into each day and drive for longer periods without worrying that you will lose the light.
But there are benefits to both the Spring and Autumn seasons as well. There are fewer crowds at all the major destinations tourists like to frequent and your chances of seeing the Aurora Borealis (aka Northern Lights) also increases. That's because nightfall comes faster, so you're able to see the dancing colors across the sky easier.
Driving the Ring Road in Winter
Even with it being colder and nightfall coming sooner, much of the Ring Road remains open during the winter months. However, there are times where parts of the loop are likely to close without much warning. Blizzards might close roads due to heavy snow and wind storms can make it too dangerous for cars to drive, leading the authorities to shut down travel in different regions.
Be cautious if you choose to road trip at this time - bad visibility, icy roads, and unpredictable weather can make driving conditions dangerous. The Icelandic Road Service does a terrific job keeping travelers updated on weather and road conditions. There is a website you can check regularly, a phone number you can call, and even an app to download on your phone (see links below). Lava Car Rental also posts about the local news and updates so you can be aware of what's happening during your trip.
Be Cautious & Alert
It's important to be cautious when driving Iceland's Ring Road. It follows old country roads and there are blind hills and corners that can sneak up on you. It's easy to get distracted by the stunning and awestruck landscapes, but there are little detours and pull offs you can take to admire the beauty and snap a few photos. Because the road is so narrow, make sure to pull over in designated areas only. If you plan to take a quick photo, know that there often isn't enough room on the side of the road for you to pull all the way off, meaning that half your car might be sticking out onto the road. This is especially dangerous for other drivers who might have to swerve around you onto the other side of the road. Be mindful of where you decide to pull on and always be aware of your surroundings.
Filling Up Your Gas Tank in Iceland
For the most part, you'll find gas stations spaced out conveniently along the Ring Road. To fill up, you usually do everything at the gas pump with your card rather than go inside to pay. For this, you'll need a credit card with a PIN number (many American credit cards don't have one) or a debit card. 
If you only have a credit card without a PIN available, it's best to stop at a service station and buy a pre-paid fuel card for those times when you must fill up at an unmanned gas station, of which there are many in Iceland.
It's important to note that when you're choosing how much gas to put in, you should not select 'fill tank'. If you do, the gas stations around Iceland authorize the maximum amount of money on your card, usually somewhere between $150 and $200 USD. Whatever money that isn't used for filling up your tank will obviously be returned to you, but only after a few days, meaning that you'll be out of pocket until it returns.
When you book your car rental in Iceland with Lava Car Rental, you'll get a key fob that will give you exclusive discounts on gas and any purchase made at a gas station.
Top 5 Places To Visit When Driving on Iceland's Ring Road
1. Eat Langoustine in Höfn
As mentioned above, we recommend making a stop at Höfn, a small fishing town located in Eastern Iceland. Famous for its seafood, especially Langoustine (a mini lobster), get a taste of the local delicacy! Höfn is a charming, quiet town with beautiful countryside. Take a relaxing break here and then continue with your road trip!
2. Explore Skogafoss & Seljalandsfoss Waterfalls
Heading along the south coast, you'll see the famous waterfalls Skogafoss and Seljalandsfoss. Recognized worldwide, the two are among the most beautiful and dramatic waterfalls. You can even walk behind the Seljalandsfoss waterfall and take in its sheer magnitude and beauty.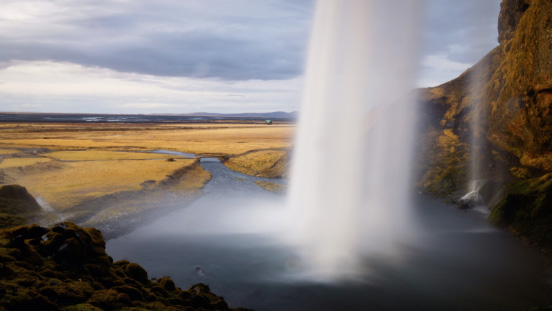 3. Hike the Skaftafell Nature Reserve
To the southeast, you can find the amazing Skaftafell Nature Reserve, providing some of the best hiking trails in the shadows of the behemoth Vatnajökull, the largest glacier in Europe. After that, head east to find the Jökulsárlón Glacier Lagoon and Diamond Beach, two of Iceland's most popular destinations.
4. Spend Some Time in the East Fjords
The Ring Road will snake its way up the East Fjords, a place that's often overlooked by tourists. Characterized by the biggest mountains in Iceland, wide fjords, and small fishing villages lining the coastline, each with their own interesting history. While most will speed through the East on their way north, it's one of Iceland's most undervalued regions and still has a lot left to discover.
5. Experience City Life in Akureyri
Akureyri is Iceland's second biggest town and the capital of the north. It boasts a cozy downtown area that hosts a good selection of bars and restaurants providing you with a chance to experience civilization again. From here on in, it's smooth sailing back down towards Reykjavik through farmland, passing horses, mountains, and rivers along the way.
Useful Weather & Road Safety Resources
For more information about weather and road safety in Iceland, follow the links below:
Don't hesitate to contact Lava Car Rental for help with a breakdown or other issues. For non-emergency questions, find us at info@lavacarrental.is Our emergency hotline is also open 24/7. If for some reason the vehicle is not operating as it should and/or you had an accident, call us right away at +354-788-4080.