The Golden Circle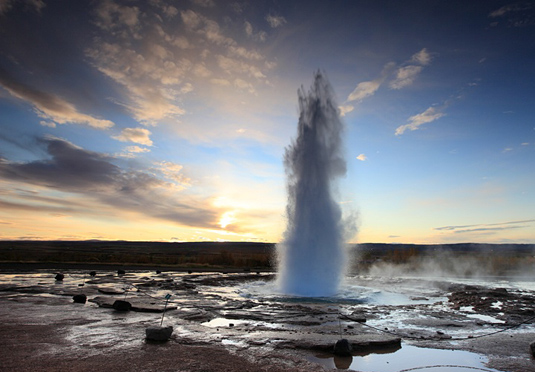 If there are any attractions in Iceland that stand out and most frequently get mentioned, it's the ones that comprise the Golden Circle, and for good reason. They consist of three wonderful sites, Þingvellir National Park, the Geysir geothermal area in Haukadalur and the Gullfoss waterfall. The Kerið crater lake is also sometimes included. Here we will tell you a bit about the attractions and how you might get there.
Þingvellir
From Reykjavík you can drive through Mosfellsbær and Mosfellsdalur onto the Mosfellsheiði plateau, taking route 36. Mosfellsdalur valley is where author and Nobel prize winner Halldór Laxness grew up, best known for his novel Independent People. As you drive, you might notice a white building on your right with an vintage car outside. That is Gljúfrasteinn, where Laxness lived in his later years. Now it is a museum dedicated to his life and works, and is well worth a visit. On your way you will further be able to take in the beautiful mountains and lake Þingvallavatn, Icelands largest natural lake, set with small islets, as you approach the national park.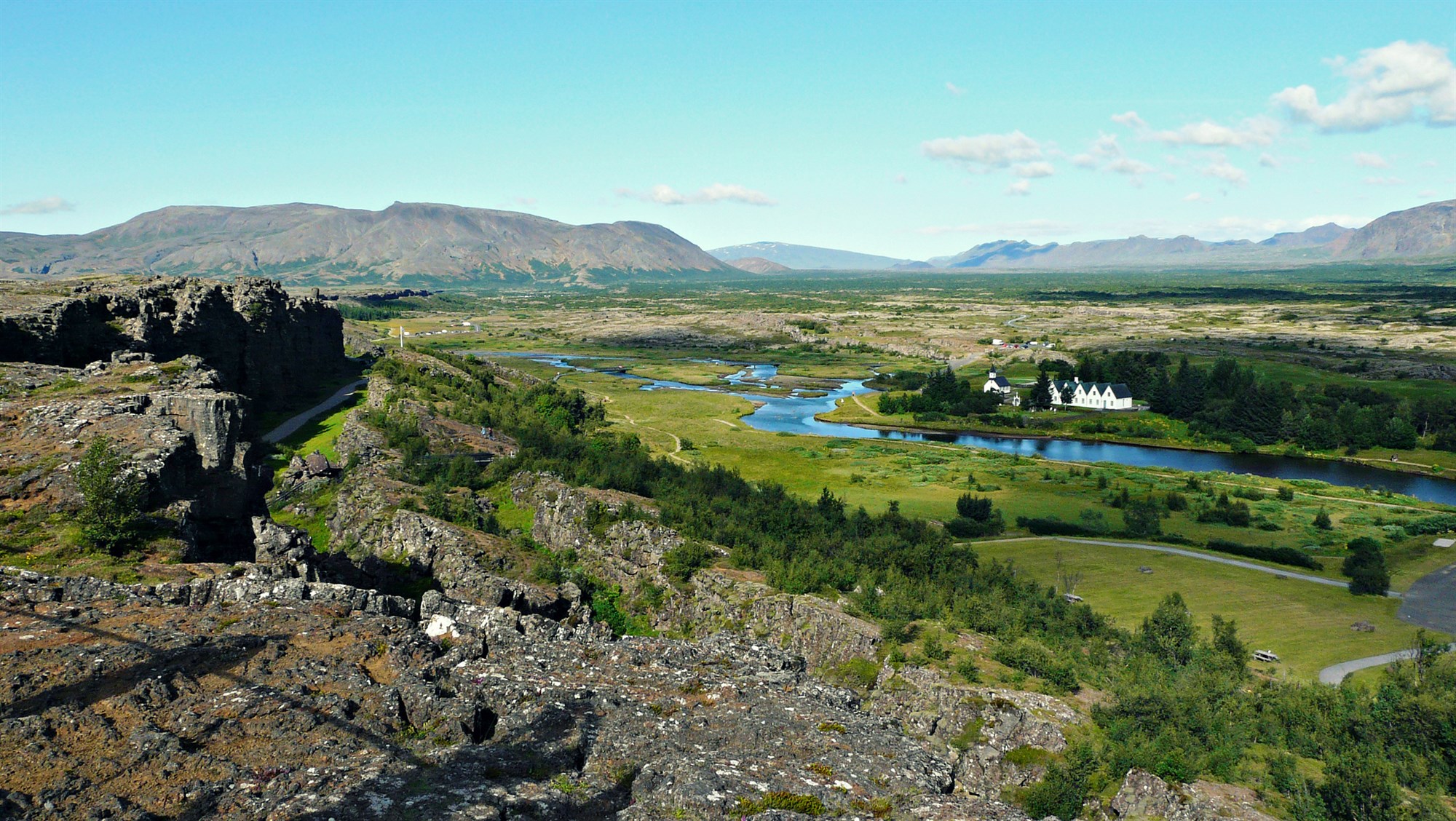 Þingvellir is one of Iceland's most beloved and important sites, both historically and in terms of it's nature and beauty. It was at this site that the old national assembly, Alþingi, was held, founded way back in 930. It's modern descendant, the Icelandic parliament in Reykjavík, still bears its name.
Þingvellir is a UNESCO World Heritage Site and lies in a rift valley that bears witness to the movement of the Eurasian and North American tectonic plates, indeed this is where the two plates meet. This is evidenced by the famous Almannagjá gorge and the Hrafnagjá gorge, further east. It's popular to take a stroll through Almannagjá, which also has a very nice waterfall, called Öxarárfoss.
The lava at Þingvellir is colourful and it is a place of immense natural beauty. You might also visit the old church site and graveyard, where poet Jónas Hallgrímsson and chess master Bobby Fischer are among the buried. You will have a further view of the lake and the mountains and diving and snorkling at the Silfra fissure, which opens into Þingvallavatn, is also popular. The water there is crystal clear and at Silfra one is literally swimming between continents. In autumn and winter the area may further be graced with the Northern Lights, as well as with snow and ice, which are then contrasted by dark lava, adding further beauty to the scenery.
The Geysir geothermal area in Haukadalur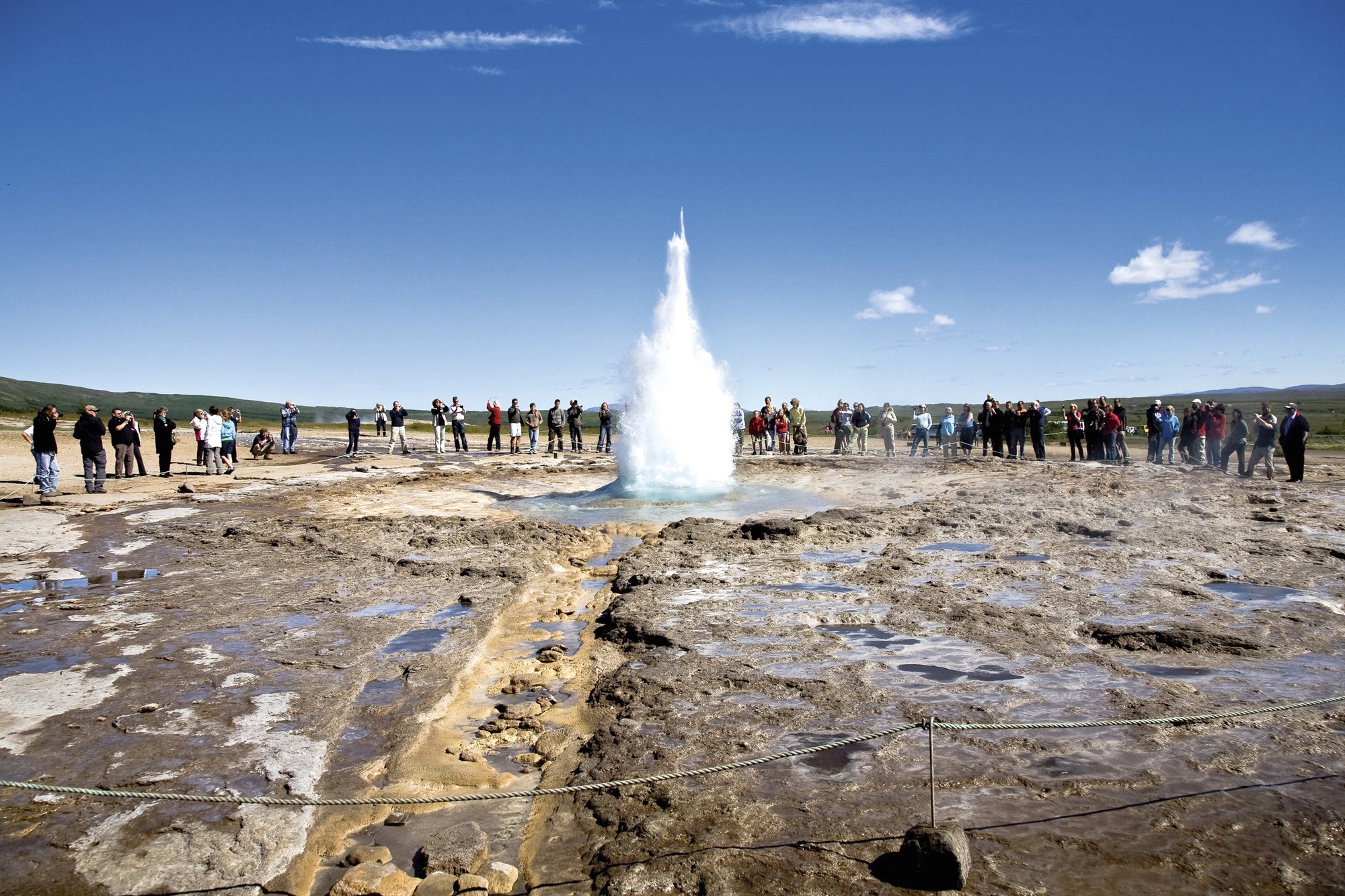 Further east, around 60 km from Þingvellir, is the geothermal area of Haukadalur, best known for its former spouting hot spring, Geysir. Indeed, spouting hot springs around the world are named after it. While this particular geyser does not erupt anymore, its neighboring geyser Strokkur is in full force and spouts water as high as 15-20 meters. Other geysers in the area are Smiður and Litli-Strokkur. In the area you'll also find coloful fumaroles and mud pots. Please take care to stay in safe distance, though, because of the heat. There is an old pool in the area, but please mind that it is fragile. There's lovely woodland in Haukadalur as well, a trea museum and a nice old wooden church, all well worth a visit.
To get to the geothermal area from Þingvellir, you can take route 365 and then continue on route 35 and northwards onto route 37. Taking that route, you will also be driving through the Laugavatn hamlet. The scenery is beautiful and Laugavatn also has the popular Fontana spa.
Gullfoss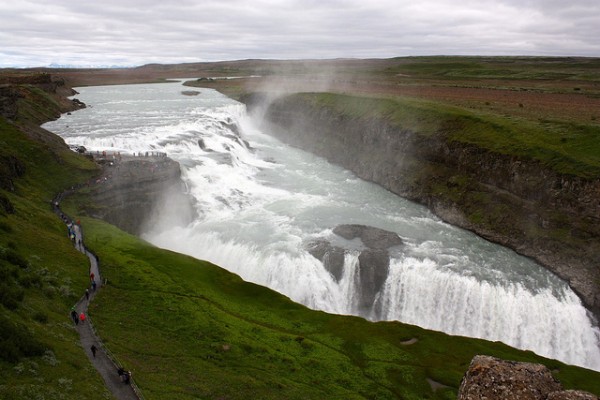 About 14 km from the Geyser area, the majestic waterfall Gullfoss in the mighty glacier river Hvítá awaits you. This is one of Icelands most famous and beautiful waterfalls, falling thunderously at a drop of 32 meters into a narrow gorge. The interplay of water and sun may sometimes produce a rainbow and one can feel the spray of the water on ones face. Just be careful not to venture too far off.
Some ideas for your way back: Skálholt and Kerið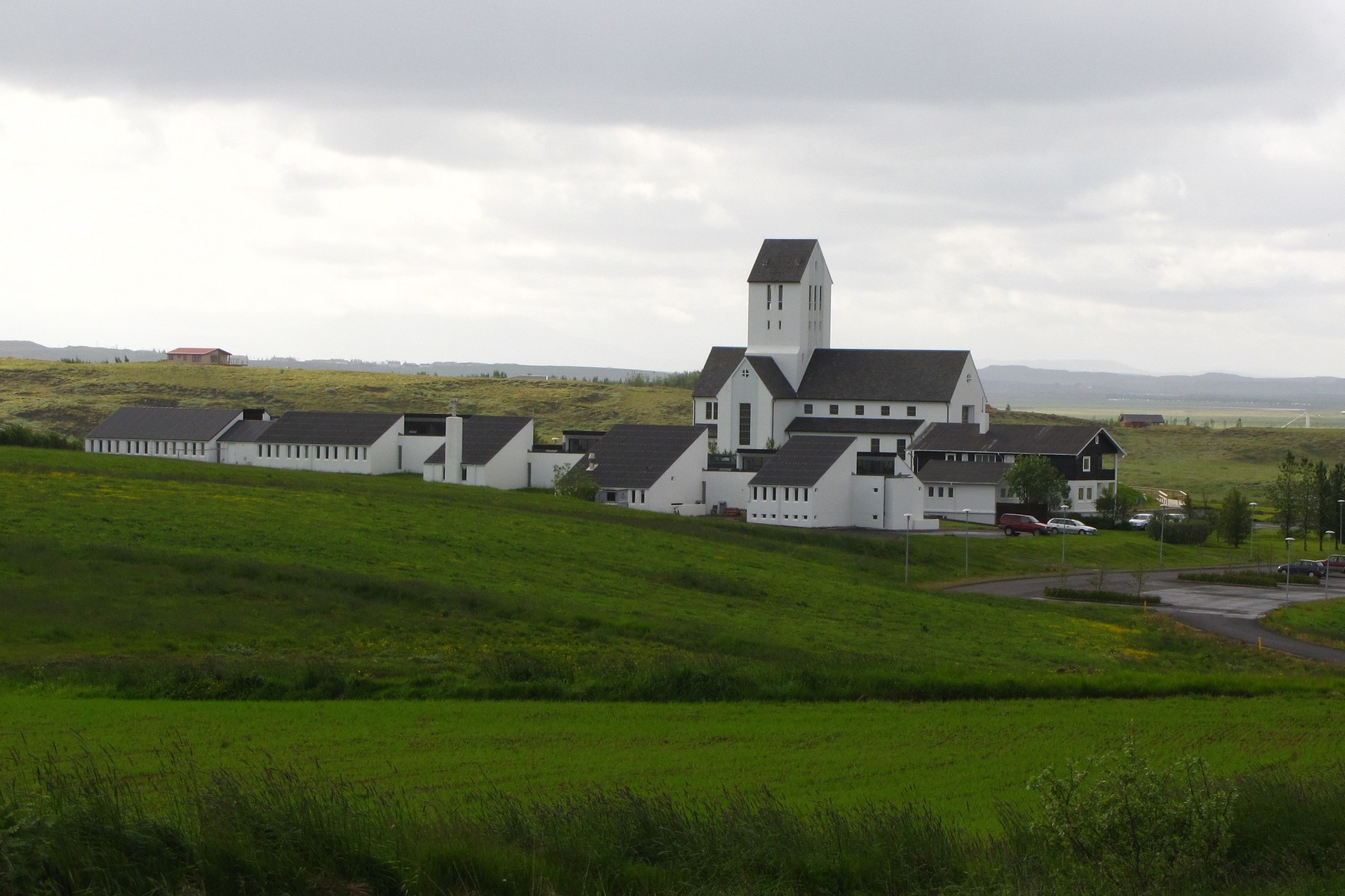 On your way back, why not pay Skálholt a visit? This is another important historical site, and served as a bishop seat from 1056 to 1784, as well as being a center for studies and politically. The first official school in Iceland was indeed founded there. A monastery was situated there in the Middle Ages and, after a religious strife between protestants and catholics, the last catholic bishop was beheaded at Skálholt with his sons in 1550. 
Today Skálholt is highly popular with travelers. We recommend visiting the tomb of the old bishops, the beautiful modern church and the museum. The church tower has a collection of ancient books. Several cultural events, such as concerts are held at Skálholt.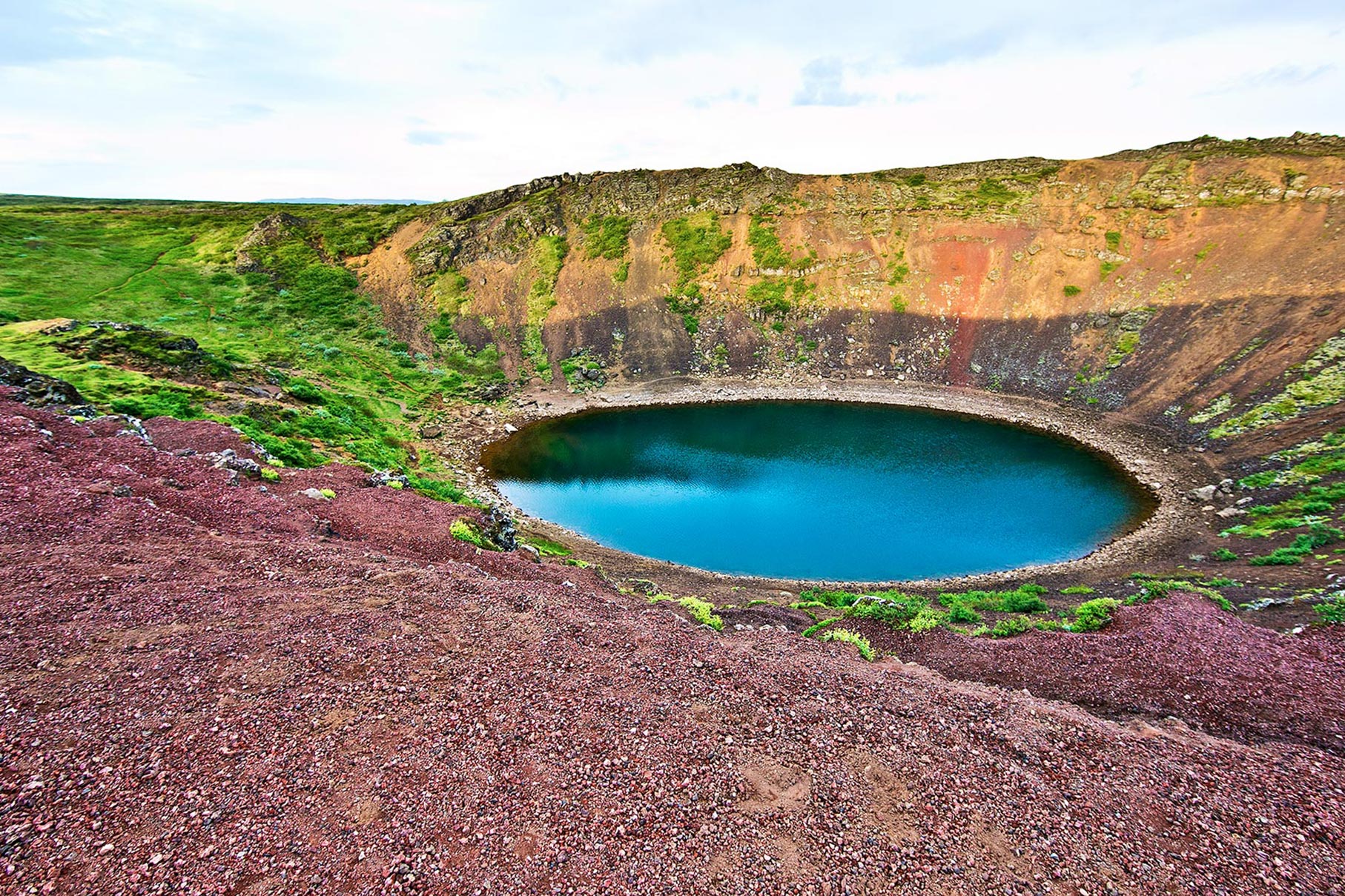 Kerið is sometimes counted among the Golden Circle attractions. While not as famous as the "big three", it is a fascinating sight in its own right. This is a highly scenic crater lake of opaque and aquamarine color, rimmed by the red walls of the volcanic crater, believed to be the remnants of a cone volcano. You can reach it by driving the same route 35, but please note that there is an entrance fee.
Driving further southward on route 35 will lead you to Hveragerði town. You can also take a detour to Selfoss, which is close by. Afterwards it's a drive through the Hellisheiði highland plateau towards Reykjavík. On your way you can enjoy the sights of the mountains, the hot springs and the vast lava fields. On clear days, you can see from Hveragerði as far out as to the Westman Islands.
You plan – we help
These, then, are some suggestions for how you might approach the Golden Circle. It can indeed be approached in a variety of ways. While guided tours are widely available for the Golden Circle, self-driving and renting a car means that you get to set your own itinerary and travel at your own speed and leisure. Hotel and guesthouses can be found at the Golden Circle sites, should you choose to spend the night at or near any of them, but please note that at Þingvellir there is only the campsite. On the other hand, Þingvellir is just a short drive from Reykjavík anyway, about 40 km or so. 
All of our cars are suitable for driving the Golden Circle Please check our selection. We also rent GPS devices and maps. Please make sure to check all conditions well, such as weather, roads, instructions etc. and for any further questions, please consult our friendly staff. We are here to help.