What Kind of Car Should I Rent?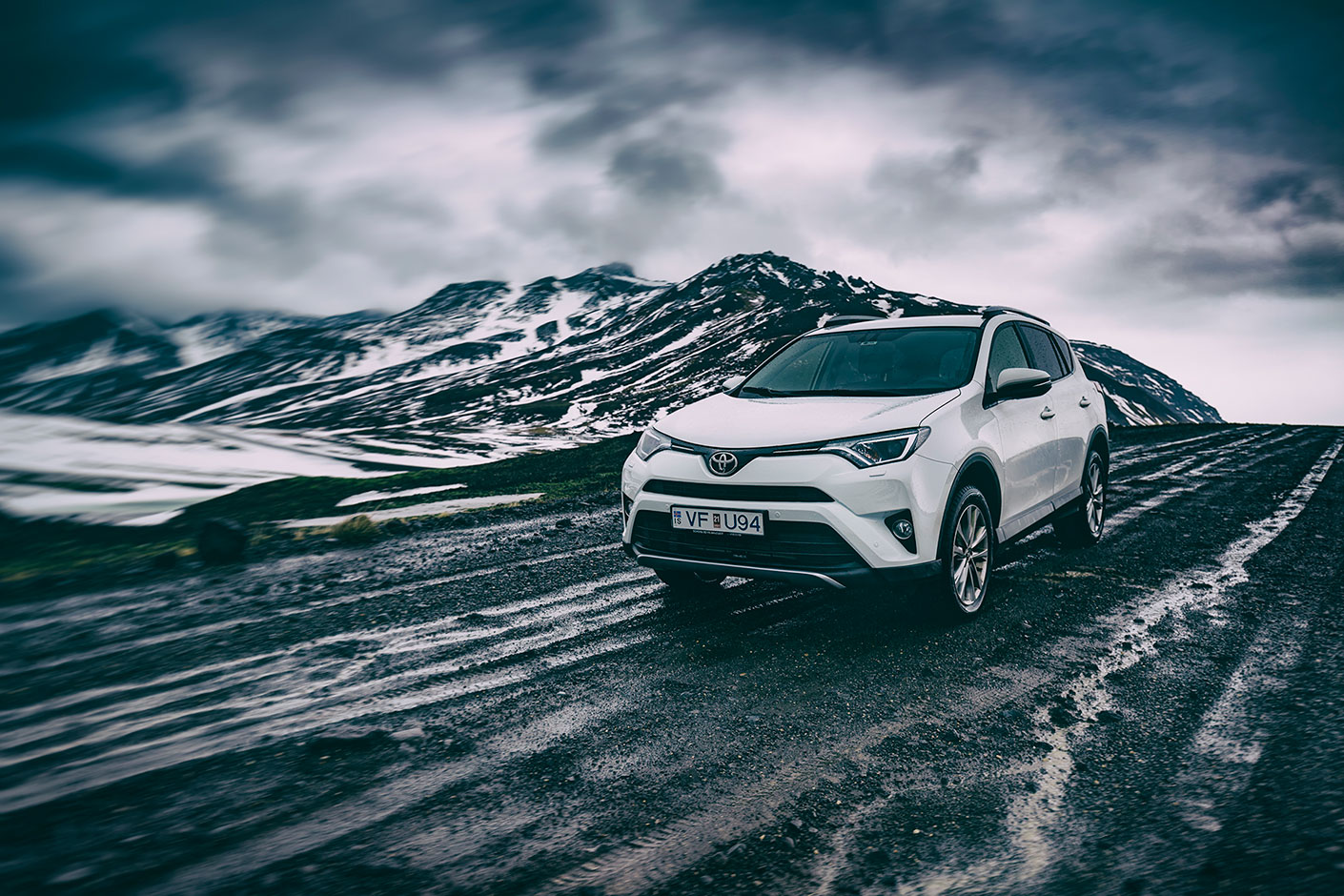 Choosing the right car for your trip depends on things like how many people are in your group, where you want to go, and what time of year it is. If you're just visiting downtown Reykjavík or just rolling through the Golden Circle, a 4x4 is not necessary!

SUMMER DRIVING
Driving in Iceland during the summer months is usually a pleasant experience. The days are long due to the Midnight Sun, and you can do more sightseeing at this time of year than any other. Pick the car that best suits your needs from the examples below. 

The Highland Adventurer

You will be …
Hitting the F-roads to explore the most remote and desolate parts of Iceland, to enjoy the solitude of nature among the glaciers. You're going to be doing activities like hiking, ice climbing, and camping to make the most of your time in Iceland.
Recommended Car: The 4x4 (all-wheel drive). This is the only car allowed on the Icelandic F-roads (mountain roads). View our extensive selection of SUV rentals and 4x4 car rentals, including Toyota Landcruisers which can handle all your luggage and seat up to 7. 
The Ring Road Warrior
You will be …
Taking in the most popular sites in Iceland, all along the coast. Waterfalls! Fjords! Charming sea villages and black sand beaches! They are all yours to discover. The Ring Road is more comfortable to drive than the highlands, and you can look forward to pavement for most of the way.
Recommended Car: 2WD and 4x4 cars can drive on the Ring Road since it's paved. Browse our selection of car rentals and pick the one that matches your comfort level and budget.
The City Dweller
You will be …
Spending a short time in Iceland, perhaps on a layover or a long weekend before taking off for other destinations. You'll mostly be in the city, with perhaps a day tour to the most popular sites, such as the Golden Circle
Recommended Car: This journey won't require much. An inexpensive, small rental will be fine (and easier to maneuver into small parking spaces on the street!) But you can choose other cars depending on your comfort and budget. See our economy car rentals here.
The Camping Connoisseur
You will be ... 
Embracing the Great Outdoors to the fullest and enjoying every moment of your time in Iceland, you go where the wind takes you and do exactly what you like all day long.
Recommended Car: One of the biggest elements of any vacation budget is accommodation and renting a Campervan is one of the ways to save money by taking your bed with you wherever you decide to go! View our camper van rentals here. 

The Nissan NV200 Camper is cozy enough for 2, while the Volkswagen Transporter Camper 4x4 sleeps 3. 

WINTER DRIVING

Winter is an entirely different beast when it comes to driving Iceland's roads. Changing weather can include sea storms, snow and especially ice on the road. If you are planning a visit during this time of year, hoping to see the Northern Lights or take part in our Yule celebrations on December 24, rent a 4x4. Our cars of this type can seat between 3 and 7 people, and enough luggage to keep you warm all winter long. 

For safety when driving in winter:
1. Don't speed. Iceland will still be there when you get where you are going.
2. Be mindful of your fuel levels.
3. Remember, in winter there are only a few hours of daylight each afternoon. Plan your trip accordingly so you don't have to rush. 
4. Check the weather forecast before you travel (see links below)
---
For more information about weather and road safety:
Icelandic Meteorological Office
Icelandic Road Administration - You can also call 1777 on your phone to access this information!
Don't hesitate to contact Lava Car Rental for help with a breakdown or other issues. For non-emergency questions, find us at info@lavacarrental.is or leave a message here. Our emergency hotline is also open 24/7. If for some reason the vehicle is not operating as it should and/or you had an accident, call us right away at +354 788-4080.
More articles like this: