Visiting & Hiking to the Volcano in Iceland 2022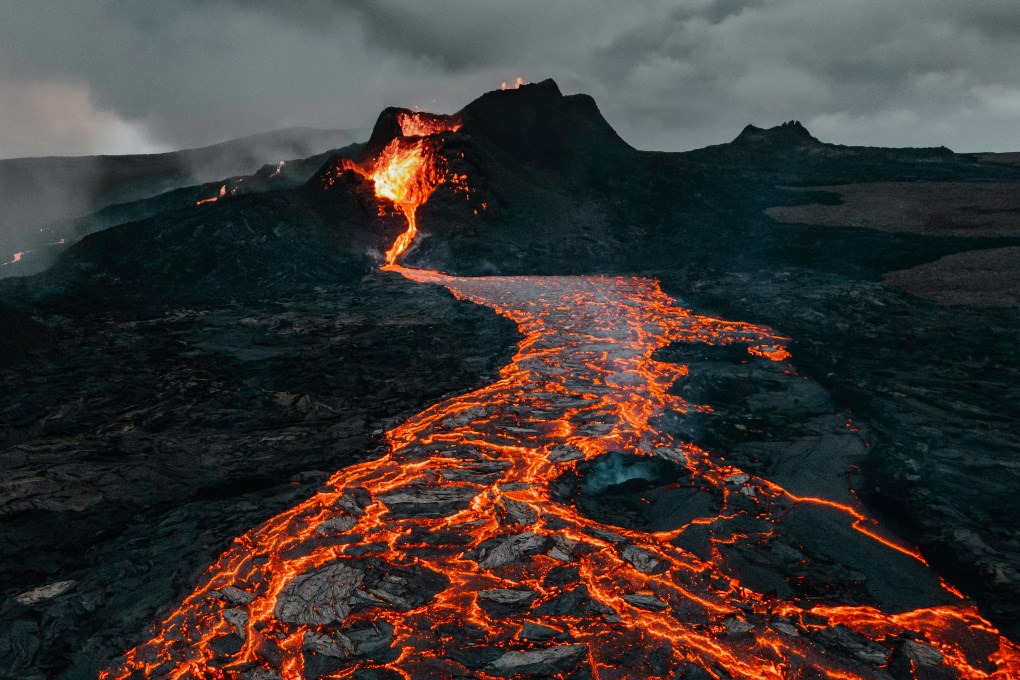 Volcanic Eruption in the Reykjanes Peninsula in Iceland
In the last weeks of July, Iceland experienced several earthquakes. And, on the 3rd of August, a new volcanic eruption began.
For the first time since September 2021, when lava stopped running from Fagradalsfjall volcano, magma reached the surface of Geldingadalir valley again and a new volcanic eruption started at 13:18 PM on Wednesday 3rd of August in Iceland.
Even for a volcanic island used to occasional agitations, it was a particular week for Iceland. More than 10.000 earthquakes were counted by the Icelandic Meteorological Office in the Reykjanes Peninsula over the previous weekend, being the highest magnitudes between 3 and 5.4 on the Richter scale. This high number of quakes was not experienced by Icelanders for a century, excluding 2021, when the Fagradalsfjall volcano erupted in the same area.
Before last year's Fagradalsfjall volcanic eruption, the inhabitants nearby experienced numbered quakes up to 5.6 on the Richter scale. 
What volcano is erupting in Iceland now?
Starting on the 3rd of August 2022, a new volcanic fissure eruption started in Meradalir valley in the Reykjanes Peninsula, located in southwest Iceland.
On Sunday 21st of August, just 18 days after the volcanic eruption in Meradalir began, it was the last time that lava was seen in the crater. As of today, there is no more lava flowing from the volcano and the eruption is considered to be over.
Where is it located?
The site of the eruption is in Meradalir valley, close to last year's Fagradalsfjall volcano eruption which lasted for about six months (from March to September). The area is located about 25 km from Keflavik International Airport and about 50 km from Reykjavik city.
What is the current situation? 
Currently, there haven't been any drastic damages but the population has been invited to follow some strict rules to stay safe if they decide to visit the eruption area. The eruption in Geldingadalir has been classified as a fissure eruption and does not usually result in large explosions or significant dispersal of ash into the stratosphere.
The new volcanic eruption is considered to be relatively small and due to its location, the threat to populated areas or critical infrastructure is very low. However, pollution can be detected due to the gas release so people are advised to stay away because of the risk of noxious fumes and hot magma.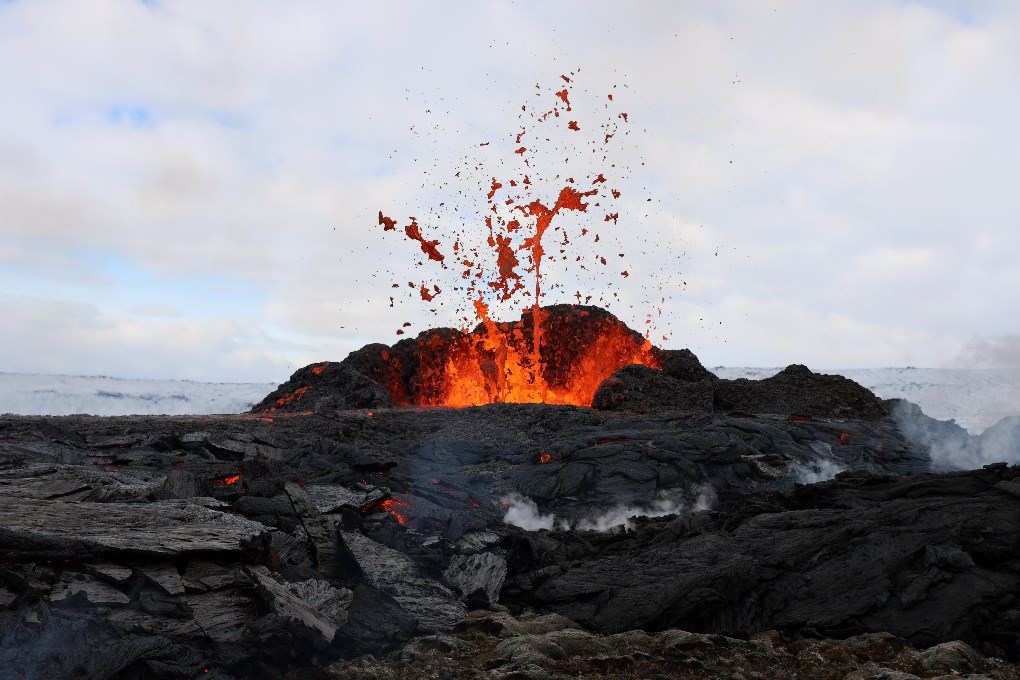 Is it possible to visit the eruption area?
Yes, it is possible to visit Iceland's new volcano. This volcanic eruption is commonly called a 'tourist eruption' because it is relatively easy to access and safe to watch from a security distance, as long as the weather conditions and gas levels allow it.
It is worth mentioning that the eruption area is constantly being monitored. If the weather is adverse or the conditions are dangerous for visitors, the eruption area is closed and it is not possible to hike to Iceland's volcano. You can find the latest updates and the status of the eruption area on safetravel.is.  
Hiking to Iceland's erupting volcano
At the moment, there are different hiking trails and pathways that lead to the eruption site in 2021 and the new volcano from the 3rd of August 2022. 
Please note that there are different parking lots designed for each hiking trail. If you are planning to hike to Iceland's volcano, you will have to choose the walking path that you want to take before parking. Remember that you have to pay for the parking lot online via the parka.is website. The parking fee is 1000 ISK (around 8 USD) per car, and it is valid for 24 hours.
Hiking trails & Parking lots
Currently, there are two main paths to hike to Iceland's new volcano in the Reykjanes Peninsula:
Path A
This hike starts from Parking P1, it is 3.2 km long one way and you can see the crater of the volcano that erupted in 2021. From there, you can continue to the new eruption. The hiking is about 2 hours one way, or around 10 km both ways from Parking P1. You can expect a total of 4 to 5 hours for the round trip, depending on your fitness level.
Keep in mind that the paths in this trail have challenging terrain with gravel, lava fields, uneven ground and steep hills. However, work is constantly being done to improve the paths. 
As a reference, the hike to the volcano is rated difficult for inexperienced hikers and moderate for skilled hikers.
Path C
This hike starts from Parking P2 and has two options. 
Path C from Langihryggur is about 4 km long one way and you can see the front of the crater from the distance. 
Path C by Nátthagi is about 2 km long one way and a much shorter and easier hike, from where you can see newly formed lava. This path doesn't take you to the crater itself but to the edge of the lava field from the parking places.
Path B
Alternatively, there is Path B, which is more difficult than path A and is rarely used today, only if the wind is blowing the gases over path A.
You can consult updated information about the hiking trails on this website.
Keep in mind that the hiking paths might also change depending on the lava flow and security reasons, so always check the options before starting the route.
Safety rules to hike Iceland's volcano
Children under 12 years old are not allowed access to the eruption site, by the Icelandic authorities. This decision was made to protect the young children, who are in more danger when it comes to toxic emissions from the eruption, which often lingers close to the ground because it is heavier than the atmosphere.

If the weather conditions are adverse or there is a high risk of gas pollution in the eruption area, the hiking paths might be closed temporarily to the public. Please check the safetravel.is website to make sure that the hiking paths are open and vedur.is for the weather conditions before your visit to the volcano.

It is forbidden to hike or drive outside the designed paths and trails, as well as walk or touch the lava fields as there might still be hot, burning lava underneath the rocks.
What to wear when hiking Iceland's volcano
Besides the security measures above, it is also essential to wear the right outdoor clothes and pack the necessary equipment when hiking to Iceland's erupting volcano. What you will need to bring is very similar to what you will have to pack when visiting Iceland in general. Here are our recommendations of what to wear and pack to hike Iceland's volcano.
What to wear:
Base layer clothing such as moisture-wicking shorts or long-sleeve t-shirts.

Warmer outer layers such as wool or fleece sweaters or sweatshirts. Avoid cotton, as cotton dries very slowly.

Shell pants and a jacket for your outermost layer.

Hiking boots (or shoes) and warm socks

Hat, scarves, gloves and mittens, as it can get cold in the eruption area.
What to pack:
Backpack

Food and water bottle: don't forget to bring enough water, as well as snacks like protein bars, nuts or a sandwich.

Optional equipment: gas mask, hiking poles, headlamp/flashlight (if you're planning to hike in the late afternoon or evening).

Fully charged phone

Trash bag (there are no bins in the area)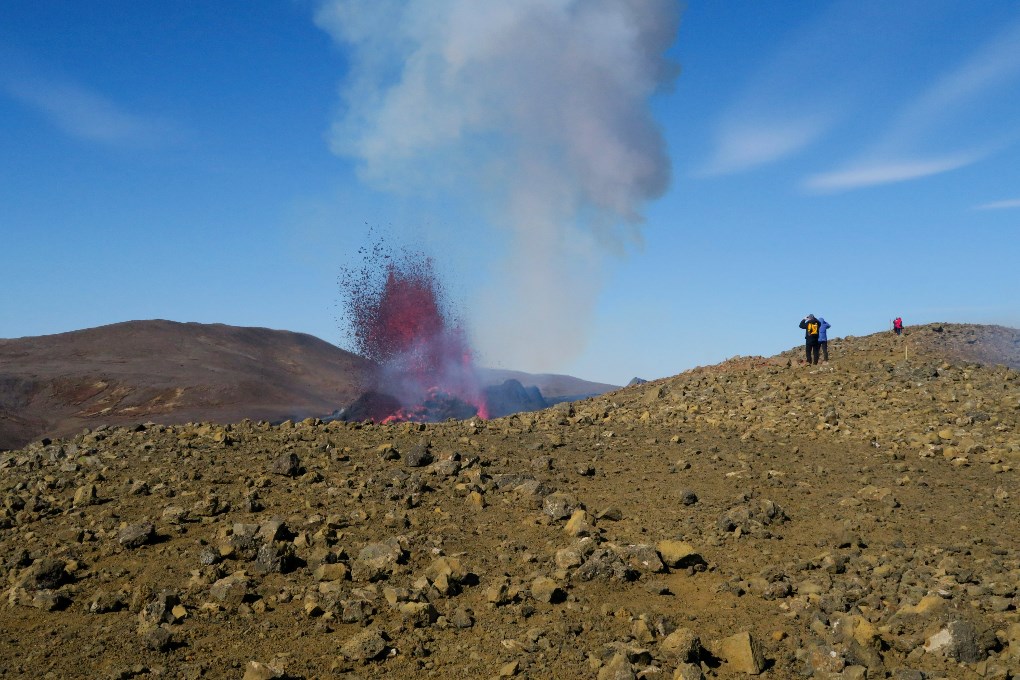 Does the volcanic eruption affect my trip to Iceland? 
The eruptions in Iceland are checked very closely by scientists. This volcano does not disturb the air traffic as Eyjafjallajökull did in 2010 blocking flights for a few weeks all around the world so you can relax. Some rules are in effect for the time being but if you are not in the direct area of the volcano, you are just fine.
Currently, there have been no disruptions to flights to and from Iceland and international flight corridors remain open.
How long will Iceland's volcano be active?
As it is a natural phenomenon, it is hard to say how long a volcano will continue. The Fagradalsfjall eruption in the same area last year lasted about six months. However, the eruption in Meradalir has declined its volcanic activity to levels that are virtually non-existent, just two and a half weeks after it started. At the moment, there is no more lava flowing from the volcano in Meradalir.
Researchers are trying to determine if there is still lava flowing at the base of the crater. If there is not, the eruption likely ended at 6:00 on Sunday the 21st of August.
How do I get to Iceland's erupting volcano?
The designated parking lots to visit Iceland's volcanic eruption are located about 10 minutes past Grindavík, on road 427. It takes around 45-50 minutes to reach from Reykjavik area.
Recommended cars to visit Iceland's erupting volcano
Although there are many tours that take you to the erupting volcano, the best way to get there is by car. Renting a car in Iceland will give you the flexibility that you need to visit Iceland's volcano at your own pace, without depending on other travellers or tight schedules. 
The roads to the parking lots are paved and well maintained all year round, so you can easily access it with an economy car, 4x4 car or campervan.
Ready to visit Iceland's volcanoes?
If, after visiting the new volcanic eruption in the Reykjanes peninsula, you still want to know more about Iceland's volcanoes, we invite you to check our complete guide.