Self-Drive Locations Around the Dettifoss Waterfall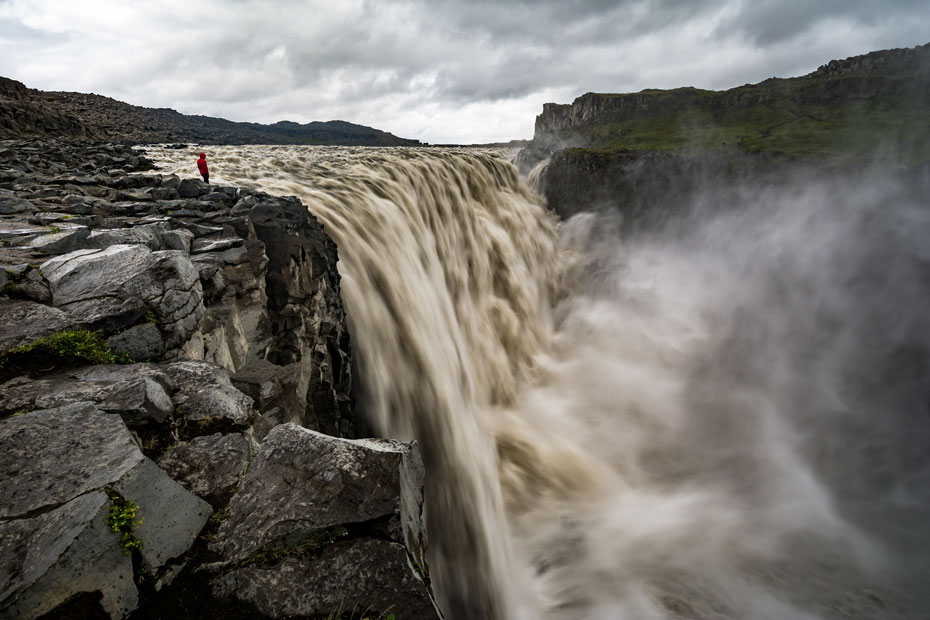 Falling 45 meters (148 feet) with a width of 100 meters (328 feet), Dettifoss is the most powerful waterfall in Europe. Visitors generally approach Dettifoss on the east side of the River Jökulsá where the road through Hólssandur is better. However, there are plans to improve the road on the west side. Please be safe whichever route you chose; be aware of small stones shifting under your feet and step carefully to avoid a twisted ankle. Other hazards will be noted throughout the article - we care about you! 
Dettifoss – west side
The grassy slopes on the western bank become extremely slippery when they are wet.
Dettifoss can be reached from the west side if you take route F862 in your 4x4 rental.
Road 862 is on the west side of Jökulsá river. The section between Ásbyrgi and Dettifoss is a gravel road, passable for all vehicles, but is it not open or serviced in winter. It usually opens late May or early June.
The section of Road 862 between Dettifoss and Road 1 (The Ring Road) is paved and passable for all vehicles. The road is not in service every day during the wintertime and is often closed during snowy periods.
Before the river plunges down to the massive Dettifoss waterfall, there are more beautiful waterfalls a bit higher on the cliffs that you will enjoy seeing, so don't miss them! 

Photo by messicanbeer
From Road 1, take Road 862 to Dettifoss. It's an asphalt road so you can reach this area in any of our Lava Auto rental cars. But the rest of the route north and back on Road 864 requires one of our Lava Auto 4WD rental cars as the road is pretty rough in parts.

If you are traveling during winter, always check road.is or dial 1777 for the latest information on road and weather conditions that could affect your drive. The Icelandic Road and Coastal Administration has even developed an app to help travelers know what is going on with weather and road conditions. 
Dettifoss – east side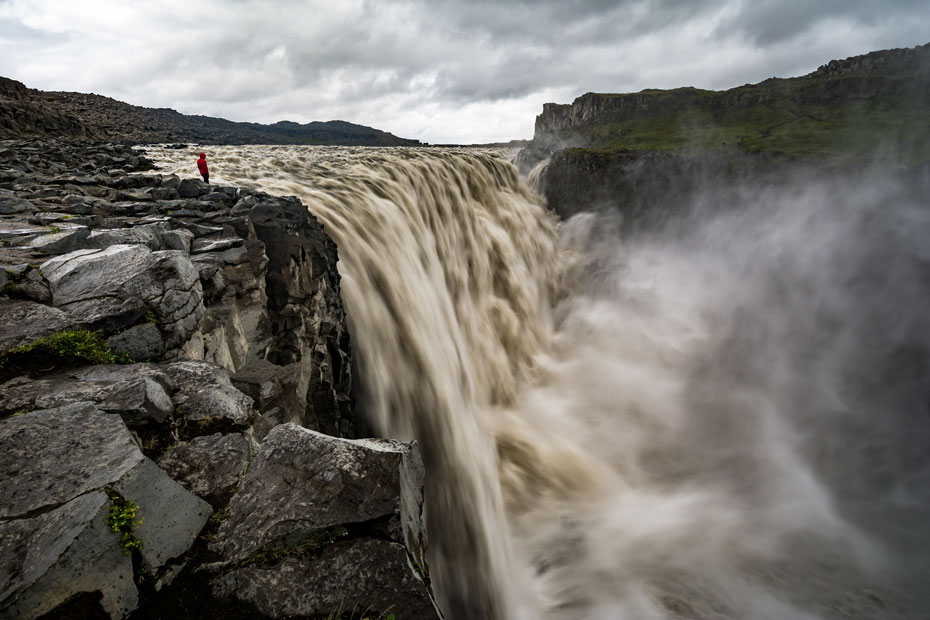 Photo by Marco Nürnberger
Road 864 connects Road 85 and Road 1 past Dettifoss on the east side. This is a gravel road and driving time is dependent upon road conditions. Road 864 is closed during the wintertime due to snow or wet conditions (e.g. a muddy road to difficult to drive) and does not open until early summer (usually the end of May).
On the eastern bank, the footpath down to the falls is very rough and a number of accidents have occurred when visitors have strayed from the track. On this side of the waterfall, you can get as close as you want to the brutal power of water. Standing next to Dettifoss is an outstanding feeling.
Some years ago, plans were proposed to harness the hydroelectric potential of the canyon, but they were scrapped when the lava strata in the area were found to be too porous for a reservoir. 
Selfoss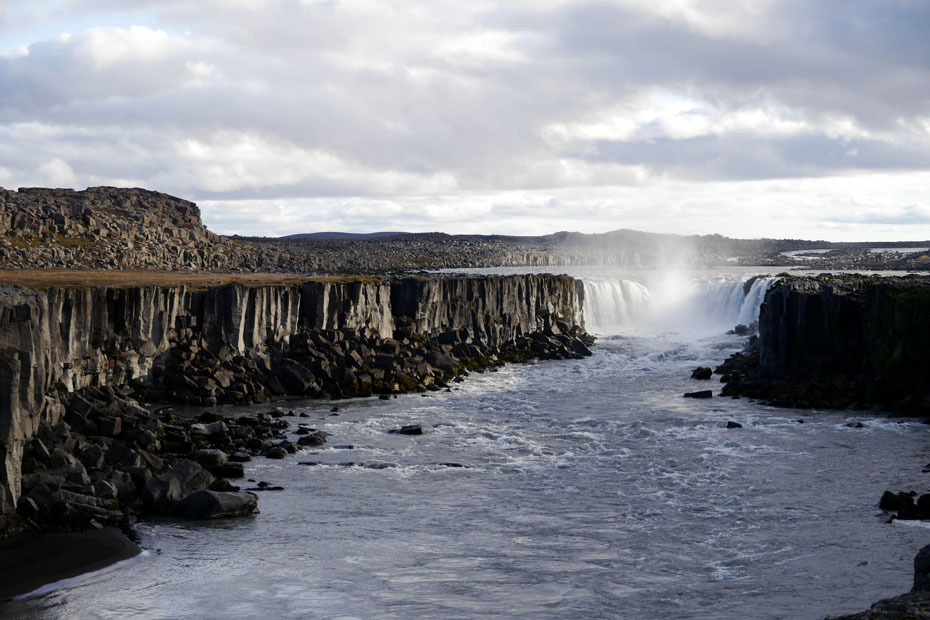 Photo by ActiveSteve
Selfoss is a smaller waterfall a little way upstream with a drop of 10 m (32 feet). There are easy paths from Dettifoss, which allow a pleasant 1 km walk. (Don't get confused - there is a town in the south called Selfoss that is about an hour away from Reykjavík, but the waterfall Selfoss is nowhere near the town).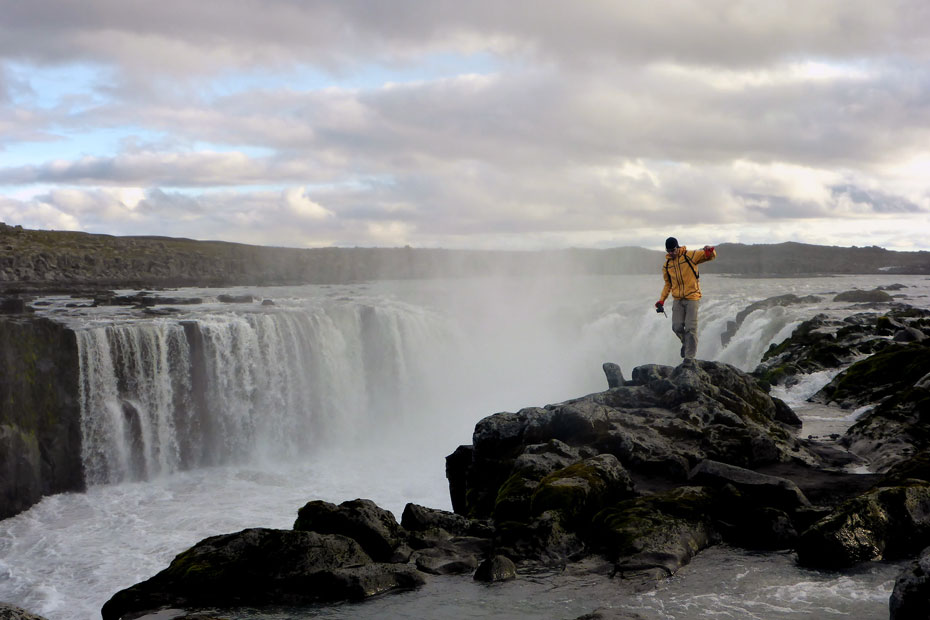 Photo by ActiveSteve
The Road Less Traveled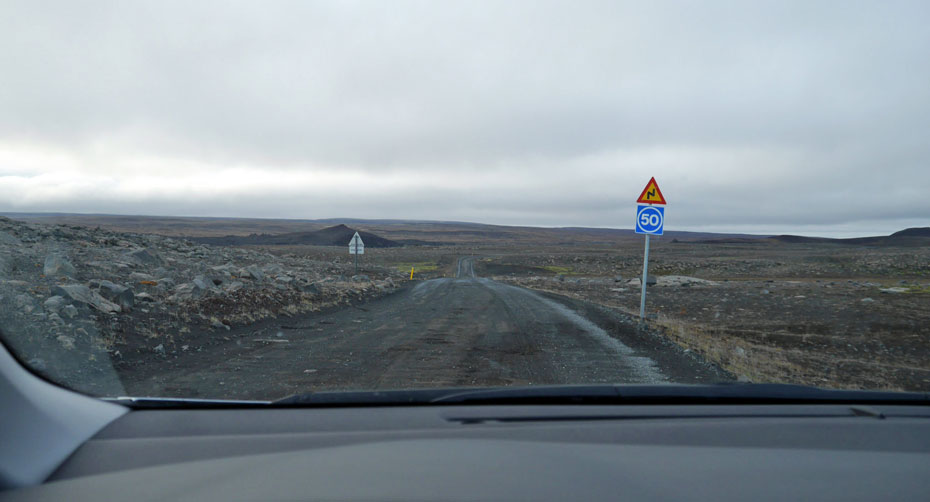 Take care on the rough dirt roads. Photo by ActiveSteve
 
Hafragilsfoss

Photo by Javier Rodríguez
Below Dettifoss, the Hafragilsfoss waterfall cascades 27 meters (88.5 feet) into a deep canyon. It is best to drive to Hafragilsfoss, which is located in an environment that is geologically and historically as fascinating as Dettifoss.
On the east bank of the canyon, near Hafragilsfoss, the river has cut through a crater row named Randarhólar to expose a volcano's lava pipe in the cliff wall.
Hljóðaklettar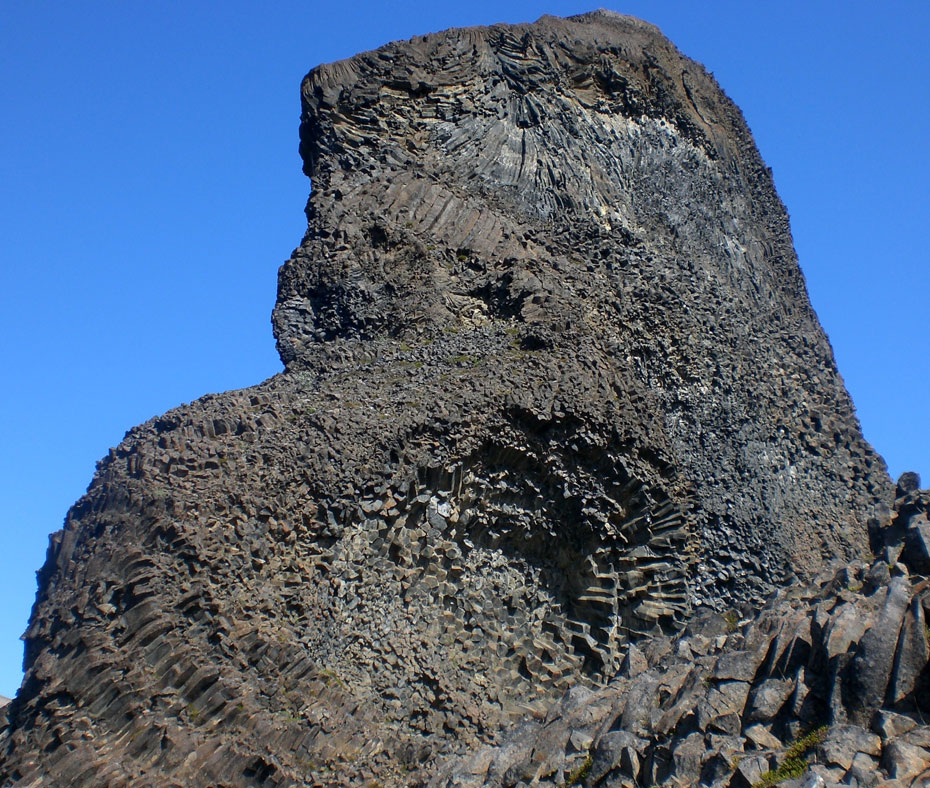 Photo by Sveinn S. Erlendsson
Hljóðaklettar, or "Echo Rocks" in English, are the remains of ancient volcanoes which have been heavily eroded by the Jökulsá river, leaving only the volcanic plugs behind. It is interesting to listen to the cliff acoustics near the river and walk between the unique geological phenomena: here, you'll find basalt columns in various shapes, cliffs, honeycomb weathering, and caves. A little further to the north stand Rauðhólar, vivid red remains of a volcanic eruption, which naturally gathers into cone-shapes as it falls to earth.
There is a short easy trail from the parking area down to Hljóðaklettar. The first rock is one of the few rocks in Hljóðaklettar which has a specific name, Tröllið or "The Troll." If you follow the path a couple of meters east from Tröllið, to the right, and walk over a slightly rocky trail, you can see beautiful basalt columns and honeycomb weathering. The same path is followed back to the parking area.
And if you have the time, there are longer trails to hike in the area.
 Ásbyrgi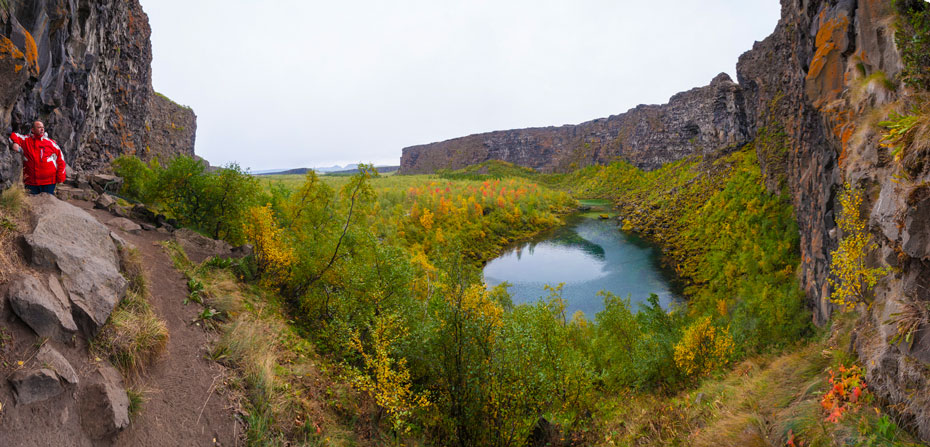 Photo by Javier Rodríguez
Ásbyrgi is one of the wonders of nature. It is a wide, horseshoe-shaped canyon with sheer cliff faces up to 100 meters (328 feet) high. It is 3.5 km (2.2 miles) long and over 1 km (.62 miles) wide. At its innermost end lies a small pond surrounded by luxuriant vegetation called Botnstjörn. A distinctive rock formation rises up from the center of Ásbyrgi, up to 250 meters (820 feet) wide, known as Eyjan or the island.
Ásbyrgi was formed by two or more catastrophic floods caused by glacial bursts from the northern part of the Vatnajökull ice cap, one between eight and ten thousand years ago and a second approximately three thousand years ago. Since then the bed of the river has moved eastwards.
According to legend, Ásbyrgi was formed when Sleipnir, the Norse god Odin's eight-legged horse, put one of his hooves down as the god rode by.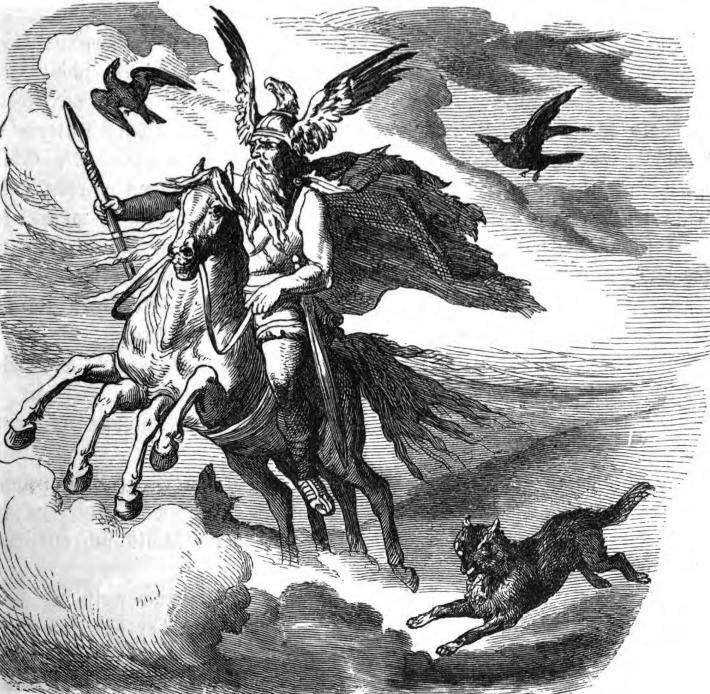 Drawing from 1880 by Ludwig Berger