Reykjavik Pride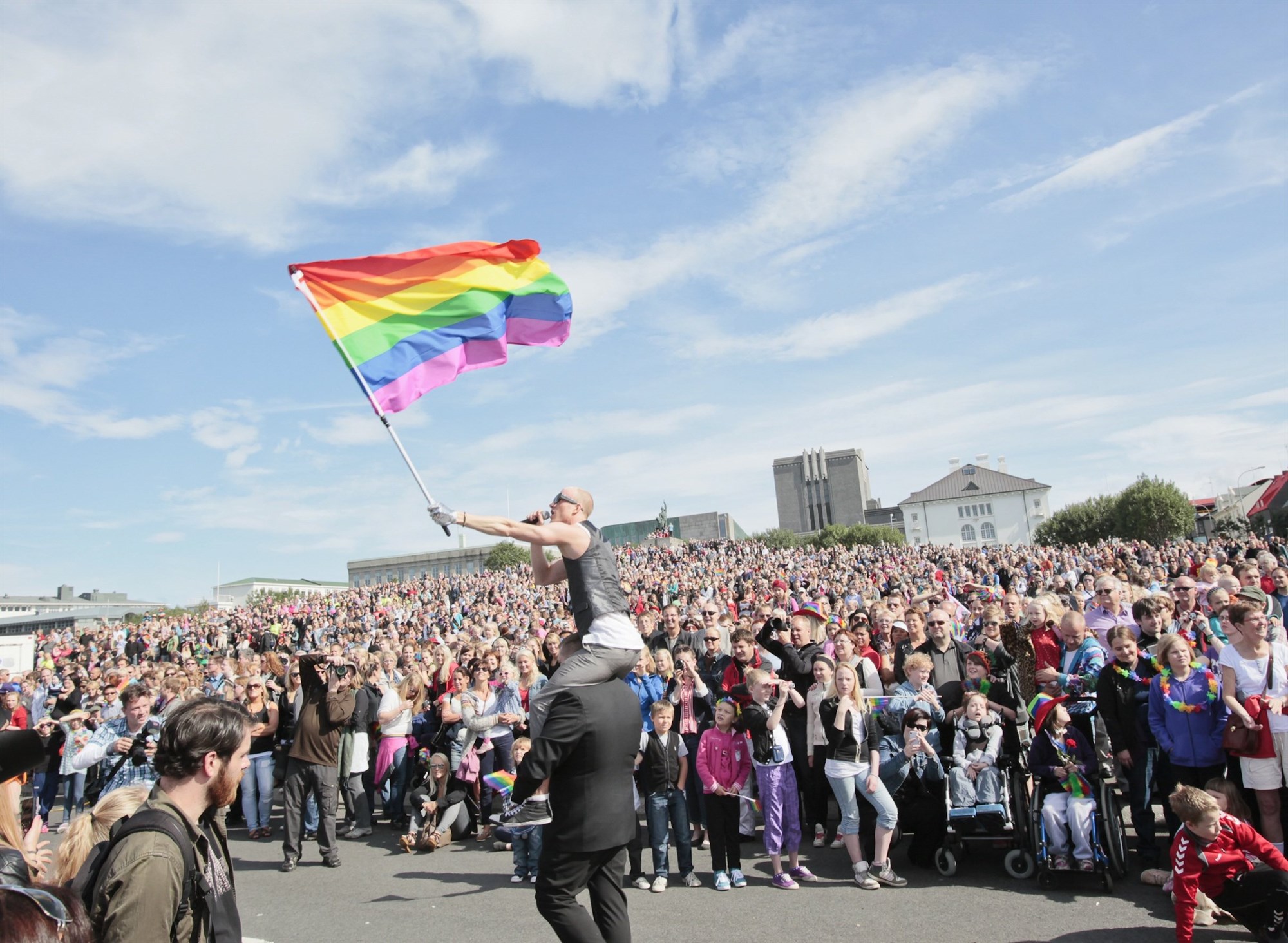 The 20th and 21st century have seen major developments in the struggle for LGBT+ rights in Iceland, reflecting changing tides abroad. In the 1970s, troubadour Hörður Torfason became the first Icelander to step publicly out of the closet and announce himself as gay. He faced discrimination and left the country due to harassment. He would later become one of the main advocates and founding member of the Samtökin '78, the leading LGBT+ association in Iceland. Hörður is also well known for organizing meetings in what was dubbed the pots and pans revolution following the economic crash in 2008. Other major landmarks include Jóhanna Sigurðardóttir becoming the world's first openly lesbian head of government in 2008 and getting equal rights of marriage acknowledged by law in 2010. In 2016 Guðni Th. Jóhannesson is set to be the first president to participate in the Pride, addressing the festival attendees after the march on Saturday.
The first LGBT+ marches in Iceland were held in 1993 and today the Reykjavik Pride is one of Iceland's greatest and most colourful events. It is a six day festival held in August with all kinds of events centered on LGTBQ+ issues, including guided walks, art performances and exhibitions, concerts, film screenings, panels etc. The 2016 festival is from the 2d-7th of August. Through a long and ongoing struggle, LGBTQ+ people have made themselves visible and made their voice heard and today Iceland is one of the most LGBT+-friendly countries in the world.
The highlight of the festival is the Pride march,where LGBT+ people, their families, friends and supporters join together in marching for their rights and for celebrating their identity. The festival features colourful floats and ends in an outdoor concert, where pop star, gay icon and activist Páll Óskar has been a mainstay feature.
While the festival is family-friendly and highly popular with Icelanders, whether LGBT+ themselves or not, it also serves as a reminder, not only of celebrating LGBT+ rights and identity, but also of the fact that these rights have yet to be attained throughout much of the world and the struggle for rights and acceptance and against discrimination, persecution and all kinds of abuses against LGBT+ people continues, both in Iceland and throughout the world.
For more information about the festival, check the festival website and itsfacebook page. A free magazine, featuring a full schedule is also circulated in Reykjavík around the time of the festival.