In Ice Cream we trust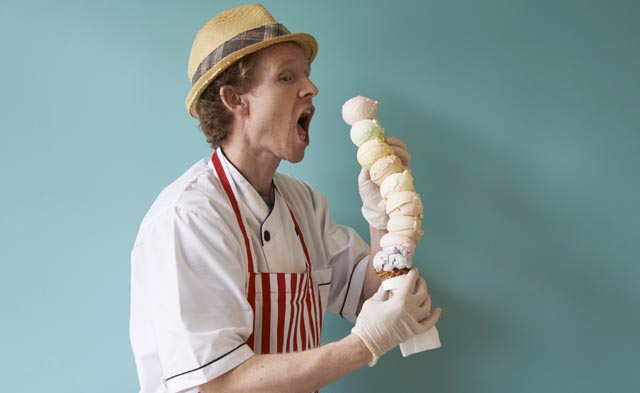 WE LOVE OUR ICE CREAM
You would never believe it but almost during all seasons of the year, Icelanders go for a Ice Cream all the time.  The ritual of a "Ice Cream Drive" is very common amongts the locals.  In general Iceland has two main producers of Ice Cream (Emmess and Kjörís)  It´s kind of like Pepsi and Coke and everybody has their opinion on which one is better.  Most common Ice Cream drive would be for the family to go for a Cone Ice Cream on the local shop.  Off course selecting the shop that sells their brand of Ice Cream. 
VALDÍS
Of course there are other producers that are also very good, like the famous "Valdís" located near the Reykjavik docks. Founded in 2013 this has become one of the most popular Ice Cream stores in recent years with many flavors, fresh Ice Cream which is produced daily at the store. 
NO WORRIES, WE ARE GOOD
So if during a high snow blizzard in a below celsius degrees during the month of january you see a minivan stacked with family members eating Ice Cream out of a cone, that would be operation normal.