During flight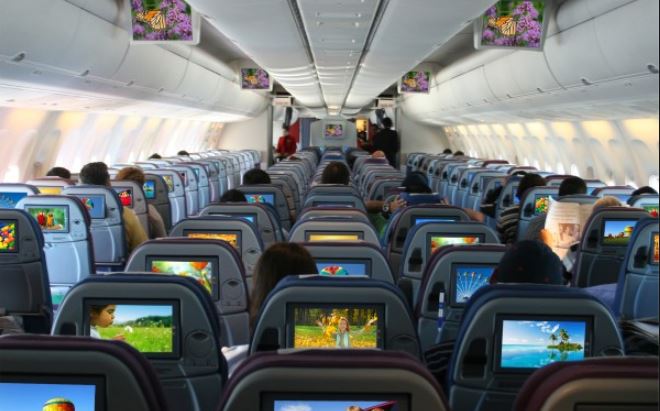 Everybody has a ritual of some kind when they step on a airplane.  Some people eat the same food before flight, others buy the same candy before they enter into 38.000 feet while some have a sip of their favorite liquid (being a green tea, whiskey or a beer) The myth out there says we should be doing this and that during flight  and we list down some here below along with some do´s and dont´s.  
GO TO SLEEP ASAP
Always  to sleep a portion of your flight but....Pressure and pain in your ears during a flight can be extremely annoying, even painful.So try not to go to sleep during take off and landing , it is better to try to be awake an yawn every now to release the pressure. 
SIT ALL THE TIME
Few will advise you to sit the whole time of the flight althou the captain will come on the intercom and recommend it. Even on shorter flights you need to stand up and move a little bit around to get the blood flowing in your body. 
QUICKLY CHOOSE YOUR INFLIGHT MOVIE
You wanna choose your inflight movie well, how ever it is a bit anoying when the guy in the next seat is wathcnig the same movie and he is just a litle bit ahead of you. Take your time choosing but not to much thou.  
GO TO SLEEP WHEN IT IS DAYTIME AT THE ARRIVAL
It is a very good idea to try to adapt to the time zone you are flying to as quickly as possible. Sleeping the whole flight and arriving perhaps at midnight at your destination is not an good idea.  It really takes a bit from the vacation you have been planing and looking forward to. 
DRINKING TO MUCH
Well for several reasons we put this one up here. Nobody wants to be known as a "Air Scumbag" that is so drunk he does´nt know his own name.  Alcahol decreases your ability to get a good sleep (if needed) and in addition there is that extra trip to the little girls/boys room. 
WALKING BARE FEET
Walking barefeet during flight is just so tempting. Getting those feet out of the shoes and socks and let them "breath" for a while. How ever the floor in aircrafts are very dirty and bacteria is all over. You are also sharing the flight with alot of people so it is just comon sense to keep these on.  With that said, taking of the shoes for a bit should not bother any one. 
SKIP THE INFLIGHT MEAL
World renowned chef Gordon Ramsey always eats a good meal before flight. Reason being is that he used to work for an airline for over 10 years and know where the food has been stored and how long it has been on it´s way to the aircraft.  Some even say that if you skip the inflight meal you get the better end of being jet lagged