Weather update: Yellow warning in South Iceland
March 8, 2019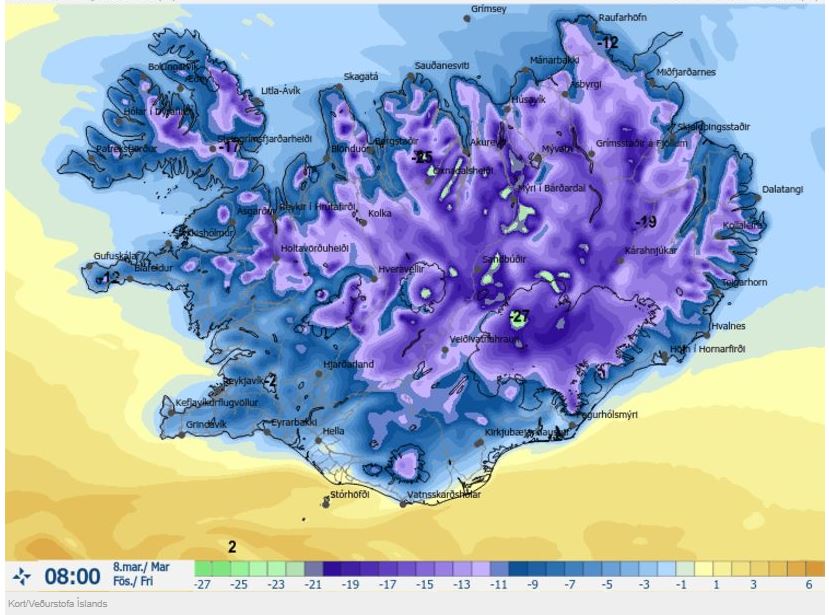 Strong winds from the east can be expected in the south area of the country in the afternoon with a some rain or snowfall, especially from Markarfljót east of Vík í Mýrdal. Travelers are encouraged to show caution as roads can become slippery. A yellow warning has been issued in South and Southeast Iceland and takes effect at 10 am today.
At Reynisfjall area just west of Vík, it could be snowing and some downfall (rain/snow) in the lowlands. The main precipitation and the greatest wind are still tied to the south of the country and should not have much influence elsewhere in the country, although some winds will be around the country.
Forecasts indicate that this same weather bank can then move farther into the southwestern part late in the evening and night with some snowfall. While some areas will have some heavy snowfall other places are much better off with low or non precipitation. This is mainly the case on the south coast and most of the Reykjanes peninsula. It is likely that the capital will not escape after a fairly dry and bright days recently.
Winds will slow down tomorrow and the wind direction will shift to be more southerly everywhere. Most parts of the country will receive some precipitation, but the most northerly part of the country should stay dry. In many places temperature at the shoreline should stay in the plus numbers but zero and below at the inland and at the north of Iceland. Temperature there could reach below 10 degrees celisus.