3D cross walk in Isafjordur
March 4, 2019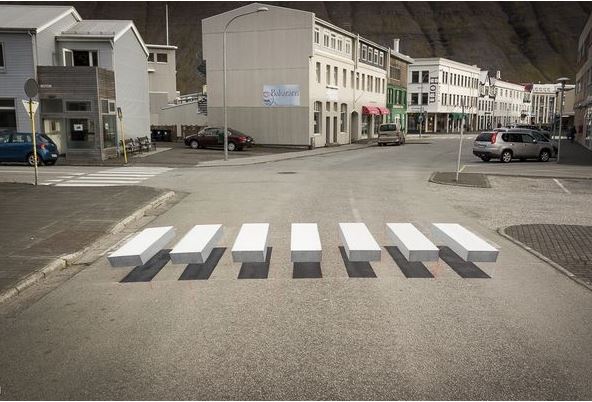 In the west fjords of Iceland there is a small town called Ísafjörður. Famous for their fisheries (like most all villages in the country) but also for the creativity.  One of their projects was to slow down traffic in a busy street but doing so without a speed bump was the objective.  Outcome and 3d crosswalk that surely by seeing has slowed the traffic and reduced speeds in the narrow streets. 
The narrow residential streets in the old town Ísafjörður there is a speed limit of 30 kmh (18.6 mph) and many feel that it is to high,. There for other ways had to be found to slow traffic down.  The municipal council has not decided whether more 3D crosswalks will be added in Ísafjörður, but if the experiment proves successful more might indeed follow.
It is quite an sight to see and if you are in the vicinity take notice and perhaps a picture. Surely a story to tell.